This blog will be special for you, as here we delve into the bridal beauty world and present 36 stunning wedding hairstyles to inspire you on your special day. Your wedding day is a special occasion, and finding the perfect hairstyle to complement your gown and highlight your style is critical. We have you covered whether you want an elegant updo, romantic curls, or a bohemian braid.
We've gathered a variety of wedding hairstyles to suit different hair lengths, textures, and personal preferences in this curated collection. From timeless classics to modern trends, our selection has something for every bride's vision. We've handpicked hairstyles that exude grace, romance, and elegance, whether you're going for a traditional and refined look or a boho-chic vibe.
Join us as we dissect each hairstyle, offering tips and step-by-step instructions to help you achieve the look of your dreams. Prepare to be inspired as you search for the perfect hairstyle to make you feel confident, beautiful, and radiant on your wedding day. Let's take a look at these lovely wedding hairstyles together.
1. Romantic Updo
This bridal hairstyle is elegant and sophisticated. The classic look is a chic bun or chignon at the nape of the neck or higher on the head. The updo is romantic, with loose tendrils or soft curls framing the face. This hairstyle suits traditional and bohemian wedding themes. It complements veils, hair accessories, and statement earrings, finishing the bride's look.
2. Braided Crown
Brides love the whimsical braided crown. This romantic style involves braiding a flower crown around the head. Add fresh flowers or hair accessories to the braid for a magical touch. Braided crowns suit different hair lengths and textures. It enhances the bride's natural beauty and femininity in boho, rustic, or outdoor weddings.
3. Loose Waves
Romantic and glamorous brides choose loose waves. This style has natural, undone waves. For more natural waves, damp braid hair overnight or use hot tools. Loose waves go with bohemian and classic wedding gowns and can be personalized with flower crowns or jeweled hairpins. This versatile hairstyle enhances the bride's beauty and exudes effortless elegance.
4. Side Swept Curls
This Old Hollywood-inspired bridal hairstyle is glamorous and feminine. Create voluminous curls that fall gracefully over one shoulder to frame the face and add allure. Curling irons or hot rollers create the curls, which are swept to one side and secured with pins or a hair accessory. Side-swept curls look elegant with strapless or one-shoulder wedding gowns.
5. Boho Braid
Brides who want a bohemian look choose the boho braid. This braided hairstyle has loose waves or curls. A three-strand braid, fishtail braid, or combination of braiding techniques can be used. The bride can choose a half-updo or full-updo boho braid. Add flowers, feathers, or other natural elements for a bohemian look. This hairstyle adds whimsy and natural beauty to outdoor or beach weddings.
6. Retro-Inspired Victory Rolls
Victory rolls are perfect for vintage-loving brides. In the 1940s and 1950s, this glamorous hairstyle featured large front rolls. The rolls can be on either side or in the center for a retro look, and the rest of the hair is curled or updo. Vintage-loving brides choose victory rolls for their confidence and sophistication. Red lipstick, winged eyeliner, and a tea-length or mermaid wedding dress complement this hairstyle.
7. Low Ponytail
Elegant and simple, the low ponytail is a classic bridal hairstyle. This classic style involves tying hair at the nape of the neck. Low ponytails look sleek and polished. This hairstyle can be styled straight or wavy. It works well with long and medium-length hair and various bridal styles. Add a hairpiece or wrap a strand around the hair tie to dress up the low ponytail.
8. Twisted Updo
The twisted updo is a romantic and sophisticated bridal hairstyle. This hairstyle twists and secures hair into a sculptural updo. Twists at the back of the head look elegant. For a more relaxed, whimsical look, arrange the twists organically. This hairstyle is versatile and customizable. Add delicate flowers, jeweled pins, or a sparkling hair comb to add glamour.
9. Waterfall Braid
The waterfall braid adds romance and whimsy to any bridal hairstyle. This hairstyle has a waterfall braid with sections of hair flowing down and intertwined. The waterfall braid is a stunning bridal hairstyle used in half-up, half-down or loose updos. It looks feminine and highlights long hair. You can add romance to the waterfall braid by adding flowers or pearls or styling it with loose waves or curls.
10. Messy Bun
This bridal hairstyle is effortless and chic. This hairstyle involves a loose, textured bun for a casual look. The messy bun can be worn high on the head or low at the nape, depending on the style and face shape. It looks great with long and medium-length hair and can be dressed in jeweled pins or a lacy wrap. The messy bun's versatility makes it perfect for bohemian, modern, and other bridal styles.
11. Glamorous Hollywood Waves
This timeless bridal hairstyle exudes elegance and beauty. This hairstyle has sleek, long waves like old Hollywood starlets. Hollywood waves are smooth, S-shaped waves that frame the face and cascade down the shoulders. Brides who want a red-carpet look on their wedding day should try this hairstyle. A side part, tucking one side behind the ear, or a sparkling hair clip or tiara can add glamour.
12. French Twist
Elegant and sophisticated, the French twist is a bridal hairstyle. To create a sleek updo, twist the hair upwards and secure it at the back. The French twist can be customized if you like clean and structured or textured and relaxed. This bridal hairstyle works well with medium to long hair and adds timeless beauty. Add romantic and chic hairpins, pearls, or flowers to the French twist.
13. Floral Hair Accessories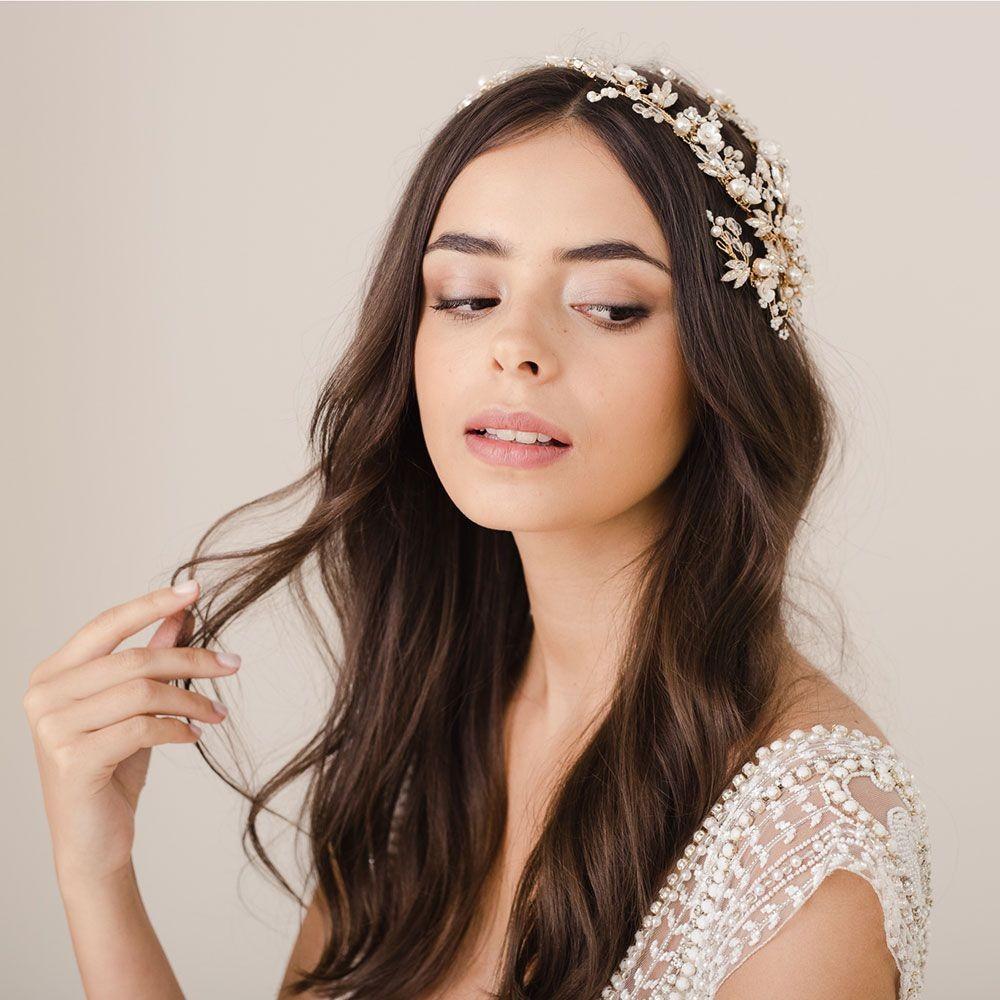 Brides who want their wedding hairstyle to be romantic and natural often choose floral hair accessories. These accessories include delicate flower crowns and intricate floral clips or pins. Floral hair accessories can instantly upgrade your bridal look, whether bohemian or classic. They give loose waves, updos, and braids a dreamy look. Floral hair accessories can be customized to match your wedding theme or color palette, making them ideal for romantic brides.
14. Side Bun
The side bun is a classic bridal hairstyle that exudes elegance. This classic updo involves twisting or bunning the hair on one side. The side bun can be sleek and polished for a formal look or slightly tousled and textured for a more casual look. It suits many hair lengths and textures. Add hairpins, flowers, or decorative combs to personalize the side bun. This hairstyle highlights wedding dress necklines and statement earrings.
15. Curly Updo
The curly updo adds romance and glamour to your wedding hairstyle. Curling irons or rollers can create this hairstyle. A low bun, twisted, or voluminous updo gathers and secures the curls. Curly updos add a romantic touch to wedding dresses. Leave a few tendrils loose around the face for a more relaxed and whimsical look, or add hairpins or a sparkly hair accessory for elegance.
16. Fishtail Braid
This intricate bridal hairstyle adds bohemian chic to your look. Divide the hair into two sections and cross small strands from one section to the other, alternating sides until the braid is complete. The fishtail braid can be worn loose or updo for a bohemian or polished look. It can be worn half-up, half-down, braided, or side-swept. Fishtail braids give bridal hair texture and visual appeal.
17. Sleek and Straight
Modern brides who want a polished look on their wedding day can choose a sleek, straight hairstyle. This hairstyle requires straightening for a glossy finish. The sleek, straight look can be worn loose, cascading down the back, or styled into a ponytail or bun for a more streamlined look. This hairstyle suits minimalist or contemporary wedding dresses and brides who prefer a clean and elegant look. Heat-protectant products and flat iron are needed to achieve this sleek look.
18. Chic Topknot
The chic topknot is a chic and versatile bridal hairstyle that modernizes the bun. This hairstyle involves a high ponytail and a top knot. The topknot can be polished or tousled. It's perfect for brides who want a stylish hairstyle that keeps their hair off their face. Add decorative hairpins, a sparkly headband, or fresh flowers to personalize the topknot.
19. Soft Curls with Tiara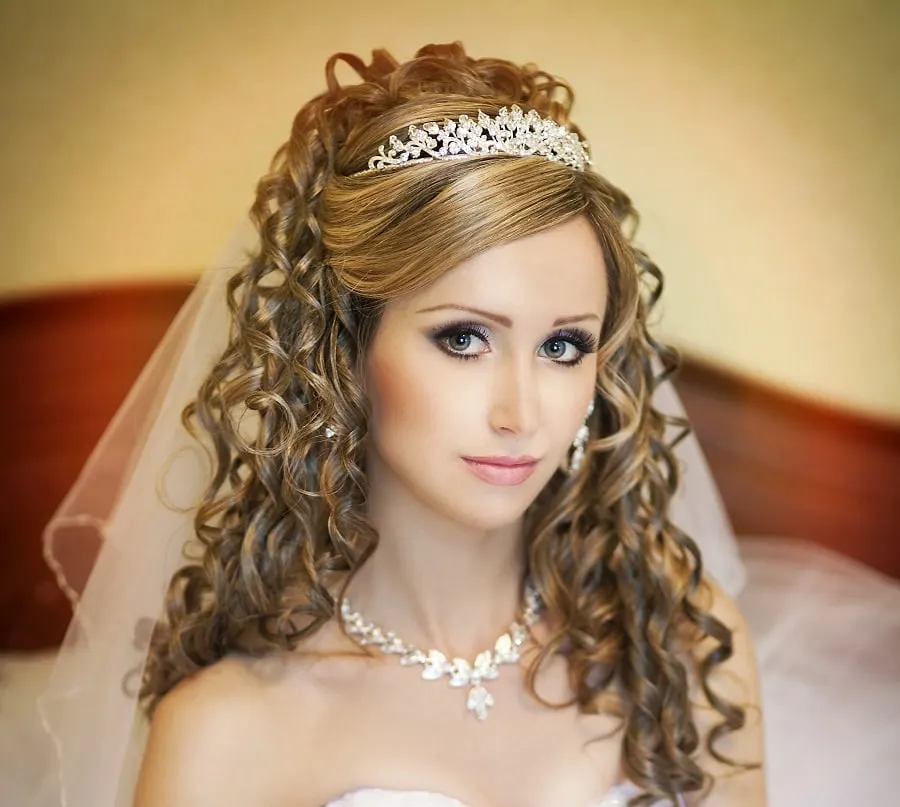 This bridal hairstyle is romantic and princess-like. This elegant style has loose, cascading curls. The tiara makes brides feel royal on their wedding day. A curling iron or hot rollers can create soft curls, and the tiara can be worn at the crown or integrated into the hairstyle. This classic and feminine look works for indoor and outdoor weddings and complements many wedding gown styles.
20. Ethereal Halo Braid
This dreamy hairstyle gives the head a halo effect. A loose, textured braid around the crown creates this ethereal look. The bride looks angelic and bohemian with the braid halo. This hairstyle looks ethereal with flowers, beads, or delicate hair accessories. Outdoor, garden, and bohemian weddings favor it. The halo braid is perfect for the free-spirited bride because it adds romance and whimsy.
21. Finger Waves
Finger waves are a timeless bridal hairstyle with vintage elegance. Brides who want a retro look choose this 1920s hairstyle. Finger waves are sleek, S-shaped hairstyles. This hairstyle requires skillful finger-combing and styling products to achieve waves. Finger waves can be worn in a low bun or asymmetrically. This classic hairstyle gives the bride an old Hollywood look.
22. Glamorous Side Ponytail
This modern bridal hairstyle adds sophistication and drama. This hairstyle has a side-swept ponytail. Smooth, polished hair with crown volume is glamorous. Ribbons, jewels, and flowers add elegance to the side ponytail. This hairstyle is perfect for brides who want a modern yet feminine look. It matches many wedding themes and dress styles.
23. Bohemian-Inspired Beach Waves
Brides who want a natural look often choose bohemian-inspired beach waves. This beach wedding hairstyle is carefree and romantic. Beach waves are loose, tousled waves that give hair a relaxed, textured look. This hairstyle can be worn half-up, half-down, or with a delicate braid for a bohemian look. Outdoor and destination weddings suit bohemian-inspired beach waves. Floral crowns, headbands, and other bohemian hair accessories complete this bridal hairstyle.
24. Dutch Braid Updo
This elegant bridal hairstyle combines braids with an updo. Dutch braids, or inside-out braids, are used to create this hairstyle. A low bun or twisted chignon incorporates the braid. The Dutch braid makes the hairstyle stand out and look sophisticated. Elegant and boho-chic brides will love this hairstyle. It can be customized with flowers, pearls, or bridal accessories to match the wedding theme.
25. Whimsical Tucked-In Braids
This hairstyle makes A bride look enchanted and playful. Multiple small braids are delicately tucked and pinned to create this style. Tucked-in braids can be styled into crowns or halos for a whimsical and romantic look. This hairstyle looks great with updos and down dos, and flowers or other hair accessories can enhance its fairy-tale appeal.
26. Sleek High Ponytail
This modern bridal hairstyle is elegant and glamorous. Gathering hair high on the crown and securing it with a hair tie or ribbon creates this classic look. Smooth and polish the hair for a flawless finish. This high ponytail hairstyle is ideal for brides who want to highlight their faces and bridal gown. It complements classic and modern wedding styles and can be dressed with bobby pins or wrap.
27. Low Bun with Braids
This bohemian-inspired bridal hairstyle is elegant and effortless. This style involves braiding a low bun with loose waves or curls. Braids can be woven or wrapped around the bun for texture and visual interest. The result is a romantic, boho-inspired look. Floral pins or a delicate hair vine enhance this hairstyle's natural and carefree vibe.
28. Retro-Inspired Rolled Updo
This Hollywood-inspired bridal hairstyle is glamorous and vintage. Hair rolls are elegantly pinned to the nape of the neck or side of the head to create this timeless style. The rolled updo looks retro with victory rolls, finger waves, or pin curls. This hairstyle is perfect for red-carpet brides who want to channel old Hollywood glamour. A birdcage veil or sparkling hair accessory adds vintage charm.
29. Simple and Chic Bob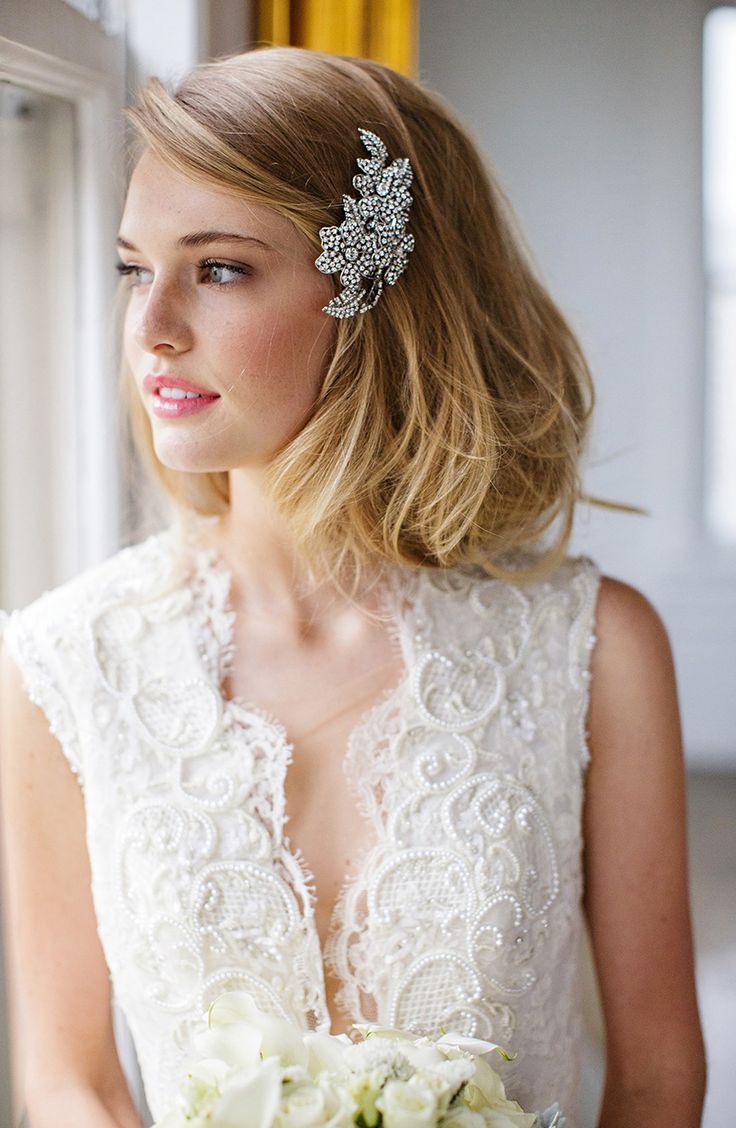 The simple and chic bob is a sleek, modern bridal hairstyle for shorter hair. This hairstyle is a straight, chin-length bob. It's simple and elegant, highlighting the bride's face and dress. This hairstyle can be enhanced by adding subtle texture, a deep side part, or a decorative hairpin or headband. The bob is perfect for brides who want a low-maintenance, chic wedding day look.
30. Soft and Flowing Half-Up Half-Down
This romantic half-up and versatile bridal hairstyle combine the best of both worlds. This style involves gently curling the hair and pinning a section from the crown, sides, or back. The remaining hair falls in soft waves or curls for a feminine look. This hairstyle can be customized for the bride's hair length and texture. It enhances bridal looks with veils, floral crowns, and delicate hair vines.
31. Braided Bun
The braided bun is a timeless bridal hairstyle that combines the elegance of a bun with the intricate beauty of braids. Braiding sections of hair and bundling them at the nape or crown in this hairstyle. Braids can be sleek or intricate depending on the look, like fishtail or Dutch braids. The braided bun suits are bohemian and traditional weddings. It's elegant and secures hair while adding femininity to the bridal look.
32. Mohawk
The Mohawk is a bold and edgy hairstyle for the unconventional bride. This hairstyle has shaved sides and a longer center strip that can be styled. The Mohawk can be straight, tousled, or styled with braids or accessories. It exudes confidence and individuality, making it a great choice for brides who want to express their style and personality on their wedding day. The Mohawk is a bold and daring bridal hairstyle.
33. Double Braided Updo
This romantic, messy, intricate hairstyle combines an updo's elegance with braids' beauty. This hairstyle involves braiding two sides of the head and twisting them into a gorgeous updo. A captivating bridal hairstyle, the double-braided updo adds texture and visual interest. It suits various hair lengths and can be personalized with flowers, accessories, or jeweled pins. The double-braided updo is a romantic and whimsical hairstyle for brides.
34. Undercut Style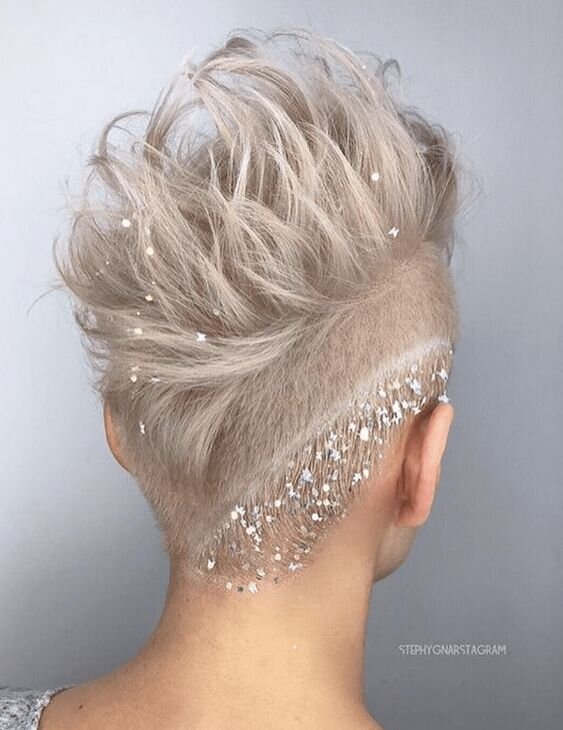 The bride who wants a daring hairstyle should try the undercut. This edgy style involves shaving or closely buzzing one side or back of the head and leaving the rest of the hair longer. You can wear the undercut with braids, updos, or loose curls to contrast the shaved section and longer hair. It's a bold choice that lets the bride express her individuality and defies bridal norms.
35. With Skunk Stripes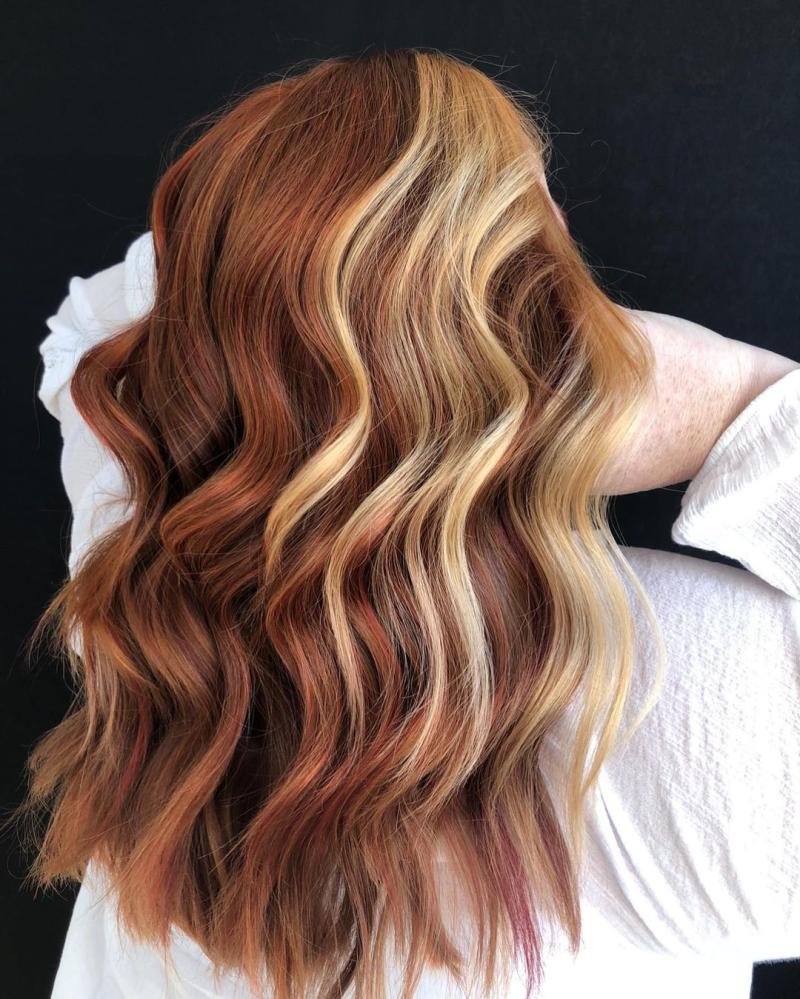 Skunk stripes are a fun and unexpected way to add whimsy and playfulness to a bridal hairstyle. Skunk stripes are strategically placed in black and white or other hair color streaks. Stripes can be subtle or bold. Whether the bride wears a sleek updo, loose curls, or braids, skunk stripes add a unique and eye-catching touch. It's a unique way to add character to a hairstyle.
36. Pixie Hairstyle for Wedding
Short-haired brides can wear a chic and modern pixie hairstyle for their wedding. Style this short, cropped haircut for a chic bridal look. Jeweled hairpins, headbands, and fresh flowers add bridal elegance to the pixie hairstyle. Products can add volume and movement to hair for a tousled look. A wedding pixie hairstyle is bold and confident, highlighting the bride's individuality and facial features. It's ideal for brides who want a stylish but low-maintenance look.
Other Articles