There's something truly magical about adorning your hair with delicate natural blooms. Flowers have long been associated with femininity, beauty, and the timeless allure of the natural world. Floral hairstyles can enhance your look and evoke a sense of elegance, whether attending a romantic wedding, a vibrant music festival, or simply seeking to express your inner bohemian spirit.
We've compiled a list of 40 floral hairstyles that range from subtle and understated to bold and statement-making. A floral hairstyle is ready to embrace your unique beauty, regardless of your hair length, texture, or personal style. These hairstyles will transport you to a world where nature and fashion intertwine, from intricately woven flower crowns and braided updos adorned with vibrant blossoms to whimsical floral accessories sprinkled throughout loose waves.
Join us as we explore the artistry of floral hairstyles and their limitless possibilities. Our blog inspires and empowers you to experiment with floral hairstyles, allowing your imagination to run wild. Prepare to be inspired and embark on a floral adventure that will take your hairstyles to new heights. Let's celebrate the marriage of botanical wonders and hairstyling prowess as we delve into 40 floral hairstyles that will leave you blooming with beauty.
1. Rose Braid
This romantic hairstyle weaves delicate rosebuds into a braided pattern. This hairstyle is perfect for weddings and garden parties where you want to look elegant. The braid is the base, with tiny roses artfully interwoven to create the illusion of a blooming garden in your hair. The Rose Braid can be customized for a floral charm to fit different hair lengths and textures.
2. Daisy Crown
Channel your inner flower child with this whimsical hairstyle. A daisy wreath around your head gives this bohemian look an innocent, natural beauty. Daisies suit this carefree hairstyle due to its simplicity and sunny disposition. The Daisy Crown is a fun accessory for summer festivals or everyday life. It can be made with fresh or artificial daisies and worn with loose waves, braids, or a sleek updo for a charming look.
3. Sunflower Updo
Embody the vibrant energy of these iconic blooms with the Sunflower Updo. This happy hairstyle is ideal for beach weddings and outdoor events. The Sunflower Updo is a graceful updo with large sunflowers strategically placed to create a stunning focal point. Sunflowers' rich golden hues contrast with many hair colors, drawing attention. This hairstyle captures summer's radiant beauty.
4. Orchid Bun
The Orchid Bun is perfect for a sophisticated look. Orchid buns are elegant and luxurious. This hairstyle is ideal for formal events and glamorous evenings. The Orchid Bun is a sleek, polished bun adorned with orchid blossoms. The result is a timeless, romantic updo with effortless beauty.
5. Lily Half-Up
This hairstyle celebrates lilies' delicate beauty. Soft and sophisticated, this hairstyle is perfect. You can customize your outfit by choosing white, pink, or orange lilies. The Lily Half-Up style involves securing the top half of your hair with a hair tie or pins and letting the rest flow freely. The gathered section looks whimsical and ethereal with lily blossoms. This hairstyle adds natural elegance to casual and formal outfits.
6. Hibiscus Floral Crown
The vibrant and exotic Hibiscus Floral Crown will transport you to a tropical paradise. Hibiscus flowers are bold and captivating, ideal for beach weddings, destination events, and tropical-themed parties in floral crowns. The Hibiscus Floral Crown involves weaving fresh or artificial hibiscus blooms into a crown shape that sits gracefully on your head. The crown adds color and exotic flair to flowing locks, loose waves, or a chic updo.
7. Peony Twisted Bun
This elegant floral hairstyle exudes grace. A classic bun and peony blooms create this romantic updo. This hairstyle requires a high ponytail and bun. Next, gently tuck and secure peony flowers around the bun, letting their vibrant petals cascade. The Peony Twisted Bun is elegant and captivating for weddings and evening galas.
8. Daffodil Halo
This spring-inspired floral hairstyle is radiant. Daffodils are delicately woven into a halo-like crown in this whimsical hairstyle. This hairstyle is perfect for outdoor festivals and garden parties because daffodils symbolize renewal and positivity. To make the Daffodil Halo, gently intertwine daffodil stems or artificial flowers into a crown and snugly encircle your head. Allow the vibrant petals to frame your face, instantly adding ethereal beauty.
9. Carnation Chignon
This elegant hairstyle combines the classic chignon with the timeless beauty of carnations. This feminine hairstyle works for formal and casual occasions. Begin with a low bun at the nape of your neck. Then, carefully tuck and pin carnation blooms throughout the chignon for a stunning floral focal point. The hairstyle's ruffled carnation petals make it perfect for weddings, cocktail parties, and romantic dates.
10. Gerbera Daisy Braid
The Gerbera Daisy Braid is a fun floral hairstyle. This braided hairstyle features gerbera daisy flowers in bright colors. Start a Dutch braid or fishtail braid and weave daisy stems or artificial flowers. With their big, bright petals, Gerbera daisies will make you look happy and young. The Gerbera Daisy Braid adds whimsy to your hairstyle for summer picnics, music festivals, and casual outings.
11. Lavender Wreath
This hairstyle embraces lavender's soothing scent and delicate beauty. Your look will be tranquil and charming with this bohemian-inspired floral accessory. Carefully weave fresh or dried lavender stems into a circular wreath, adjusting the size to fit your head. Let the lavender flowers cascade around your head by placing the wreath on top of loose waves or an updo. The Lavender Wreath is perfect for outdoor weddings, garden parties, and peaceful nature walks or hiking.
12. Marigold Braided Crown
Capture sunshine's vibrant colors. A braided crown and marigold flowers create a stunning, royal hairstyle. This hairstyle requires braiding two sections of hair tightly. Pin the braids around your head to form a crown. Intertwine marigold flowers in the braids to add color. Festivals, bohemian events, and bold fashion statements call for the Marigold Braided Crown.
13. Poppy Pinned Back
This sweet floral hairstyle is feminine and delicate. This romantic hairstyle has soft waves or curls falling down the back and poppy flowers pinned back. With their vibrant colors and delicate petals, poppy flowers add elegance and playfulness to the style. This hairstyle is ideal for weddings, proms, and garden parties where you want to make a statement. It enhances the ethereal look of flowing dresses and bohemian outfits.
14. Jasmine Twisted Fishtail
This intricate floral hairstyle combines a fishtail braid with jasmine flowers. The fishtail braid creates a woven effect by crossing two small sections of hair. Instead of hair accessories, jasmine flowers are carefully intertwined into the braid, adding fragrance and color. This bohemian hairstyle is perfect for outdoor or tropical events. It adds whimsy and romance to Asian looks or maxi dresses, floral prints, and beachwear.
15. Violet Waterfall Braid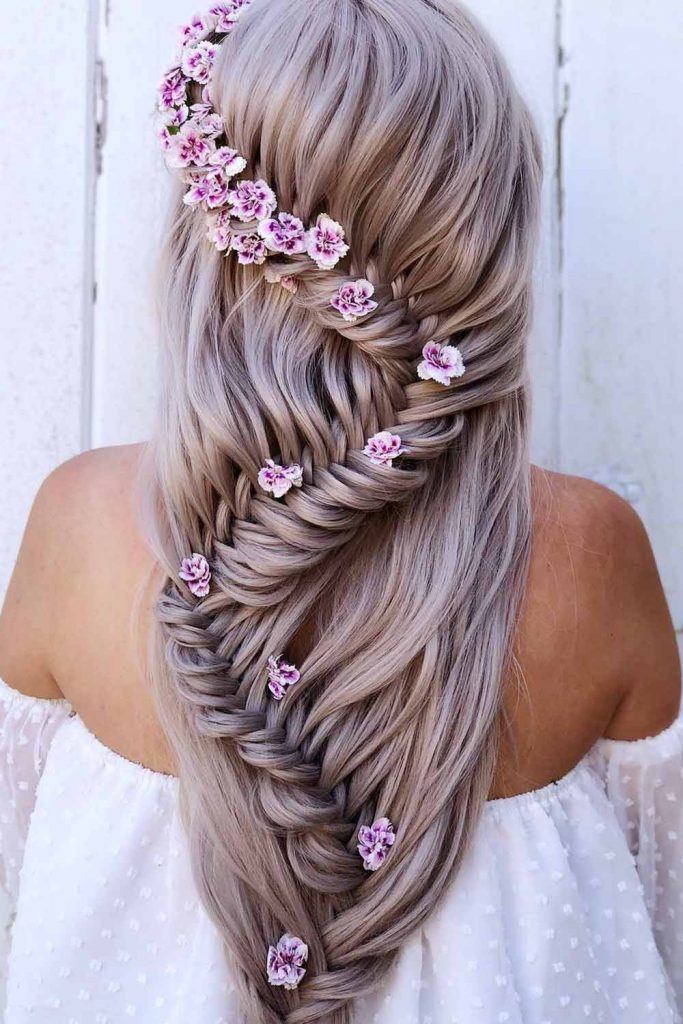 This elegant floral hairstyle incorporates violets into a cascading braid. This hairstyle begins with a waterfall braid, where sections of hair are woven together to create a "waterfall" effect. Small violet bunches are carefully woven into the braid, creating an ethereal effect. Violets add natural elegance to the hairstyle with their delicate purple blooms and sweet fragrance. The Violet Waterfall Braid is perfect for spring weddings, garden parties, and other feminine and romantic events.
16. Floral Top Knot
This trendy floral hairstyle combines a classic top knot with vibrant and eye-catching flowers. This sleek hairstyle involves a high bun on the crown of the head. Roses, daisies, and sunflowers are placed around the bun base to add whimsy and playfulness. Fresh or artificial flowers are available. The Floral Top Knot is fun and bohemian, perfect for music festivals and casual outings.
17. Blue Floral Braided Bun
This elegant and sophisticated floral hairstyle combines a braided bun with delicate blue flowers. French braids are tightly woven along the scalp to create this sleek and polished hairstyle. The braid is then bunched at the nape for a neat base. Blue flowers like forget-me-nots or hydrangeas are carefully tucked into the bun to add color and femininity. The Blue Floral Braided Bun is perfect for weddings and black-tie events where you want to look elegant.
18. Cherry Blossom Half-Ponytail
This romantic half-up, half-down hairstyle features cherry blossoms. This hairstyle gathers the top section of hair into a low ponytail and leaves the rest loose. Cherry blossom branches or artificial flowers are delicately intertwined into the ponytail to add grace and femininity. This hairstyle is perfect for springtime garden parties because cherry blossoms symbolize beauty and new beginnings. The Cherry Blossom Half-Ponytail looks romantic with flowy dresses or pastels.
19. Baby's Breath Halo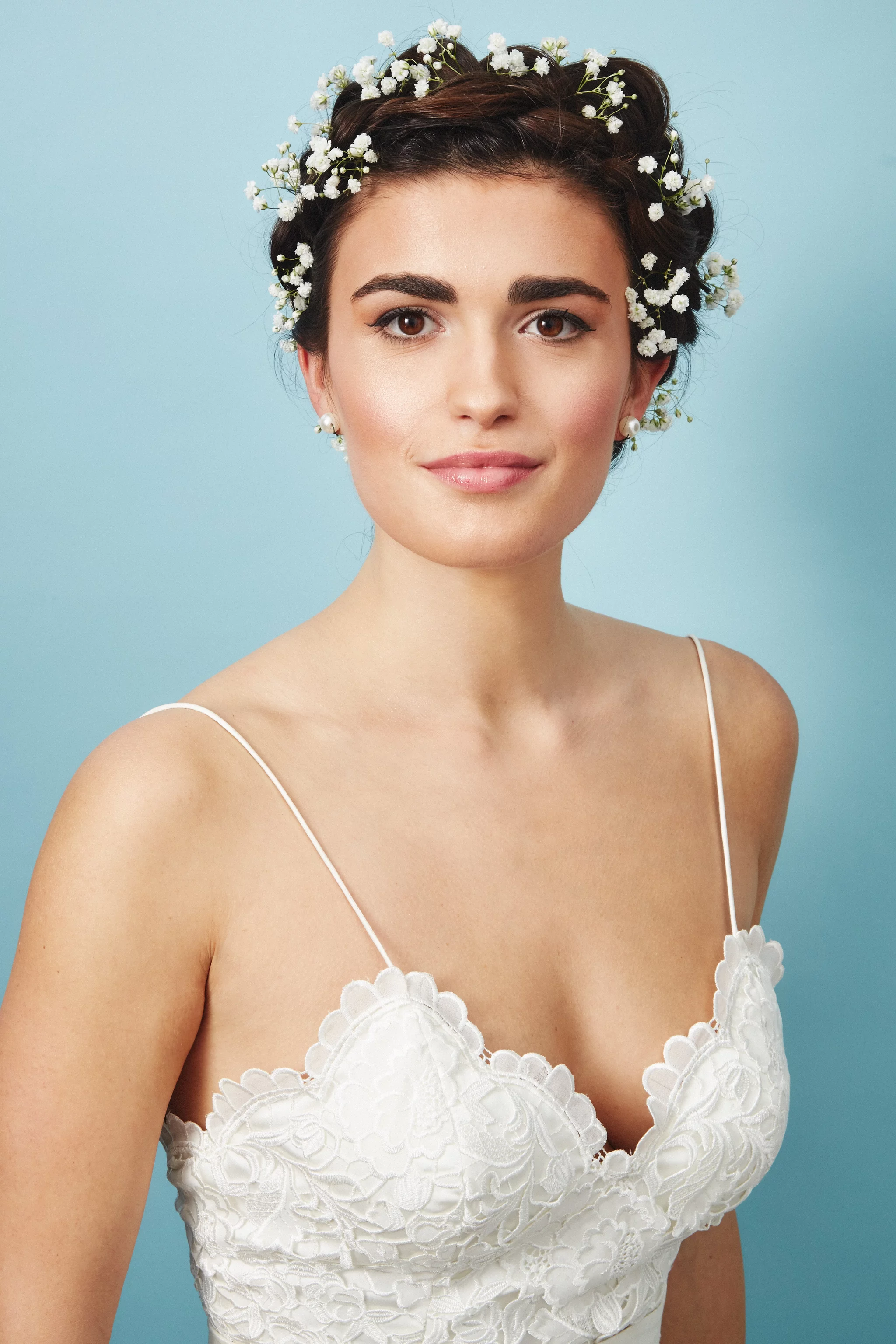 This ethereal floral hairstyle has a crown of tiny white flowers. This romantic, bohemian style is perfect for brides. The Baby's Breath Halo is made by weaving flower stems into a circlet and placing it on the head, encircling the hair. Baby's Breath's delicate blooms add femininity and innocence. This hairstyle looks romantic with loose waves or an updo.
20. Hyacinth Updo
This elegant floral hairstyle highlights hyacinth flowers. Hyacinth blooms are added to a bun or chignon to create this style. Hyacinths come in purple, pink, white, and blue, making them versatile for different occasions. For formal events like weddings, the Hyacinth Updo is elegant and classic. Hyacinth flowers' sweet scent enhances this stunning hairstyle.
21. Ranunculus Crown
This bold floral hairstyle showcases ranunculus blooms. Ranunculus flowers have multi-petaled rose-like petals and come in various colors, from pastels to brights. Attaching ranunculus stems to a base or weaving them into a wreath creates this crown. The Ranunculus Crown is perfect for boho weddings and summer events. It adds color and whimsy to loose waves, braided updos, and ponytails.
22. Freesia Side Updo
This sophisticated floral hairstyle features fragrant and dainty freesia flowers. Freesia blooms are added to a side updo like a low bun or twisted chignon. White, yellow, pink, and purple freesias have a sweet scent. The Freesia Side Updo adds romance and femininity to formal events like weddings. Freesia blooms contrast with hair and leave a lasting impression. You can also switch this hairstyle to a side ponytail.
23. Camellia Floral Accessorized Bun
This elegant floral hairstyle combines a classic bun with camellia flowers. Large, colorful camellia blooms are prized. This hairstyle involves tucking camellia flowers into a sleek bun at the nape of the neck or using a floral accessory. Black-tie and red-carpet events suit the Camellia Floral Accessorized Bun. It's classy and natural.
24. Snapdragon Crown
This bold and whimsical floral hairstyle showcases Snapdragon's vibrant and unique blooms. Snapdragons grow tall flower spikes in pink, purple, yellow, and orange. Snapdragon stems are carefully attached to form a circular crown. The Snapdragon Crown adds color and fun to bohemian or festival hairstyles. It looks stunning with loose, tousled waves or braided hairstyles, letting the snapdragon blooms shine.
25. Anemone Bun
This stunning floral hairstyle combines the elegance of a classic bun with the vibrant beauty of anemone flowers. Start by pinning a high bun to your crown. Carefully insert anemone flowers into the bun in a circular pattern to resemble flower petals. The anemones' contrasting colors pop against your hair. This hairstyle adds romance and sophistication to any outfit for weddings and garden parties.
26. Forget-Me-Not Half-Up Crown
This delicate floral hairstyle uses forget-me-not flowers. Start with a middle part and gather a section from each side to create a half-up hairstyle. Bobby pin or elastic band the gathered sections. Next, braid or twist the forget-me-not stems and gently wrap them around your head. The crown-like forget-me-not flowers add color and a bohemian, romantic look. Outdoor events and casual days suit this hairstyle.
27. Primrose Pinned Back
The Primrose Pinned Back hairstyle is a retro way to wear flowers daily. Part your hair in the middle or side, depending on your preference. Next, twist a small section of hair from one side and pin it behind your ear with bobby pins. Switch sides. Carefully tuck primrose flowers into twists after pinning your hair back. For a garden brunch or casual outing, primrose flowers add natural beauty and femininity to your hairstyle.
28. Baby's Breath Waterfall Braid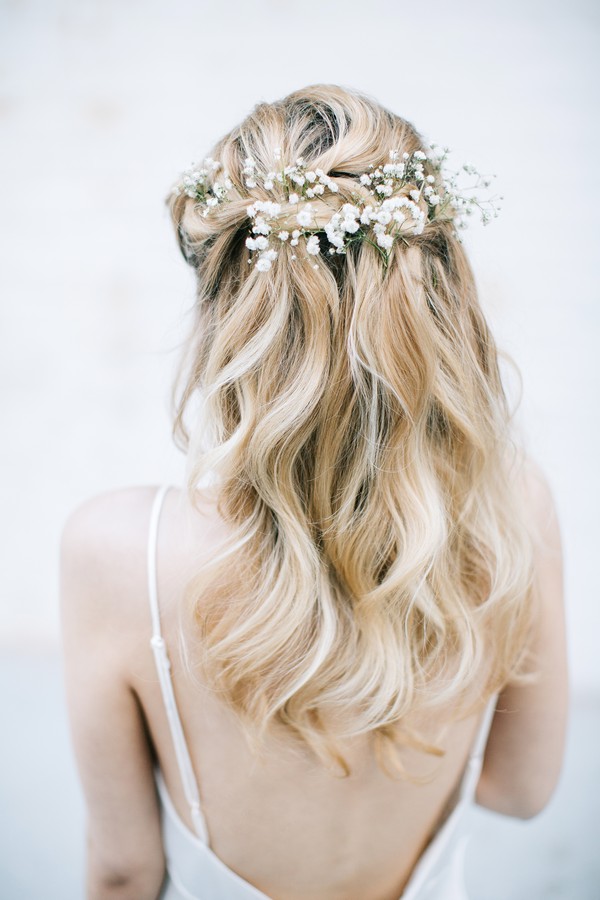 This romantic and dreamy hairstyle combines the elegance of a waterfall braid with the delicate charm of baby's breath flowers. Start with a deep side part and a small section of hair near the part. Cross strands and add top hair to start a waterfall braid. Tuck baby's breath flowers into the waterfall braid openings as you braid. The braid's baby's breath flowers form a waterfall. Weddings, proms, and other formal events suit this hairstyle.
29. Flowers and Pearls with a Side-braided Ponytail
This elegant hairstyle combines flowers and pearls. Create a deep side part and a low-side ponytail. Elastic bands ponytails. Braid a small ponytail section to hide the elastic band and wrap it around the base. Bobby pin flowers and pearls to the braided section. Thanks to the flowers and pearls, the hairstyle is perfect for formal events or evenings out. This hairstyle looks good with bangs too.
30. Sunflower Space Buns
This playful hairstyle incorporates sunflowers' vibrant beauty. Part your hair in half. Twist and pin each section into a high bun. Tuck and secure sunflowers around buns to create the sunflower effect. Sunflowers make your hairstyle summery and perfect for festivals, picnics, and other outdoor events. This hairstyle will stand out.
31. Side-swept Hair with Dahlia Crown
This floral hairstyle is elegant and feminine. This hairstyle involves sweeping the hair to one side and securing it with bobby pins or hair clips. The dahlia crown makes this hairstyle whimsical and beautiful. Dahlia crowns are made by carefully arranging flowers on a floral wire or headband. This hairstyle is ideal for weddings, garden parties, and other special occasions.
32. Floral Beachy Waves
Beachy waves and flowers make a beautiful combination. For bohemian or beach events, this hairstyle is romantic and relaxed. Start by curling or sea salt spraying your hair for loose waves. After getting your waves, tuck daisies or baby's breath into your hair. Pin them randomly or arrange them. It's a dreamy beach hairstyle.
33. Lavender Dutch and Messy Braid Hairstyle
This unique and eye-catching floral hairstyle combines the trendy Dutch braid with the beauty of lavender flowers. Start by braiding a Dutch braid with small lavender sprigs on one side of your head. To make a messy braid, gently pull on the sections. Secure the braid end with an elastic band and gently pull out a few strands to frame your face. This boho hairstyle highlights lavender's beauty and adds whimsy to your look.
34. Marigold Braid for Long Hair
The marigold braid is a beautiful floral hairstyle for long hair. Marigolds brighten your hair. Start by braiding marigold flowers into a loose braid on one side of your head. Artificial marigolds last longer than fresh ones. Secure the end with an elastic band and gently tug on the sections to make the braid fuller. The marigold braid is perfect for festivals, summer parties, and any time you want to show off your long hair.
35. White Floral Two Braids Hairstyle
This romantic hairstyle is perfect for weddings and other formal events. This hairstyle requires a middle part and two braids on each side. Braid with baby's breath or white roses for a romantic touch. After braiding, secure the ends with clear elastic bands and gently pull on the sections to soften and texturize. This whimsical hairstyle looks great with feminine dresses and outfits.
36. Violet Side Ponytail
This modern floral hairstyle adds color and playfulness to your look. This hairstyle involves a low ponytail on one side. Attach fresh or artificial violet flowers to hair clips or bobby pins. Let the violet flowers fall from the ponytail to add visual interest. The violet side ponytail is fun and trendy for parties, festivals, and everyday wear because it can be dressed up or down.
37. Floral Bob Hairstyle
This charming and feminine hairstyle combines the elegance of a bob haircut with the beauty of fresh flowers. This style involves cutting hair to a bob and adding flowers. Depending on taste, flowers can be real or artificial. Real flowers are fragrant and natural, while artificial flowers are durable and customizable in color and type. Weddings, garden parties, and other special occasions require a floral bob hairstyle.
38. Pixie Floral Hairstyle
The playful and charming pixie floral hairstyle adds vibrant flowers to a short pixie cut. This style highlights flowers and works best for short hair. The flowers are usually clipped or pinned throughout the hair. For a dramatic effect, choose a single statement flower or a cluster. Spring and summer events, music festivals, and casual outings with a bohemian flair are perfect for the pixie floral hairstyle.
39. Afro-American Floral Hairstyle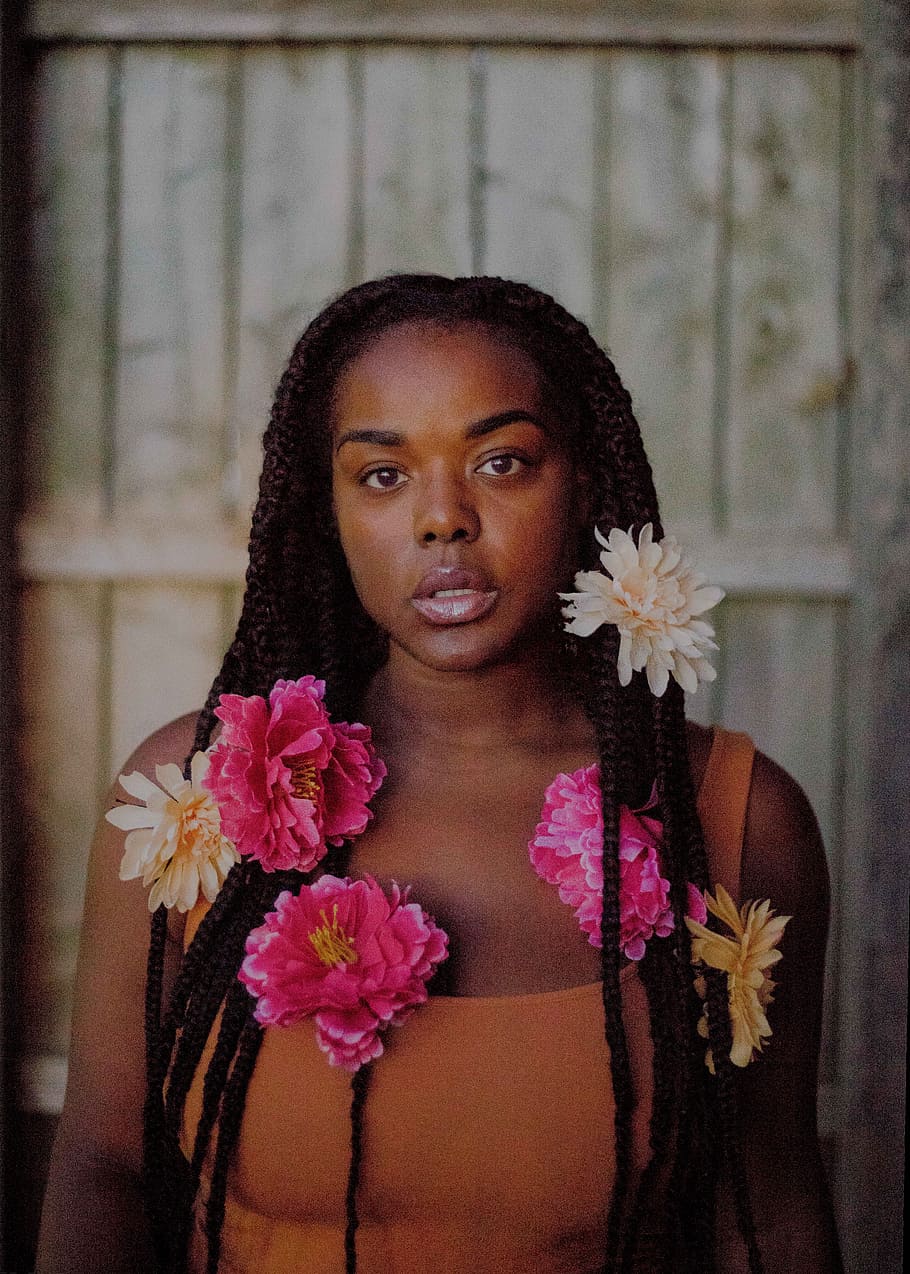 The Afro-American floral hairstyle celebrates the beauty and versatility of natural Afro-textured hair with vibrant flowers. This floral style highlights Afro hair's natural volume and texture. Flowers can be clipped or woven into the hair. Hibiscus, orchids, and sunflowers are popular hairstyle choices. The Afro-American floral hairstyle is stunning for weddings, cultural celebrations, or any event where you want to embrace your natural hair while making a bold and stylish statement.
40. Baby's Breath Ponytail
The delicate and ethereal baby's breath ponytail features the plant's white flowers. This hairstyle includes a ponytail with baby's breath sprigs. Small elastics or hairpins secure the flowers. The romantic, bohemian baby's breath ponytail is popular for outdoor weddings, garden parties, and whimsical everyday looks. This hairstyle goes well with feminine dresses, floral prints, and other soft outfits. You can also try wearing a fishtail or a messy French ponytail.
Other Articles