Welcome to our blog, where we bring you the latest fashion trends and inspiration worldwide. This issue delves into the world of runway hairstyles, presenting 42 fashion week-inspired looks that will make you feel like a supermodel.
Fashion Week is a platform for hairstylists to unleash their creativity, push the boundaries of hair artistry, and showcase stunning clothing designs. These hairstyles are the epitome of runway glamour, ranging from sleek and structured to messy and undone.
This collection of fashion week-inspired hairstyles has something for everyone, whether you're a fashion enthusiast, a hairstylist looking for new ideas, or simply someone who enjoys experimenting with their hair. We've curated diverse looks, including avant-garde updos, edgy pixie cuts, romantic braids, and glamorous waves to cater to various tastes and preferences.
Join us on this exciting journey as we dissect the techniques and offer advice on recreating these stunning hairstyles. With these stunning fashion week-inspired looks, you'll be ready to rock the runway in your everyday life. With these 42 fabulous hairstyles, it's time to up your style and channel your inner supermodel. Let's get started!
1. Runway Glamour Waves
Classic and elegant. These thick, cascading waves are timeless. Use a large barrel curling iron or hot rollers to create loose, glamorous waves. Create effortless, natural-looking waves. Shine serum adds luster and glamour. This hairstyle is ideal for formal events, red carpets, and Hollywood stardom.
2. High-Fashion Topknot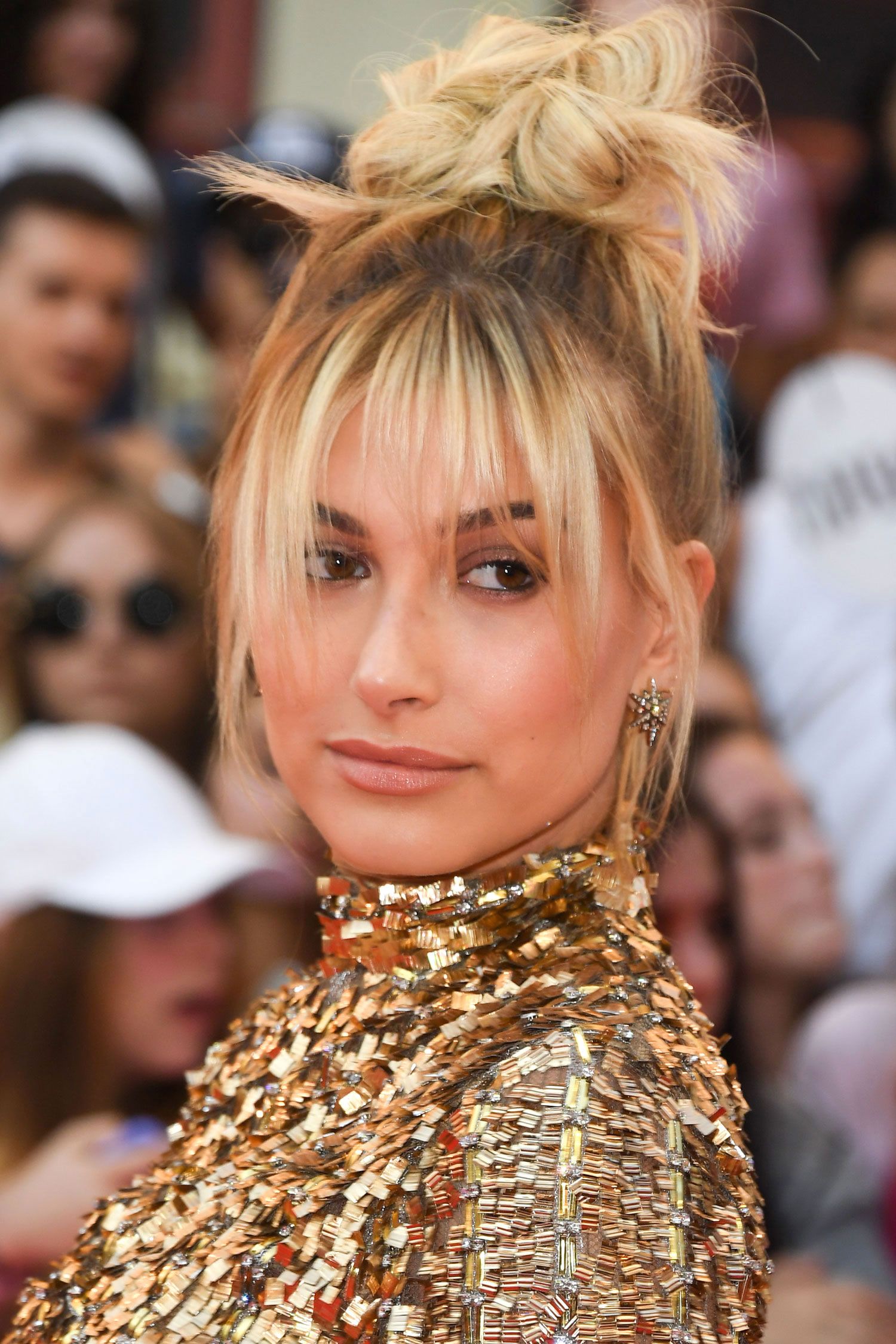 On the runway, the high-fashion top knot is bold and chic. It's a chic, high-crowned updo. To achieve this look, make a high ponytail and twist it into a knot with bobby pins. This hairstyle requires a smooth, flyaway-free finish. This edgy and sophisticated hairstyle is a statement and works with both formal and casual outfits.
3. Sleek and Structured Ponytail
This modern runway hairstyle is versatile and elegant. It's an elegant ponytail variation. This style involves slicking hair back and securing it at the nape. Wrapping a small section of hair around the hair tie hides it and adds refinement. This hairstyle works for casual and formal occasions because it suits many face shapes and outfits. It keeps hair off the face and looks polished.
4. Edgy Pixie Cut
This daring hairstyle adds attitude and individuality to the runway. This cropped haircut with textured layers is chic and edgy. This cut can be styled messy or sleek. You can add texture, volume, or smoothness with styling products. The Edgy Pixie Cut is ideal for confident, low-maintenance fashionistas.
5. Ribbon Woven Braided Crown
This whimsical and romantic hairstyle adds ethereal beauty to the runway. Its braided crown and woven ribbons create a captivating look. This hairstyle is made by braiding two sections of hair. Ribbons are woven through braids to create a stunning pattern. This hairstyle is ideal for weddings, special events, and bohemian goddesses.
6. Messy-Chic French Twist
This updo is modern and easy. This runway hairstyle can be either polished or undone messy. To create volume:
Backcomb the crown.

Gather hair into a low ponytail, twist it inwards, and secure it with bobby pins, letting some loose strands fall naturally.

Embrace the flaws and keep a casual style.
This hairstyle adds effortless chic to formal and casual looks.
7. Textured Bob with Bangs
This updated bob has bangs. This runway-inspired bob has layers and a tousled texture. Bangs add a youthful, edgy look. Use a texturizing or sea salt spray to enhance your natural hair texture to achieve this look. Create tousled curls or waves throughout the bob with a curling wand or flat iron. For all-day texture and hold, finish with a light-hold hairspray.
8. Retro-Inspired Victory Rolls
Victory rolls are elegant and charming retro hairstyles. This runway-inspired look involves creating sculpted rolls at the front of the hair, reminiscent of 1940s glamour. Start victory rolls by sectioning off your front hair. Take a small section, comb it out, and roll it toward your scalp with bobby pins. Roll symmetrically on the other side. You can wear your hair in loose curls or a chic updo. A firm-hold hairspray will keep the rolls in place.
9. Dramatic Side-Swept Waves
Voluminous and glamorous waves cascading over one shoulder make a statement. This red carpet-inspired hairstyle is sophisticated. Curl your hair with a large-barrel curling iron or hot rollers to get this look. After cooling, gently brush curls to create soft waves. Bobby pin or clip all your hair to one side. Texturizing spray and root teasing can add volume and texture. Finish with a medium-hold hairspray to hold the waves all day.
10. Fashion Forward Fishtail Braid
The fishtail braid is trendy and edgy. This runway-inspired hairstyle modernizes any look. Start by dividing your hair in half. Cross a small strand of hair from the left edge to the right. On the right side, cross a small strand to the left. Continue this crisscross pattern, alternating sides, until your hair is finished. Hair elastics secure the braid. Pull the braid sections to loosen and widen them for a more textured look. Apply light-hold hairspray to secure the braid.
11. Glamorous Hollywood Curls
Hollywood curls are red carpet glamour and timeless elegance. This runway-inspired hairstyle has voluminous, bouncy curls that cascade down the shoulders, evoking old Hollywood glamour. Curl your hair with a large-barrel curling iron or hot rollers to get this look. After cooling, gently brush the curls to create luxurious waves. Tease and spray the roots for volume. To maintain the curls, use a medium-hold hairspray. Add a sparkly hair accessory or a deep side part for extra glamour.
12. Voluminous High Ponytail
This chic hairstyle adds drama and glamour to any outfit. A high ponytail at the crown elongates and lifts this runway-inspired style. Start by brushing and pulling your hair into a high ponytail. Hair elastic it. Before securing the ponytail, gently tease the crown for volume and height. Hide the elastic with a small section of hair and bobby pins. For a sleek ponytail, use a strong-hold hairspray. For a polished look, wrap a strand of hair around the ponytail base and secure it with a bobby pin.
13. Artistic Geometric Updo
This unique hairstyle stands out on the runway. This avant-garde work of art has precise lines and shapes. It requires intricate braiding and hairpin placement to create geometric patterns. This updo challenges hairstyling with triangular and asymmetrical shapes. It's a bold choice for artists who want to stand out.
14. Sleek Center Part with Slicked-Back Hair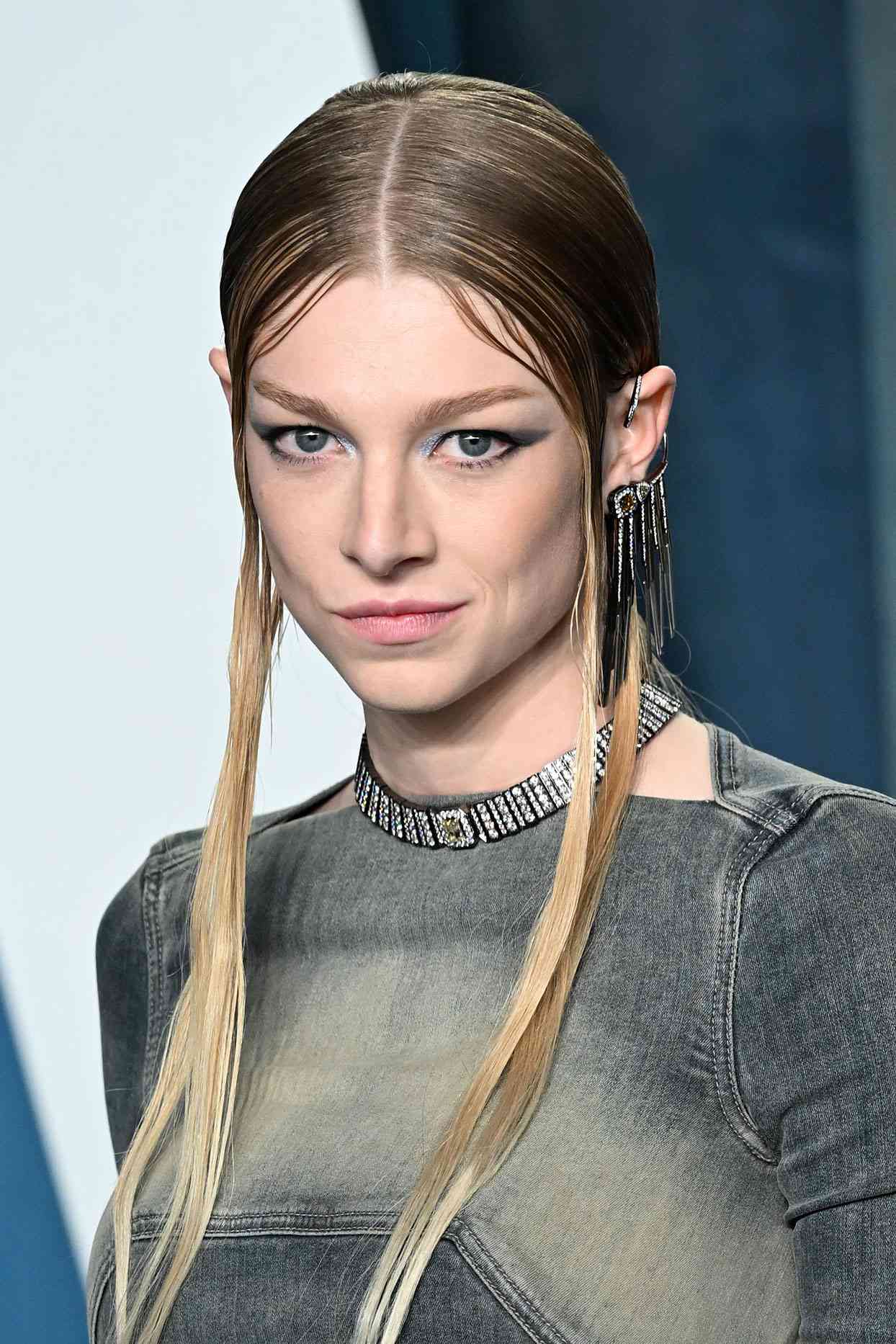 This classic runway hairstyle is elegant and sophisticated. A sleek, smooth look with a precise center part creates a symmetrical face frame. Slicked-back hair looks sleek and sophisticated. This hairstyle adds glamour to casual and formal outfits.
15. Romantic Waterfall Braid
This ethereal hairstyle adds romance to the runway. A waterfall-like braid cascades down the back or side of the head. Intertwined hair creates a beautiful braid. This hairstyle is often adorned with delicate flowers or accessories to add romance. The waterfall braid is perfect for weddings and special occasions and adds whimsy to your everyday look.
16. Bold and Colorful Hair Extensions
Models can experiment with bright colors without dyeing their hair. These extensions, ranging from pastels to neons, can create dramatic highlights, ombré effects, or colorful transformations. They add length, volume, and color when clipped, taped, or sewn into natural hair. This trend adds fun and creativity to runway shows.
17. Effortlessly Chic Bedhead Look
The effortlessly chic bedhead look embraces a relaxed and undone aesthetic. This runway hairstyle resembles slept-on hair. It looks casual. This look is achieved by curling or texturizing hair into loose waves or curls. Carefree, tousled hair. This hairstyle is ideal for those who want a casual, stylish look.
18. Avant-Garde Sculptural Updo
This hairstyle pushes hairstyling boundaries. It creates dramatic hair shapes and structures. This runway hairstyle features braids, twists, loops, and sculpted forms. Create a stunning, innovative three-dimensional masterpiece. Creative and experimental high-fashion editorials and runway shows feature the avant-garde sculptural updo. It's an eye-catching hairstyle.
19. Feathered and Layered Haircut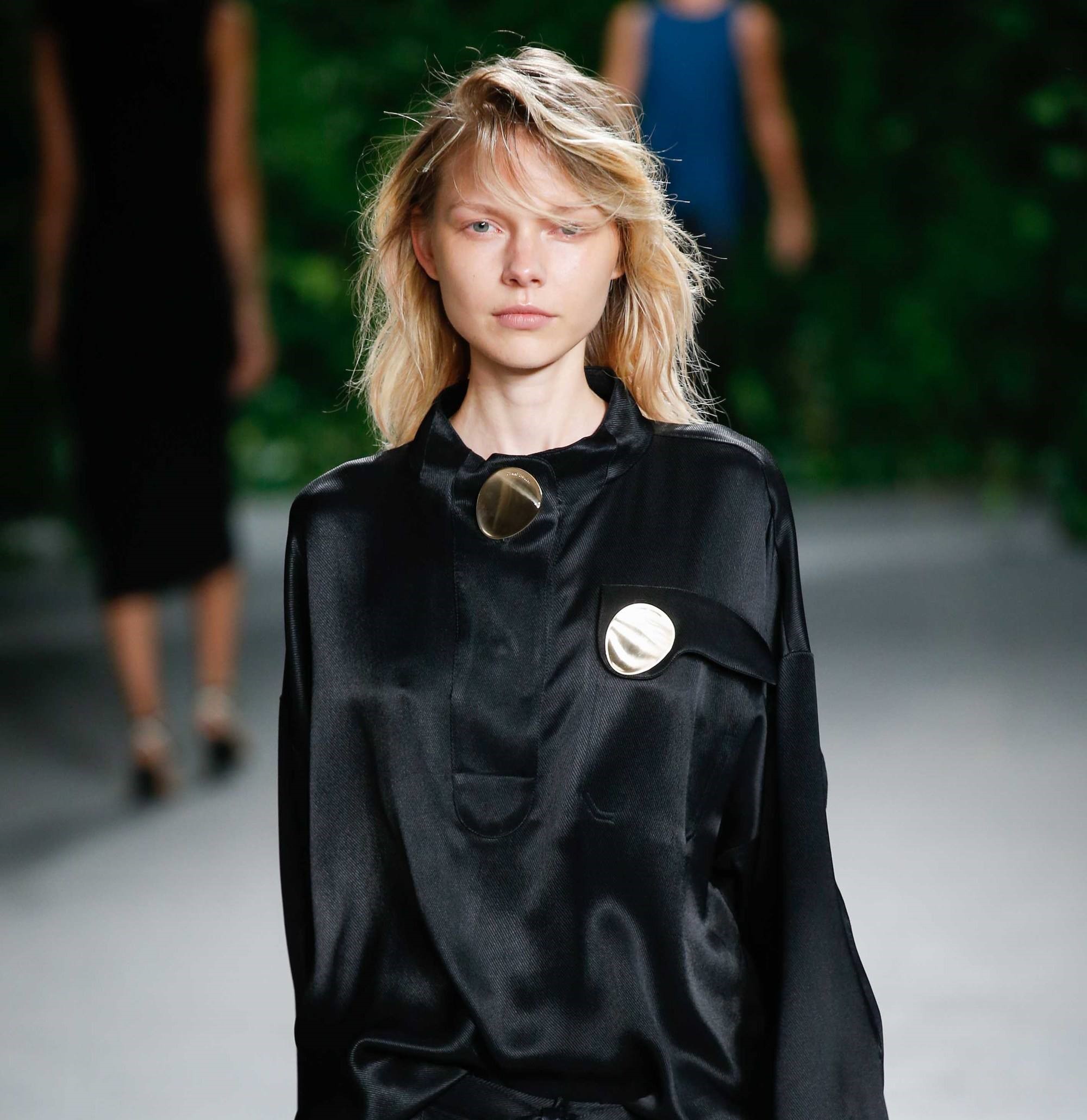 This classic hairstyle gives your hair movement and texture. Soft, feathered layers blend seamlessly to create a voluminous, flattering runway look. The layers frame and enhance your face. This haircut suits short to long hair and can be customized to your style. The feathered and layered haircut can be styled to look tousled or sleek.
20. Geometrically Cut Bob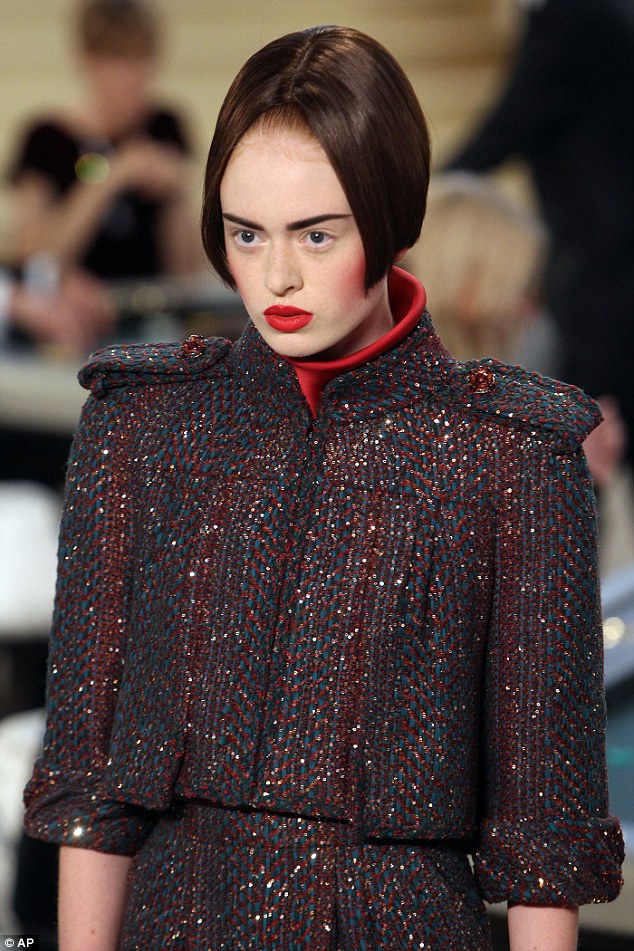 Modern and sophisticated, the bob is bold and edgy. This runway-inspired bob is sleek and structured. Haircuts accent geometric shapes like squares and triangles. This avant-garde haircut is ideal for statement-makers. Geometrically cut bobs, whether chin-length or longer, add architectural elegance to your look. Pair it with a sleek center part or textured waves for a chic look. This hairstyle looks best on straight hair.
21. Elegant Chignon with Hair Accessories
This classic and refined hairstyle adds glamour to any occasion. A neatly twisted or rolled bun at the nape of the neck gives this runway-inspired updo a polished look. Jewelry, combs, and flowers elevate the chignon. These accessories make the hairstyle perfect for weddings, formal events, and sophisticated nights out. The elegant chignon with hair accessories can be customized to match your style and the event theme.
22. Fashionable Mohawk Updo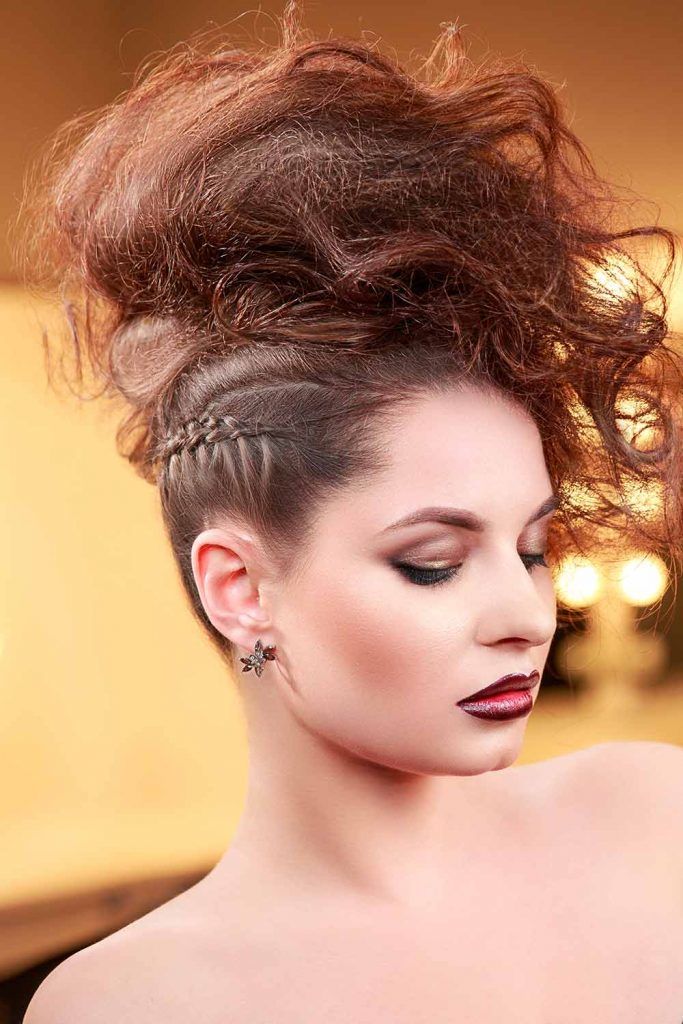 The trendy Mohawk updo is edgy and elegant. This runway-inspired updo has a dramatic vertical section of hair styled into a Mohawk-like strip down the center of the head. Slicked or braided sides create a sleek contrast. This hairstyle is ideal for bold, individualistic people. Hairpins, chains, and other accessories can add style to the Mohawk updo.
23. Urban-Inspired Cornrow Braids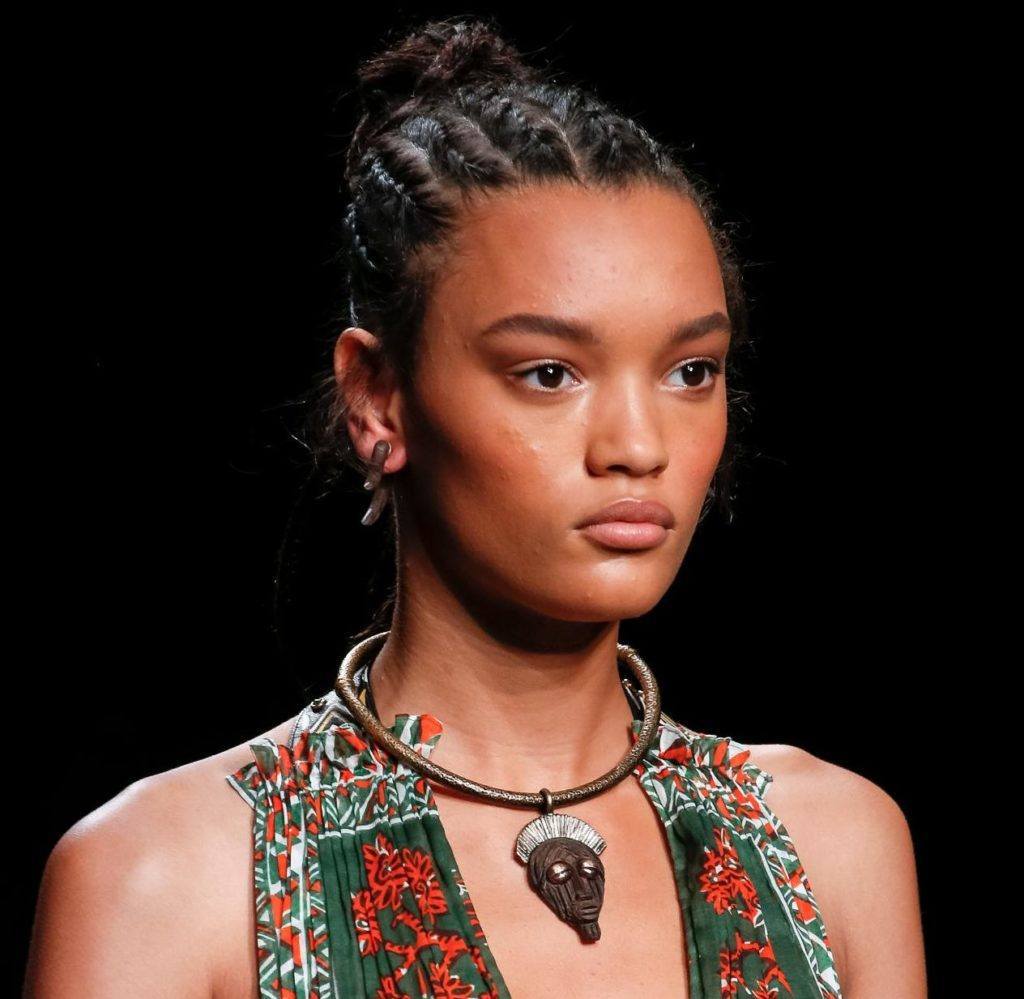 African-inspired urban-inspired cornrow braids are trendy and stylish. This runway-inspired style has intricate, neatly woven braids close to the scalp. Cornrows can be straight, zigzag, or curved, allowing for endless creativity. This hairstyle protects and looks good. Urban-inspired cornrow braids showcase your style and natural hair texture.
24. Half-Up Half-Down with Embellishments
This versatile and glamorous half-up hairstyle combines sophistication and playfulness effortlessly. This runway-inspired hairstyle pulls the top section back and secures it while the rest falls freely. Twisted or braided details, voluminous pouffes, or sleek and polished looks can be added to the half-up portion. Jewelled clips, floral accessories, bows, and decorative bobby pins can be strategically placed throughout the hairstyle to add elegance and charm. This hairstyle shows off your personality and inner fashionista for formal and casual occasions.
25. Retro Bouffant with Headscarf
The retro bouffant with a headscarf adds elegance and vintage glamour to any look. This '60s and '70s-inspired hairstyle has a teased crown and a sleek back. Start by teasing your crown to add height and volume. Carefully smooth the top layer over the teased section for a polished look. For a chic and playful finish, tie a colorful headscarf around your head in a knot or bow. This retro bouffant with a headscarf is perfect for special occasions or vintage styling.
26. Sleek Low Bun with Hair Wrap
This elegant hairstyle features a low bun with a hair wrap. The hair is combed back and pulled into a low ponytail at the nape. Pins secure the ponytail's tight bun. A section of hair is wrapped around the bun base to hide the hair tie and finish the look. This sleek, minimalist hairstyle adds sophistication to any outfit for formal or professional occasions.
27. Intricate Basket Weave Braid
Braiding artistry shines in the basket weave braid. This intriguing braid technique gives your hair the appearance of a woven basket. Divide your hair into two equal sections to get this look. Take a small strand of hair from the outer edge of one section and cross it over to the other, weaving it under and over the strands. Alternate sides and weave the strands under and over until your hair is finished. Clear elastic band the braid. The basket weave braid is a stunning hairstyle that will draw attention. You can also wear a low ponytail with weaved basket crown.
28. Playful Space Buns
Space buns are fun and youthful hairstyles. Start by parting your hair in half. Next, tie each section into a high ponytail with elastic bands on each side of your head. Twist each ponytail tightly into a spiral and wrap it around the base to form a bun. Bobby pins the buns and pulls out a few strands for a messy, effortless look. Space buns can look polished or messy, depending on the occasion. They are popular for festivals, casual outings, and adding a touch of playfulness to your look.
29.  Structured High Ponytail with Volume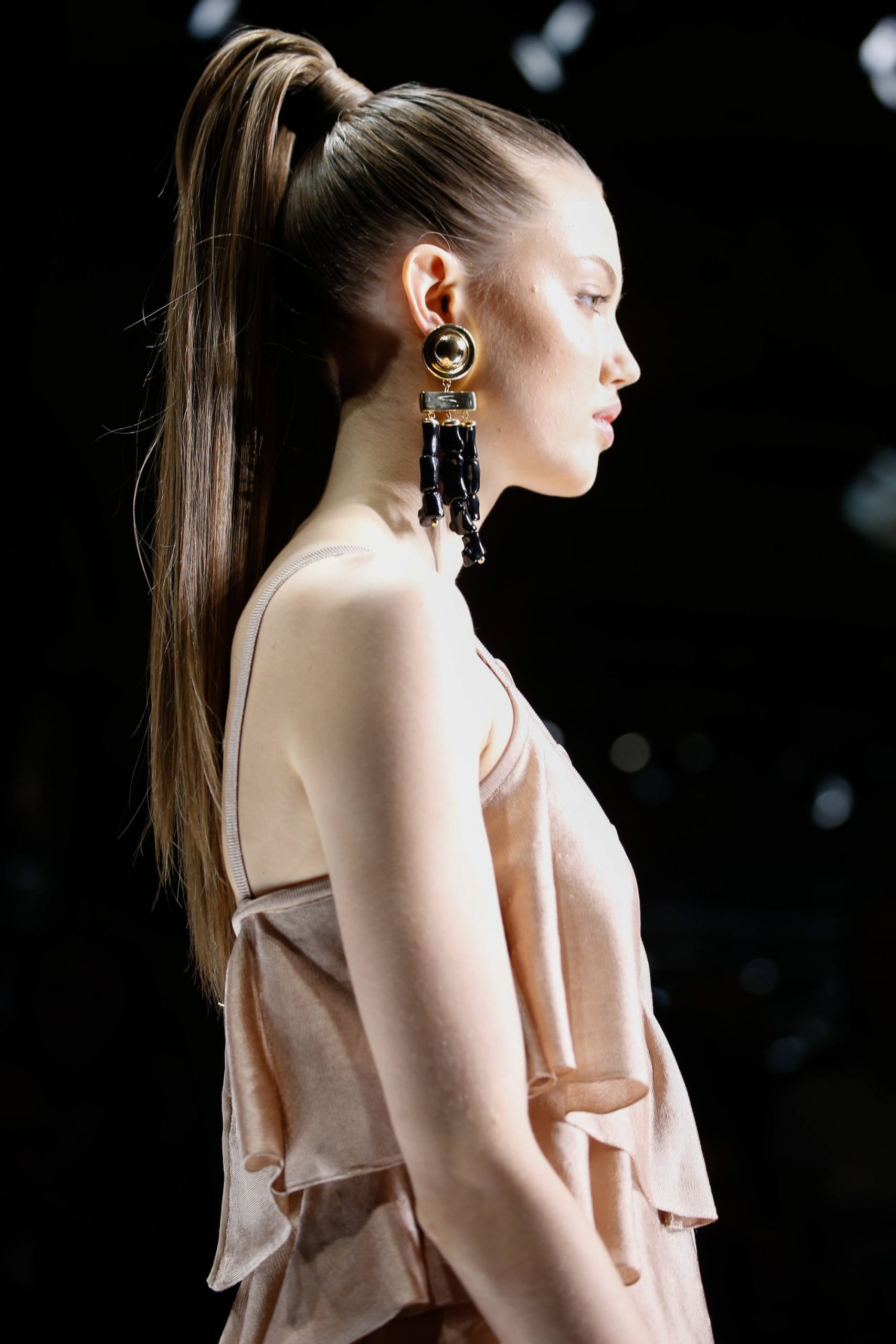 The powerful volumized high ponytail exudes confidence. This elegant look is perfect for formal events or for making a statement. Start by putting your hair in a high ponytail at the crown and securing it with an elastic band. Smooth the hair with a fine-toothed comb. Tease the ponytail base and gently brush the top layer to add volume and structure. Wrap a small section of hair around the elastic band to hide it and look polished. The timeless and elegant structured high ponytail with volume suits many face shapes and can be worn with both formal and casual outfits.
30. Loose Waves with Floral Accents
Loose waves with floral accents are romantic and whimsical. This hairstyle has feminine, ethereal waves and delicate floral accessories. Curl hair away from your face with a curling iron or wand to create loose waves. To create a casual look, gently tousle your waves with your fingers or a wide-toothed comb. To add romance, strategically place small flowers or floral clips in your waves. Weddings, garden parties, and other romantic occasions suit the loose waves with floral accents.
31. Geometrically Shaped Afro
This modern take on the afro is bold and modern. Sharp, angular lines give this runway-inspired afro a modern twist. This creates an eye-catching hairstyle. The afro is shaped and sculpted to create geometric patterns like triangles, squares, and diamonds. This hairstyle celebrates natural hair and precise angles. It's a bold hairstyle for confident, individualistic people.
32. Bohemian-Inspired Loose Braids
Bohemian-inspired braids are romantic and carefree. Loose, undone braids are the focus of this hairstyle. To look carefree, the braids are loose. The hair is loosely braided and left loose to frame the face for a bohemian look. This hairstyle can be styled up or down. Festivals, summer parties, and boho goddesses love it.
33. Textured and Tousled Lob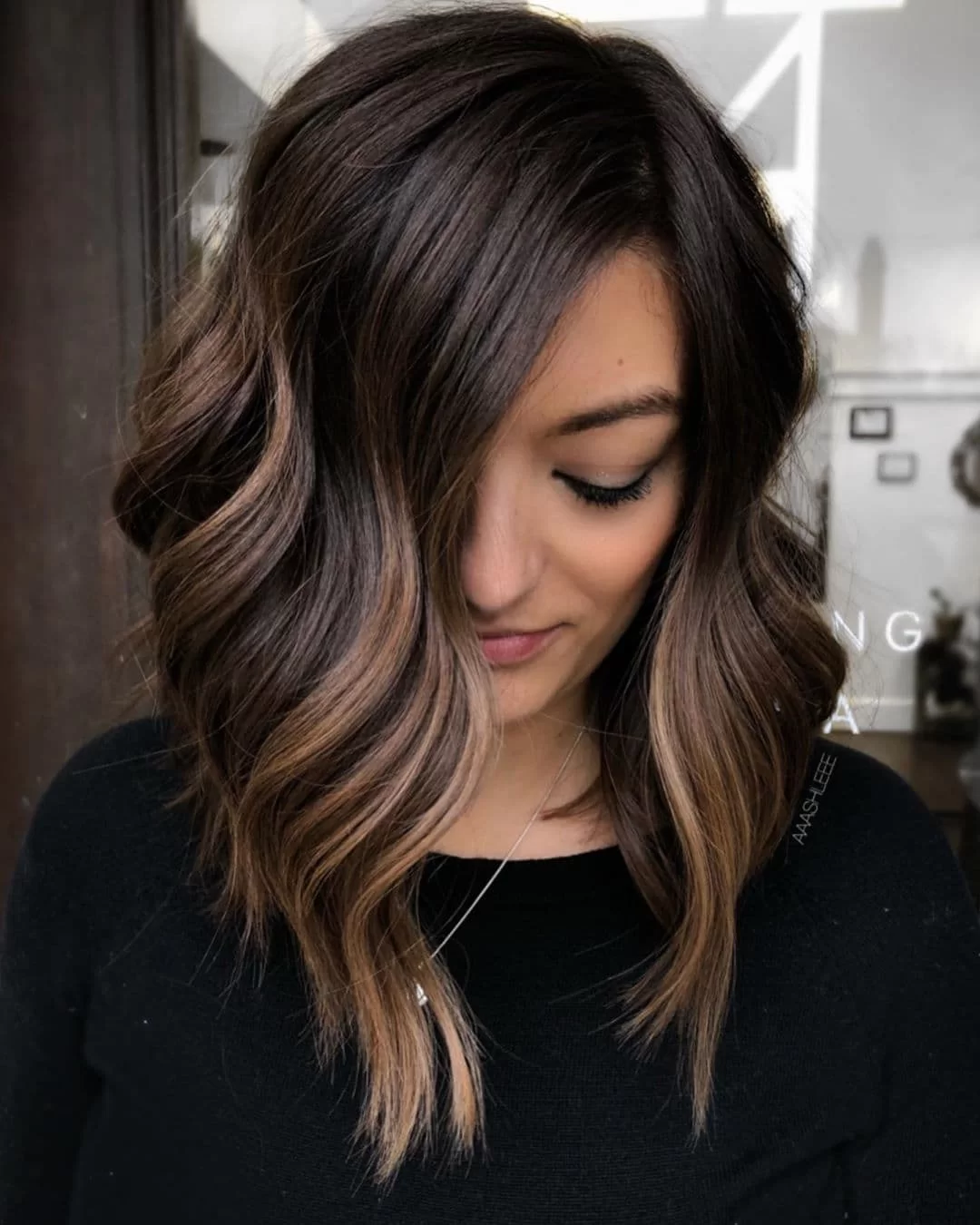 The trendy, chic, textured, and tousled lob has taken over fashion. This runway-inspired lob has effortless texture and tousled waves. This style is achieved by creating loose waves with a curling wand or textured styling products. To achieve a natural look, the waves are tousled and teased. It suits many face shapes and hair types. It can be dressed up or worn casually.
34. Architectural Hair Sculpture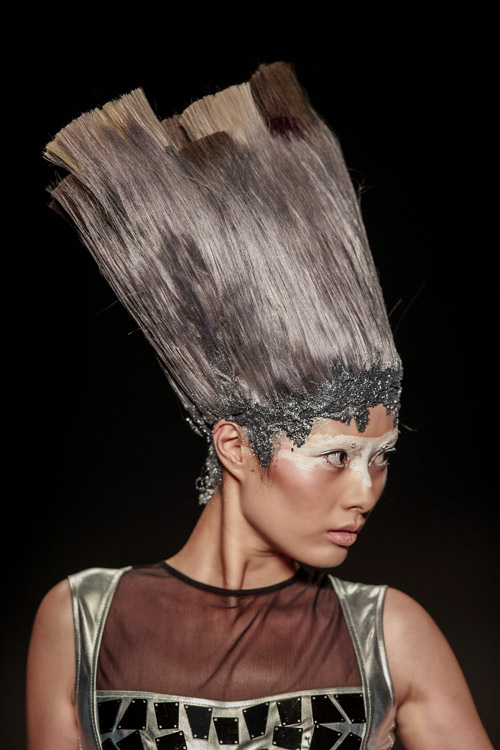 Hairstylists' creativity shines in architectural hair sculptures. This avant-garde runway hairstyle creates intricate and sculptural hair shapes. These sculptures resemble architectural masterpieces with bold, dramatic structures such as spikes, dragons or metallic art. This look is achieved by manipulating, teasing, and shaping the hair with various products. This artistic hairstyle blurs the line between hair and sculpture. Architectural hair sculptures are captivating for fashion shows, editorial shoots, and avant-garde events that celebrate creativity and artistic expression, but not for everyday wear.
35. Statement-Making Hair Accessories
Hair accessories can change a hairstyle. Runway-inspired hair accessories elevate accessorizing. These accessories include large bows, feathers, headpieces, and metallic accents. They draw attention and enhance any hairstyle. From sleek updos to loose waves, statement-making hair accessories allow endless personal expression. These eye-catching accessories are perfect for weddings, special events, and everyday glamour.
36. Elegant Side-Swept Updo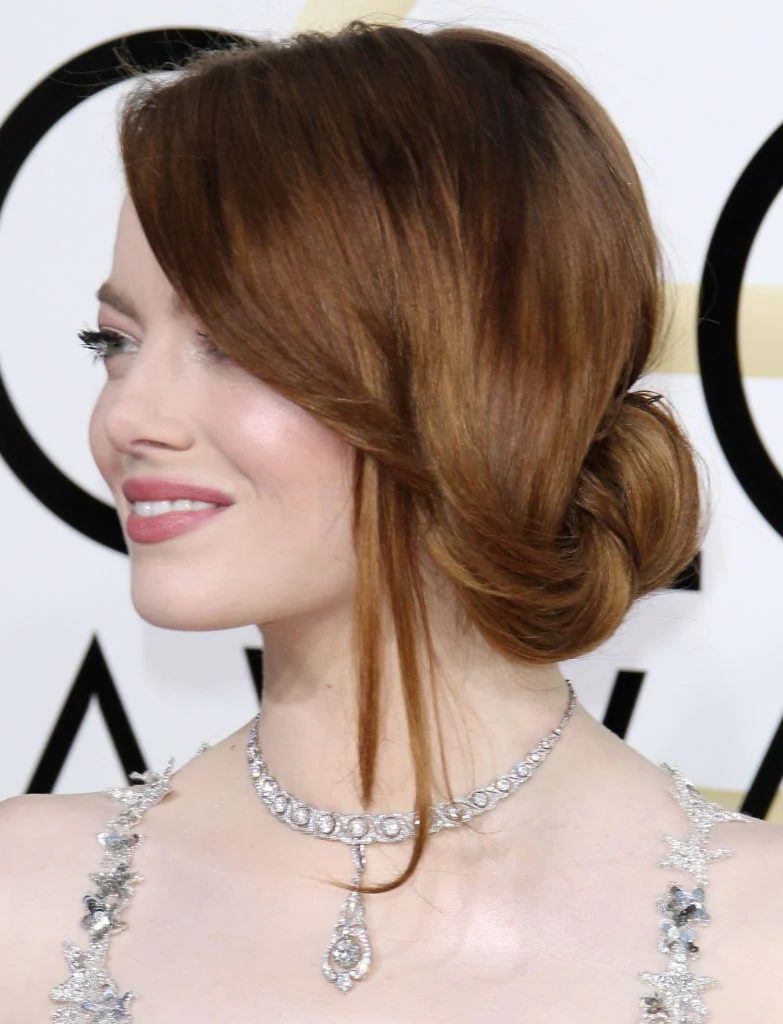 This timeless hairstyle exudes sophistication and grace. Sweeping hair to one side gives this runway-inspired updo a modern twist. An intricate updo with loose tendrils or soft curls frames the face. This hairstyle is ideal for weddings, formal events, and other occasions that require a polished look. It suits different hair lengths and face shapes. For elegance and charm, try the side-swept updo.
37. Funky Undercut with Design
This bold, edgy, undercut hairstyle exudes confidence and individuality. This hairstyle contrasts a shaved side or back with longer hair. This hairstyle has a unique design carved into the shaved section, adding artistic flair. Geometric shapes and intricate patterns are popular, allowing endless customization. Artistic people like this avant-garde hairstyle.
38. Feathered and Layered Pixie Cut
This timeless and versatile layered short hairstyle adds femininity and sophistication to short hair. Short, expertly blended layers give this cut a soft, wispy texture. Feathered layers enhance the pixie cut's natural shape. This hairstyle is ideal for a low-maintenance style. It can be dressed up or down, making it versatile. You can look sleek or tousled with the right styling products.
39. Romantic Half-Up Braided Crown
This dreamy hairstyle embodies romance and femininity. This half-updo has a braided crown. The crown-like top section of the hair is intricately braided, while the rest falls in loose waves or curls. The look is whimsical and romantic, perfect for weddings and proms. Flowers and accessories can enhance this hairstyle's charm.
40. Sculptural Twisted Updo
This striking hairstyle features intricate twists and turns to create a sculptural look. This updo requires skillfully twisting and securing hair into a three-dimensional shape. The hairstyle is stunning. This avant-garde hairstyle allows for unlimited creativity and experimentation on high-fashion runways. It's perfect for fashion-forward hairstyles.
41. Textured and Layered Shag Cut
This trendy, shaggy, and layered hairstyle adds volume and movement. Choppy layers and textured ends make this cut look lived-in. The shag cut suits all face shapes and hair textures, from short to long. This hairstyle can be styled in many ways, from beachy waves to messy buns for a stylish, low-maintenance look.
42. Fashionable Headband Braid
This chic hairstyle adds bohemian charm to any outfit. A braided headband adorns this hairstyle. Soft waves or a sleek ponytail are options for the rest of the hair. The headband braid is fashionable and functional, keeping hair out of the face while adding style. It can be styled casually or formally.
Other Articles