Side swept, braided, up, twisted, accessorized, simple, or complex. Half-up hairstyles are appropriate for all textures, lengths, and occasions. This collection includes casual and elegant options, with prints ranging from bohemian to urban.
1. Adorned with pearls
Another instance is a hairstyle in which the accessories do all the work. Some were twisted here and there. A scattering of pearl clips arranged in a specific pattern adds the finishing touch. They add luster and vibrancy.
2. Bun wreath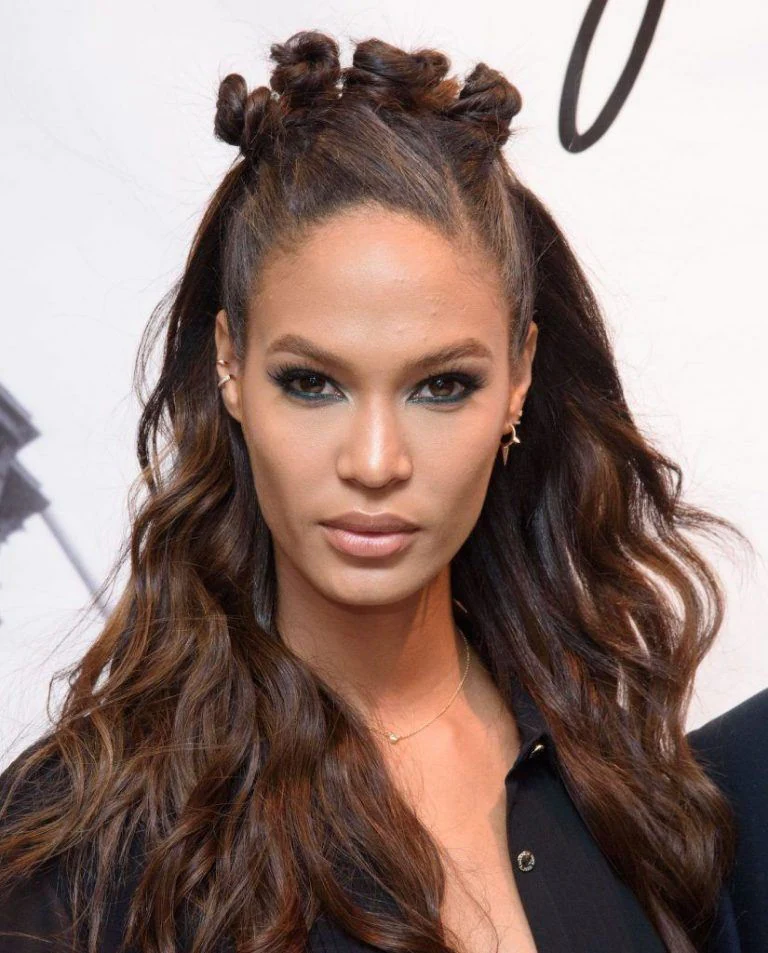 This half-up hairstyle completely took our breath away. It has height, presence, and movement, yet it remains firm. Does it have everything? A crown is formed by four buns in a row at the crown of the head.
3. Pendant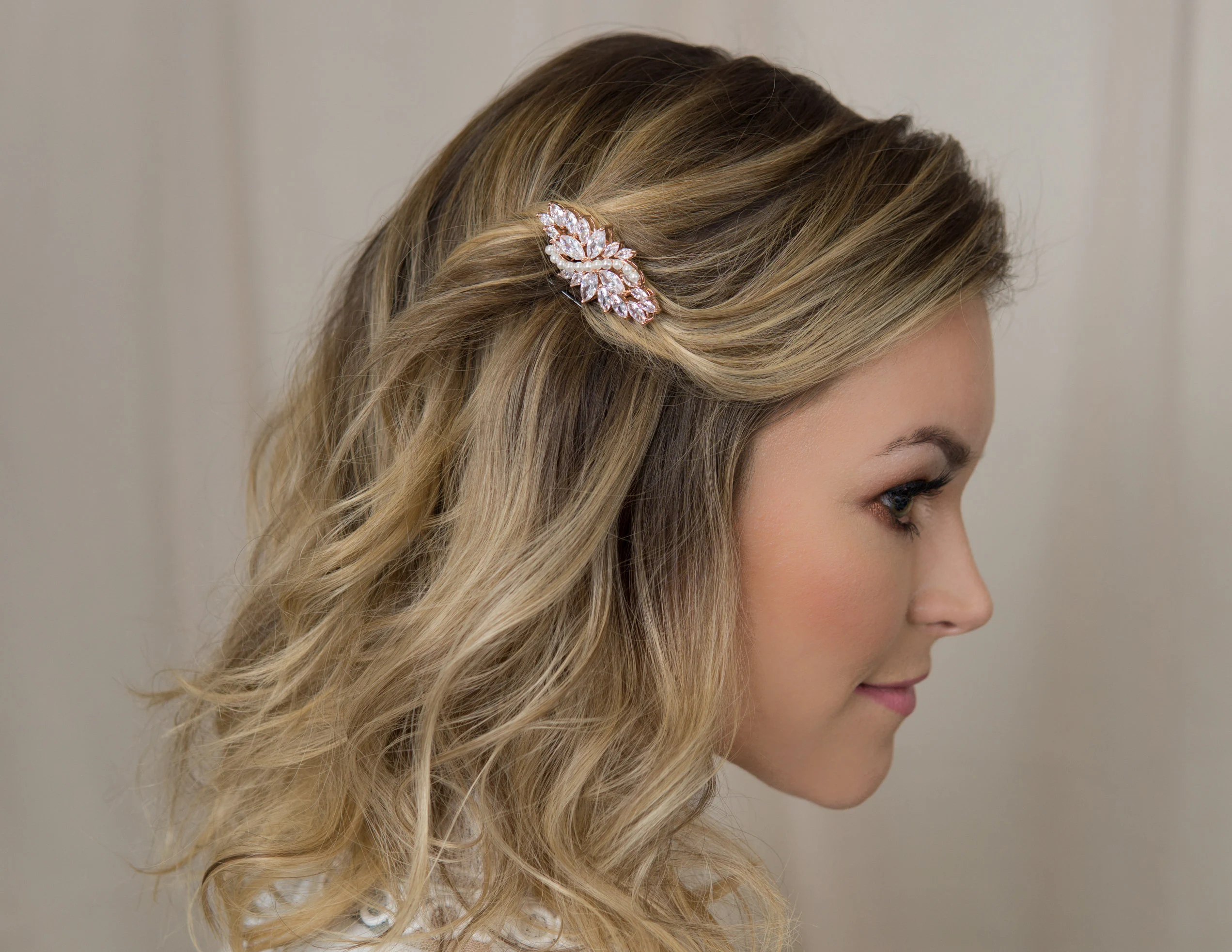 A simple barrette or a few French barrettes can be responsible for putting together a hairstyle effortlessly. This side updo hairstyle drew us in because of its simplicity, but more importantly, because of its beauty. It is accomplished by pinning the side strand at the nape of the neck with bobby pins.
4. Headband with double braids
Technically, this is not a headband braid but has the same effect when crossed over the head. The difference is that it is not tucked behind the ear and is instead allowed to fall. With two thick braids, this look also doubled the bet.
5. Tiny braided locks
Take a strand of hair just above the hairline. Make a braid—rep on the opposite side. Start at the back. The procedure has concluded. A style that can be done without much thought.
6. Back with a wet hair look
The key to this look is overlapping. Section a strand of hair to one side and comb it tightly back. Then, style and pull back the top layer. The second one will conceal the hairpins holding the first one. A wet effect can be added. The metallic applique, however, adds the perfect finishing touch.
7. By using flowers
A little flamenco enthusiasm never hurt anyone. Flowers are also required for half-updos and updos. A bouquet of red, white, and pink roses gathers part of the hair to one side in this case. It takes on even more personality with a middle parting. As she did, you can pair it with matching lipstick.
8. False sideburns with a slicked-back ponytail
A braided necklace? A braided necklace! It's incredible. Create a side parting with root braids and a textured swept-back ponytail. It appears to be a lot, but it works.
9. Half-ponytail with loose braids
We can see this expression on the faces of some of our favorite trap stars. Perhaps because of the urban spirit of loose braids on the sides held in place by small cords and a high half-tail.
10. Braids of Dutch roots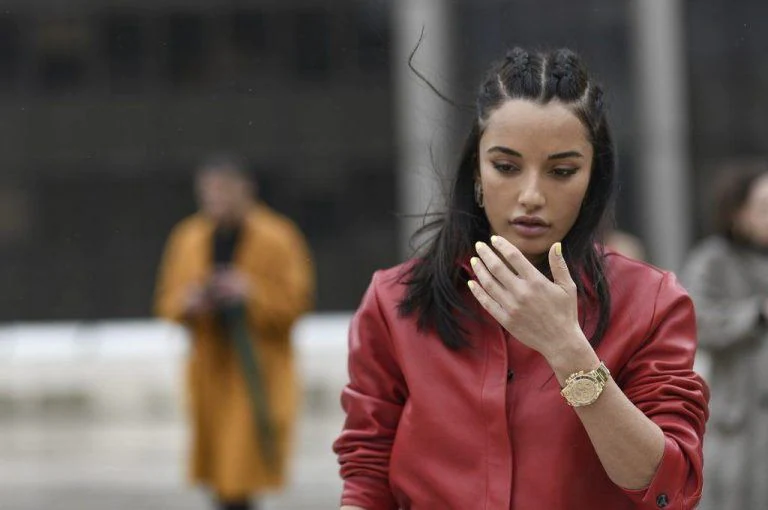 Tight. Well-defined. Four Dutch braids form a half-up hairstyle suitable for all hair lengths. The trick is to section your hair and weave braids by crossing the strands underneath.
11. Feather braid on the side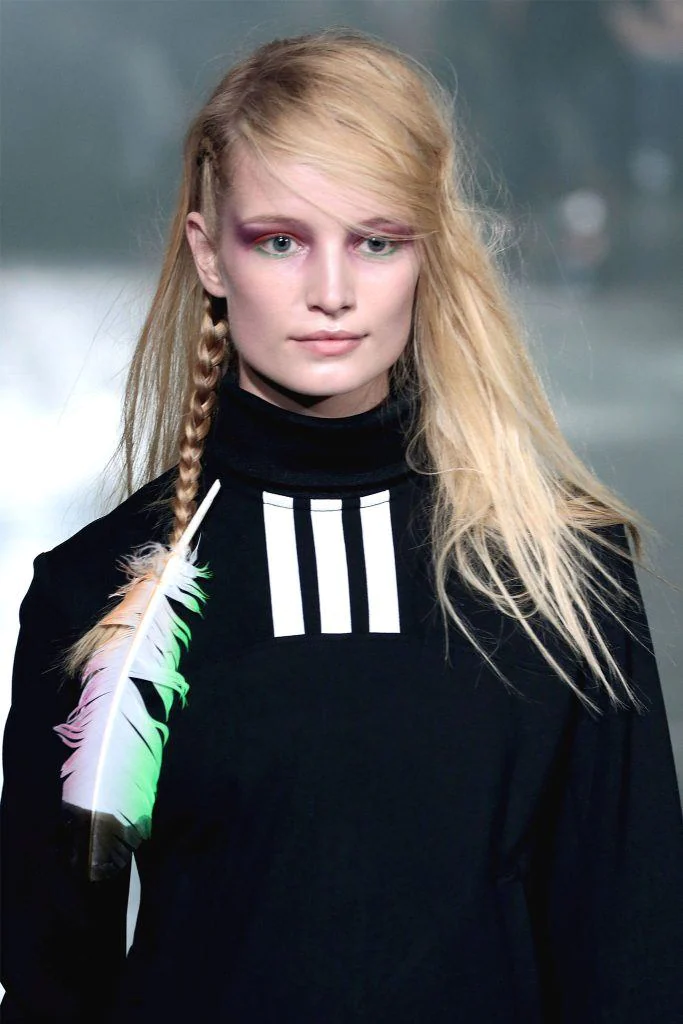 The colorful feather detail at the tip of a single-side root braid that falls just behind the ear draws all the attention. The rest of her hair is a little tangled. The result is a fun, unique, and daring look.
12. Side swept curls and a braid symphony
This is one of those half-updos that appear to be designed specifically for curly hair. Take it one step at a time: a series of braids at the roots leads to a high-side bun. To frame the face, two thin braids fall just in front of the ears.
13. A half-loop and a loose braid
This style has elements of both the samurai and boho hairstyles, possibly due to the loose braid and the locks in front. In the same half-updo, two worlds collide.
14. Pulling back
A half-updo can sometimes be achieved by pulling a strand of hair back. The emphasis, in this case, was on the tightness and the accessories, two camellia-shaped pins, one white and one black.
15. Hairstyle chignon
Do you still doubt your ability to do a lot with your hair? Look at this bun. Yes, you have your hair accessory. Of course, you could do it with a hairpiece, but it's worth a shot. This chignon hairstyle tutorial will walk you through each step.
16. Braided heart
Hair can be used to express oneself, and this particular look radiates love all over. The heart braid is created by braiding two pigtails together. The ends are then joined together and twisted outward to form the shape.
17. Ponytail on the side
This side ponytail is super accessorized with colorful geometric brooches from the drawer of nineties memories. The bangs were worn on the opposite side to balance out the visual weight of that side part.
18. Bangs braided
This is a fun way to experiment with the long fringe and the angle it creates when it falls to the side. This braid serves as a finishing touch. Incorporate strands from the top to accomplish this. Make sure to keep the heights under control for maximum effect.
19. High ponytails
Let's add another half-updo with curls to the list. It's simple: make a parting in the middle and two ponytails. Ideal for when you need to clear your mind. To get that defined curl, it's best to finish them with something like homemade linen gel.
20. A-side bubble pony
If you liked our bubble pony half updo hairstyle suggestion, you'd love this side-swept variation. Create the sections by incorporating a strand of hair to keep it close to the head.
21. Two bunny-braided ponytails
This could be one of those half-updos with braids that are both functional and attractive as school hairstyles. What does it entail? Two bun-adorned braided ponytails
22. High ponytail with half braids
The high braided ponytail will suit you whether you have a bob, a half bob, or extra long hair like the woman in the photo. Given the length, an interesting effect is created as the braid tapers towards the end in this example.
23.Buns x 3
These buns are aligned horizontally like three flowers for an unusual half updo. The three sections of hair are equal for a good look, and the buns are done at the same height.
24. Ponytail with feathers
Flapper girls wore feathers as hair ornaments in the 1920s. We present a more contemporary version as a half-updo in their honor. It's a simple side ponytail with feathers attached and mixed in with the hair.
25. Ribbon braids
The rope braid is a more structured variation than the twisted braids. They are made by twisting and winding together two locks. She made two, one on each side, and joined them at the back, taking care to conceal the elastic with a strand for a more finished look.
26. Herringbone braided half-tail
The herringbone braid is more difficult to make than the traditional braid, but it is well worth the effort. It is shown here as a braided half-tail, one of the best half-up hairstyles for a bob or long bob hair.
27. Braids and flowers
Hair is a blank canvas for one-of-a-kind designs. The central flower shape elevates the already well-known combination of side braids joined at the back in this case. A new braid is born from this flower. As a result, it is regarded as one of the most poetic half-updos with braids.
28. Hairstyle for a Samurai
This more structured and polished look is ideal for special occasions or events. The top's tightness and the unwavering straightness of the loose hair are key components of this look inspired by ancient Japanese warriors. The signature loop is created by leaving the last twist of the elastic halfway up the leg.
29. Loose braids and half-tails
By now, you must be thinking that the half ponytail is the wild card for half updos. You are correct. As evidence, consider this half-tail with loose strands in front. Some are braided, while others are not.
30. Half-side ponytail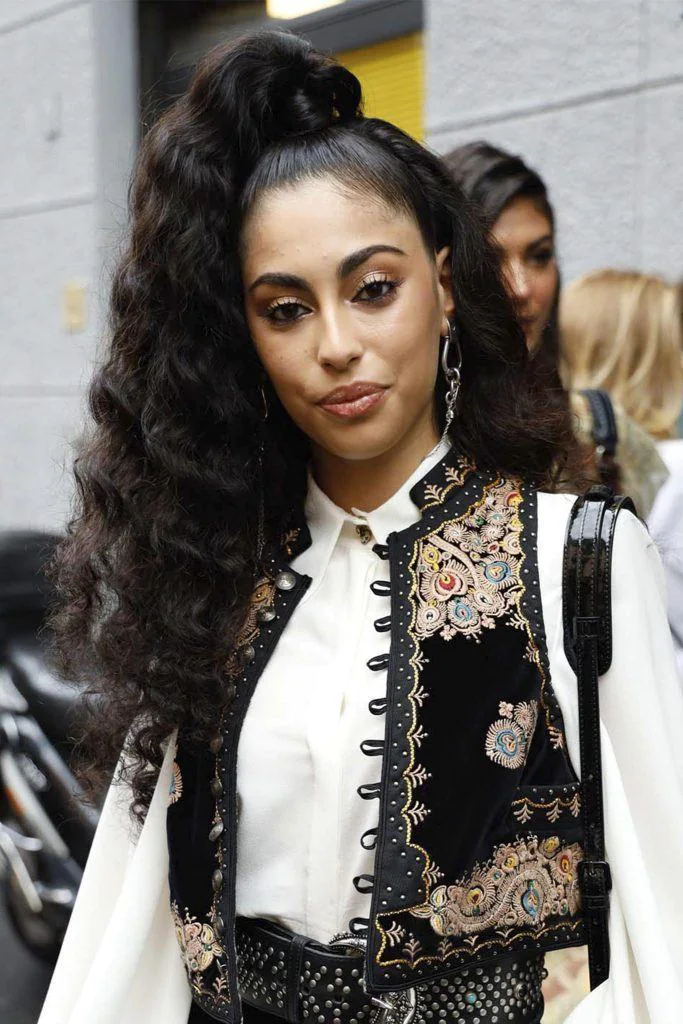 We love the contrast between the tight front section and the volume of the tail. The fact that it's on the side is an important detail. And those defined waves contribute just as much.
31. Wrapped half-tail
An elegant look inspired by the classic French hairstyle, also known as the banana hairstyle. Section off a section of the hair as if you were going to make a half-tail, then wrap two fingers around the hair to form a twist. Using bobby pins, secure the hair.
32. Braids made from a handkerchief
We've reached the next level of half-updos with braids. If you've mastered the art of braiding, try this style with a scarf. If it contrasts with your hair color, that's even better.
33. Bubble pony
The famous bubble pony effect works perfectly with a half updo. It's as simple as making a half ponytail and then sectioning it with elastics, one below the other and spaced apart. Volume is added at the end by gently pulling on each section.
34. Bohemian braids
Casual, but not by accident. A look for every day or when you want to feel particularly bohemian. Braid a generous central strand without too much concern for neatness. Then, braid two braids on each side and secure the ends if necessary.
34. Two braids from the Netherlands
As you can see, there are numerous ways to style a braided half updo. The key to this one is found in the bottom sections. Begin by making a horizontal parting at the ear level. Divide the top section and create a Dutch braid on each side. Fasten when you reach the horizontal line.
36. Braided braids
The "two braids tied together at the back" method has proven effective. But what if we tie them behind our backs? What if we add volume by gently pulling on the sides? What if we also left those unkempt hairs alone? The outcome is visible.
37. Twisting a scarf
This is a great example of how an accessory can change the game. This headband or scarf could have been worn normally. However, it allowed for a slightly more elaborate (but not overly so) hairstyle. We're talking about wrapping strands of hair around the accessory!
38. Three mini braids joined together
Are you looking for simple half-updos with braids? This one is unquestionably on the podium. Three small strands on each side were braided into mini braids and joined at the back. It has texture, rhythm, and distinctiveness.
39. Unicorn braided bun
What about a little fantasy? If you answered yes, the unicorn braid will not let you down. It's a Dutch braid woven around a central lock at the crown of the head. It can then be secured with elastic or finished with a bun.
40. Twists
This one takes us back to the 1990s hairstyles. Raise your hand if you were the one who wore these twists with small butterfly clips! The only big secret to nailing this look is to section off strands of the same thickness and add hair as you twist.
41. Wavy half-high ponytail
Small details can transform even the most basic half-updos into something unique. Small details, in this case, refer to the hair's base texture (those amazing waves! ), the tightness of the top, and the neatness with which the elastic was hidden with a lock.
42. strands crossed over
We present a more formal option, suitable as a party hairstyle. We should also mention how simple it is to carry out. It is made by alternating strands on both sides and fastening them with bobby pins hidden beneath the strands.
43. Knot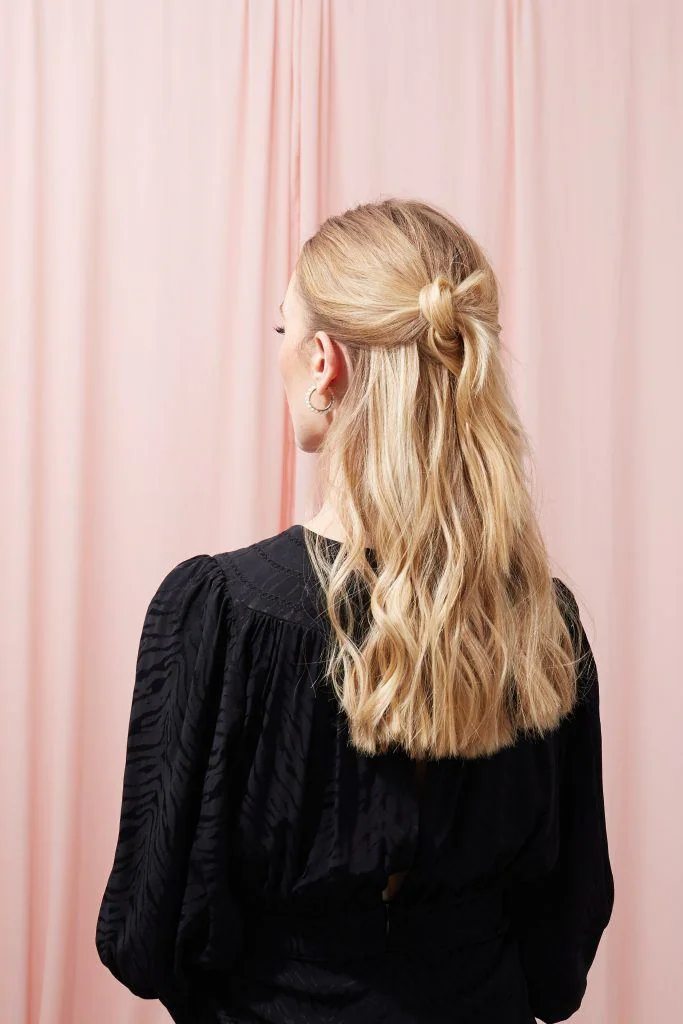 Do you understand how to tie your laces? Then you know how to recreate this look, one of those simple half-updos that appear more elaborate. Finish by adding texture to your loose hair.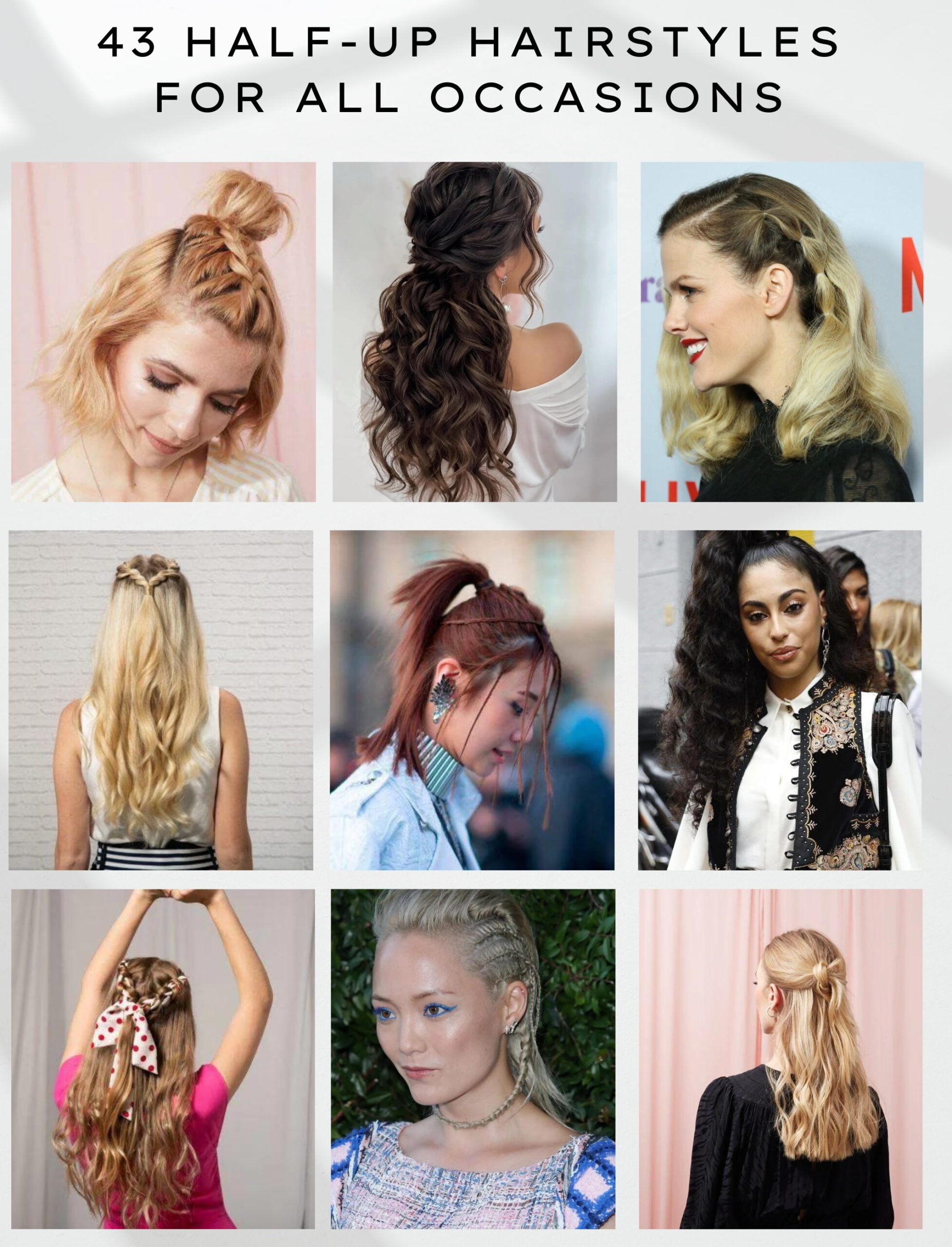 Other Articles