The majority of women learned to braid their hair at a young age. However, when we hear the term "French braid," we tend to think of a sophisticated hairstyle that is entirely different from what we have braided since childhood. The truth is that the French braid is fundamentally the same as any other braid. You might have braided it without realizing it was a French braid. So, we have compiled our 38 top French braid hairstyles for you this season.
1. Fishtail Braided Updo
To start with, we have this elegant updo. Twist a fishtail braid and a French braid together into a bun at the nape of the neck—a perfect choice for your next party.
2. Mermaid Fishtail Braid
If you want to keep your hair out of your face, this is the beach hairstyle for you. Furthermore, it is not as difficult as it appears; however, it can be challenging to perform on yourself. Practice on a friend's head before attempting it on your own.
3. Chunky French Fishtail
This looks stunning for any occasion. Keeping the French fishtail tight while braiding can be challenging, so practice is recommended.
4. Fishtailtail Braided Bun
This French fishtail updo is stunning and ideal for beginners because it does not need to be overly tight. You have to be careful about keeping it pretty loose.
5. Side Braid in a Bohemian Style
Half French braid, half fishtail in this boho side braid. If you don't like the French fishtail, try converting a regular French braid into a fishtail. Boho braids are every women's love.
6. The French Fishtail Braid
The French fishtail is another variation we wanted to include in our comprehensive guide to French braids. And this is an excellent example of a cute French braid with no additional embellishments. Before moving on, give it a shot.
7. French Twisted Ponytail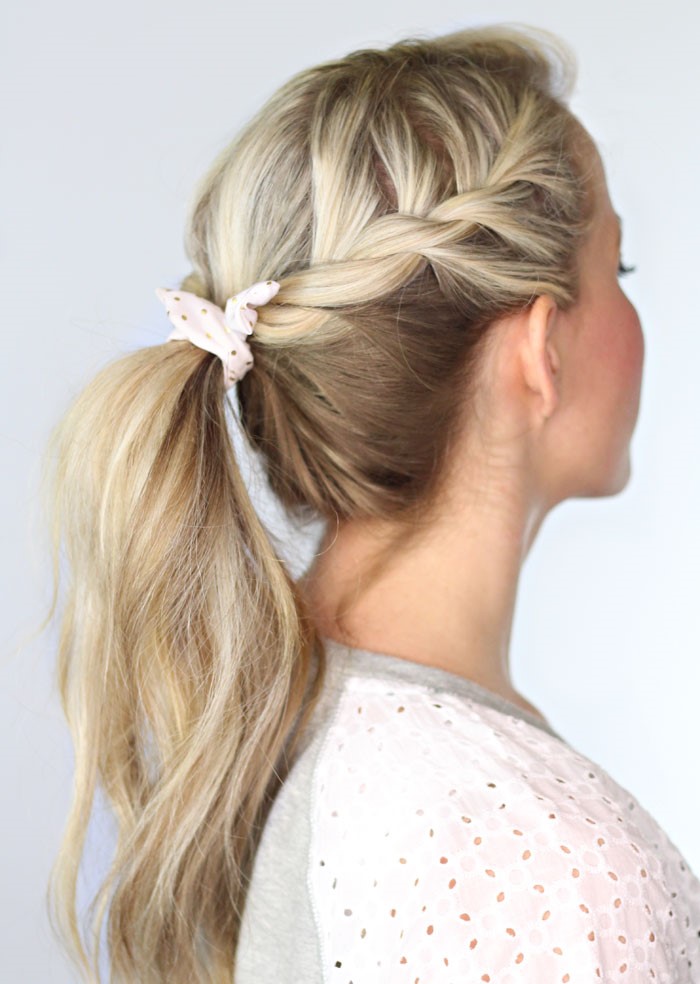 With this French ponytail, you can add a new twist to your hairstyle. We decided to include this look on the list because it can be achieved using many of the same techniques as the French braid.
8. Waterfall Braid
If you've seen this braid on Pinterest but have yet to try it, now is the time to do so. Waterfall braids are becoming popular nowadays because of the style it holds. Similar to the name, it makes your look noteworthy.
9. Lace Braid with a Curved Updo
This hairstyle was inspired by Nicole Kidman's and is more straightforward than it appears. It's simply a slew of stacked lace braids. This hairstyle has its uniqueness.
10. Horseshoe Lace Braid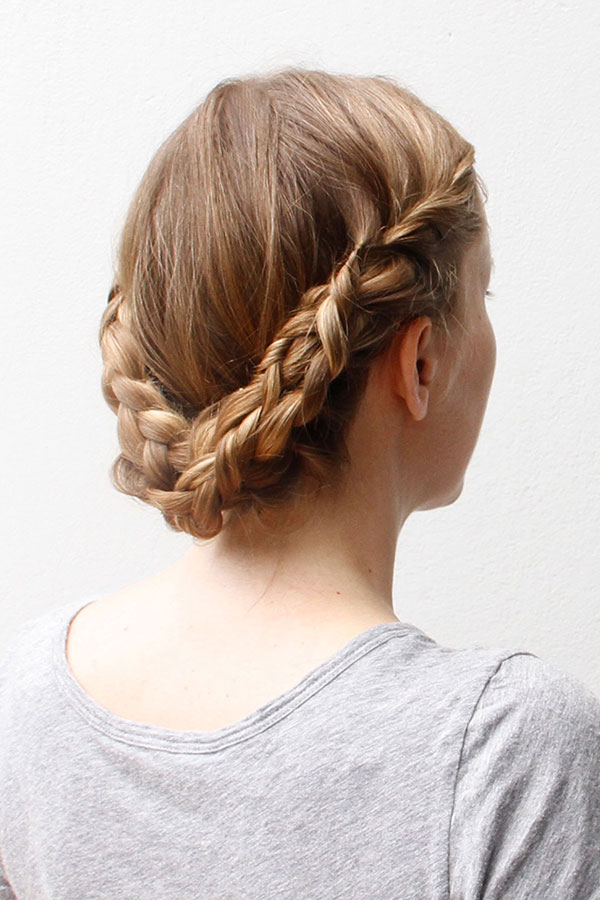 This quick and easy updo with horseshoe braids is perfect for a day out or a night on the town, even if it's been a few days since your last shampoo. Furthermore, this hairstyle works well with both long and short hair.
11. Lace Braided Romantic Boho Updo
This hairstyle combines a lace braid with a tousled bun. First, separate the top and bottom layers and secure them with a clip. Then, with the braid in the parting, braid a lace braid through the bottom half of your hair. Remove the top layer of hair and gather it into a sizeable tousled bun.
12. Kim Kardashian Lace Braids
This adorable lace braids hairstyle is inspired by one of Kim Kardashian's braid looks. You can keep your braids tight and small, as she did, or separate them for a more comprehensive, messier look.
13. Bangs with Lace Braids
Have you always wanted to try bangs but were afraid of the haircut? Try this hairstyle with lace braided bangs; they're simple to make but complex enough to garner many compliments.
14. Short Hair Braided Crown
Most women with short hair cannot achieve a full braided crown due to the length of their hair; however, this hairstyle has provided a significant variation that allows you to achieve a similar look without the entire length.
15. Braided High Dutch Crown
The Dutch braided crown is similar to the halo braids shown above, but it sits at the back of the head rather than on the sides. The crown is also more complex, so be encouraged if you get it right the first time.
16. Braided Halo with a Bow
A pretty bow will add a pop of color to your halo braid. Use a different and easy halo braid technique that is more textured and loose.
17. Braid with a Fat Halo
With this attractive option, you can test your Dutch braiding skills. The halo braid can be tricky when braiding behind the head, but the results are worth it.
18. Ponytail with a Dutch Braid
You can finish your Dutch braids with a ponytail instead of a bun or a loose braid. This ponytail is low and textured, but feel free to experiment with different styles.
19. Braided Semi-updo and Semi-out
This hairstyle is the ideal blend of romantic and sassy. Make your version using a Dutch or French braid—a fabulous half-up hairstyle.
20. Dutch Braided Bun
Do you have oily hair? Make a braided bun like this one with your braids. You may only need two side braids instead of three, depending on the thickness of your hair.
21. Dutch Braids with a Low Messy Bun
You can make your messy bun stand out from the crowd with a pair of loose, wide Dutch braids. When you want to add width to your braids, gently pull the sides of the braid.
22. Faux Hawk Dutch Braid
This look is rocker chic and just a voluminous and messy Dutch braid. Faux Hawk looks with a French Twist, as shown in the image.
23. Mermaid Dutch Braid to the Side
This Dutch mermaid braid is created by combining a Dutch braid with a three-strand braid. A multi-strand braid.
24. Katniss Everdeen's braid from The Hunger Games
The much sought-after Katniss braid is a simple side Dutch braid! A popular and easy one, if you've long hair, try this one.
25. Floral French Braid
The goddess French braid will glam up any look, even if you have short or mid-length hair, whether you're a bridesmaid. Use a floral accessory to adorn it.
26. Poufy French Braid
This braid is simple, cute, and versatile. It can cover messy hair, hide unruly bangs, or add a little bling to a short haircut.
27. Half-up French Braid on one Side
This braid hairstyle is a little more challenging to achieve because it combines a French braid, a lace braid, and a classic three-plait braid.
28. The Mini French Braid
This small braid is more straightforward than it appears. You can do it if you know how to do a French braid.
29. Frozen's Elsa's French braid
Let's face it: Disney tells a lot of hair lies. However, following the release of Frozen, everyone wanted to replicate Princess Elsa's hairstyle. Although this model's long, thick blonde hair helps a little, this tutorial was unique, simple, and precise.
30. French Braid Bun
You won't believe how simple this romantic updo is, and neither will your friends. Begin with a side part, then French braid both sides before finishing with a tousled bun. It's as simple as that.
31. French Braided Pompadour
With this pompadour French braid, you can put off shampooing for another day. It's quick and easy, and your hair will be pulled back without sacrificing style.
32. Faux Hawk Side French Braid
French braids have always looked cooler. You'll need a lot of backcombing, hairspray, and a tight French braid behind each ear to achieve this look.
33. Boxer French Braid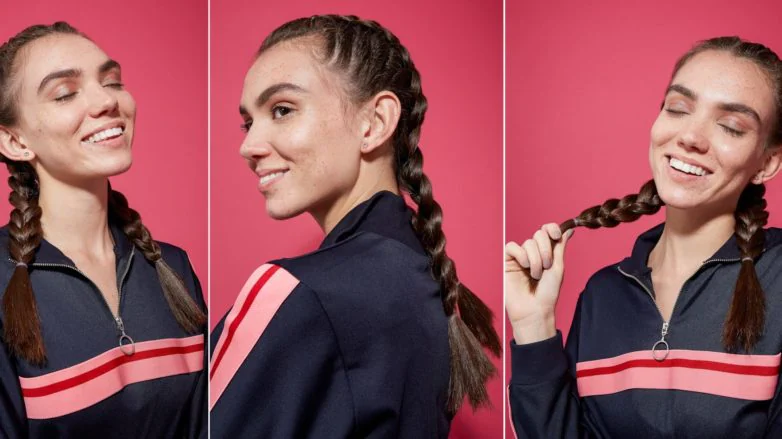 Channel your inner Million Dollar Baby next time you hit the gym. When you're on a roll, these boxer braids will keep your hair out of the way. Are long braids not your thing?
34. Loose French Crown Braid
This cute updo looks great tousled and pairs well with a boho-chic dress or top. Make a loose crown French braid (half or full), and you're done.
35. Zipper Braid in a Large Bun
Add a small French braid to the back of your bun. Tip: Leave the braid hanging off the bed to keep the rest of your hair out of the way.
36. Low French Braid Ponytail
This lovely braided ponytail is perfect for a day at the office or a night out, especially if you're wearing your hair from the second day. Begin the braid at the crown of your head and braid it to the desired height. Secure with an elastic and gather the ponytail.
37. Simple Mini Braids over a French Braid
Small three-strand braids add a bohemian twist to the classic French braid. This easy summer hairstyle is ideal for a day at the beach.
38. The Center French Braided Half-up Bun
Let us end (an excellent place to end). Once you've mastered this basic braid, you'll be able to try this half-up hairstyle as well. Make two French center braids and tie them into a half-high-up bun.