Asian hair is stunning. It's silky, healthy, and incredibly soft. Learn how to flaunt your hair with some fantastic Asian girl hairstyles. And regardless of your age, these hairstyles will make your hair look younger. These trendy Asian hairstyles will make you look younger, from a round updo with bangs to a ponytail.
Please continue reading to see some unique hairstyles for Asian women to show off their gorgeous braids. Choose your favorite by scrolling down.
1. Asian low-bun
Opt for a low bun when you can't decide how to style your hair to suit all occasions and outfits. It is one of the feminine Asian hairstyles that can be worn in any situation. Leave it straight and neat for a more formal and professional appearance. Pull several strands close to the face to frame it and adorn the bun with a pretty hair accessory for a romantic touch.
2. A low ponytail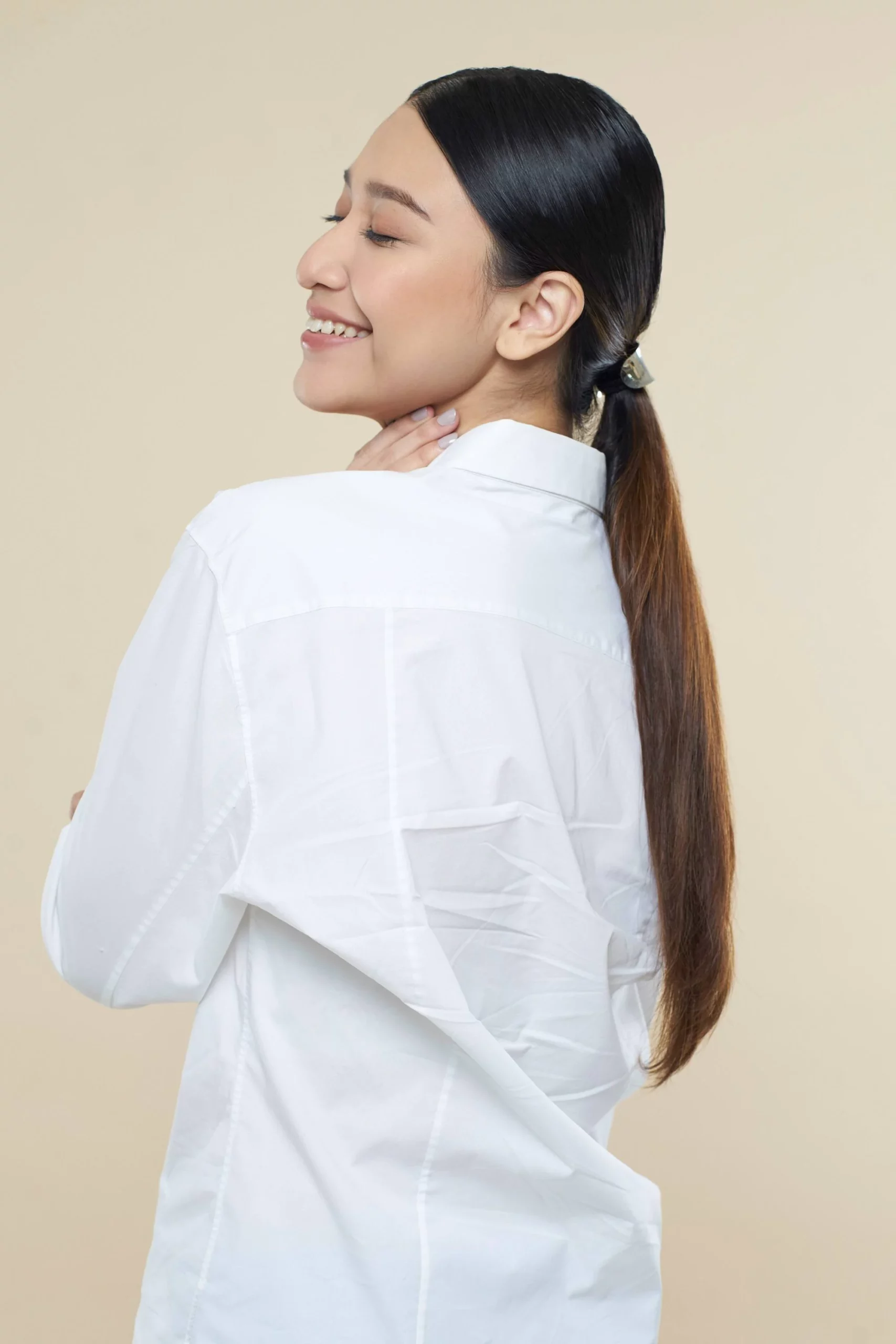 Now that you understand why every girl loves to imitate modern Asian hairstyles, it's time for you to steal one of today's looks! Display your desire to be fashionable, be creative, and make a lovely low ponytail!
3. Elegant high knot
The best way to style your thick hair is to tie it in a high, sleek knot. Although the hairstyle is simple, it can perfectly complement a sophisticated evening look. It is one of the most famous Japanese hairstyles because it emphasizes the natural smoothness of Asian hair while giving it a well-tamed and decent shape.
4. Long and straight hair
Simply wearing your beautiful Asian hair straight is a great way to show it off. Just make sure that it is in perfect condition. If not, you can add shine and luster to your hair with a hair oil or leave-in conditioner.
5. Hair wrap and a high-looped ponytail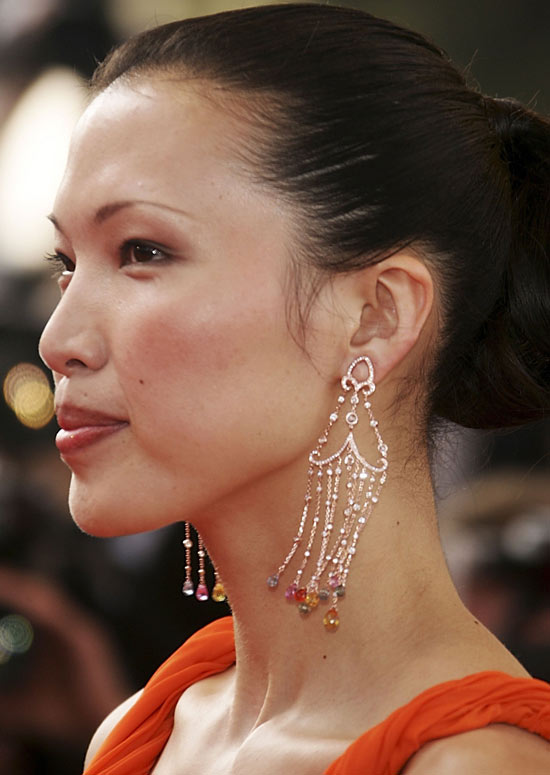 Loop is a modified version of a regular ponytail that can be easily created and provides a trendy look. To make it more modest, wrap a thin section of hair around its base.
6. Party braids on the sides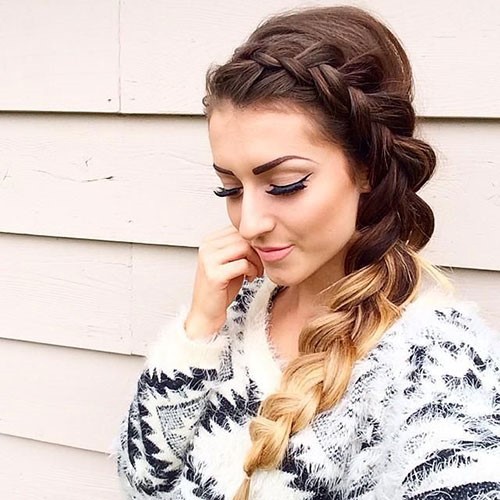 Now is the time to succumb to the allure of the most popular Asian hairstyles that women of all ages will adore. It's a great look to wear to festivals or parties, and all you need to do is be more creative than ever: dye your hair in pastel colors, braid it and finish with stylish accessories.
7. Messy updo with loose curls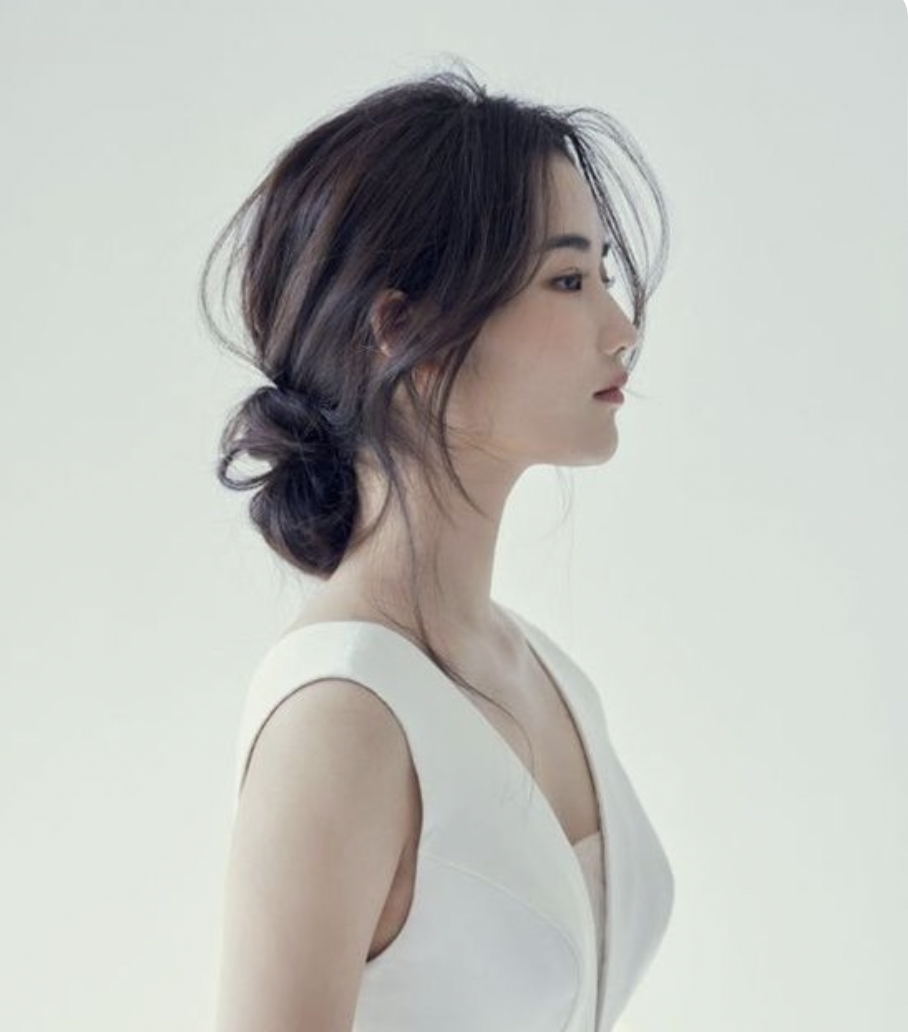 Try this messy updo when you need a quick hairstyle to keep your glam factor without taking too much time. Twist the curls, pin them back, and leave the ends free to move.
8. Braided updo with floral accessories
Consider tackling the feminine side of Asian girl hairstyles. While most fashion ideas are daring and out of the ordinary, this updo demonstrates the charm and sensibility of our fashion influencers. A braided texture on the head adorned with floral accessories demonstrates that Asian hairstyles can be unique.
9. Chinese bob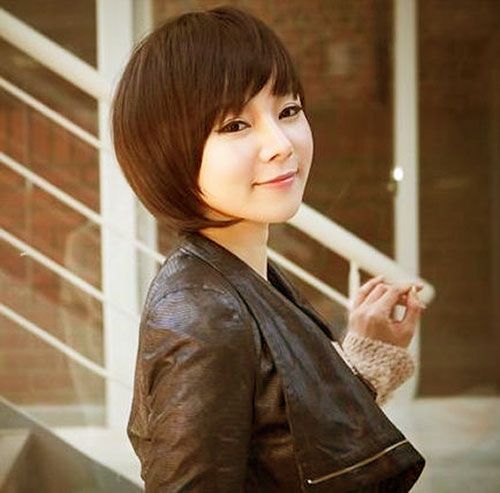 Regarding Asian hairstyles for women, the adorable Chinese bob cannot be overlooked. This is a short bob with perfectly layered and rounded hair, including the front bangs.
10. An elegant high bouffant bun
High buns are also popular among Asian women. The smooth round bouffant bun is done at the top of the crown in this image and is accessorized with a pretty hair clip.
11. Chignon braided with a puffed crown
This look will appeal to women over the age of thirty. It is a low bun with braids. The center part, puffed crown, and subtle side sweep complement it.
12. Space Buns in Asian Style
Nothing matches the brilliance and creativity of the latest Japanese hairstyles. These space buns would be worn in the future if they had hair. Double buns are not new in fashion, but you can make them super cool by incorporating texture and color. PS: Bangs will enhance the look even more.
13. Long hair with a wet back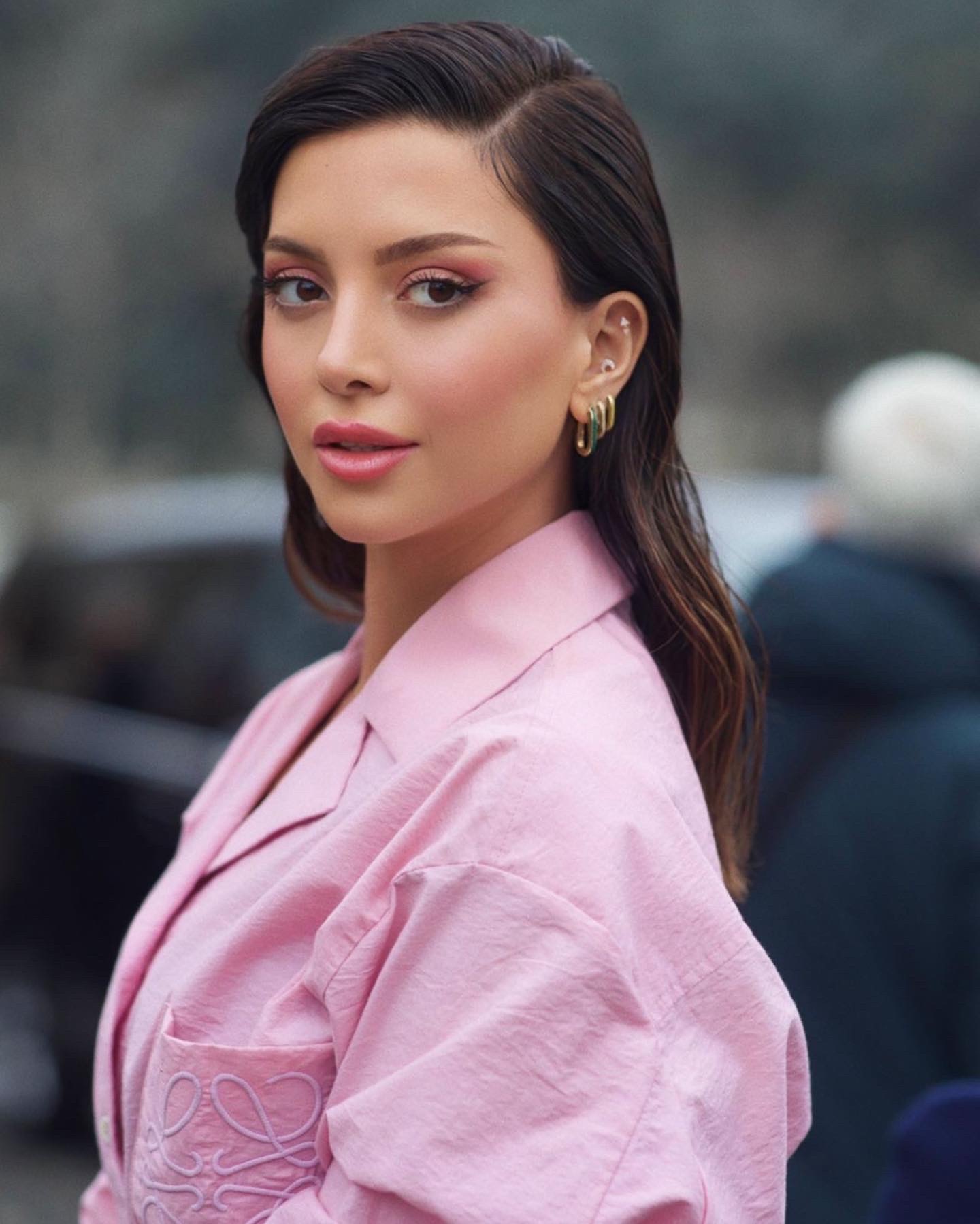 Hair that is slicked back looks very sophisticated. If you want to pull off this hairstyle, you should use a lot of mousse or serum on your backcombed hair.
14. Long wavy hair with a side part
You know that Asian girls are very interested in the fashion and beauty industries. They constantly strive to improve their appearance, and Asian long hairstyles are no exception.
15. Wavy bob with blunt bangs
A shoulder-length bob with bangs is shown here. It has a simple and comfortable appearance due to the delicate waves and blunt edges. It is simple to put on and keep clean.
16. Double French braids
Women rarely choose double braids among all Asian hairstyles, which we believe is unfair. Sometimes you have to go for a feminine and playful look, and double French braids will give you that youthful air like no other. Pull your hair out slightly to create voluminous, relaxed braids to make them more suitable for your style.
17. High double ponytails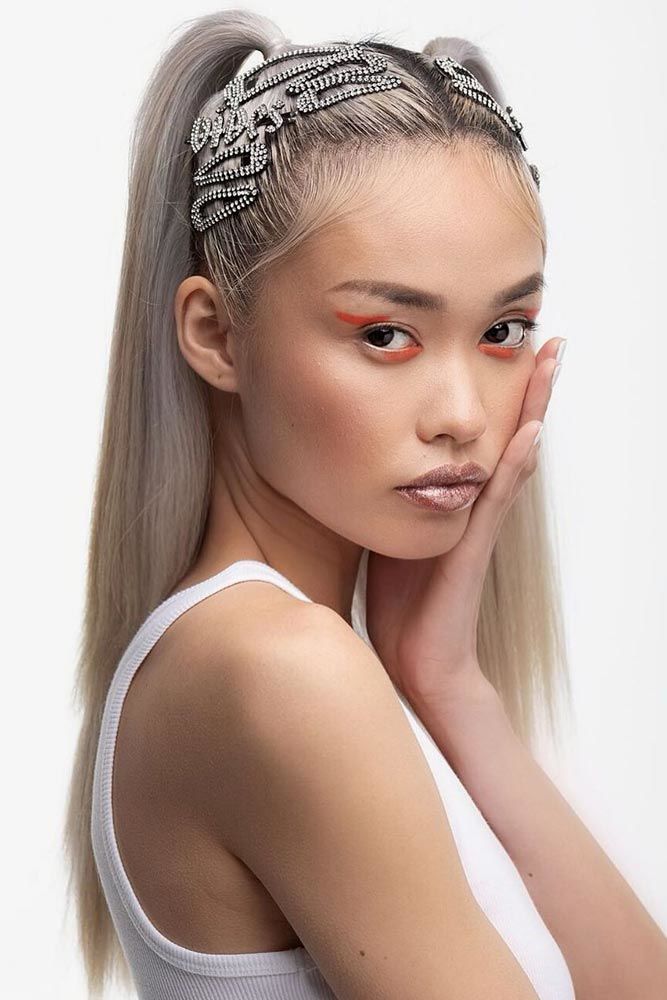 We can never forget the hairstyles of Japanese girls, which have taken the world by storm with their modern and daring style. At first glance, it appears to be nothing more than pure simplicity. However, with the right accessories, double ponytails can become game-changers. Are you on board with the new trend of embellished barrettes?
18. Hairstyle with a high bun
You're familiar with the high bun. But if you wear it, make it as fashionable as the Asian girls. Even the most basic hairstyle will stand out with a soft greyish tint. That is their secret!
19. Curtain bangs on long shag hairstyle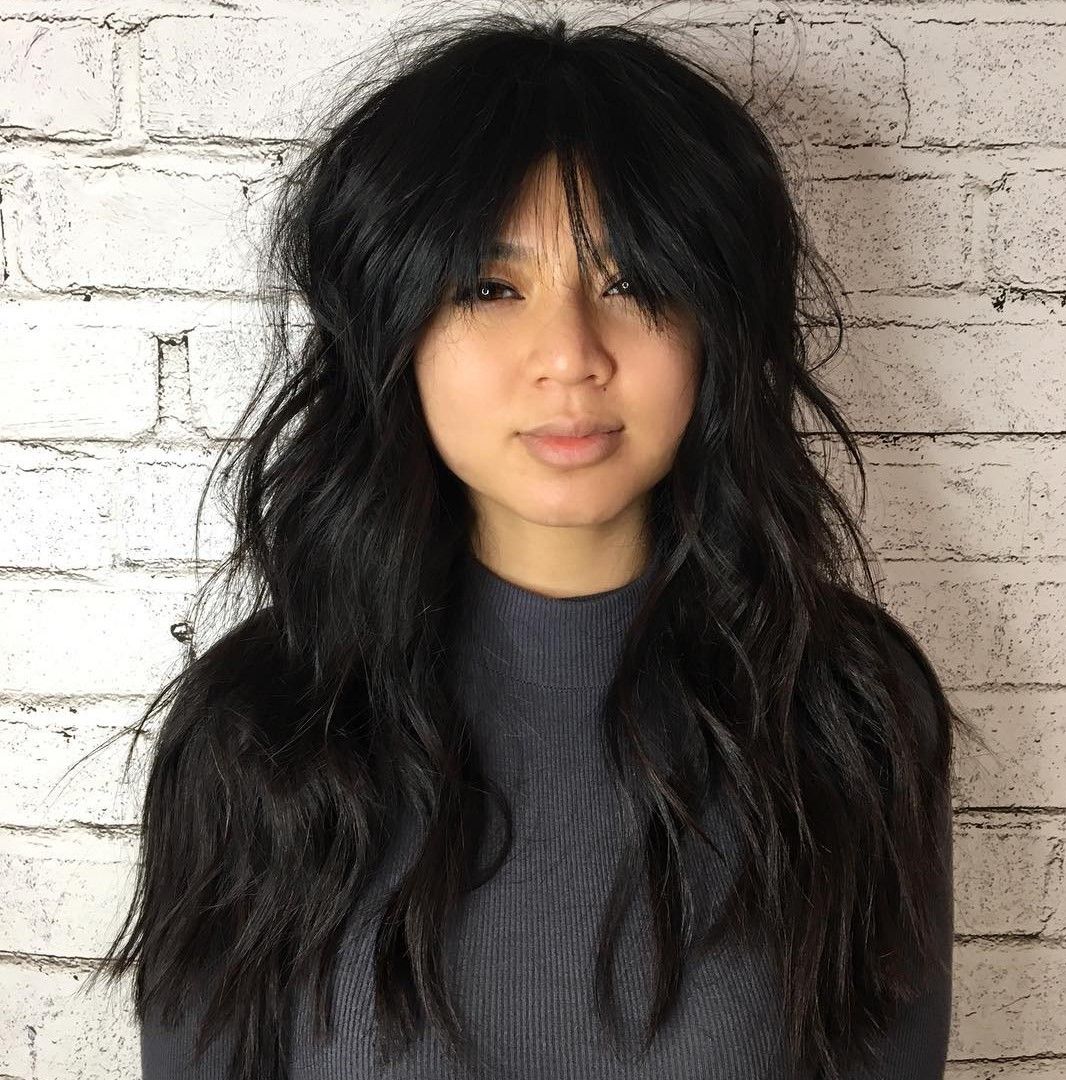 Have you ever seen those effortlessly appealing beach waves? Long Asian hairstyles will not fail to impress you with their use of bangs. The natural and charming look will be yours once you have a slightly textured finish and curtain bangs.
20. Pixie with an undercut
Another memorable way to wear an Asian short hairstyle is with a bold pixie cut. With such a daring and modern pixie cut, you'll join the ranks of modern fashion enthusiasts who aren't afraid to be the center of attention.
21. Pixie with a side part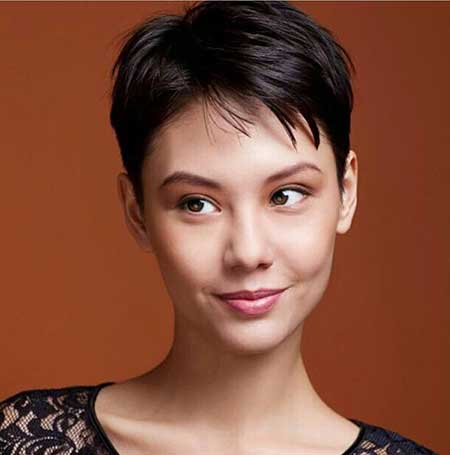 Allow this short Asian hairstyle to help you if you have thick hair. The cut will shape your unruly locks, and your task will be to be creative with style. Because Asian girls appreciate simplicity, they recognize that the side-parted pixie is cute despite its simplicity.</span>
22. Loose side waves
There are numerous ways to style Asian girls' short hair. Because your hair is most likely straight, you can add volume and dimension by styling it in loose waves. Sweep your tresses to one side and define your hairstyle with a side parting for a more detailed look.
23. Half-up space chignons
Do you remember space buns? Asian hairstyles for long hair aren't limited to bright, pastel waves; they can also be unique and creative. There are no length or hair type restrictions with this style. This time try semi-collected buns.
24. Pixie Cut
This is for busy ladies who need more time or inclination to style their hair in the morning. It is a very fashionable and low-maintenance idea. A short pixie haircut frees up a lot of time and energy for other enjoyable activities. If you think this cut will look too boyish on you, tone down the bright pink hair to make it more feminine.
25. Long hair with a half-up bun
Gather the top hair into a half bun, a top knot, to achieve a more casual, homely look. The rest of the hair can be left loose or curled softly with a large barrel curling iron. This hairstyle is ideal for petite Asians because the volume on top helps to lengthen their features.
26. Chin-length bob with a center part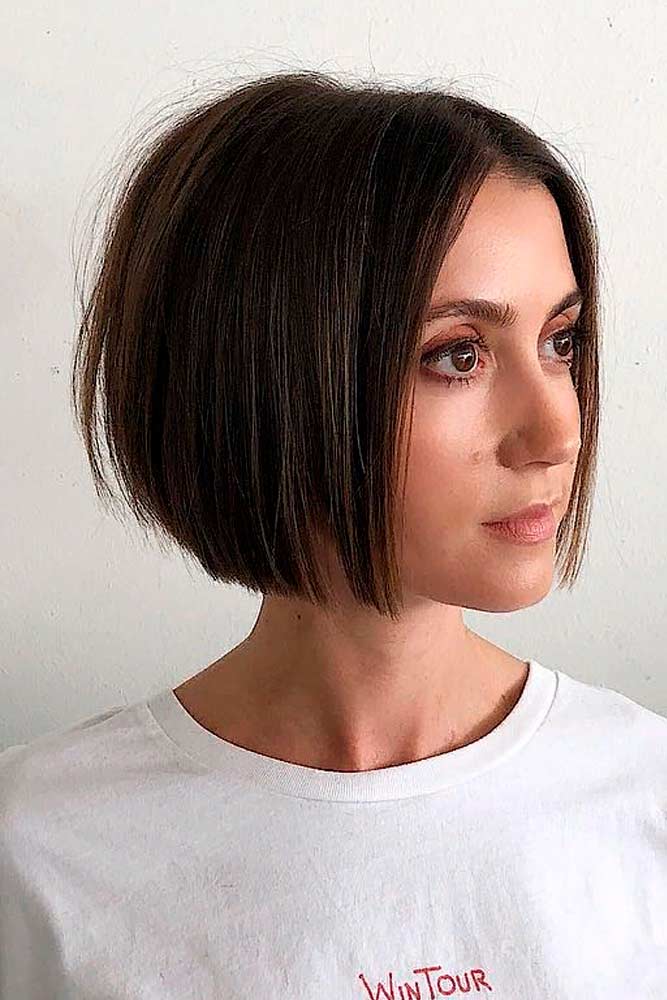 Although most Asians are born with perfect facial features, they know how to enhance them. Aside from their adorable and minimalist appearance, chin-length Asian bob hairstyles with a center part can soften the angles of square faces, which is a big plus.
27. Ponytail in half-up
The half-up ponytail is excellent because it keeps your hair loose, pulled back, and away from your face while displaying the splendor of your Asian mane. Wrap a couple of strands around the scrunchie to hide it for a more uniform look.
28. Layered Medium Bob
Although the sky's the limit for your perfect Asian facial features, you can always enhance your beauty with the right cut. For example, frame your face with a tousled shoulder-length bob. For added volume, ask your hairstylist to cut it in layers.
29. Short asymmetrical bob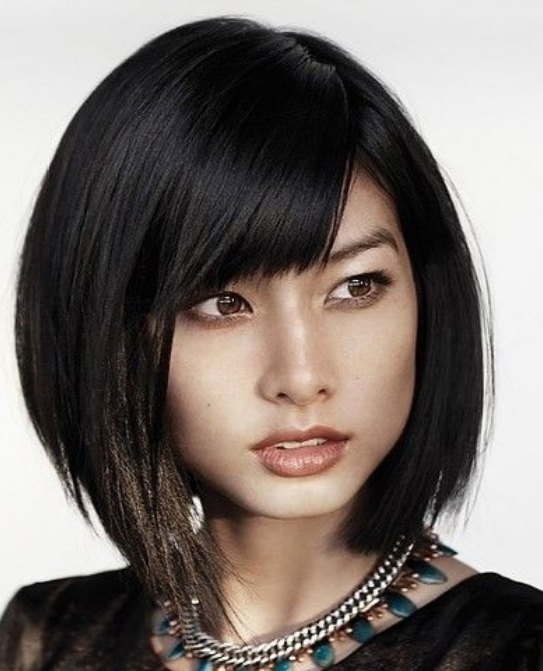 Asian hairstyles are usually lightly textured and achieved with soft feathers. This way, the thick strands behave and look softer. And this pretty asymmetrical bob with balayage shows this softness in all its glory: the airy ends give lovely movement, while its lopsided body creates a natural lift.
30. Messy high updo
The updo is one of the most popular hairstyles among Asian women, and with good reason. Because it tends to keep the hair away from the face, it allows you to show off beautiful facial features. But it doesn't need to be too sleek and polished. Instead, a messy finish will give your high updo a lovely touch.
31. Mid-length bob with middle parting
The layered bob with a middle parting is the first thing that comes to mind when considering mid-length hairstyles for Asian women. The truth is, no one wears this classic chic style as well as these beauties.
32. Side parted lob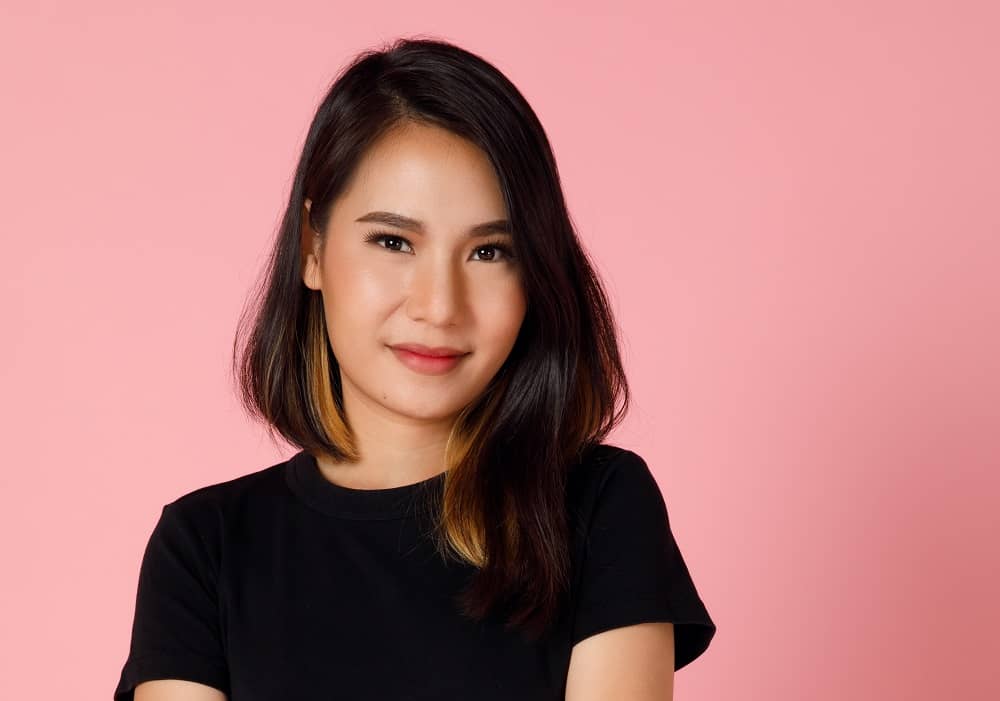 Some may call the side-parted lob a simple everyday idea, and Asian ladies will call it a red-carpet hairstyle. These ladies know nothing can compare to the youthful effect of mid-length Asian hairstyles.
33. High Pony For Long Hair
No wonder even simple Asian ponytail hairstyles look super unique. The tight and straight pony with some front strands framing takes little time. However, it creates a confident and sexy look.
34. Textured, messy long hairstyle
Remember that there are a lot of advantages to all those cute Asian hairstyles. For instance, it's not just a stylish messy hairstyle; it's a beautiful way to add life and volume to heavy and limp tresses.
35. Shoulder-length side parting wavy hairstyle
Luckily for creative ladies, there are no standout Asian hairstyles they can't spice up. On the contrary, Asian ladies love to individualize popular hairstyles with color accents. A shoulder-length bob is cute and convenient, but it reaches a new level when styled sideways, wavy, and highlighted.
36. Asymmetrical wavy long bob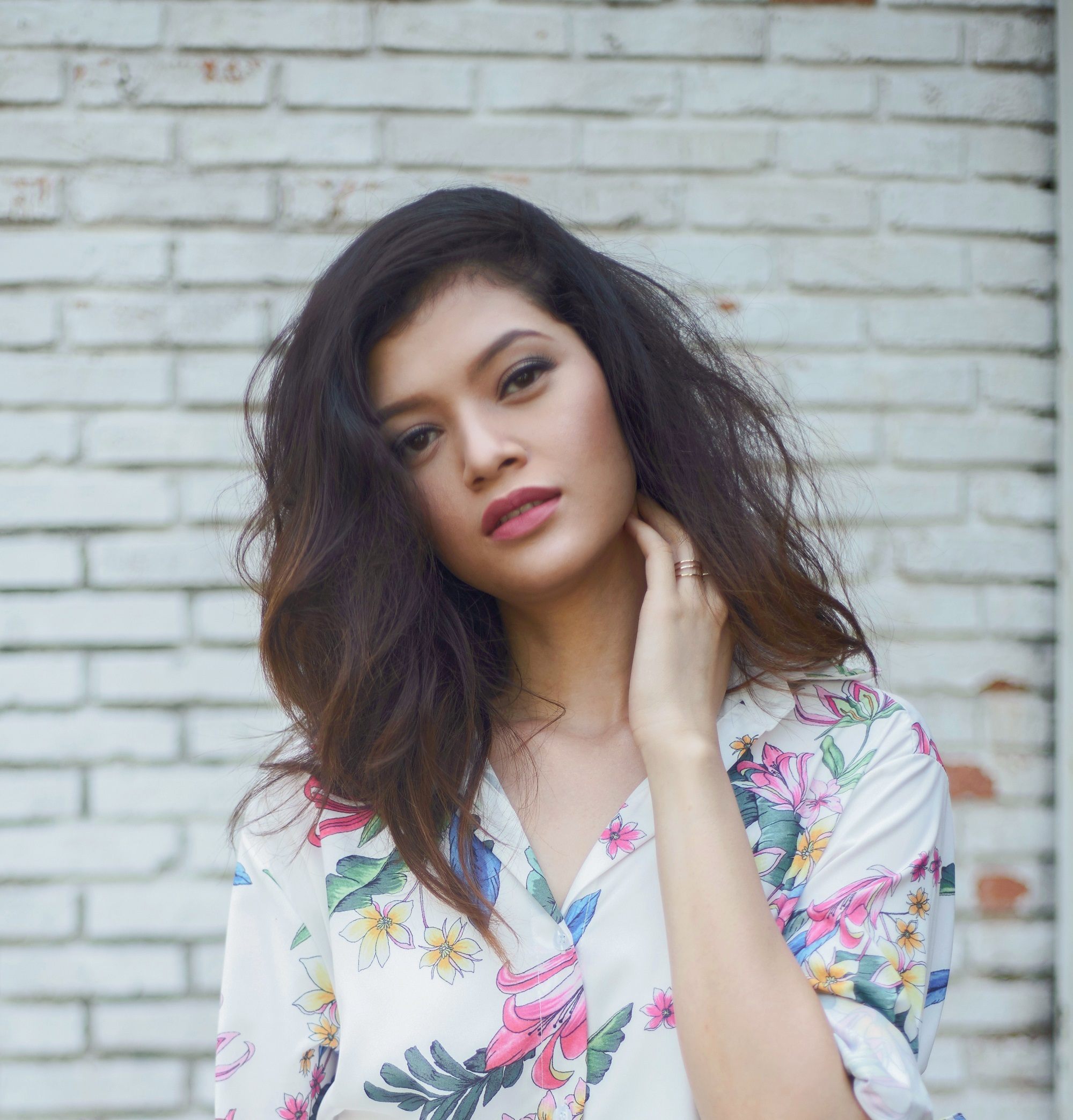 Do you know what the best Asian hairstyles of 2022 are? The ones with unique hair colors! Asian trendsetters have just taken an asymmetrical lob and turned it into something extraordinary. Ditch the dark roots, change your color for a wow one, wave your hair and forget about ordinary looks!
37. Long straight with a beret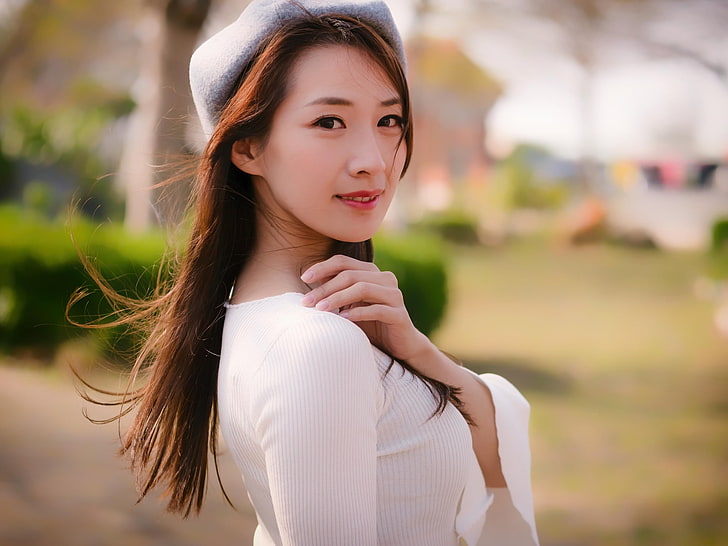 A perfectly straight mane is fun, feminine, and gorgeous, but we all know this effect lasts until the first gust of wind. And that's where a stylish beret comes in. Such a classy hair accessory will not only define your look but also keep your hair in place even when it's windy.
38. Long layered hairstyle with bangs
Asian women seem to have mastered bangs. They can add it to any haircut. And don't forget that not all have thick, full cheeks. To add more volume and dimension to their styles.
39. Long shaggy with a side parting
In most cases, long Asian hair looks flawless without additional styling. However, you can make the most of it by adding the part to your most flattering side part. If you don't know whether to curl or straighten it, try beach waves, a combination of both textures.
40. Soft and feminine double braids
If you love simplicity and classic as much as we do, girly double braids are enough to make you feel happy with your hairstyle. Again, Asian women's hairstyles never look simple, as their colors always speak for themselves.
41. Boy-cut bob
Those planning to wear a fresh and youthful look should try this short bob at least once. Add some volume at the top and comb the hair to the sides. Finally, add texture for a neat look.
42. Textured retro side part hairstyle
If you want to recreate a sophisticated Asian look, go retro. Gather all your wavy hair on one side of your head and fold it to create this stunning side part. Finally, add texture.
43. Straight-side ponytail with a middle parting
A simple side ponytail always looks good on straight hair. To give it a special touch, make a middle parting and comb the hair from the top of the head.
Other Articles