African-American hairstyles that are modern, bold, and classic always stand out. They complete the look as the ideal accessory. These black hairstyles will make you stand out, whether you prefer them simple and chic or textured and funky.
Check out these inspirational photos of the most renowned African-American hairstyles and haircuts before your next appointment.
1. Pixie with a Shaved Line
The first hairstyle we have for the day is this wavy pixie. This hairstyle will be ideal for you if you have short hair and shaved sides. The shaved line at the side looks cherry on the cake.
2. Short Braided Low Ponytail
Talking about Afro-American hairstyles, the ponytail option is missing. Would that be possible? Center-part your hair into two halves and braid them at the root. Now, Take the two sections into a low ponytail. Ideal for curly or wavy hair with short length.
3. Two Curly Hair Ponytails with a Middle-parting
Two high bush-like ponytails with a middle parting. Similar to space buns, but better and voluminous than that. Wear this hairstyle to sports events, casually or to achieve an eye-catching look.
4. Brunette-golden Highlighted Voluminous Curls
Is your hair color brunette with golden tips? Then, you can try this voluminous hairstyle with brunette-golden loose curls divided into two halves by a center parting.
5. Wavy Segmented Afro-braids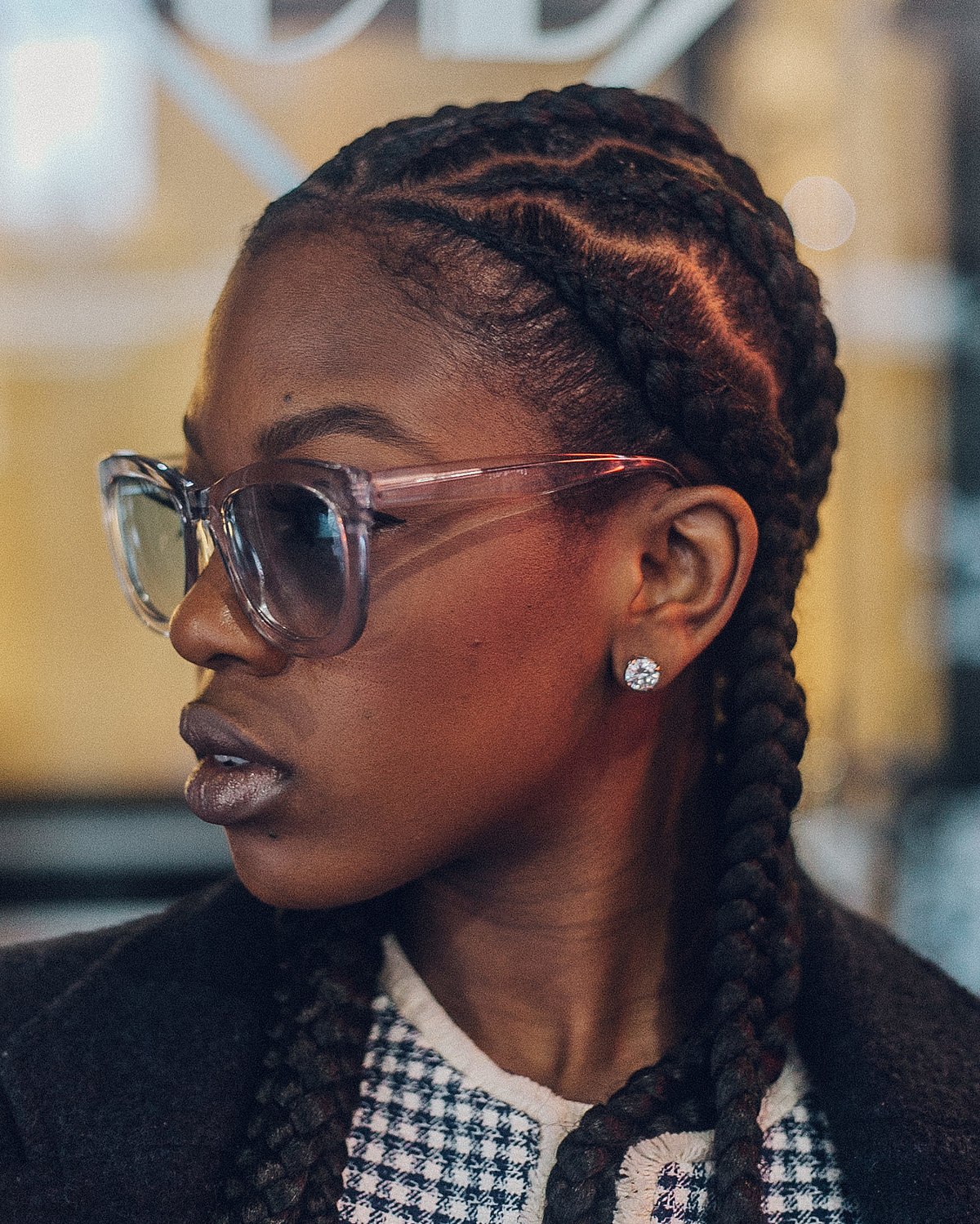 Are you a fan of braids? You would love this hairstyle. Part your hair into a few zig-zag sections, as shown in the image. Now, take each section and create a thin braid. Repeat the procedure with root-braided braids to the end. The result would be 6-7 braids. Awesome!
6. Long and High Braided Ponytail
Take your long black hair into a high bun, twisting some of the hair strands around it and create a long braided ponytail. This a hairstyle for all those who waste most of their time selecting a suitable hairstyle for their long curly hair.
7. Finger Waves Tomboy Hairstyle
You have often seen men with finger waves hairstyles. Believe me, and it's equally flexible for women as well. A perfect Afro-American hairstyle for women with curly pixie haircuts with faded sides. Your good-to-go hairstyle for this summer.
8. The Butterfly Half-up
What's that? Well, a hairstyle for women with short and frizzy hair. Tie your hair at the top into a small bun and let the rest of the section loose. Watch yourself in front of a mirror; doesn't it look like a butterfly?
9. The Braided Headband with Golden Curls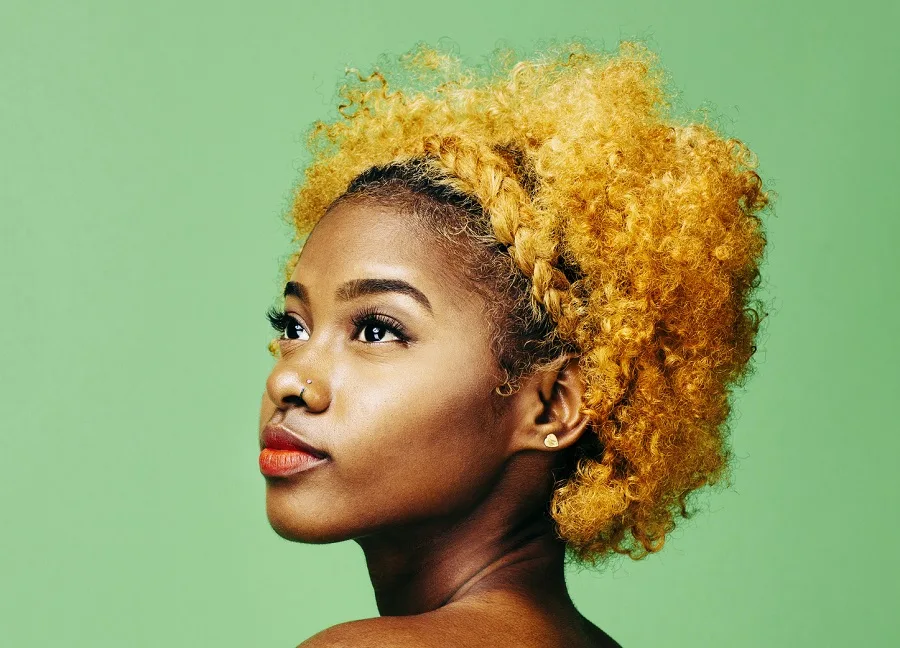 Colored hair is indeed versatile. Check out this option for your frizzy hair, whether long or short. Create a braid from either side, turning it to the other side and making a headband-like appearance.
10. Loose Brunette Hair to the Side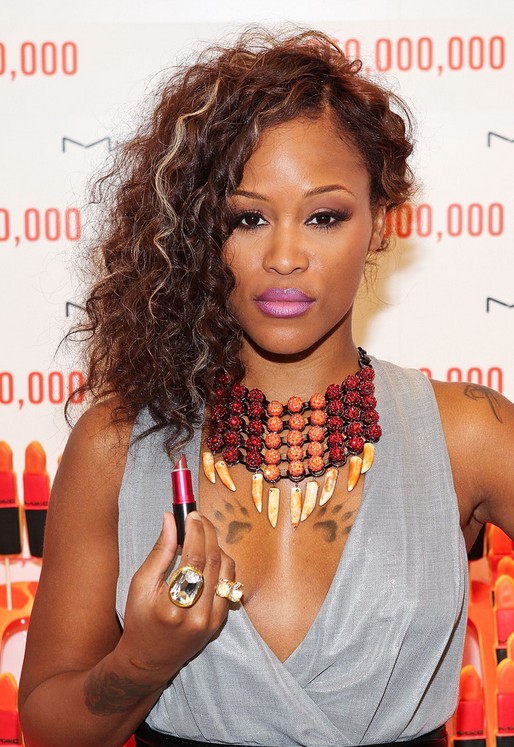 Want an easy yet chic-look? This hairstyle would help you to end your search. As shown in the image, take your loose curls to the side with a side parting, and you're ready. It's good if you have brunette hair or multi-colored hair.
11. The Braided Low Bun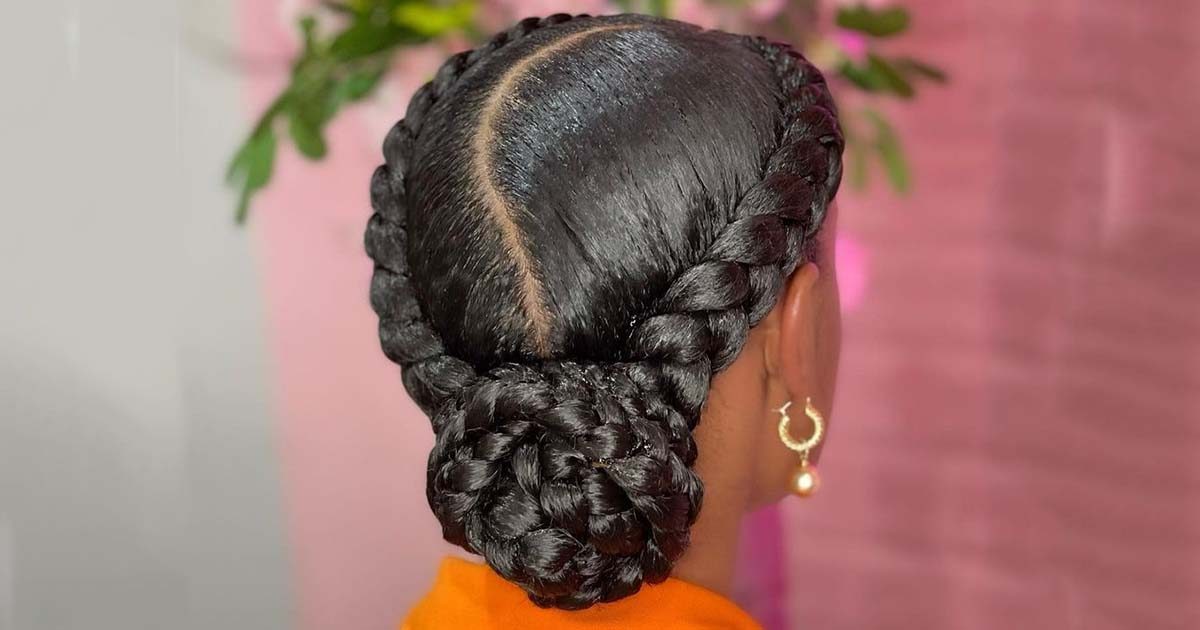 Another hairstyle with braids. Make a braided crown dividing the temple into two sections. Now take both the braids into a low bun at the back. Tie it with a band or bobby pins.
12. The Open-book Pixie Style
Funny enough? This hairstyle is as enjoyable as its name sounds. Ask your hairdresser to give you an open-book-shaped haircut. As you keep changing the parting style, your hair will look like you are opening different book pages. Intrigued? Check out the above image.
13. Three Mini-braided Buns
This hairstyle looks like three small tombs at the crown of your head. Create mini-braids and tie them into tiny buns—an ideal hairstyle for short-hair wearers. You can add fancy-colored stuff to your look, such as bobby pins, scrunchies or glitter.
14. Gray Faded Boy-cut Hairstyle
A boyish hairstyle for pixie-cut hair. As shown above, this hairstyle looks great on light-colored hair such as gray. Try asking your hairstylist to fade the sides similar to men's.
15. Afro-American Crown Braid Hairstyle
Similar to one of the previously discussed hairstyles, this Afro-American look also has a woven crown around your head. But, the unique feature here is its size; as you can see, the braids are tucked in without any further updo. Suitable for short and frizzy hair owners.
16. Ocean Waves Short Hairstyle
This hairstyle is ideal for women with a pixie cut. Apply your favorite gel onto your hair and style it into ocean-like waves. This hairstyle would help you in achieving a wet look.
17. Undercut Long Curls
This hairstyle will be a perfect match if you have long, curly hair. Undercut your hair from either side, and you can also try some patterns to get a flattering look. Take the hair locks to the side, and you are ready.
18. Mini-braided Buns to the Side
Take a small section of hair to the side, create mini-braids, and tie each of them up into a bun with the help of elastic bands. Take the rest of the hair to the other side of the shoulder.
19. Rolled up from the Front
Divide all your hair into two sections: one at the front and the other at the back. Take the front section, turn it into a roll as shown in the image, and hold it with the help of bobby pins. Now, take the other section and make an elegant bun.
20. The Casual Updo
This is another easy Afro-American hairstyle for all the ladies who love updos and have frizzy hair. Tie your hair into a high updo at the top of the temple. And let the loose curls fall at the forehead.
21. Updo with a Headscarf
Do you love bearing bandanas or scarves? Try this messy updo to tie your voluminous curls while wearing your favorite scarf.
22. Undercut Mohawk Hairstyle
Are you a fan of Mohawk hairstyles? This chic-looking hairstyle is definitely for you. Ask your hairdresser to create a Mohawk hairstyle with an undercut. Take two sections of your hair into twisted braids and style your haircut, giving it an Afro-American touch.
23. Long Mohawk Braid
Another Mohawk hairstyle for you, but you would be surprised to know that you can also create a Mohawk-style voluminous braid. Yes, as in the above image; again, create two mini braids to the back and then collect the rest of the hair into a snake-looking long braid.
24. Short Curls with a Brooch on the Side
Does your frizzy hair need a new hairstyle? Take a beautiful brooch accessory and use it to pin either side. This hairstyle is ideal for photoshoots or party occasions. Short-hair owners would find it an attractive option to style.
25. Root-braided High Bun
Root braid the front sections into two braids, dividing the hair into two halves. Now, take the loose curls into a high updo. Wear this hairstyle for both a casual or party look.
26. Straight and Sleek Hairstyle
Why only curly, wavy or frizzy hair? Straight hair is our next flattering hairstyle. Straighten your hair if you don't have it naturally. Now, part the center into two halves and your sleek and straight hairstyle for a professional or personal visit is ready.
27. Pixie Adorned with a Tiara
Pixie is such a versatile hairstyle for all occasions. This time we would like you to introduce the one with a tiara. Wear a tiara similar to the picture over your beautiful, wavy, short hair.
28. Elegant Updo for Wedding
Are you looking for an Afro-American hairstyle for your wedding or to wear to some wedding function? Well, here's an elegant option for you. Side-part your hair and create a low elegant bun. If needed, try some floral accessories or shiny ones.
29. African-American Bouffant Hairstyle
The bouffant hairstyle is a fantastic option to try! If you have long bangs, trust me, you're going to rock this hairstyle. Make a bouffant updo at the back or if it seems complicated to you, ask your hairstylist.
30. Short Curly Bangs to the Side
Another one with loose curls and bangs. Create a side parting, and a bob-cut would look perfect with this one. Let your few curls fall between your brows to achieve a cool party look.
31. Root Braids into Two Ponytails
Similar to the previous hairstyle, one with the two braids from the front. This time don't tie the loose ends into a single ponytail but create two short ponytails. You can also try Dutch braids instead of simple or  French braids.
32. Messy Voluminous Curls
Are you looking for some messy hairstyles? Create a few twisted braids from either side to the back side or towards your frizzy hair, as shown in the above image. What's good about this hairstyle is that it doesn't need many styling steps.
33. Curls to the Front
Smiler than the previous one, but with a slight twist. Rather than letting the loose end of hair at the back, take it to the front as shown above—tray-making patterns with side mini braids such as zig-zag patterns, wavey patterns, etc.
34. Two Bubble Ponytails with Beads
Divide your hair into two equal parts and create bubble ponytails on both sides. Now, adorn your ponytails with colorful beads as per your outfit.
35. Two-colored High Bun with Few Loose Curls
If you have two-colored hair, then this option is for you. Take the colored hair (red tone, green tone, purple tone, or any other contrasting hair color) into a high bun. Take a few colored strains to the forehead and get set go.
36. High Bun with Dreadlocks Hairstyle
If you love wearing dreadlocks, consider this hairstyle option. Take your dreadlocks into a high bun. Add some appliques if you want to wear them for a party.
37. Mini-braids from the Side to a Braided Bun
Make a puffy-like look at the top of the head and twist braid the sides of your temple towards the back (similar to the above image). Now take the rest of your hair and make a single braid into an elongated bun.
38. Dual-tone Bob with a Side-parting
Try a sleek-looking blue highlighted bob cut. Divide the hair into a side parting and enjoy an accessible style. To tie your hair, you can collect them either into a low or high bun or a low ponytail.
39. Twisted Mini-braids Half-up Hairstyle
Another bridal hairstyle option for women with long curly hair. Create Marley twists and roll them up into a half-crown. Now, take the loose hair into a ponytail or half-up hairstyle. Add glittery accessories to the crown to create a unique look for your special day.
40. A Semi-collected Bun
Semi-collect your frizzy hair and create a bun at the top. It's good if it's tight; otherwise, a messy bun is good enough. Comb the rest of the hair and let them fall over your shoulder.
41. Two Dutch Braids
Dutch braids have always been a center of attraction. Make two Dutch braids or corn-row braids to the back and continue braiding them into rope-like braids. This hairstyle would look best on women with long black hair.
42. Short Curly Hair Updo with a Headband Accessory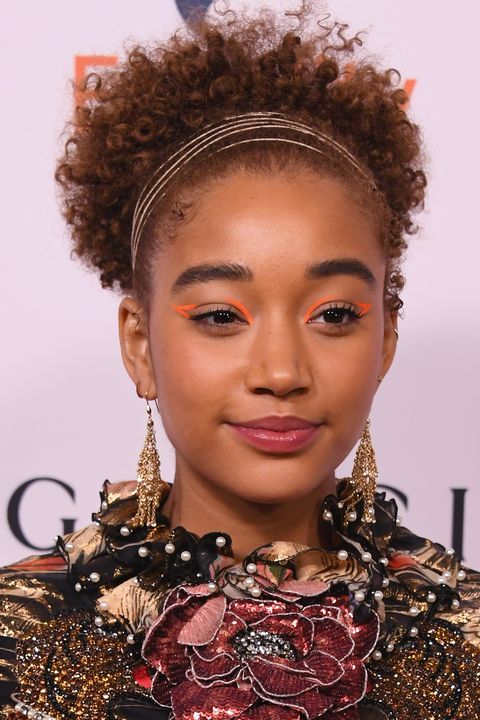 And last but not least is our favorite curly hairstyle with a headband accessory for all the short-hair owners who want to achieve an Afro-American hairstyle. Use a shiny tiara or wire-like headband and tie the hair at the back with bobby pins.