Do you have wavy hair? Feel highly fortunate because great wavy hair is the order of the day; it has become a beauty staple! If you're not that lucky, no worries because wearing gorgeous waves are now within everyone's reach, regardless of hair type. We will be sharing the best-kept beauty secrets by today's top stylists to achieve a DIY mane that exudes "good vibes." Follow them exactly and put the "Top 5 hairstyles with waves" to the test, and you'll be ready for the red carpet.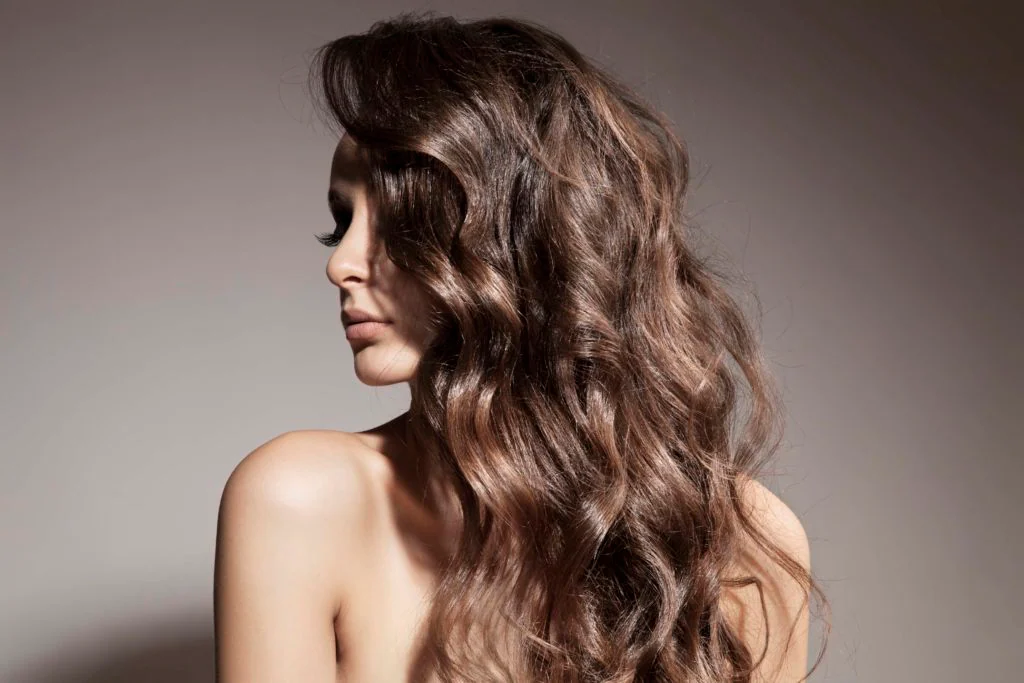 How do you make perfect waves at home?
Who hasn't wished to have wavy hair? Here's everything you need to know about getting professional-looking waves:
1) Prepare your mane before you begin!
Take the time to style your hair before you begin styling. How? We went into great detail about it in our post on how to wave your hair, but here's a hint:
Always use a heat protectant to avoid damaging your beautiful hair. Yes, all the time.
Don't die trying to untangle your mane.
Use dry shampoo to add texture to your hair. It will instantly give it a clean and fresh look, volume, and the perfect thickness to achieve dreamy waves.
2) The method: flat iron, curling iron, or no heat?
It's up to you, to decide whether you want to use a heat tool (flat iron or curling iron) or wave your big hair without using anything. Exactly as you read it.
Important: straighteners or curling irons are the most comfortable and, obviously, the most effective option. Do you need more hints to figure out which team you're on? Of course, you do, here are the details:
"Flat iron waves": The flat iron is a highly versatile tool that can straighten and wave your hair while producing a 10-point finish. If you prefer a wavy look, use wide plate irons or flat irons designed for straightening. Keep in mind that depending on how you position the iron, you can choose the finish of the wave. It's up to you to choose from a thousand tutorials! Disadvantages: Flat iron waves are less pronounced and last less time than curling irons or tongs, and they require a bit more skill to create. The key is to invest in a good flat iron.
"Waves with curling irons": If you're new to wavy hair and want to show it off, invest in some curling irons. Why? They're great for wavy hair because they don't require much technique. Furthermore, they preserve the hair's natural elasticity and make the waves appear more defined. The result is usually more long-lasting. Drawback: When purchasing a curling iron, you must consider the thickness of the wave.
"Waves without heat": Is there no heat? Yes, sir! There are also several techniques for creating beautiful curls if your hair allows it. Best of all, you can do it without damaging your hair with heat tools like straighteners or curling irons. The disadvantage is that they require more time and patience. The result? Soft waves with a natural effect from the mid-lengths to the ends.
3) Ways to make your waves last longer!
Did you know that the best time to get amazing waves is when your hair hasn't been washed? Check out some good dry shampoos to find your perfect match. In case you didn't know, your top stylists also use dry shampoo before beginning any hairstyle because it's a fantastic resource for texturizing hair.
If you enjoy using a flat iron and want your waves to last longer, we recommend using a thin iron. Why? Because the hair will compact and hold much better, whereas a thicker iron requires more experience to achieve professional-looking waves.
In addition to dry shampoo, you should always have hairspray on hand. It's essential for keeping your hair waves looking perfect for longer. Instead of spraying hairspray directly on your wavy hair, pour it in the air in the direction of your mane. Next!
When creating the waves in your hair, whether you use a flat iron or curling irons, don't rush; take your time. Once you've defined them, try pinning them up for 10 minutes for a longer-lasting finish.
Top 5 Wavy Hairstyles
Braids, ponytails, and buns all look better when the hair has the right consistency in the form of beautiful waves. That's how things are because there are many different ways to wear your hair in waves, both loose and collected. Read on if you want to have a stunning wavy look-
1) Soft waves with a semi-updo
You would love this half-up hairstyle with waves for its simplicity and the romantic touch it adds to any look. It's also versatile because you can wear it with a half bun, a half ponytail, or a pretty braid. Remember to texturize your hair to add volume to your wavy hairstyle.
2) Ponytail with waves
This is a simple and classic wavy hairstyle. Because of its elegance and sophistication, it is ideal for special occasions. Follow these simple steps to add a touch of class to your look: 1. Begin by leaving the front strands free. Gather the remaining (textured) hair into a mid-length ponytail. Pull one of the strands back and pass it over the scrunchie to the other side. 4. Repeat with the other strand, securing both with bobby pins at the bottom. 5. Make your lovely waves. Ponytail hairstyles are trendy and ideal for summer events.
3) Casual wavy bun
Messy buns look best with previously wavy hair. Believe us when we say you won't be able to resist their enticements. You, too, will fall for them, as have hundreds of fashion industry influencers and celebrities.
4) Curly hair and accessories
More suggestions! Scrunchies, pins, headbands, scarves. Make your wavy hair stand out with hair accessories! Please give it a chic touch by brightening up your wavy mane with a bow barrette, a scarf with a trendy print, or an XXL scrunchie.
5) Long, flowing hair with natural waves
If you don't like to complicate things, here's a simple hairstyle (yes, you'll have to show off your ironing skills), but one that will make even the most insane envy jealous. Allow your naturally wavy hair to add volume. What's the catch? As we mentioned at the start of the post, prepare your hair by texturizing it with your favourite dry shampoo to refresh your hair and add volume to it. Are you ready to impress?
Other Articles