The retro hairstyle is an "old" style, but you may have noticed modern stars sporting retro hairstyles on the red carpet in recent years. They either found a vintage dress they liked and needed a vintage hairstyle to match, or they decided to try something new: the retro hairstyle. Retro hairstyles harken back to a time of elegance and femininity. I hope you enjoy this gallery of classic retro hairstyles.
Just as there are many classic shoes and handbags, there are many classic hairstyles, such as retro bobs and waves. They can look great on you at any time. They are that good. Here are our 42 retro hairstyles for you to revive the past.
1. Long Hollywood Waves
Use hot curling rollers to curl your long hair. Spray some dry shampoo just at the crown of your head to add lift and volume. Your waves will be much more manageable and give you a retro Holywood look. To enjoy the long waves, open your hair locks and part them on the side.
2. Chin-length Retro Waves with Bobby Pins
You will adore this trendy hairstyle if you like your chin-length bob. Curl each inch of your hair with hot rollers. Make a profound part in your hair and tie the side bangs with a bobby pin or several to allow the waves to add interest to your look.
3. Afro-American Style Retro Updo
A page boy with this vintage-inspired Afro-American updo. Twist your curly hair into a few thick segments. Tie them to each other at the temple, crown, and back of your head to add smooth details. Today's vintage culture has popularised this distinct updo look.
4. Long Waves with an XXL Bridal Accessory to the Side
This wavy retro hairstyle will be a show-stopper at any wedding or special event you attend! With this super cute retro hairstyle with vintage waves, you're sure to inspire everyone! Feel free to add an XXL hair accessory with feathers and a net to complete the look.
5. Silver Tiara with Long and Side-parted Retro Waves
This is a perfectly tamed, side-swept vintage hairstyle with a simple twist. Those perfectly formed waves, as well as the silver tiara, frame and brighten the face beautifully. To achieve a wet look, use hair gel.
6. A Side Ponytail with Razored Bangs and Rolled-up Sides
A side ponytail with a twisted crown is becoming increasingly popular. Roll the sides of your crown area, then tie a side ponytail, securing it with a rubber band. Use bobby pins at the head to keep the twisted part secure. You could also go with shaved bangs, and a rose on the side.
7. Asymmetrical Bob with Retro Waves
For all the vintage-loving ladies, this 70s voluminous bob with asymmetrical curls will satisfy your old soul. It is one of the quickest hairstyles to create the illusion of a fuller mane, making it ideal for anyone with low-volume or thin braids. Make a side part with your waves and use a hair mousse.
8. A Retro Updo by Rolling-up Segments
Try a vintage rosette updo or rolled-up segments to add volume to your hair when pinned up. The voluminous quiff heightens your hair, while the vintage rosettes are individually rolled after being curled and pinned separately for a secure hairstyle.
9. A Gelled-up Low and Messy Updo
The styling process is my favorite part of styling vintage looks. Gelled-up, messy, low updo, roller sets, wet sets, and pin curls are used to achieve this. Continue making messy rosettes and creating a low updo to wear to your next big event.
10. Side-swept Twisted Bangs with a Bouffant at the Back
Try an excellent old-fashioned roller set for those who struggle with ironing. Once the hair is dry, brush it out and create a messy bouffant at the back by twisting either side to the back and securing it with hair pins.
11. Rolled-Up Top with an Updo at the Nape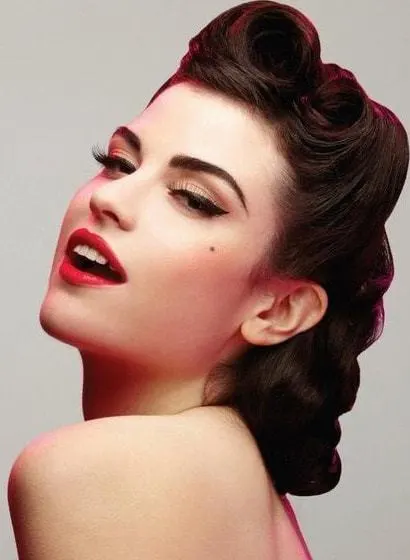 This look is elegant and vintage with a modern holiday twist when accented with rolled-up twists. The cool thing about this style is that it suits women with medium to long hair who want a timeless look for any formal event. To achieve a voluminous look, tie the updo at the nape of your neck.
12. Updo with Cropped Bangs and Tied Banadana
This hairstyle is one of the simplest to achieve and looks great. The image depicts the step-by-step process for achieving this retro hairstyle. Make a headband out of a scarf. Comb your long bangs forward. Finish with a sleek bun or updo at the back of your hair.
13. Mid-parted Semi-collected Waves Hairstyle
The "Veronica Lake" look has resurfaced as modern-day celebrities' most sought-after red carpet look. This time, the look is updated with tucked-in sides. The stunning look is achieved by creating a mid-parting and twisting the bangs to the back.
14. Side-swept Sleek and Twisted Low Bun
Retro hairstyles are appropriate for any occasion, such as a birthday, a wedding, or a prom. They look great on all hair types and lengths. Twist the hair strands to create a sleek combed-back look and a low bun. Rubber bands or a barrette can be used to keep it in place.
15. Ocean Waves Styled Pixie with a Wet-effect
Do you recall Marilyn Monroe in her white gown with finger waves? This flirty retro hairstyle is currently one of the most popular hairstyles. Add gel to your hair to create finger waves that resemble sleek ocean waves.
16. Crimped Hair with a Twisted Side-swept Hairstyle
Add a twisted bang hairstyle to your crimped hair. The size of the section of your front hair will determine the twisting length. Smaller sections will produce more volume, while larger sections will lead to a wave pattern. Off-center part your hair. Create sections with a similar appearance.
17. Blonde, Messy Waves and Sleek Side-swept Bangs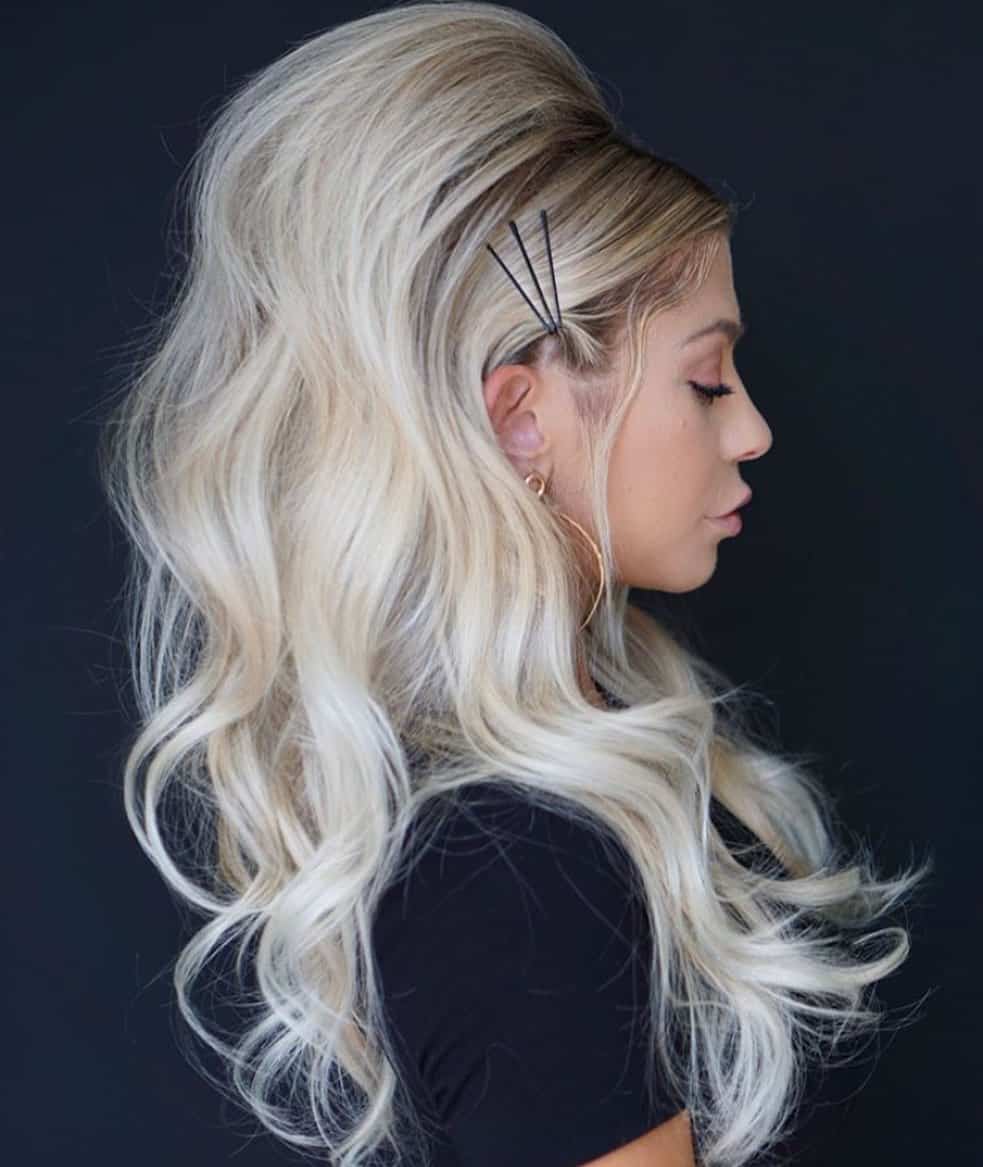 A gorgeous blonde layered cut inspired by the 1970s is ideal for women. One of the best ways to achieve this hairstyle is to blow dry with a round brush and use hairspray to create a subtle bouffant look. Sweep the bangs to the side with bobby pins to secure them.
18. Smooth and Straight Bob with Flipped-up Ends
Apply a volumizing mousse to your bob before blow-drying it. Comb through your hair to ensure every strand is covered and sleek, including your bangs. To achieve a retro look, begin rolling up the ends of your hair. Take cues from the above image.
19. Shoulder-length Waves with Messy Fringes
While a shoulder-length vintage wavy bob looks great on everyone, those with a slimmer or longer face would benefit from this bob's widening effect. Tumble the bangs to give them a shaggy look.
20. Sleek and Side-parted Short Hair with U-shaped Ends
The haircut is the first step in creating this look. Request that your stylist feather the ends of your hair. While the hair is damp, apply a volumizing mousse throughout the top. Make a deep side part and roll the feathered ends into a U shape.
21. Wavy Bangs and a Low Bun Tied with a Scarf
This is a tremendous second-day hairstyle! A bandana, tousled bangs, and red lipstick are required. Straighten your hair back into a low bun and secure it with a tie. Maintain wavy, uncombed bangs.
22. Side-swept Hair with Side-swept Bangs and a Headband
Long, straight hair paired with sleek textured bangs swept to the side is a style that is making a comeback. Secure your hair with a scarf or a headband and sweep it to either side of your shoulder. Miss Gorgeous, you're ready.
23. Cute Bangs with Loose and Voluminous Updo and a Hair Bow
Try Brigitte Bardot's vintage curtain bangs for an effortlessly chic style. If curtain bangs aren't your thing, try blunt bangs. The bangs sit side-swept and effortlessly elevate a simple high updo. For a cute look, use a barrette or a hair bow.
24. Curled Locks Swept to the Side Short Hairstyle
Try a side-parted vintage style that instantly adds volume to short hair. The waves are curled in the same direction and then combed through to dramatically increase the volume and width of your hair, with a side parting that lifts the roots even more for a glamorous vintage look.
25. Tucked-in Low Updo with a Mid-parting
Create a retro look by parting your blow-dried hair in the middle. Twist one side and pin it up behind the nape. Repeat on the opposite side. Connect both ends and roll them into a bun to complete your rolled-back updo—one of the most fashionable retro hairstyles.
26. Retro, Sleek, and Deep Side-swept Updo
A sleek bun is a classic vintage updo that will never go out of style. It always manages to evolve with the times! Take your sleek hair to the side, covering up your brow, and twist it to the back. Make a sleek updo at the back of your hair.
27. Long and Smooth Retro Hairstyle with a Headband
Wear a simple and classic headband to achieve a sleek, neat hairstyle. Take a cue from Anne Hathaway's hairstyle. It can be tailored to any face shape, hair type, or personality. You'll need an oil or wax spray and a medium-hold hairspray to recreate the look.
28. Long and Messy Bangs with a Boyish Pixie-cut
Glow in the glam spotlight with this fantastic vintage wavy, and boys,h-looking pixie. Everyone will love vintage haircuts like this because of the textured yet smooth and shiny waves. Bring long, unkempt bangs to the front while keeping the rest of your hair short and combed.
29. Hippie Hairstyle with a Golden Accessory
Begin by applying a smoothing cream to damp hair. To help prevent flyaways, keep the air flow facing the floor. Wear a golden hippie accessory on your brow and comb your long, loose hair.
30. Semi-collected Bouffant with Mid-parted Curtain Bangs
With long curtain bangs and long hair. The heavy fringe in this style balances out long faces beautifully. Take a cue from Kim Kardashian's semi-collected hairstyle with a back bouffant.
31. Tucked-in Sides with a Floral Accessory and Retro Waves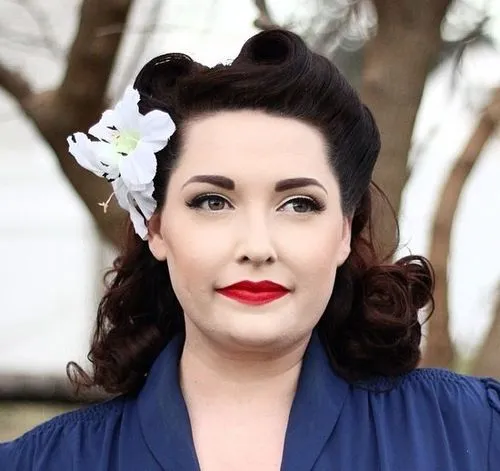 Tucked-in sides to the back define this half-up hairstyle. A sizeable floral accessory is added to the side to liven things up. In terms of texture, go for soft Hollywood waves. This is an eye-catching, one-of-a-kind look with vintage vibes for medium-length hair.
32. Curly Bangs to the Front with a Scarf Over the Head
Comb your hair and add ringlets or curls to your bangs. Suitable for long to short hair. Wear a scarf or handkerchief to separate your bangs from the rest of your hair. Lift the front section of hair and spray with hairspray to keep the curls in place while it dries.
33. Half-up with Face-framing Fringes for Short Hair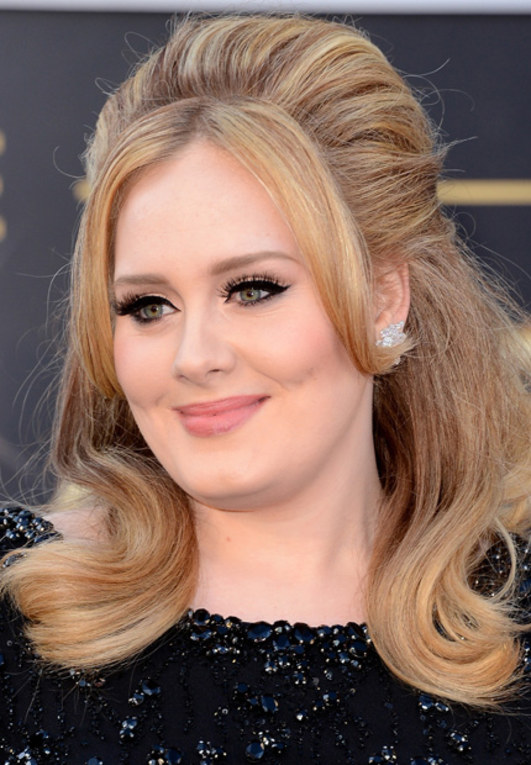 This magnificent half-up work does full justice to vintage '40s fashion. To achieve this pinup hairstyle and its staircase to perfection, you'll need a lot of hairspray and pins. This retro wave half-up is ideal for women with medium to long hair. Pair it with some face-framing bangs.
34. Undercut Style with Short Retro Curls
Visit your stylist for a precision undercut with layers. Curl the ends of your hair with a small amount of smoothing serum.
Blow dry hair downward to smooth the cuticle for extra shine. Longer waves should be swept to the sides, while shorter waves should be swept to the back.
35. Boho Side Braid with a Retro Touch
All you need for this easier styling is long, smooth hair. Part your hair from ear to ear to divide the front and back. Make a small braid in the back. Make a loose ponytail and wear it to one side. This is a vintage Boho hairstyle.
36. Golden-blonde Wavy Pixie
A golden-blonde wavy pixie is an easy way to dress up short hair. Curl your hair with a tong in the same direction around the head for volume, or twist and pin the minor side part for a sleek mini updo.
37. Rolled-in Bangs with Side-swept Retro Hairstyle for Wedding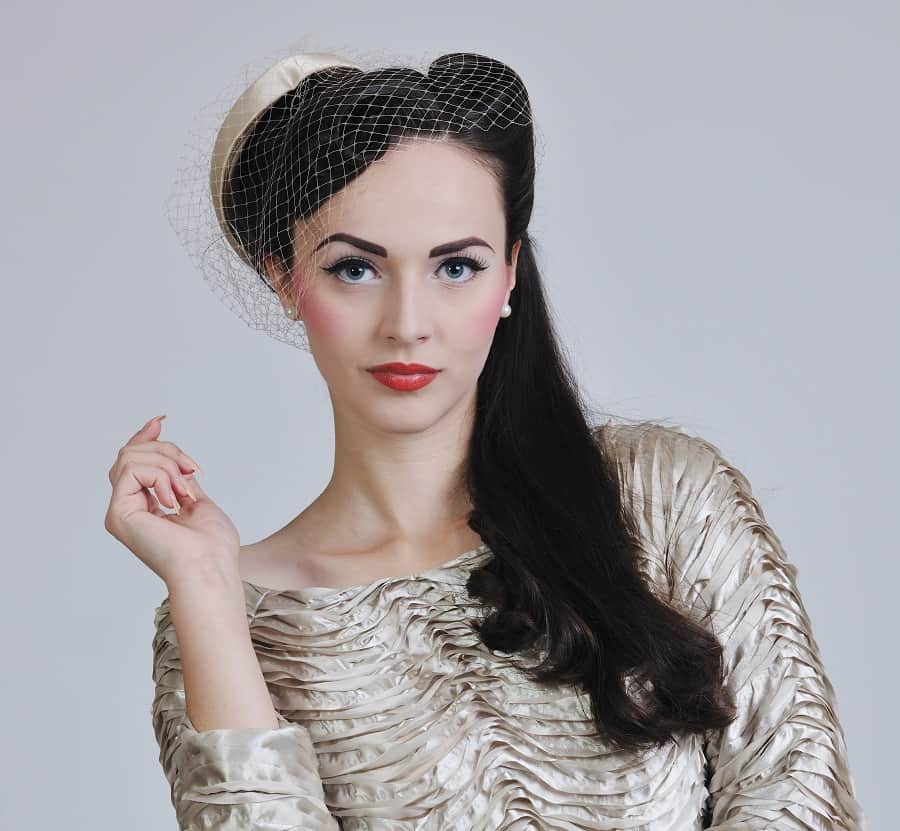 Rock a vintage wedding hairstyle with tucked-in sides and tight curls for maximum hair fullness and bounce. Sweep your hair to the side and add an accessory, making it look thicker and more glam by adding width and volume.
38. Bob with Messy Fringes and Flipped Curly Ends
This one is for you if you have naturally wavy hair. Curl your hair at the ends. Now comb them all together and gather them behind one of your ears. Toss them to achieve a voluminous and messy bob hairstyle with messy fringes.
39. Side-swept Puffy Hairstyle with a Wavy Ponytail
Nothing says "retro," like loose ringlets or waves tied into a low ponytail and a gentle retro pouf from the 1950s. You will undoubtedly have your own Marilyn Monroe moment if you have gorgeous blonde curls. The fun hairstyle is appropriate for both casual and red-carpet occasions.
40. A Side, High and Sleek Ponytail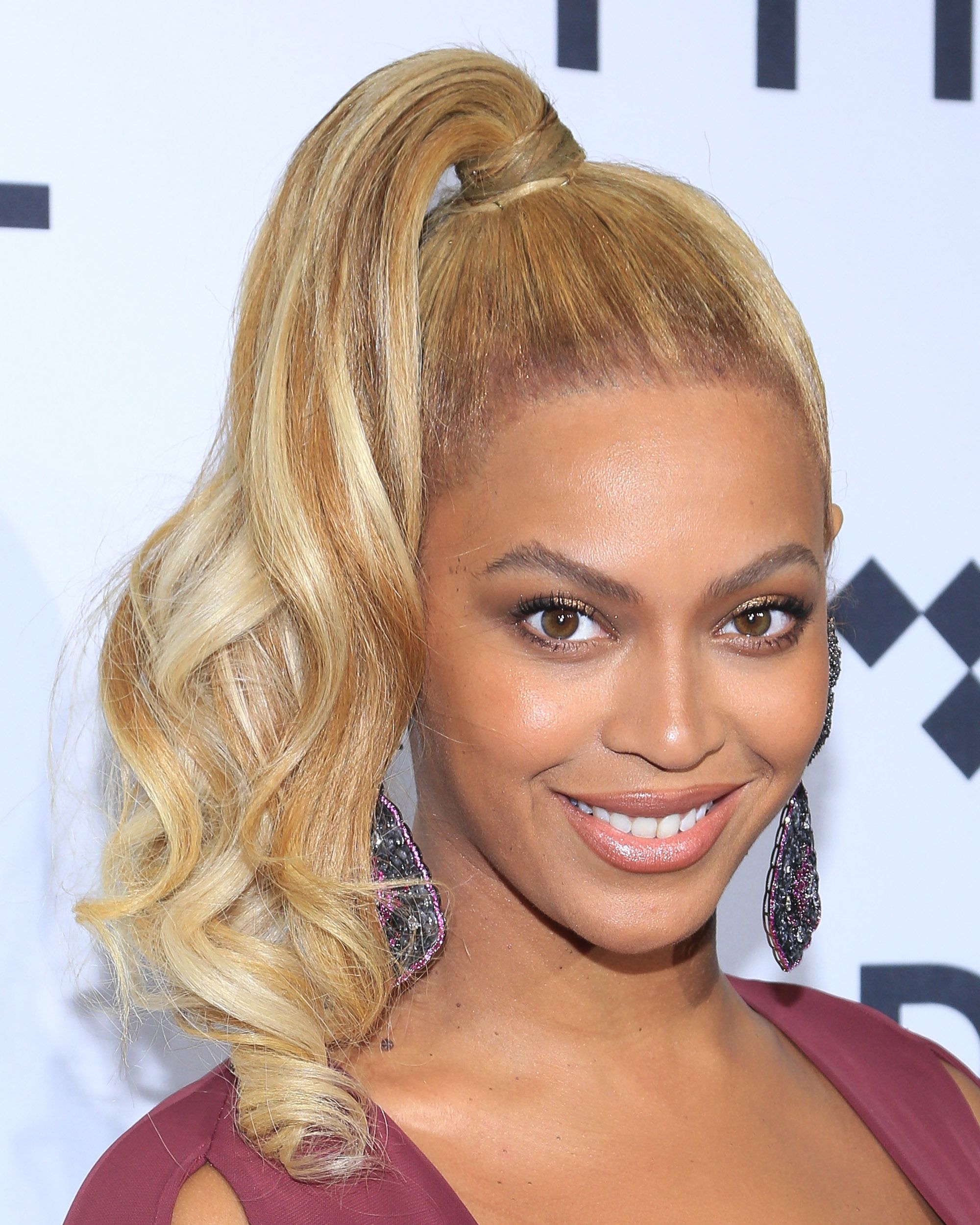 Another option for those who enjoy wearing their ponytails. Tie your pony high at the crown and position it sideways. To achieve a more authentic retro look, curl the end of the pony with a curling iron.
41. Half-up, Half-down Hairstyle with Sleek Bangs Swept to the Side
A half-up, half-down hairstyle with sleek side-swept bangs is ideal for a sophisticated retro look. Wear a headband to create a subtle bouffant updo at the back with long and sleek layers, as seen on Ariana Grande. You can also wear a high ponytail half-up.
42. A Braided Updo
Are you obsessed with your updo but want to try something new? So, here's your answer. This braided hairstyle is ideal for those with long hair. Divide your hair into two sections and begin braiding. Continue twisting it to form a bun. It is both formal and casual.
Other Articles