Were you looking for some hairstyle ideas? Then see the best. Relive the best and most iconic Jennifer Aniston hairstyles throughout the years with us. You may find your favourite Jennifer Aniston hairstyle for your next salon visit.
Jennifer Aniston has been a style icon since the 1990s. With her Rachel Green hair, she drove the entire world insane. In fact, from her layered hair and beach waves to her sleek updos, she has influenced women worldwide. It's no surprise that Jennifer has influenced hundreds of celebrity hairstyles.
In this article, we've compiled a list of the 43 most stunning Jennifer Aniston hairstyles over the years. Everything from Jennifer Aniston bangs to Jennifer Aniston bob hairstyles has been covered. Let us begin!
1. The Popular Rachel Haircut
As iconic as Mondler and Rochel were, nothing sparked the same level of excitement that "The Rachel" did. It updated the shag style! This is one of the most popular hairstyles in the world. It does, however, necessitate a lot of upkeep. Ask your hairstylist for a shag cut with layered bangs to achieve a similar look.
2. Mid-parted Feathered Layers
Layers with feathers are everything! It makes broad faces appear slimmer, short faces appear longer, and vice versa. Subtle highlights and frosted layers at the front can help you achieve a more defined jawline. They also give Jen's classic balayage layered and mid-parted hairstyle a pop of colour.
3. Side-parted Long Balayage Layers
A side part is an excellent way to add height to your hair. Follow the same steps that Jennifer uses with her balayage-blonde highlights. Part your hair to the side, then comb out and upward with a comb underneath the hair on the deeper side.
4. Face-framing Smooth Lob Haircut
Follow Jennifer Aniston's hairstylist's lead if you have medium-length hair. Face-framing layers cut below the chin draw attention to your jawline. This is especially true if your hairstyle is bob or lob. The sleek parting highlights her silky locks.
5. Blonde and Sleek Bob
Jennifer Aniston reinvented the classic French bob! It's admirable that she didn't wear bangs here. The side part highlights her facial features beautifully. The blunt ends highlight her jawline, neck, and collarbones. And the blonde-golden tones are simply stunning.
6. Mid-length Layers with Blonde Shades
Blonde and brown hair complement each other perfectly. At the roots, the dark brown adds depth and height. The lighter blonde ends soften the shape and layers of the face. The waves give the hair movement. Jennifer's middle-length hair complements the look nicely.
7. Full-shaved Haircut
After the popular undercut shaved hairstyle, this bald-looking shaved hairstyle is a less-seen but great style for Jennifer. It will also suit those with a receding hairline, as this is the trend nowadays. You can also experiment with different colours.
8. Side-parted Long and Voluminous Brunette Hair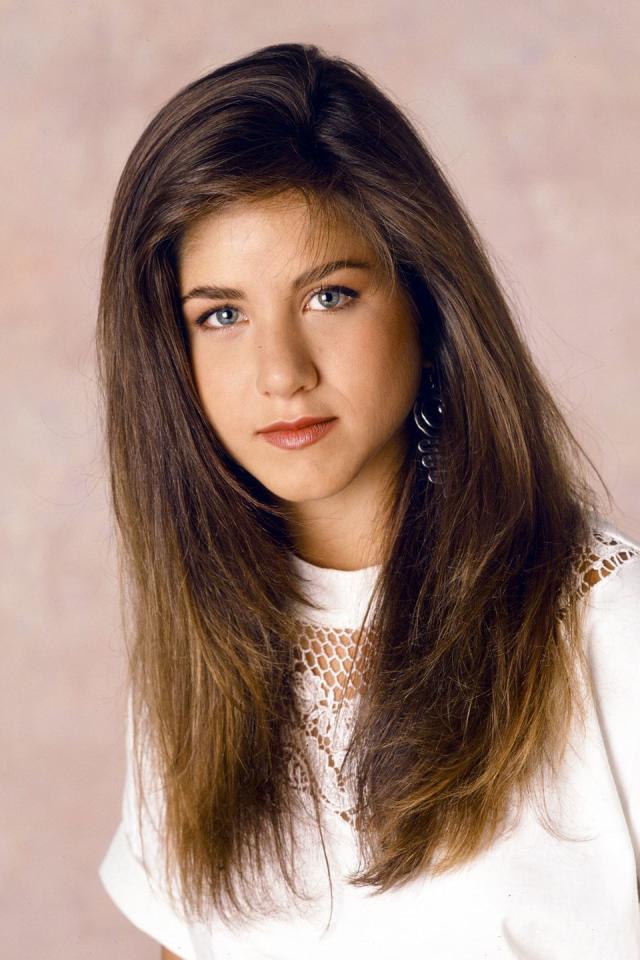 Before the world recognized Jennifer Aniston as Rachel Green in the hit TV sitcom "Friends," Jen spent her early twenties starring in the TV show "The Edge," where she wore her hair in its most natural state: brunette with blonde ends, long, and charmingly unruly. It's an excellent foundation for the hairstyles she'll wear later.
9. Side-swept Bangs with Mid-parted Hair Locks
This is the extended, straighter variation of "The Rachel." The soft blonde highlights draw attention to the layers. The angular layers frame the lower half of her face. A deep side part with a small strand tucked behind the ear is an excellent way to conceal a large face.
10. Smooth Gelled-up Waves with a Center-parting
Jennifer's wavy and curly hair took a beating from the heavy styling, which is no longer as wavy as it once was. Try applying hair gel to your waves with a mid-part and continue to show off your face-framing highlighted waves.
11. Side-slicked Short Hair with a Barrette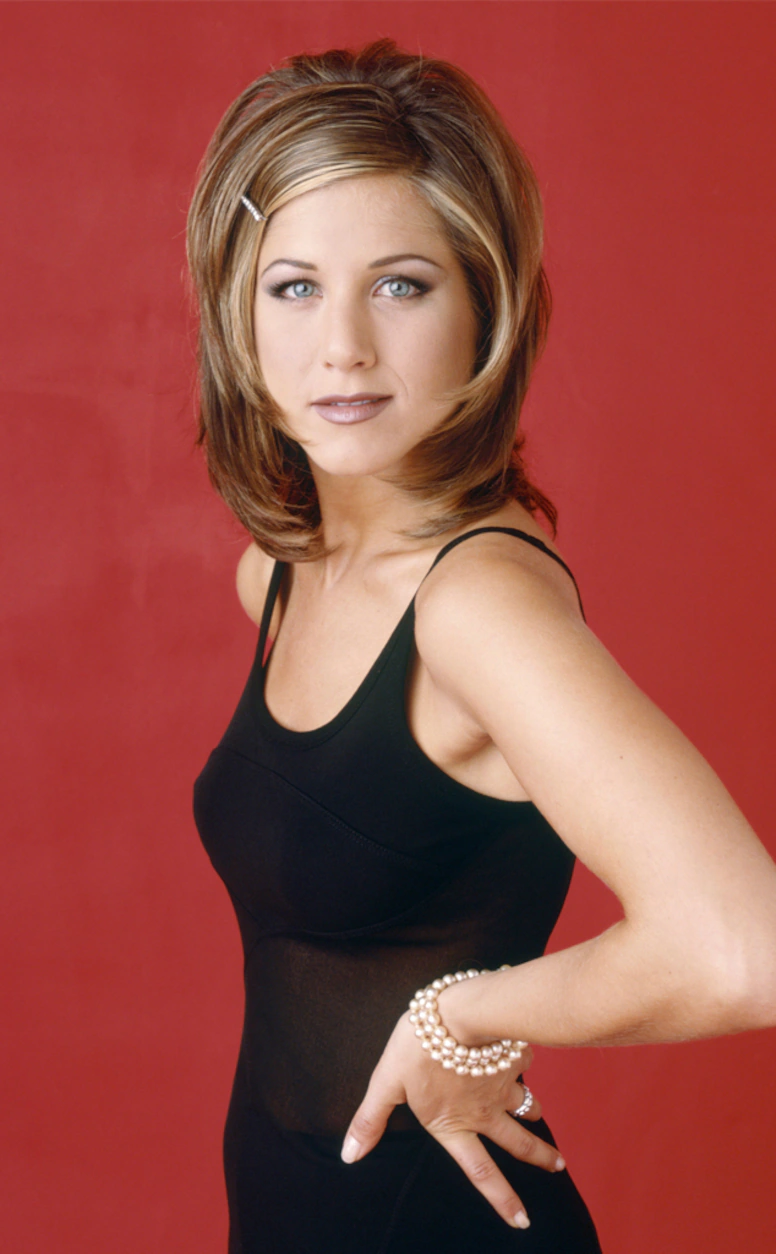 The wispy tips, similar to the Rachel haircut, beautifully accentuate Jennifer's layers. They help to frame her face and give her hair dimension. Add a barrette or a few bobby pins to achieve a cute and retro look.
12. High Messy Bun with Curtain Bangs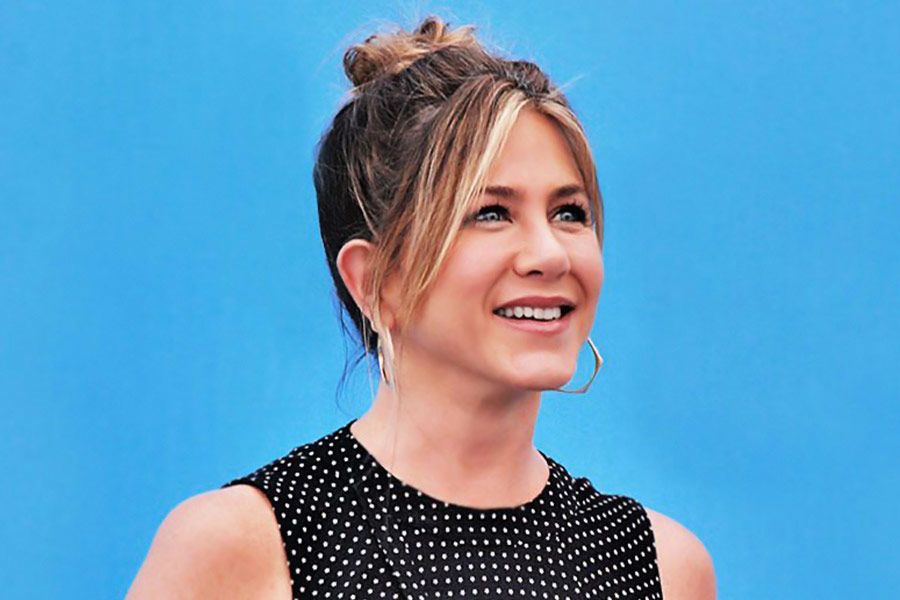 Jennifer Aniston wore her hair in a messy bun at the 2016 Giffoni Film Festival. She is stunning! She has curtain bangs, which look striking when paired with a top knot. The light-highlighted bangs do their work and conceal them.
13. Mid-parted Messy and Low Ponytail
At the 2001 Golden Globes, Jennifer Aniston sported this stunning French twist hairstyle. She looked stunning with a sleek and low ponytail! The messy pouffe elevates the hairstyle. Recreate the look with backcombing and a centre parting.
14. Face-framing Bangs with Lowlights
Jennifer wore this outfit back in 2009. Yes, she was able to achieve those tousled waves with lowlights. The key is to curl your hair in loose, round curls. Begin curling your face-framing bangs and hair near the jawline to create a natural flow. Part your hair in half, and you're done.
15. Ear-tucked Hair with One-sided Face-framing Fringes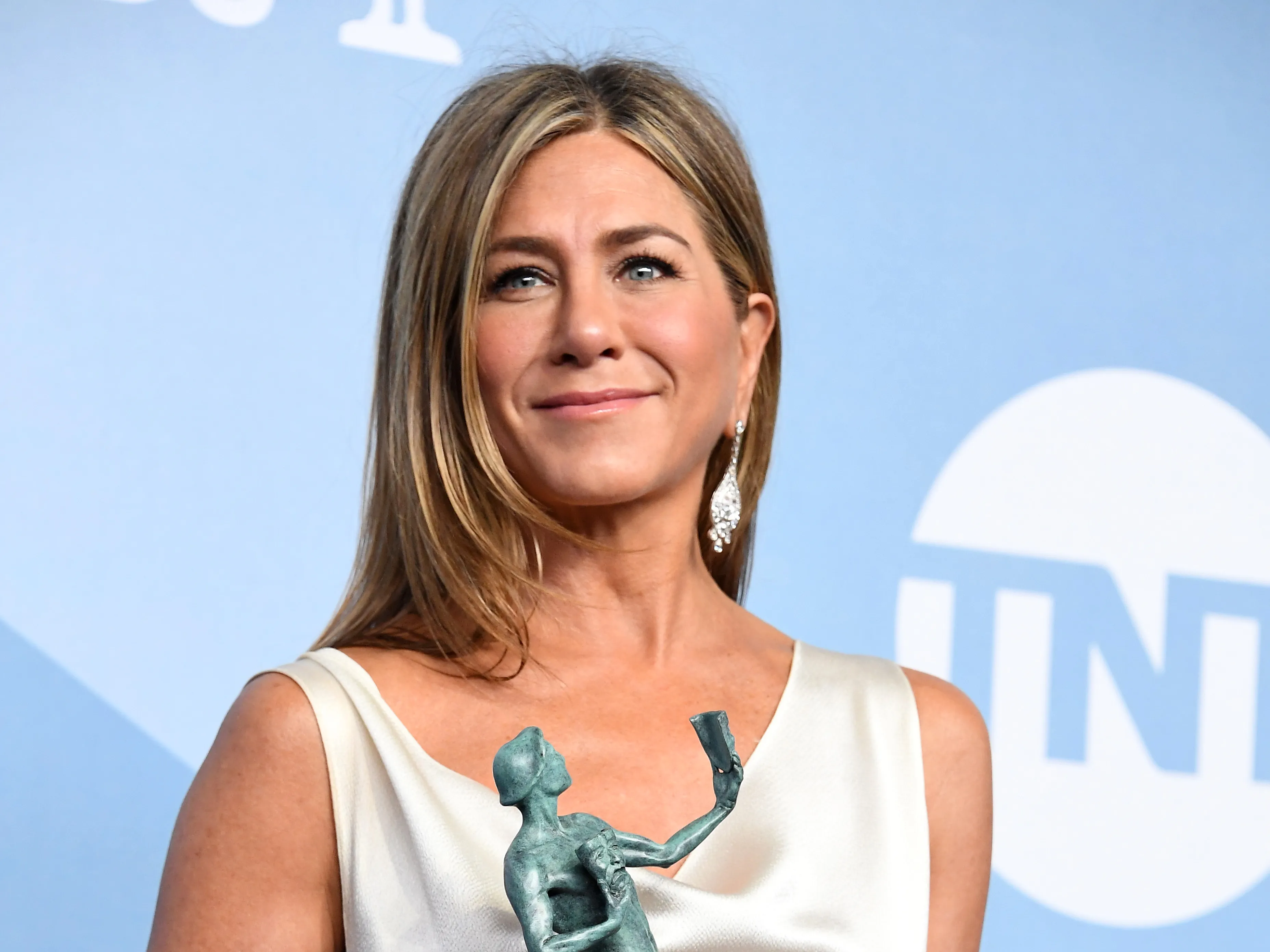 If anyone has made heavy layers fashionable in our era, it has to be Jennifer! Her silky brown and blonde tresses look stunning with the layers. The middle parting highlights her facial features. Wear one side of your bangs tucked behind your ear and the other to frame your face.
16. Side-swept Bangs with Voluminous Waves
The best bangs are side-swept bangs. They flatter all face shapes, conceal wide cheeks, and enhance facial features. The loose, voluminous waves and minimal makeup make this hairstyle look even better.
17. Soft and Straight Mid-length Hair with a Side-parting
On medium-length hair, this straight and silky hairstyle looks stunning. It's both graceful and relaxed at the same time. Her hair is straightened and highlighted with balayage. Her long side bangs frame her face. To achieve this look, use hairspray to hold your hair in place.
18. The Beehive Updo Hairstyle
Jennifer looked stunning in this look. Her ordinarily smooth locks were styled into a beehive, highlighting her face-framing bangs in the front. You can also try it without a centre part for a casual look. To keep the hairstyle in place, use hairpins.
19. Messy and Wavy Bob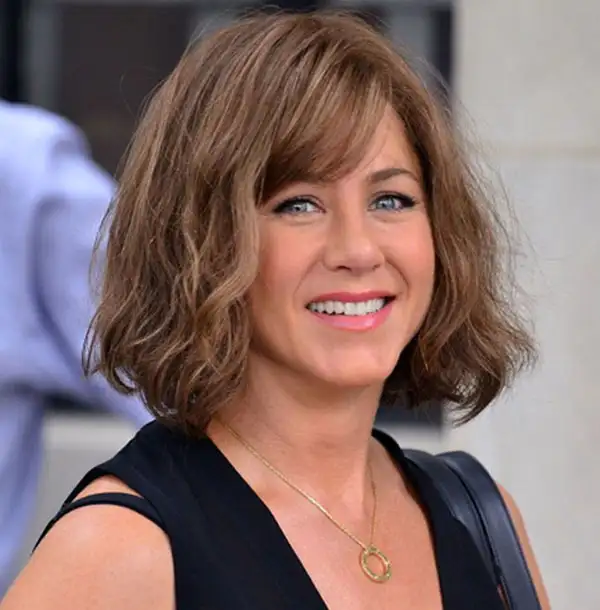 This hairstyle is made up of contrasts. Jennifer's natural brunette hair is visible at the top, making her face appear longer. The light blonde highlights soften her hair's layers. The style factor of this look is her wavy hair styled with side-swept bangs.
20. A Messy Half-up, Half-down Hairstyle
Jennifer Aniston's hairstyle has to be one of the coolest she's ever worn. The soft waves appear to have been finger twirled. The rest of her hair is pulled back in a half ponytail, creating a half-up, half-down hairstyle.
21. Accessorized Tousled Updo with Few Loose Twists to the Front
Jennifer's hairstyle was designed to be simple yet sexy. Textured layers were added to this hairstyle's messy combed-back updo for a weightless finish and to add shape to this no-fuss look. Accessorize your hair with cute hair pins, as Jen did, and leave a few twisted strands free in the front.
22. Side-swept Braided Bang with Straight and Balayage-colored Hair
Jennifer Aniston wore a beach-chic look with a delicate braid. To achieve the perfect texture for a messy bun with one-sided braided bangs. Use a lightweight foam to add a tousled look with lightly defined balayage-coloured waves.
23. Blown-out Waves with Mid-parted Bob Hairstyle
Jennifer layers like no other! This shag cut with toned-down blown-out waves adds a modern twist to the classic bob. Her hair is slightly wavy, and her layers are flicked out with a mid-parting.
24. High Ponytail Tied with a Bow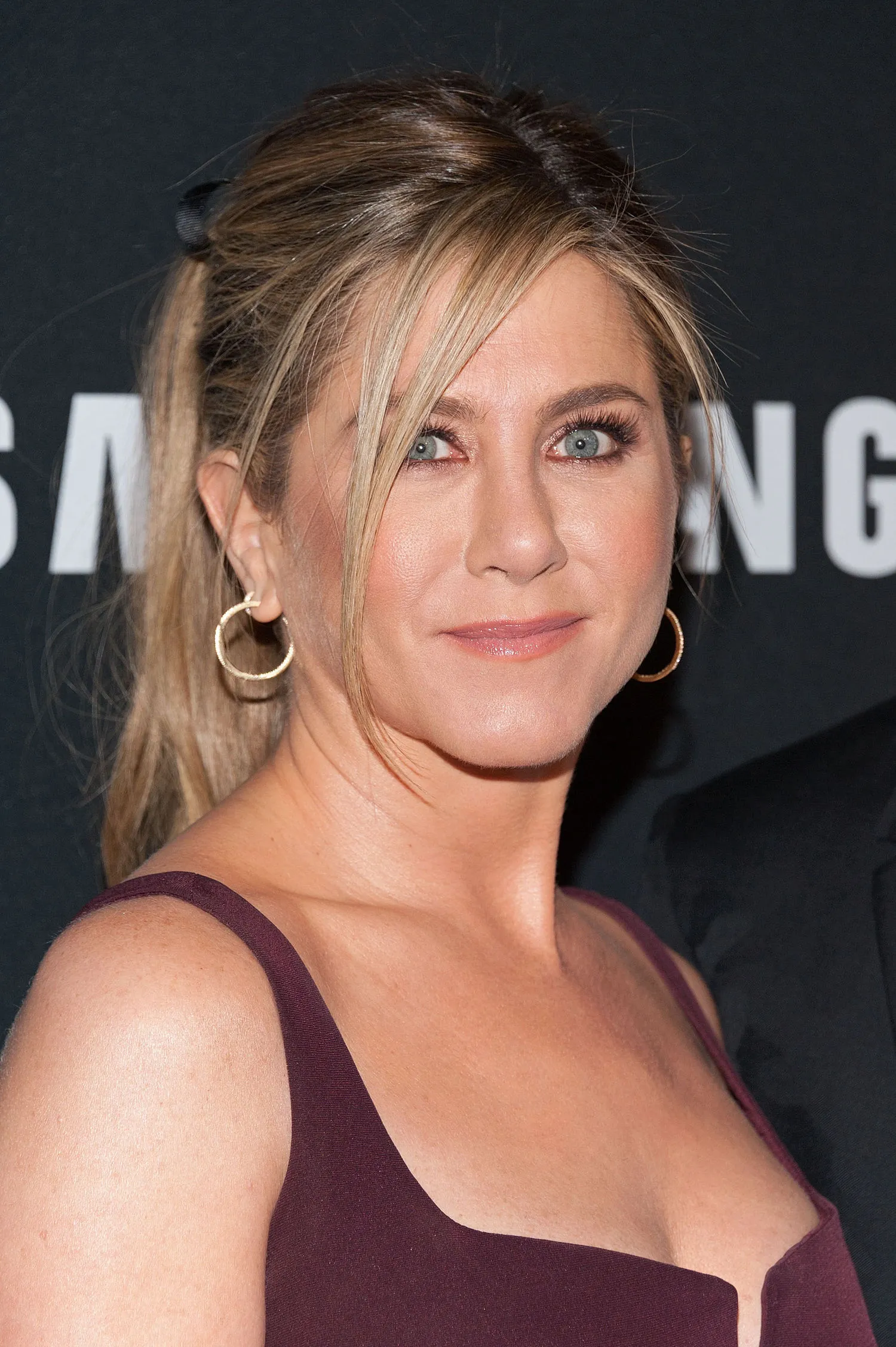 Layers cut around the sides and back of this look add movement and softness to his simple ponytail tied with a ribbon or bow. This low-maintenance hairstyle is ideal for those looking for a low-maintenance hairstyle. Take a look at Jennifer Aniston's hairstyle.
25. Slicked-up Ponytail with a Bouffant
Jen's ponytails are legendary. This sleek and chic look is one of our favourites. Her warm highlights soften the style's appearance just enough. Slick back your hair into a bouffant with hair gel and secure it with a rubber band to create a sleek ponytail.
26. A Casual Ponytail with Razored Bangs
This straight and smooth brunette hairstyle shows off the razored bangs. With regular bangs, this long ponytail is simple to maintain. If you like, you can also style your bangs into curtain bangs.
27. Loose and Messy Braid
This hairstyle can be achieved by cutting medium to long layers. Put your hair in a simple side braided ponytail with face-framing bangs and a centre part. Wear it to a casual occasion or a party.
28. Side Ponytail with a Center Parting
Jennifer Aniston's hair is usually down, but when she wears it up, she gives us stunning gems like this one. Her sleek mid-parted high ponytail and combed back bangs highlight her eyes, nose, mouth, and jawline. To achieve a similar look, wear your ponytail to the side.
29. Messy High Ponytail
Jennifer Aniston can pull off any hairstyle, from letting her hair down to various updos. A slightly messy ponytail provides the volume you require! This loose yet messy ponytail and no-makeup look shape her face, and her brunette hair looks great.
30. Half-up Long and Wavy Hairstyle
Did you know Jennifer Aniston has naturally curly and wavy hair? Curling thin hair is an excellent way to add volume. To achieve a voluminous look, keep the curls natural and medium-sized. Semi-collect your hair to the back and frame your face with face-framing bangs to show off your highlights.
31. Casual and Half-up Ponytail with a Puff
Jennifer Aniston always opts for simple yet elegant looks on the red carpet rather than elaborate hairstyles. This adorable half ponytail paired with natural and messy hair creates a stunning look! Wear it to your next beach party with colourful hair strings or beads.
32. Short and High Ponytail with Curtain Bangs
Jennifer, if anyone, does messy hair, right? The long side-swept curtain bangs frame her face and draw attention to her facial features. Her cheekbones are highlighted by the short and messy ponytail she has on—a great look for women with short hair.
33. A Side and Low Updo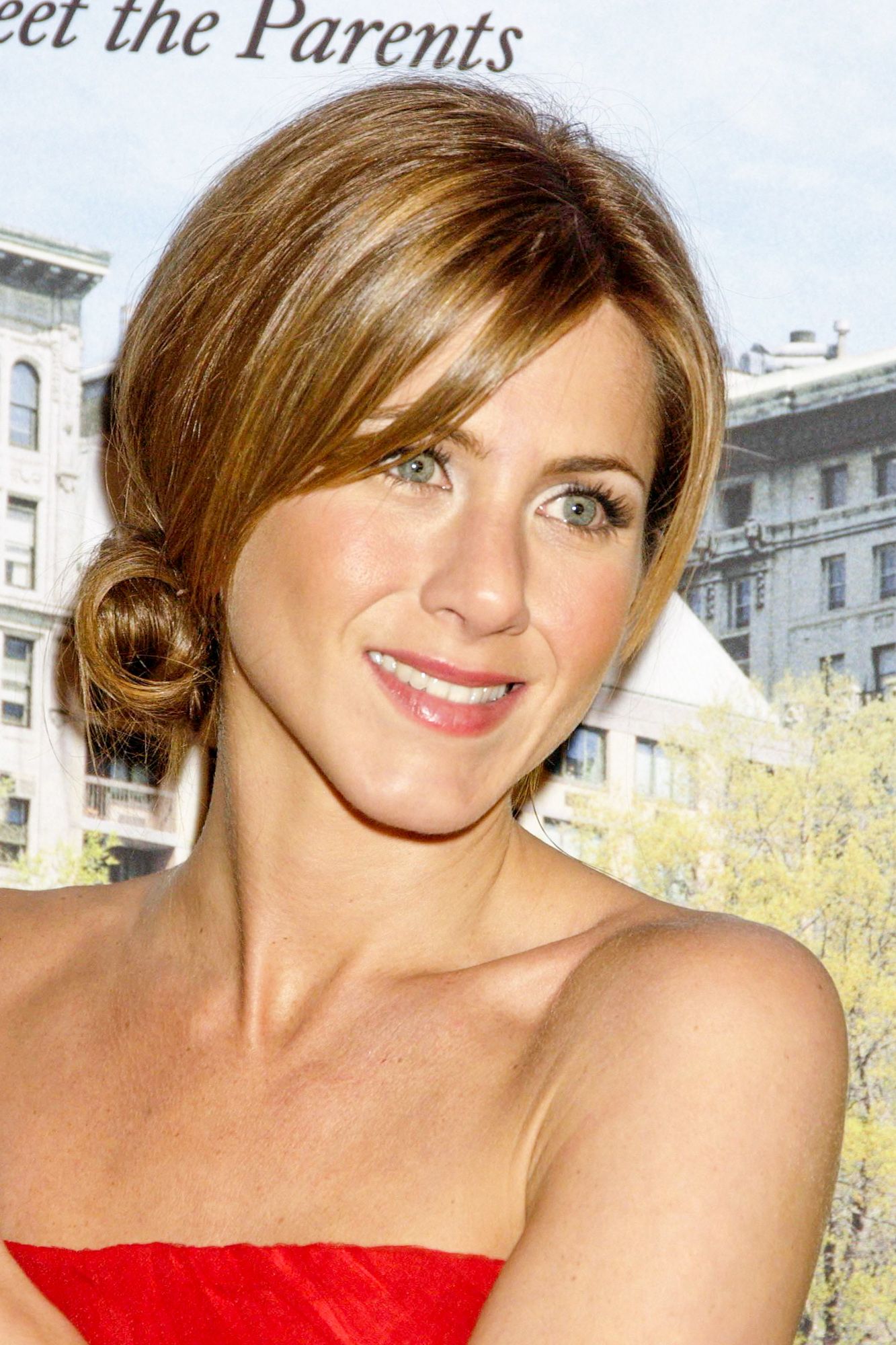 This hairstyle is all about being smooth and glossy! The hair is tied to the side in a low and sleek updo, allowing it to sit flat at the top with a casual part framing the face. Isn't this hairstyle admirable?
34. Wet-looking Messy Hairstyle
Let's face it: Jennifer makes wavy hair look cute! Her layered hair stands out and looks healthy when styled in loose natural, and wet waves. The wet effect created by applying hair gel to the layers creates a tousled and sexy appearance.
35. Thick and Retro Waves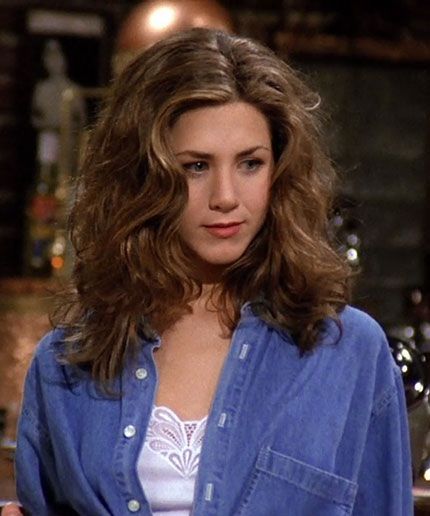 Jennifer Aniston usually wears her hair down. Her hair was blow-waved in a retro style and left to fall over her shoulders, highlighting the jagged-cut layers. This shaggy hairstyle will make your hair look thick and voluminous.
36. A Bow-styled Headband and Loose Locks
These locks are left out to fall over the shoulders, highlighting the long subtle layers cut around the edges to lighten the length. This simple look is ideal for a photo shoot or for wearing to casual meetings.
37. Slicked-back Bun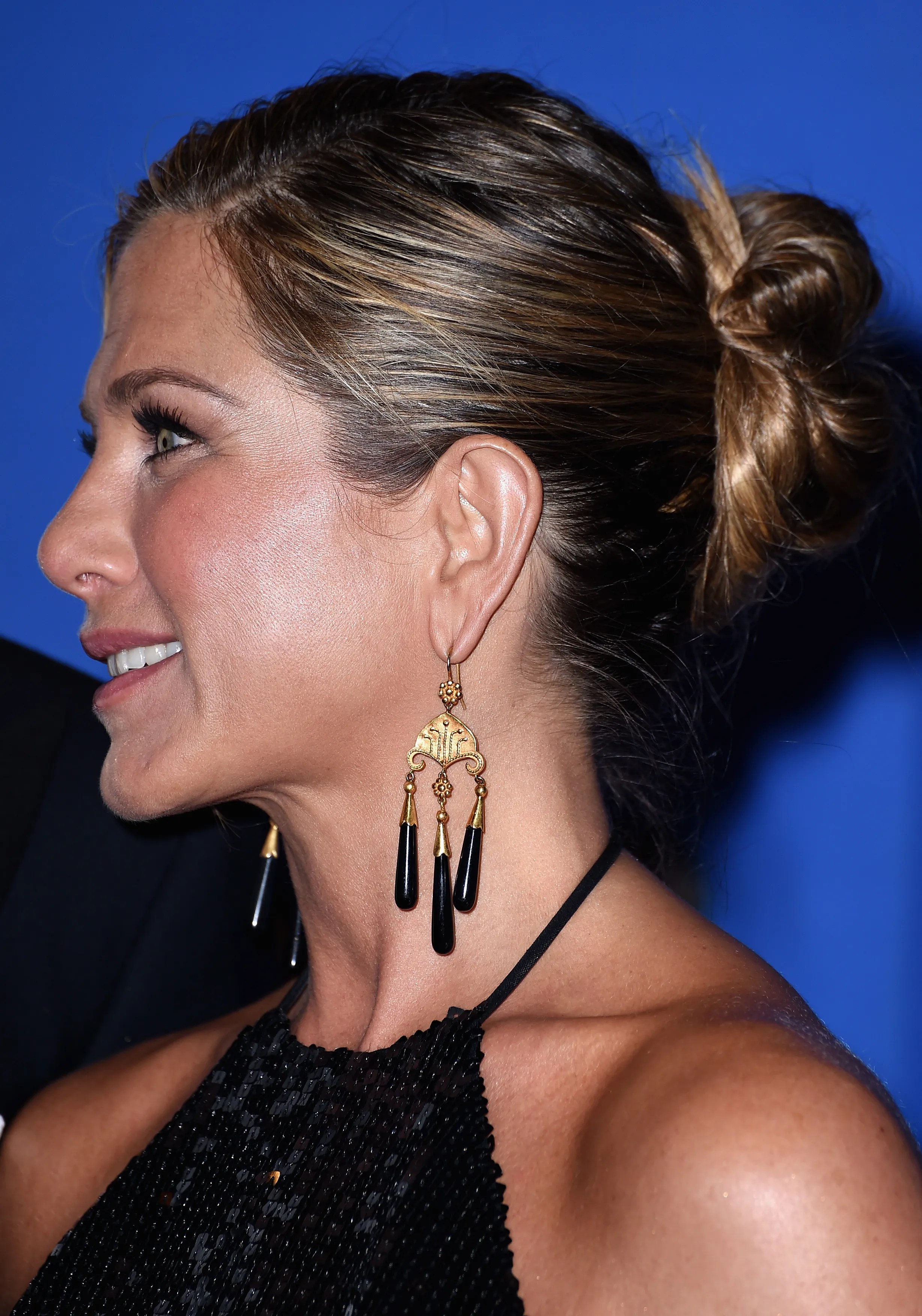 The central concept for this hairstyle is soft and simple. These locks have been slicked back into a loose bun. To make hair look sleek, use hair gel or hair spray. Secure the bun with bobby pins or a beautiful XXL barrette at the back.
38. A Weaved-in Side Braid
Jennifer wore a more relaxed hairstyle to one of her award shows. A weaved-in braid from either side to the back will undoubtedly look flattering. Use this look with dark highlights and straight hair.
39. Soft Dreadlocks-like Long Hairstyle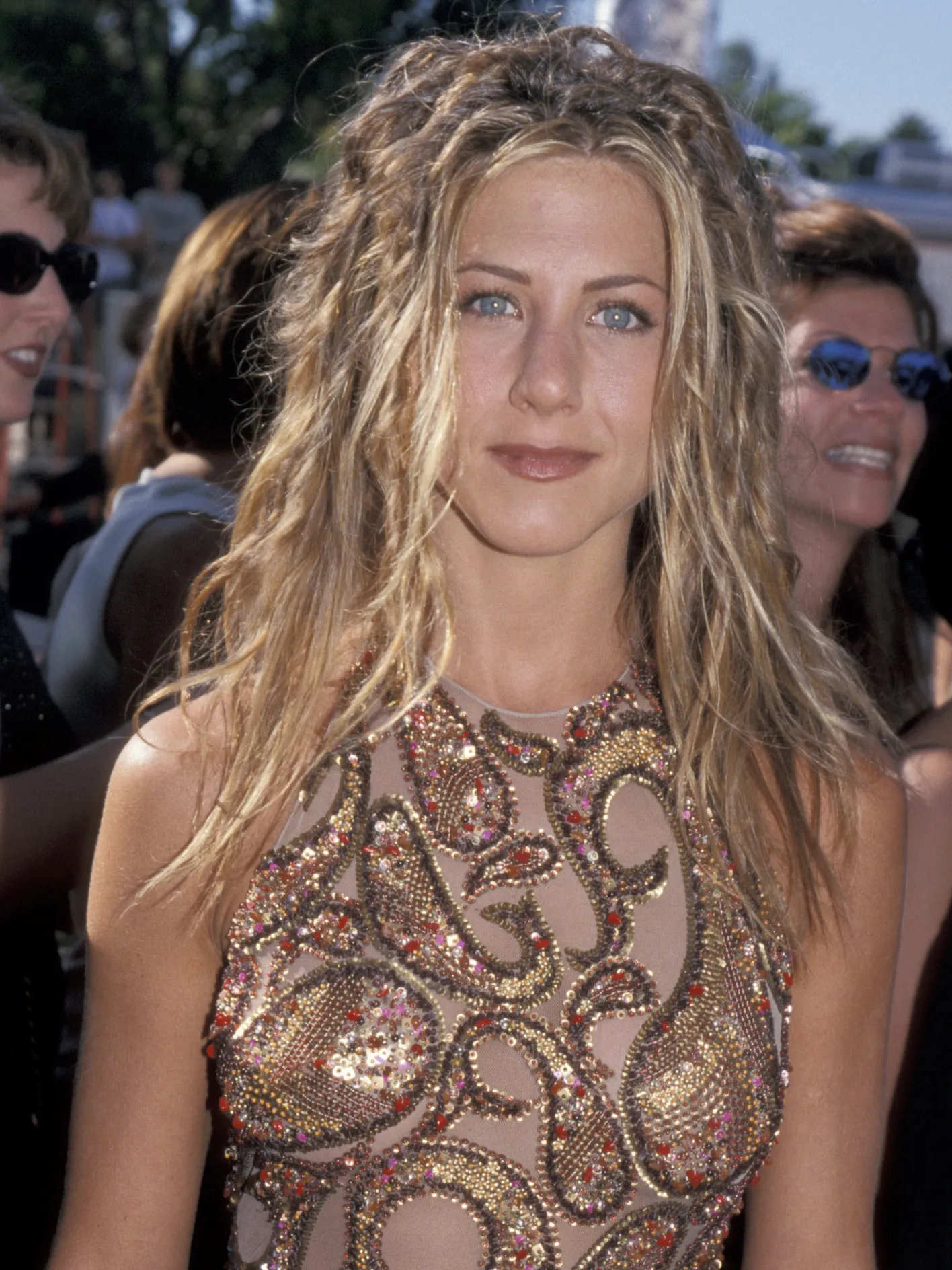 These highlighted soft dreadlocks are perfectly blow-waved, adding volume and lift at the roots while smoothing the rest. To soften the face, the long bangs are swept across it. This messy hairstyle is both comfortable and appealing. Once, give it a shot.
40. A Casual Mid-length Braided Ponytail
The central concept for this 'do is chic and simple. This classic high-braided ponytail with medium-length hair complements an awesome casual hairstyle. Like Jennifer, the Ashy-blonde tones look great with this hairstyle.
41. Beach Waves with Balayage Highlights
Jennifer looked stunning on stage when she delivered her speech at this award show, and her hair was flawless. She wore her hair in natural beachy waves with texture added for a slightly wet look. Take note of the dual tones (brown and blonde) and asymmetrical bangs with such messy waves.
42. Two Braids to the Sides with Bangs
Jennifer Aniston is a lady who prefers classic hairstyles, demonstrating that two-braided ponytails can also be a trend. She has two simple braids with a centre part and face-framing fringes on her hair.
43. A Messy Top-knot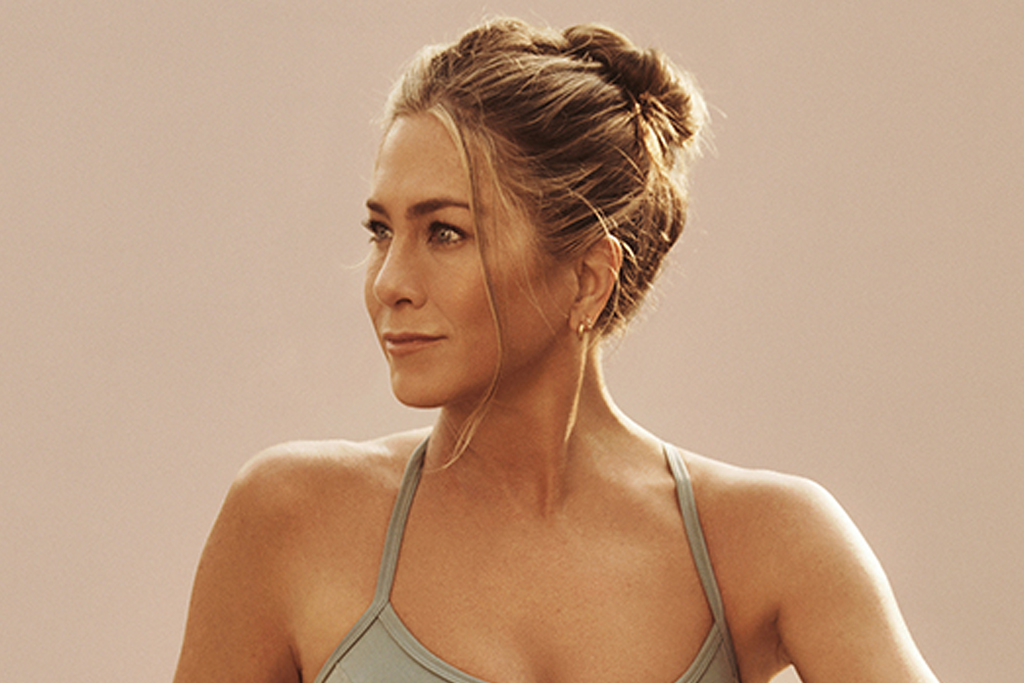 Aniston wowed everyone with her entire look. Her final hairstyle is a casual updo. Wear a messy top-knot and stay comfortable while exercising. Loose strands at the front keep this hairstyle organic while adding a slightly polished finish.
Other Articles