A high ponytail is always a safe bet when unsure what to do with your hair. It's a versatile hairstyle that anyone with any hair type, texture, or preference can pull off. A ponytail can complement any look, whether you live an active lifestyle and prefer to keep your hair simple or want a sleek and elegant look for a special occasion. High ponytails can be styled in various ways, and with the right products, you'll be a pro in no time.
If you want to try a high ponytail but need help figuring out where to begin, here are 51 of our favorite celebrities' top styles. The ponytails we've chosen suit a wide range of hair textures and types, so there's something for everyone. Are you ready to elevate your ponytail? Read on for ideas, then put your ponytail on.
1. 1960s Short and Sleek Ponytail
To make a high ponytail even more classy than it already is, give it a retro vibe. Wrap a side section of hair around the base of the pony and add a slight bouffant to channel 1960s vibes instantly. This hairstyle is appropriate for any occasion, casual or formal.
2. Sleek and Wavy High Ponytail for Long Hair
A high ponytail does not have to be smooth and sleek. Instead, experiment with its texture to your heart's content. Curling the hair after pulling it back creates a soft curly, or wavy look that is charming and appropriate for any formal event. Try this on your blonde hair.
3. A Side Dutch Braid with a Bouffant
If you have long hair, a messy ponytail hairstyle with a Dutch braid and a bouffant may be the way to go. Backcomb the crown area and braid one or both sides. With this look, you don't need a ponytail to be super high; just above the crown or a little lower will suffice. Backcomb your long pony with a texturizing product. Messy has just become fashionable.
4. Wavy and Puffy Half-ponytail
For women with layered hair, a half-ponytail keeps the shorter pieces out of your face while allowing the longer ones to flow freely. Make a high ponytail with your hair, leaving the bangs loose in a curtain style and your hair curly.
5. With Two Side-French Braids
Add a French braid on one or both sides to add a more bohemian twist to the classic straight look. Make a high ponytail for a more comfortable look. Change the size of the braid depending on the occasion; go larger for more casual settings and smaller for more conservative settings.
6. High Ponytail for Thin and Mid-length Hair
Having the perfect pony is relatively easy. Divide your thin hair into two sections to make your pony thicker at the base. Lift the top section of your pony and secure it with a small claws hair pin clamp at the base. Cover with the top part of your hair. Make a hair wrap and secure it with a pin.
7. Bouffant with a Wavy Ponytail
This is the look for you if you're looking for a suitable high ponytail hairstyle for a special occasion. A wavy style with a slight bouffant in the front adds volume and can be photographed from any angle. You can try it on even if you have medium-length hair.
8. Braided Mohawk Hairstyle
Here's a hairstyle perfect for long hair; you have so much room for creativity you could take advantage of it. One French braid is fine, but try 2-3 plaits that shape the front of your style into a braided Mohawk that can be finished with a ponytail. You don't have to keep everything perfectly straight — feel free to experiment with waves.
9. Mini-braids with a Sleek High Ponytail
You have many options starting with just a few small braids off the hairline. If you want your ponytail to look perfect, make sure the roots are sleek and smooth. Make use of gel or pomade. Then, create a super high ponytail. Get inspired by Ariana Grande's look.
10. With a Center French Braid
A tousled pony with a braid will not disappoint in high ponytail styles. The focal point is the French braid in the middle of the head. You've got a winning combination when you combine that with your messy updo. It looks fantastic on platinum or light-colored hair.
11. Messy High Ponytail with a Center-parting
It is a hairstyle that will suit you whether you are going to a wedding or a garden party. Teasing the hair to look naturally messy but styled is ideal. Part your hair into two halves for a relaxed yet appealing look.
12. Mini-cornrows Collected into a High Ponytail
Incorporate cornrows into the mix for a fun, chic urban hairstyle. While cornrows are typically braided vertically – from the hairline to the crown – changing your direction will give you a completely different look.
13. Cascading Half-up, Half-down Hairstyle with Face-framing Bangs
Want to keep things simple but stylish? The half-up, half-down trend was popular in the 1990s, and it's making a comeback. Make a high ponytail with half your hair and let your curls cascade down. Remember to style your face-framing bangs for a messy look.
14. Voluminous High Ponytail Over the Top
A high ponytail inspired by celebrities is sure to turn heads. You should create a sleek look and pull your voluminous hair over your head to get the look right. Tie them tightly and let them beautifully frame your head.
15. The Inverted French Braid with a High Ponytail
Add mystery by inverting a French braid from the back side and hiding it under your high ponytail. It will peek out whenever you move without giving too much away—a suitable hairstyle for a conservative woman with a dash of spice.
16. Long and High Ponytail with Bangs for Curly Hair
A long ponytail is simple to achieve with a weave or by simply applying a drawstring ponytail. Still, your denser natural hair can also be styled into a pretty ponytail updo. Consider pairing it with curly bangs and soft highlights. Tie an elastic band around the ponytail and leave the soft curls on the forehead to create bangs.
17. Crimpy Hair Collected into a High Ponytail with Mini French Braid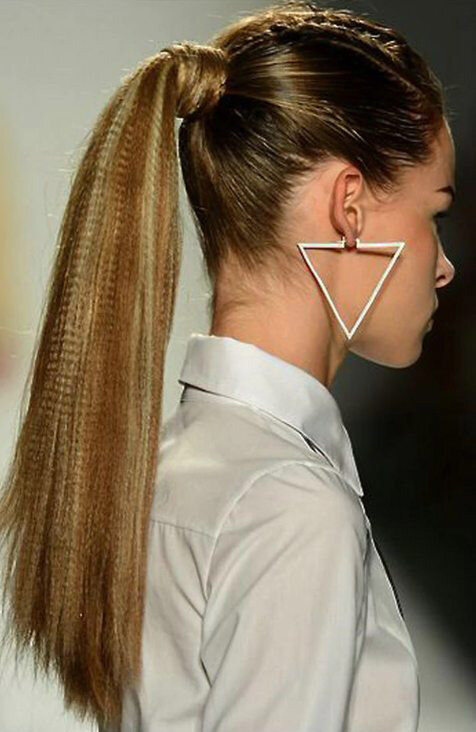 You may believe that crimpy hair has fallen out of favor, but you are mistaken. Try this mini-braided hairstyle with a long and high ponytail, and try it on for size! French braids and straight crimped strands create a remarkable texture contrast.
18. Straight and High Ponytail with a Side Mini-braid and Bouffant
A high ponytail is a casual hairstyle for women, but it can easily be transformed into a formal hairstyle with a bouffant, a side braid, and straight hair. Add a hair wrap to the pony and pancake the braid to make it more pronounced.
19. Box Braids Wrapped-up High Ponytail
Make cute box braids even cuter with a simple updo, such as a high-wrapped pony. Pull, twist, and pin them up. An excellent, modern hairstyle! Make small box braids and gather them all into a high ponytail, then wrap a section to cover the elastic band.
20. Messy Side Braid with a High Ponytail
As previously stated, a messy side braid is a great way to add some personality to your look in a casual setting. This take combines brown and blonde colors for a truly unique color blending. Khloe Kardashian fans will want to try this, as she has worn a similar dye job several times.
21. Sleek High Ponytail Accessorized with Fancy Hair Pins
A ponytail with an accessory for something truly spectacular. It's one of those jaw-dropping high ponytail hairstyles. Its critical success elements are perfect root volume, soft and sleek hair, dimensional color, and a high-shine finish. For a more feminine look, add some fancy hair pins or barrettes.
22. A Side High Ponytail with the Senegalese Twists
Looking to take your braids to the next level? Make a cute side ponytail with them. Ghana braids are ideal for this look, but a side ponytail with box braids or Senegalese twists can also be worn. It's finally time to style your short hair how you want to.
23. A Sleek High Ponytail with Long Bangs
Do you want to know how to do a high ponytail that lasts all day? You could try this Genie ponytail. It has a high sleek ponytail and heavy yet sleek bangs. The hair beneath the ponytail will give you an undercut appearance. Style your bangs with razored or layered ends.
24. A Short and High Ponytail with a Metal Holder
A hair accessory will always elevate your look when all else fails. The blonde and slightly messy ponytail with a metal holder is reminiscent of early 2000s pop stars like Britney and Christina — indicating that this hairstyle will surely be a hit.
25. Side-Swept Wavy Bang with a Wavy High Ponytail
Another celebrity-inspired look, but this time it's Ariana Grande, the current reigning pop princess. The singer, for example, wears her wavy side bangs with highlights on stage, on the red carpet, and even out with friends, demonstrating how versatile and appealing this style can be. To stay on trend, try one-sided swept bangs.
26. A Long and High Bubble Ponytail
This year's hair trend has been the bubble ponytail. It adds visual interest to the basic look while requiring no additional preparation time. This sleek, no-fuss style will look as good with workout wear as a trendy weekend outfit. This outfit is ideal for transitioning from morning yoga to afternoon brunch on a Saturday.
27. The Braided Bang High Ponytail with Soft Curls
A braided bang complements your facial features and appears more polished than a typical high ponytail. This high ponytail style is ideal for formal dances, graduation, and other essential events in a young lady's life.
28. Afro-American Braided High Ponytail with Beads
Women with natural hair (Afro-American) may prefer a low-maintenance alternative to co-washing and twist-outs. When you need to take a breather, a braided ponytail is a low-maintenance look lasting at least a week. Bead your cornrows and extensions for a one-of-a-kind look.
29. Long and Voluminous Wavy High Ponytail to the Side
Another cute styling idea for African-American women is to wear a weave. If you want a perfect voluminous high ponytail that requires no heat, match the added hair to your natural texture and the base color. Make a ponytail with your wavy hair and sweep it to the side.
30. Mid-parted Sleek Bangs with a Mid-length High Ponytail
Begin by blow-drying a good mousse into clean, dry hair. (To get the most volume, push the hair back and forth in different directions, possibly even upside down.) Make a deep mid-parting, and you'll be sporting a high ponytail reminiscent of the 1950s or 1960s in no time.
31. Bedazzaled Bobby Pins with a Short Ponytail
We love how the bedazzled bobby pins in Justine Marjan's look provide a not-so-subtle surprise when you turn your head. Add barrettes or Bobby pins to your smooth and combed hair to fix your side-swept bangs—an excellent hairstyle for people with short hair.
32. High Ponytail with Curled End and an XL Scrunchie
This snatched high ponytail exudes futuristic vibes. Apply a little hairspray directly to your flat brush for extra hold as you bring your hair back to be tied. Wrap a small section of hair from the bottom of your ponytail around your hair tie (or use a ribbon instead) and secure with an XL scrunchie of your choice after you've secured your ponytail.
33. Short and Smooth High Ponytail with Twisted End
A smooth ponytail points out that scrunchies can look sophisticated and chic. Pull hair into a sleek high ponytail (first taming flyaways with a dab of hair gel), then secure with a thick black scrunchie. Curl the ends of the pony with a curling iron to add twists. Isn't it wonderful?
34. Classic and Long Rope Ponytail
If you're short on time, a rope twist is a simple but unexpected twist on a classic braided ponytail. If you want to add some life to your hair, add a side part for a swoop of the front bang. Alternatively, opt for a sleek and classic high ponytail.
35. A Casual and Chic High Ponytail
You can achieve this perfectly poised high ponytail in minutes. It is possible to achieve a clean, tight pull on the sides by using a flat brush. Rough-drying your hair with hair gel and your hands up top will give you the soft, volumized texture seen in Priyanka Chopra. This high ponytail is sure to turn heads.
36. Styled Baby Hair with a Two-parted High Ponytail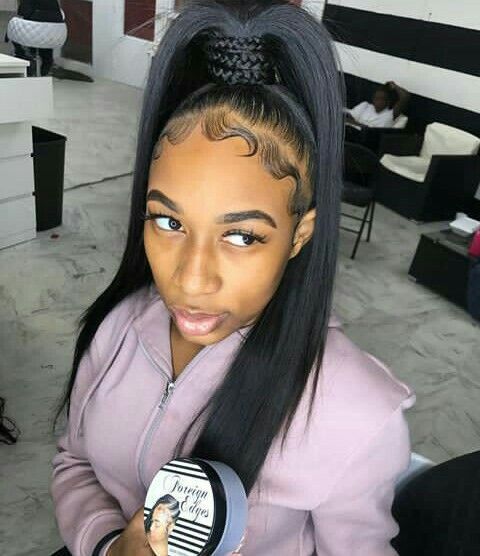 A high, sleek ponytail is ideal for showing off your baby hair. Apply some hair gel to your baby's hair and style it in a pattern or style. Make a long, straight ponytail and part it into two halves for a sporty look.
37. Wet-looking High Ponytail
A wet and wild ponytail does not require wet hair. Apply a generous amount of hair oil or serum to the ends if you have dry hair. Partially brush it back for smoothness at the roots. You could also use a lightweight hairspray to add hold without causing product buildup. You're finished with a loose high ponytail.
38. Soft Waves Tied into a High Ponytail with a Bow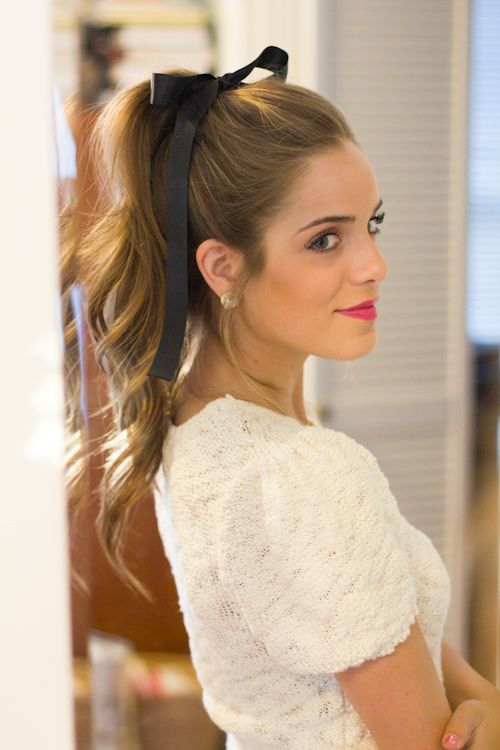 They say that the higher your hair, the closer you are to heaven, but what about the size of your bow? We're unsure how that saying goes, but we're confident it ends happily. To achieve a cute and casual look, tie your soft waves into a high ponytail and tie a ribbon or an XXL bow.
39. Multi-colored Long Ponytail
Try this lovely hairstyle to add fun and quirky looks to your glam quotient. The multicolored hair texture is tied into a high ponytail to create the perfect hypnotic look. Sweep the ponytail to the side to add to the intricate hairstyle design, ideal for young girls looking for their fashionista moment.
40. Two High Ponytails with Loose Braided Bangs
A high pony hair makeover can be done like the double ponytail hairstyle. The hairstyle is ideal for getting ready quickly because it is simple to achieve while delivering a beautiful and charming style quotient. Wear this hairstyle with bangs braided into two mini braids and left free.
41. A Long and High Braided Ponytail
Braids are never out of place or out of style. Braids are an excellent way to manage long hair while also looking fashionable. Even a simple high-braided ponytail hairstyle can provide a unique look. This is also an excellent way to prevent tangles and other hair problems. This is one of the high pony hairstyles for medium hair and the high ponytail for short hair.
42. Messy Fishtail Ponytail with Thick Bangs
Long, voluminous hair can be fashioned into a high ponytail with a fishtail braid. With hair coming out from all sides, the look is cute and sexy, and the fringes add to the chic look. It can be done for all hair types and worn to parties daily with a little accessorizing. This is a popular high ponytail hairstyle with bangs, long hair, and braids.
43. Bridal Beachy Waves with a High Ponytail and a Floral Brooch
The ponytail you see here has a beautiful and unique hairstyle. If you look closely, you'll notice that the hairstyle has thick beachy waves that connect to your ponytail and a floral accessory to make it even more appealing—a beautiful hairstyle for wedding guests or even a bride.
44. Razored Messy Bangs with a Short and Sleek Ponytail
Miley has officially ditched her mullet. So, sort of, the singer stepped out with her choppy shag hair pulled into a mohawk-style ponytail and her bangs razored into a messy look. And we're digging Cyrus' badass new look. Try this look out at your next party or on your next trip.
45. Voluminous Waves with Curtain Bangs and a Headband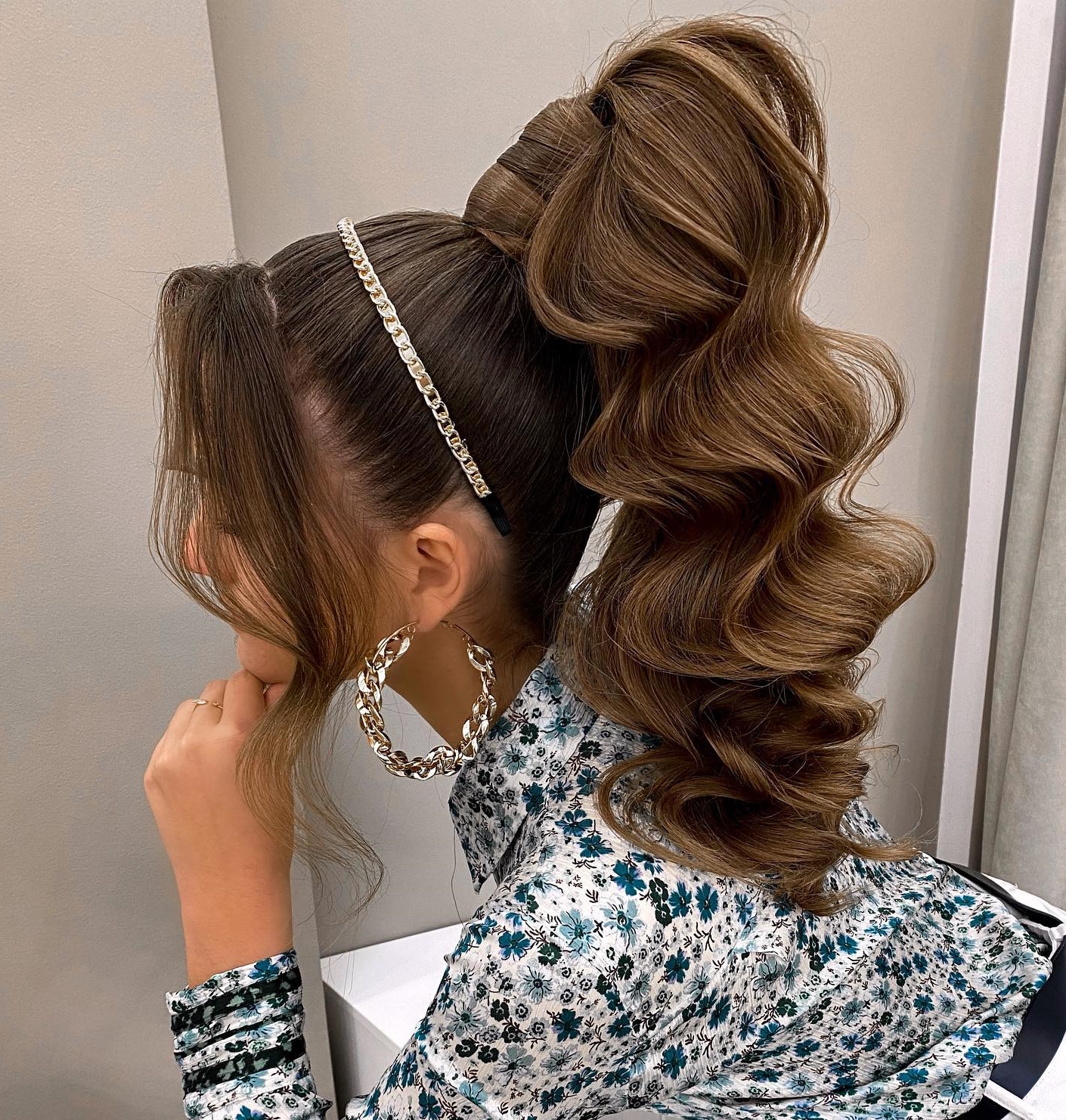 To create a chic hairstyle, comb your hair, tilt your head down, and tie an elastic band around your hair. Make denser waves in your ponytail and accessorize with a headband if desired. You're done when you part your bangs into a curtain style. High ponytail hairstyles will always be fashionable.
46. Tousled Short and High Ponytail with Face-framing Fringes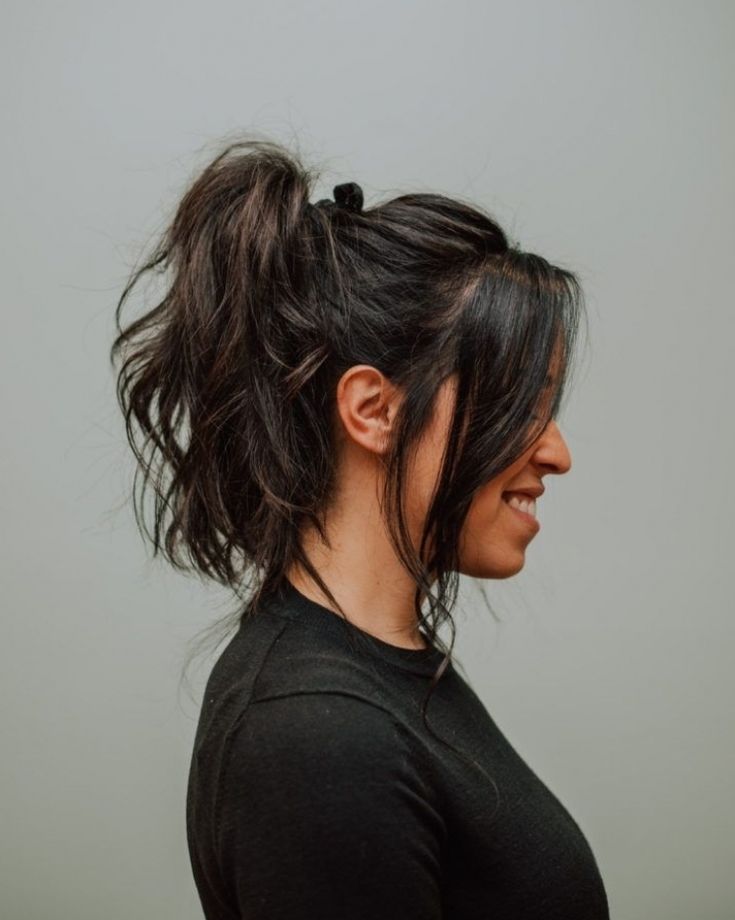 Ponytails are popular among women with short hair because they are convenient and elegant. Of course, if you have a bob or a pixie, you won't be able to pull off this look, but give it a shot. Comb your hair to create a messy look and face-framing fringes on both sides.
47. Crochet High Ponytail with Cornrows
Crochet braids, which resemble small curls tied in a ponytail, were invented by African women. Your hair appears to be made with a crochet hook, which is both attractive and sexy. You can do an easy crochet ponytail in minutes if you have naturally curly hair. Make some cornrows or Fulani braids for a striking appearance.
48. Two-high Braided Semi-collected Ponytails
Females frequently wear two-braided ponytails. However, it is worthwhile! High ponytails are popular right now, and it's up to you whether to wear one or two. But this time, style it into a semi-collected look by tying the braids with elastic bands.
49. Pineapple Ponytail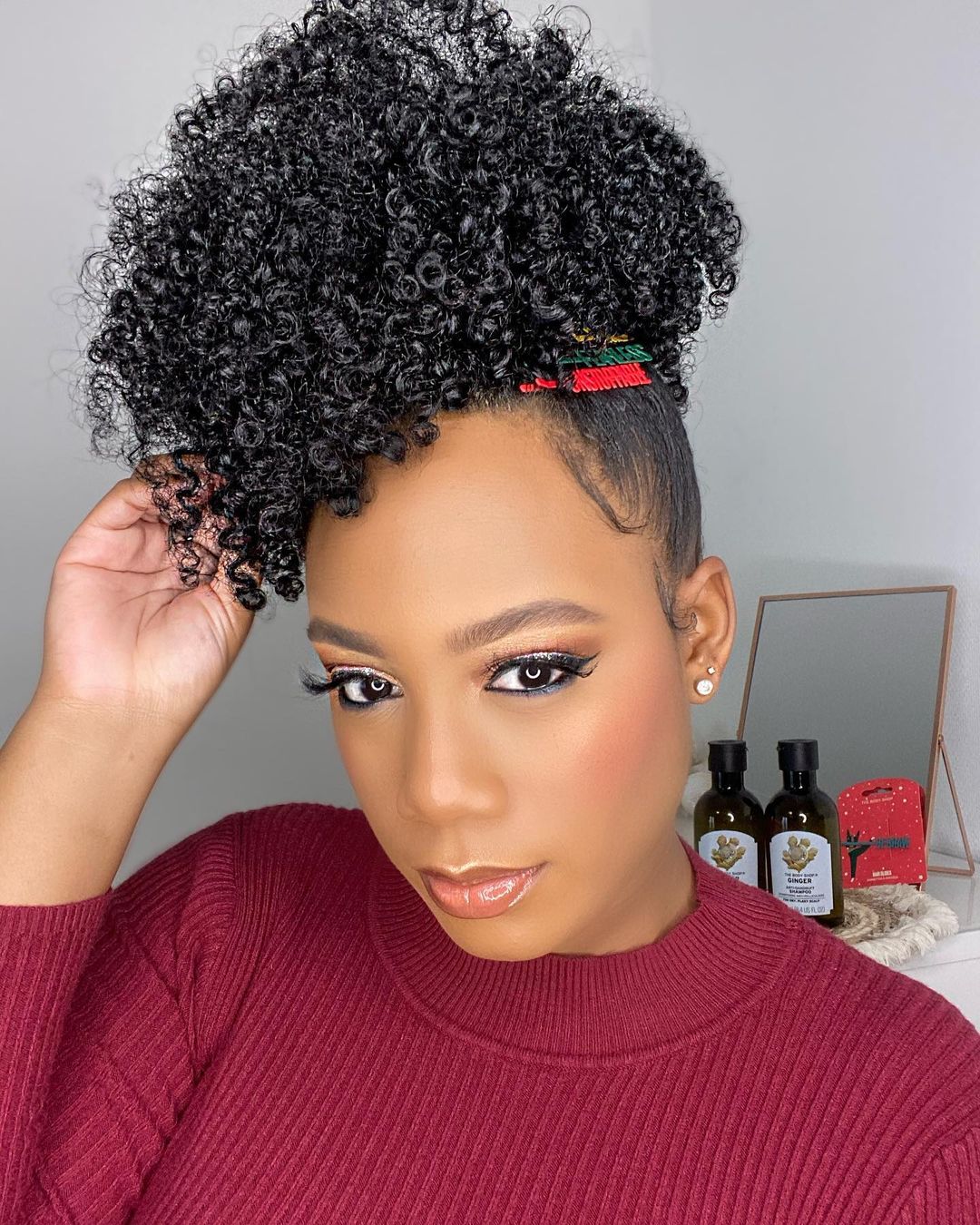 Every girl had a pineapple ponytail hairstyle as a child, but is it appropriate for adult females? Yes, if you enjoy getting dozens of stares and attention. It's a perfect short hairstyle. Just make sure to style it properly. You can create a naturally curly ponytail in seconds if you don't have straight hair.
50. Super Straight Ponytail with Few Loose Braided Locks
To add a twist to a classic, weave some braids into a super straight ponytail. Leave those 3-4 braids alone and tie your hair into an elegant, smooth, high ponytail. The longer your hair is, the better it will look. Get some ideas from the image above.
51. Sleek Uneven Parting with a Vintage Ponytail
As with a regular ponytail, this high ponytail requires you to tie your hair unevenly with an elastic band. Secure a semicircle with your hair on your forehead with a hairpin. Such simple ponytail hairstyles take no time to achieve but look elegant and appealing in any situation. Create a vintage look with your dark hair, as shown in the image above.
Other Articles