Side ponytails are popular this year. From New York Fashion Week runways to celebrity weddings, not to mention all the Hollywood red-carpet events and award shows.
They're a lovely way to dress up your hair more formally without looking stuffy. They are incredibly sexy due to their range of movement and styling options. Try out our 25-side ponytail hairstyles this season.
1. Ponytail with Bubbles
A bubble ponytail is an excellent choice for women with straight, curly, or naturally curly hair. The bubble ponytail hairstyle is unusual and goes well with casual and dressy looks. It is also effortless to achieve. Place 4 to 6 rubber bands at equal intervals along the ponytail length and carefully pull each section to create 'bubbles.'
2. Combination of Dutch Braid and Ponytail
Braids and pigtails go together like peanut butter and jelly these days. Continue the enchantment with a thick and full Dutch braid that wraps to the side of the head and ends in a curly updo. Pull the braid back for more volume and a messier look.
3. Crown Braided Wavy Side Ponytail
One of the best techniques used in the hairstyling world is the element of surprise, which means that your hairstyle can appear simple from one angle and then surprise you from another. This flirty hairstyle accomplishes this by having one side smooth and slightly wavy at the ends while the other has a braided half crown.
4. Side Ponytail with a Messy French Braid
Dutch braids are a natural fit for the braided crown and side ponytail. Classic French braids, on the other hand, should be considered. Loose strands framing the face, combined with waves, create an incredibly romantic look. So, try a French braid in your next ponytail and see if you don't like it!
5. Short Hair, Low, Side Ponytail
Ponytail hairstyles do not require long hair. A shoulder-length mane is ideal for creating an elegant side ponytail updo like this one. A few bobby pins can transform a simple ponytail into a romantic evening hairstyle.
6. Side Ponytail, Crossed Over
Break away from the traditional side ponytail and add some criss-cross action to the mix. Overlap hair strands and secure them with bobby pins (invisible) until you reach the base of your neck. Finish by tying the ponytail.
7. Braided Waterfall
Combine a braided side ponytail with luscious curls for a medieval hairstyle. Tie the braid behind the ear with a rubber band and only 34 of the hair length. For a romantic hairstyle, let the braid and the rest of the loose hair cascade down the side of the neck.
8. A Ponytail that is Both Elegant and Feminine
Ponytails are flirty and feminine, so wearing them with contrasting fashion choices works wonders. However, choosing modest ponytails for the office can be difficult. However, some of them fit so well that you won't have to second-guess whether to wear them on a busy morning. This ladylike side ponytail can easily take you from the office to cocktails with your coworkers.
9. Ponytail with Wavy and Tangled Hair
Aside from having envy-worthy hair that looks like it just came out of the salon, one of the best aspects of a great hairstyle is how simple it is to achieve. Of course, expertly sculpted and styled hair is stunning, but simple, messy hairstyles are essential for the average woman who lacks the necessary skill or time. This easy-to-create blonde or golden ponytail has messy sides and wavy locks that help form the ponytail into a feminine look. Try a headband if you want an unique look.
10. Flowery Wavy Ponytail
If you decide to accessorize your side ponytail, you can add a feminine touch to your look. We adore this lovely wavy hairstyle with a bright flower at the base.
11. Braided and Twisted Blonde Ponytail
Only get all twisted up if it's your ponytail. This twisted ponytail is ideal for weekend fun or to dress up a simple outfit.
12. Tangled Side Ponytail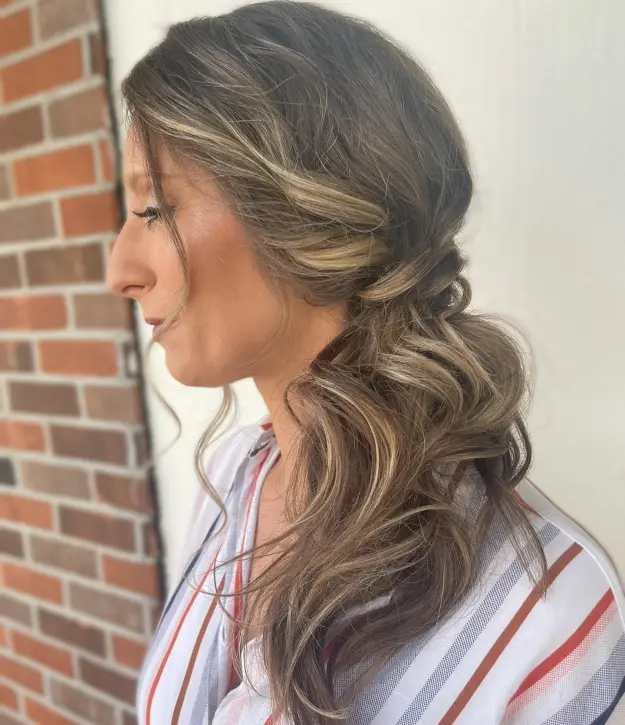 Tousled hairstyles are trendy. The tousled bun was first, then the tousled beach waves, and now the tousled updo. If you have long wavy hair, consider this romantic hairstyle.
13. Ponytail on the Side Parting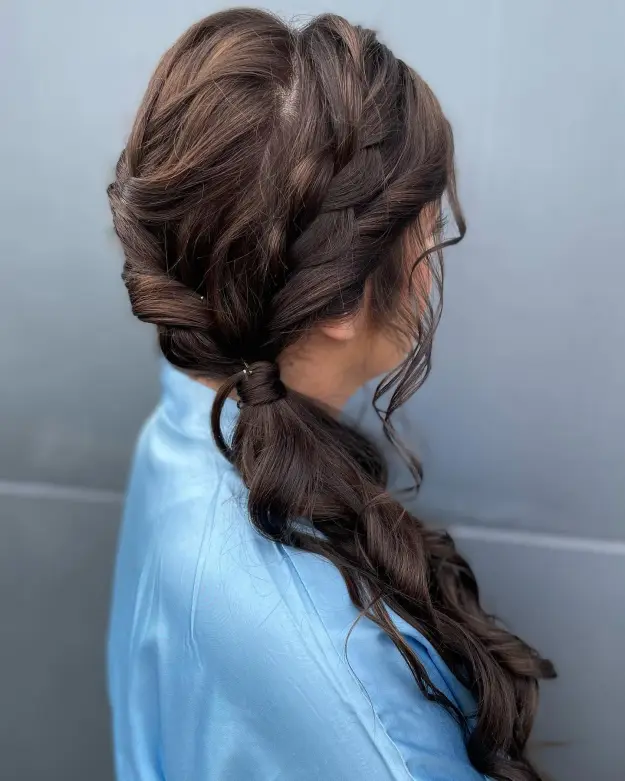 Wear your side ponytail high or low to add some style to it. Backcomb the crown of your hair. Gather your hair and pin it to the side of your crown. The two more comprehensive front sections should be loose and pinned under the ponytail. As a result, you'll have a braided and voluminous updo that's a fresh take on the classic side ponytail.
14. Twisted High Ponytail
Are you looking for a fashionable way to display your braids? Try a high-side ponytail rolled up at the base for a night on the town. Doesn't it look cute?
15. Scarf and Wavy Ponytail
What makes a ponytail so fun and personal are that you can make almost any variation, in this case, the side ponytail. This wavy ponytail draped over one shoulder is timeless, understated, and universally flattering.
16. Sleek Side Ponytail
This version of the side ponytail takes a little more time and effort than others, but the result is well worth it. This romantic hairstyle, suitable for a prom or wedding, results from an hour of curling and twisting the hair.
17. Natural Hair Side High Ponytail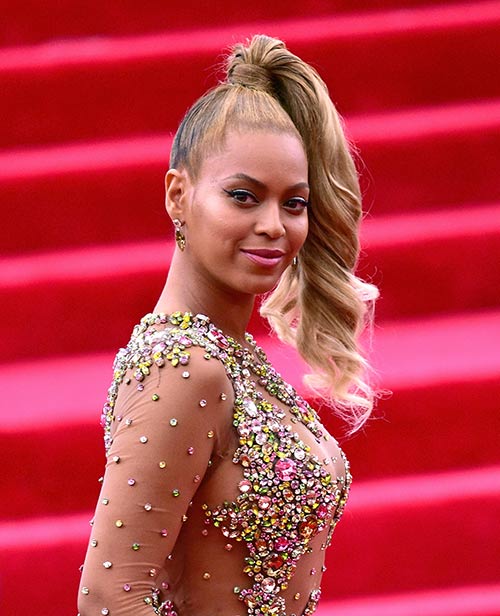 While ponytail hairstyles are great for taming long hair, a side ponytail is trendy among natural hair owners. It's only fair because textured hair creates a naturally relaxed ponytail without needing extra curls or depth.
18. Ponytail with a Low Braid
This low ponytail with a side braid exudes elegance and style. The finishing touch is a thin headband, which gives it an incredibly romantic appearance. Use this concept for special occasions.
19. Ponytail Flip Twist
Although it may appear complicated at first glance, this low ponytail is not. Twist two strands of hair and secure them with a rubber band. Then, wrap the ponytail around the rubber band. After that, pull your hair into a ponytail below the twisted section. Finally, secure a small section of hair with bobby pins around the rubber band.
20. Side Braided Curly Ponytail
We adore how beautifully soft curls can transform a simple side ponytail. Add a few details, such as a side braid and a gleaming brooch, and you have a stunning hairstyle. And, yes, don't be afraid to use extensions: they help to add volume and achieve that excellent look.
21. Office-appropriate Side Ponytail with Braid
Consider adding a diagonal Dutch braid to your office side ponytail if you need to keep it formal but want a different look. Hide the elastic beneath a strand of hair for a flawless appearance.
22. Romantic Ponytail on the Side
Side ponytail hairstyles can be exquisite. Save this look for your next wedding and show it to your hairdresser.
23. A Low Ponytail Adorned with a Fishtail Braid
You don't need long hair to achieve a stunning side ponytail updo. This stunning bridesmaid hairstyle with fishtail braids and loose curls is another example of how a ponytail can work on any hair type and length.
24. Rock-Diva Side Ponytail
Ladies looking for a slightly more daring version of the side ponytail hairstyle, look no further. The beautiful diagonal French braid is adorned with a chain that gives off a hard rock vibe, and the messy ponytail adds a solid contrast to complete this edgy look.
25. Faux Hawk
Make a faux hawk for your side ponytail to add a rock 'n' roll touch. Make a Dutch braid in the center of the head and pull the parts together to form a hawk shape. All you need now is a guitar and some backup singers.