Owl tattoos are extremely popular, and there's a wide range of styles and designs available. If you're considering getting an owl tattoo, this post contains 106 excellent designs in various sizes and styles. Large and small tattoos, in black and colored ink, on the thigh, forearm, and other parts of the body, ideal designs for men and women, owl tattoos with skulls or roses. In short, we truly present various tattoos in various styles for you to choose the one you like best.
Symbolism
Owls are animals related to the afterlife and a whole unknown world. They have great flexibility in their neck, which allows them to rotate it, drawing an arc of up to 270º. It's not surprising that they are attributed with qualities of surveillance, supernatural powers that endow them with the knowledge that nobody else has. There is nothing that owls miss at night. Owl tattoos represent all this magic. They symbolize the magic of knowledge and its power. It is very difficult to deceive an owl because they see beyond any deception.
They overcome any obstacle that makes knowledge inaccessible to the five senses that humans have. This was due to all the physical traits they share with cats. Owls are revered as sacred animals endowed with supernatural abilities and sacred knowledge. Owl tattoos shield us against deception since they are superb seers. They depict people who are not easily duped and always have a guardian who tells them the truth. After all, the truth always finds its way to the surface. However, some people appear to recognize her before others. Those that get owl tattoos represent this clairvoyant side of their psyche.
Historical Importance
Owls are animals that live in the dark and are known as the great night watchmen. They are encircled by magic and mystery and are thought to contain vital information. The owl has been associated with the occult and magic in many novels, films, and popular stories. They have been given supernatural powers in various places of the world, and many of them are a result of their physical characteristics. Owls have excellent vision, and their eyes can account for up to 5% of their overall weight.
They are enormous, and that region of their body stands out significantly. Owls were revered as the night's sovereign protectors in some cultures. Winged seers endowed with extraordinary powers and divine characteristics. The owl was Athena's sacred animal, representing vision and wisdom. According to legend, the owl told the goddess everything that happened in the world, allowing her to know the truth above all else.
Designs of Owl Tattoos
1. Barn owl tattoo
Barn owls are popular among all owls for a reason. Their white faces in the shape of a heart make them appear charming as if they are smiling. The cuteness of barn owls is captured in this thigh tattoo. With the flowers in the backdrop, this tattoo is perfect for owl enthusiasts.
2. Small owl tattoos
There are many details in owl tattoos: the eyes, the feathers, and so on. It's also difficult to put all the information into such a short space. However, these little owl tattoos accomplish so while capturing the animal's attractiveness.
3. Hourglass Owl tattoo
Hourglasses represent time. This tattoo depicts an owl flying away after picking up an hourglass. If you believe in time travel, this magnificent tattoo can be a manifestation of your wildest fantasies.
4. Eurasian eagle-owl
Owls are predators. However, because they are so adorable, few people regard them as harmful. The eagle owl in this tattoo, for example, has a slight tilt to its head. It appears to be paying attention to you and listening to what you say. That's presumably why owls are so popular. Checkout Eagle tattoos here. 
5. Flying owl tattoo
It's difficult to represent the motions of owls in tattoos, especially while they're flying. This tattoo, on the other hand, pays special attention to the views of feathers. As a result, the design appears convincing and visually impressive.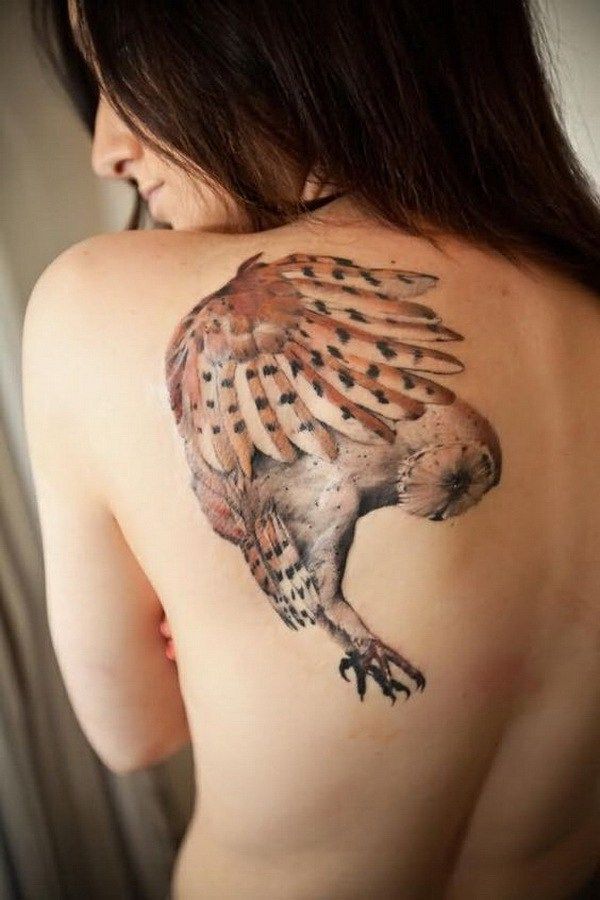 6. Owl Eye and feather
Every owl tattoo does not have to be elaborate. This thigh tattoo has little embellishments and focuses all emphasis on the eye and feathers. And the end product is breathtaking.
7. Tribal owl tattoo
Tribal tattoos have strong lines and patterns. The owl is combined with tribal characteristics in this tattoo. The juxtaposition of exquisite intricacies and broad lines draws attention to the tattoo even more.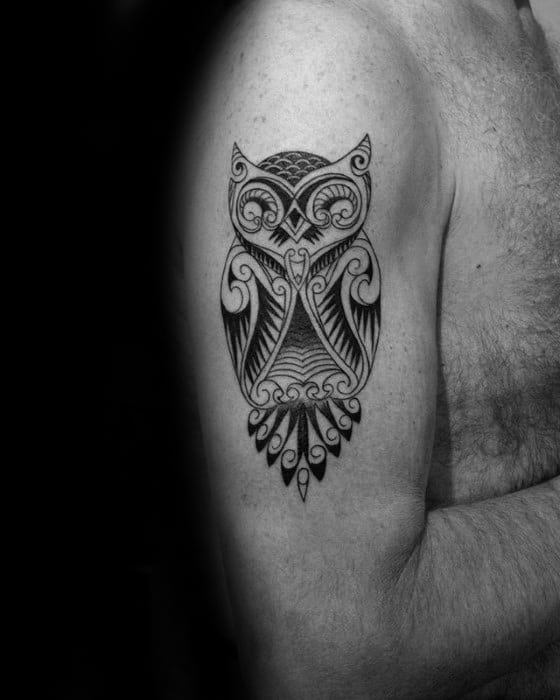 8. Owl tattoo on Hand
Tattoos on the hands are not uncommon. However, we rarely see animals tattooed on the hand. And this one is spot on. The hand completely encompasses the owl's shape. The feathers resemble the cuff of a glove.
9. Owl eyes tattoo
Our gaze is directed to the middle, where the eyes are located. And the pigment of the eyes, which is yellow, adds to the allure of the tattoo.
10. Realistic owl tattoo
To turn a photo into a tattoo without ruining it, an artist must have extraordinary talents. This ink is a good example of how to create a photogenic tattoo.
11. Human and Owl face tattoo
Why not get a portrait tattoo and an owl tattoo simultaneously? This tattoo does a fantastic job of blending both features. The transition relates to the story of a woman who can transform into an owl.
12. Men's owl tattoos that are big and bold
Owls are symbols of intellect and insight. If you have a unique connection with these nighttime hunters, the owl tattoos for men listed below are ideal.
13. Doctor Owl Tattoo
Owls, with their large eyes and wide heads, resemble cartoon characters. This owl tattoo combines methods and inventiveness. The stethoscope around the owl's neck denotes her profession as a doctor.
14. Owl mandala tattoo
Mandala tattoos are made up of a variety of shapes and patterns. The owl is included in the mandala with this forearm ink. With all of the curves and patterns, it may appear intricate at first glance. However, there is enough vacant space surrounding the eyes to bring our attention to the owl right immediately.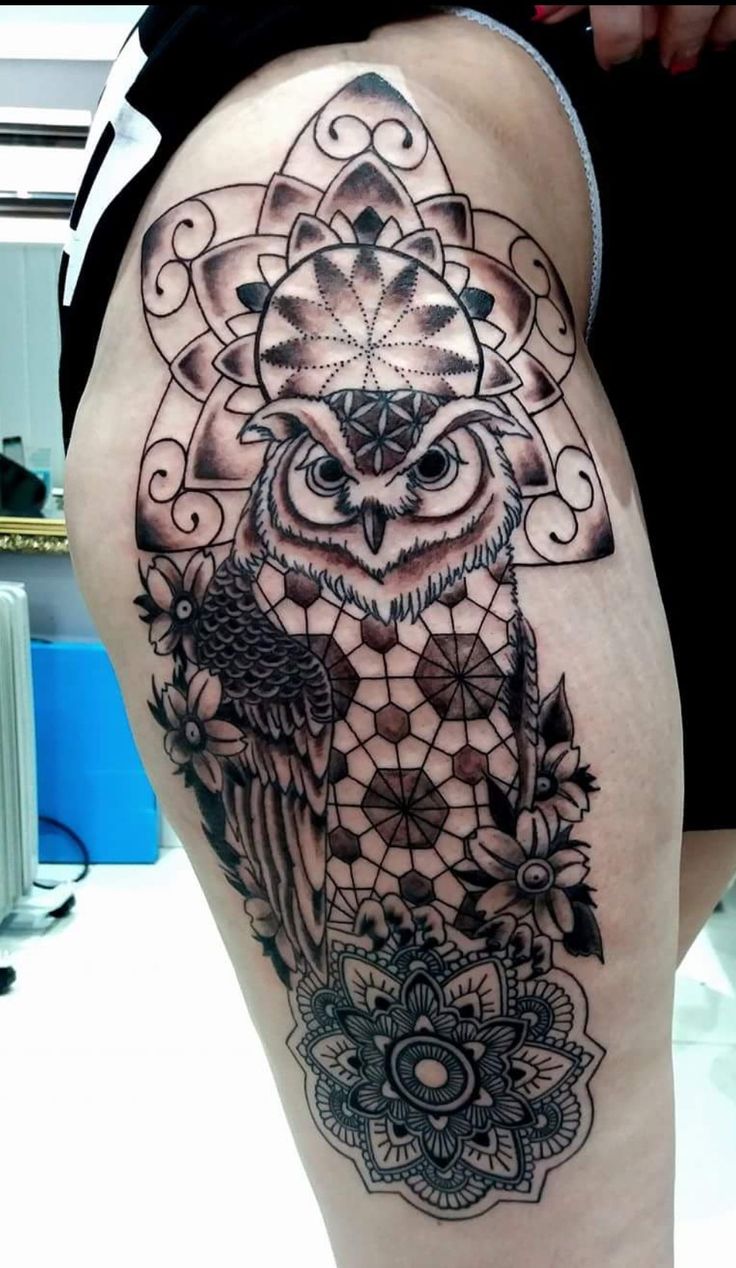 15. Flowers and owl tattoo
Adding flowers to a male tattoo is one technique to make it more feminine. Owls, like dragons and wolves, are more for men. As an outcome, a large part of this lovely tattoo was given to flowers, making it more girly and dreamy. Checkout more flower tattoos here.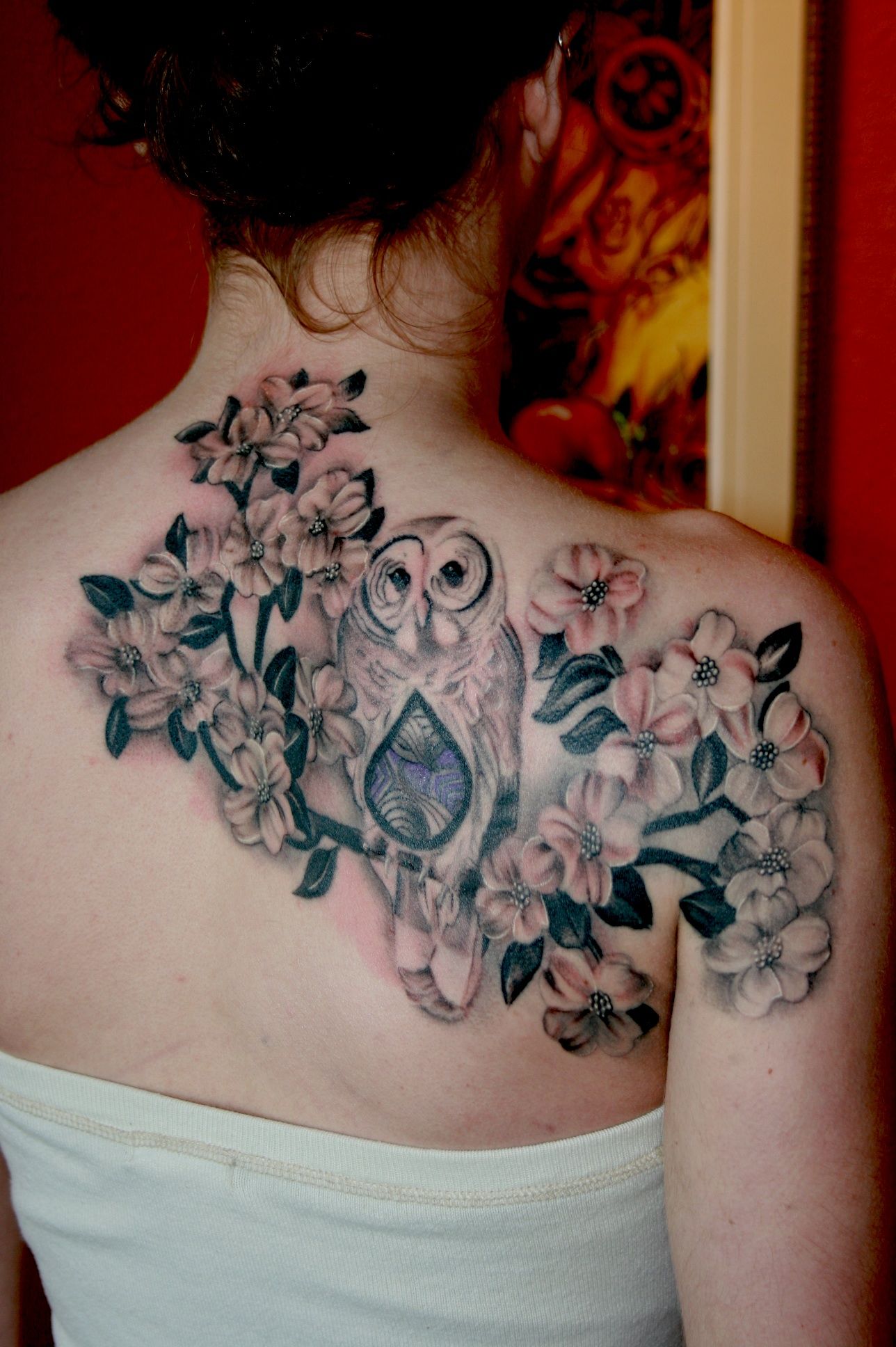 16. Moon and owl tattoo
The Moon phase represents personal development, life transitions, and femininity. This tattoo depicts an owl caught between two moon phases. It conveys that, regardless of life changes, one should always heed one's instincts.
17. Owl in heart shape tattoo
Heart tattoos can be overused. But there is one exception. Instead of simply sketching a heart on the sleeve, the artist turned the owl into a heart shape. This abstract approach omitted many elements and concentrated on the eyes. This tattoo lasted longer because of the heavy lines.
18. Owl and Stars tattoo
Owls are thought to be nighttime hunters. This is because they see better in the dark. That's why owls, the moon, and stars look so good together, as shown in this tattoo. The fact that it is entirely black and grey adds to its mystery and beauty.
19. Owl full-sleeve tattoo
The majority of owls have yellow eyes. Some unusual animals' eyes may be blue or red. The owl's eyes are painted white in this tattoo, making it look stunning. This sleeve tattoo is not only beautiful but also witchy enough for tough women, with the moon and flowers in the background.
20. Lotus and Owl tattoo
Lotus symbolizes peace and tranquility in Buddhism and tattoos. Owls, on the other hand, are constantly alert. This tattoo combines them and demonstrates that one can be vigilant and peaceful. Calmness results from confidence in dealing with uncertainty. And very at ease, we are, the better we can deal with the stresses of ordinary life.
21. Tattoo of a Cute Owl
The first tattoo we'd like to show you is adorable! A cute cartoon owl is tattooed on the back of the arm in this case. We adore the owl's large eyes and stunning feathers. This kind of tattoo will appear great on anyone. You can duplicate it or have a smaller version placed somewhere else. Color could be added for a more eye-catching appearance.
22. Owl in Watercolor
Our next tattoo concept is vibrant and one-of-a-kind. Here's a lovely blue and purple owl with vivid orange eyes. It is a unique design ideal for someone looking for an outstanding piece of body art. You can make this yourself or try a similar owl in a different color. It will look good either way.
23. Simple owl line tattoo
Perhaps all the daring owls and brightly colored tattoos aren't for you. If so, this design may be exactly what you're looking for. This black ink owl tattoo is simple and simplistic. It has a trendy and sophisticated design that will appeal to everyone. This type of tattoo can be inked anywhere on the body. A short version on the wrist would be adorable.
24. Tattoo of an Owl Family
We showed two owls perched on two flowers earlier in the piece. In case you liked it, you might like this design as well. We have three owls perched on a flower this time. The owls have the same hue, although they have small variances, like glasses. Another adorable tattoo that could represent your family or friends.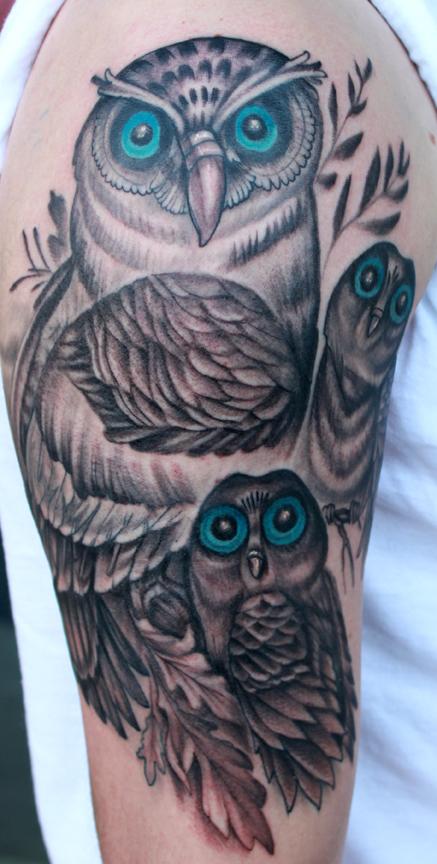 25. Galaxy Owl Tattoo
Galaxy tattoo designs are very popular, and if you like that tattoo style, you may consider this idea. We had a giant owl tattooed on her back here. Instead of the typical owl hues, the body and wings sport a galaxy motif. As can be seen, it results in a gorgeous and unique piece of body art. We like this notion since the owl is drawn to the mystery and wonder of the universe. You can either recreate this or have a smaller galactic owl.
26. Owl Tattoos That Go Together
If you're seeking a matching tattoo idea, our next suggestion could be ideal. We have two matching owl designs here. Each tattoo features a brightly colored owl with a frame surrounding it. A heart and dangling charms are also included in the design. This is a cute and fashionable idea that will appeal to everyone. Although these tattoos appear on the same person, you might get this design tattooed with a friend, family member, or significant other.
27. Cartoon owl tattoo
Following that, we have another adorable tattoo to show you. This design has a cute cartoon owl. The owl is resting on a branch and is painted in colorful colors. We like the purple hue because it helps the owl stand out. This design will appeal to everyone and may be replicated in any hue.
28. Design with an Owl and a Sugar Skull
If you enjoy more odd tattoo designs, you should look at this! Here we have an exquisite owl design with a sugar skull on the owl's body. It's a strange combo, but as you can see, it works quite well. We adore these two designs because they are so enchanting. Sugar skulls symbolize loved ones who have died, while owls are associated with conveying messages to the spirit world.
29. Owl Wrist Tattoo
Speaking about wrist tattoos, here's a nice wrist design for you. A little owl perched on a branch has been tattooed for this. This is a great tattoo since the owl appears to be listening, giving it some personality. Recreate the tattoo or color it in. You might alternatively use a different owl.
30. Hedwig tattoo
Our very loved Hedwig, Harry Potter's owl, is one of the most common tattoo idea for Potterheads.
31. Tattoo of an owl with a dream-catcher
This next owl is just lovely! The tattoo depicts an adorable owl with a dream catcher for a body. It's a lovely and amazing tattoo concept. If you like the magical vibe, keep the dream catcher or replace it with an owl with a feathery body. In either case, your tattoo will look fantastic.
Other Articles