Sleeve tattoos ideas are either one large single tattoo or a collection of numerous small tattoos and designs which are uniquely crafted to cover the entire arm of a person. You can have a half sleeve, quarter sleeve and full sleeve tattoos as per your choice.
As the area is to be covered with ink the tattoo artist can depict a lot of detailing on the images and the shapes to give it a more attractive and distinctive look. You can have different images and shapes as per your choice.
Here are some of the best full sleeve tattoo ideas which are highly trending-
#1. Floral Design
A floral design sleeve tattoo is very common these days. Flowers represent love, peace, and bonding. If you are a nature lover then you should go for this tattoo. Usually, it is for the females but even males nowadays are having this tattoo because of the message it delivers.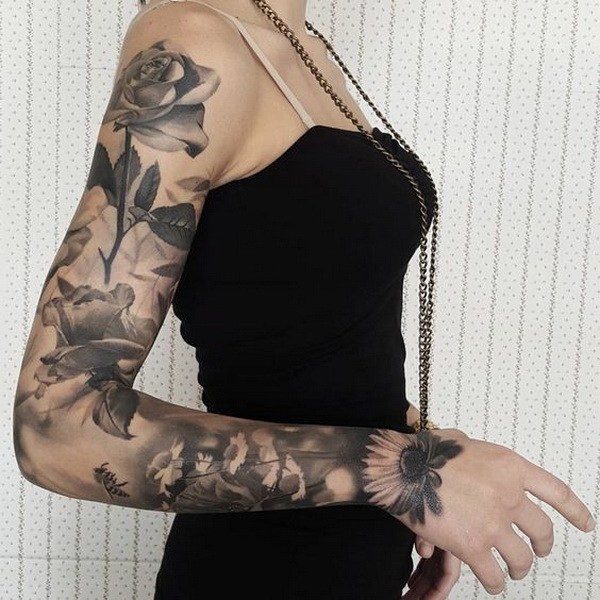 #2. Maori style
The Maoris are the indigenous people in New Zealand. This tattoo style is inspired by them. Maori style tattoos resemble power and prestige. It also resembles one's strong character as these tattoos were made by chiselling the body. These tattoos look extremely manly and sexy.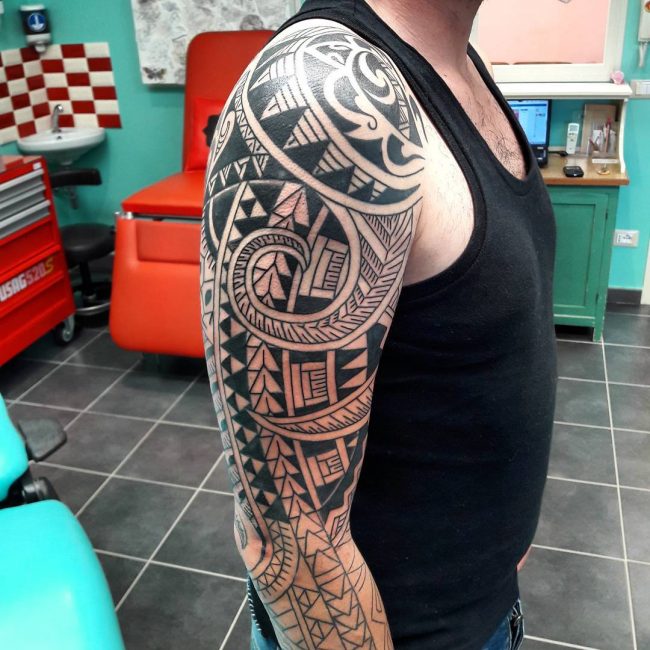 #3. Animated style
Animated style full sleeve tattoos look really cool and give a funky feeling. If you have a funny character and like to stay happy always this is the best choice for you. Both men and women can have this tattoo. Find out your favourite cartoon character and have it on your arms.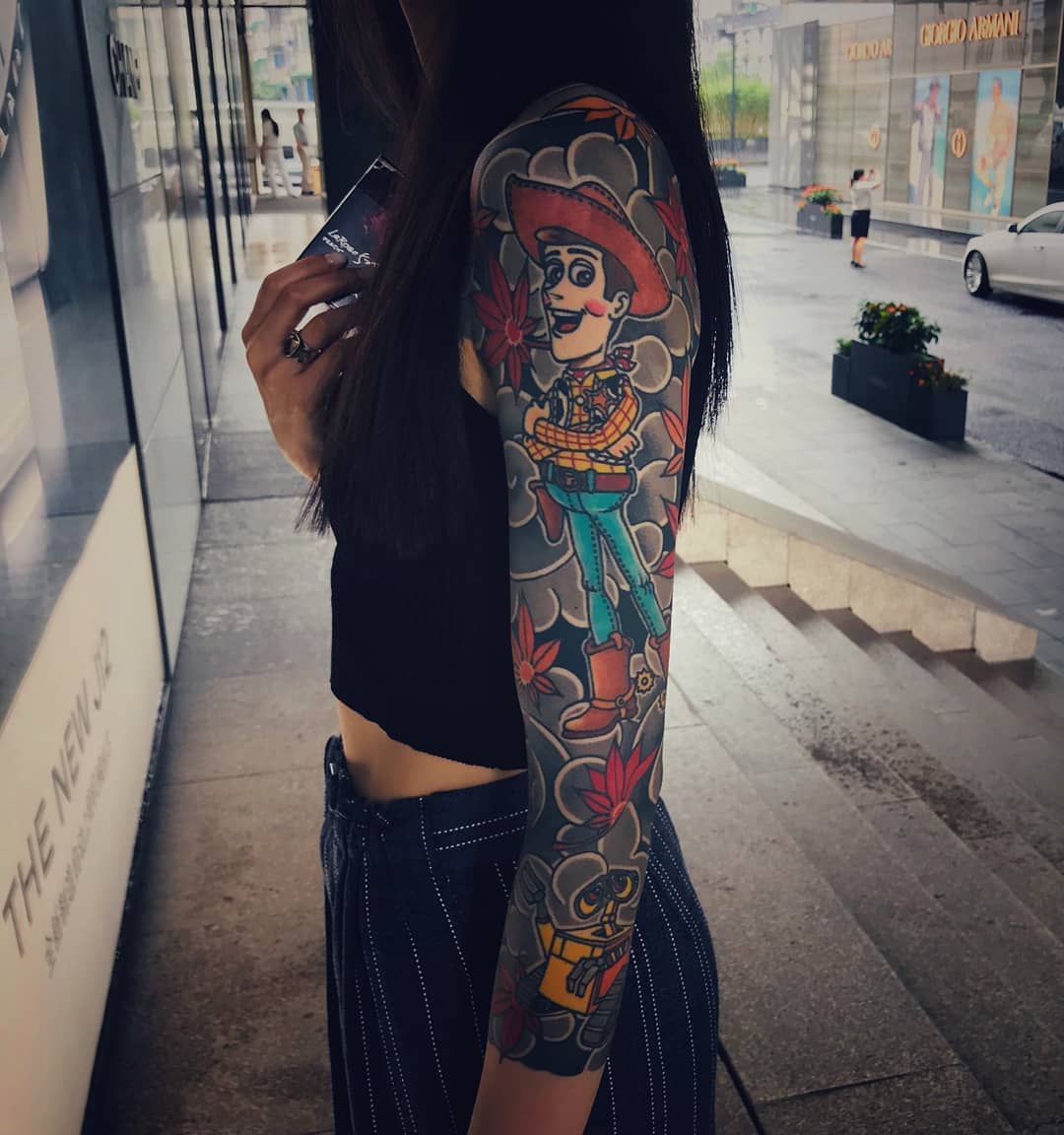 #4. Full-length myrtle style
Here we can see the myrtle style which is very popular in some parts of Asia. In the tattoo, we can see a dancer with some heavy designs done using basic shapes. Although the designs cover most of the arm the female's figure is the main centre of attraction.
#5. Black and white sleeve
The black and white sleeve tattoos are really amazing to look and are one of the trendiest tattoos. The black stripes make the tattoo give a distinctive look which is sure to catch the attraction of the people. Along with it, there are some floral designs and other shapes.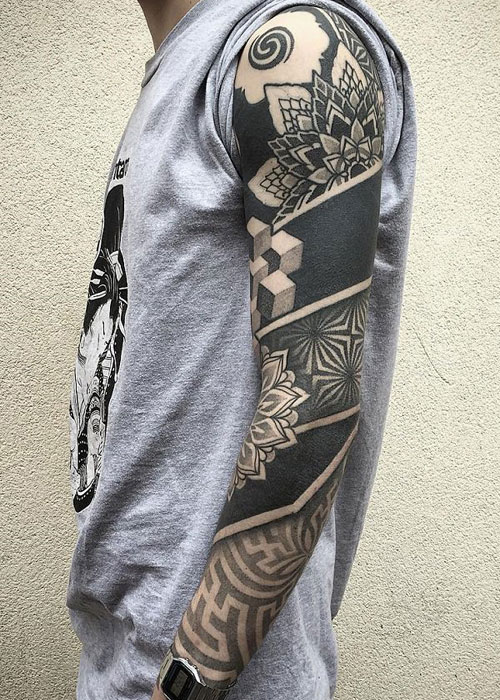 #6. Japanese style
Japanese tattoos symbolize their tradition and culture. You can instantly recognize these tattoos as they have uniquely designed floral shapes. You can have it coloured or go for a simple black and white design. They resemble determination, courage, good luck, protection, and heroism.
#7. Abstract sleeve design
Abstract style tattoos resemble one's ideas and inner feelings. These tattoos are the ideal way to show your attitude and personality. They have a distinctive artistic look. They show any situation in a way that is totally irrelevant in what is shown. But there is that indirect relationship.
#8. Full-length floral sleeve
Floral designs are very common in females these days. The tattoo on the woman's arm is fully covering her entire arm. The tattoo has a stark and contrasting look which is sure to garner attraction. The designs are beautifully crafted.
#9. Skull sleeve design
Full-length skull sleeve tattoos are very common in the males. The skull signifies a rebellion and a different personality. It also stands for optimistic ideas and protection. Skull tattoos with a full sleeve look extremely hot. It can be mixed with a lot of other things like flowers, and fire.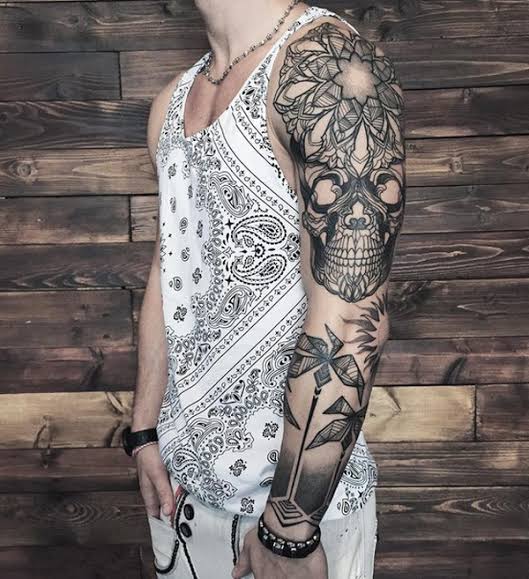 #10. Myrtle style
The myrtle style commonly known as the mehndi style is a type of tattoo art form which involves the use of designs only. No shapes or images are involved. It is extremely delicate and fabulous on women. The tattoo involves making and joining small sized designs in tandem.
#11. Tribal style
It's just a variant of the Maori style and looks quite similar to it. Tribal style tattoos have a distinct pattern which makes them look really good. It used to resemble social status and family identification. Nowadays they signify strength and courage.
#12. Portrait style
Portrait style tattoos are instant eye-catchers. Their design and are is flawlessly crafted using ink on the arms which gives it a fascinating and interesting look. You can have any type of portrait of either your loved ones or your ideal character or go for abstract designs as shown in the image.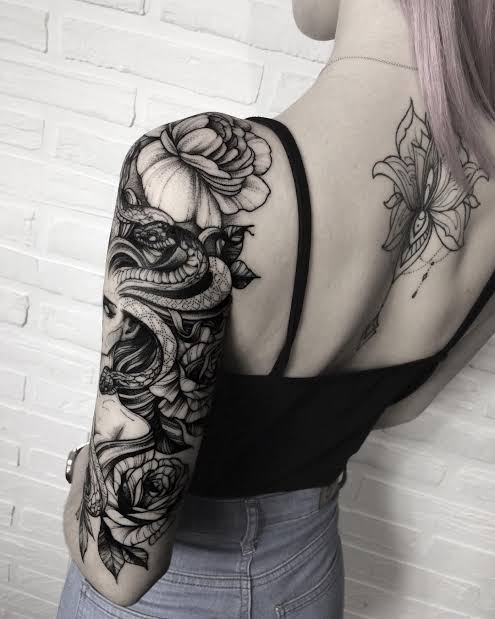 #13. Lion sleeve design
It is more common among males but females can have them too. Lions signify power and hope. In the tattoo, it has been beautifully designed with flowers and crowns to make it look feminine. If you are an authoritative person you can have this tattoo.
#14. Maori style
The Maori style tattoo design ideas are very common. They give a unique look to the arms because if the traditional design which has to be immaculately made. Maori style tattoo represents power and social status. Usually, it looks good on males.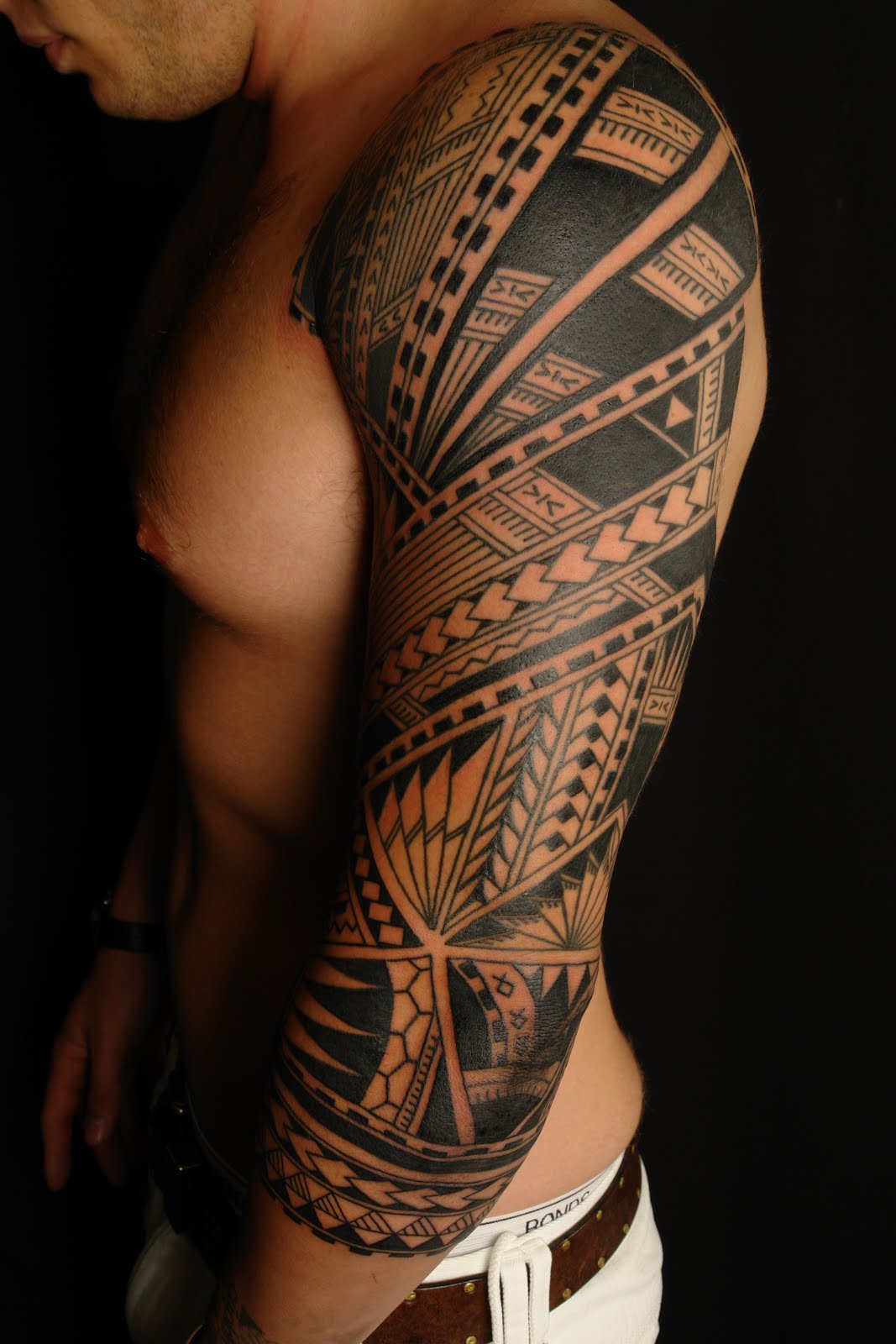 #15. Water colour style
This type of design really shows off your personality as there are a lot of different vibrant colours and shapes in the tattoo. They are sure to catch attention due to different colours and small objects which are made throughout the hand.
Other Articles