Music is a language understood by people all around the globe irrespective of their religion, caste, sex and age. If you are passionate about music too get yourself a music tattoo. Music tattoos are of two types based on the type of people- music makers and music lovers. If you are a music maker you may go for an image of your favourite instrument and couple it with roses, colours and designs to make it look visually appealing. If you are a music lover you might go for some notes from your favourite song. Couple it with hearts, ribbon and roses to show your love. Some people even go for portrait tattoos of their favourite singers, band logos and names.
When going for a music tattoo the choices available to you are huge probably countless so go for what you like to listen and play.
#1. A simple yet beautiful design that tells your love for music. The tattoo has a few notes. You can have this tattoo anywhere wrists, back of the shoulder, neck. This one suits people of all ages.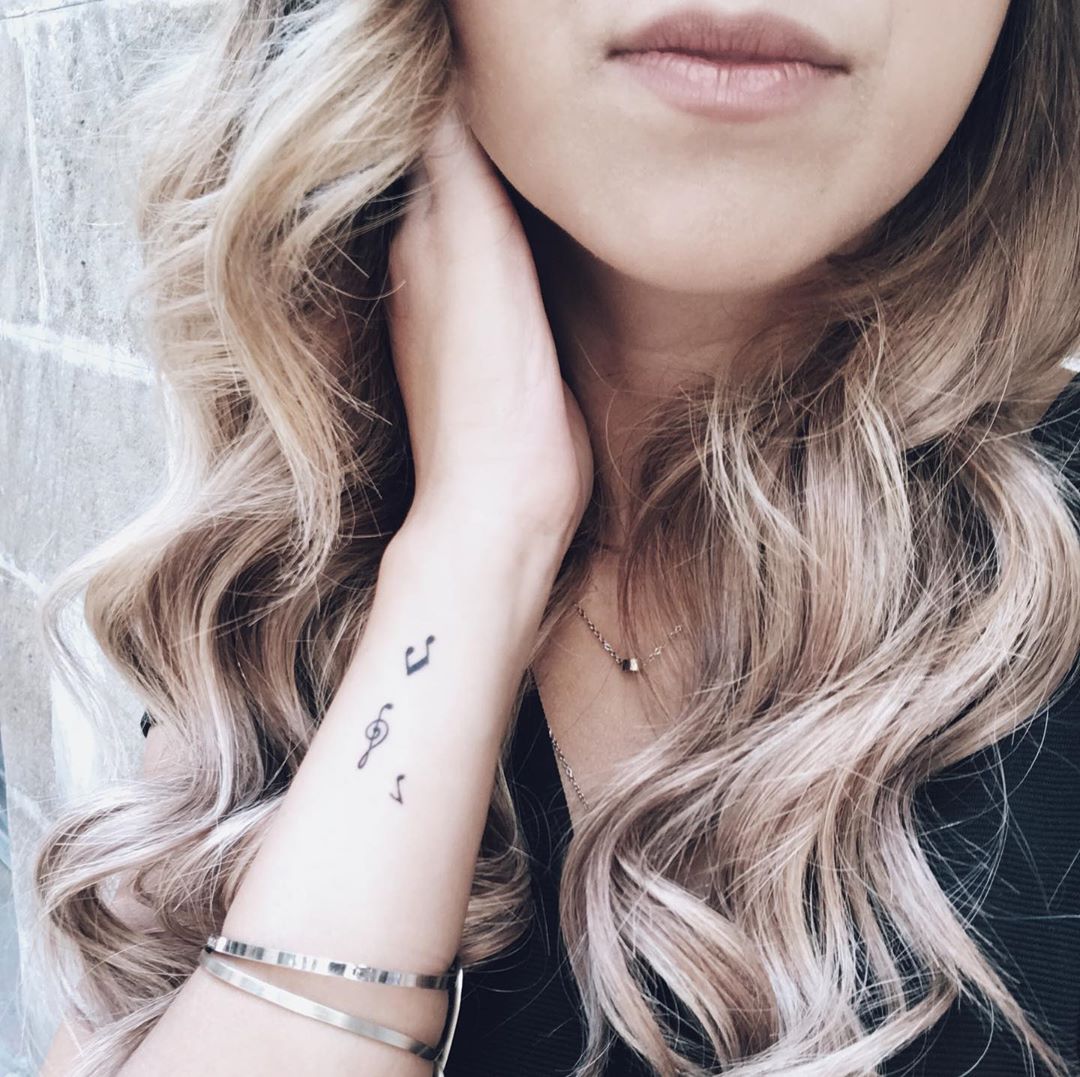 #2. This one shows your love for the piano. The tattoo is simple because the piano is just sketched out. Go for this definitely if you are a piano player. Anyone can have this tattoo regardless of their age. Ideal position includes hands and wrists.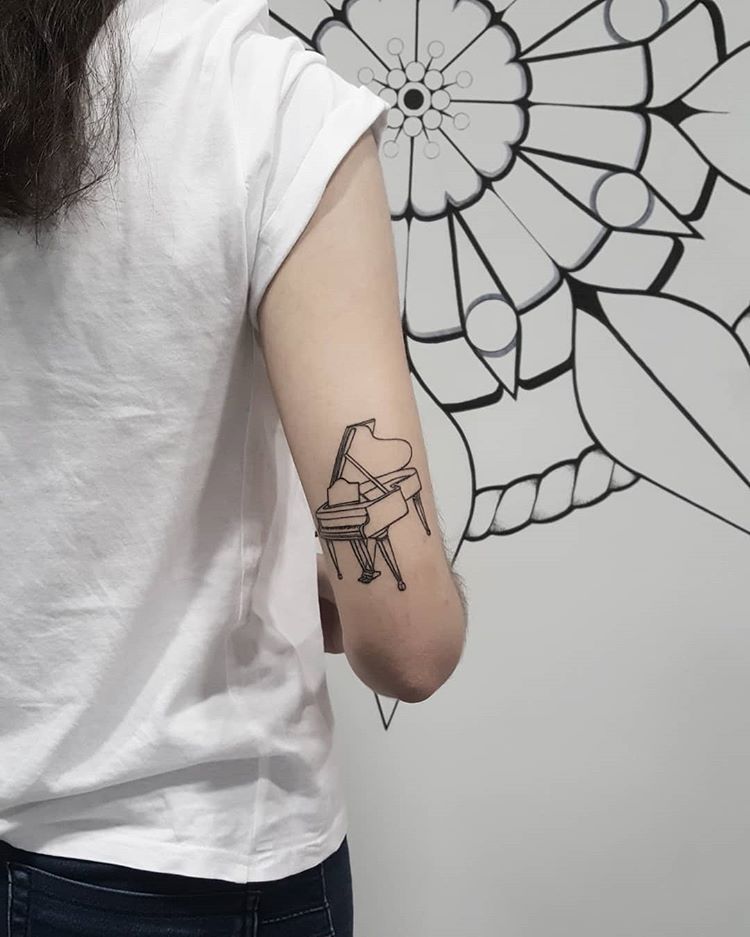 #3. A single different note on each finger. The overall appearance of the tattoo is wonderful. Anyone from both genders can have this tattoo without the age bar. If you are a music player like a piano which involves fingers this looks simply fabulous.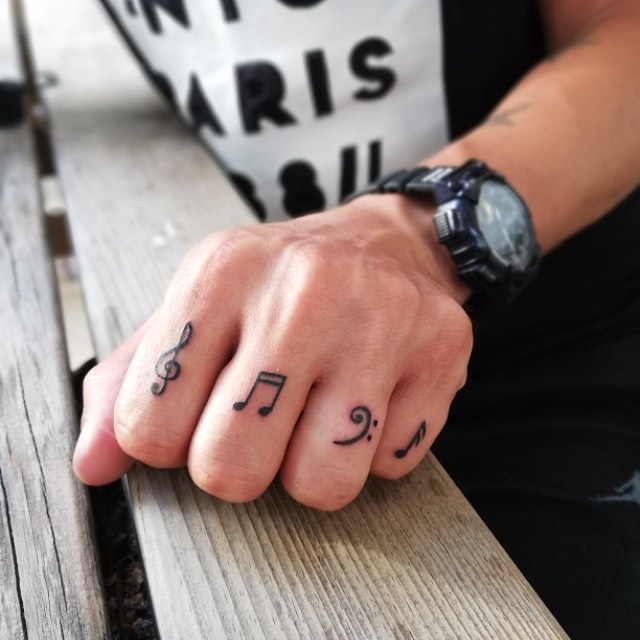 #4. If you like listening to the music of vintage record players then this tattoo is just for you. This tattoo looks great on the hand, back of the shoulder and along the knee area. Both males and females can have this tattoo.
#5. This tattoo resembles one's personality and character, who loves the rhythm in life. So anyone with such trait can have it. It shows the musical notes have been designed to fit one's style along with numbers and a name written on top of it.
#6. Combing the music notes with colour is a unique idea and shows love for art and music. The splashes of the colour show you are cheerful and happy. It looks absolutely cute on children and young boys and girls. The ideal location is forearm.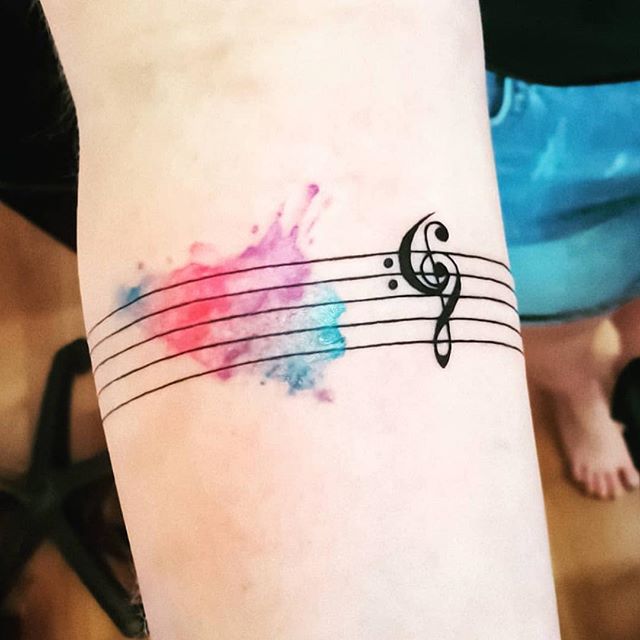 #7. The tattoo has been combined a microphone with a large note. This tattoo looks great on people professionally involved with music like band players, singers and songwriters. Place it along the back of your hand, biceps and neck.
#8. The tattoo shows a loud music voice coming out of the speakers. This one is for the rock band players and people who like to listen to such music. They look nice on the wrist area. Especially for young to middle-aged people.
#9. It is a unique and elegant tattoo. The music seems to from ear to other parts of the body. If you listen to music on earphones this tattoo is for you. Also, the presence of small flowers shows this tattoo is for young to middle-aged females.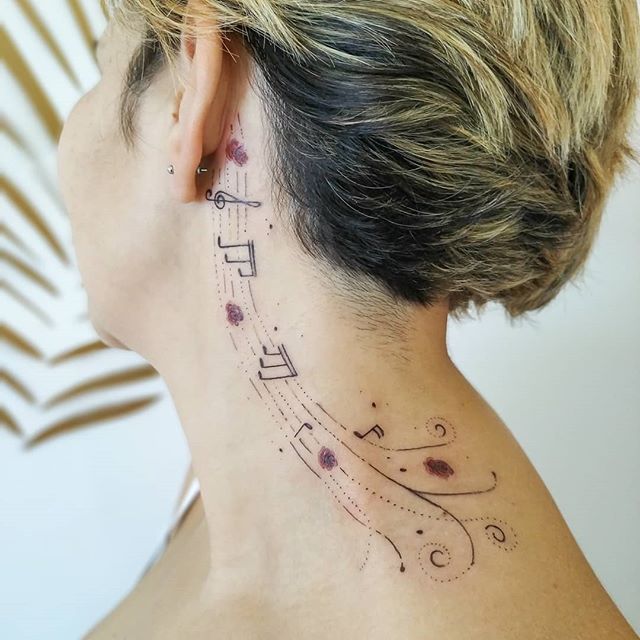 #10. A guitar along with its notes shows you like listening and playing the guitar. It looks simple and is for the males from young boys to the aged people. Go for it if you perform on stage music.
#11. A tattoo showing that music is being played on any device. If you listen to music on your devices then you can have this tattoo. You can have it on your wrists, close to the ears.
#12. This image shows an old CD. If you like listening to old music CDs then you can have it on your bicep region, wrist, back of the shoulder and legs. Generally, this tattoo is for aged males.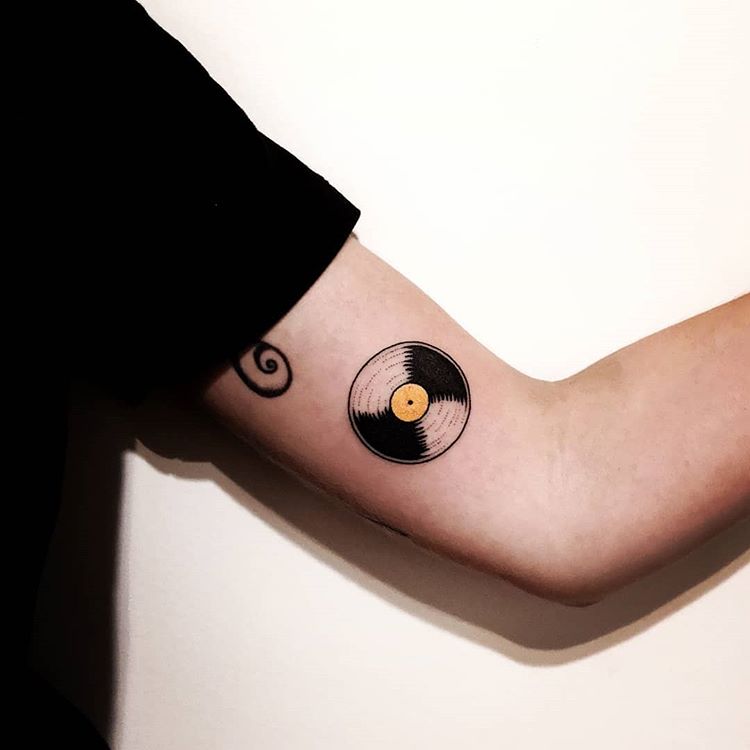 #13. In the tattoo, we can see a microphone wrapped in musical notes. It shows your love for songs. Have this if you are a singer or songwriter. Rock band players can also have it. They look extremely beautiful on the hands.
#14. A uniquely designed trumpet. For those who like playing the trumpet passionately. Males or females both can have this tattoo along with the hands and back of the shoulder and the biceps region.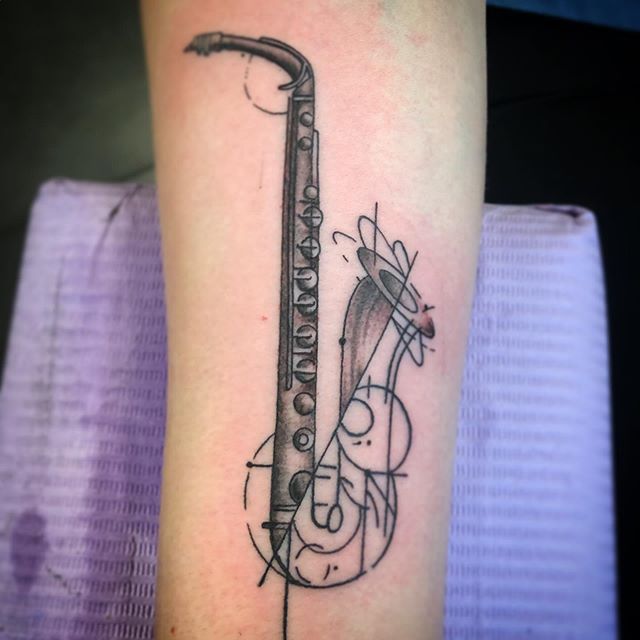 #15. A really uniquely crafted tattoo with lots of deep inner meaning and one for all ages and gender. You can have it on the ankle region, wrists, hands, forearms, neck literally anywhere. It shows the whole world understands the language of music. The colours represent joy.