Minimalist tattoos are one of the latest trends in tattoos because of their simple design and shape and have a clean look to it. They are used to convey a message in a simple and direct way. The designs can be big or small but are neatly drawn to give an overall concise and precise look so that the message can be shown clearly.
Those who do not want to have big complex tattoos with a lot of ink coverage can also go for these tattoos because of their basic design.
Here we have shown some of the minimalist tattoos which are very unique in design.
#1. Ballerina Tattoo
Ballerina tattoos are commonly associated with femininity. It resembles the beauty and grace associated with beautiful girls. If you have an elegant nature or are beautiful looking you can have this tattoo on your thighs, shoulder or on the neck.
#2. Dragonfly tattoo
Here's a beautiful looking dragonfly tattoo beautifully crafted on the shoulders. Dragonfly tattoos are associated with peace, prosperity, harmony, and luck. If you are a peace-lover you can try out this one. The ideal places for this tattoo are on the wrist and shoulders.
#3. Simple cool design tattoo
It is a tattoo which anyone can have as a first try. This is simple yet good looking. People from varying ages and sex can have this tattoo on their hands, wrists, shoulders, etc. It just shows your love for tattoos.
#4. Simple Block Aeroplane tattoo
This is a simple aeroplane tattoo made of conical blocks which give it a unique look. If you like travelling the world and are a frequent flier you can have this tattoo. This simple yet beautiful design is an instant eye-catcher.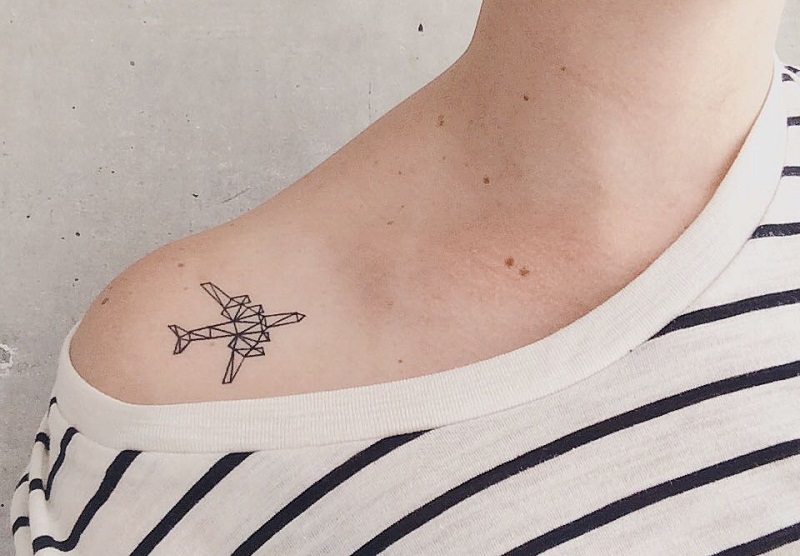 #5. Origami style swan tattoo
Swan tattoos resemble peace, love, and loyalty. If you are a nature lover and find beauty and peace in everything you can have this tattoo. The origami-style makes it look unique and is sure to catch attention. Swan tattoos are highly trending these days.
#6. Tree tattoo
Tree tattoos are highly common and resemble knowledge, peace, forgiveness, kindness, and life. If you are a simple and kind-hearted person you can have this tattoo on your wrists, chest, and shoulder region. If you like nature you can also have this tattoo.
#7. Black rose tattoo
Black is the colour of death. Black tattoos are associated with death, grief, and sorrow. If you have lost someone very close to you like a family member or your friend you can have this tattoo on your hands, chest, and shoulder to commemorate them.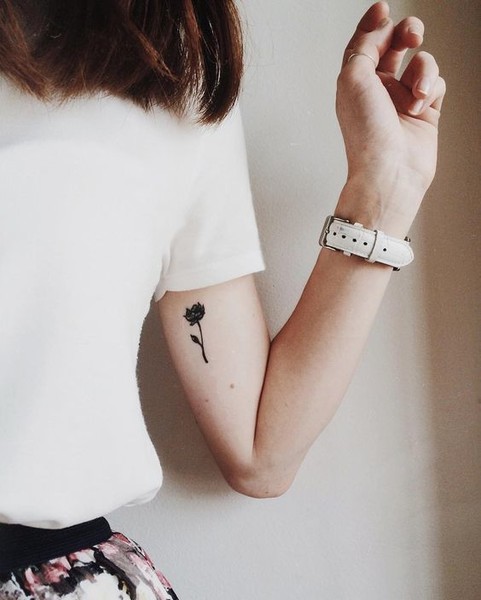 #8. Rose outline tattoo
This picture shows the tattoo of a rose which is outlined only. This tattoo is very simple in design but looks really amazing. Rose tattoos are associated with love, affection and grief. If you love someone or have lost a dear one it is to show respect to them.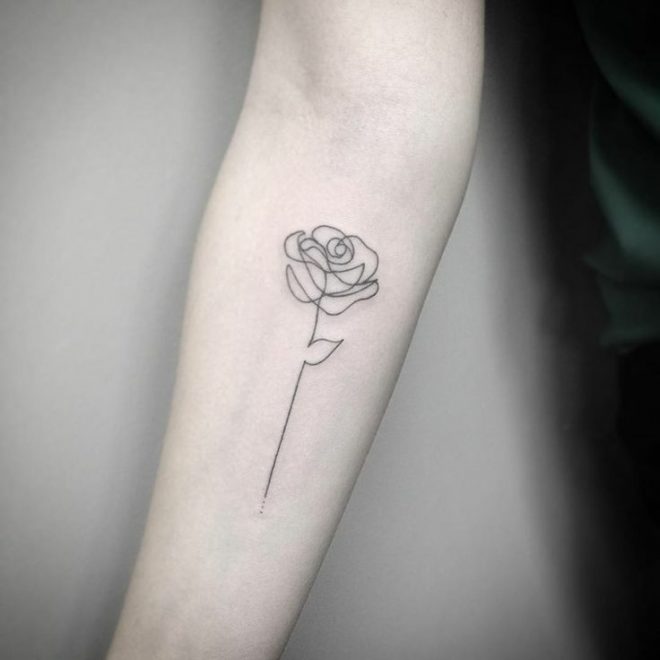 #9. Inverted sunrise tattoo
Sunrise tattoos are associated with optimism, energy, and independence. If you are a free-minded care-free person this is an ideal tattoo for you. It is simple yet has so much meaning associated with it. Sun tattoos are one of the hottest trends at this time.
#10. Cyclic hydrocarbons with flowers tattoo
This is a very rare and uniquely designed tattoo. You can see the cyclic hydrocarbons and some flowers in between them. If you are a chemist or a scientist from the field of chemistry you can have this tattoo.
#11. The feel of the heartbeat
This tattoo although very simple-looking is very unique and has a deep meaning. It shows that you are really a conscious person and know how to respect the feelings and of others. You have that inner vibe inside of you which makes you a kind and gentle person.
#12. The touch of humanity tattoo
This tattoo has an artistic look and a deep meaning associated with it. The picture shows two human hands and the index fingers are on the verge of touching each other. It shows that the world is undergoing a humanitarian crisis and there are no feelings of love and affection for each other.
#13. Basic heart tattoo
This is a basic heart tattoo that anyone can have. Heart tattoos signify love, affection, peace, and joy. If you really love someone you can this tattoo to show it off. Here the tattoo is placed on the middle finger to depict a ring. This is a basic tattoo design and you can have it anywhere as you wish.
#14. Zigzag mountain tattoo
This is also a cool tattoo with mountains and the moon behind. Mountain tattoos resemble courage, bravery, strength, and honesty. If you are a strong-minded person who never gives up in life you can have this tattoo on your thighs and forearms, biceps and wrists.
#15. Hand revolver tattoo
This tattoo shows the picture of a human hand in the form of a revolver or a handgun. It signifies rebellion or revolt. If you are a person who wants to free this world from the heinous act of gun violence and are against the outrage and war on this earth this is a must-have for you.
Other Articles