Flowers represent nature. They also represent emotions, strength, abundance and stability of mind. Anything eternal, strong and free-flowing is represented with the help of flower tattoo design ideas. The flower tattoos can be a single flower. It can be a group of same flowers or a mixture of different flowers each flower representing some personality trait or emotion of yours. A flower, a branch containing flowers, a bouquet or simply a vine are some of the ways flower tattoo designs are developed.
Inking the body is not just a fad. It is a culture and flower tattoos represent the positive side of this culture. The users of flower tattoos feel protected, positive and stable.
It may be confusing sometimes to choose the design that Some of the flowers are given the status of birth flowers for particular months. For example, daffodils are the birth flowers of March. So, while choosing the flower tattoo design ideas, birth flower can become a safe criterion for picking the design. The design can also be chosen on the basis of colors. If you want a break from the black and its shades, you can use rose, bluebells and daisies as your design idea as these allow you incorporating colors like yellow, red, pink and others.
#1: Triangle of Life
Rose and geranium like flowers make this tattoo beautiful, well-flourished in looks. The triangle represents the safety as well as composed thoughts. This tattoo works well when you want life to have balance and equilibrium. The flowers in different stages represent growth. So, this tattoo is quite apt for progressive minds.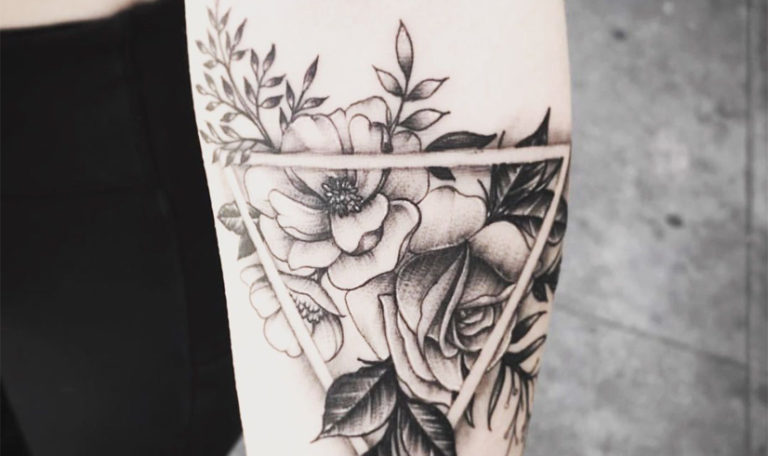 #2: Friends forever
Two flowers inked in pair representbond and friendship; it also indicates togetherness. The flowers represent life and growth. This tattoo is inked on the upper arm and offers a stylish adornment for women. Whenever you want to display your welcoming side or are in happy phase of life, ready to bond, you can show your appreciation for the beauty of life with this tattoo.
#3: Flower Chandelier
The elaborate design of this tattoo complements the back of the lady beautifully. The tattoo stands for dignity and grace as it resembles lotus closely. Oppositely oriented arrows show your ability to sail through ups and downs without losing the balance. This tattoo is beautiful, has sacred meaning and provides beautiful adornment to go with the backless dresses.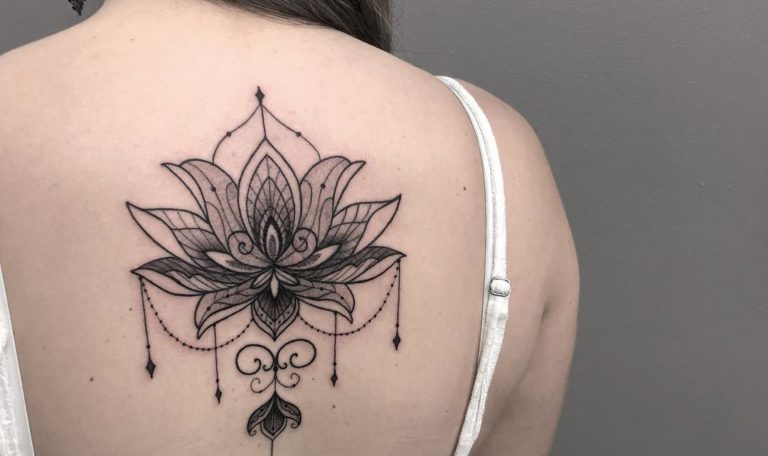 #4: Eternal happiness
These flower tattoos are inked in orange and blue colors. The indicators of love, luck and happiness, these tattoos make it to the list of most beautiful tattoos you can pick from. You can get them inked near the palm as shown in picture, and also on its opposite side. This tattoo is quite feminine in look and displays beauty in fragility and acceptance.
#5: Branch of flowers
This tattoo is quite fuller in look and represents abundance and growth. Depicting a mindset that believes in keeping people close and together, just below chest bone is the most apt location for getting this tattoo inked. Horizontally aligned, this tattoo shows flowers in different stages and of various sizes expressing beauty in diversity.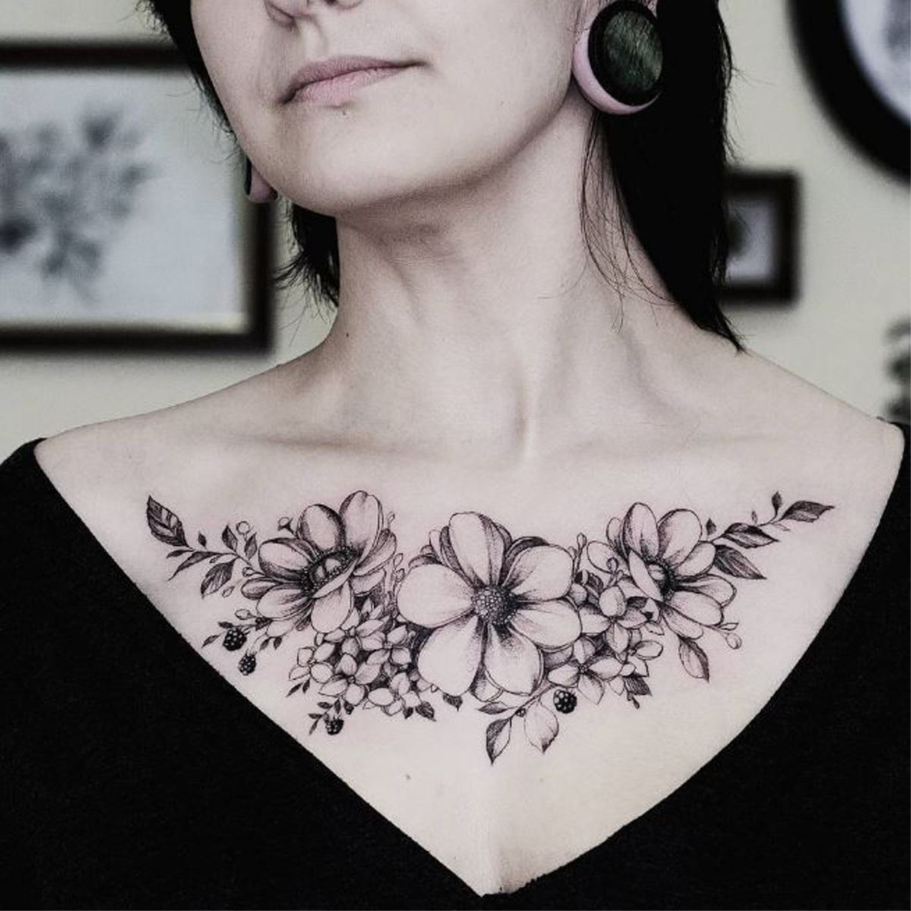 #6: Road to Victory
Based on the design of armlet, this rose tattoo is also in the category of tattoos with fuller look. An empty strip in between the two sides of rose branch gives it a unique look. The tattoo represents success after crossing hurdles best represented by the smaller flower on one side and the bigger on another.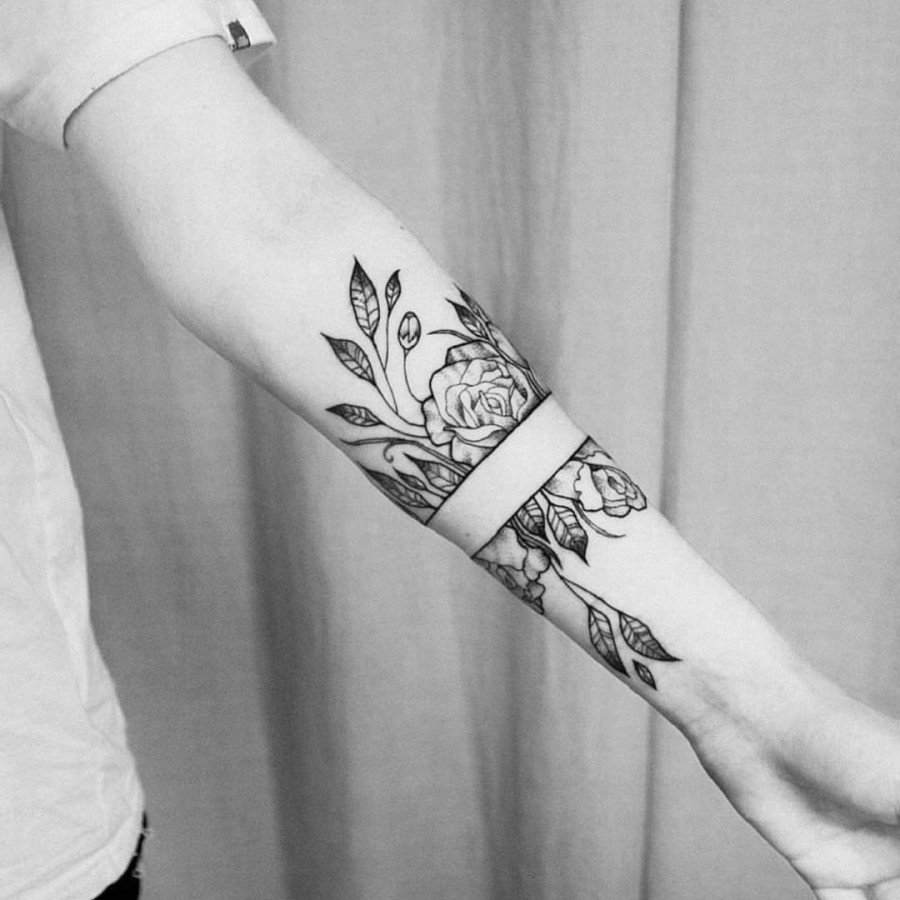 #7: Painter's Love
Any tattoo on arm shows determination and this tattoo of brushes and flower in colorful shades express the message of coloring life with positivity. You are the only architect of your life and this tattoo shows that you are quite equipped to mold the life the way you want. Perfect location for this is upper arm.
#8: Lily Beauty
This Lily tattoo symbolizes purity and innocence. It is also known for expressing abundance. Inked in the ankle area, this tattoo represents the mindset of creating abundance wherever you go. This small tattoo can also be inked on palm, or on nape, shoulder area. It is an ideal tattoo for females.
#9: Flower Power
Inked in the upper arm, this tattoo is perfect for drawing attention to well-built muscles. Showing power and prettiness go together, this tattoo is idea for women with strong thinking. Standing for abundance and happiness, you can express successful phase of life with this tattoo and stay inspired throughout.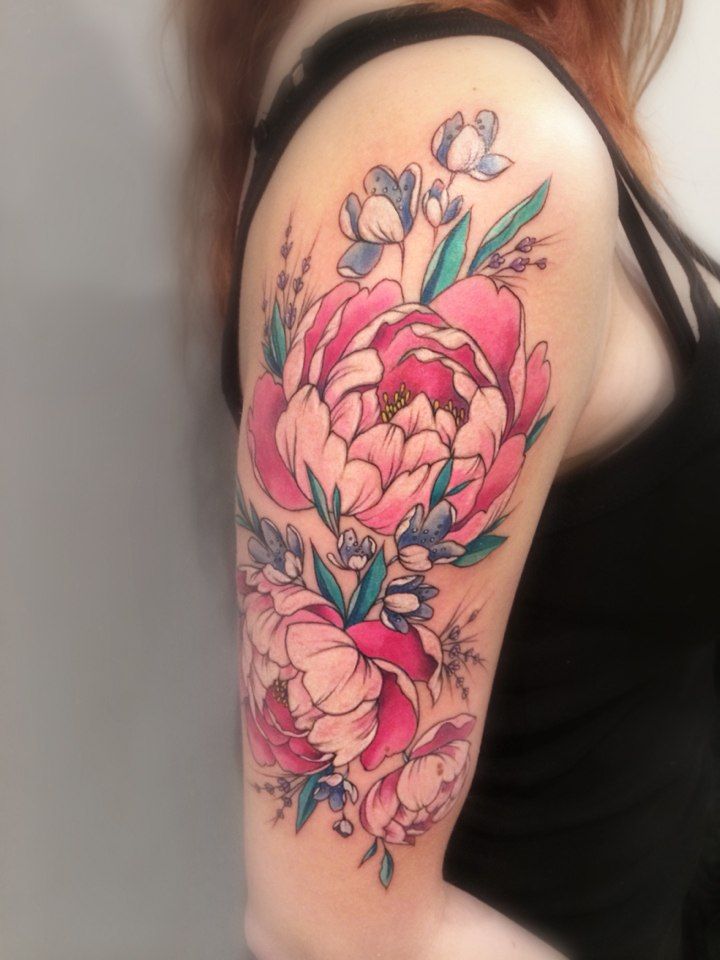 #10: Flower Fashion
A flower tattoo with a difference. The branch shows adherence to the origin. When blossomed to a beauty while keeping the values intact, you can express your personality with this tattoo. It is ideally inked on the inner side of the upper arm, but is certainly good for neck and back too.
#11: Festive Design
Be your true self and express it only when you want with this thigh tattoo. Detailed design, sleek look and flower at the center part of design show how organized you are while planning things in mind. Best suited for thigh, this tattoo is good for forearm, calf or its miniature can be used at the back of the neck too.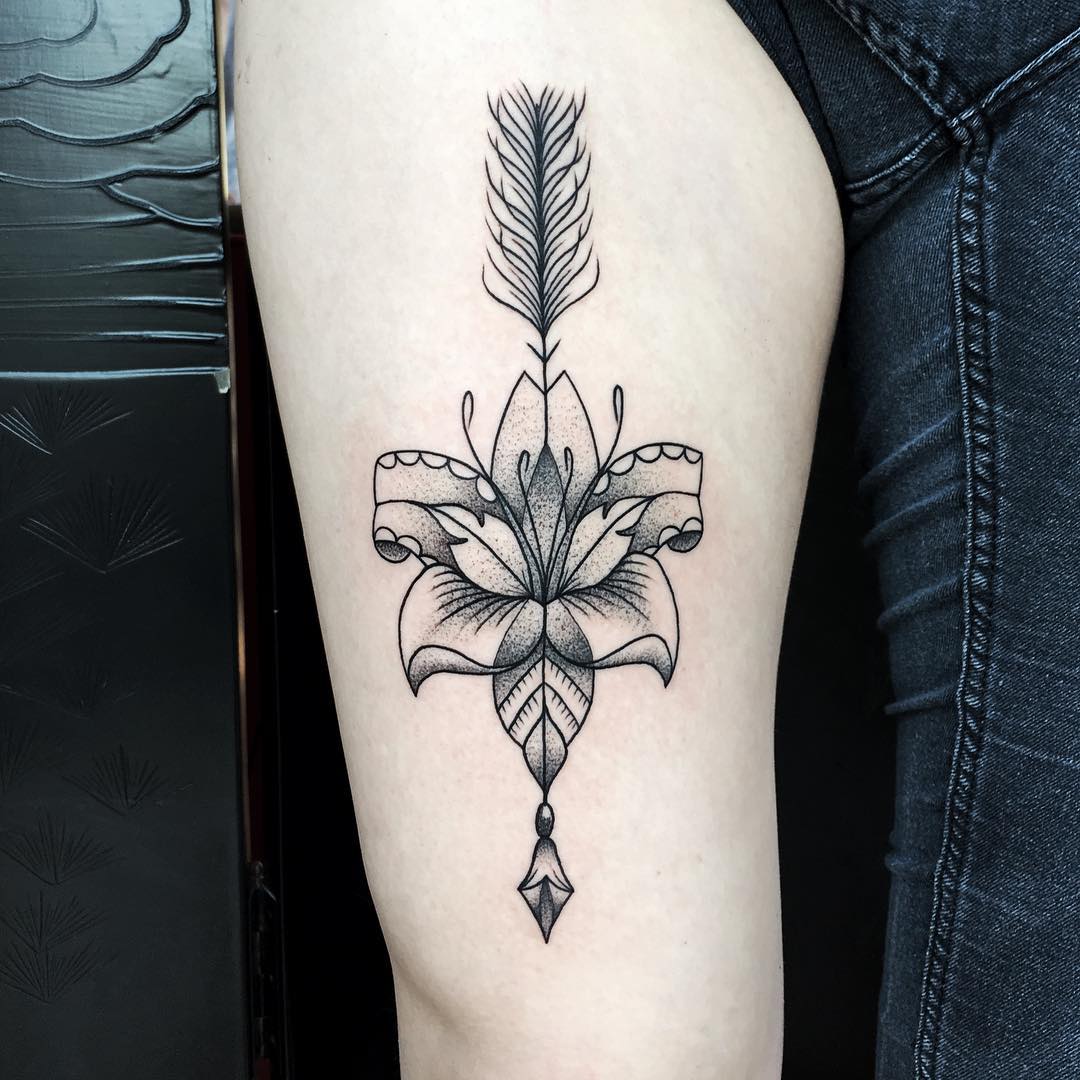 #12: Colorful Blossoms
Life is a canvas and you have lots of things to paint on it. This tattoo is great reminder of the vivaciousness life offers. It gives you pleasure of having multiple colors on the tattoo. Upper arm is ideal place to get it inked. You can ink it on the well-chiseled stomach or lower back too.
#13: Pink Beauty
It is an interesting flower tattoo for forearm with some geometric elements. The colorful tattoo represents positivity and variety. Single flower shows determination and simplicity and geometrical shapes show the correctness of thoughts. A woman with irresistible charm deserves this tattoo as adornment for arms.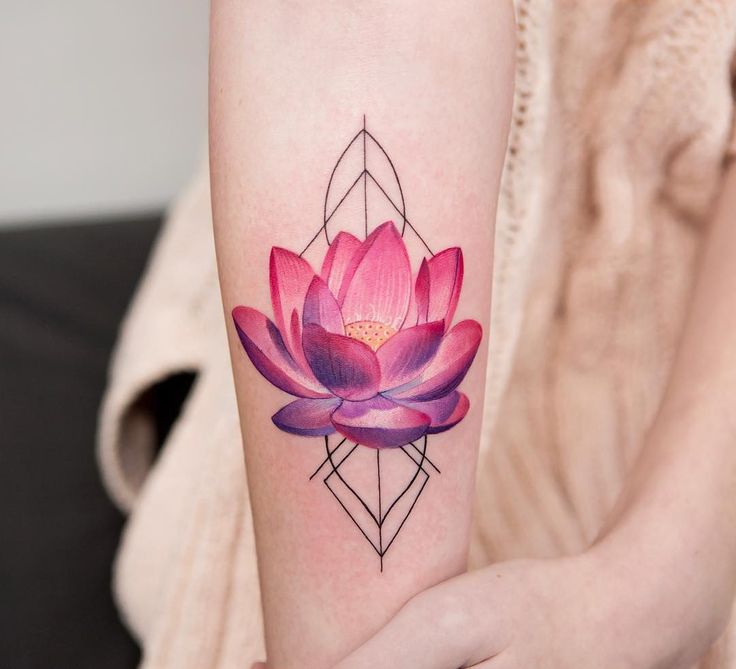 #14: Create Life
A quote, Hibiscus and a bee sets this tattoo apart from others. Quite detailed in look, and full of colors, this nature-inspired tattoo shows start of life. Bee pollinating the flowers indicate beginnings and quote tells you exactly what you have in mind. Ideal for shoulders and back, it makes great choice for tattoo fashion.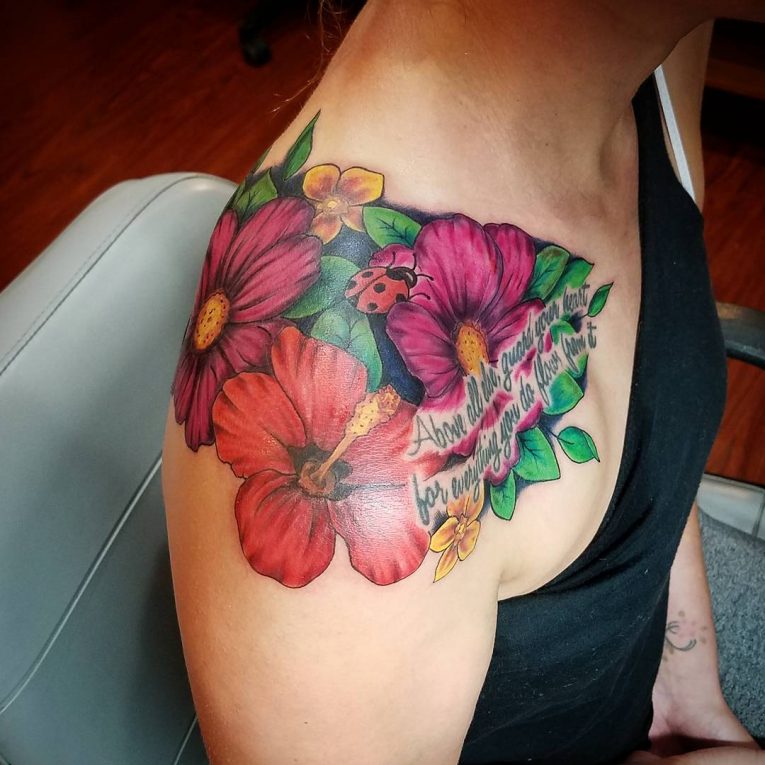 #15: Live Again
Flower in black shade tattoo represents rebirth. When you have undergone a transformation of any sorts, you can wear this tattoo to express your emotions. This tattoo stands for strong will, ability to pass hurdles and still stay beautiful and feminine. Perfect choice for arm tattoo, this tattoo looks great on upper back too.
Other Articles