Couples do a lot many things to show their compatibility and love for each other. Some wear complementing rings; others wear tattoos of similar designs to make a strong statement about their relationship status. Couple tattoo design ideas revolve around various themes that center the life and its underlying emotions. Some of the interesting couple tattoo designs are – he and she engraved on the palm backs or above the wrist, sign of heartbeats, complementary parts of any design to show both complete each other; to quote a very few.
Celebrity tattoo designs form one of the primary sources of inspiration for getting the ideas on couple tattoos. Other sources are catalogs, review sites and fashion blogs. Tattoo for couples need to be trendy and yet capable of making a statement. These can be colorful and sometimes, pretty simple yet impactful too. Some cartoon characters like Mickey and Mini also make funky couple tattoo idea.
Mostly, couple tattoos are made in exactly the same design. It is done to show to the world that both have finally found their respective soulmates.
Couple tattoos are ageless and are worth trying when you have made up the mind to be with the person today and always.
#1. You are my heart beat
This couple tattoo design represents the clinical representation of life. The way heart function appears on the cardiograph forms the basis of this design. Thus, it depicts the life the couple shares. A beautiful message possible to derive from this tattoo is – my heart beats inside her/him. Perfect locations for this tattoo are upper arm for men and forearm for women to represent compatibility.
#2. Colorful life
Show the world that life has become colorful in each other's company with the couple tattoo. You are my heart, the sunshine of my life and would love to see you every day – these beautiful thoughts come to life creatively in this tattoo. The forearms make the perfect spot for getting this tattoo inked.
#3. My Bunny
Sweet and simple yet very stylish, this couple tattoo represents the girl and boy in a very unique and interesting style. With the help of few colors and simple outline, you can express how you enjoy your individuality even while staying completely into each other. Wrist region is a nice place to display this tattoo.
#4. Rose in triangles
The ability to keep the love kindled even against all odds can be best represented by this tattoo. How you maintained to stay together despite all hurdles and the emotion of having each other's back unconditionally comes alive in this arm tattoo for couples. Forearms near the wrist are the preferred location for this couple tattoo.
#5. Nest Tattoo
Perfect couple tattoo for nature lovers! Show what it takes to make a happy home together. Express that it takes two to tango and to make the home filled with love and harmony. Lovely couple tattoo for arms – get it designed when you both have soft feelings and the desire to make happy memories together.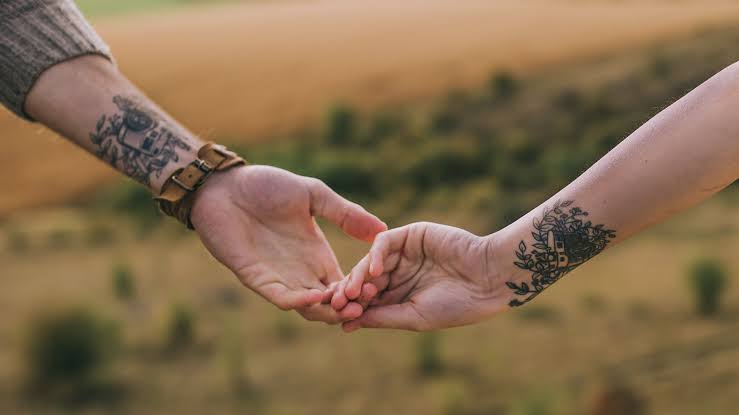 #6. Lock and Key
Chained together forever – this tattoo explains the emotion pretty loudly and clearly. This arm tattoo has lock and key on hands of lovers with a chain that runs from one's arm to another. Very stylish tattoo, this design is beautiful representation of togetherness and bonding and stands apart because of its clarity of expression.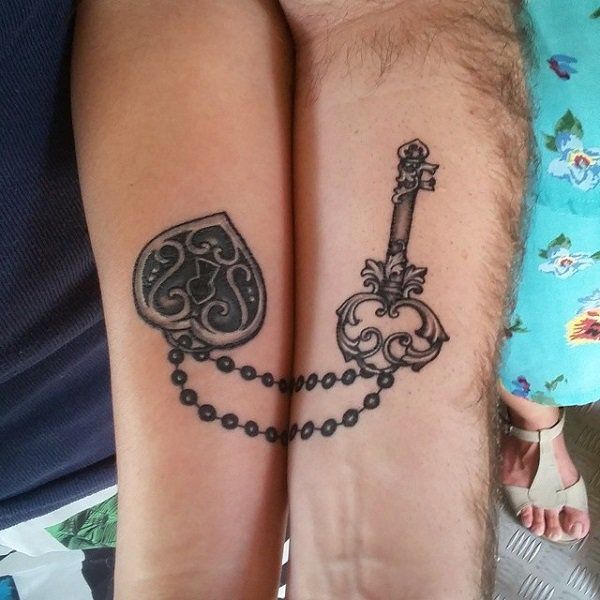 #7. Wedding tattoo
While man can have the wedding date and initials tattooed on the forearm, woman can go a bit colorful with the signs of men and women in red. This stylish tattoo is sure to remind of the love and bonding always; arrows represent determination to be together. Perfect for location like arms, this tattoo is nice way of expressing togetherness.
#8. Bird coming home
When you have finally found the love of the life, this tattoo helps representing it beautifully. Bird represents the search for the true love, while the cage stands for stability and safety. So, express the idea of coming to love after a day of work with this tattoo. Interesting arm tattoo it is for couples in love.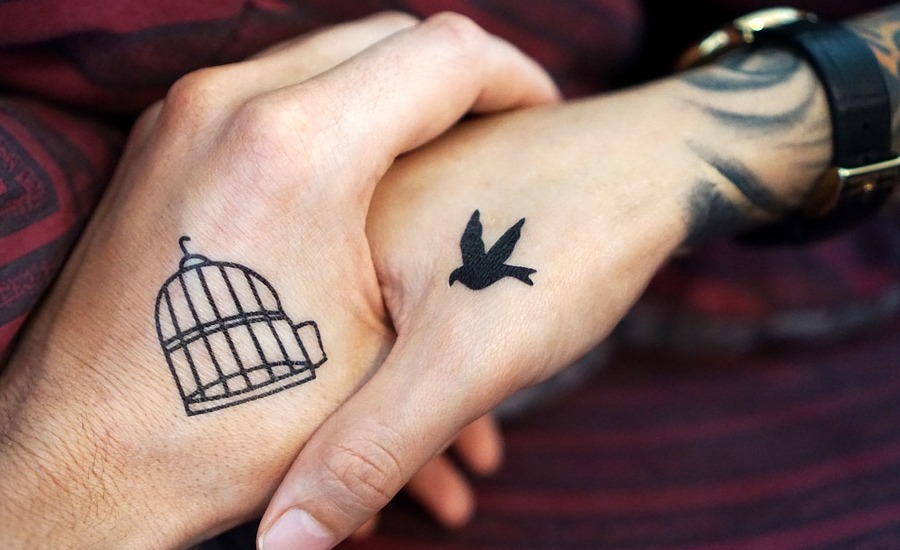 #9. You are my ocean
This tattoo represents two people coming together from different place. One is the splash of water and the other arid land. To show the idea of soaked in love, this tattoo works the best. Colorful tattoo with palm tree as central element, this is the design meant for arms and near ankles.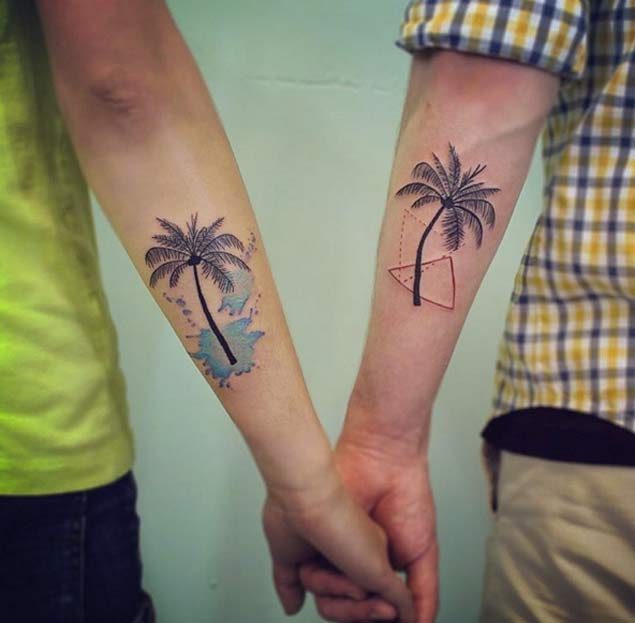 #10. Opposites attract
Love happens the most fiercely when opposites attract. This tattoo representing two poles of magnet is a classy representation of attraction and bond between two people with very different personalities. Acceptance of the personalities and bonding for each other comes out beautifully in this tattoo meant for the back side of the palm.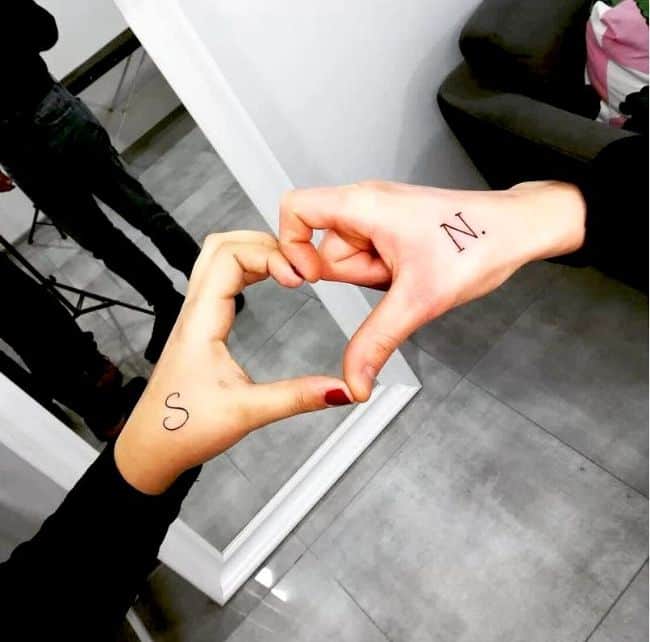 #11. Anchor of love
Two people anchored by the emotion of love is beautifully represented by these finger tattoos. When not so easy to stay without each other, one can show the emotions the best way with this anchor tattoo for couples. Clear and crisp in message and great in looks, it forms an excellent couple tattoo idea for fingers.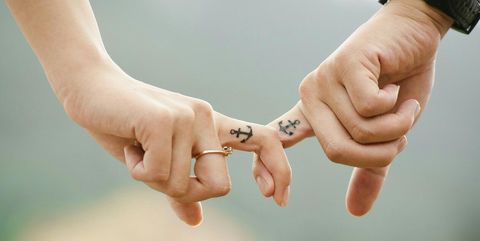 #12. Soaring High
When you have come from two different parts of the world, you can use this tattoo design to demonstrate your journey. Airplane represents journey and a feeling of wanderlust. Show to your sweetheart, 'my heart comes back to you no matter where I go', with this amazing tattoo for lovers.
#13. Mr. and Mrs.
The iconic representation of married couple, Mr. and Mrs., this tattoo is the perfect design for just married couples. This tattoo makes the interesting design for arms of the couple madly in love. When walking hand in hand, you represent the idea of togetherness quite effectively with this arm tattoo for couples.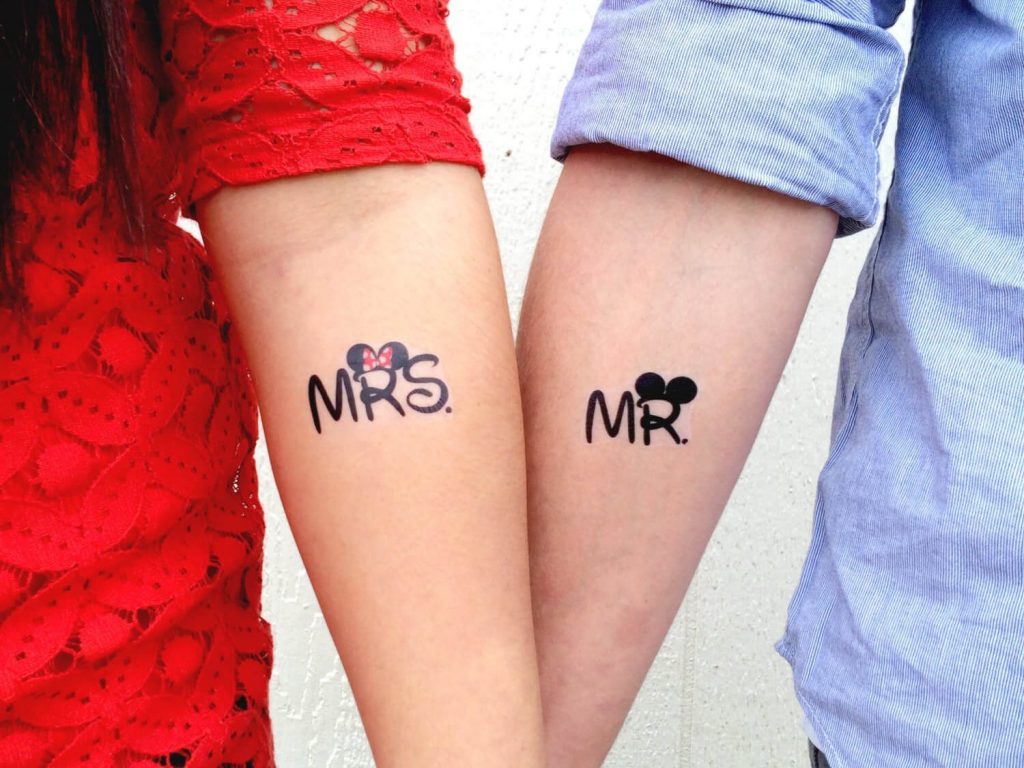 #14. In the night and dark
Couples staying together through thick and thin represent this idea of togetherness impressively with this sun and moon tattoo. It is a kind of vow to stick together through testing times and those of celebrations as well. This tattoo looks amazing on finger; side of ring finger will be the most ideal place to have this design inked.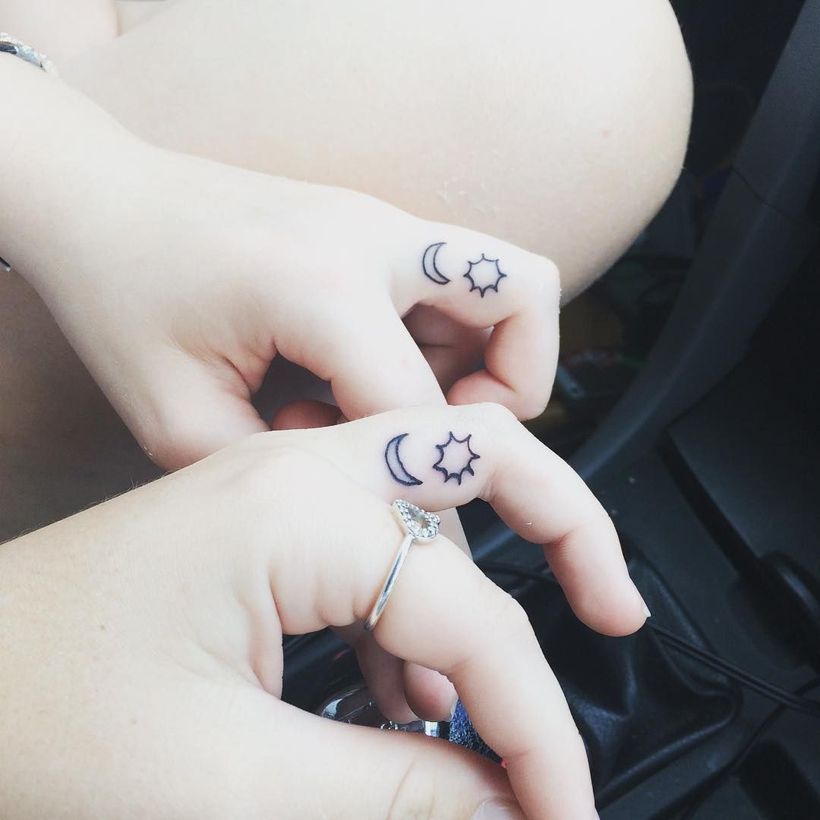 #15. King and Queen
Be the rulers of each other's heart and express it, too, with the couple tattoo having thrones as the base design. This tattoo looks amazing on palms and can definitely add more impact when flaunted beside the diamond engagement ring. King and queen signs make the whole message clear and filled with emotions without going overboard.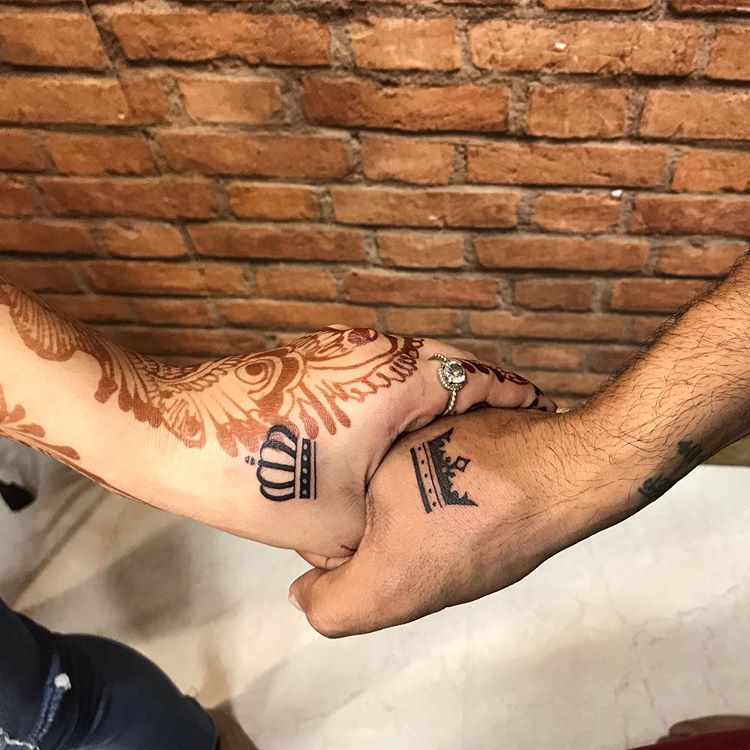 Other Articles