Watercolor tattoo making is a technique that adds colorful twist to the way tattoos are inked. These tattoos certainly are eye-catching due to their interesting design and the splash of colors mostly on the background add character to it.
The colors of watercolor are included in the design using fading technique. The users should be ready to see the colors fading, but nothing to worry about that! With little touch up, you can retain the good looks of this tattoo.
Watercolor tattoo derive inspirations from a variety of things of beauty as well as boldness. Flowers, hearts, abstract, animals, insects and quotes and so on make vivacious choices for the watercolor tattoo designs.
Contouring of the watercolor tattoos is somewhat difficult as drops tend to form when the artists try to carve, but even those drops have an artistic feel and their look is really beautiful. Owl tattoo with no contours or poppy flowers with splash of colors at background show that contours or no contours, the watercolor tattoo shines up distinctly always.
Watercolor tattoo design are new fashion statements and are here to stay. These designs do give an indication about how ephemeral the life is; still, these celebrate the very celebration called life and its various emotions.
#1. Butterfly Beauty
Butterfly design tattoo is made using splashes of blue and pink color in the background. The wings of butterfly are colored using fading technique and the contours are outlined distinctly. Best places to get it tattooed are upper arm, above the palm, side of ankle, collar bone and back. The center of design is semi-colon that indicates 'it is not over yet'.
#2. Growing triangles
A type of geometric tattoo, this tattoo features about five triangles gradually increasing in size. It shows progressive approach and growth phase of life. The tattoo also has a splash of vibrant colors like yellow, magenta and blue at the background that add an element of abstractness to it. Perfect for the long parts of the body like forearms, this tattoo certainly styles you up when you are casually dressed up.
#3. Leap of Triangles
When your life has transformed to something vibrantly colored, you can express it with this geometric tattoo in watercolor style. The tattoo features two triangles of which one is enclosed in a triangle. Black and white color in bottom tattoo spiraling into something colored show a positive phase after a period of darkness. Circle denotes alignment of thoughts.
#4. Party Princess
Display your party animal personality with this stylish, colorful party girl tattoo. The tattoo stands out in vivaciousness of colors. Balloons and fireworks indicate celebrations and festivities you are fond of. Your tastes are royal and you like to state terms is indicated by crown. Butterflies show your free-spirit attitude.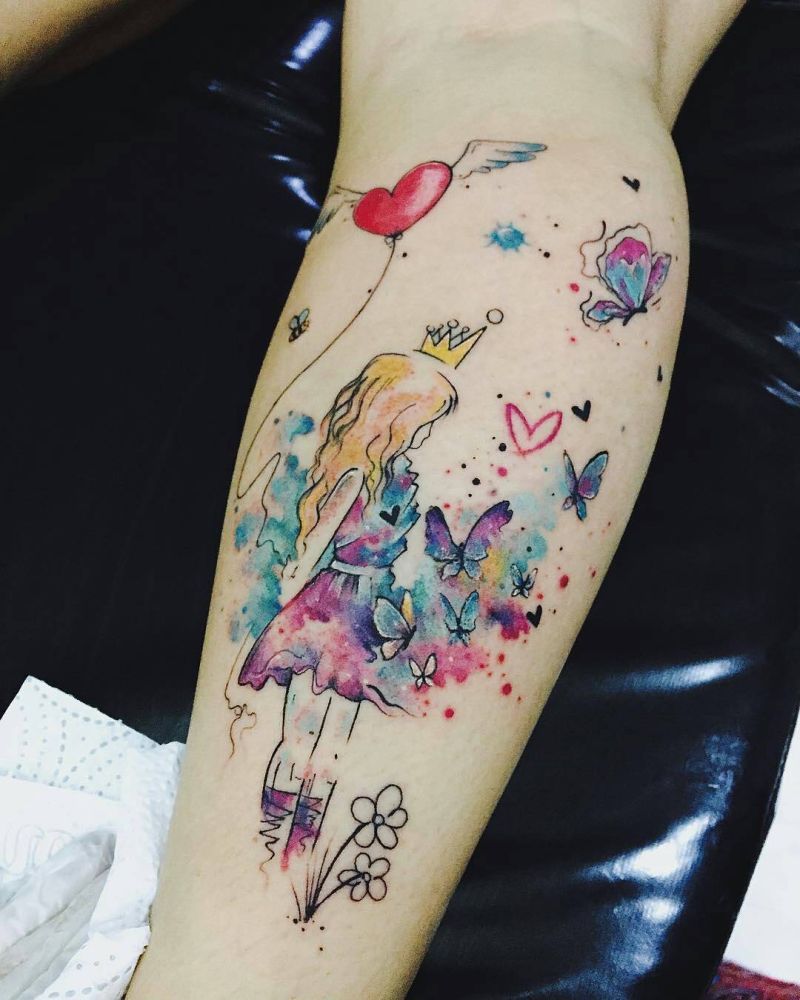 #5. Blooming Flowers
Colorful tattoo featuring two flowers in pair, purple and orangish in color. The background color in blue adds natural appeal to the tattoo. Some scattered dots represent blooming of life looking similar to pollens. Sign of growth, this flower also represents softness of emotions and feminine appeal and strength of ideas.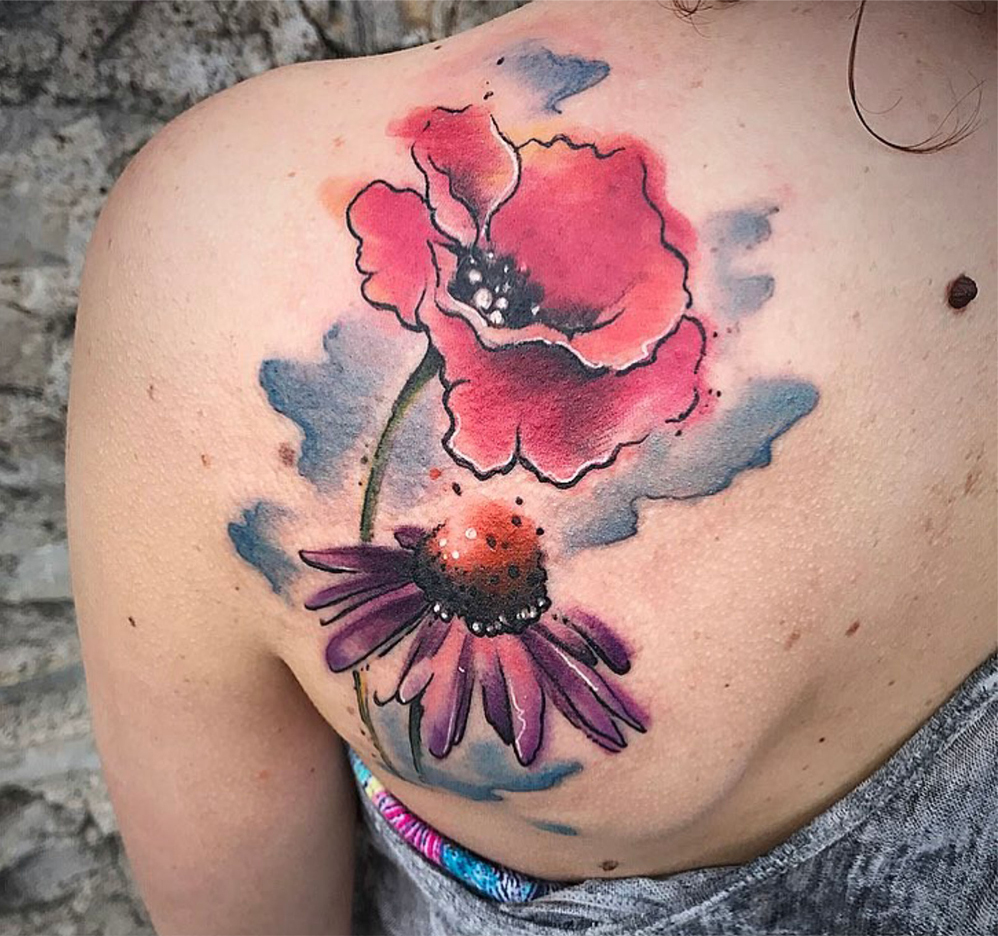 #6. Pollination tattoo
Quite elaborate tattoo displaying wild flower, daisy and rose. The bird pollinating the daisy is nice representation of start of something new. This stylish tattoo covers the collar bone and spreads up to the whole arm. Vibrant magenta, pink and yellow color with splash of blue color adds fashionable look to this tattoo.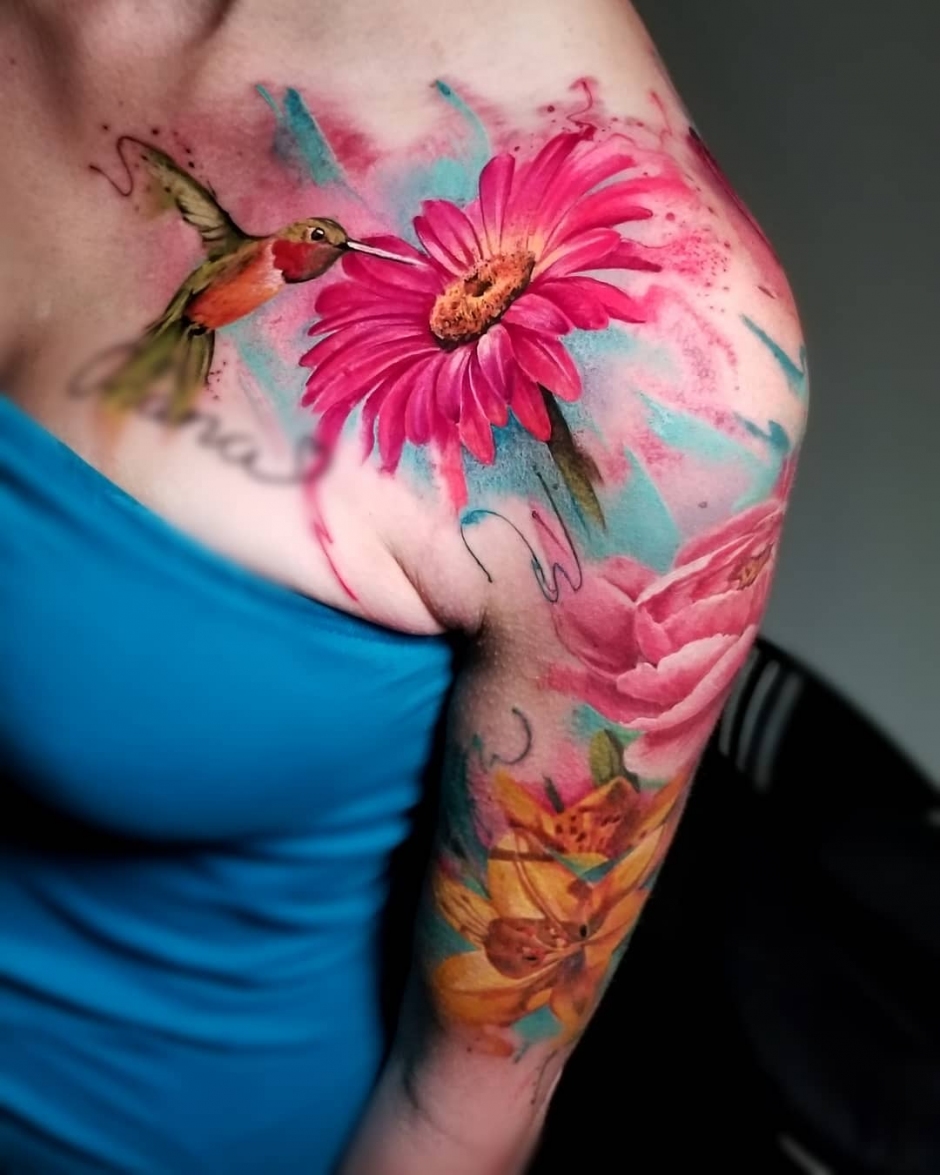 #7. Inspiring Twig
Impressive epitome of femininity, this slender twig tattoo has an inspiring quote as its stem. Perfect adornment for back to go with the backless dresses, this tattoo can also be used for arms. Green leaves and pink small flowers make a terrific combination and looks awesome on all skin tones.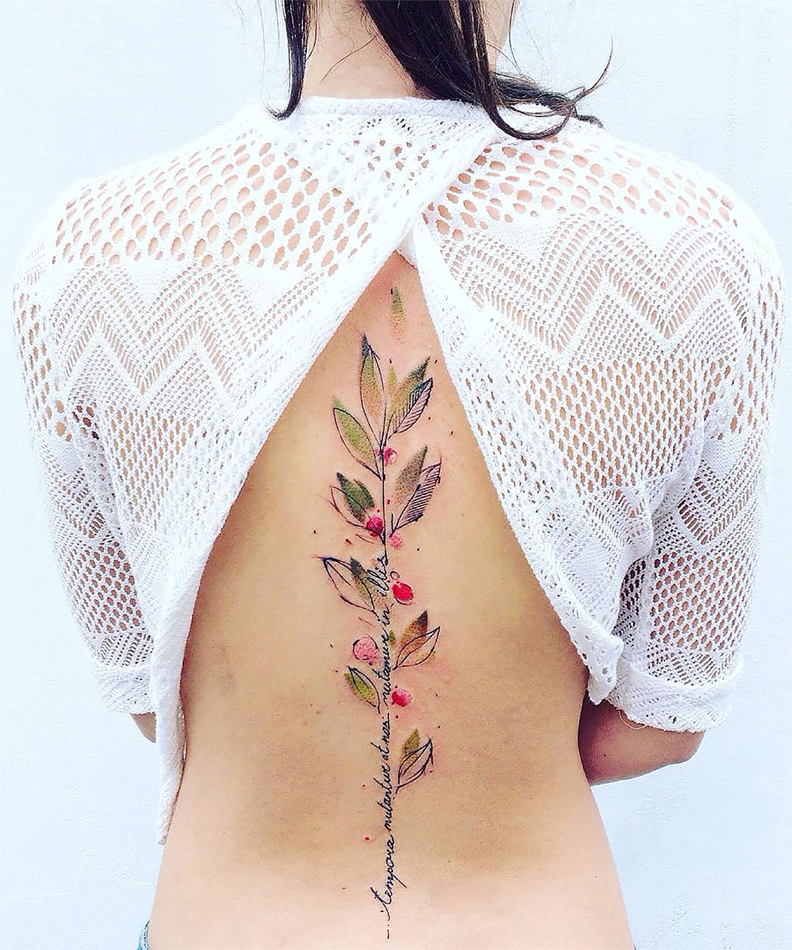 #8. Loads of Luck
Foot tattoo design in this watercolor tattoo features tumbler of luck with cap opened up. Thus, you are enjoy newer possibilities and treading new paths expressing which comes creatively with this colorful watercolor tattoo. Express your thankfulness for good luck with this foot tattoo, that looks great on side of ankle.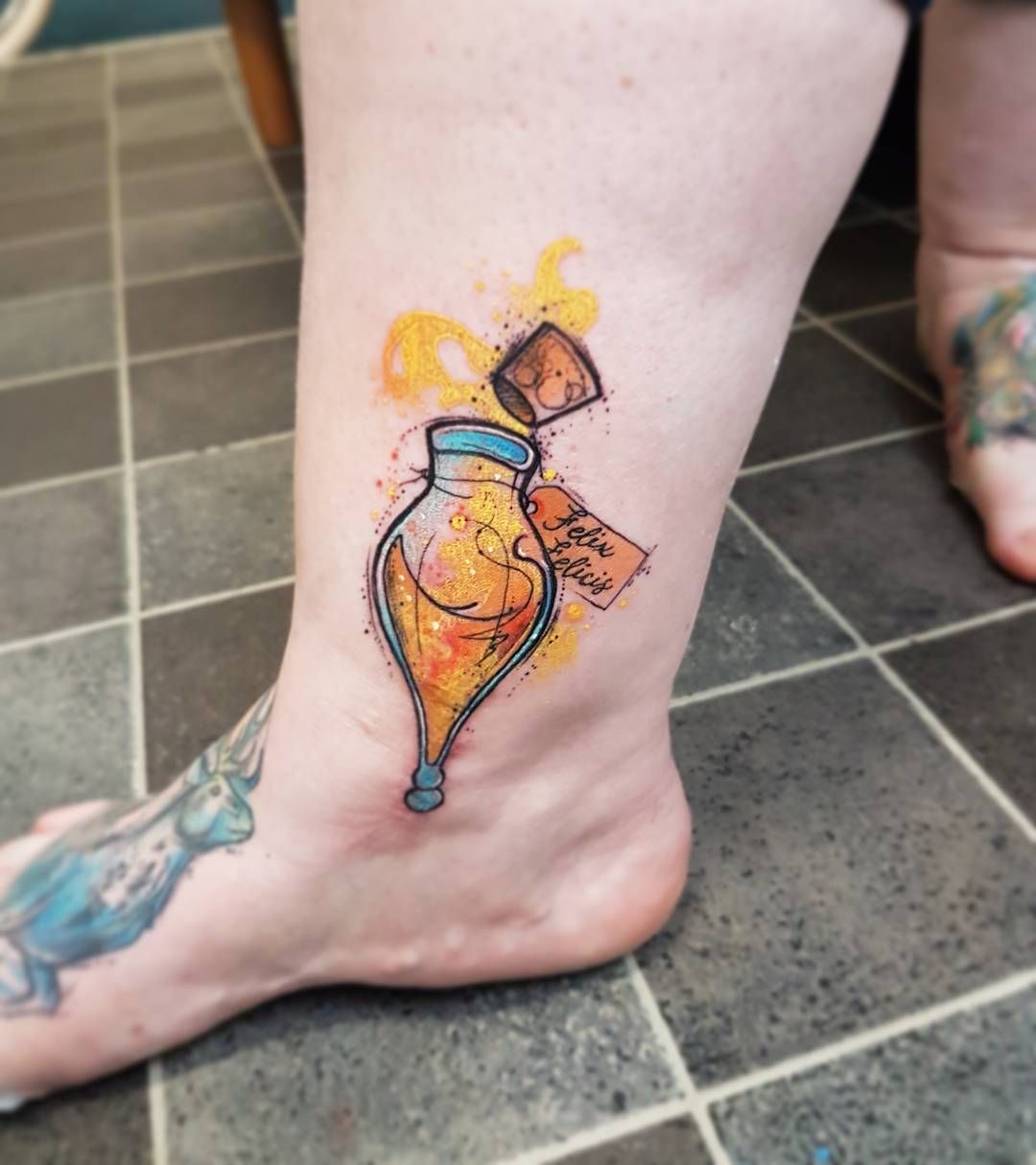 #9. Ribbon of Richness
This watercolor tattoo features concentric circles and traingles placed adjacently in opposing orientation. The colorful background is accentuated by multi-shade watercolor ribbon that shows rhythm of life, a bonding pin with red cap. Firmness of mind and flow of thoughts are depicted well in this tattoo.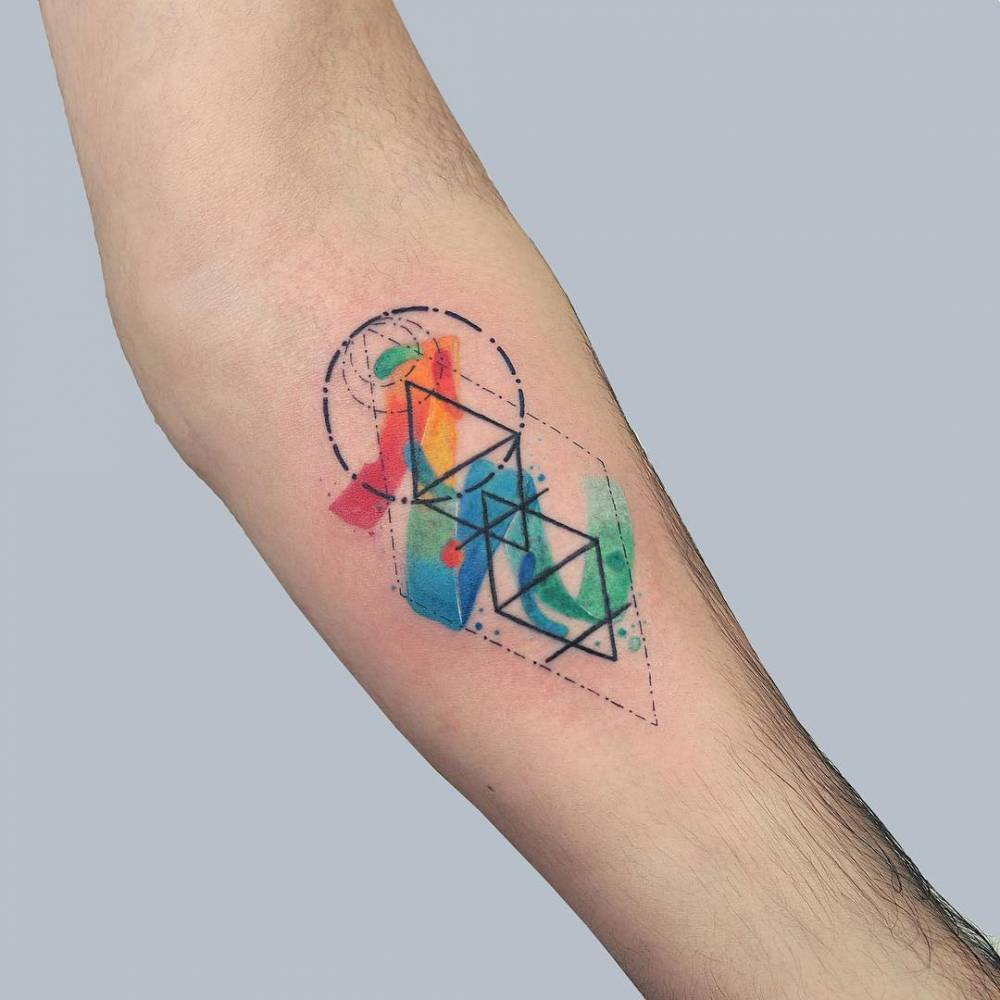 #10. City of Joy
Buildings, partial moon, star, waves and boat are the main parts of this watercolor tattoo. This tattoo is best to flaunt on well-chiseled back. A tattoo with urban appeal, the watercolor of pink, orange and blue shades are splashed as background making this tattoo true representative of vibrant city life.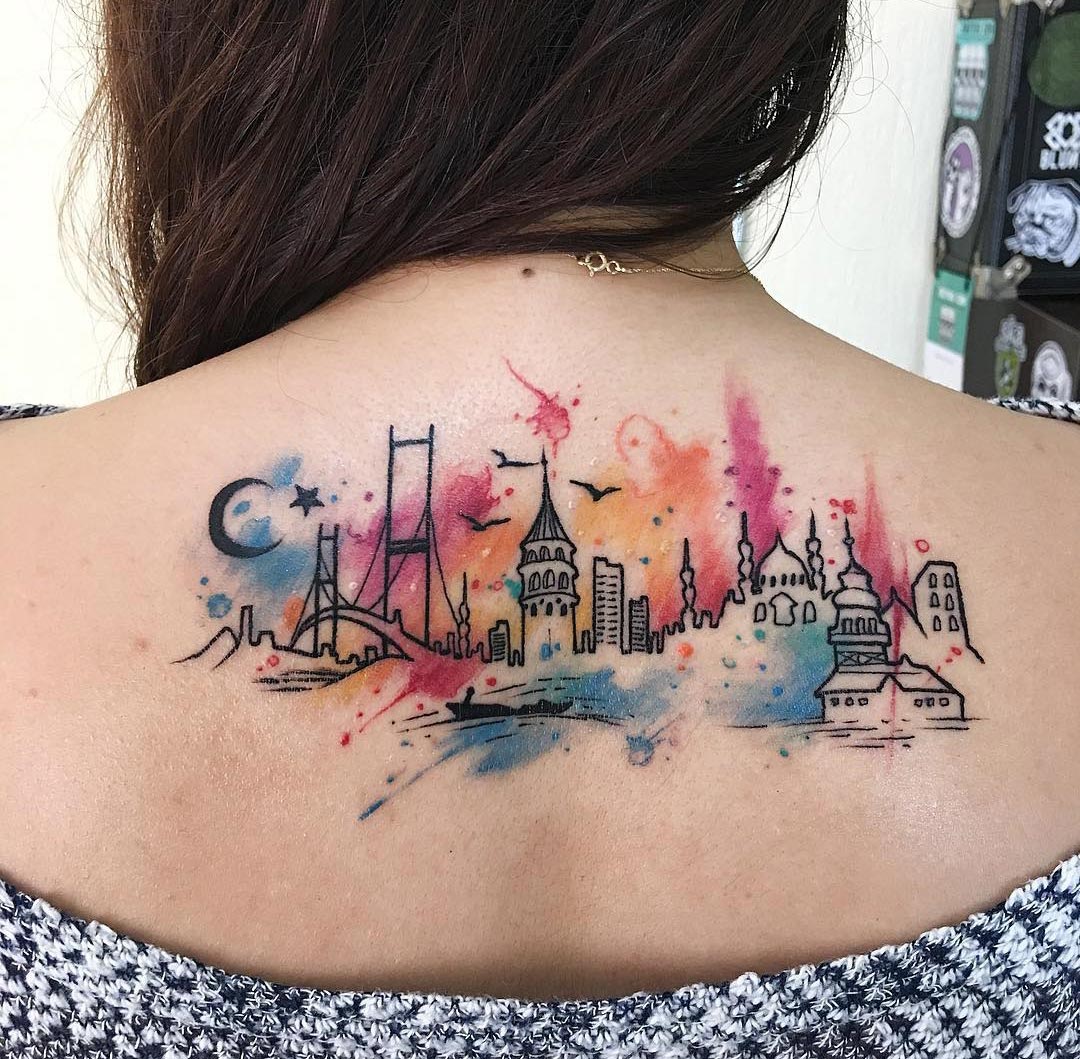 #11. Flora and Fauna
A bird's tattoo on one hand and that of a flower on another, this tattoo also has motivational phrase as a part of the design. The flowers are marked in a combination of colors with watercolor technique and look amazingly unique. The bird is detailed using lines to form a shape. Truly satisfying tattoo that speaks perfectly about your love for nature.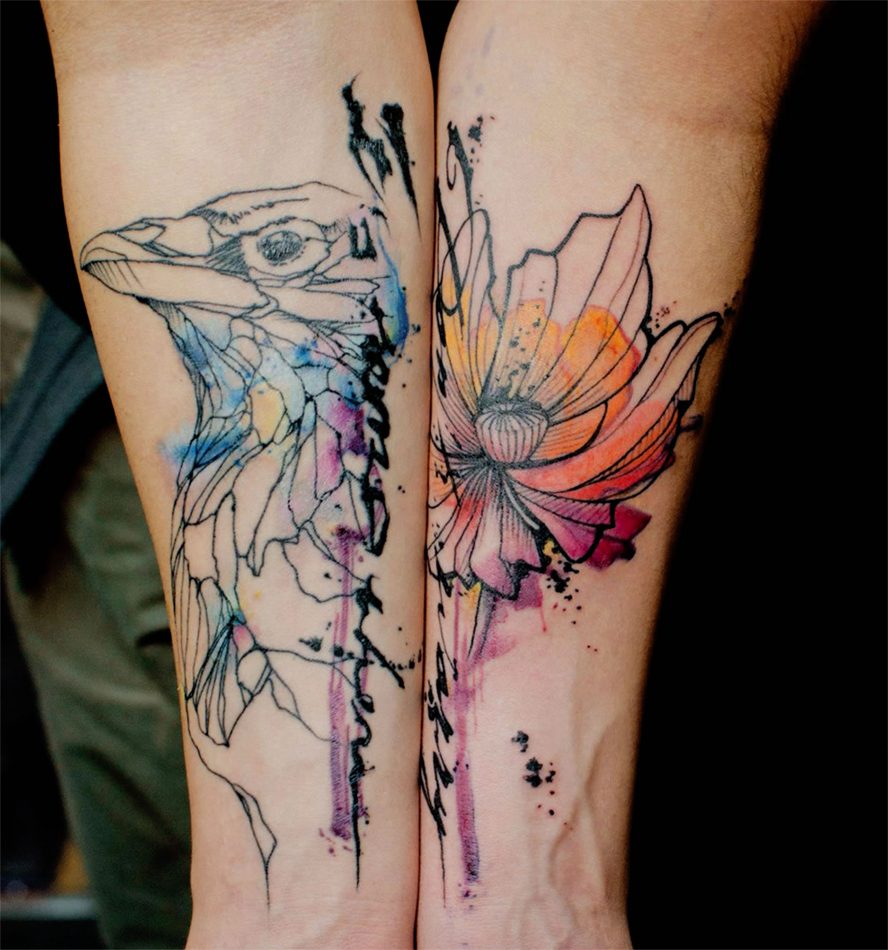 #12. Exotic Stag
A very interesting design featuring a deer and nature brought together. Quite intriguing design for nature lovers, the tattoo looks pretty on forearm. This tattoo makes use of all natural elements like water, earth, moon and animal colored in soothing shades. The overall impact is calming in impact and defines your nature-loving personality distinctly too.
#13. Green traveler
A tattoo with the design comprising of globe, a cyclist with a map and the stars emerging from the bag have a lot to tell. Ideal for the people who care for green ways of living, this tattoo tells you are an explorer with a cause and strive to shine up in any circumstances given.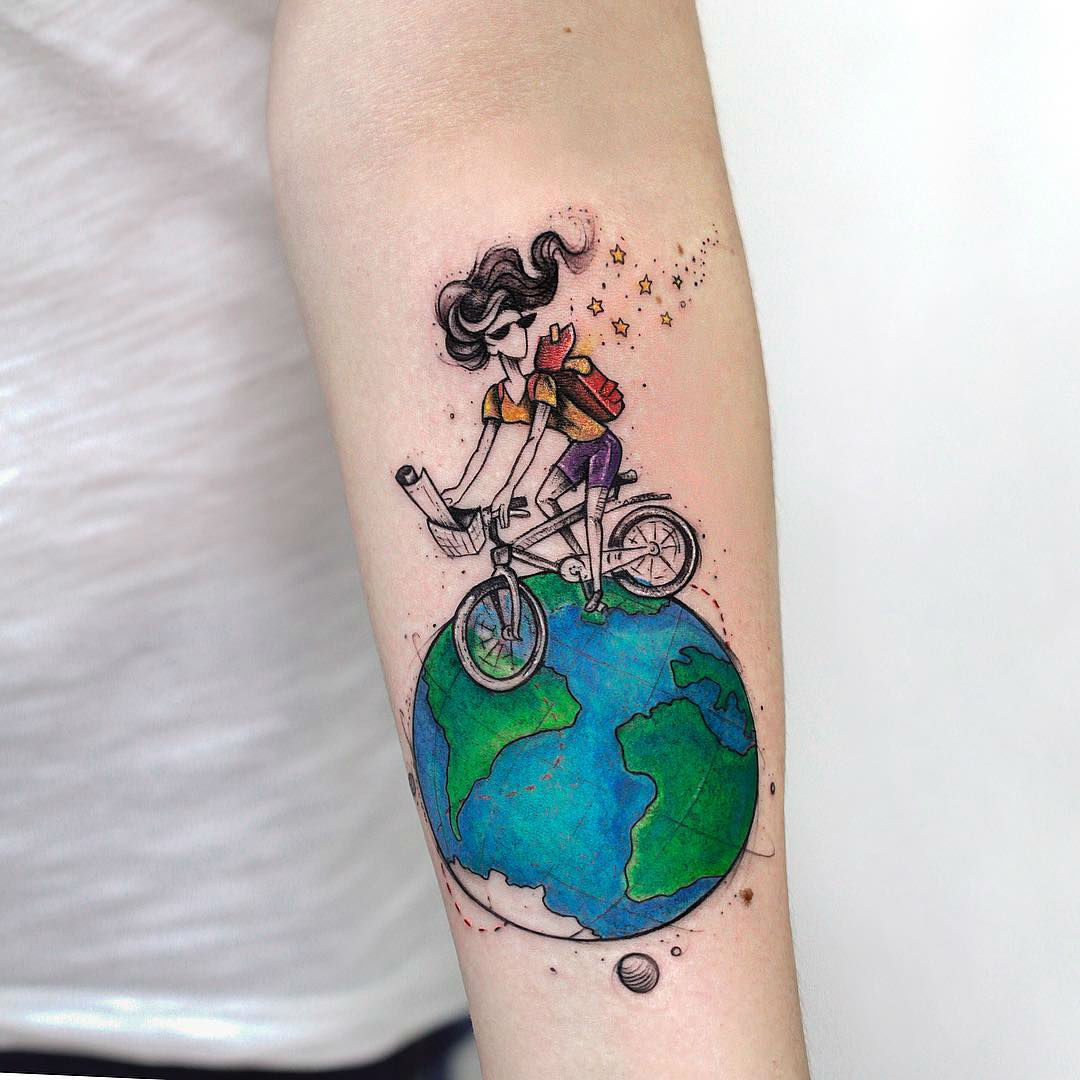 #14. Love Warrior
Colorful and vibrant as your personality is, this sword and rose tattoo adorns your arm beautifully. This tattoo expresses your kindness and love and also depicts your strong will-power; flowers and sword are representative of these aspects of your personality. Watercolor shades make this tattoo look stylish and with minimal touch-up, this tattoo is quite easy to maintain too.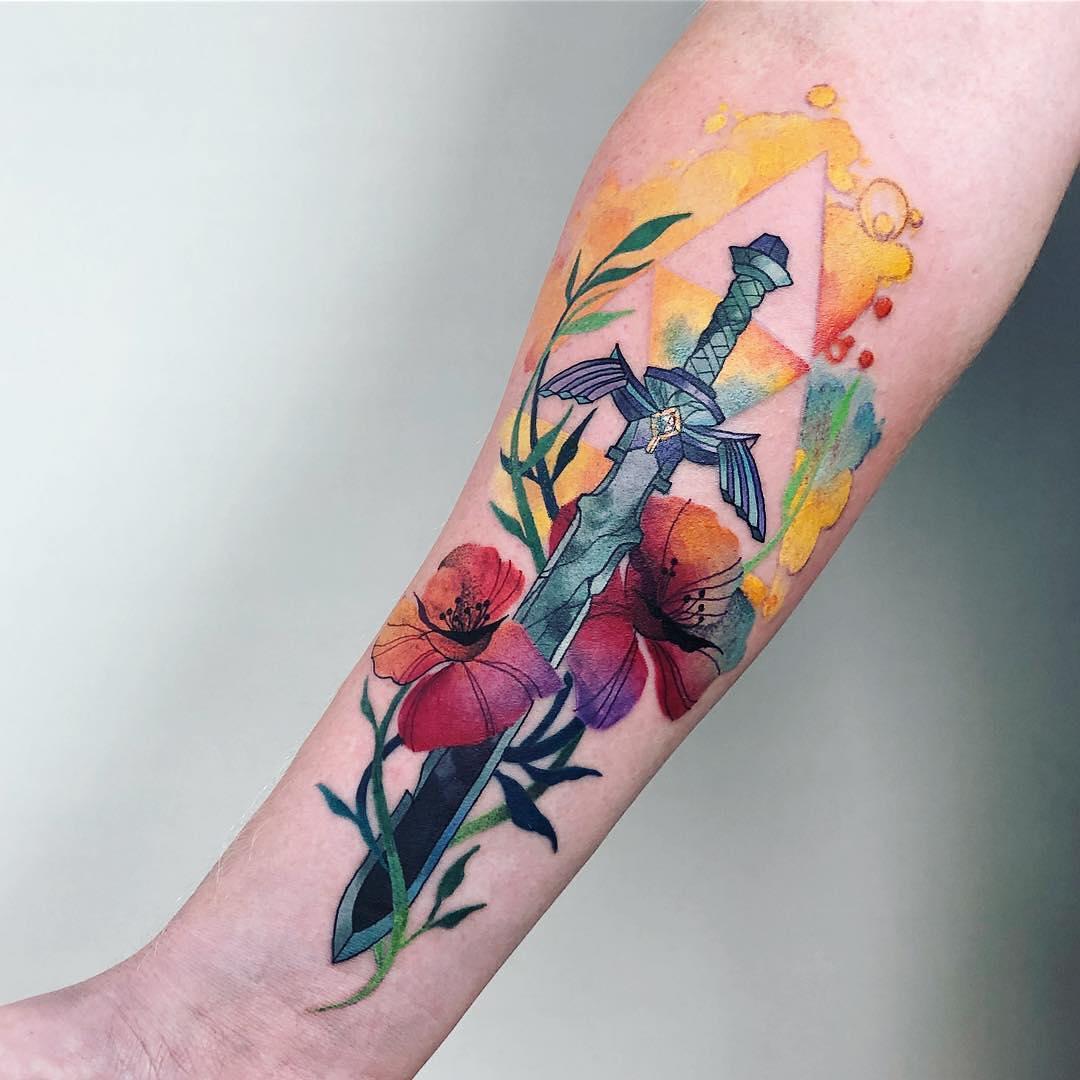 #15. Tree and Incomplete Circle Tattoo
A tree with no leaves enclosed inside an incomplete circle show a desire of finding someone or something to complete you. This tattoo features a black tree which shows your emotional exhaustion after a trauma, but the incomplete circle shows the desire to spring back again. Colors of blue and pink add stylish look and can be touched up when faded.
Other Articles