Cherry blossom tattoos are a popular choice of tattoos among females. They signify youth and the beauty of the female character. Cherry blossom tattoos also signify that we should enjoy our present and do not think much about the future as the cherry flower blossoms only for a short time during the spring season. They also symbolize wisdom and enlightenment.
As a female, there is no better choice than to go for cherry flowers. You can combine them with birds, butterflies, leaves, and branches to make them look really appealing to the eyes.
#1. Colourful red flowers tattoo
This tattoo is so beautiful and amazing that it is an instant eye-catcher. It looks really beautiful on the shoulders. You can also have them on your wrists and arms. The flowers signify you are an adorable and caring person. You share the bonds of love and unity.
#2. Beautiful cherry blossom flower tattoo
This tattoo is similar to the first one and is really magnificent. Anyone will adore this tattoo because it has been painted so beautifully. It shows your elegance and love for the pink colour which also resembles femininity. If your favourite colour is pink then you can have this tattoo.
#3. Flower on the hand
This is a simple tattoo of a pink cherry blossom flower. You can have this tattoo if you do not want to have a big sized tattoo-like in the previous tattoo. It also looks beautiful on the hands. It shows you are caring in nature.
#4. Flower behind the ear
This is also a small-sized tattoo which is looking really cute behind the ears. The pink shade is very light as you can see. If you like flowers then you can have these tattoos and you can have them anywhere as you wish.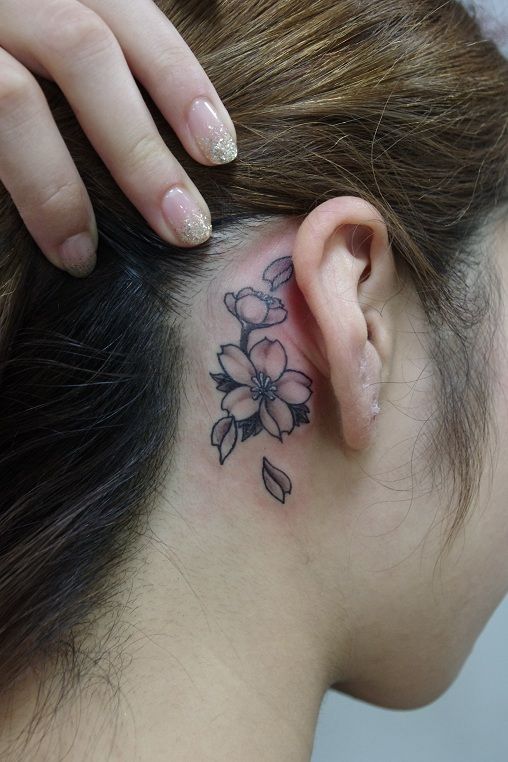 #5. Butterfly and the flower
This tattoo makes you stand out of the crowd because it almost seems real. All credit to the tattooist who has painted this tattoo using pink and yellow ink. If you like pink flowers and butterflies go for this elegant wrist tattoo.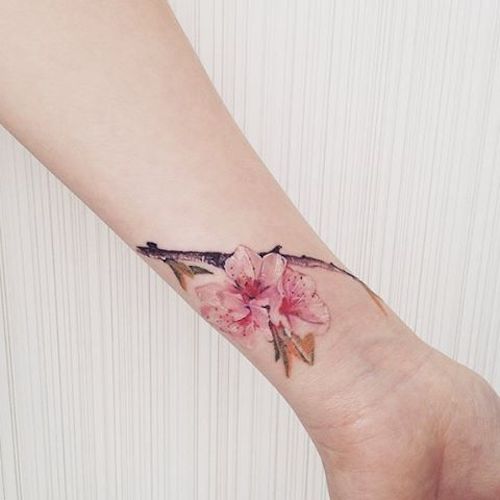 #6. Flowers with a message
This tattoo has been entirely crafted using pink ink. It is looking extremely beautiful on the feet. It is a really adorable tattoo with flowers and the petals. This tattoo would look really beautiful on the feet of young girls.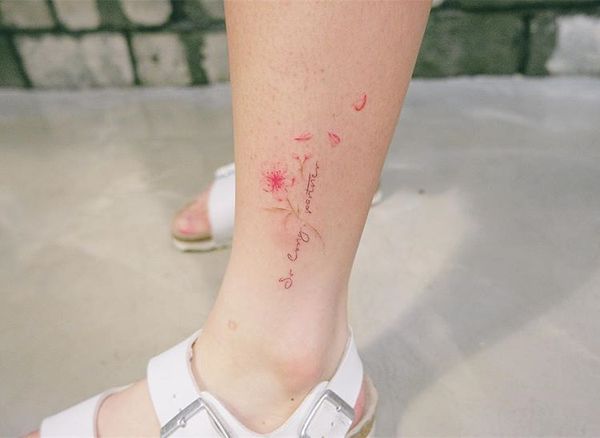 #7. Artistic Flower
This flower looks almost similar to a watercolour painting. If you have this tattoo on your hand any will fall in love with this tattoo. The pink colour has been used very wisely and not all part of the flower is filled with pink ink.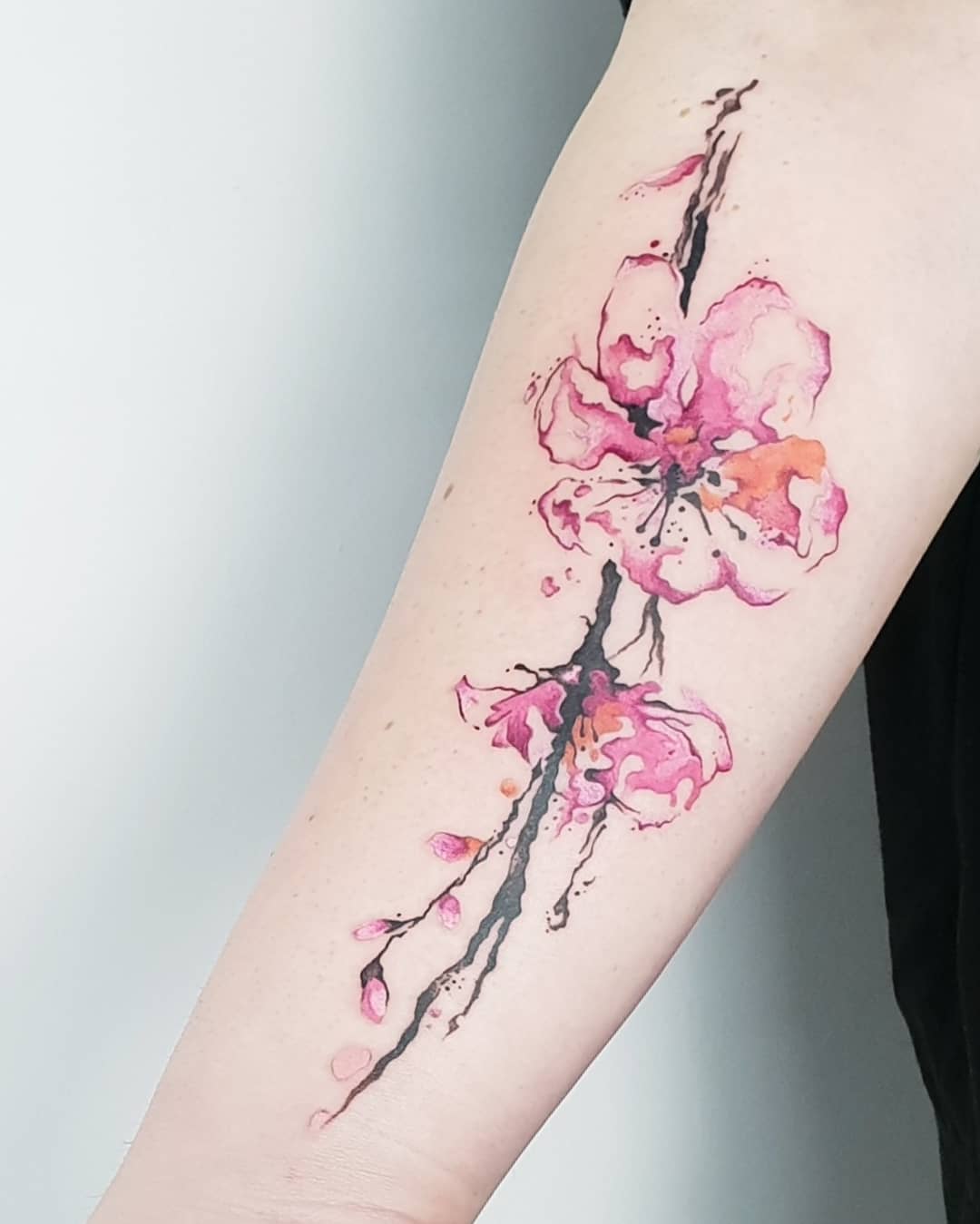 #8. Flowers and the crescent moon
This is also a beautiful and adorable tattoo with pink flowers and a crescent moon in the backdrop. The flowers seem to be hanging on the moon which gives it a unique look. The placement of the tattoo is ideal on the frontal part of the shoulders.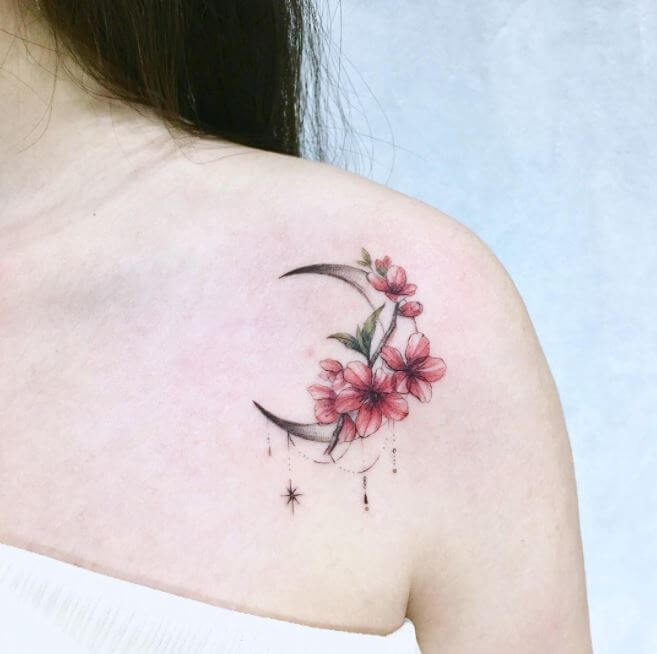 #9. Decorative feet tattoo
The pink flowers are really beautifully decorated along the feet. Wear a nice sandal or a shoe which complements the tattoo to give it a nice looks overall. The flowers make the feet of the lady really adorable and lovely.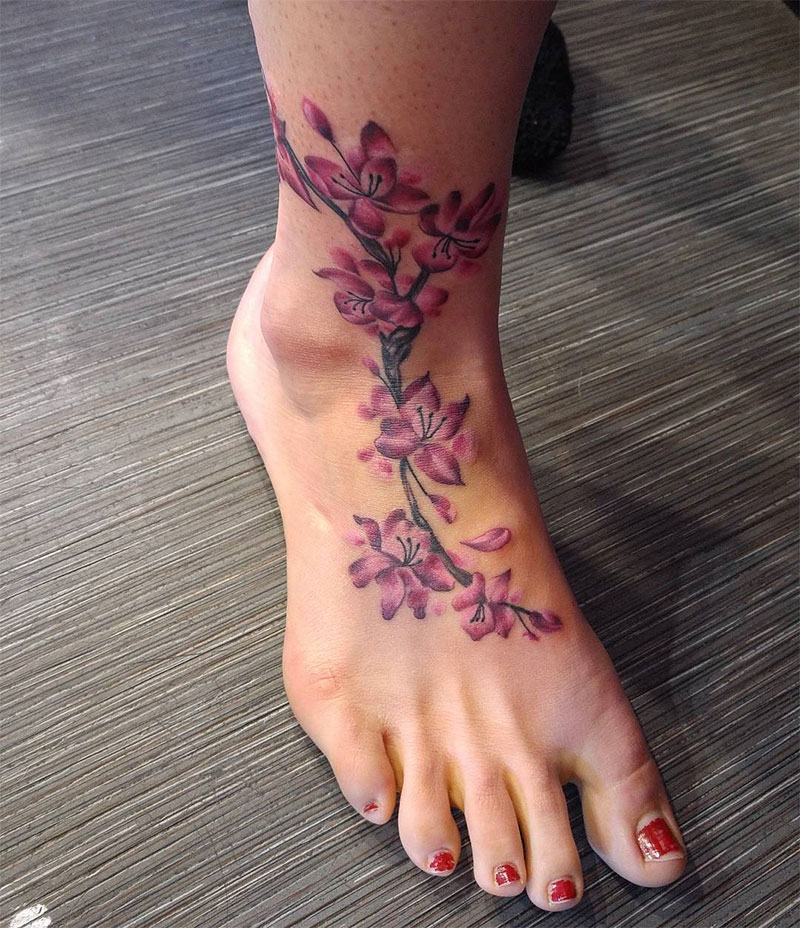 #10. Flowers and birds
This tattoo is really lovely and looks good on the shoulders. The flowers look magnificent as they have been coupled with the swallows. It resembles your overall beauty and tender nature. The petals also seem to fly with the birds.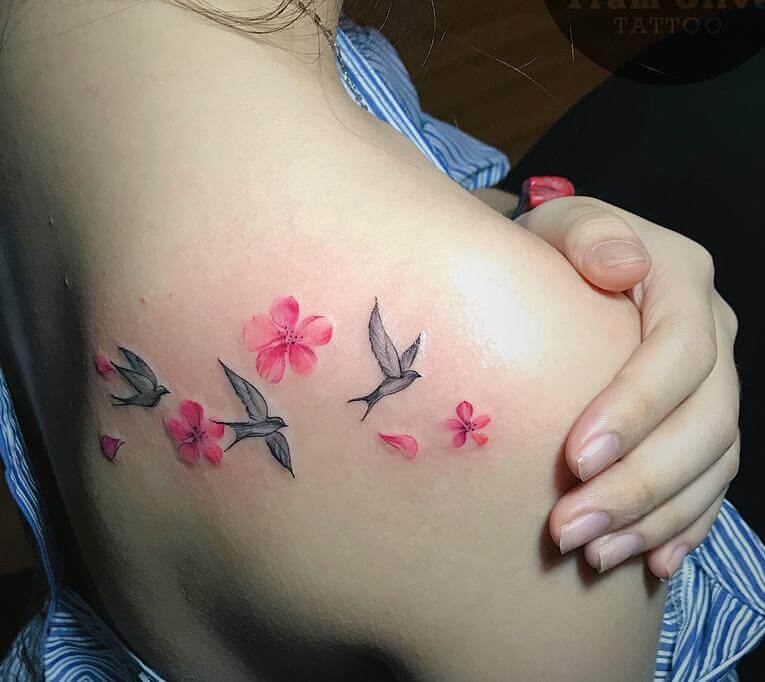 #11. A tendril of flowers
The tendril with pink flowers has been crafted in such a unique and flawless design that anyone would just keep watching on the tattoo. It is a very unique tattoo design idea along the shoulders. Show off this type of tattoo for your love of pink flowers.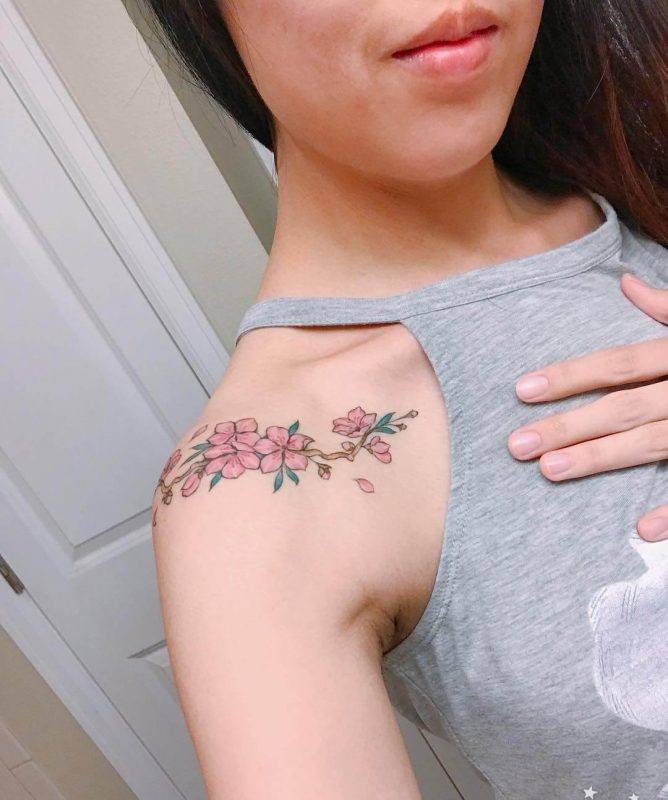 #12. Japanese flower art tattoo
This exemplary Japanese tattoo with pink flowers which give your shoulders a bright look. The tattoo looks rally magnificent on the frontal shoulder part. The main focus has been given to the flowers which have been combined with some petals.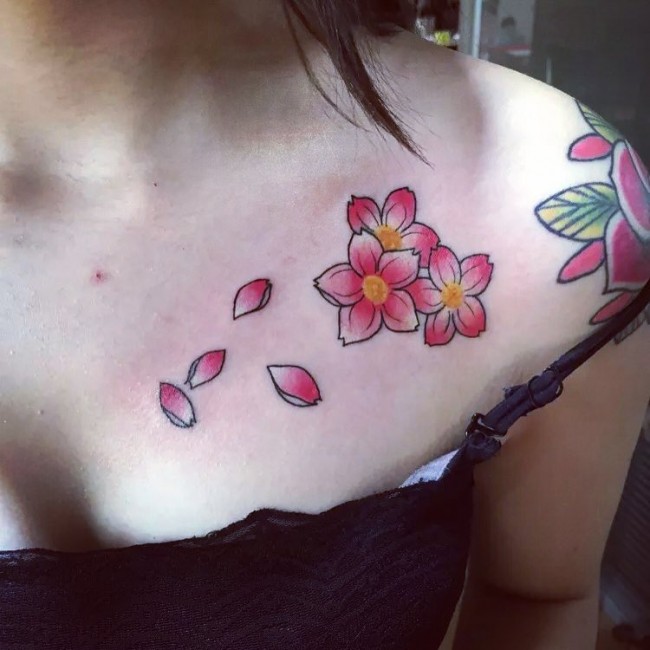 #13. Abstract art with flowers
You can have this tattoo if you want to show your love and friendship for your friend. The flowers on this tattoo have been made using very light pink shade which looks really soothing to the eyes. And the design has been left incomplete deliberately half of which has been made on the girl's arm.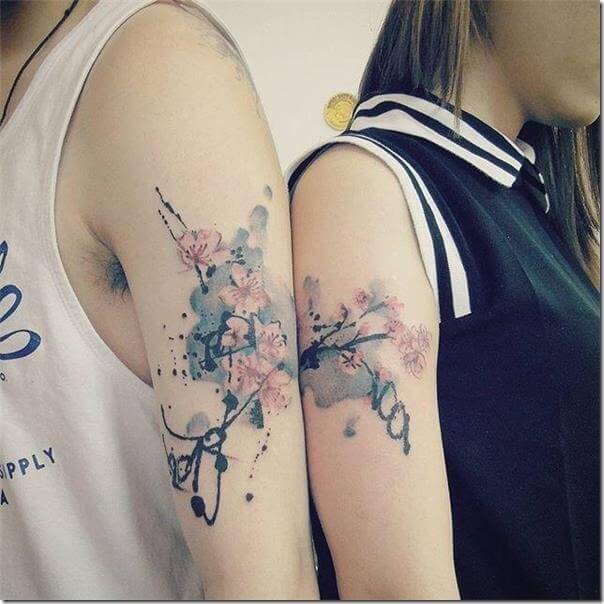 #14. Flowers with a message
This tattoo has been made with a message to make it unique and your version and style to it. If you feel that you should show what type of person you are when you combine beautiful pink flowers with a message that best describes you.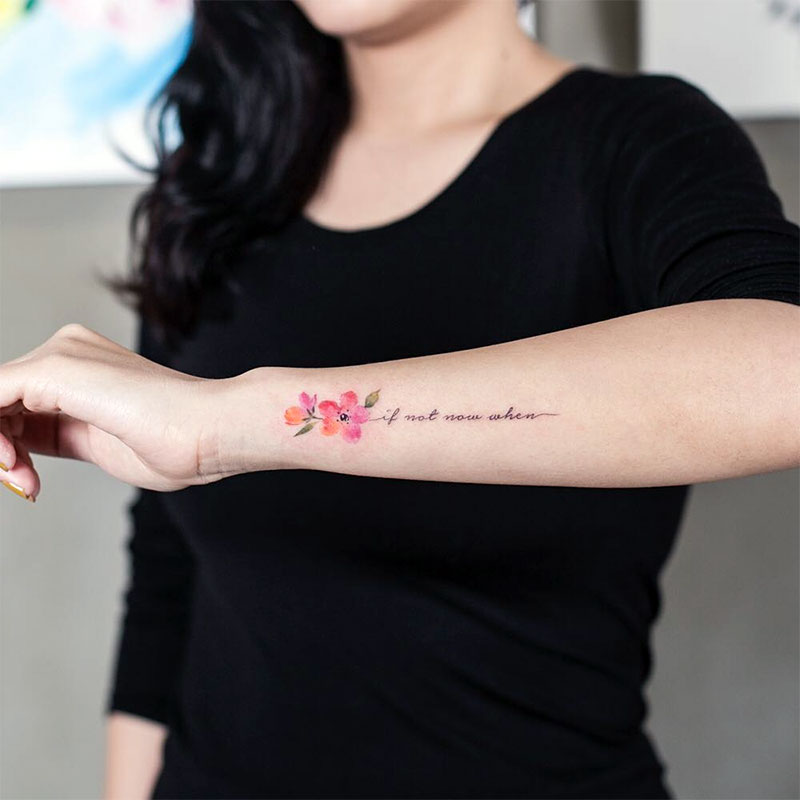 #15. Artistic pink flower tattoo
This tattoo is really unique and shows your love for big tattoos as well as flowers. If you want to have this type of a tattoo then you wear something that shows your tattoo and goes well with it. It really gives you a celebrity kind of look.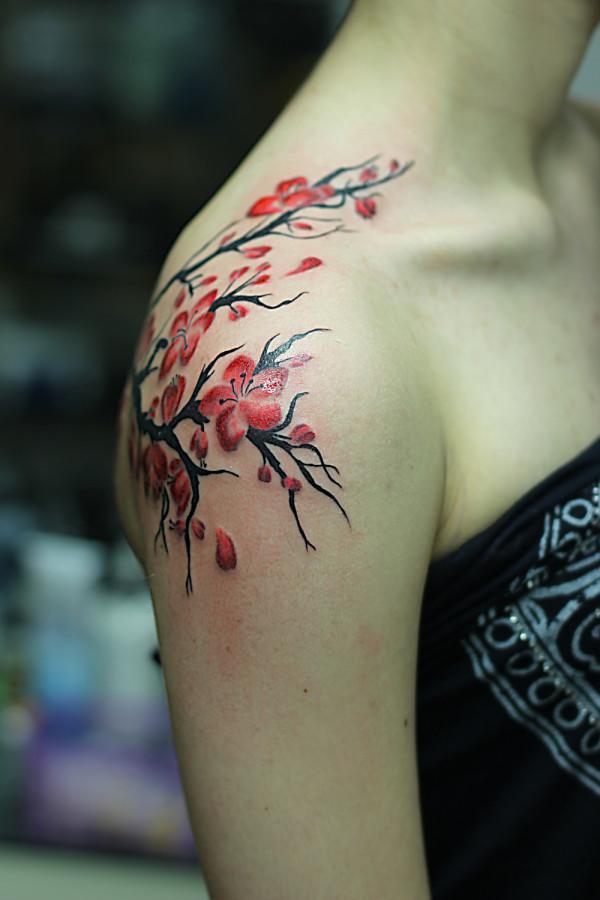 #16. Flowers on the shoulders
This is a small but beautiful and cute tattoo. You can have this tattoo if you are really want to have a tattoo and are a first-timer. It looks really simple but has an elegance about it because of the light pink shade which has been used on the flowers.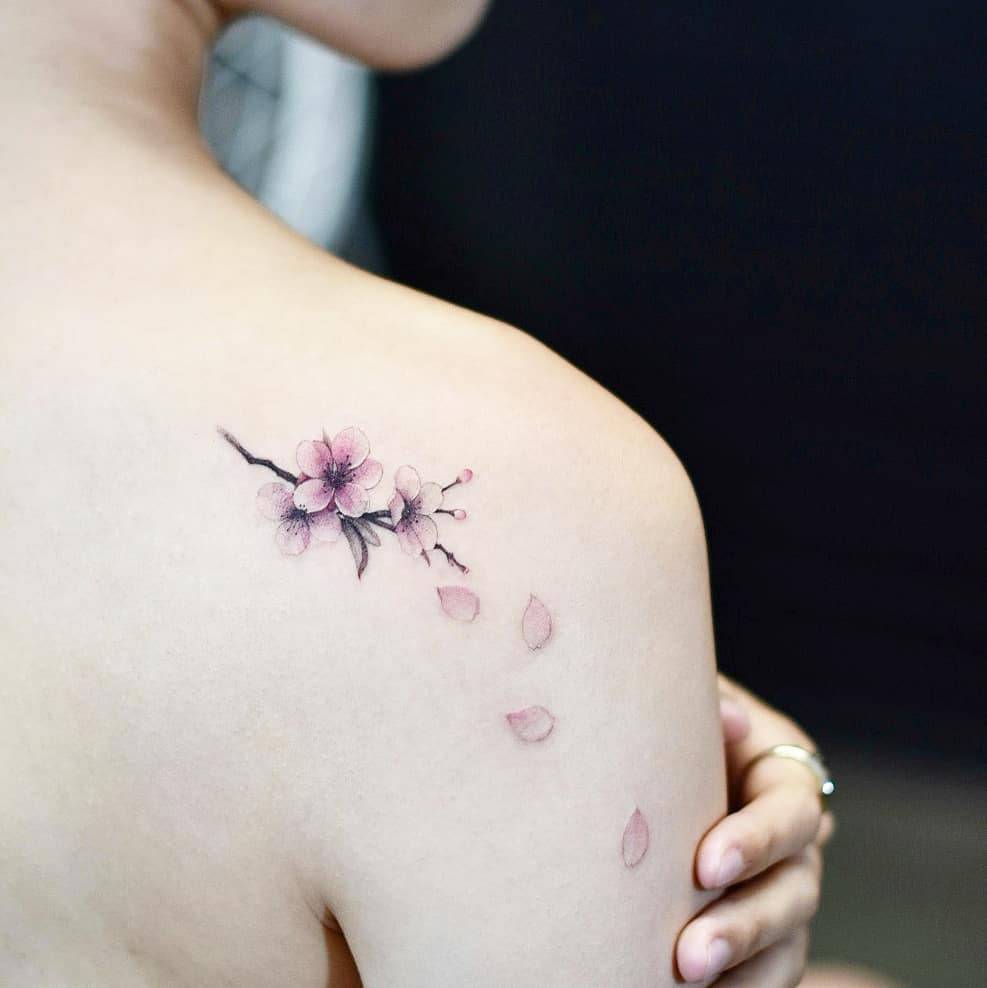 #17. Basic Pink flower
This tattoo is also simple for kids and girls who are having tattoos on their bodies for the first time. This tattoo can look beautiful anywhere on the body and can be best explained for its simplicity and tender look.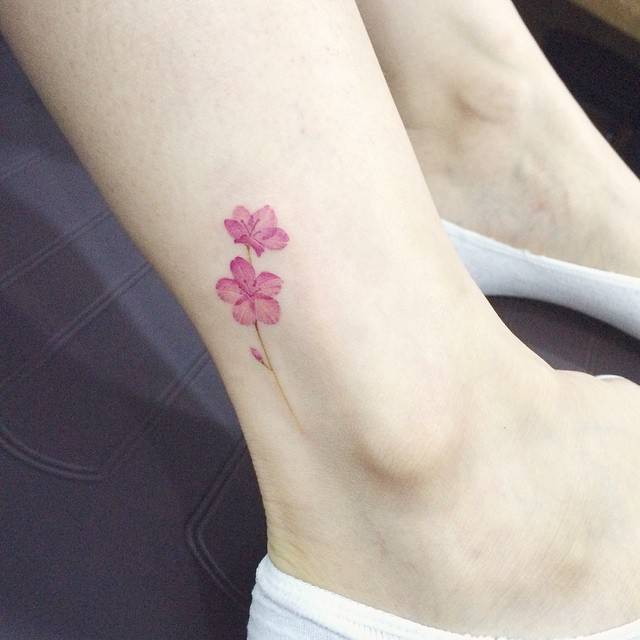 #18. Small flower tattoo
This is also a very basic and small-sized tattoo which any girl with love of tattoos can have on their body. The tattoo shows a single flower on the back of the girl which is looking really cute. Again, you can have this tattoo wherever you like.
#19. Full body art
This is only for the pros who have the real love for the tattoos and want to express themselves with the help of nice tattoos which cover almost all of the body. Unless you are a pro you can have some of the other designs. There are two branches along the two shoulders which kind of looks good and amazing.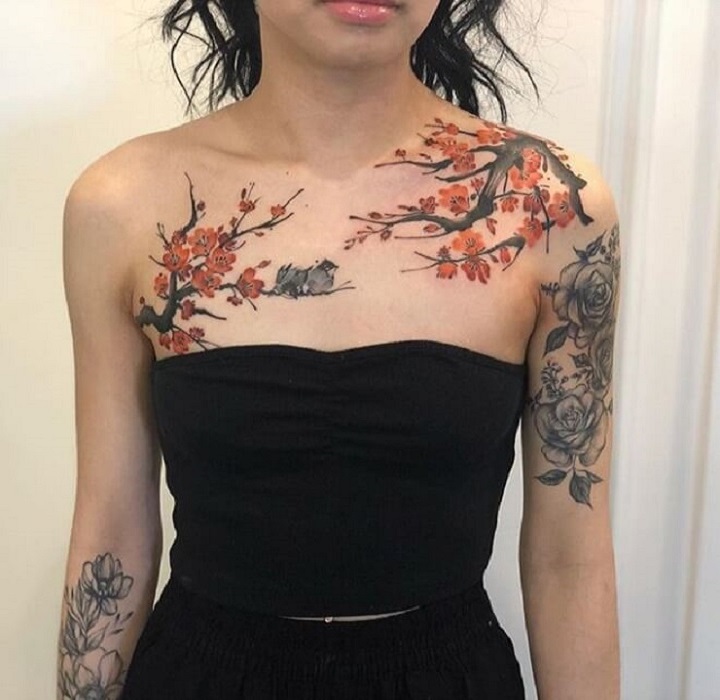 #20. Coupled flower tattoo
This also a basic tattoo and you can have it to show your love, affection, and care for your companion, spouse and best friend. The pink shade used in the two flowers is really beautiful and cute.