Arms are the most interesting place to have a tattoo on. When you want to go for sleeveless dresses or tank tops, or are a hunk with beefed up arms, you must think of getting arm tattoos inked. These tattoos accentuate arms beautifully. There are various arm tattoo design ideas that can help you voice your opinions or be instrumental in expressing your personality.
The best arm tattoo designs are the one that cover the arm extensively. Mostly, the insects, birds, stars, flowers or combination of flowers, and various others form great design ideas for arm tattoos. Couple tattoos also find the correct place in the arms when the people, deeply in love, want to share same or complementing tattoo.
Arm tattoos can be colorfully shaded with the bright and vibrant colors using fading technique. These speak volumes in the typical black and blue color too. Things like Anchor, Cross Sign, Cage and Bird, Pollinating insect, and several interesting ideas add to the style quotient of the arm tattoos. And what more, flaunting arm tattoos does not require more than going sleeveless. So, you can be in your most comfortable attire to make a fashion statement with the best looking arm tattoo designs.
1. Flying reptile
Reptiles stand for fierceness and wings show independence. So, if you are fiercely independent in the way of your living, you can embrace this magnificent arm tattoo. The tattoo also shows your ability to survive the most difficult of the situations. This tattoo covers almost the whole of the arm and looks great with sleeveless T-shirts.
2. Tiger and Roses
It is one of the most extensive designs available in arm tattoos. Tiger stands for authority and leadership; roses show kind and loving heart. And there is a time-keeper too in the tattoo, which tells the story of your transformation. Emerging winner while keeping the kindness intact through testing times – this tattoo sends across this message beautifully.
3. Princess's Cat
Beautiful tattoo featuring a girl with a pet in the lap. The bottom outline of flowers shows beauty of the girl's life. The picture of girl stands for self-awareness. Neatly set hair shows love for orderliness and conformity to the trends. This tattoo is ideal for forearms and is one of the cleanest adornments available for the girls.
4. Music called 'Life'
Colorful tattoo that goes from the top to the end of the arm. The tattoo features sunflower, roses and other flowers and butterfly. All these beautiful elements show artistic nature of the woman. A music note as finger tattoo tells great deal about the liking for beauty and art. This tattoo looks great on shapely arms.
5. Flight of bird
Interesting tattoo meant for the outer side of arms. This tattoo looks great on both men and women. It features a flight of the bird caught in a panoramic view. Amazing tattoo idea to show your love for freedom and to try new ventures. Perfect for the people with love for life and exploration.
6. Pair of roses
Two roses carved one above the other and enclosed by geometrical figures feature this tattoo. Love for life and kindness and the ability to think positively while conforming to the norms are depicted efficiently in this tattoo.
7. Waves of Sea
A tattoo with quite fuller look, this adorns the inner arm beautifully. The waves appearing parallelly show perfection in the way of doing things. Life is never going the same pace is depicted best way in this tattoo. So, when you identify the ups and downs and lucidity of life, you can use this tattoo.
8. Quote tattoo
'Everything happens for a reason' tattoo is the perfect option for embellishing the outer side of forearm. This tattoo explains your life philosophy in clear and simple words. Using quote tattoo shows you tend to talk straight and are ready as well as prepared to take the responsibility of actions and words too.
9. Branch of flowers
The unique part of this tattoo is that the branch contains different flowers. So, you are a gregarious person who appreciate the differences and love the life for its diversity. Your connection to the God is deep and you truly appreciate the nature and life created by the Almighty. Nice tattoo for middle portions of arms.
10. Sleeve tattoo
This tattoo presents a beautiful and well-furnished pattern. It shows the love for perfection in an explicitly. Comprising of various uniform and geometrical shapes, this tattoo is made using blue ink. It covers the whole arm beautifully and looks like a figure-hugging sleeve made in an elaborate design. A stylish tattoo for men.
11. Guitar
A tattoo that features a guitar inks the forearm beautifully. It effortlessly shows your love for music. You also can express your jovial and romantic side with this guitar tattoo. The tattoo is good for both men and women. Its vague boundaries show your desire to not stay limited to a certain pattern of life.
12. Flowers and an admirer
Flowers, beads and an animal seemingly enjoying the fragrance of flower and the food feature this tattoo for girls forearms. This tattoo is exceptionally neat and its finishing is extra-ordinary. It is a great expression of your love for beauty and nature. This tattoo stands apart in style and is perfect for nature lovers.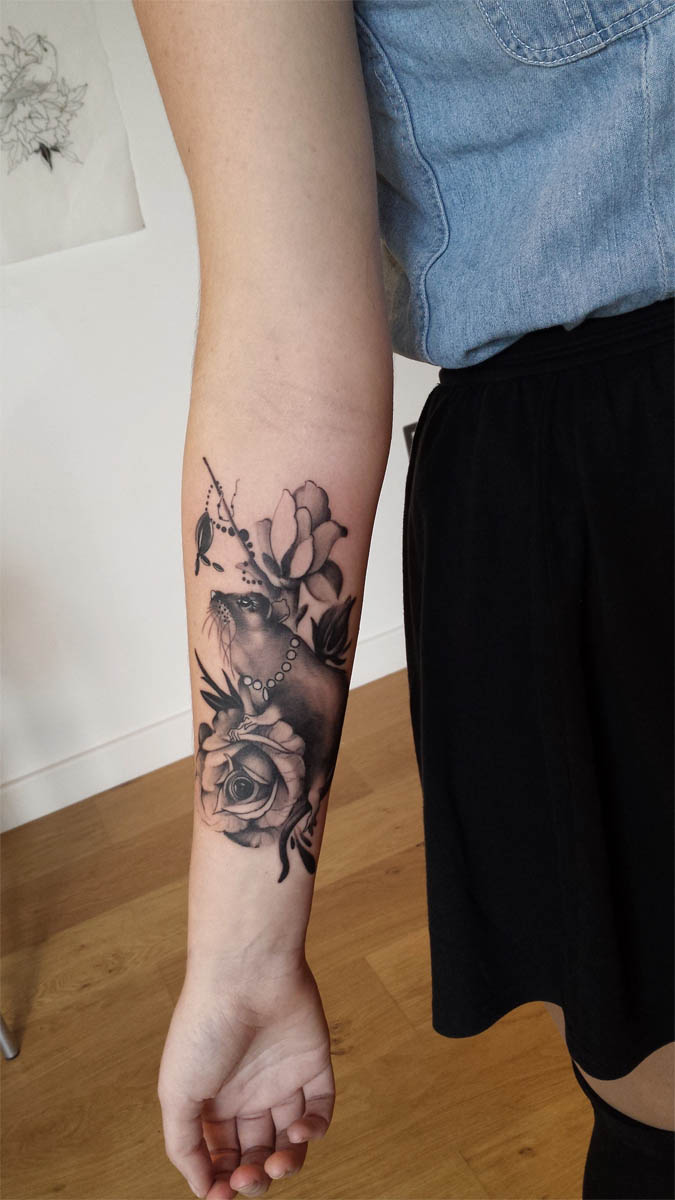 13. Bounded arrow
An arrow tattoo like this is unique and interesting in design. It features circles, leaves and also the peacock feather, giving it an abstract appeal. This tattoo is good for the forearms inner side and expresses the feeling of determination despite all distractions. Amazing way to express determination, this tattoo is ideal for men.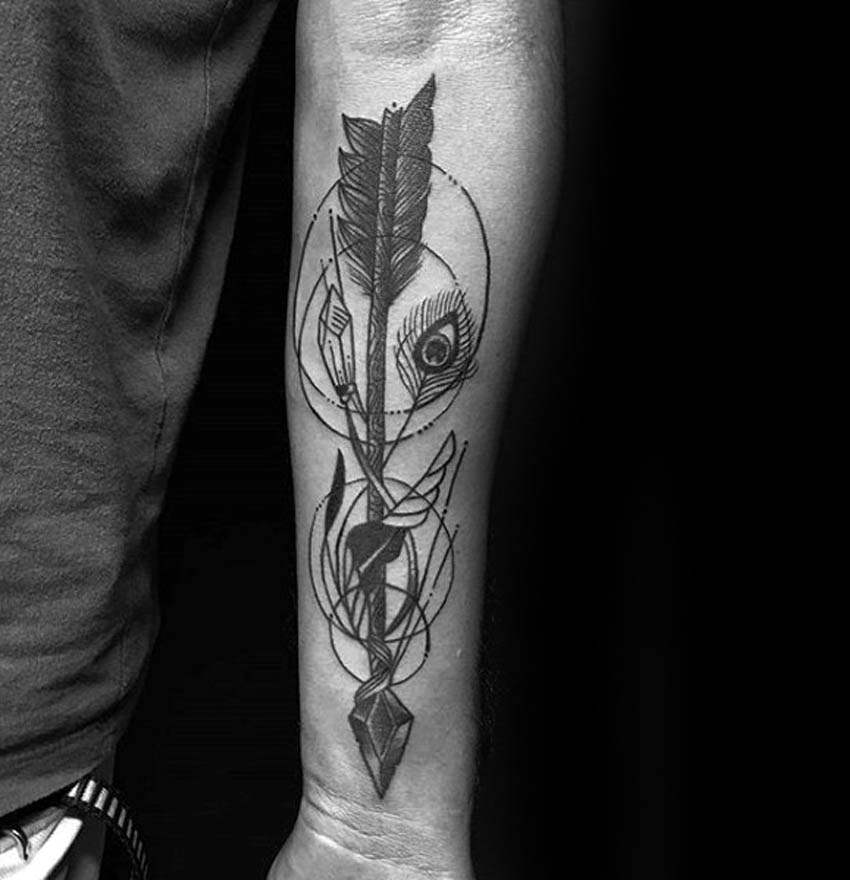 14. Three Arrows
Beautiful arrow tattoo for arms. This tattoo can be inked on the inner side of forearms. It represents three phases of time – past, present and future. You can express your determination and the desire to make things better with time through this tattoo. A wanderer, out on a journey, is expressed stylishly with this arm tattoo.
15. Bouquet of flowers
Life is a beautiful gift – this tattoo expresses this though beautifully! When you feel blessed with the best of the things, and have lot of love and admiration for the life and its beauty, you can express it with the help of this tattoo. Quite feminine in look, this tattoo is good option for women.
16. Beautiful Garden
Flowers are not alone in a garden. There are birds chirping over them too. The diversity of life and the love for this diversity is expressed beautifully in the tattoo. It covers the arm completely and makes amazing design idea for the men in love with beauty and life.
17. World Map
Unique tattoo that features a world map and the coordinates. You certainly are a traveler and seem to have reached a destination when you wear this tattoo. It is an interesting tattoo design that expresses wholeness of the Earth. This tattoo covers the inside of the forearm beautifully and coordinates complete it in style.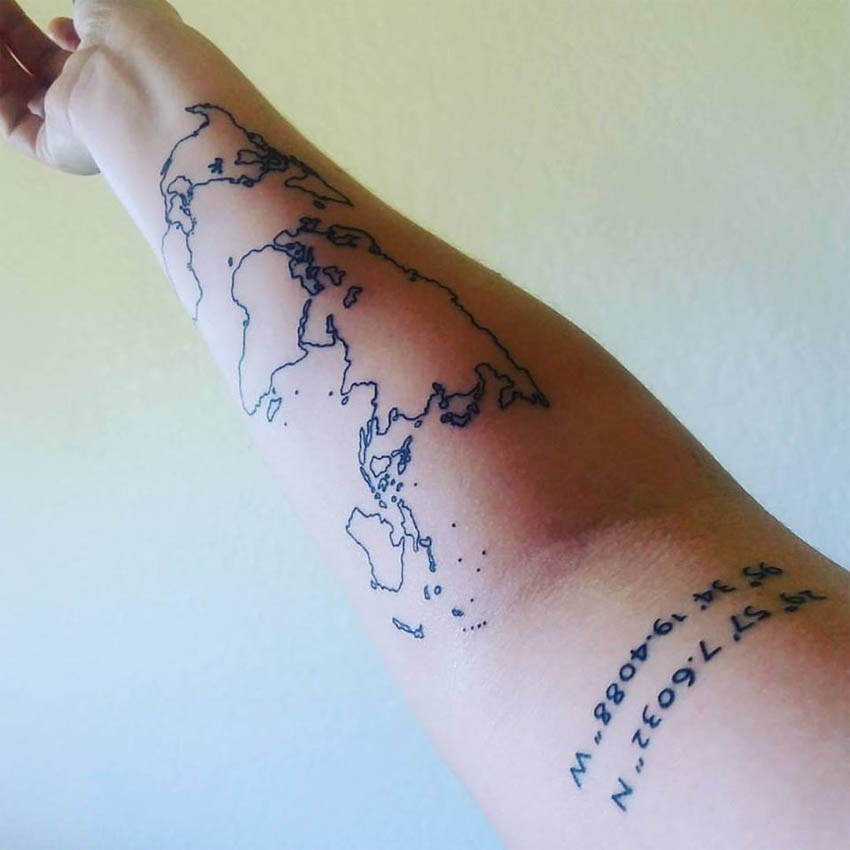 18. Flowers and Quotes
When you are loving the idea of freedom and of living independently, this tattoo expresses your desire beautifully. Colors, flowers and beautiful quote make great addition to your arm. There is a sense of release of emotions, and of breaking of shackles of norms in this tattoo.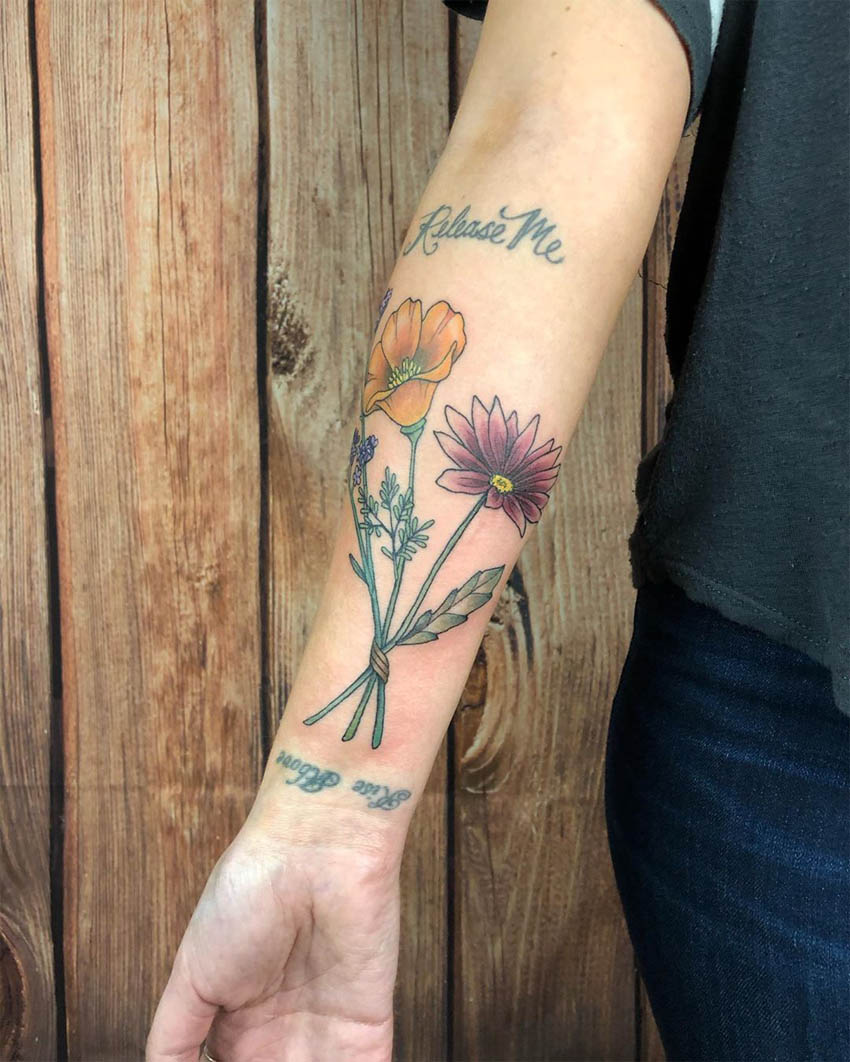 19. Palm Tree Tattoo
A small tattoo that fits the forearm beautifully. This tattoo features a tree standing alone and tall. So, when you are determined to keep sailing against the odds in life, you can say it all with this tattoo. Beautiful tattoo idea for arms, this design fits women more adorably and defines the feminism conspicuously.
20. Abstract Flower
This abstract tattoo resembling a flower show interest in being different. It features blue color splashes at the top and bottom and the whole design appears like a stroke of paint brush. Dots of black color add a feeling of path less treaded. This tattoo stands out in appeal and looks great on boys.
21. Flower wristband
Twigs containing flowers and the two dark lines defining the boundary of the design feature in this tattoo. This tattoo works as great alternative to a wristband which would never lose its beauty.It is an impressive tattoo design for both men and women. Flowers express your admiration for nature and beautiful things that life offers.
22. Love always
Couple tattoo for arms featuring a flowering branch. This tattoo can be a nice representation of a growing relationship. It is simple and carries immense beauty in its subtlety. This tattoo is ideal for the couple in love. It is easy to maintain and helps staying stylish without being loud about the fashion.
Other Articles