Compass tattoo is a very appealing design. It suits both men and women. It is, however, liked more by men. The compass tattoo design ideas stand apart in appeal as these tattoos look very clean and diligently inked. The best places on the body to have compass tattoos inked are the biceps and forearms as there are least curves to interfere with the design. Men prefer having compass tattoo on the chest and upper backs where these come out in all their glory.
Compass tattoos look equally nice on women as on males. Women can get these tattoos inked on ankle, wrist, elbow, thigh, hip, back, back of the neck, side of the neck and so on. Compass can be carved in combination with other elements like arrow, airplane, flowers, star. Some abstract designs can also have compass as their focal element. Compass tattoos can be colored using watercolor.
These tattoos having various elements have interesting meanings. Heart compass means you let your heart decide your actions, nautical compass means peace and harmony, rose compass means search for love, star compass stands for desire for guidance, compass and anchor together represent religious guidance. The compass tattoo designs can be simple as well as elaborate and can give you a distinct fashionable appeal.
1.  Rose Tattoo
Rose Tattoo, as depicted in this design, stands for deep desire for love and compassion. Covering the arm fully and lot of region shaded, this tattoo offers interesting adornment for the men's arms. These look great alone as well as when coupled with some bracelets. Stylish décor elements show your desire for perfection.
2. Nautical compass
The compass along with the direction indicating arrows show immersion in search. It has incomplete boundaries which stand for in the middle of journey. This tattoo looks great on women. Ideal site will be the upper back for this tattoo. It also has a twinkling star like look that makes it an interesting rip off of the normal compass design.
3. Carpe Diem Compass
This tattoo is flawlessness exemplified. The surrounding design of the compass is elaborate. While compass stands for direction or search, the quote carpe diem shows you are the person of present. Living present to the fullest is demonstrated beautifully in this compass tattoo design. It looks the best on arms and back.
4. Arrow compass with dog
This compass tattoo is beautiful presentation of the feeling of search for a companion. It has arrow that stands for determination. You can express your friendly self with this tattoo. This compass tattoo design looks amazing on arms and looks the best when you dress in sleeveless vest. Ideal tattoo for men!
5. Compass couple tattoo
An innovative tattoo design idea for couples! When you embark upon a new journey or are out searching for new adventure or way of living, this tattoo helps demonstrate the emotion beautifully. This tattoo is mostly inked on the outer side of the lower leg. It can be carved on the arms too.
6. Lost in Search
Arrow and compass integrated in this tattoo design are brought together a bit shabbily. This shows the want to search and reach unknown destinations in life. It is a great tattoo design idea for men. The area of forearm below the elbow can be a good location for inking this tattoo.
7. Timekeeper compass
Timekeeper and compass are inked in pair in this design. Thus, you believe in the timelessness of the idea of searching. We all are here to search and lead the life in a direction. This is expressed beautifully in this compass tattoo. Below elbow, calves or back are the ideal spots for this tattoo.
8. World Map Compass Tattoo
Your desire to be a globe-trotter comes out beautifully in this world map compass tattoo. World is your oyster and you desire to be a global citizen. You can express it well with this arm tattoo featuring compass inside a world map. It looks the best on forearms and chest.
9. America's Delight Compass Tattoo
Ideal for the US residents, this tattoo features compass along with the map of South America. The black background makes this tattoo more stylish. If you want to portray your place of stay in the US, this tattoo does the job exceptionally well. Good for arms mostly, you can have it on the back and chest too.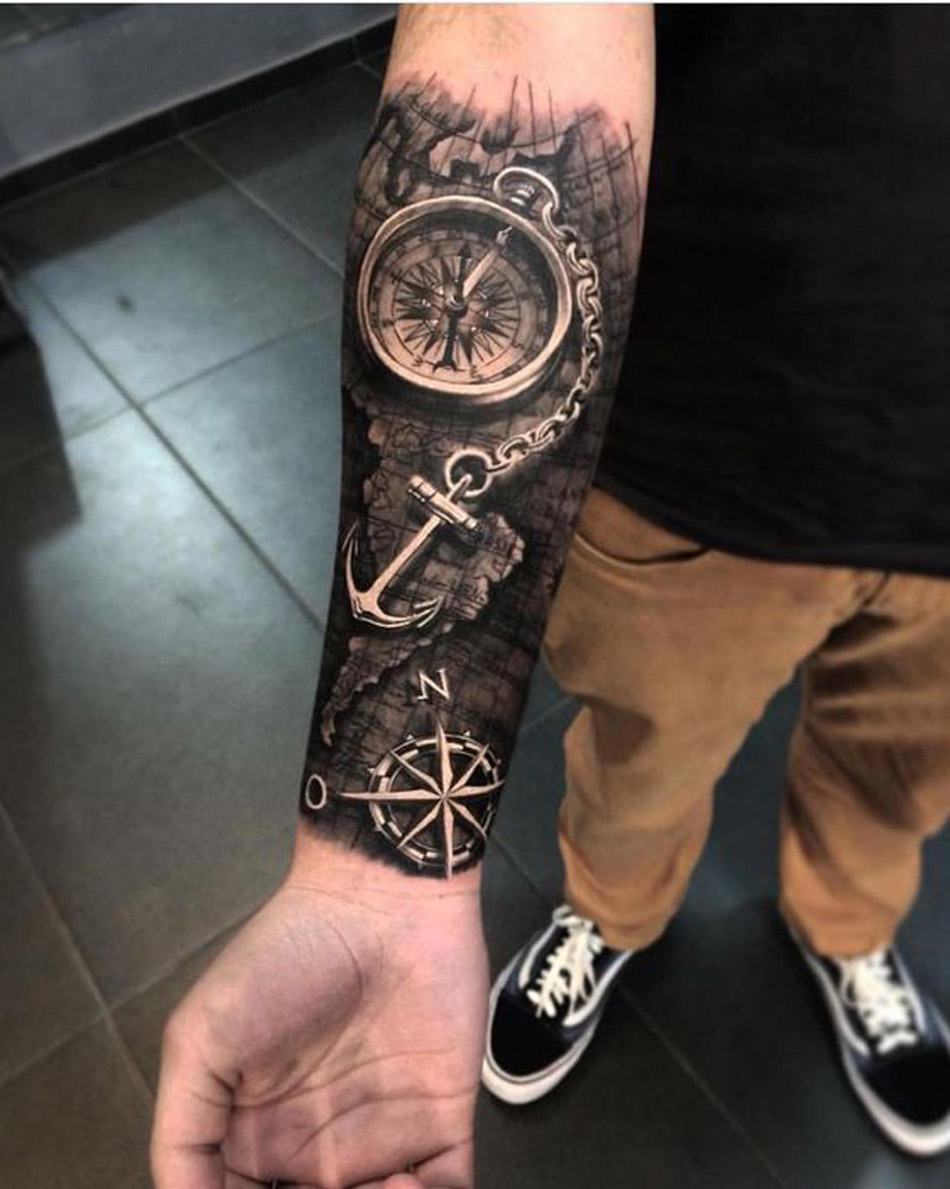 10. First World Compass Tattoo
A tattoo with elaborate design features map background, compass, butterfly and roses. This tattoo expresses your love for beauty, your search for companion and love for travel. Arms are the best place to get this tattoo inked. You can also have the calf or the chest inked with this compass tattoo.
11. Directions Compass Tattoo
It is the simplest design in compass tattoo category. This design shows initials of directions and it resembles a twinkling star. This tattoo design shows your clarity of mind regarding your destination. Compass tattoo of this style can be made on arm, back of neck, side of neck, above ankle; to name a few spots.
12. Date  and Arrow Compass Tattoo
Colorful tattoo with blue patches resembling clouds and water. The arrow transverse and diagonal represent your multiple interests, design of arrows stand for determination and date can be a target or the date when you got it inked. It is best suited for arms, upper back, near the spine and shoulder.
13. Dotted Compass
Very beautiful tattoo having feminine appeal. This tattoo is the best suited for wrist, back of neck, calf, thigh, back of palm, forearm and upper arm. It features dotted compass design and an anchor-like element that shows the determination and want to reach the destination while keeping the softness of character intact.
14. Wind Chime Compass Tattoo
Stylish design of this compass tattoo features arrows, half moon, compass and an aura-like element. It resembles a wind chime closely which is actually attracts good luck. So, when you are in search of happy times and are working towards the same too, you can get this tattoo. Beautiful tattoo for women, it looks the best on back and stomach.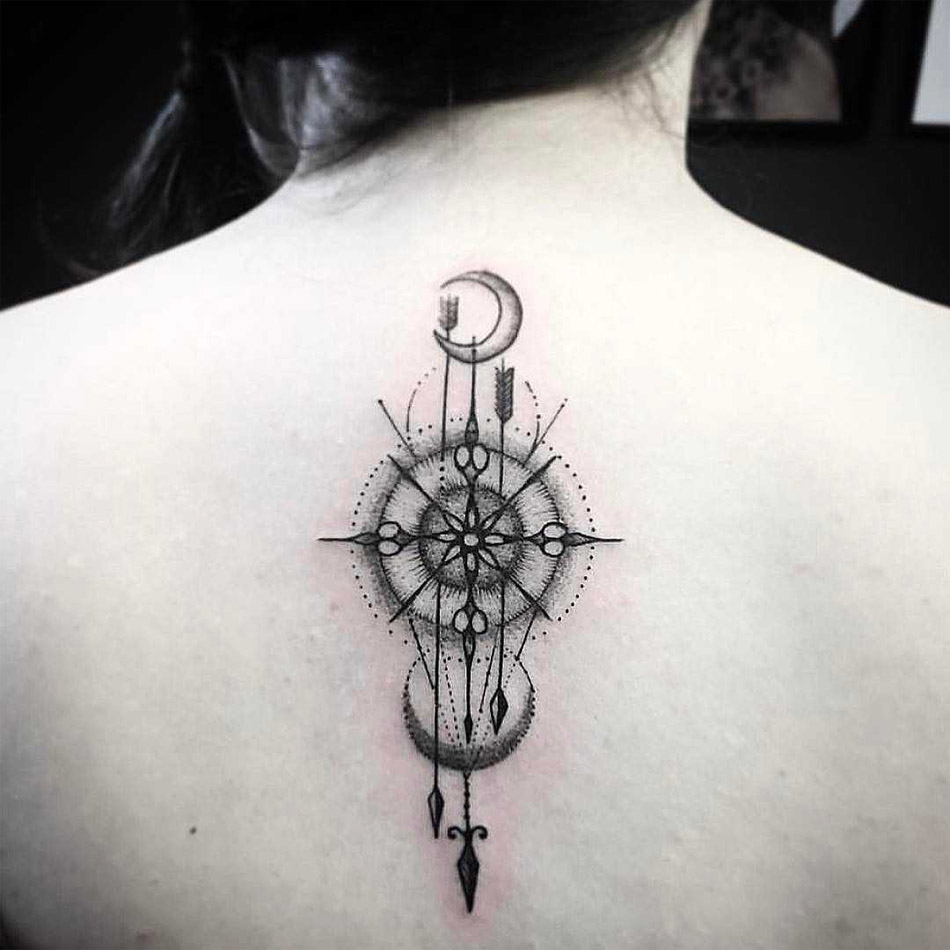 15. Nature Compass Tattoo
A dog and impression of pine trees in its body speak volumes about your love for nature. The compass stands for search and the dog represents the search for companion. The nature lovers who have the highest regards for nature can get this tattoo. Some geometrical figures add abstractness to this tattoo.