Compass tattoo is a very appealing design. It suits both men and women. It is, however, liked more by men. The compass tattoo design ideas stand apart in appeal as these tattoos look very clean and diligently inked. The best places on the body to have compass tattoos inked are the biceps and forearms as there are least curves to interfere with the design. Men prefer having compass tattoo on the chest and upper backs where these come out in all their glory.
Compass tattoos look equally nice on women as on males. Women can get these tattoos inked on ankle, wrist, elbow, thigh, hip, back, back of the neck, side of the neck and so on. Compass can be carved in combination with other elements like arrow, airplane, flowers, star. Some abstract designs can also have compass as their focal element. Compass tattoos can be colored using watercolor.
These tattoos having various elements have interesting meanings. Heart compass means you let your heart decide your actions, nautical compass means peace and harmony, rose compass means search for love, star compass stands for desire for guidance, compass and anchor together represent religious guidance. The compass tattoo designs can be simple as well as elaborate and can give you a distinct fashionable appeal.
1. Water colour Compass Tattoo
If you like colour and enjoy water colour splashes or dramatic imagery, this is the one for you. The water colour depicts your eccentric nature as well as your ability to adapt quickly and adjust to any given situation. A compass will represent your ever-changing personality.
2. Viking Compass Tattoo
Thigh or leg tattoos are very popular among males who want to appear powerful and manly. You can also get this thigh tattoo if you're a stunning woman who likes to stand out at all times. You will symbolize your individuality and your eternally lost soul searching for significance.
3. Nautical Compass Tattoo
This image of a compass with a feather is for spiritual and creative people. It allows you to share your full potential and adventure with others. If you're striving to overcome adversity and need some assistance, you'll appreciate the beauty of this tattoo. It will demonstrate to people that you are always capable of relying on your true self.
4. Compass & Anchor Tattoo
Chest tattoos are for those who appreciate bold ink. If you work out and are always looking for new opportunities in life, this one will take you 4-6 hours to complete. Compass and chest tattoos represent power and those always looking for rightful and magnificent times. This is a great anchor tattoo concept if you're a showman.
5. Compass & The Sea Tattoo
If you're terrified of the tattooing procedure and want something quick and simple, this is excellent. It also won't harm because of its practical placement. The wave emblem on your compass will represent your bravery in battling and conquering the storm. You can get this tattoo if you're continually looking for redemption.
6. Compass Nature Inspired Tattoo
Are you a wildlife enthusiast? What about someone who appreciates life's beauty? If you trust nature and work to preserve it, this compass inspiration is for you. Green is a colour associated with riches. It'll show the world who you are-a nurtured and realistic person.
7. World Of Map Compass Tattoo
How desperately do you want to travel? Are you attempting to dominate the entire world? If you're looking for something beautiful and geometric to represent your new adventure, this is it. This artwork represents your determination and power to conquer the world and embrace change. If you can easily adjust to new situations and are always looking for new adventures, this map of the world compass tattoo will indicate it.
8. Wrist Compass Tattoo
Wrist tattoos are for people who want smaller, more whimsical tattoos. If you like beautiful and precise ink, you'll love this heavenly concept for a quick and easy two-hour tattoo. This is a regular and popular compass tattoo that will symbolize your individuality and life goals. Give this a try if you like cute and spectacular concepts that will aid you in life and with your direction!
9. Palm Wrist Compass Tattoo
Finally, you can either adore or slay arm or palm tattoos. Try this black-and-white compass tattoo if you want to look unique and enjoy unusual ideas. Make this design emotionally resonant by adding the term and sentence "never". You'll remind yourself that it is never too late to bring a change or to begin your new adventure.
10. Chest Masculine Compass Tattoo
In case you work out or are looking for breast designs, this is the perfect option. Guys who like to seem manly and prefer authentic tattoos would appreciate this. A compass above your heart can represent your difficulties and your difficult love life. We all confront difficult relationship circumstances, but learning how to deal with or conquer them should be on your to-do list.
11. Boat Compass Tattoo
This tattoo is for people who want smaller, more whimsical tattoos. If you like beautiful and precise ink, you'll love this heavenly concept for a quick and easy two-hour tattoo. This is a regular and popular compass tattoo that will symbolize your individuality and life goals and add a wandering boat or ship. Give this a try if you like cute and spectacular concepts that will aid you in life and with your direction!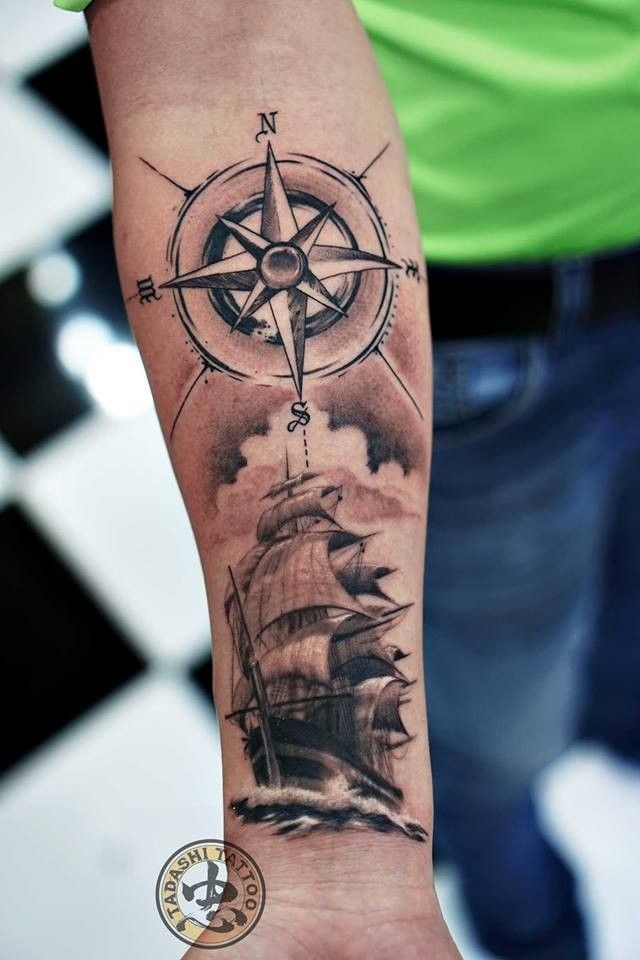 12.  Rose Tattoo
Rose Tattoo, as depicted in this design, stands for deep desire for love and compassion. Covering the arm fully and lot of region shaded, this tattoo offers interesting adornment for the men's arms. These look great alone as well as when coupled with some bracelets. Stylish décor elements show your desire for perfection.
13. Back compass tattoo
The compass along with the direction indicating arrows show immersion in search. It has incomplete boundaries which stand for in the middle of journey. This tattoo looks great on women. Ideal site will be the upper back for this tattoo. It also has a twinkling star like look that makes it an interesting rip off of the normal compass design. Get it on your back for full coverage.
14. Carpe Diem Compass
This tattoo is flawlessness exemplified. The surrounding design of the compass is elaborate. While compass stands for direction or search, the quote carpe diem shows you are the person of present. Living present to the fullest is demonstrated beautifully in this compass tattoo design. It looks the best on arms and back.
15. Arrow compass with dog
This compass tattoo is beautiful presentation of the feeling of search for a companion. It has arrow that stands for determination. You can express your friendly self with this tattoo. This compass tattoo design looks amazing on arms and looks the best when you dress in sleeveless vest. Ideal tattoo for men!
16. Compass couple tattoo
An innovative tattoo design idea for couples! When you embark upon a new journey or are out searching for new adventure or way of living, this tattoo helps demonstrate the emotion beautifully. This tattoo is mostly inked on the outer side of the lower leg. It can be carved on the arms too.
17. Lost in Search
Arrow and compass integrated in this tattoo design are brought together a bit shabbily. This shows the want to search and reach unknown destinations in life. It is a great tattoo design idea for men. The area of forearm below the elbow can be a good location for inking this tattoo.
18. Timekeeper compass
Timekeeper and compass are inked in pair in this design. Thus, you believe in the timelessness of the idea of searching. We all are here to search and lead the life in a direction. This is expressed beautifully in this compass tattoo. Below elbow, calves or back are the ideal spots for this tattoo.
19. World Map Compass Tattoo
Your desire to be a globe-trotter comes out beautifully in this world map compass tattoo. World is your oyster and you desire to be a global citizen. You can express it well with this arm tattoo featuring compass inside a world map. It looks the best on forearms and chest.
9. America's Delight Compass Tattoo
Ideal for the US residents, this tattoo features compass along with the map of South America. The black background makes this tattoo more stylish. If you want to portray your place of stay in the US, this tattoo does the job exceptionally well. Good for arms mostly, you can have it on the back and chest too.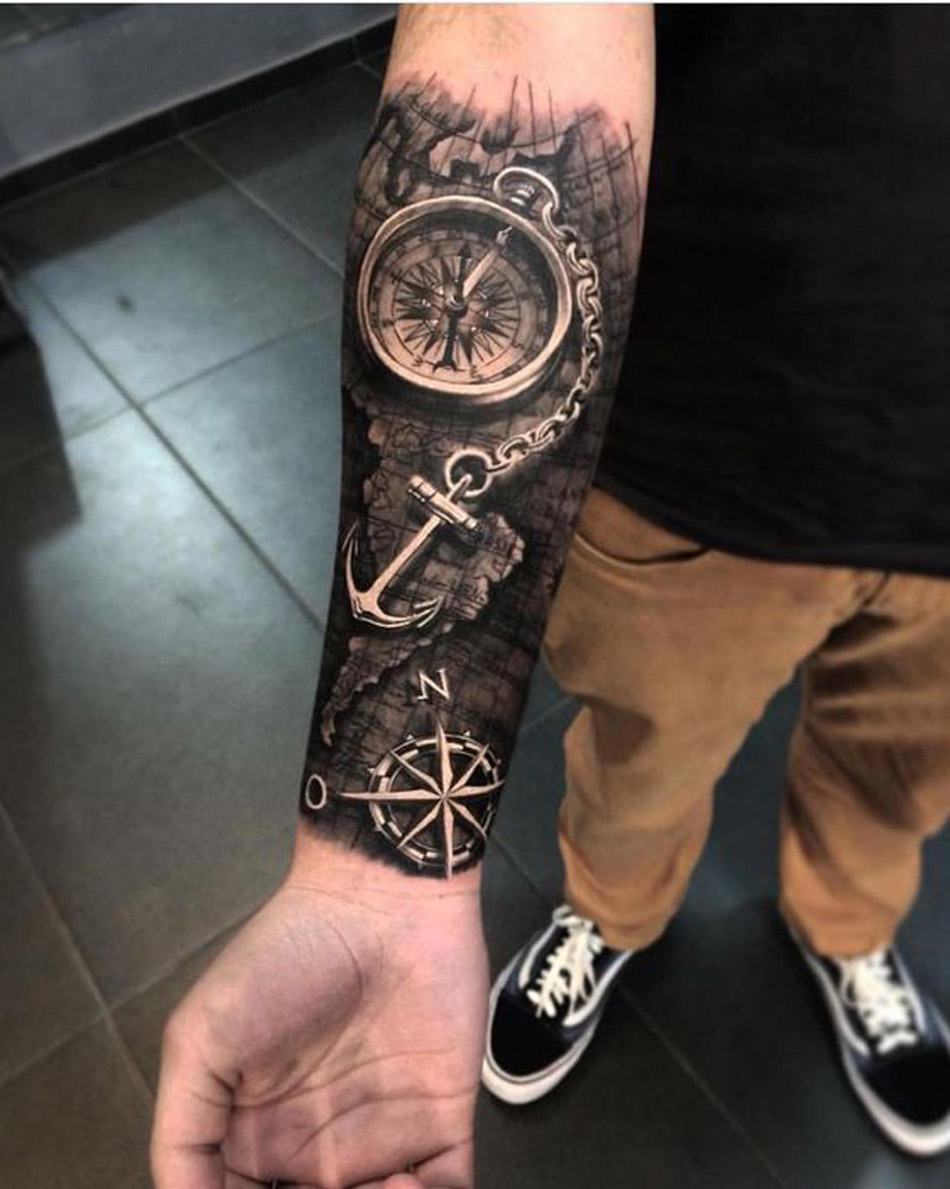 20. First World Compass Tattoo
A tattoo with elaborate design features map background, compass, butterfly and roses. This tattoo expresses your love for beauty, your search for companion and love for travel. Arms are the best place to get this tattoo inked. You can also have the calf or the chest inked with this compass tattoo.
21. Directions Compass Tattoo
It is the simplest design in compass tattoo category. This design shows initials of directions and it resembles a twinkling star. This tattoo design shows your clarity of mind regarding your destination. Compass tattoo of this style can be made on arm, back of neck, side of neck, above ankle; to name a few spots.
22. Date  and Arrow Compass Tattoo
Colorful tattoo with blue patches resembling clouds and water. The arrow transverse and diagonal represent your multiple interests, design of arrows stand for determination and date can be a target or the date when you got it inked. It is best suited for arms, upper back, near the spine and shoulder.
23. Dotted Compass
Very beautiful tattoo having feminine appeal. This tattoo is the best suited for wrist, back of neck, calf, thigh, back of palm, forearm and upper arm. It features dotted compass design and an anchor-like element that shows the determination and want to reach the destination while keeping the softness of character intact.
24. Wind Chime Compass Tattoo
Stylish design of this compass tattoo features arrows, half moon, compass and an aura-like element. It resembles a wind chime closely which is actually attracts good luck. So, when you are in search of happy times and are working towards the same too, you can get this tattoo. Beautiful tattoo for women, it looks the best on back and stomach.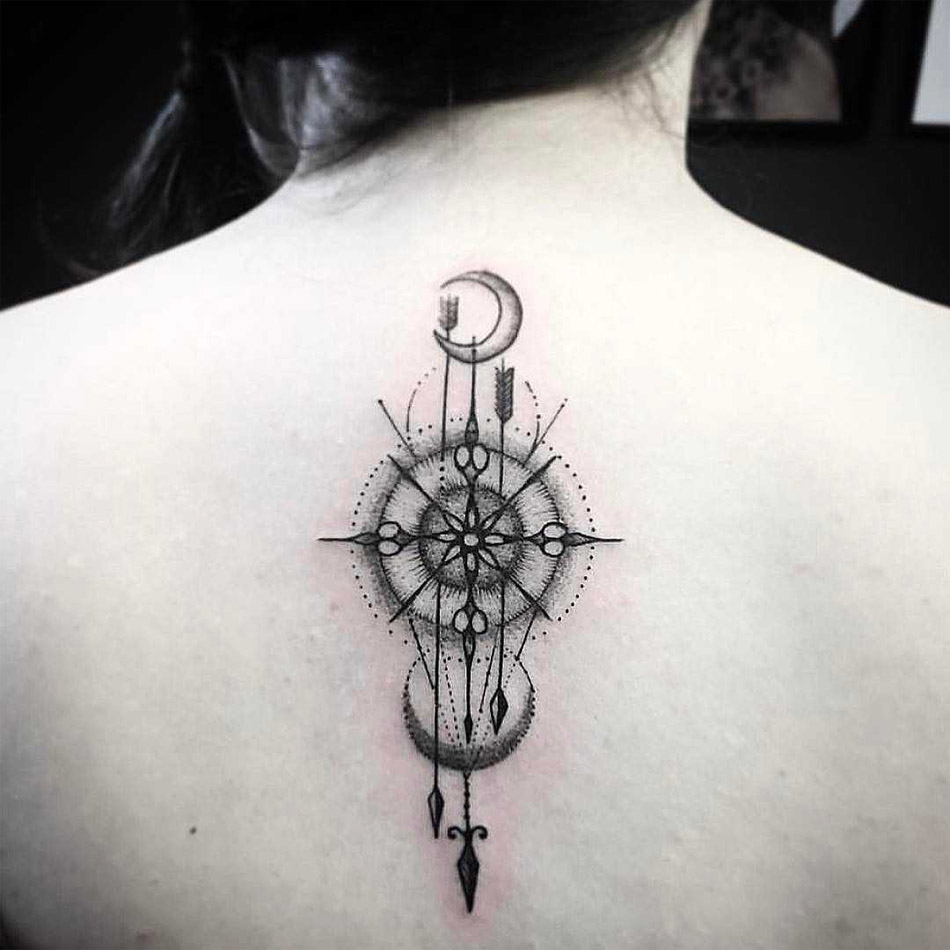 25. Nature Compass Tattoo
A dog and impression of pine trees in its body speak volumes about your love for nature. The compass stands for search and the dog represents the search for companion. The nature lovers who have the highest regards for nature can get this tattoo. Some geometrical figures add abstractness to this tattoo.
Other Articles