Heart tattoo is a beautiful design. This tattoo stands for variety of things. Some perceive it as a symbol of religious inclination, and many others denote the feelings of love, cooperation and compassion with the help of heart tattoo. The heart tattoo is also used for expressing the fond memories for any deceased. It is also meant for showing broken heart and also for new hopes.
Many heart tattoo design ideas feature a variety of elements along with the heart. When the heart is inked with an arrow, it simply means Cupid Struck. This design is used by couples where one partner carries the heart and the other the arrow. Other heart tattoo design idea is 3-heart tattoo that indicates the present, past and the future. When you believe in love till eternity, this tattoo idea works.
The designs of heart tattoo are multifarious in styles. There are designs that are derived from colors such as black heart, blue heart, etc. Some use elements like chain, cage, to show some kind of attachment. There are Celtic heart design, tribal heart design and hearts in pairs, abstract heart design, etc. that adorn various parts of the body tastefully. So, wear your heart up your sleeve with heart tattoo design, it does catch lot of attention!
1. String of hearts
Beautiful heart tattoo for fingers that contain not one, not two but about 6-7 hearts inked one above the other in black and white alternately. This unique design has tribal touch. It looks great on slender fingers and can also be worn on other body parts such as collar bone, arms, above ankle.
2. Heart tattoo for couples
Both the partners can have heart tattoo inked on the complementing positions near the ankle. This tattoo displays love and affinity for each other. It can be kept hidden when worn trousers, etc. or you can flaunt it with dress choices like capri, shorts, etc. It is nothing but pure love!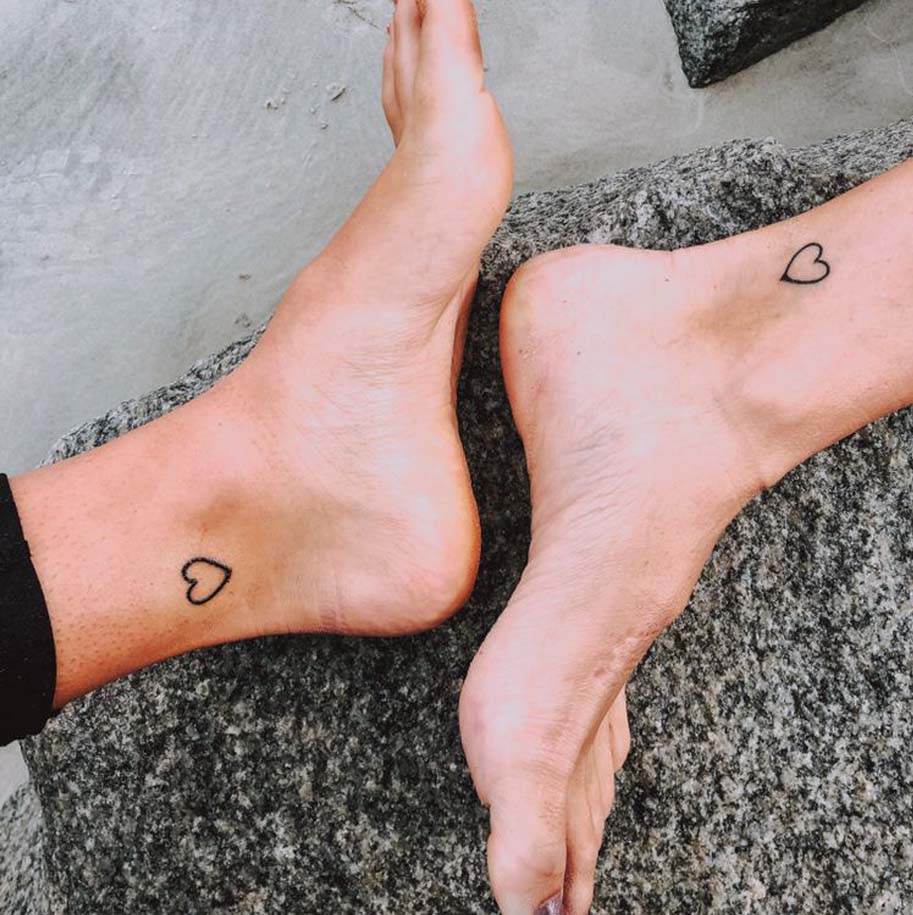 3. Blue Heart
Blue heart tattoo stands for pure and deep love. This tattoo is inked on the nape. It looks beautiful on women. It is a fine representation of love for the self. The blue heart can be worn as tattoo on finger, palm, collar bone, side rib, near ankle and so on.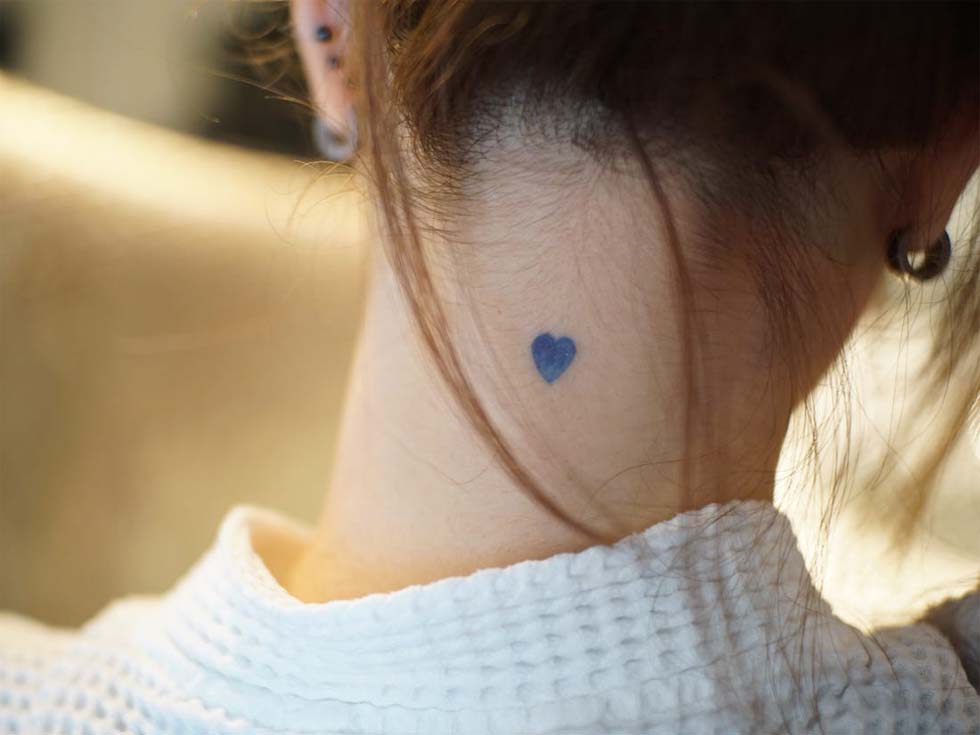 4. Heart on arm
The heart tattoo for couples worn on arm is a beautiful thing to look at. This tattoo looks ideal on partners in love who want to flaunt their relationship to the world. It can be worn on other locations such as below shoulder, near wrist, near ankle, on chest, at the neck – with one heart of pair worn by each partner.
5. Iron fence heart
Imagine an iron wire fence bent in shape of heart! This design is exactly that. This heart design is unique with its elaborate boundary. The design looks great when inked near the ankle. It shows attachment and some sort of sense of belonging. It is ideal for both men and women.
6. Red heart
Red boundary heart tattoo stands for deep love. When you want to flaunt your love-filled side, you can express it with this tattoo. This tattoo is worn ideally on the Venus mount of the palm. From fashion point of view, it can be worn on ankles, near wrists, arms, nape, shoulder, side rib too.
7. Watercolor heart tattoo
A group of three friends can get this tattoo inked on the wrist area. it is shaded with the watercolor in pink hue. It is great idea to show the feminist feelings. This can be worn on the ankle region or nape region. It is easy to maintain and can be complemented with other elements.
8. Anatomical heart tattoo
This tattoo is loved for its elaborate look. It can be complemented with your initial. The use of watercolor shading technique makes it appear more like a painting. It is one of the finest ways to conceal the injection mark or any scar below the shoulder region. Looks great on men and women.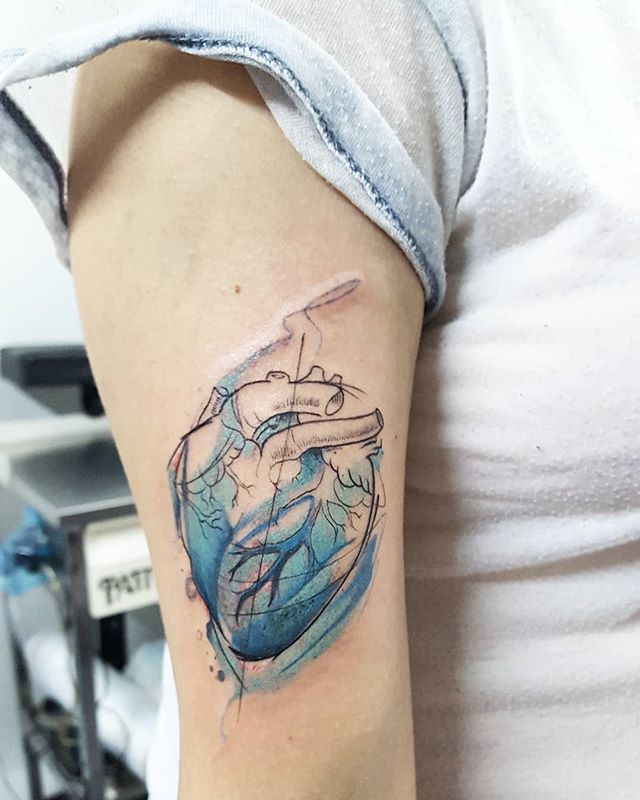 9. Flower heart tattoo
Very beautiful tattoo with elaborate boundaries. A few twigs containing flowers are put together to create a heart design. It can be worn by group of people to represent a community. This looks great on wrist area when you want to flaunt it always. It can be worn below the calves too.
10. Heart in home tattoo
Home is where the heart is – this thought is beautifully expressed with this tattoo. Wanderers or those able to move to different places frequently can display their lifestyle with this tattoo in the ankle region. It can be worn on back, shoulder area, forearm, too.
11. Behind the ear heart tattoo
It is a very beautiful tattoo worn behind the ear. This heart tattoo represents self-love. It is ideal for working women who want it but need keeping concealed due to work environment. It can be flaunted by doing hair in a ponytail or bun. Red or blue color can also be chosen to get this tattoo.
12. Anatomical heart and triangle
Quite an elaborate tattoo having weird look. This tattoo features anatomical heart on one arm of triangle and a distorted face on another. It can be a poetic representation of heart, body and soul. This design looks great on arm and near shoulder. Other parts possible are back, or part of chest.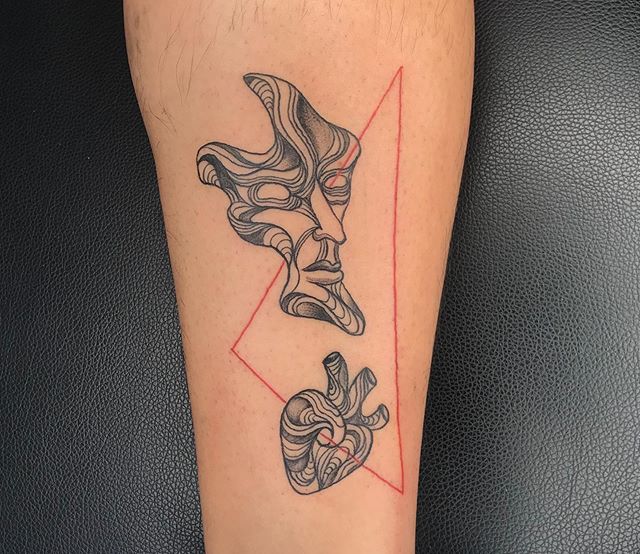 13. Wear heart on sleeve
This tattoo is red heart in design and is pretty to look at. It can be poetic representation of wear my heart on sleeve. The person is not hesitant of showing emotions, this tattoo tells it all. It is a great idea for heart tattoo for women. It does stand for deep love and can be worn on finger too.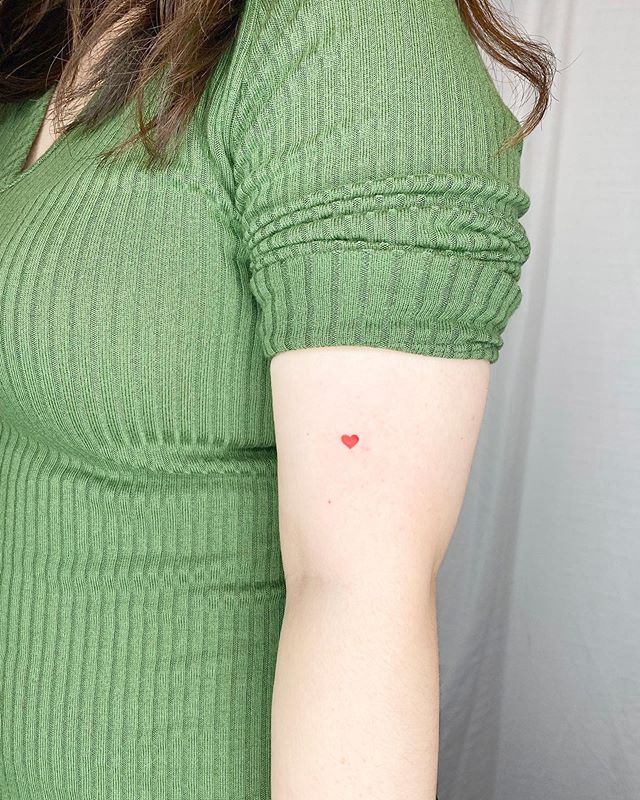 14. Past Present Future
Three heart tattoos shaded with water color looks great on the wrist area. Some believe this design to be representation of past, present and future; while others see it as heart, body and soul. Take your pick and get it tattooed. It looks good on feet and shoulder area too, when appropriate size chosen.
15. Heart and semi-colon
This colorful tattoo is a beautiful representation of continuity. It is enriched by phrase 'keep on going'. The semi-colon as one part of the heart boundary says the same too. It is beautified further with watercolor shades. It is a beautiful arm tattoo for women and can also be inked on the chest or collar bone.
Best Heart Tattoo Design Ideas
Other Articles