A tattoo is an art representation that is usually fabricated on the body. Different tattoos have different meanings it all depends on one's personal choice. You can choose an image, symbol or words to express yourself inform of a tattoo. Mother and daughter tattoo have become common in the past few years. Many families are expressing their love towards each other inform of tattoos. Mothers are known to have a strong bond and unexplainable love toward their kids.
There are daughters who are privileged to consider their mums as their best friends. Most have opted to have tattoos that ideally represent love towards their kids. The good thing with this kind of tattoo is that you won't regret having it as you'll never get separated from your mum unlike couples who are prone to separation. As a mum, do a wide research with your daughter/s so as to decide which tattoo suits you best.
In this post, we will discuss 15 of the best mom-daughter tattoos that you can get today for a stunning look and expression of mom-daughter love and girl power!
1. Colored Heart Tattoo
Mother and daughter matching coloured tattoos do not have to be identical. Instead, utilize contrasting hues to highlight their characteristics. And the overall appearance will remain consistent.
2. Holding Hand Tattoo
Two hands clasped together represent a tight bond between mothers and daughters. We grasp our parents' hands as children out of trust and a desire for protection. When we grow up, holding hands is a sign of trust and love.
3. Moon Wrist Tattoo
The moon represents strength, knowledge, wisdom, femininity, and fertility. A moon tattoo is popular among many individuals.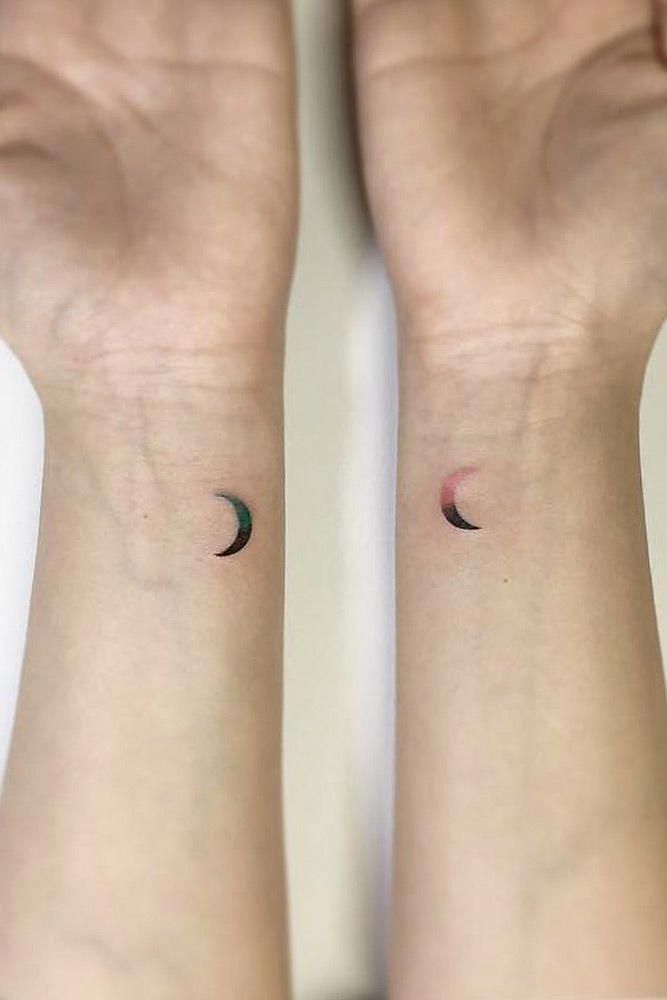 4. Initial Tattoo
Initial tattoos are more than just fashionable. They might be large or small, simple or complex. However, they also signify the wearer's identity or the identity of someone they care about. These initial matching tattoos on the wrist are simplistic and straightforward. However, they are imbued with love for the family, making them meaningful and ageless.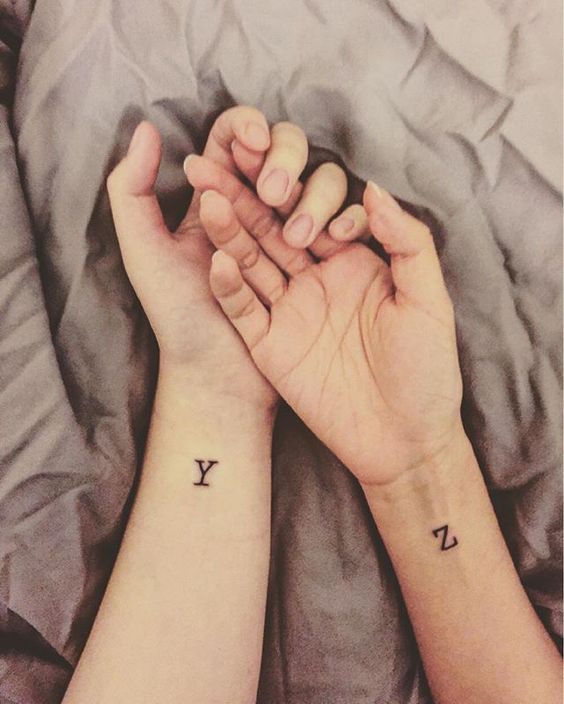 5. K Pop Heart Tattoo
If you're a fan of K-pop, you've probably seen the adorable finger heart gesture. The thumb and index finger are crossed by the finger heart, forming a little heart shape. Want a nice tattoo that says I love you all the time? Take a look at this lovely design!
6. Bear Family Tattoo
Bears are more than stuffed toys and gummy candies. In Native American culture, bears are often associated with the spiritual world and sacred rituals by the Shamans. They are also a symbol of motherly love, protection and wisdom.
7. Floral Heart Tattoo
Your heart is full of blooming love when you have someone to love and someone who also loves you. And that's what these tattoos suggest.
8. Hummingbird Tattoo
Hummingbirds are excellent mothers. A female hummingbird makes its own nest before giving birth. She incubates the eggs and nourishes the young birds on her own, without the assistance of a male hummingbird. The mother then cares for her infants with her heart and soul until they are old enough to leave the nest. And these lovely hummingbird tattoos are a tribute to all wonderful mothers.
9. Lion and Cub Tattoo
Lion tattoos are for the fearless, as the lion is a sign of courage and strength. However, this adorable tattoo takes a different approach. Even the toughest ladies have a sensitive side regarding those they love. Does this sound like you and your mother?
10. Whale Tattoo
Whales are not the most popular tattoo design. However, these enormous creatures are usually calm and know how to navigate their way out of the consuming water. The desire for freedom can also be represented by a whale. Whale tattoos are ideal for you and your mother if you and she are true explorers of the outdoors.
11. Creation of Adam Tattoo
The Creation Of Adams can symbolize many things: birth, awakening, and the beginning of everything. A child is a mother's proudest creation, as well as the start of a totally new life chapter.
12. Disney matching Tattoo
Disneyland and Disney films were important parts of many people's childhoods. These adorable Disney tattoos will remind you of the good days that you have spent with your family and urge you to stay curious and pure.
13. Elephant Tattoo
Female elephants always travel and live in groups. They are generous and protective and will risk their life to save other members of their flock. That is why elephants are seen as a symbol of family.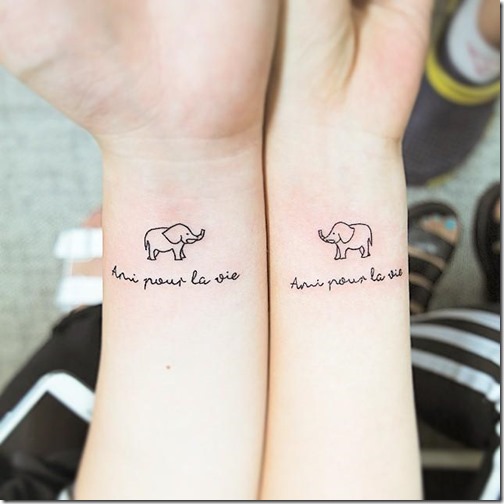 14. Matching Feather Blade Tattoo
Feathers Because you're both angles.
15. Matching Sun Tattoo
The sun represents energy, passion, and hope. These sun tattoos inspire your next ink, from little to bold, black to color. Sun is the major source of light and life, represents energy, power, passion, and hope. From ancient to present times, people have worshiped the sun.
16. Fingerprint Heartbeat
There is nothing as strong as a mothers love towards her daughter. Getting a tattoo to express your love is such a brilliant idea. The fingerprint heartbeat tattoo is a symbolic representation genuine love to another person. The person is none other than your daughter or mum. The fingerprint alone symbolizes remembrance to someone special. Every human being has different fingerprints and there is no better way of representing individuality other than having this tattoo.
17. Little Birds With Love
This is a minimal tattoo which symbolizes love and attention. The tattoo is quite common among family members and love birds. It is simple yet carries such a powerful message. Having the tattoo etched on the forearm is such a great idea. This is because the image will always remind you of the strong attachment you share between you and your daughter. The tattoo is small thus it doesn't attract a lot of attention. Ensure you get the tattoo from a skilled artist so as to get the right artwork.
18. As Is The Mother. So Is Her Daughter With Butterflies
These are cute meaningful words which are shared by mum and daughter. The butterflies symbolize a never ending relationship even in the next life. Being a blood tie tattoo it is great to have the tattoo placed at the palm. This place is ideal as it will always remind you to check up on your mum or vice versa, the mum to check up on you. Make a date to a skilled tattoo expert and have this tattoo with your mum/daughter.
19. Minimalist Dandelion Tattoo
Dandelion is a tiny type of flower that has yellow petals which produce small black seeds. According to research the flower represents happiness, joy and good wishes of hope and prosperity. If you like tiny tattoos then this would be a great choice for you. Having a matching art of this little flower with your daughter will be a brilliant idea especially when etched on the wrist. The tattoo is small thus you don't attract much attention.
20. Mother And Daughter
This is basically an image of mother and daughter sitting on a bench with a heart next to them. The tattoo symbolises love, protection, unity. The tattoo reminds you that no matter what your mum will always protect and love you. What a good message toetch on your body. The ideal place to have it is on your forearm just near the wrist. This will constantly remind you that your mum will always be there to protect you.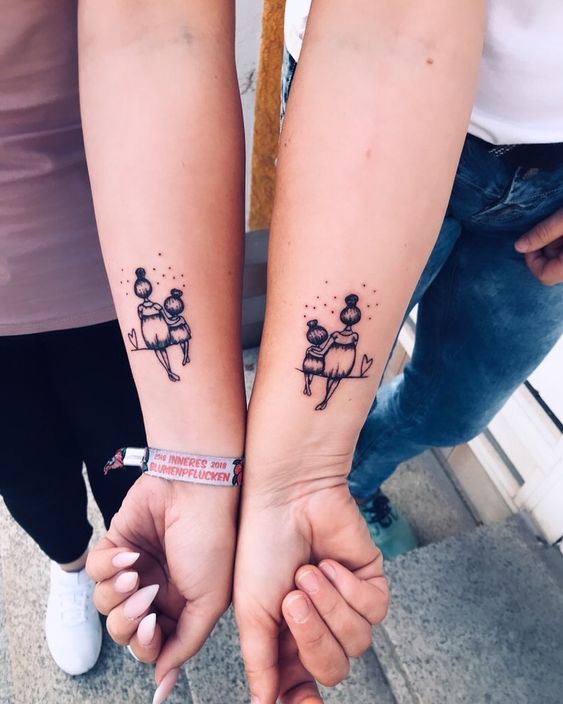 21. Mother And Siblings Wrist Tattoo
There is no greater way 0f expressing love with your loved ones than sharing a common tattoo. Depending on your personal choice you have a wide range of images to choose from. For this image the tattoo involves small dandelions etched on the wrist of the mother and her daughters. The flower symbolises love and prosperity. Being a minimal tattoo you attract less attention from crowds despite the powerful message it carries along.
22. Queen Crown Tattoo
The tattoo symbolizes victory, nobility and royalty. Wearing this tattoo with your daughter shows how powerful and noble you are.it shows that you are victorious in your own ways and nothing can break the bond between the two of you.it is ideal for single mums who independently raise their kids without depending on anyone. The forearm is a great place to have this tattoo designed at.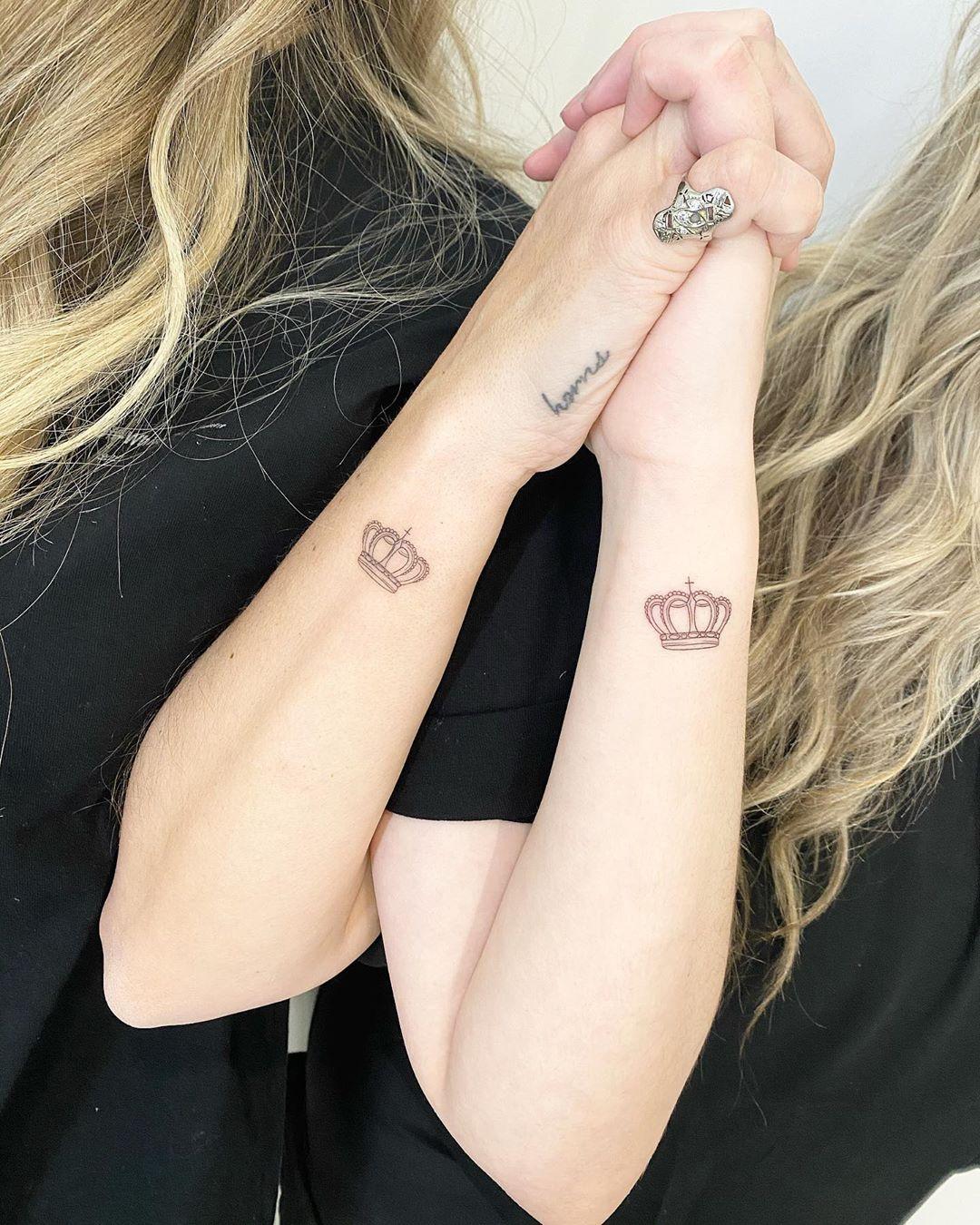 23. Dainty And Delightful Tattoo
This is a small and pretty tattoo image. The image can be of anything ranging from flowers, little birds and does not necessary have to mean anything. Being a minimal tattoo it can symbolize strength, love, joy, strength and freedom. The palm is a great place to have this tattoo etched at. How wonderful is it to have a matching tattoo with your mum or daughter.
24. Elegant Wreath Tattoo
Different cultures have different beliefs when it comes to what a wreath of flowers basically symbolise. Often the wreath tattoo is a representation of nobility, triumph and perfection. This no better person of sharing your victory with rather than your mum/daughter. Getting a tattoo in remembrance of something you achieved is a brilliant idea. The tattoo is best etched at the lower arm since it'sminimal. You can spice it up by using more colours other than black. The art is a constant reminder of the obstacles you overcame to achieve victory.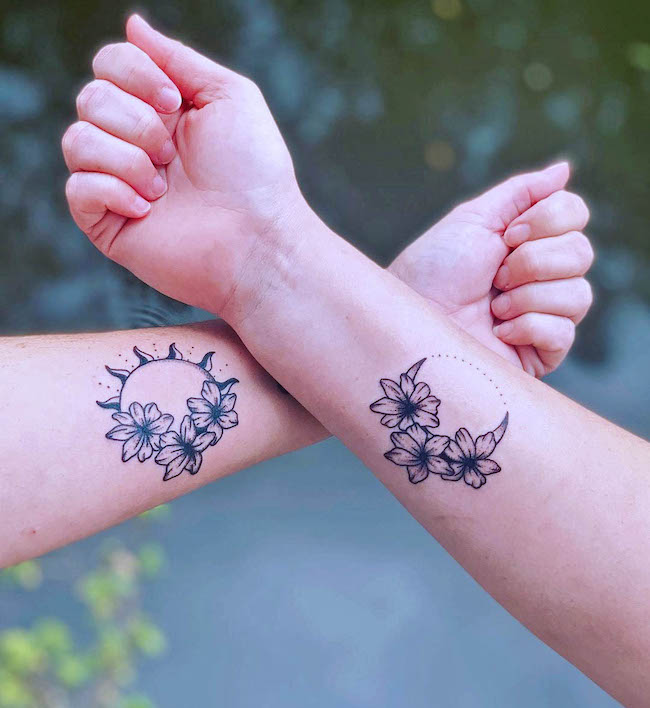 25. Family Ties Tattoo
Many families opt for the floral designs. This is because there is a wide range of flowers to choose from. Most flowers are a symbolic representation of prosperity. Depending on your personal choice you get to choose which colours suit you best. There is no limitation on the variety of colours you can choose from when it comes to this tattoo. The arm is the most ideal place to have the tattoo etched at.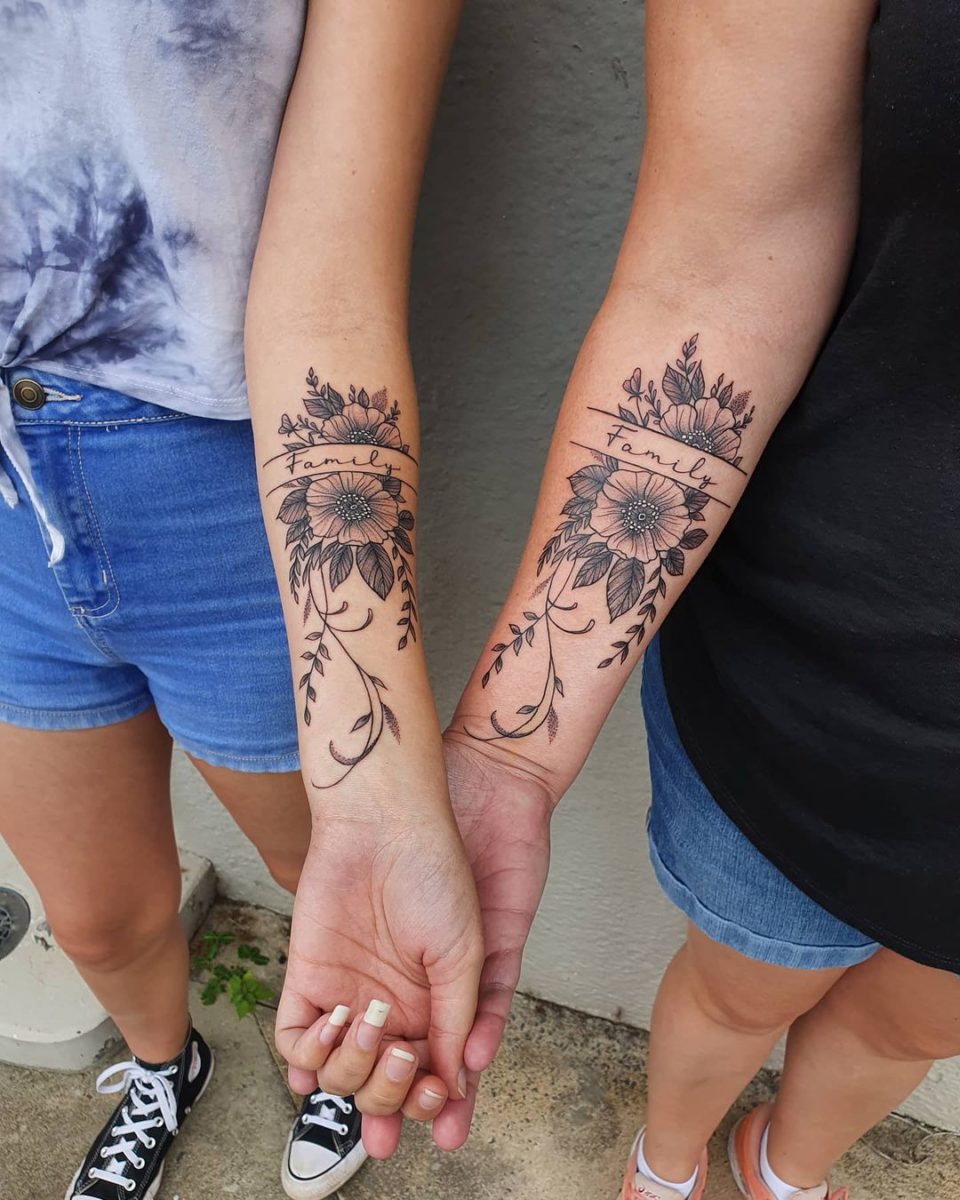 26. Matching Snoopy And Charlie Brown Tattoo
The snoopy and Charlie brown cartoon was a favourite for most of us during our childhood. Snoopy was known to be there for other pets when they needed him and the rest of the pets would be patient with his emotions. This tattoo is a representation of a strong bond and love in your mom/daughter relationship.it is ideal if both of you love pets as the tattoo involves image representation of pets.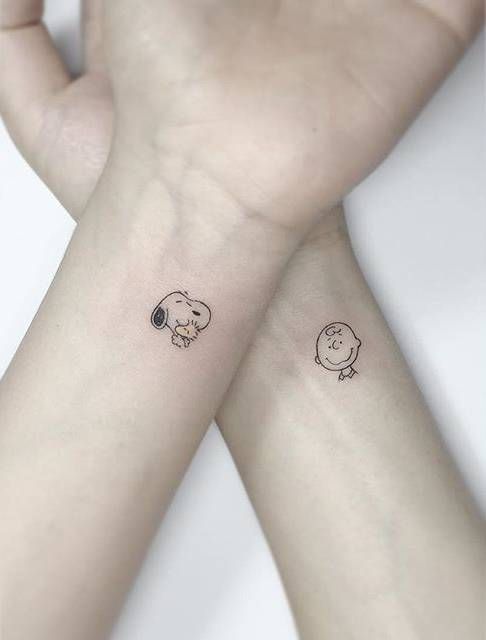 27. Double Heart Design
This is a small and simple tattoo which is ideal for anyone. It is a symbolic representation of special love which makes it ideal for mother and daughter. The tattoo involves a simple two heart design in black ink. Due to their minimal nature the wrist is a great place to have it.youll attract less attention from crowds and in addition it is a constant reminder that your mum/daughter loves you unconditionally. Get this simple art in your bucket list and have it on your wrist.
28. Beverage Tattoo Design
This is ideal for beverage lovers. It is an image representation of your favourite beverage tattooed on your body. You can get this tattoo at any part of your body depending on your personal preference. For instance if you don't want to constantly expose your tattoo then the back can be ideal as you'll only expose when necessary.it requires a lot of expertise hence ensure you get it from a skilled and renown tattoo artist to get perfect results.
29. Butterflies Tattoo
We all love butterflies as they naturally colour our world. The butterfly tattoos are quite popular especially in families and romantic relationships. This is because they symbolise transformation and strength. Getting this kind of tattoo with your mum/daughter can be such a brilliant idea.it is great when placed on the forearm. Adding a variety of colours adds class and elegance into it. Grab your mother/daughter and get yourself this amazing tattoo.
30. Matching Feminine Floral Tattoo
Flowers generally represent love. There is no greater way of showing love to your mum/daughter rather by both of you having a similar floral tattoo. You can have it at any part of the body depending on your personal choice.it is a constant reminder of love and unity amongst yourselves. There is no greater love than that of a mother to her daughter.
Conclusion
Having had the tattoo review above it is easy for one to make a candid discussion on which mom and daughter tattoo suits them. For instance if you looking for something cheap and minimal then tattoos such as butterflies and fingerprints would be ideal. These tattoo are normally small in size thus less time is taken to etch them. Ensure you get you tattoo done by a skilled artist so as to get the right image. Other than that consider hygiene and work ethics before deciding the tattoo of your choice.
Other Articles