While early-2000s hairstyles are making a comeback in the 2020s, the skunk-style parted hairstyle is a classic that is still going strong. This trend has been seen in it-girls like Dua Lipa and Bella Hadid, as well as a slew of Instagram influencers and TikTok E-girls. Skunk streaks are the next emo hairstyle to try.
The skunk stripe is the next generation of thick strands, which became popular in the late 1990s and early 2000s. You can quickly achieve the skunk parting by dying a strand (or strands) of black or dyed hair in a contrasting light or bright shade. Choose between two layered locks, curtain bangs (a staple of the e-girl look), parallel areas of contrasting color, a peek-a-boo style in the back, or a single highlighted strand in the middle of a dark canvas of hair.
Why is it known as skunk hair?
A single glance at a skunk, the adorable black and white animal, explains why it's called skunk parted hair. This style is usually finished with bright orange, red, or platinum blonde colors. These are vibrant colors. Here are our 42 hairstyle ideas for you to try out.
1. Waves with a Golden Front Skunk Stripe
Skunk stripes are an excellent way to update your hairstyle. Depending on your mood, you can change your hair's color, length, and style. Add a golden balayage stripe to your front waves, as seen here. And divide them to the side.
2. Mid-parted Black Hair with Platinum Streak
The classic way to wear this trend is to go for an all-over black base color with platinum blonde hair streaks and a mid-part. This could be the answer if you're looking for a fun way to change your look for the summer.
3. Messy Bun with Peek-a-boo Platinum Skunk Stripe
If you prefer to wear your hair up most often, consider a half-and-half application of this color trend. Even a thin layer on the underside of your mane can add a splash of color that's both playful and understated. Tie a messy bun at the top of your head.
4. Ponytail and Fringes with Reverse Spunk Stripe
The reverse skunk stripe is a two-color look similar to the previous one, but instead of the lighter color on top, it is on the bottom. When worn down, this is an edgy and terrific way to wear the hair and will have a similar effect to the peekaboo highlights. Put your hair up in a high ponytail.
5. Green Skunk Stripe to the Side Curls
A curly-haired girl's option. With this green spunk stripe style, you can confidently wear your long or short curly hair. Use black natural roots to add color to both sides near your ear. Create the flattering effect as shown in the image above.
6. Mid-parted Face Framing Skunk Stripe Straight Hair
This basic skunk stripe style has everyone talking on social media. It has a dark foundational color, typically black or dark brown, and a contrasting white or grey stripe that frames the face. It's similar to a curtain hairstyle, but the curtains are dyed to look like skunk stripes. Wear it with straight hair to complete the look.
7. Box Braids with Blonde Skunk Stripe
Two blonde braids will make simple box braids stand out! Apply spunk stripe to a few strands at the back of your long box braids and make individual box braids out of them. The image above is an example for you!
8. Multi-colored Skunk Stripe with Fulani Braid Hairstyle
Do you like skunk braids? Then multi-colored braids are your ideal match. To go all out, create a large skunk hairstyle. Also, precisely divide the dyes in half. While reflecting the skunk stripe attitude, the braided ponytail stands independently.
9. Platinum Mohawk with a Shaved Pattern
This is your hairstyle if you want to look like a real skunk. In addition, the hair is extremely long, forming a mohawk that reaches down to the base of the neck. This style's spikiness adds a final wild touch. Try adding a pattern to your undercut as well.
10. Side-swept Bob with Caramel Skunk Stripe
Rhianna's side-swept bob is ideal for bringing high-contrast (caramel) colors to the forefront. This 'do isn't subtle or hidden in any way. We also like the peek-a-boo highlight in the front for a softened break around the face.
11. Curly Updo with Green Skunk Stripe
Green hair is daring and a great way to show a willingness to take risks. Green highlights on dark hair send strong messages about your emotions and thoughts. Tie a loose wavy, or curly updo to show off your skunk stripe.
12. Undercut Skunk Stripe with a Loose Bubble Ponytail
This unique way to achieve the skunk look is by dying the hair in the back to create a skunk-striped bubble ponytail. The stripe is visible only in the ponytail, emphasizing the contrast between the black and white dyes.
13. Face-framing Skunk Stripe with a Sleek Knotted-bun
This hairstyle includes bangs dyed white or any other hair color. Dua Lipa wore this hairstyle on the red carpet, and people loved it so much that they copied it and wore it to various events. Make a sleek-knotted bun with your hair.
14. Dual-colored Curly Space Buns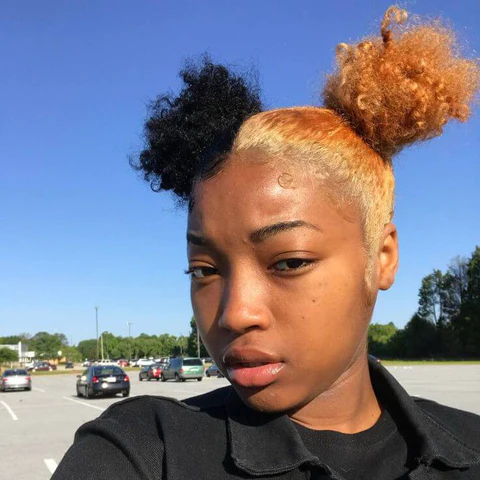 Going natural does not preclude you from experimenting with color! Instead of coloring both sides in different colors, color only one side and see how your appearance changes! Part your hair in the middle and wear two high-space buns to show off your colored stripe.
15. Alternative Coloring with Mid-parted Loose Locks
This very fancy and cool hairstyle will turn you into the center of attention at any party. Choose a contrasting color for your naturally dark hair and apply it uniquely. It will resemble a zebra or a snake. If you want to look new and fresh, this hairstyle is ideal.
16. Curly Layers with Orange Skunk Stripe
Soft orange highlights, dark orange tips, or a skunk stripe are all ways to incorporate orange into your hair. This hairstyle contains all of them. Add shades of orange to your layered waves and part them in half.
17. Shaggy Haircut with Peacock Skunk Stripe
Blue skunk stripe hair looks great on girls with colorful and outgoing personalities. Combine this skunk stripe with a shaggy haircut. The best base color for peacock-colored hair stripes is natural black. It provides an excellent contrast to the blue and highlights the look's focus.
18. A-line Pixie with Long Free Locks
Have you ever tried a pixie skunk stripe? They are ravishing in their own right. Request an A-line pixie cut with two long extensions and color them from the ends. This hairstyle can create a dramatic look when combined with goth nails and bold tattoos.
19. Icy-blonde French Braid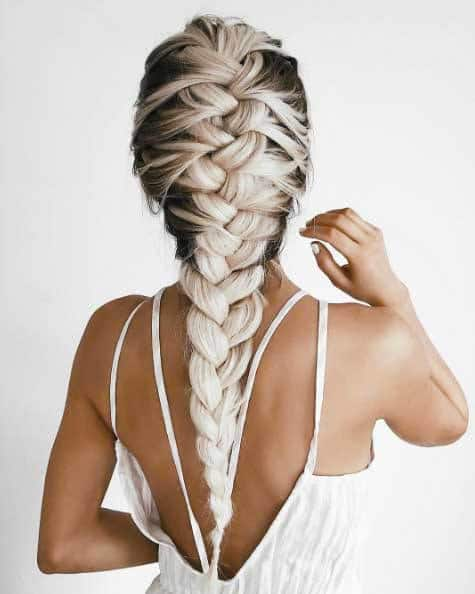 Another popular way to rock the skunk stripe hair trend is to use a different color root than the rest of your hair. Try a dark root color with platinum highlights on the rest of your hair. Wearing a French braid like this highlights the contrast and makes the colors pop!
20. Blunt Bob with Red Peekaboo Skunk Stripe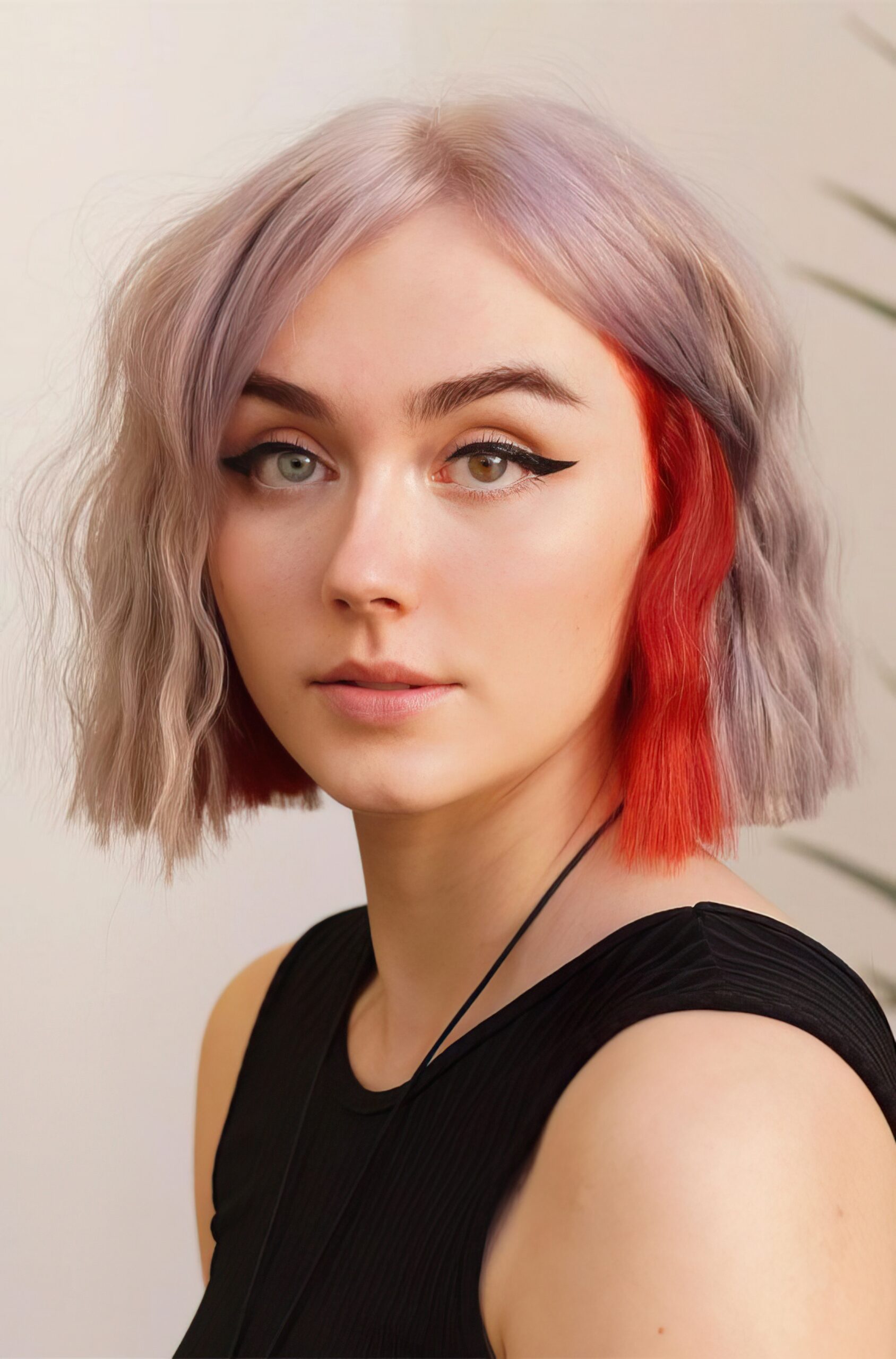 Using a light-colored or pastel foundation and dyeing the underpart red closely resembles an actual skunk (or any dark color). Choose a blunt bob with a peekaboo red skunk stripe for a unique hairstyle. What exactly are you waiting for?
21. Shaved Stripe with Mohawk Hairstyle
This TikTok hairstyle with black hair and blonde underneath is a unique Mohawk skunk hairdo slightly more born-stylist than the others. Brush your top hair backward to create a mohawk look. Shave a long stripe down either side of your head to show off your skunk stripe hairstyle.
22. Mid-parted Ocean Curls Skunk Stripe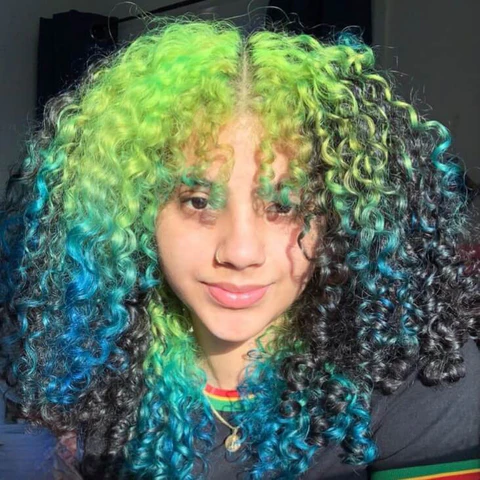 Use this color combination to dive into the sea! Yes, these ocean colors will liven up your curly or messy hair. To achieve this fantastic skunk stripe look, apply blue, lime green, and ocean-green colors to the front few locks.
23. Pastel-colored Wavy Bob Hairstyle
Consider this look for a subtle take on the skunk stripe hair color trend, which combines an incredible ashy blonde on top with a pink bubblegum layer underneath. Wear it to the next big event with your asymmetrical bob!
24. The Barbie Waves Hairstyle
Platinum blonde hair is a pale blonde shade that resembles white. You can use black to create a reverse skunk stripe effect or your favorite bright color, such as pink or purple. Consider a Barbie-style hairstyle with this combination. For a lovely appearance, part your waves on the side.
25. Free Skunk Stripe Bangs with an Updo
The half-and-half skunk stripe is one look that commands attention. These can be done in classic colors like blonde and black or in your favorite artificial colors. Your features will be highlighted by the two contrasting colors at your hairline. Make a sloppy updo with free locks on the sides.
26. Blonde Skunk Stripe Collected into a High Ponytail
Blonde is an attention-grabbing color in and of itself, but if you want to try something new and exciting, a skunk stripe is an excellent choice. Add a blonde shade stripe to your front hair to replicate the hairstyle and gather it into a high ponytail.
27. Braided Half-up Skunk Stripe Hairstyle
Enough with the monotonous hairstyles! Follow Bella Hadid's red stripe (skunk) for loose hair to add spice to your life and hairstyle. Make a half-up braided crown hairstyle and join the braids at the back for a wavy look.
28. Half Black and White Skunk Stripe Pattern
Platinum hair is high maintenance, but the results are unrivaled, and platinum hair is considered one of the most beautiful colors, giving you blonde bombshell status. Make a half-half look like Sia from Cheap Thrills and show off your bold and long waves.
29. Messy Curls with Blonde Skunk Stripe
This hairstyle is inspired by the previous one and features messy curls. This time, instead of platinum, try blonde skunk stripe. Using a black foundation and dyeing the other half with a contrasting light color resembles an actual skunk.
30. Hair Bow Hairstyle with Dreadlocks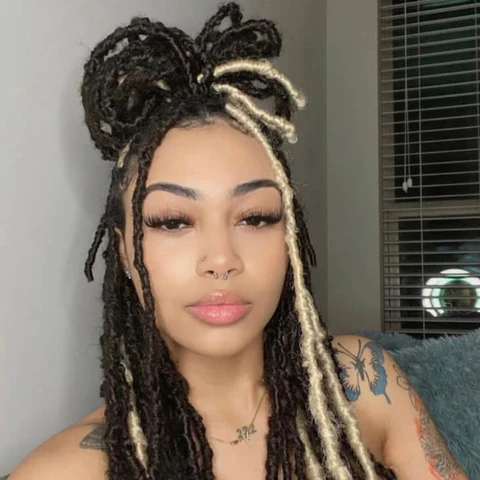 Remember this skunk hair twist to dreads whenever you consider doing faux locs! You will not be sorry. Make dreadlocks with a light-colored skunk stripe. Try styling the hair into a top hair bow, the other focal point.
31. Golden-white Skunk Stripe
We're obsessed with the half-half-skunk stripe hairstyle for styling! But this time, we've devised a fresh idea using a golden and white color scheme. Add a white skunk stripe to the front locks of your golden-colored hair (both sides). Now you can style however you want!
32. Around the Head Skunk Stripe Curly Hair
Another skunk stripe hairstyle idea for curly hair owners. Consider a brown or blonde shade to frame your face and forehead. Rock your curls with this fantastic choice, as shown in the image above.
33. Retro Side-parted Skunk Stripe Hairstyle
The appeal of this hair coloring method is how bold and noticeable it will be, ensuring that you stand out. It is accomplished using a split dye technique to make one side of hair strands a different color. To achieve a retro look, use hair gel. It is more distinct with a side part.
34. Shaggy Wolf Cut with Colored Ends Skunk Stripe
Finally, here's a wolf-cut idea for extra-long hair. The top is black and shaped into a loose, messy wolf-cit, while the bottom is white or platinum blonde and drapes down the back and sides. Another attractive feature is the shaggy layers.
35. Two-toned Bouffant Hairstyle
This style has more vintage vibes than the others and is less "skunky," but it still has that bold color scheme and overall attitude. With your white-black skunk stripe, create a bouffant updo.
36. Peekaboo Updo for Short Hair
This style subtly adapts the classic skunk look to a bob hairdo. The hair tips are highlighted horizontally for a pleasing effect, creating a striking edge line for the bob. Make a half-up to show off your peekaboo blonde color.
37. Box Braids Ponytail with Hot Pink Skunk Stripe
Unsure how to proceed? Like a regular box braid hairstyle. You must add a hot-pink skunk stripe to the back and box braids. Tie your cornrows into a long ponytail to show off your bink braids.
38. Short Curtain Bangs with a Messy Bun
Despite its simplicity, this haircut stands out due to its contrasting colors and short hair. This is the look for you if you want a skunk-inspired haircut but want to stay moderate. Color your curtain bangs and tie them in a ponytail or a bun at the back.
39. Sleek High Ponytail with Brown Skunk Stripe
Be creative and achieve a braided skunk look with a cute ponytail by dying your backside hair one color and the braided ponytail stripe another.
40. Face-framing Red and Shaggy Skunk Stripe Hairstyle
Interested in another shaggy hairstyle? Face-frame your hair in bright red (thin border framing) and style it layered. Comb the skunk stripe to bring out the red color in your natural dark hair.
41. Half-up Ponytail with Side Skunk Stripe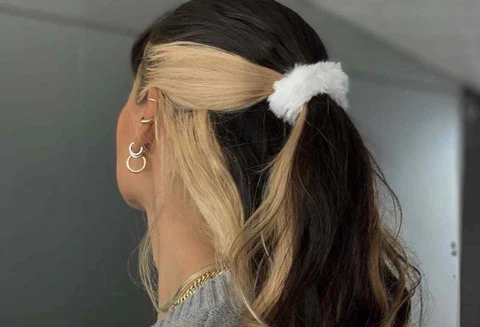 You can achieve this skunk stripe hair trend by drying the back of your hair. The stripe appears only in the ponytail, emphasizing the color contrasts. Pull your hair back into a half-ponytail for a more daring and edgy look!
42. Semi-collected Double Bubble Ponytails
Pink hair highlights are a great way to experiment with new colors without dying your entire head of hair. As a result, the skunk stripe hair trend may be less maintained and less harmful. Make two semi-collected bubble ponytails with your dark hair. Allow the pink bangs to fall freely for a daring look.