Kim Kardashian has experimented with various hairstyles and haircuts, going from dark roots to ash blonde in under 24 hours or from short hair to a long wavy mane overnight. The slicked-back ponytail, however, is a key component of her hairstyle.
Regardless of her hairstyle, the beauty icon always looks stunning and sets the trend. What has been Kim Kardashian's best hairstyle? Let's go back in time with these 45 iconic hairstyles.
1. Long and High Ponytail
Kardashian West wore her hair in a very Ariana Grande's long sleek, and high ponytail look at this year's Met Gala, which took place just last month in New York.
2. Long Side-swept Waves
This old Hollywood-style glam hairstyle is one of our favorites among the many classy Kim Kardashian hairstyles. Create waves with a large roller or curling iron and sweep them to one side elegantly. The hair is parted on the side, adding volume to the crown.
3. Low Ballerina Bun with a Mid-parting
A ballerina bun is a hairstyle that involves gathering the hair into a bun at the nape of the neck and styling it to create a smooth, sleek finish. This elegant and timeless look will undoubtedly be included in our list of Kim Kardashian Kardashian styles.
4. Mid-parting and a Lob Cut
Kim Kardashian West is no stranger to cutting her hair short (and back again). Her super-sleek razor-cut lob, slightly shorter in the back than in the front, is one of our favorites. Her new look is a mid-parting lob.
5. Long Wavy Hair with a Center-part
Kim Kardashian West is the queen of wavy hair. This look demonstrates this with a deep center part and long beach waves. Also, take note of the face-framing bangs. Please don't put it off any longer; try this hairstyle as soon as possible!
6. The Top Knot with a Middle-part
Next on our list of Kim Kardashian hairstyles is this top knot, a timeless hairstyle with grace and elegance. Except for one stray strand of her side bangs to add some character, her hair is neatly tied up in a knot. To achieve that "clean" look, gel or mousse can be used.
7. Curly, Long, and High Ponytail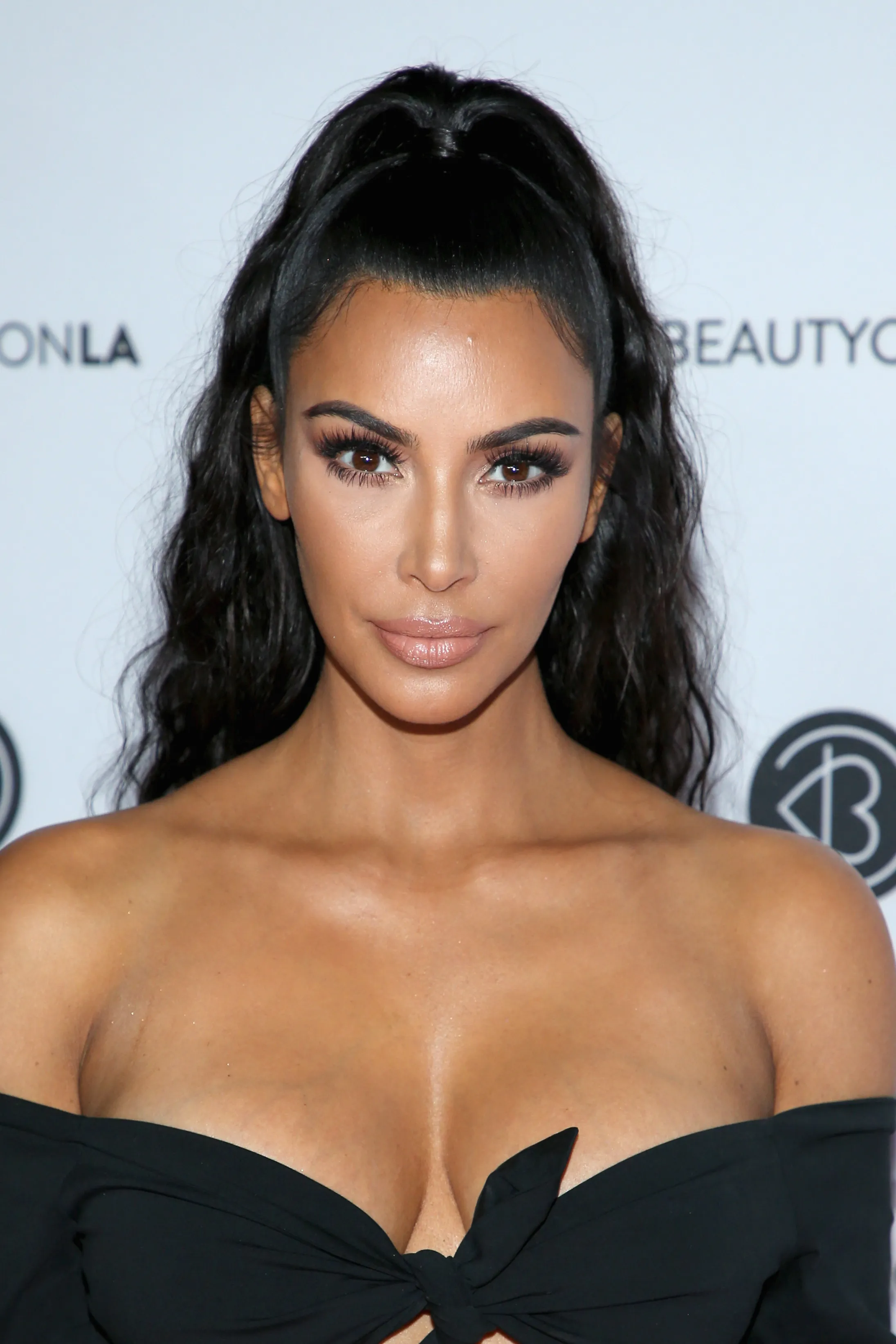 Kardashian West's most recent appearance was at the CFDA Fashion Awards, where she received the first Influencer Award. We fell in love with her high, wavy ponytail, which she wore like a Greek goddess. She has worn her hair in this style numerous times since then.
8. A Short Ponytail at the Top
Because Kardashian West rarely wears her hair in a short ponytail, we pay attention when she does. This hairstyle is ideal for workouts or casual gatherings. Admire the sleek short ponytail, which exudes elegance. What exactly are you waiting for?
9. Long Hair Combed to the Back
The combed-back look is a hairstyle in which your hair is styled to appear half dry and half damp and combed to the back, even if it is not. This look can be created with various products, including hair gel, pomade, and styling creams.
10. Short Ponytail Swept to the Sides
Kim's short ponytail is another popular hairstyle. Consider creating a high, sleek ponytail similar to the half-up, half-down hairstyle. Divide the ponytail in half and place one half on each shoulder. That's all!
11. The Platinum-colored Lob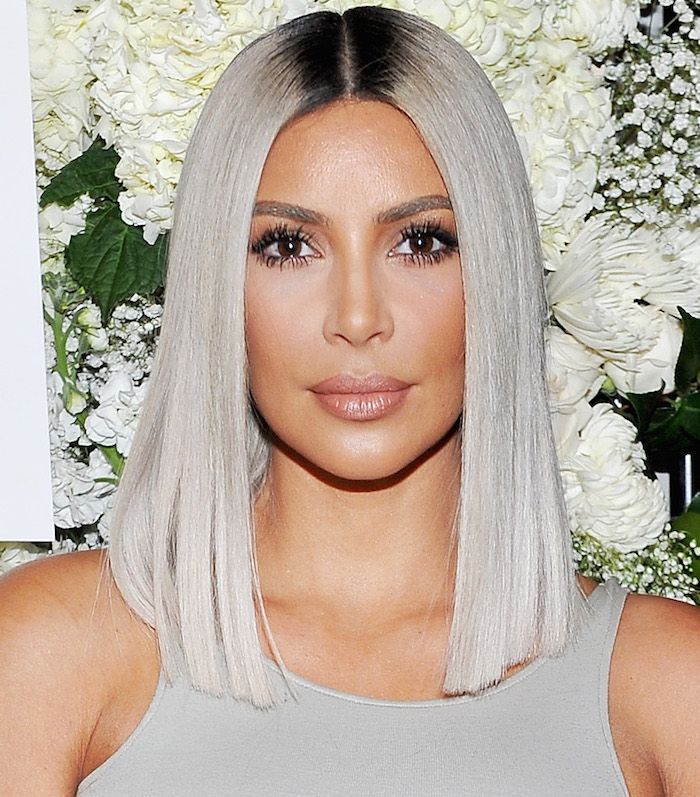 She's no stranger to changing up her length, and she's no stranger to changing up her color (and platinum silver hair suits her well). This razor-sharp lob differs from the previous one in that it is not asymmetric. It's the same length around her head.
12. Wavy Short Hair with Side-swept Bangs
With this soft look, Kim is sure to bring back old-school romanticism. Kim styled her straight hair into short, luscious curls that she swept to the side. Her bangs were also styled in a side-sweeping fashion to cover her forehead gracefully.
13. Slicked-back Black Long Hair
Whether her hair is platinum or raven, Kardashian West demonstrates her dedication to the wet look. She kept her hair slicked back and sleek when she first started wearing it. We love how she looks like she just returned from the beach with partially dry hair.
14. Semi-collected Hair with Curtain Bangs
This is one of the most beautiful half-updo hairstyles Kim has ever worn. The hair is divided into two sections: front and back. The hair in the front is parted in the middle with a distinct parting line, while the hair in the back is partly tied up and partly left loose. Her front hair is also loose, giving her oblong face shape a lovely proportion.
15. Mid-part and Layered Haircut
Kim Kardashian's hair color is stunning! Kim's chocolate brown hair resembled a sun-kissed beach babe with a mid-part. Furthermore, Kim Kardashian's layers added volume and flair to her look.
16. The Wet-hair Look
This is the best wet-look hairstyle Kardashian West has ever worn. It's long, wavy, and shiny—mermaid hair at its finest. Part your hair into two halves and ensure a completely wet look.
17. Retro Gelled-up Hairstyle
Old Hollywood hairstyles are timeless; to achieve wet retro waves like Kim Kardashian's, part your hair from the side and add shine gel. To achieve the desired look, style the front locks into wavy waves.
18. A Loop Ponytail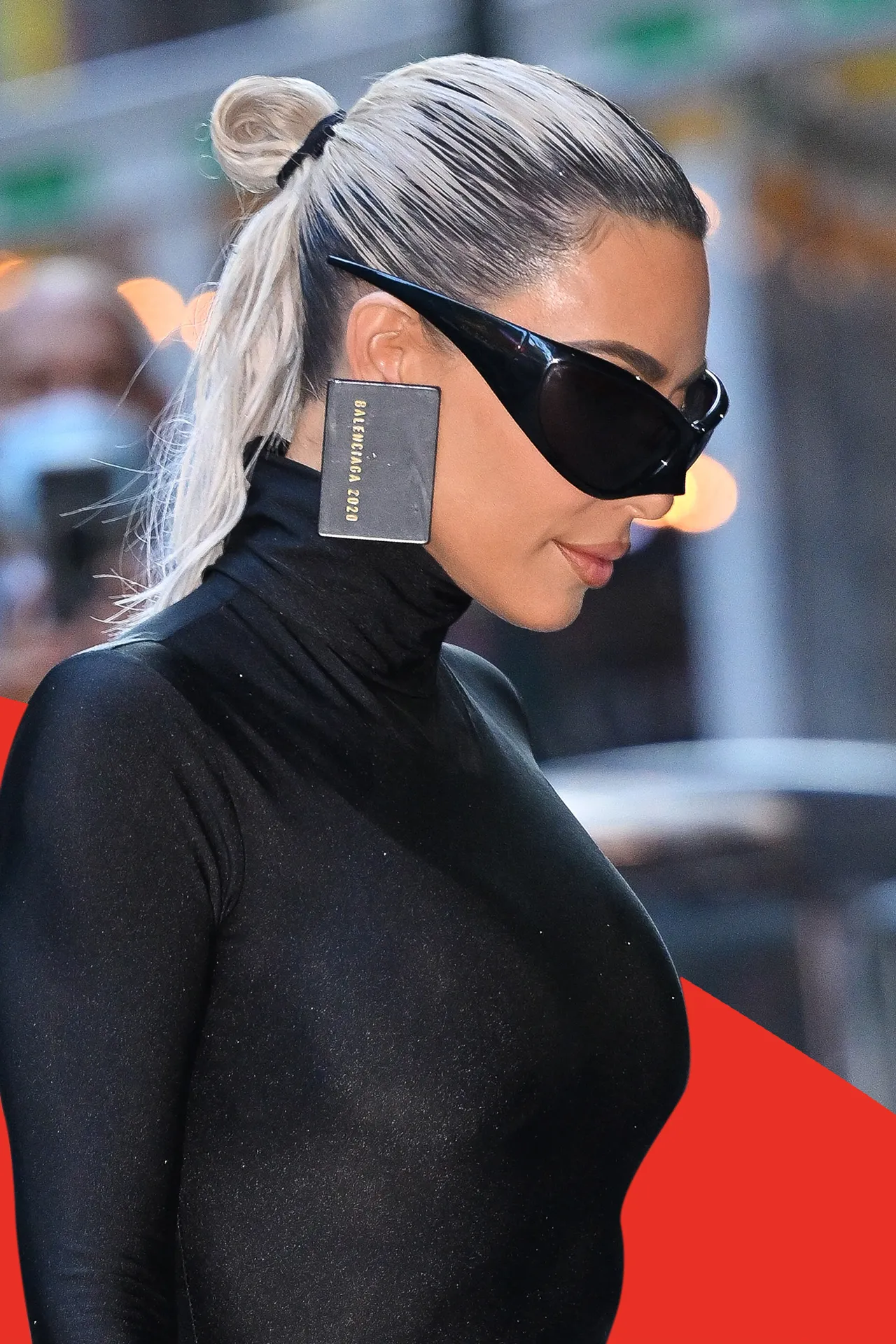 Kim's hairstylist came up with this clever look, probably the easiest ponytail to pull off. To try Kim Kardashian's new hairstyle, flip your hair into a ponytail, tuck it in half, and leave the ends hanging.
19. Short Hair Tucked back to the Ear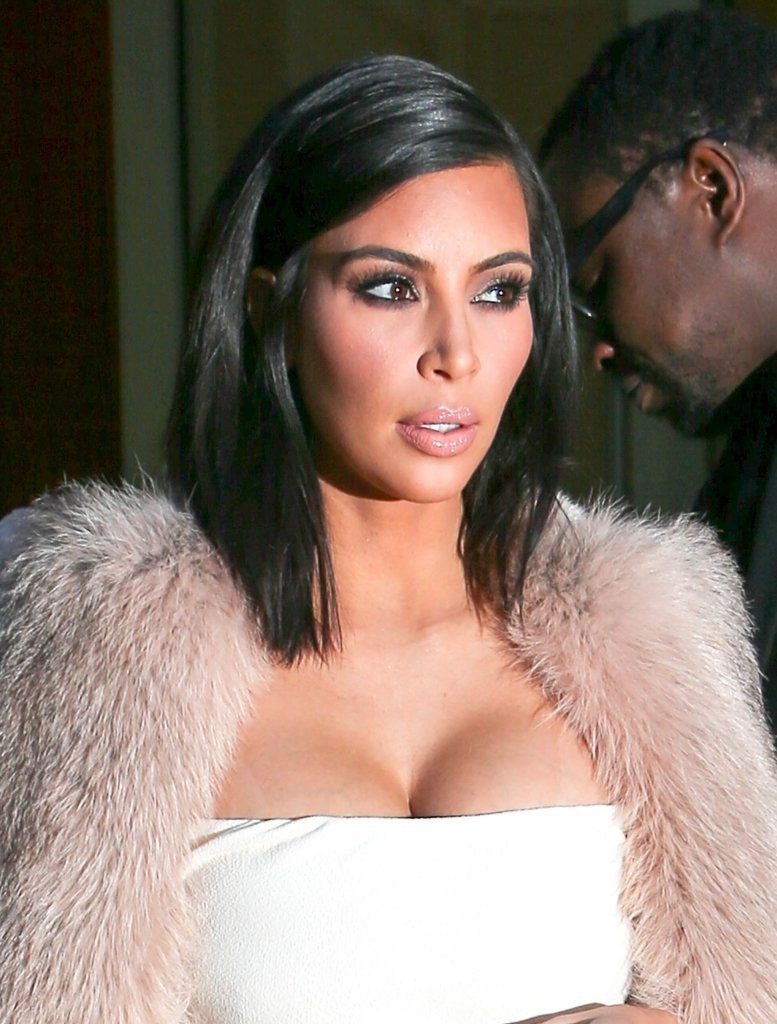 Another choice for women with short, sleek hair. Make an elegant side part with your hair. Consider getting an A-line haircut. Like Kim, now tuck the hair behind your ear to fix the side-swept bangs.
20. The Long Fulani Braids
Fulani braids are a traditional African hairstyle that entails making small, intricate braids near the scalp. Typically, braids are styled in a straight, linear pattern. This Kim Kardashian hairstyle certainly turned heads!
21. A Sleek, Icy-blonde Bun
Kim caused quite a stir at the Met Gala by attempting to channel her inner Marilyn Monroe by bleaching her hair platinum blonde or icy-blonde. Make a sleek bun in the back, and you'll look fantastic.
22. Hairstyle with Two Cornrow Braids
Kim Kardashian's hairstyles include a variety of braided styles. Instead of crossing the outer sections of hair over the middle section, they are crossed under, giving the impression that the braid is "stacking" on top of the hair rather than weaving into it. This look of cornrows or Dutch braids is ideal.
23. Long Braids into Different Sizes
This one-of-a-kind look is next on our list of Kim Kardashian hairstyles. Kim's hairstylist styled her hair with long, jet-black extensions. These extensions were neatly tied into several braids of varying sizes to create a funky look.
24. Side-parted Long Waves
Aside from the look mentioned earlier, this is Kardashian West's signature hairstyle—long hair with a side part worn down in slight and relaxed waves. Whether we're styling our hair for a workday or a weekend brunch date, it's a daily inspiration.
25. An Elegant Bouffant Updo
This vintage-inspired look is the next on our list of Kim Kardashian hairstyles. A "bouffant," or puff, is created on the crown of the head in this 1960s look. The bun is made with a hair doughnut or sock bun and can be kept in place with a strong-hold hairspray.
26. A Retro Updo
Isn't this a striking look? Make a deep side part with hair gel and a wavy updo in the back. Bobby pins it to the sides and back to secure it. For a retro look, try letting your front hair down into waves.
27. The Voluminous Waves
In 2016, Kardashian West walked the red carpet at the Vogue 100 Gala with her hair to the side in plush and voluminous waves. While we adore her super-sleek straight hair moments, she should revisit this look soon.
28. The Messy Fishtail Braid with Bangs
Are you interested in braided Kim Kardashian hairstyles? Try it out! A fishtail braid is a type of braid in which the hair is divided into two sections, and small sections of hair are interwoven from one side to the other to create a braided pattern.
29. Long Feathered Hair with Razored Bangs
Adding to our list of stunning Kim Kardashian hairstyles, this straight feathered hair with fringe bangs combination is timeless. You can even pair this look with a cute hairband if you want. Everyone will be drawn to these razored bangs.
30. Puffed-up Half-up Hairstyle
With this look, Kim Kardashian has the best hairstyle. The half-up hairstyle is a timeless look for any occasion, which KimK has elevated by adding a bouffant or puff to the crown of her head. Give it a shot!
31. An Updo with Mid-parted Curtain Bangs
Kim Kardashian's hairstyles frequently include an updo, and this one features side curtain bangs. These face-framing bangs can help to draw attention to your features and make your hairline more attractive.
32. Messy Ocean Waves Updo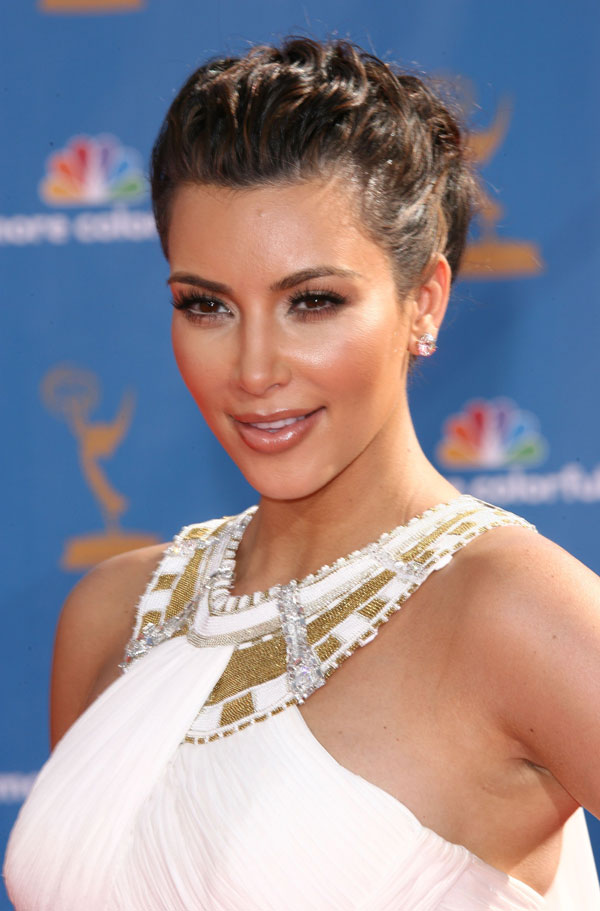 The next Kim Kardashian hairstyle on our list is this stunning updo, which is ideal for a bridal guest. Small sections of hair overlapped to achieve the ocean waves look on the updo. If you want, you can add accessories.
33. Combed-back Blonde Hair with Tapered Ends
Draco Malfoy got a run for his money with this Kim Kardashian haircut! Kim achieved this look by pushing back her bleached blonde hair. Her hair was long enough to graze her shoulders in a tapered style—another fantastic slicked-back hairstyle.
34. Messy Updo with Face-framing Bangs
This blonde Kim Kardashian hair color resembles Barbie's. As a result, it's no surprise that she looked like a perfect doll in this outfit! Kim wore her hair in a top bun and let her face-framing side bangs loose around her face.
35. Marley Twists into Two High Braids
Were you looking for Marley twist hairstyles? Kim's hairstyle appears complicated but is simple to achieve. Make two twisted high braids by braiding long Marley braids and splitting them in half. Consider the primary source of inspiration.
36. Rope Ponytail at the Top
Kim Kardashian is frequently seen with a sleek high braid hairstyle. This time, try something a little different: a rope-styled high braid. Continue twisting your long hair into a rope-like braid and securing it with a rubber band until the end.
37. Long Mid-parted Hair Adorned with Hair Clips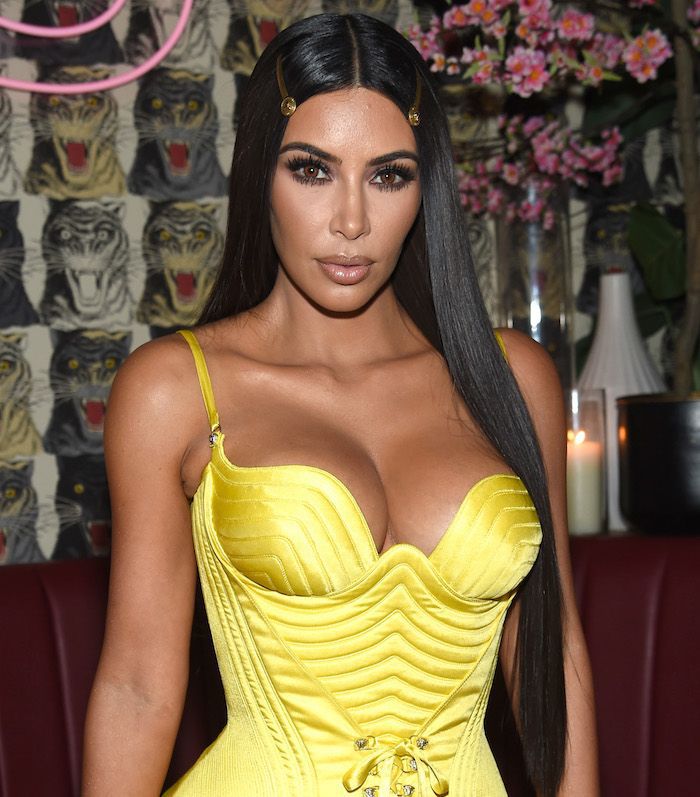 Kardashian West wore her sleek hip-length hair with two gold barrettes, a bright yellow Versace dress, and colored contacts (the latter makes her eyes look red-brown). Is it just me, or does this remind you of a '90s supermodel? We do.
38. Sleek Top with a Braided Bun
Kim has dressed to the nines in this super-tight plaited or braided bun. With her hair pulled back off her face, her soft features stand out, and we are in awe! Talk about flawless makeup!
39. Ponytail with a Deep Side-parting
Kim Kardashian hairstyles with ponytails are popular because they're simple to replicate and versatile enough to suit a variety of outfits and occasions. Kim's hairstylist created a sleek and straight look by sweeping her side bangs over her forehead with a side part.
40. A Casual Top Knot
Kardashian West's hair is flawless even when she's not on the red carpet and opting for a more casual look. This wrapped topknot looks better than the messy bun we usually wear while running errands.
41. Two Bubble Ponytails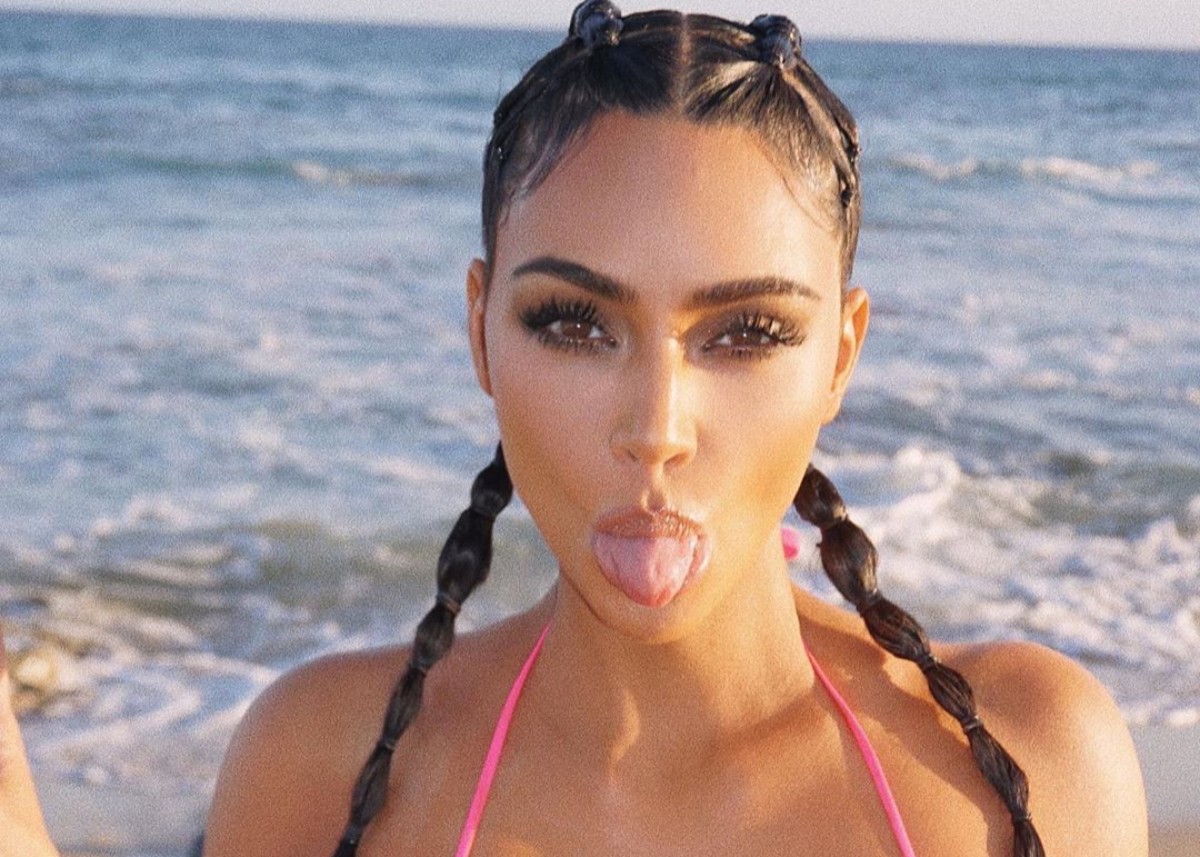 You must have seen Kim's look from the beach. Make two bubble ponytails with a center part for each side and tie them with rubber bands. Wear it to the beach or casually. Kim looks stunning in this hairstyle and her pink bikini.
42. Side-swept Unruly Bob
Kim's bob was styled with many waves and texture during her short hair phase, and it looked great! Kim's styled haircut gave her a new elegant vibe paired with fancy gym wear. Your next option could be a side-swept messy bob hairstyle.
43. A Braided Headband Updo
Kim has brought this one for you to achieve a professional look. Make a braided headband at the top of your head and pull your hair back into an elegant and tight updo.
44. A Casual Braid to the Side
Braids and Kim are frequently seen together. Yes, another braided hairstyle. Make a puffed-up look on top of your head, then braid a casual braid to the side. Try carrying it elegantly.
45. Blonde Mid-parted Bun with a Loose Hair Strand
Divide your hair into two halves, as Kim Kardashian's signature hairstyle is a mid-part. Form a bun in the back (low or high). Leave a hair strand loose to either side of the face-framing from one side.
Other Articles