A type of haircut with one or both temple areas cut very short or shaved off that women currently consider to be one of the most fashionable hairstyle this season. Although it is a popular style among men, women also adopt it. Please look at our 26 best hairstyles for women with shaved or undercut hair.
The styles can be worn on short, medium, or long hair. Only some ladies would dare to have shaved temples. On second thought, if you're looking to add a little edge to your look, why not give it a shot? After all, hair grows. And if your hairdresser notices that a haircut will not flatter you, she will tell you and assist you in selecting the best compromise style. So, let's look at the images with the most variations!
1. The Boyish Undercut
A classic pixie bob shape is ideal for those who prefer gamey beauty. The cuts do not have to be androgynous, but they can be. The incredible blonde shock is trimmed in the back, so it falls tantalizingly forward on the face.
2. Zig-Zag Undercut
A high bun is one of the most popular updos for women, but it can look too dull or casual for women who want to add style to their hair. Without the use of dyes, an intricate design elevates your look. Furthermore, like most haircuts, it can be completely hidden when your hair is down.
3. Platinum Pixie Under-shaved
There are numerous ways to cut hair outside the isolated shaved sections around the back or sides. Those who want to go all out should go for the Mohawk look. If the hair is cut too short, use a darker dye to create a striped design.
4. Triangle Design
When you pull your hair up into a pony or bun, shaved back or cropped hair at the nape of the neck can reveal cute patterns. You can choose a cut that highlights a beautiful tattoo with meaning or use it to try something new with otherwise mundane hair. In this case, tribal prints are used, but you can experiment with any design you like.
5. Shaved Side Parting with Diagonal Braid
Can't you decide between long and short? You won't have to with this look. This daring half-and-half look combines shoulder-length hair with a cropped side and a French braid to tie everything together. The soft curls balance the women's hairstyle.
6. Asymmetrical Shaved Section
This is an excellent option for girls who enjoy changing their appearance. The top layer is long enough to conceal the tapered side and short lengths underneath. You can cover or reveal the shaved side to coordinate the hair with the mood.
7. Fantasy-themed Cut
Many haircut hairstyles are fantasy-inspired, such as this nape cut with etched designs and a bold aqua or whatever color you wish for on a bun. This style is inspired by anime or a cute comic book, and it is simple and enjoyable to maintain.
8. Two-sided Hairstyle
Why can you stress about going one way with your hairstyle when choosing a path in life is difficult? You can incorporate two distinct personalities, such as this style, which leaves the hair longer and more even on one side.
9. Long Blonde Hair
A lot of women. Do you have long blonde locks from childhood that you want to update with a modern twist? Here's a haircut that women would go crazy for. It combines subtle shaved patterns with more traditional hairstyles.
10. A Bowl Cut
Women's short, rounded shapes are making a comeback, but modern versions bear little resemblance to their retro counterparts. Sharp points are created over the cropped perimeter by dramatically fuzzy edges. The hairline has been carved to create an unusual outline.
11. Colorful and Creative Short Hairstyle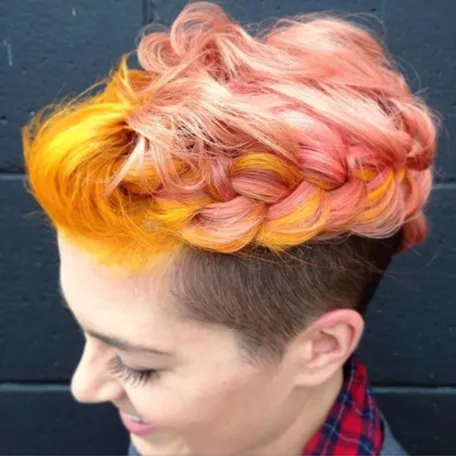 A less pronounced haircut can still be highly versatile. Maintain a more significant amount of hair on top for this look. When you're feeling creative, make a braid at the crown and add some wash color in bright, vibrant shades.
12. Spiky Shaved Mohawk
The mohawk is one of women's most popular shaved hairstyles, but it is also the most common and expected. Take it a step further by going for a two-toned blonde and black look. Choose a cool-toned ash shade or a golden hue to make it more modern.
13. Primary Color Undercut
The messy, spiky pixie cut is one of the most popular feminine hairstyles. It's refined while also being casual and carefree. The undercut looks more subdued with this haircut because it blends in with the shorter layers, allowing the green and purple colors to stand out.
14. Side Part and Temples Shaved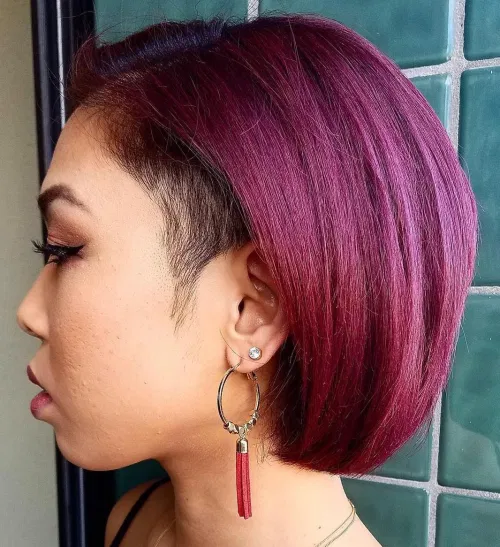 This hairstyle is ideal for a girl in high school or college who wants to try something new without completely changing her look. This style is best suited to people with thick hair. By incorporating a smaller shaved section on one side, you can easily cover up by simply untangling the hair.
15. Lilac Grunge
This cropped bob has a panel trimmed across the front hairline, creating an eye-catching asymmetrical design. The dirty violet hue and crinkled texture give this '90s-inspired look a too-cool-for-school vibe. The shoulder length updates it.
16. The Shaved Mermaid Bob
Mermaid hair is famous among high school girls and established women in the creative field who want to channel their fairy tale characters. However, rather than the traditional bohemian long and wavy variations of the look, shaved side hairstyles make the color scheme appear modern and rugged.
17. Shaved Nape and an Ethereal Ponytail
While a ponytail may appear to be the most basic way for a woman to dress, it is far from it. This messy braided ponytail stands out on its own, but because it's so soft and romantic, it needs something opposite to balance it out.
18. An Unusual Mermaid
Billowing waves, oceanic tones, and a panel of shaved neon scales will give your mane mermaid appeal. Women who want something new without sacrificing length will love this vibrant yellow that fades seamlessly into green and blue underneath or a mermaid looking colorful pattern..
19. Designed By Hand
Try a fancy haircut with an intricate, eye-catching design. The beauty of this hairstyle is that, despite the sharpness of the shaved section, the overall pattern is soft and subtle because it is reminiscent of a sunflower.
20. Afro-American Tapered Cut
Are you looking for a cool hairstyle that demonstrates your artistic side? Look beyond this tapered cut, complemented by a simple but flattering undercut. You can dress up this lovely style with an earring at the cuff, and you'll have unique hair in no time.
21. A Modernized Bowl Cut
Designs like this one offer modern updates on the classic bowl-cut shape. The vibrant green color and scalloped edges highlight the overhang's organic outline. Cropped lengths below the surface shape create a slim silhouette that swings and sways over the disconnect.
22. Pretty Rebel
Long haircut has only become popular in the last few years. We love how the trend adds a sass to an otherwise sweet look, such as dark colored locks. The racing stripes carved into the side add a sporty touch.
23. Purple Bun with an Undercut
The best part about shaved details with long hair is that they can be easily hidden when necessary, so be as creative as you want. The etched stripes add texture to the flat section, and the messy high bun is fashionable and playful.
24. Pixie Undercut
The lovely sprite cut is all about pieced ends and attractive points. Because of the shaved sides and nape, the sleek blonde drape above can fall into elegant ruffles and points. Typically, layers shape the strands; the cut below leaves the surface glassy and black.
25. Long Curly Pixie Cut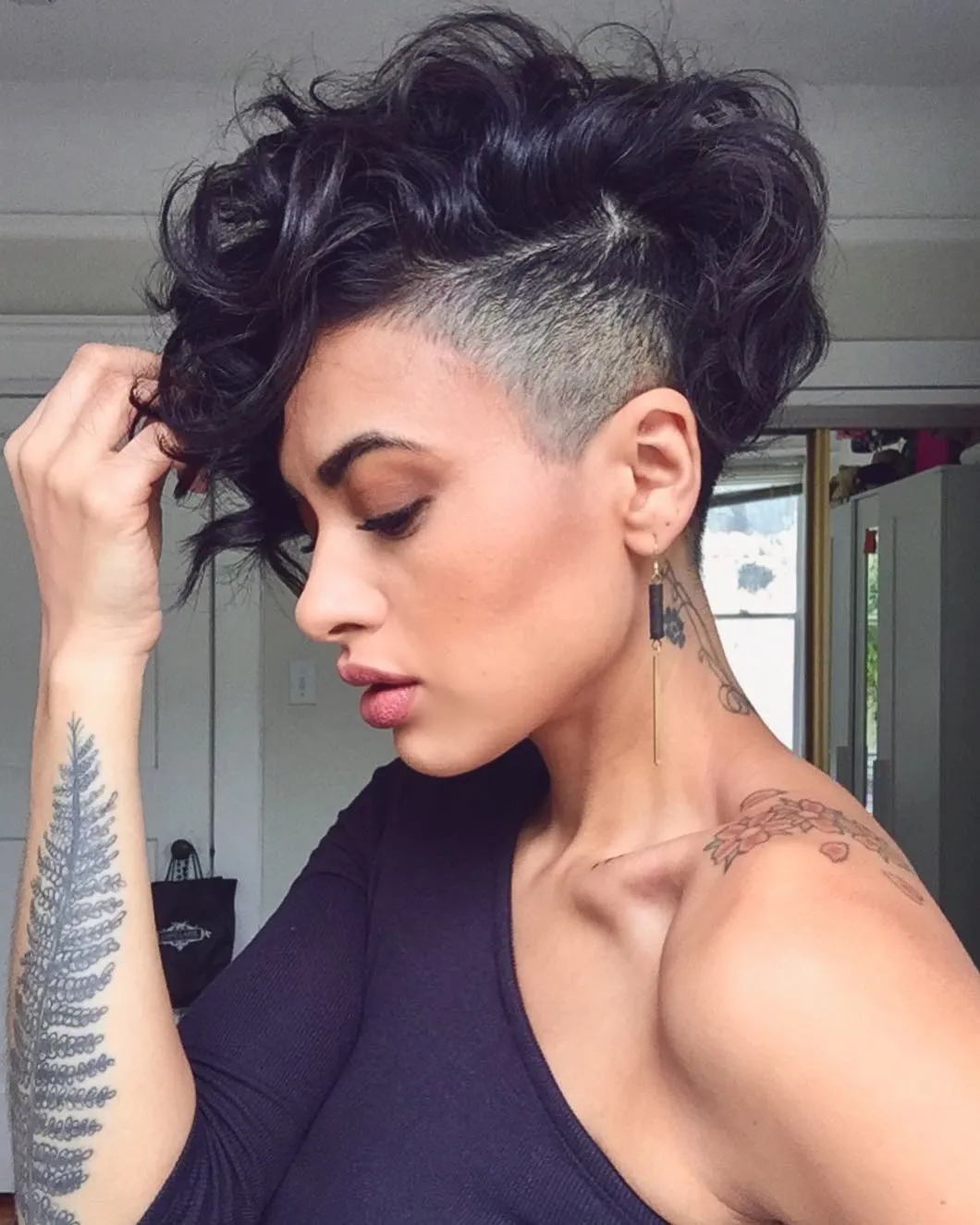 A haircut for women with curly hair can keep otherwise unappealing braids in check. Begin with a longer pixie, then let your natural curls fall from the top. You can embrace your feminine side without having to deal with a complicated style if your hair is cute, curly, and unique.
26. The Punk Beauty
The haircut is taken to the extreme for this look. The hair is shaved close to the scalp to create the stunning "V" shape. On more conservative occasions, the rest of the hair can be left loose to conceal the short shaved section.
There are many differing viewpoints on women's haircut styles. Someone thinks they're too extravagant and unfeminine. But numerous notable examples have never diminished your feminine appeal but instead made you shine brighter as a woman. Refrain from letting other people's opinions influence your decision, especially regarding self-expression and other essential matters.
Other Articles