Do you want to know what our favorite hairstyle is? One that can be worn by almost all hair types, textures, and lengths and takes little time or skill to execute. This is where we find the sloppy bun.
Whether running late to the gym with messy hair or looking for a cute way to pull your hair up quickly, the messy bun has saved the day numerous times. But don't be fooled by the name: while it may appear "messy," this hairstyle requires a few key steps (and products) to look flawless. Please continue reading for a simple three-step routine for a messy bun and hair care tips to help you achieve a carefree but put-together look.
You're ready for the messy bun tutorial if your hair is long enough to pull into a high ponytail. Let's get this party started!
Step 1: Tie your hair into a high ponytail.
Begin by gathering your top-of-the-head hair into a high ponytail and securing it with a rubber band. You can use a brush to help straighten the hair, but don't be afraid to leave it loose. A messy bun looks best when the hair is loose and effortless.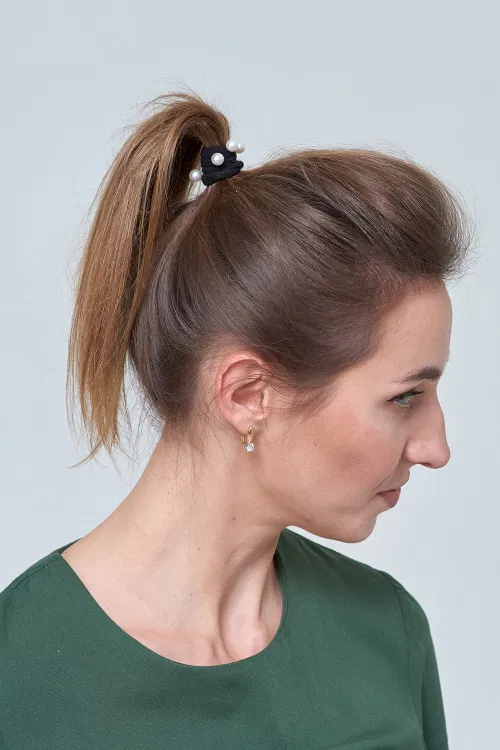 Step 2: Make a knot.
Twist the entire length of the ponytail once it is secure. Begin at the crown of your head and wrap the knot around itself to form a bun.
Step 3: Tie the bun.
Finish by securing the bun with another hair tie, a scarf (our favorite option), or a few bobby pins. Spray a light hairspray that can be brushed out to help remove any excess loose hair, and you're good to go!
Making a Messy Bun with Thin Hair
You don't have to give up different hairstyles because you have fine, thin hair – you can achieve the perfect messy bun by using the right hair care products. Here are our few top picks for creating a solid foundation for your hair and the perfect finishing touch.
1) Texturizing agent
Using a texturizing product on your hair is an excellent way to add volume, movement, and body. Before attempting the messy bun tutorial, apply texturizing powder to the roots and rub it evenly. A dry texturizer can also be used for a more defined texture and hold.
2) Shampoo and conditioner that adds volume
If your messy bun looks dull and lifeless, try adding body and volume with a volumizing shampoo and thickening conditioner.
3) Hairspray
While we love the look of a loose, effortless bun, it is sometimes necessary to keep excess flyaway hair under control. After thoroughly securing the messy bun, spritz a light hairspray all over the hair to add definition and movement to the sprayed areas.
4) Hair volumizing spray
Want to add body to your hair and improve the look of your messy bun? Make use of a volumizing hairspray. It volumizes your hair, adds support to the base of your roots, and leaves it soft and shiny.
5) Wet shampoo
One disadvantage of having fine or thin hair is that it stands out more when it's oily, and excess oil can also mean your hair is straighter. Because this can result in a messy, limp-looking bun, use dry shampoo to absorb excess oil. Another advantage of dry shampoo is that it leaves hair looking fuller, airier, and with more body by absorbing excess oil.
6) Extensions
Hair extensions are also an excellent way to add volume to your hair, especially if it is okay and thin naturally. However, always consult with a hair professional about significant changes like this. Consult your stylist or hairstylist to see what they recommend for your hair type and frequency of styling.
Make a Messy Bun with Thick Hair
Too much hair can also deter you from attempting a messy bun or, at the very least, make you fear breaking elastics and unwanted bumps. Here are our top tips for securing your entire mane and creating the perfect messy bun with thick hair.
1. Consider a half-up hairstyle.
If you have trouble getting all of your hair into a bun or experience scalp pain from having your hair up, try a half-up, half-down messy bun. Begin by parting your hair in two and gathering only the top part into a high ponytail. Then proceed with the rest of the tutorial to achieve the look of a messy bun with less weight and potential tension in your hair.
2. Using bobby pins or extra elastics, secure the hair.
If you have thick hair, you should know that additional accessories are sometimes required to keep your look in check. Finish your messy bun tutorial using bobby pins along the edge or an extra elastic to keep everything in place.
3. Make use of the extra hair by pulling out more strands.
A simple way to make the messy bun appear more carefree? Take more strands out. Those with thicker hair have more to work with, so pull out a few pieces that frame the face after putting the bun up.
4. Alter your hair-care routine.
While thick, healthy hair is advantageous, its texture can challenge an updo. Use curly hair products to smooth it out, or try styling your hair before attempting the messy bun tutorial. When using hot tools on your hair, always use a heat protectant.
We love the versatility and ease of a messy bun; it's a classic look that you can try for a night out or down for a quick fix on the way to the gym. Follow this simple three-step tutorial and stock your shelves with the right sustainable hair care products to keep your hair looking its best (and your bun looking its best). We hope this has inspired you to try something new.