Hairstyle is one of the most important aspects of prom fashion after prom dress. And, regardless of hair length or type, a prom hairstyle should be irresistible, like the special day. To accomplish this, look for ultra-modern evening hairstyles that are as complementary to the dress as possible. As a result, prom hairstyles for available attire with long, lush, and more closed dresses look best with up-do or partially up-do hairstyles for prom.
But what are the main trends for prom hairstyles in 2022-23? This post will tell you the best updo ideas- prom hairstyles in the best solutions for all hair types.
1. A Twisted Updo with Loose locks
Have you noticed that everything from the 1990s and Y2K is trendy? That also applies to prom hairstyles. Get the fancy look with this twisted updo, and remember to leave a few strands of hair free to frame your face! All you have to do, starting at the base of the nape of the neck, is twist and pin, twist and pin, twist and… You understand, don't you?
2. Several Ponytail Messy Updos
This easy updo, halfway between sleek and sloppy, is one of the best styles for prom, and its aesthetic is Y2K. The goal is to make a row of mini changes from the crown to the nape of the neck. Begin at the top and work your way down, pinning each one as you go. We recommend not using shampoo but some texture paste.
3. Braided Crown Updo
Begin in the middle part of your hair and braid two braids just above the ear and towards the nape of your neck. When you've finished the two braids, overlap them if they're long enough. Then, conceal and secure the ends. If you want, you can add embellishments like small gems, bows, or flowers.
4. Grecian Chain Hairstyle
Greek graduation hairstyles will add a unique charm and shine to the graduates' appearance. If you want to create a one-of-a-kind hairstyle for your prom, take the Greek hairstyle as an example.
Specially selected hair, curled on the sides in a tourniquet and fixed in a bun at the back of the head, should be complemented with a gold ribbon or chain, allowing you to create an incredibly beautiful Greek hairstyle. The attire's lightness and tenderness complement the image's attractiveness with the Greek prom hairstyle.
5. The Low Beam
Among graduation hairstyles, the unrivaled low bun has the most solutions and styles of execution. For those with long hair, a careless low bun and a voluminous, neat, and small bun will be an excellent prom solution.
Use decorative and braided elements to create an extraordinary prom hairstyle by decorating a low bun. The low prom bun in a modern hair color, which allows you to highlight individual strands, is especially lovely.
6. " Fishtail Shell" Hairstyle
If you want to make an elegant prom hairstyle while collecting all of your hair on your shoulders, try the shell hairstyle, which will help you achieve the desired result.
The fashionable fishtail braid will enable you to achieve an unrivaled look on both medium and long hair. Form a 'shell-like style with the fishtail and pin it accordingly. It will be easy to pull off this hairstyle at prom. At the same time, throw a couple of fun strands in a fashionable shell hairstyle for prom 2022-23 to give you a flirty look.
7. Hairstyle with Bows and Extensions
Stylists recommend using fake hair, buns, and hair bows for those whose curls are too short of recreating the desired hairstyle. Building strands before the triumph is an equally bold step. The main thing is to match your fake hair to your hair as closely as possible, creating a unified image.
In general, bow hair extensions do not hide in buns but show off their full beauty in such styling options.
8. The Rose Updo
A rose made of your hair, or a complex intertwining of strands, appears skilled and unique. Please remember that this styling option is a genuine creation of the master; do not attempt to replicate it at home unless you have special experience and skills.
9. Retro Touch
Retro styling with beads and waves that is equally bright. Remember the eye-catching makeup and fashionable attire. Try making waves near your face, uplift the fringes and tie it at the back for a retro look.
10. Side-swept Updo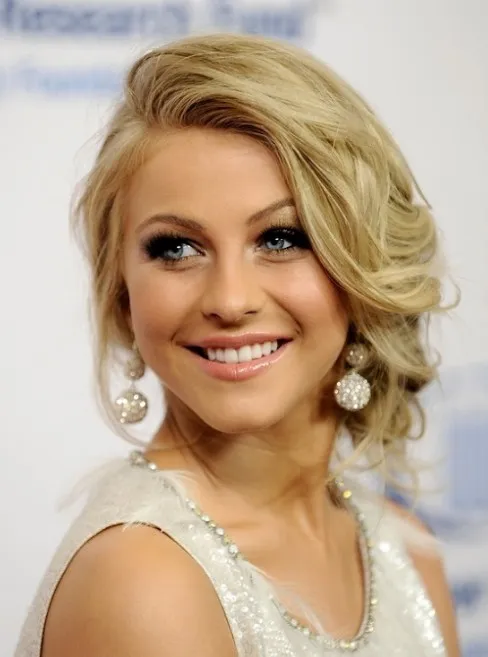 The following styling options will help you look like a center of attraction at the prom. Starting from the ends, release the hair and twist it into an updo, a special elastic band. With bobby pins, secure the hairstyle and twist a few strands away from the face. Make a loose side-parting in front and let the hair look messy at the back.
11. Air Bun
Air bun with headband or bow – a low-maintenance styling option. You should wind your hair before creating an airy and sloppy bun. Accessorize your hair with a headband, a crown, a small bow, or a lovely hairpin.
12. Lower Braid Bundle
A braid's lower bundle, adorned with an original hairpin, appears smooth and interesting. It will take at most 5-10 minutes to complete. Make a small hairstyle at the crown, then weave your hair into a regular braid or fishtail technique. Form a bundle with the braid by twisting it from the bottom and securing it with bobby pins. Finally, remove some strands around the face and embellish the hairstyle with butterflies or small flowers.
13. Hair Bow Hairstyle
It is only necessary to select a bow size to match the evening gown. Similar to the rose one but easier than that, make a bow out of your hair and secure it with pins for an elegant look.
14. The Bob Updo
Stylists offer to wind elastic, small curls, make a side parting, lift the curls, and fix them with invisible for girls with short hair (bobs, elongated bobs). Leave a few curls around the face to add lightness and cheerfulness to the image.
15. Using a Scarf
Add a scarf and curl the bangs with a curling iron for a casual updo style for a more polished look. Choose the scarf according to your dress and tie it in the bun, making a knot. You're ready!
16. A Simple Hair Clip Updo
If you love simple hairstyles, then this one's for you. Make a sleek-tight bun and secure it with bobby pins or a fancy barrette. Use a barrette you love and adorn your bun with it.
17. Inverted Braid Updo
This hairstyle is only for braid experts, but we thought it looked great for everyday use and special occasions. Try making an inverted braid (from downwards to upwards) and tie it in a bun. This look is fascinating nowadays.
18. A Chignon Wide
A wide bun at the back of the head, especially if you have curly bangs like Sara Carbonero. Covering your nape of the neck, this is a hot demand and a perfect messy look. Tuck in the strands perfectly, and it looks awesome.
19. Updo in Afro-American Style
While braids are popular among updos, try this Afro-American style too. A twist-out creates spiral curls and is versatile. Try tying them in an overlapped braid manner, and it's completed.
20. Updo for Curly Hair
Style your curly hair with an ethereal look. Take all your hair and hold it in a tying position of a half ponytail at the back. Tuck the ends and use pins. Repeat the same until it forms a messy curly bun.
21. Hair Extensions Package
The beam in this solution focuses on the back and shoulders, slightly opening them, creating a stunning evening look.
A delicious high bun goes well with closed and open dresses, adding more openness to the latter. A stylish high bun for prom looks great in a free version with voluminous, light strands falling in individual curls. A high bun with hairpins and rhinestones that complement it is also irresistible.
22. Updo Bouffant
This can be done on short or long hair; start with your hair down, pulling the back of the section toward your hair. It would look like a rat's nest and is a flattering look.
Other Articles