One of the most common mistakes men make when selecting a hairstyle or haircut is looking too closely at celebrity trends to realize that they look different. Every man, and indeed every person, has a different type of face, facial features, or facial contour, so they will have a different type of hairstyle or haircut depending on whether they have an oval, square, or triangular face, for example.
A flattering haircut punctuates and highlights your face's best features, conceals flaws, and improves your overall image. There are six basic face shapes: oval, diamond, round, square, elongated, and triangular (eight if we include the trapezoid and rectangular face type), and although it may not appear so, we will have a haircut and hairstyle option or a suggestion of which styles may be the best for each of them.
OVAL FACE
The oval face, also known as the "egg face," resembles an egg. It is a well-proportioned face with large cheeks and a chin that is narrower than the forehead. The good news is that most haircuts look great on this face shape. It is not suitable for very large bangs or side-parted hairstyles.
1. ON TOP, A LONGER HAIRSTYLE
This is the singer's traditional hairstyle and one of the most flattering for men with oval faces.
The trick is to have longer hair on top of the head than on the sides, but without forming a wig, to achieve an asymmetrical cut that emphasizes the features and outlines the face.
2. ON THE SIDES SHAVED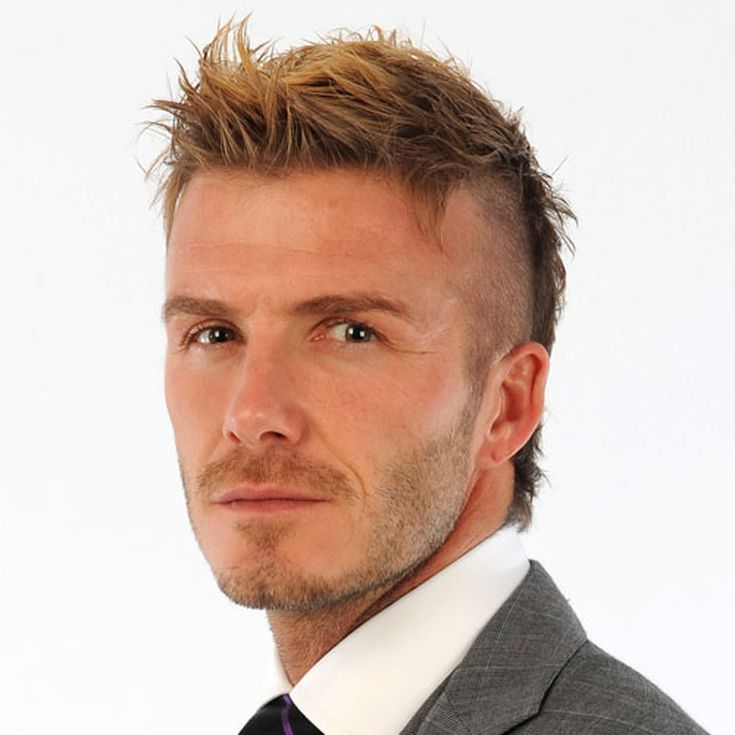 Following on from the first example of Enrique Iglesias, another variation of this hairstyle is to cut the sides very short, almost shaved, and leave the top of the hair longer to create a simple toupee effect.
As seen in the image, Beckham's features are highlighted even more by this hairstyle, which frames his features better.
3. SCRATCH TO ONE SIDE
Another sophisticated and appropriate hairstyle for men with oval faces is combing the hair to the side to highlight the most attractive and masculine features. It is a perfect look for the most formal occasions.
4. TOUSLED AND SHORT
Clooney always chooses a more classic and elegant hairstyle without sacrificing elegance and good taste.
As a result, the renowned American actor always opts for classic haircuts like the one shown in the image, but with a slightly tousled effect to keep up with current trends.
---
FOR ROUND FACE
It is, as the name suggests, a round or circle-shaped face. No, we're not talking about a "bread face" and being chubby. Being overweight has nothing to do with it. The best haircut for you is one that conceals your roundness, such as half-length hair or hairstyles that add volume to the upper part of your face.
5. A QUIFF HAIRSTYLE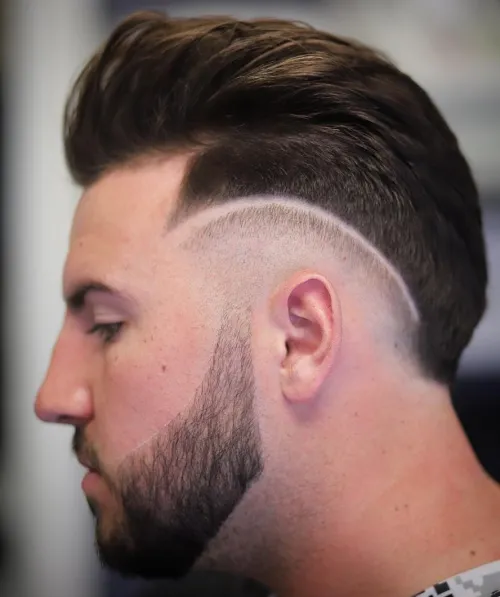 Round-faced men can always appear younger due to their rounded contours. A classic, side-swept hairstyle, such as the quiff, will make you appear elegant and refined.
The key here is the flawless finish, which we recommend achieving with eGo Force for men's gel, which not only provides maximum hold and leaves an irresistible scent.
6. A MODERN MULLET STYLE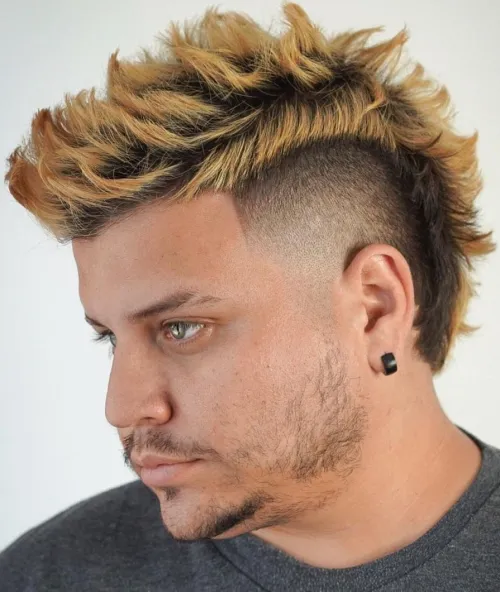 Despite its 1980s origins, the mullet is now a modern and popular hairstyle for men. It combines a toupee with half a mane, and the styling is key: pull it back with your fingers to create volume and texture.
7. POMPADOUR STYLE
If you want to add length to your face, the pompadour is the cut for you. Your face will appear slimmer and longer due to the height of this style. The sides can be cut with a gradient clipper or combed back.
To maintain the volume of your hairstyle, we recommend using Folicuré Original Extrafirme hairspray, which, in addition to fixing, strengthens and protects your hair from fall and breakage.
8. BOOKLET TRIMMING
The boy cut, also known as the booklet cut, places the parting in the middle and allows the hair to fall on the sides with movement. The side strands are usually left down to the cheekbones, but you can experiment with length and leave the hair layered below the brows, as in this example, to define the face's bone structure.
---
FOR SQUARE FACE
A broad forehead and a prominent jaw define the square face. Men with this face shape, like the diamond face shape, should soften their features by wearing short or shaved hair or a half bob to add volume to the top of the head.
9. NIRVANA-BLONDE
In addition to attempting one of these square face cuts, experimenting with hair color is another option for enhancing your appearance. He was encouraged, for example, to try a nirvana blonde, which combines dark roots with a washed or platinum-blonde mane.
10. VINTAGE CUT
Square-faced haircuts can be styled in any way. We like experimenting with different options to see which ones soften or highlight particular features. We see a vintage look here, with all hair slicked back. We'll look at more similar options below.
11. VOLUMINOUS CURLS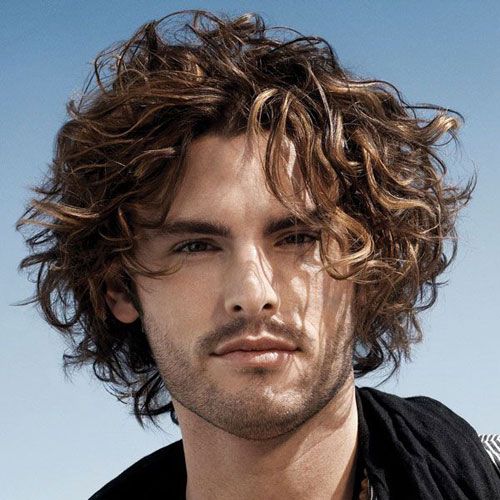 Do you have small but tightly coiled curls? Attempt this look with more volume on the top and shorter sides. The curls are left natural in this case. This softens the features and makes it one of the most attractive squares face haircuts for men.
12. MESSY-WET LOOK
Tousle your hair to give it a fresh-from-the-shower look without using a comb. Using the gel, as mentioned earlier, you will achieve a relaxed look that will last all day. And there you have it!
---
FOR HEART-SHAPED FACE
A lovely and loving name for a face shape known as an inverted triangle. The brow is larger than the cheekbones. If you have it, you should avoid wearing your hair short. Hairstyles that add volume to the upper part of the face and ears are recommended to hide the chin.
13. LONG BANGS
Long bangs will hide your brow and make it the same width as your cheeks. Hair on the sides will widen your temples, making your face round and almost oval.
By growing a short or medium beard, you can hide your narrow jawline and pointed chin. The beard will give you a more angular and edgy appearance.
14. SIDE-PARTING
Wearing your hair long on top of your brow will lengthen your face, but combing it back with a side part will draw attention away from the width of your brow. Long hair on the sides will broaden the temples, giving the appearance of an oval face.
You can also grow a beard to achieve a more streamlined appearance. This will conceal some of your jawline and pointy chin.
15. EXTENSIVE BACK-COMBING
The hair is combed back in this hairstyle for two reasons. First, the long hair on top lengthens your features, and the obvious parting adds a nice angular dimension.
With these characteristics, it narrows the forehead, and the longer sides increase the width of the temples to the jawline, transforming the shape from heart to square.
16. SPIKY HAIRSTYLE
The spiky hairstyle is one of the best for men because it is simple to style and can be done on any hair type. Spikes will lengthen your face and narrow your forehead if you have a heart-shaped face.
---
FOR DIAMOND FACE
Whether valuable or not, diamond-shaped faces have a prominent chin, very thin cheekbones, and a prominent forehead the same width as the chin. In a nutshell, it is distinguished by hard characteristics. You look great with half-length hair, wigs, or hipster-style haircuts.
17. BUZZ STYLE
The buzz cut is a low-maintenance hairstyle worn on top of the head. The hair is cut close to the scalp, emphasizing your bone structure.
18. CAESAR CUT
The Caesar cut is timeless and will never go out of style. The front hair is short and messy, while the sides and back are neat and even. It helps to hide the narrow brow.
19. FAUX HAWK
The faux hawk adds volume to the top of the head and evens out the shape of the face so well that it begins to look oval rather than diamond-shaped. The top has a lot of volumes, and the sides make your face look wider.
20. THE MALE BUN
Buns are fashionable and flatter diamond-shaped faces. Combined with a Garibaldi beard, it creates one of the most masculine looks you've ever worn.
---
FOR ELONGATED FACE
The chin is almost the same width as the forehead in people with long faces. As a result, toupees or hairstyles that add volume at the top are recommended, and very short hair on the sides is avoided. In this case, the beard can also be an excellent shaper.
21. PARADED CUT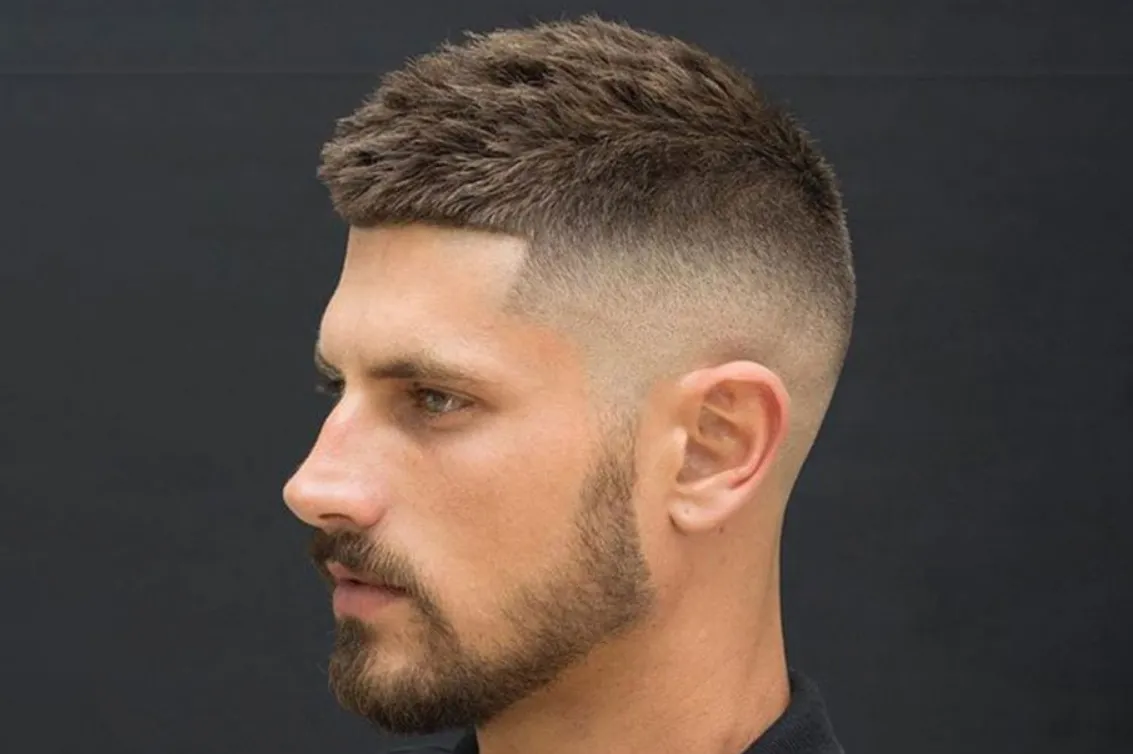 Paraded cuts for men are popular, so if you have an elongated face, you can take advantage of it. Wear your hair short and "play" with the textures and parted hair in the center part.
22. WAVY HAIRCUTS
Haircuts with a wavy look will look great if you want, or go for a cut lower on the sides, leaving the central wavy hair with a natural style to harmonize the features.
23. HAIRCUT MID-LENGTH
Long hair is not recommended when you have a face with elongated features because this style makes a face look even longer, but the truth is that if you have this type of feature, a half mane, a hair parted and slightly tousled will not be a bad idea.
24. SHAGGY TOUPEE
Toupee cuts are back in style, and they can be a great option for those with elongated features because they draw all the attention and thus harmonize the features by creating symmetry between the face and features.
Other Articles