If you're still looking for a bridal hairstyle and have mid-length hair, here's a look at some options. For brides of all tastes and types, you're sure to find your favorite!
Choosing a bridal hairstyle is a big decision for women because there are many factors to consider. Fortunately, we're here to assist you in making your decision by providing numerous options. If you have medium-length hair, we will show you the various bridal hairstyles available to you: from braids to natural tresses; by the end of this article, you will undoubtedly have one of your choices!
Before we get into the different types of bridal hairstyles for you, let us explain why mid-length hair can accommodate a variety of styles. Mid-length hair, which is neither short nor long, gives you the best of both worlds. So you can wear your hair down without it bothering you or up in an updo to look more comfortable.
1. Low Braided Bun
If you want to dance without constantly checking your hairstyle, go for a low bun, either in its simple or braided form. It is effortless to achieve and is ideal for mid-length hair. This style is perfect if you want a vintage or bohemian wedding. The trick is to pair it with tiny flowers.
2. Half-updo Braids
Braided hairstyles are a popular choice among brides because they keep your hair in place. Furthermore, their execution is not overly complicated (depending on the type of braids) and can be used in various ways; on the one hand, as a headband braided over the hair or making thin braids on loose hair in the best hippie chic style. And a French loose braid in the middle.
3. Contemporary and Avant-garde
If you like wearing your hair down but don't want it in your face all the time, this is the bridal hairstyle for you. It entails combing the hair back as neatly as possible, leaving no hair loose. To keep it secure, use a lot of gel and fixative, wearing a unique wet hairstyle. You can have a modern and straightforward bridal hairstyle in just a few minutes.
4. Wild Half-updos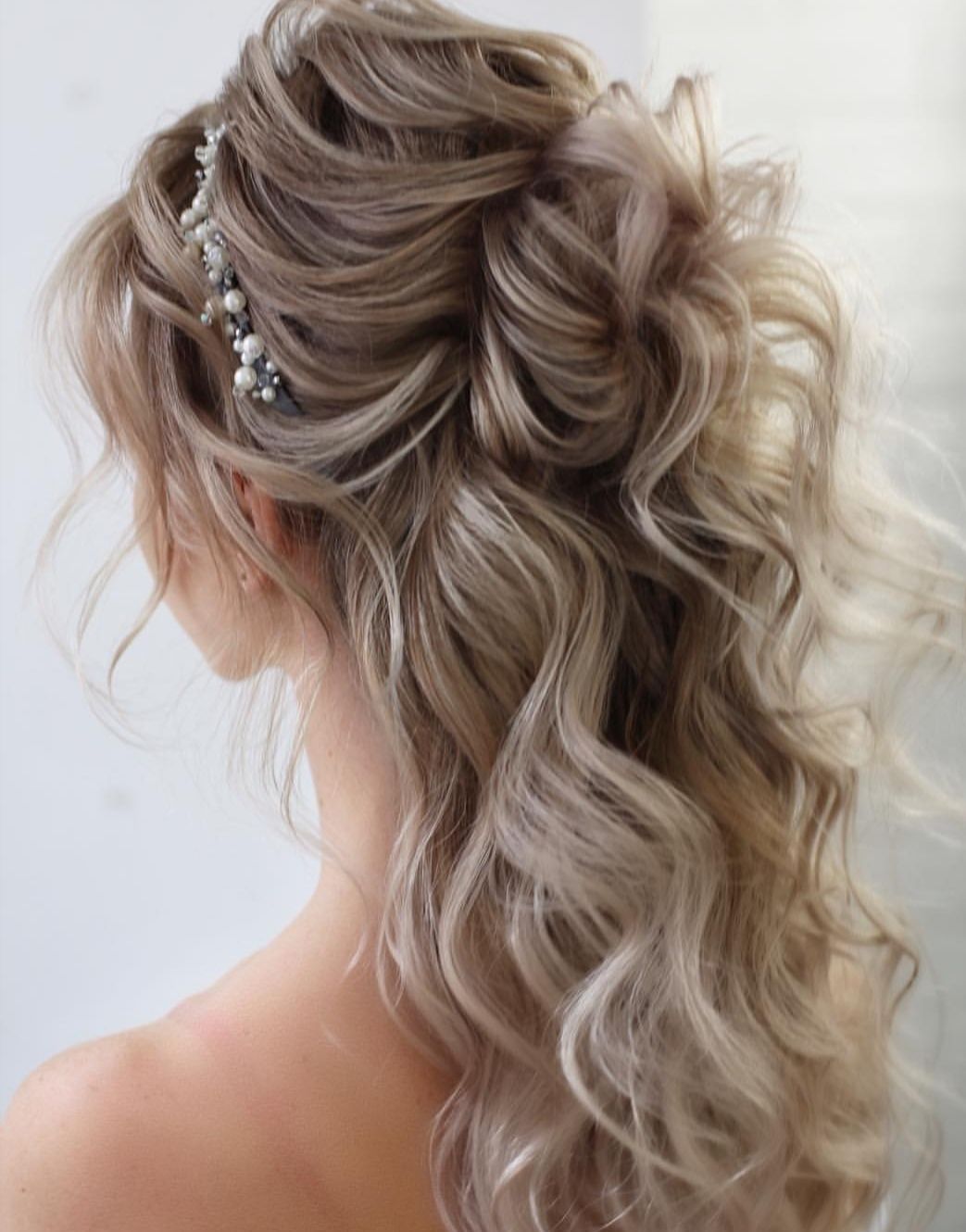 If you usually feel more comfortable and sexy with loose and natural hair, you should know that this is an excellent choice for a bridal hairstyle. Make a wild messy half-updo with loose strands and add a brooch to the top. A vital tip: start getting hair treatments a few months in advance to ensure your hair looks strong and healthy. Use a flat iron or curling iron to make it look neater (even though the goal is to make it look natural).
5. Elegant Hairstyles
Updos or half-updos are also essential for traditional and elegant brides. Because your hair is long, you can try updos with a middle French braid, which combines the neatness of highly messy updos. However, if you prefer a more traditional look, you can quickly request a high-voluminous updo with flowers from your stylist.
6. The Wet Look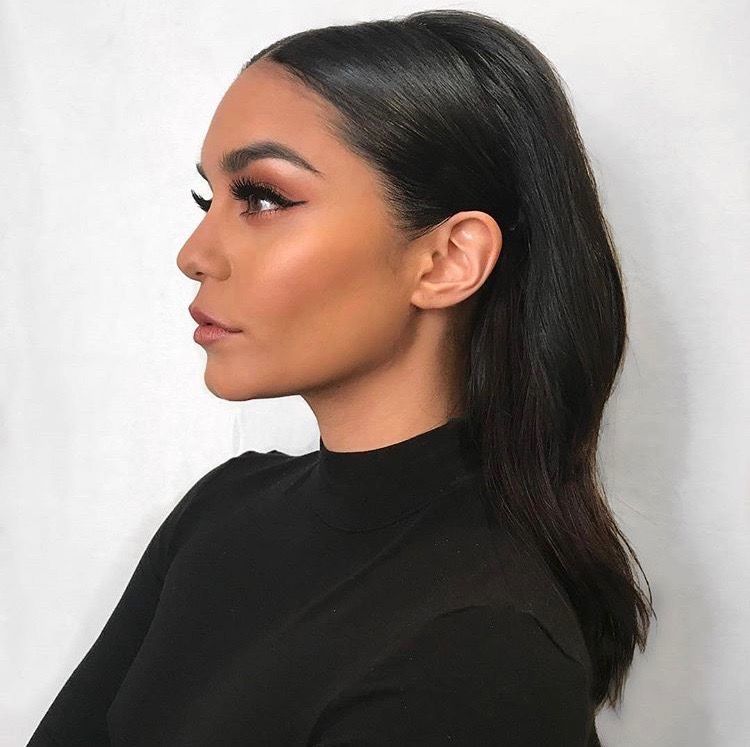 They are not only well-styled against high temperatures, but they are also an ideal hairstyle for your events. We're talking about wet effect hairstyles that look great on mid-length hair because they're both comfortable and stylish. We comb all the hair back and place it behind the ears without streaks using gel and damp hair. We finish it with a bit of heat, and it's perfect.
7. Movement in Straight Hair
Straight half-length hairstyles with movement, freedom, and fall are also ideal for your next wedding. And if your hair does not reach the shoulders, a side parting looks excellent, and if it slightly exceeds the shoulders, a middle break and even an accessory look great.
8. Half-updo with Bow
Half-updos are also seen with luxurious textures and worn up. Make a high half-updo that is well textured with a product to fix and shine. You can tie it in a knot, separate several strands, or braid it. And dress it up with accessories like a bow or a fashion barrette.
9. Side Braid with Water Waves
You can also innovate your next wedding hairstyle if you want to go off the beaten path and not be just another guest. And, to the traditional water waves, we can add a braid on either of the sides. A creative touch that combines classic waves with a modern braid and is a very comfortable hairstyle that is also resistant to any party.
10. Side Swept
Experts suggest a straight or slightly wavy midi mane swept to the side and hair gathered behind one ear in a messy look is a popular bridal look. We can conceal it with a couple of hairpins, and this gesture can add an extra level of sophistication to our look.
11. Twisted Floral Bun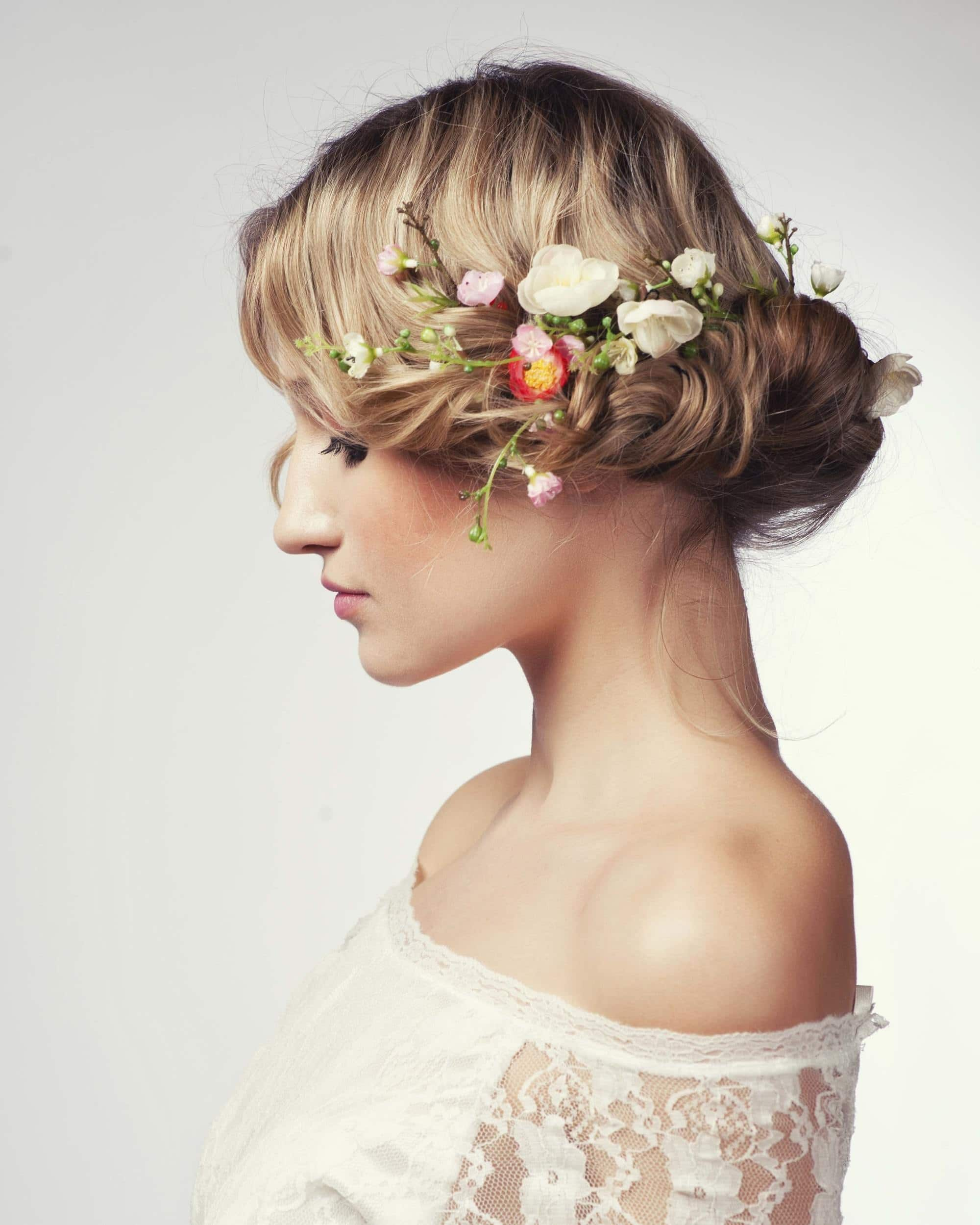 A bun can also be a good choice for styling your mid-length hair if you are not looking for complications and want to play it safe. It complements any outfit, especially those with an open back or a closed front cut. A twisted bun around the nape of the neck is the new bridal hairstyle trend.
12. Afro-American Updo
Braids are unquestionably making a comeback. This hairstyle, with Afro-American curls and braids, is the centre of attraction. Attempt an updo and shine your evening with the unique bridal appearance.
13. Tied Bun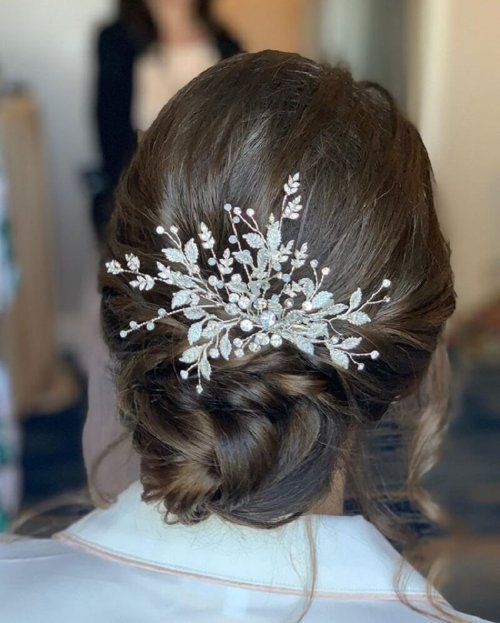 A more tousled chignon with a visible knotted style and loose strands also works. The secret is in the texture of the hair, which should be performed well before applying texturizers or shine sprays. Accessorize your knotted bun with a huge floral brooch.
14. Snake Waves with a Side Brooch
For this type of hair, waves are an exquisite hairstyle option. And, rather than being more pronounced, what is worn is a more loose and sleek wave, and they are worn with a sideband and side parting. Try making snake-like waves to get an accurate flattering hairstyle.
15. Curly Updo
Glam curls have also become the ideal partner for bob cuts on special occasions, bringing back all the glamour of classic Hollywood. A very elaborate option that is ideal for special events. Curl your hair if it's not natural and tie them into a half-up with a brooch.
16. Ponytail with Knot and Headband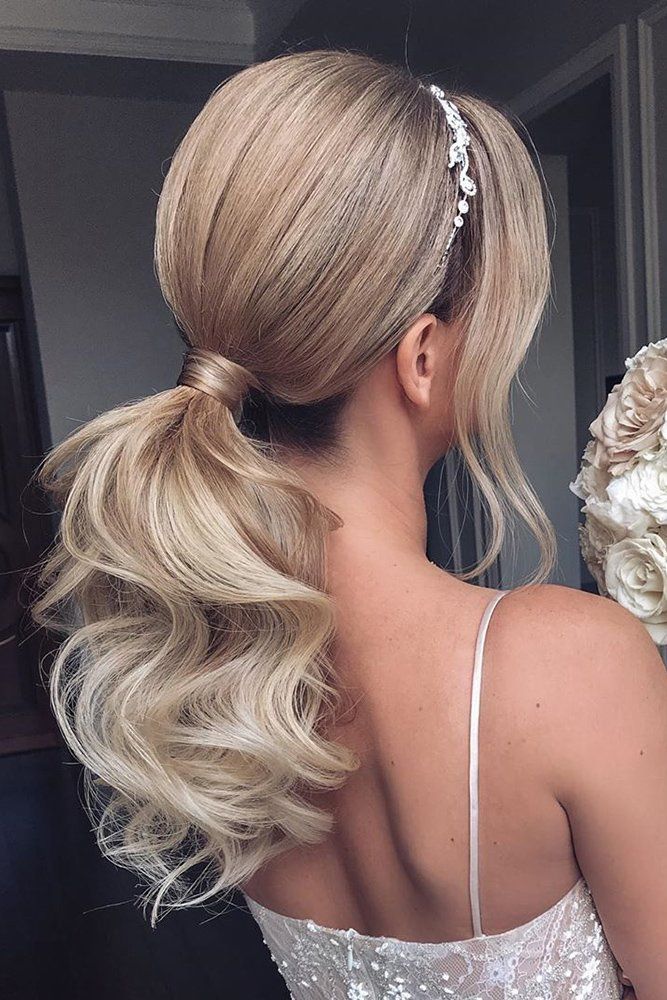 A ponytail, knot type, with a headband accessory, more polished, less polished, becomes one of the year's updos. They're simple to make and look great, and you can wear them with or without bangs, as well as with or without embellishments, to add flair. Let the front locks loose to achieve a glam look.
17. Messy Braided Low Ponytail
A low ponytail is ideal for mid-length hair, and you can experiment with different hair textures to create a unique updo. And you can wear it with a middle part making a braid that goes along the ponytail, to one side, without a part, and with a messy touch. We can even make the crown of the head bigger.
18. Floral Bun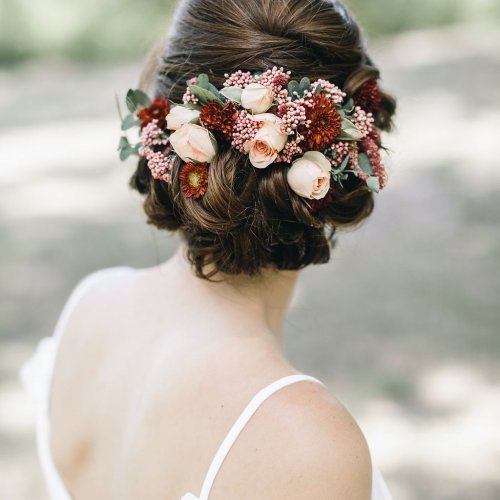 The beauty of this updo is that it can be done with hair of any length. The only difference is that the petals will be more extensive and more varied as the hair grows longer.
The trick is to gather the hair into a low ponytail and then divide it into several sections. Make a bun and cover it all with floral accessories.
19. Romantic Waterfall Waves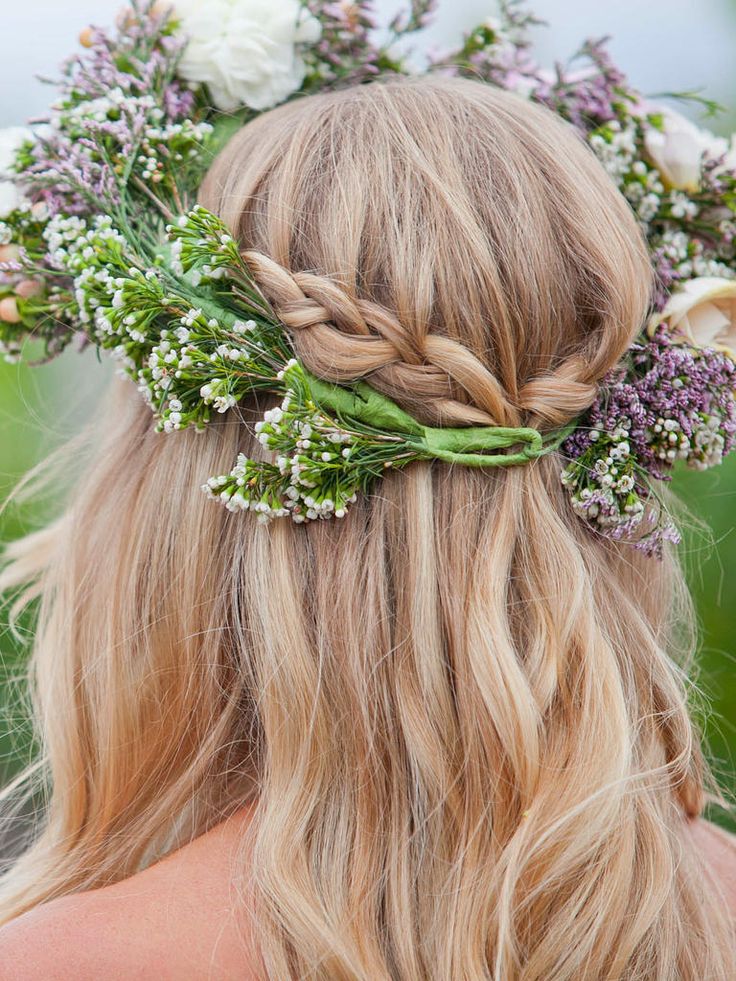 One of the most simple yet elegant bridal hairstyles for medium hair. This look is ideal for women who have unruly straight hair. Gather two strands of hair from each side of the temple and make a braided crown and let the other loose hair fall upon your shoulder. You can adorn the crown with a tiara or flowers.
20. Hollywood Waves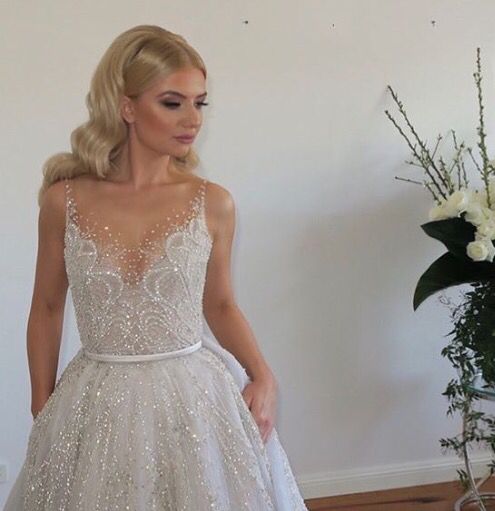 The sexy waves of Hollywood actresses from the golden age of cinema never fail to look good on brides. In this case, we recommend using a mousse that defines while retaining volume. Make the front strands sleek with a middle parting.
21. Bird's Nest Makeover
Elegant boho hairstyles are still popular, and this bird's nest bun is a great example. The beauty of this style is that it does not necessitate any particular technique. Gather the hair in the centre to achieve the best effect and secure it with large bobby pins.
Finally, curl a few loose strands on either side of the face with a curling iron.
22. Double-braided Bohemian Crown Hair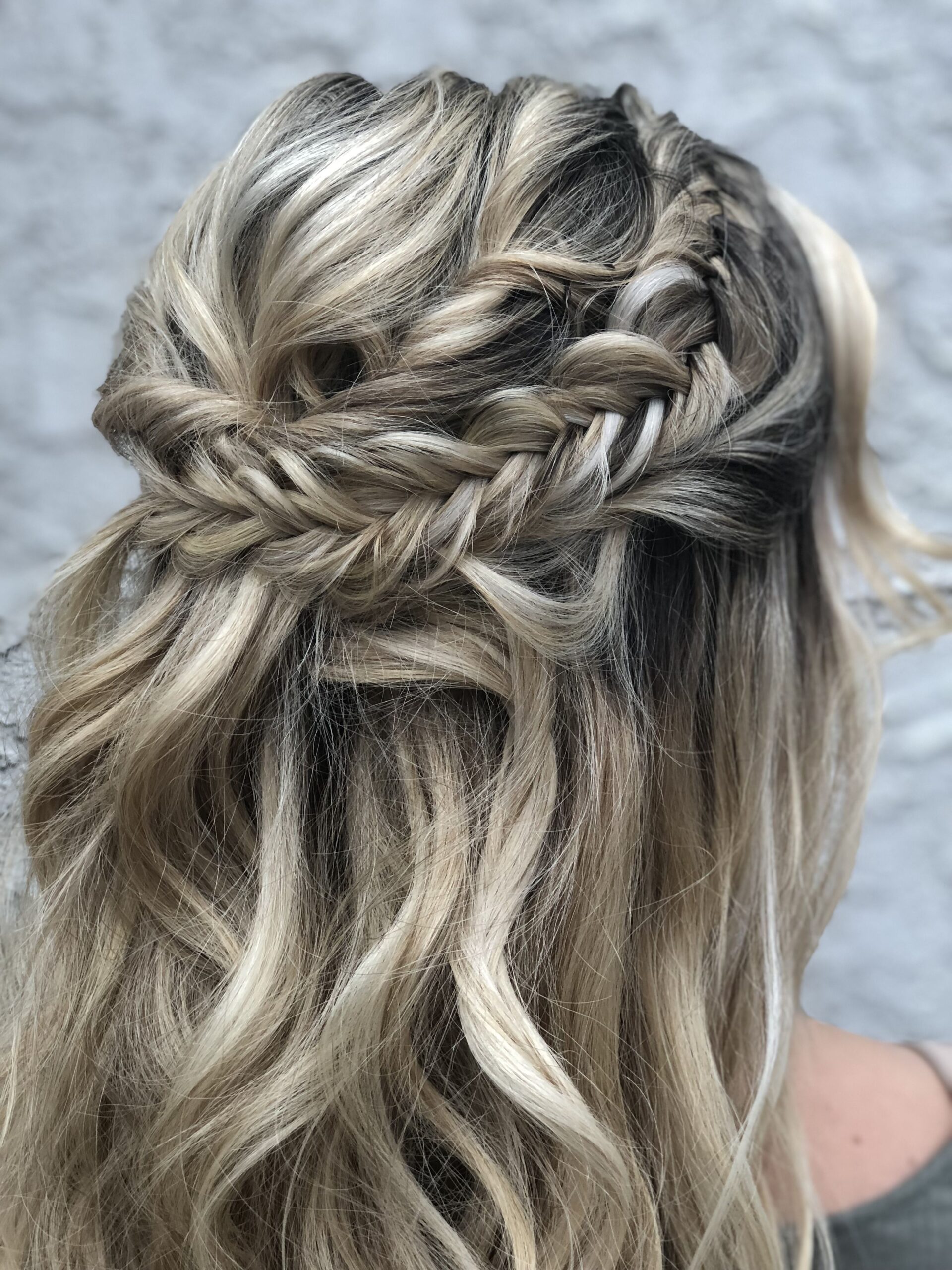 This "braid" comprises several sections held together by elastic bands or hairpins making a crown and fall loose hair look messy. You can add some fresh flowers for a bohemian look.
23. Braided Twisted Half-tails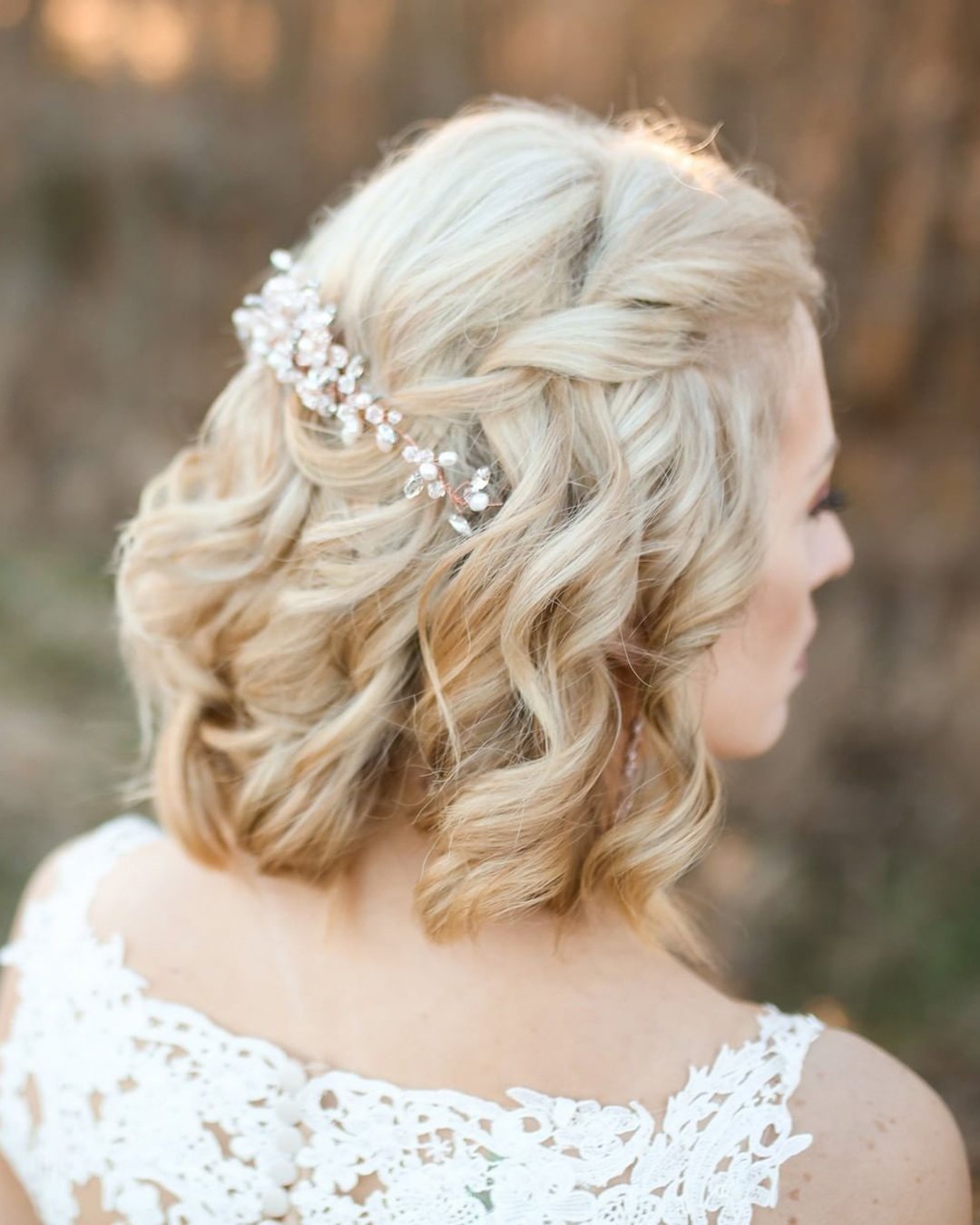 Keeping with the simple braid theme, this half-updo with two twisted braids is stunning. Simple to do and ideal for medium hair. We recommend using a texturizing product to keep your hair straight while creating the braids.
24. With Shaved Side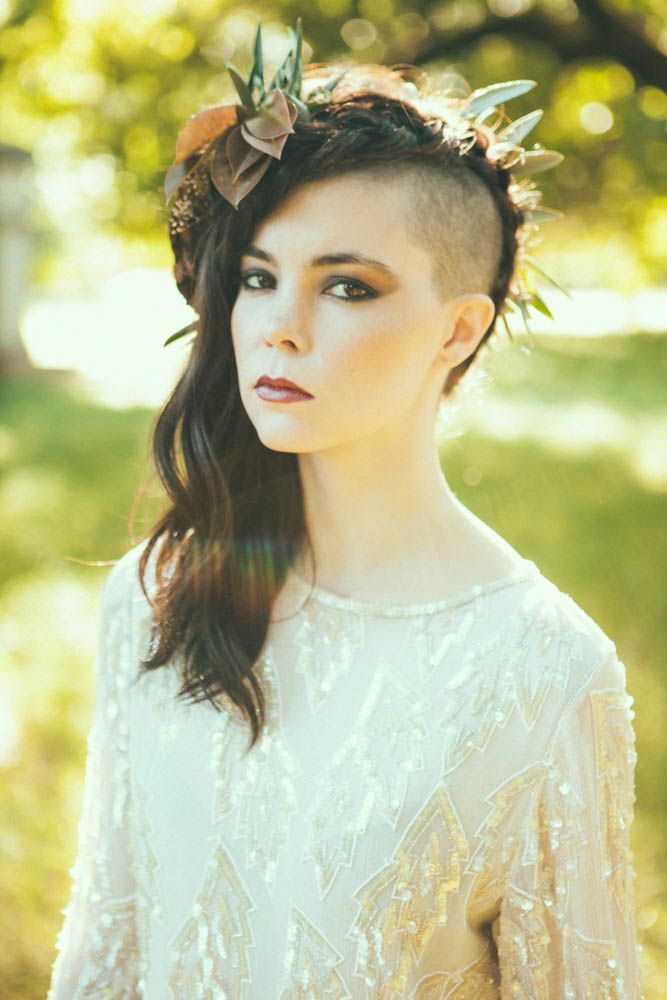 The key to this look is to pull all your hair to one side for the low bun but leave a strand loose at the forehead. Twist the opposite strand to create a frame and a three-dimensional effect. Then, twist the hair and secure it with several bobby pins.
25. Hippie Braids
Because of its hippie vibe, this medium-length bridal hairstyle may be one of the most fun in the gallery. The crest of the crown is the focal point of this three-strand side braid. As you can see, the crest is made up of a twisted strand of hair that ends as part of the braid.
26. Greek Hairstyle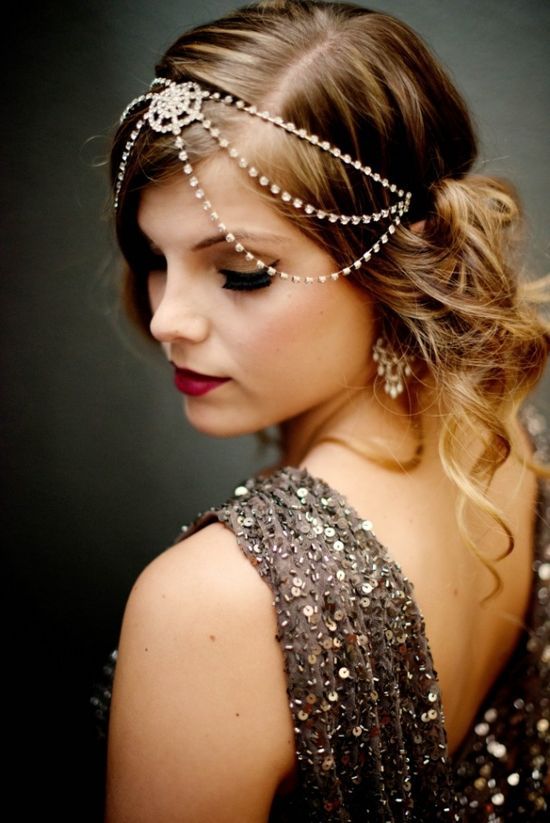 This updo is fit for a goddess and ideal for brides. It's a little more complicated than the bird's nest but just as simple. Apply a product that adds texture and allows the hair to wave, such as sea salt spray. Adorn your messy retro updo with some jewellery or a tiara to achieve the Greek bridal look.
27. Waves from the 1950s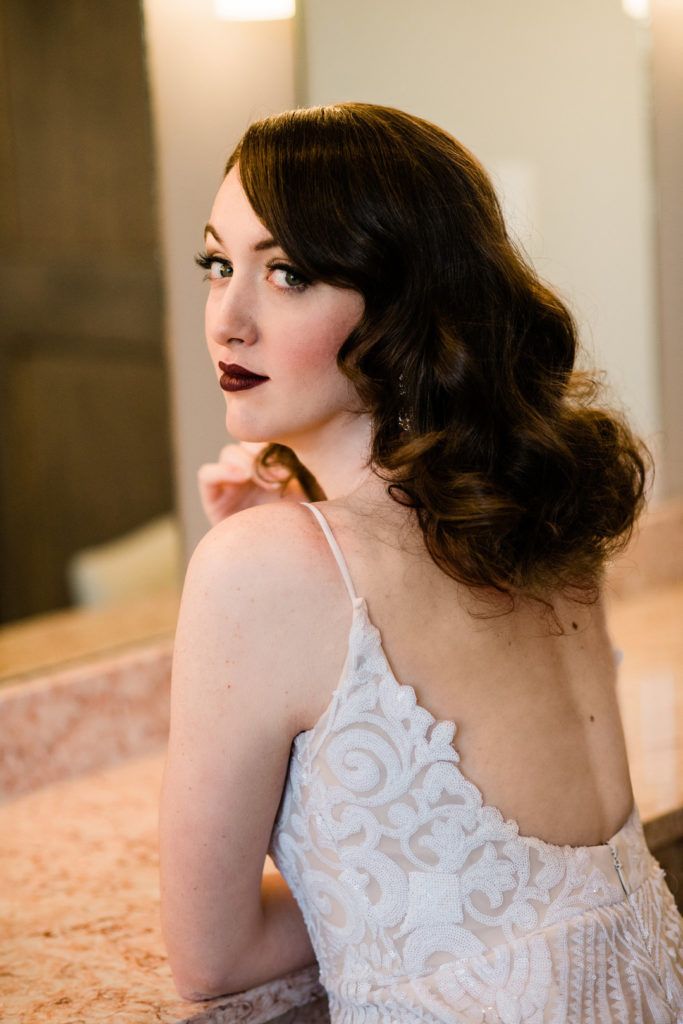 Another classic hairstyle that exudes elegance on its own. These 1950s waves with a vintage look are ideal for the modern bride. Invest in wash and styling products that add volume and thickness to your strands. Body and volume are the keys to this look.
28. Tucked-in Low Bun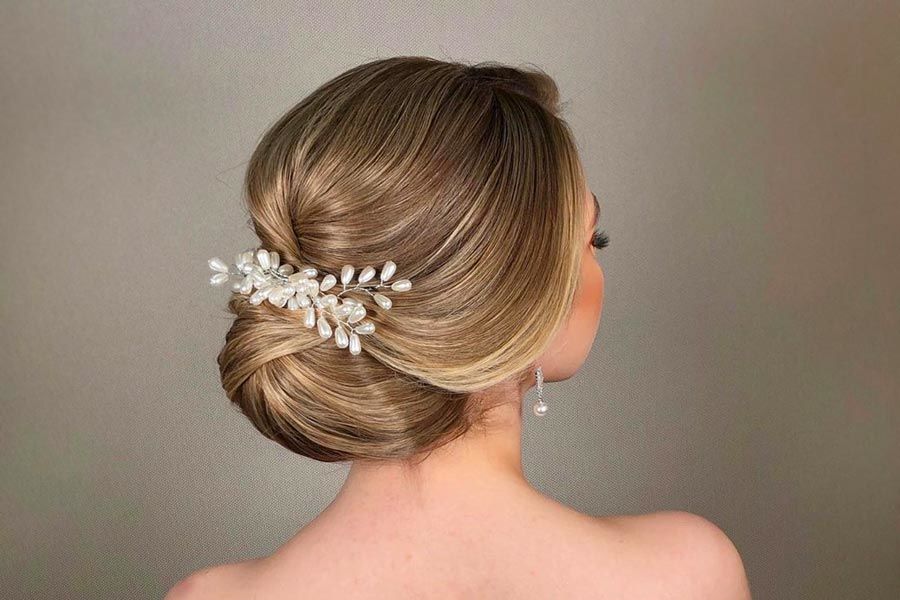 We could only finish the gallery by mentioning the tucked-in bridal bun with a brooch. Apply texturing paste to the hair's top and mid-lengths to the ends to create a sleek look. Adorn your bun with a brooch or pearls. You can use a toupee at the lower side of the bun to give it a voluminous look.
You've made it to the end of the article. Have you decided on a bridal hairstyle for medium-length hair? We hope we've been able to inspire you along the way! There's a hairstyle for every bride and, of course, every woman, so tell us which one was your favorite and if you added anything else!
Also, if you're looking for some short-hair bridal hairstyles, then we have Bridal Hairstyles for Short Hair: 23 Options for you, check it out.
Other Articles