On the second or third day of your hair cycle, the top knot will be your best friend, as it is a great way to keep all your hair out of your face while still looking sleek and stylish. The top knot is an excellent hairstyle for all hair types, including curly, straight, long, short, thin, and thick. We are confident that there is a top knot that will suit you.
Follow our 40 favorite hairstyles for inspiration on how to achieve this look. We guarantee that your hair will thank you!
Before we get into this season's trendy knots, let's look at how to tie them in your hair. Check out this article for a how-to tutorial: Get the Ultimate Top-Knot Tutorial: Tips and Tricks for Women.
Let's start and see what trends and gorgeous top knot hair makeovers we have this season. These looks are adorable, and you will adore them as much as we do.
1. A Sleek Braided Top-Knot
This gorgeous braided updo looks like it belongs to a medieval princess and is not your typical top knot bun. I'd look to Yara Shahid for inspiration. Begin by applying a smoothing serum to your hair and pulling it into a high pony. Secure your pony with an elastic and braid it tightly. Wrap the braid around itself or use a bun builder to add fullness.
Related article: 22 Latest Updo Hairstyles to Wear for Prom
2. A Twisted Top-Knot
This adorable updo takes a simple bun and multiplies it by ten. Begin by flipping your head over and twisting the lower half of your hair up to your crown. Then, using the top section of your hair, make a bun that connects to the end of the twists.
3. Half-up French Braided Top-Knot
Inventing new ways to incorporate a braid into your top-knotted style is part of the fun of updo styling. A French braid runs towards the crown, and the style is topped off with a whimsical knot—a stylish and adorable hairstyle.
Related article: 38 French Braid Hairstyle Ideas to Try!
4. Mid-parted and Semi-collected Top Knot
The half-up style with a mid-parting is an unexpected twist on the traditional top knot. A half-up, half-down is a great option if you have extra long or thick hair that you like to wear loose but with fun detail. Make a half-up bun with a center parting.
Related article: 43 Half-up Hairstyles for All Occasions
5. A Tousled and Voluminous Top-Knot
When it comes to classic style, this version of the top-knotted updo is at the top of the list. It has so much volume and a cute (but not perfect) shape that you can't ignore it if you have long hair. When styling, leave some soft, subtle wisps on the sides and at the nape of the neck.
6. A Casual Wrapped-up Top-Knot
Top knots provide a lovely backdrop for displaying various types of hair. If you have curly hair, take advantage of this style and adorn it to your heart's content. This wrapped-up casual top-knot is ideal for transitioning from office casual to downtown chic in seconds.
7. A Small Top-Knot Tied with a Ribbon
A bun is simple to make once you've had some practice. Shorter hair can be pulled into a pony, combed up the ends, and pinned into a mini-bun. To finish the look, add a ribbon or a longbow.
8. Slicked-back Top Knot with a Half-up Hairstyle
Let's check out the gorgeous half-up top knot hair makeovers we have this season. This look is stunning; you will adore it as much as we do. Use a small amount of hair gel to create a slicked-back look on mid-length hair. Let's begin!
9. Balayage Highlighted Top-Knot
The invention of the messy bun was a boon to women who needed a quick and stylish hairstyle to get out the door. This product is ideal for curly or straight hair of any length or thickness. Make a heavy top knot with your balayage-highlighted hair. Use this style as your go-to to skip the laundry without feeling guilty.
10. Thick-braided Crochet Hair Top-Knot
The main feature of a top knot is the appearance of effortless styling. This version has a thick braided top-knot created with crochet hairstyles. However, it is very lovely and appropriate for professional wear.
11. The Ninja Top-Knot
The Ninja bun adds a touch of class to this elegant top knot hairstyle. What more do you want? Simple, pretty, and confident. After you've gelled your hair, continue twisting it up. Overlap the twists to form a long stacked top knot.
12. A Messy Top-Knot
A great updo should be both simple and stylish. The tangled knot checks both boxes. A cute updo with a personal touch is created by combining a loose and casual bun with wispy strands wrapped into a high knot.
13. Mid-parted Curtain Bangs with a Round Top-Knot
Try this balloon top knot bun for those who want big hair. The front bangs and nape sections are heavily teased, and the sides have escaping curtain bangs to soften the look. This styling trick can help you add thickness if you have thin hair.
14. A Sleek and Half Top-Knot
Are you looking for a sexy top knot hairstyle for a night out? A loosely swept high bun has the elegance of an up-do but with a playful touch. Slick your hair back and create a top-knot, but loosen the sleek ends for a half-bun look.
15. Platinum-Blonde Colored Loop Top-Knot
Loop buns, which first appeared in the late 1990s, are returning. This version of the top knot takes a softer approach, with a messy loopy knot that resembles a short fountain ponytail. Use this on your platinum-blonde hair.
16. A Voluminous Top-Knot Accessorized with Shiny Stones
In professional and party settings, an updo that is classy, chic, and able to withstand a full day at the venue is required. This top-knotted updo is almost picture-perfect with its ultra-sleek look and simple styling. To recreate this look, create a voluminous log updo and accessorize it with aging stones or pearls.
Related articles: Professional Hairstyles: the Selected Ones for You
17. A Top Knot with Razored-Bangs
Kendall Jenner has reintroduced this hairstyle with a top knot and razor bangs. This is a great look for mid-length or thinner strands of hair. Make a looped ponytail to cover your brows and a cute tiny bun with bangs.
18. Half-up Messy Top-Knot for Short Hair
Would you believe this elegant half-up top knot is made from medium hair? Her hair is shoulder-length, and she is unafraid to experiment with different hairstyles. We, the girls with shorter hair, should all follow her lead.
Related articles: 23 Hairstyles for Women with Brunette Short Hair
19. Twisted-in and Wet-Look Top-Knot Hairstyle
A wet-look hairstyle is a visual treat that allows you to channel your inner artist. The best way to show off the style is with high up-dos. If you have longer hair on top, you can still do a simple top knot bun by twisting each segment separately and creating a short and sleek top knot.
Related articles: Wet-Look Hair Made Easy: A Step-by-Step Guide to Stunning Shine
Hairstyle ideas- Slick and Sleek: 41 Wet Hairstyles for a Polished Look
20. Messy Top Knot with a Curly Half-up Hairstyle
When first learning how to do a top knot bun, you may find that a simple pulled-back style is the most straightforward. Voluminous curls require more preparation, but the result is stunning. Create a messy top-knot with your curly hair at the crown.
Related article: Haircuts for Curly Hair: Trends and Insights
21. A Loose Top-Knot with Long Locks
Long-haired ladies, this is your dream top-knotted style. It's gorgeously messed up, with a teased, high crown and a sexy side bang that adds mystery. The bun appears both perfectly smooth and improperly messy. As a result, this look is appropriate for casual and formal occasions.
22. Blue-Blonde colored and Tucked-in Top Knot
Colorful top knot styles keep coming, and Lady Gaga in a bright and funky blonde-blue shade is an illustrious representative of the style. It's tucked in and has a slightly loose fit, giving it a stylish, effortless look.
23. A Mini-Top Knot Hairstyle with a Wet Effect
Unlike a ballerina bun, which is sleek and smooth, a textured bun allows for some imperfection. It's also an excellent choice if you have short hair. Backcomb your hair into a high ponytail, then wrap small sections into a mini-bun. Use bobby pins to secure it and a strong hold hairspray to finish.
24. Half-up Fulani Braided Top-Knot with Weaved-in Thread
Fulani Braids instantly add interest to an otherwise boring top knot. This particular half-knot style would be eye-catching. Make a top-knot out of a few braids and leave some strands free at the front with weaved-in threads. You'll be glad you did!
25. Voluminous Fulani Braided Top-Knot
Another Fulani braided hairstyle. These loosely interwoven sections are gathered into a voluminous braided bun, but this style is unique.
26. Semi-Collected Box Braids into a Top-Knot
This is a one-of-a-kind hairstyle that demands our full attention. We love how the top bun is beautifully woven with box braids, easily accentuating the entire look and providing a unique and boho-chic vibe. If you have thick hair with long hair, this top knot with braids is worth a try. How about you? Do you like this look?
27. A Long Top-Knot with Side-Swept Bangs
A diagonal part and shaped peekaboo bangs or side-swept bangs, as seen on Rihanna, are the elements for creating mystery within any hairstyle, including a top knot bun. This version is sexy, retro, and modern, all at the same time, with no hair out of place.
Related article: 48 Rihanna Hairstyles We're Still Obsessed With
28. A Top Knot with a Srunchie
We love this vibrant yet cute scrunchie version for another top-knot hairstyle. It provides street new-age inspiration and is simple to manage and maintain. If you have medium to long hair, try it out because it can add a voluminous and edgy feel to your overall appearance. Do you concur?
29. Undercut Nape with a Top Knot
It doesn't get any edgier or more direct than this. Choosing a daring, funky undercut etched into the nape of the neck and a top-knotted style like this is not for the faint of heart. However, if you only want the knot's style without any extremes, it's a good idea for short-to-medium-length hair.
Related article: 26 Mesmerizing Undercut Hairstyles for Women
30. A Top-Knot with Spikes
We've covered you if you've never seen a spiky top knot. The hairstyle is captivating and exquisite, with a wet-look effect and baby bangs styled into a classy pattern. It is particularly effective on women with long, straight or wavy hair.
31. Gelled-up, Long Top-Knot with Bangs Swept to the Side
Side-swept bangs are always appealing and add a nice dimension to your face. It enhances your appearance, especially if you have a large forehead. We have a long top knot bun with a gelled-up appearance. The stunning look conveys a youthful and vibrant vibe and a classic, timeless style statement. Do you concur with us?
Related article: 25 Eye-catching Side-parted Hairstyles
32. Top Knot with a Deep Side-Parting and Curly Bangs
A loose, curly high bun is ideal for an effortless yet elegant look. Unfortunately, an "effortless" look can be more difficult than a more structured one. This look on Yara Shahidi features curly bangs swept to the side and a cute curly top-knot.
33. A Casual Top-Knot Updo with Loose Ends
Top knots are the best way to keep your hair in place. Give a bun with loose messy ends a try if you want a style that will stay out of your way and last a few days. This is a fancier version of the look with a casual updo, but a sleek top knot with those dimensional vertical loose ends will also look great.
34. Face-Framing Bangs and Messy Top Knot
For those with long or thick hair, an updo that embraces the length and thickness of your strands, such as this one, is required. The bun is tucked and pinned to appear full but not heavy. To add interest to the look, try it with face-framing bangs and tease the crown for a little height.
35. Dreadlocks and a Top Knot
Dreadlocks can be worn in a top knot bun. These rich, ginger-colored faux locs are tied into a neat, textured knot. You can also mix in some braided locks with your dreadlocks.
Related articles: for the tutorial- How To Attempt Dreadlocks Hairstyle at Home?
For more hairstyles- here are 25 Wick Dreadlocks Hairstyle Options to Try!
36. Wavy Top Knot with an Inverted Braid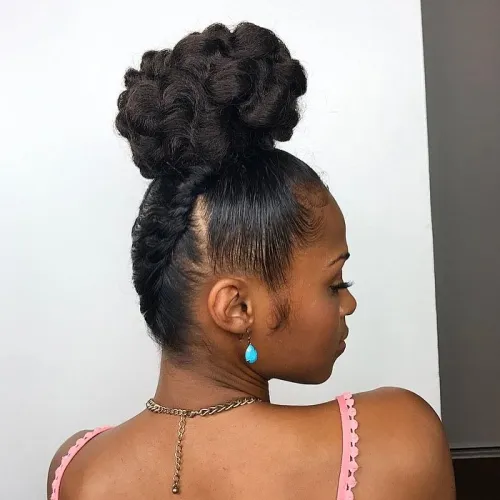 Top knots are versatile and can be worn with any hair type. Buns are ideal for African American women who want to embrace their natural hair, but extensions can be used if you need more length or thickness. Make an inverted braid from the back of your head and a wavy top-knot at the crown of your head.
37. Half-up Marley Twists with Cornrows and a Top Knot
Top knot styles abound for those with long or voluminous hair. Create Marley twists to embrace your natural hair texture and see how creative you can get. Make a half-up top-knot hairstyle with a few cornrows to make it more attractive.
Related articles: 44 Astounding Cornrow Braid Hairstyle Options 
38. Top Knot Tied in a Hair Bow Hairstyle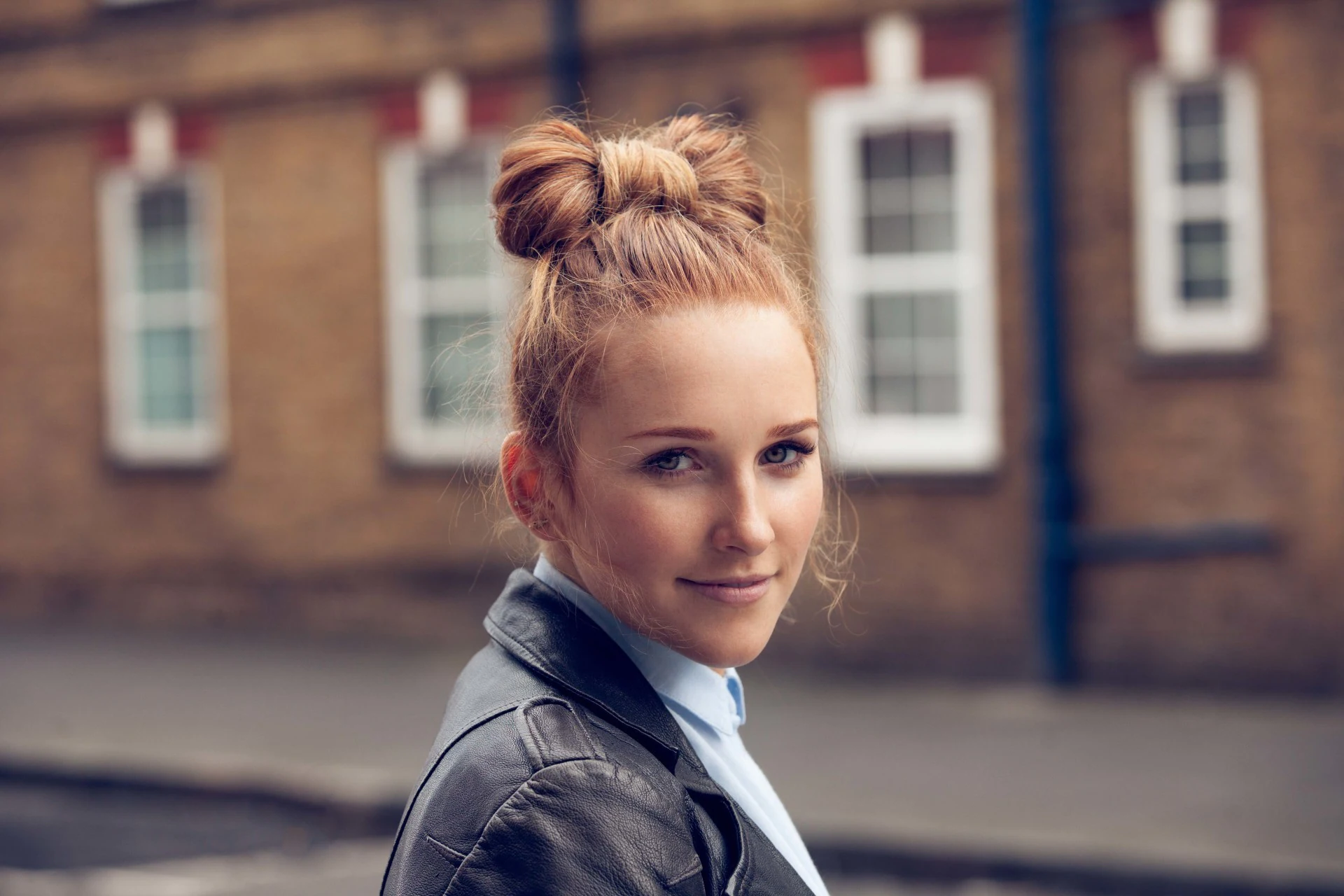 When you want to make a statement, turn heads, and express your style, a hair bow or top-knotted style like this is ideal. The focal point is the back section, beautifully collected into a hair bow to the crown.
39. Top Knot and Messy Bangs with a Headband
A top knot bun with a headband or headscarf screams cute and casual. It's a cute look to wear to the gym or with friends. Prep this like a ballerina bun, but pin loosely with some stray hair sprigs sticking out.
40. Asymmetrical and Sleek Bangs with a Long Top-Knot
The beauty has rocked this stunning look, and we can't get enough of it. With its sleek and chic feel, this Genie bangs hairstyle or sleek asymmetrical bangs is quick and easy to achieve.
Other Articles