When wearing a pixie cut, self-assurance is essential. Few hairstyles are as daring and expressive as this one. Check out why a pixie may be your best new style if your hairstyle needs a little change and you want to give your mane an unconventional twist. Use the following advice to get a haircut that you won't be able to resist. But be careful: you may never get it back once you go short.
Women's pixie haircuts can be super short, more or less long, straight or curly, giving you many options. Here are some examples of pixie haircuts that differ in length, texture, and style. You probably need a push, and we feel these looks are about to give you one.
So, to inspire you and help you choose the right pixie haircut, we've compiled a list of our favourite pixie haircuts of all time. Prepare to scroll, screenshot, and then go to the stylist because these 50 trendy looks will persuade you to get a pixie cut.
1. Shaggy Front with Short-hair at the Back
To refresh the look of dark hair, shave the ends and add babylights to short shags in brunette hair. Make your hair messy so the back looks short and the front looks messy and thick.
2. Asymmetrical Short and Razored Bangs with Flowers
Use an asymmetrical cut to add volume to your textured pixie cut. The clean short nape nicely contrasts the maximum height on top. Keep your fringes short, and add some flowers to your hairstyle.
3. Spiky and Messy at the Back
Short pixie haircuts are stunning when black roots are blended with grey highlights to create a salt-and-pepper effect. Use hair gel to spike up your back and front to achieve a messy look.
4. Twisted and Sleek Bangs with Wet-look Pixie
If you like the idea of a retro hairstyle with pixie-cut hair, a wet effect can help and is simple to achieve, especially when paired with sleek and twisted fringes. This hairstyle is extremely smooth and sleek.
5. Cropped Pixie with Cropped Bangs
Cropped pixie is the best haircut option for a short pixie cut. Dare to be daring! Request that your hairstylist cut your hair short and crop it. Even without a comb, this hairstyle is stunning.
6. Smooth, Short and Shaggy Pixie
A pixie with feathered layers and a shaggy smooth appearance is a great choice for fine hair because you don't have to do much to make it look perfect. Comb your hair, apply hair gel if you want to style it more, and you're done!
7. Faded Sides with Platinum-colored Pixie
The bright short pixie cut will bring out your colorful personality. Try subtle colors like this platinum shade and faded sides to complement your cropped pixie.
8. Balayage Highlighted Long Side-swept Bangs
Looking for a sophisticated pixie to wear to work and parties? An outgrown pixie cut with bangs can achieve a beautiful modern look. All you need to do is add some balayage highlights to your hair and sweep your short bangs to the sides without combing them.
9. Side-parted Pixie with Brunette Hair
A pixie haircut is a great short hairstyle for women of all hair textures. It's low-maintenance and hassle-free. A classic pixie cut on brunette hair distinguishes you as a confident and fashionable woman. Make a side part to elongate your heavy top and layered bangs.
10. Slicked-back Sides with Messy and Highlighted Front
Sick of soft, girly looks? Pixies with spiky and wavy hair were created to liven things up! They draw attention to your cheekbones, nose, and eyes. Furthermore, they relieve the weight of excess hair! Make messy waves at the top of your hair with hair gel and your fingers while slicking back the sides.
11. Side-parted Blonde-Balayage Long Bangs
If you're looking for modern pixie haircuts to copy, consider Kristen Stewart's, which has longer bangs and a neat undercut for easy maintenance. Highlight your longer bangs with blonde-balayage highlights.
12. Side-swept Pixie, Adorned with Bobby Pins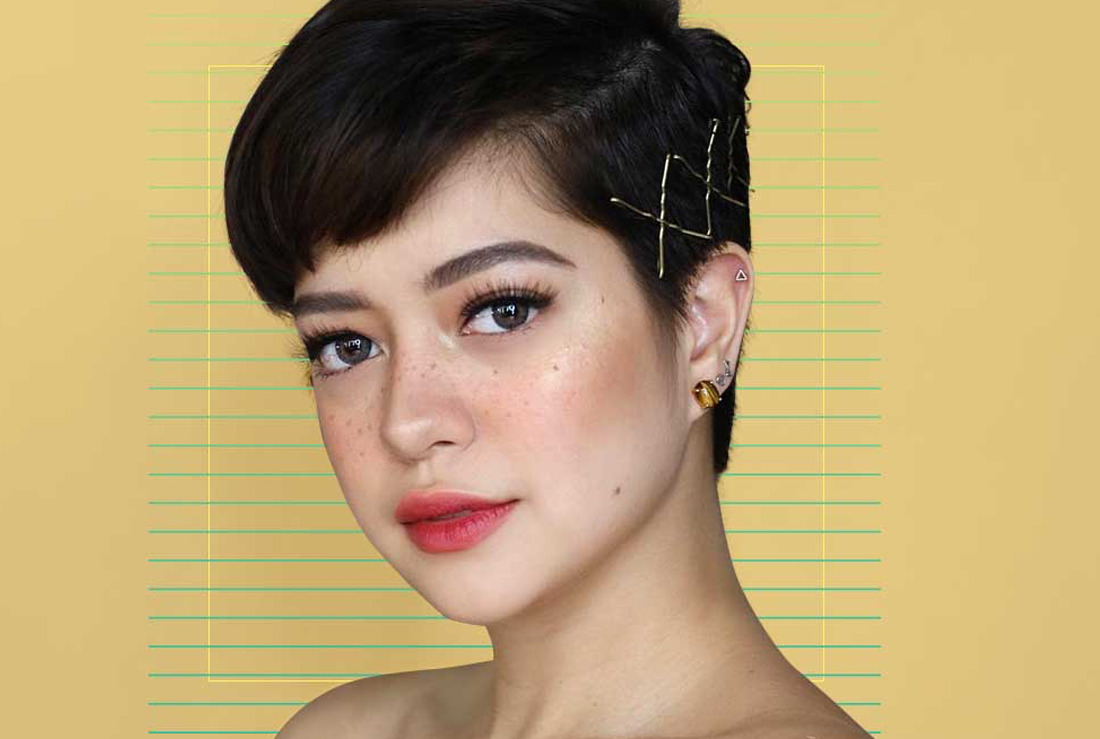 Try this smooth pixie with accessories for a sassier, more confident look. This hairstyle has a fascinating edge thanks to the sleek texture, and cute baby bangs swept to the side. Add some bobby pins to the sides to complete the look.
13. Dark-colored Pixie with a Metallic Headpiece
Women's classic pixie cuts are usually shorter in the back. You can change the length and texture of your pixie. These choppy bangs with a golden headpiece are both adorable and flattering!
14. Side-swept Messy Bangs for Brunette Hair
If low-maintenance is your thing, you'll love a pixie with long, smooth side-swept bangs and brunette hair. Use your fingers to achieve a sloppy yet stylish look.
15. Heavy Top with Thin and Messy Fringes
This sophisticated haircut stands out with its edgy bangs and thin ends. The dark color, messiness, and careless styling create a glamorous overall appearance. Maintain a few fringes in the front for a heavy top and thin sides.
16. Red-colored Pixie with Twisted Locks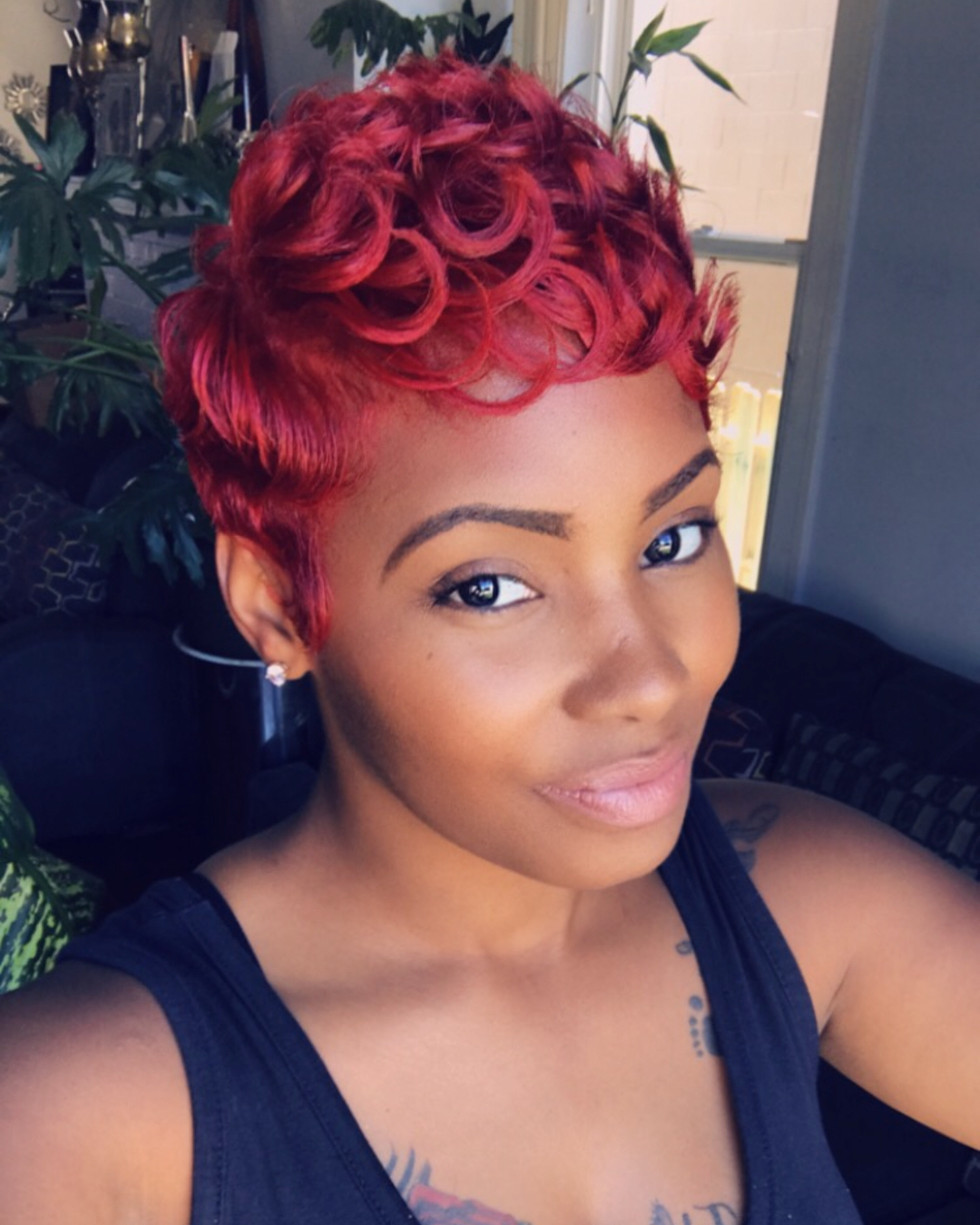 If you like a lot of texture in your hair, go for a curly pixie cut with red-colored waves for days. You are teasing your bangs or using hair gel to create rounded waves in the front. The red color enhances your overall appearance.
17. Subtle A-line Cut with Sleek and Side-swept Hairstyle
If you like A-line haircuts, try a textured pixie with rich brunette hair color accented by dark roots or without. Keep one thing in mind: only create subtle layers. Smooth your hair into a sleek texture for a smooth appearance. Take a cue from Bella Hadid's ensemble.
18. Ear-tucked Golden-Blonde Pixie with Side-swept Hairstyle
Pixie cuts for thick hair look stunning with the right amount of layers and texturizing creme. Select a golden-blonde color for your pixie and side-sweep your bangs by tucking them behind your ear.
19. Pixie with a Casual Side-swept Wavy Hairstyle
You'll be relieved we're considering getting a casual cut wavy pixie. Roll your long bangs to either side, creating a wavy look, and confidently show off your natural hair.
20. Sleek Ocean Waves Hairstyle with a Wet-effect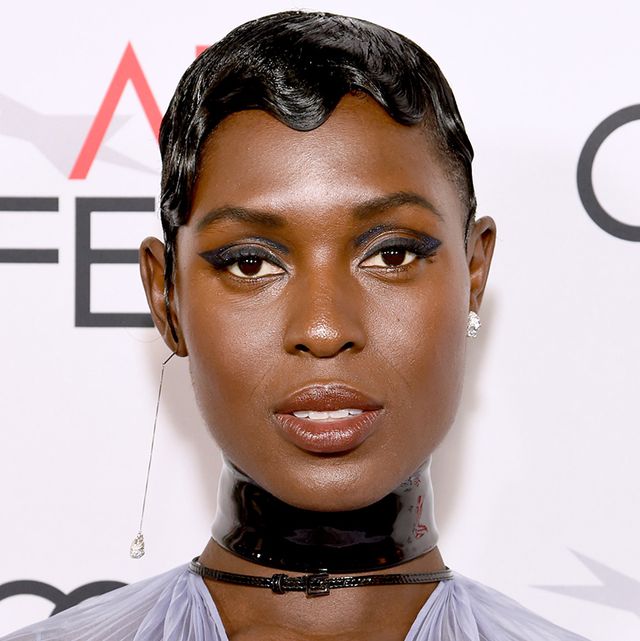 Pixie haircuts are bold and confident, ranging from sleek and smooth to spiky and shaggy. This sleek short pixie's wet effect adds a mysterious allure to the cut. Take note of the ocean-like waves in the foreground, which resemble finger waves.
21. Dirty Pink-colored Buzz Cut for Women
This stunning buzz-cut pixie has luscious volume on the crown and a slew of short and teasing curls. The "dirty pink-colored" texture with a few shaved lines near the ear is the icing on the cake.
22. Curly Pixie with Faded Sides
This hairstyle resembles the precious one, but no color options are provided. Again, a buzz-cut pixie with faded sides looks great with or without highlights that match your skin tone.
23. A-line Pixie-cut with Copper-red Highlights
The A-line or inverted pixie cut is striking due to the combination of bright copper, brown, and red hair. The long bangs styled to the side complete the glamorous look. To achieve this slightly messy and chic look, use styling products and tease your hair a little.
24. Messy, Spiked-up Short Hair
The spiked-up pixie cut is an excellent way to announce you're ready for summer. Yes, throughout the year. With these fire-like raised hair locks, you can achieve a fiery look. You're ready if you use the right hair styling products!
25. Stacked Pixie-cut with a Floral Barrette for Wedding
Who said having a pixie limited your hairstyle options? You can even go for a stacked haircut with a lovely barrette! It all depends on your imagination. Feel free to try this idea if you are a wedding guest or a bride.
Also, look at our related articles: Bridal Hairstyles for Short Hair: 23 Options
Wedding makeup tips from Bohemian Wedding Makeup Tips.
26. Bowl-cut Pixie Hairstyle
Want to show off your texture in a shortcut? Then try this pretty bowl-cut pixie. It also enhances your face shape by highlighting your cheekbones and concealing your brows to give you cute bangs.
27. Platinum-Blonde Pixie Hair with Messy Bangs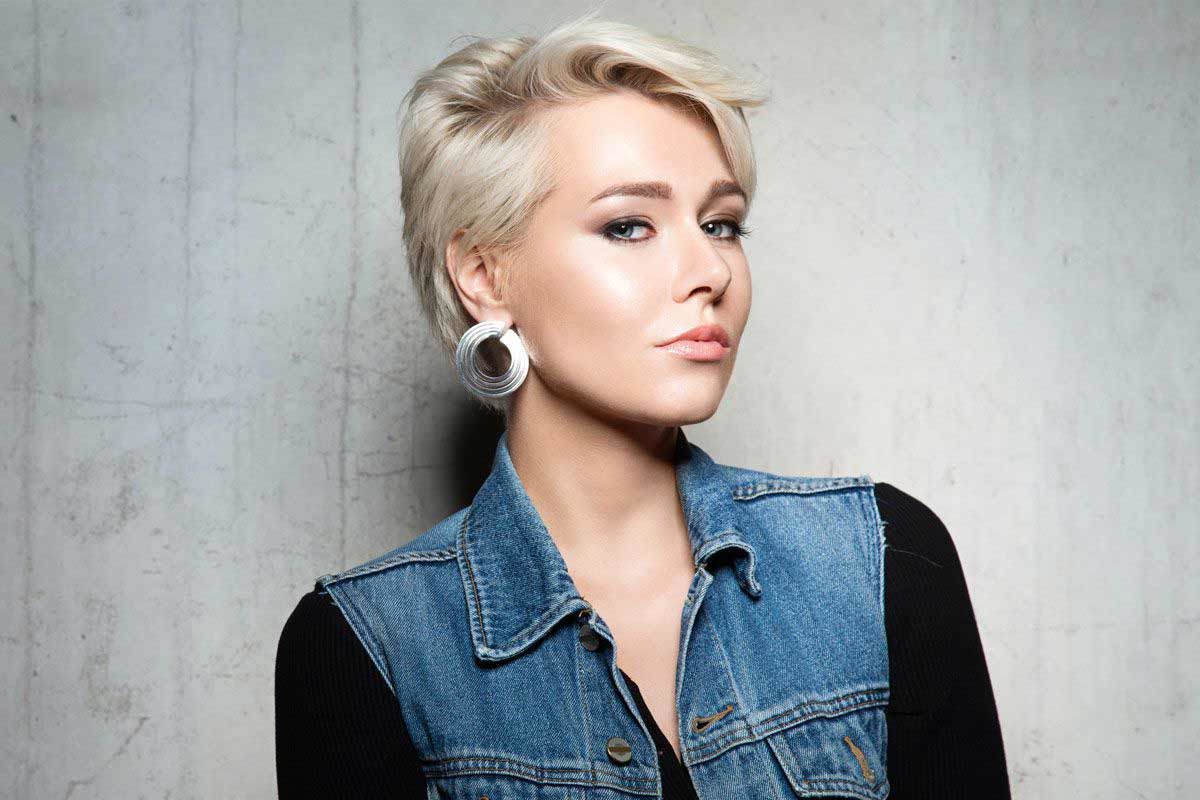 Pixie cuts that look this good makes you wonder what you're doing with your long hair. The side-parted platinum-blonde feathered bangs with closely cut sides give this pixie haircut a sweet sensational twist.
28. Pixie Hair with Criss-Cross Braids at the Top
This hairstyle is not widely known but deserves your attention for a cool and stylish look. Make your pixie look like a star by braiding it into two short crisscross braids at the top and adding some highlights to look stage-ready.
Here's how to braid short hair: "How to Braid Short Hair: A Complete Guide."
29. Twisted Strands and Golden-colored Pixie
This style emphasizes natural hair color and texture. To make it look romantic and girly, twist up small sections of your hair to show off longer bangs and increase the volume with styling products. Bobby pins the twists in place at the back.
30. Inverted-cut Pixie with a Side Weaved-in Braid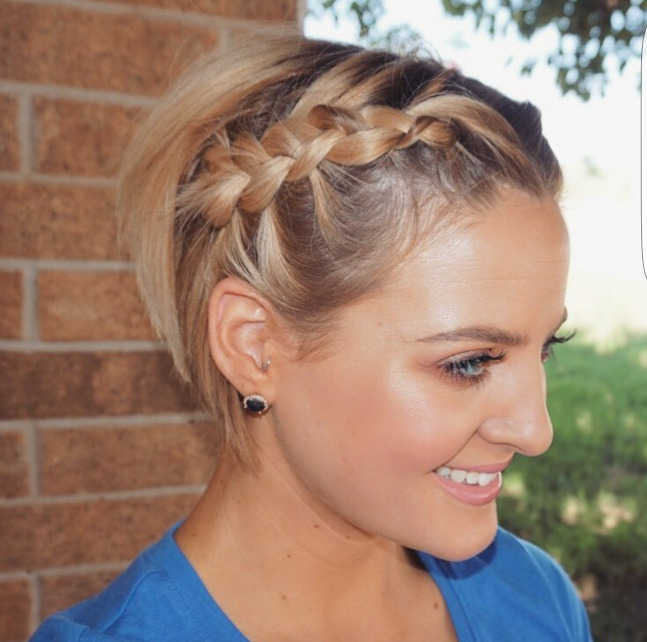 Inverted-cut pixie hairstyles usually give the illusion of volume for thin hair, especially if styled uniquely. Make a cornrow-style weaved-in braid from the side. It's low-maintenance and will grant you access to the cool crowd!
31. Long, Smooth, Asymmetrical and Side-swept Hairstyle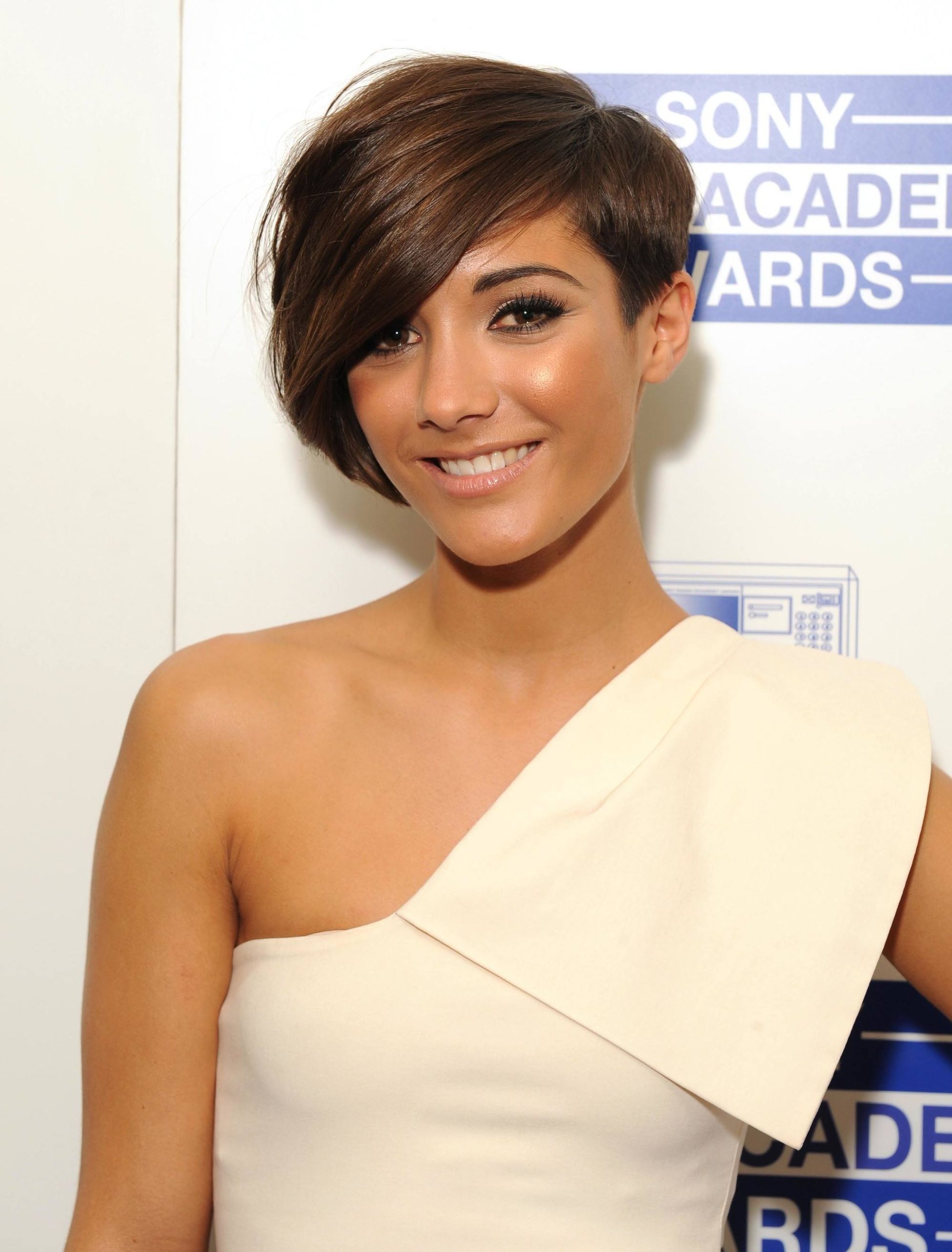 A cute pixie cut with gradient and texture — the tapered and asymmetrical cut pixie adds dimension and volume to your hair. It's long and smooth, with side-parted bangs for an undercut look.
32. Undercut Side-swept Pixie Hairstyle
This choppy and undercut hairstyle stands out by blending short and long strands swept to the side. Take a risk, embrace your blonde hair, and go for this look!
33. Waterfall Braided Updo for Pixie Hair
These short locks, paired with a pixie cut, give you an angelic vibe by braiding them into a waterfall. It's also simple to keep up! Continue braiding it and creating an updo; you're ready to go!
34. Mullet Haircut with Golden-brown Hair
Pixie haircuts will be popular this year because they are low-maintenance and easy to style. For example, this mullet pixie bob with a ginger-blonde tint will go with any clothing style you choose. Get a mullet (longer at the nape, shorter at the top), and you're done!
35. Side-swept Bangs with a Gelled-up, Messy Top
We have cuts to suit every taste in our gallery. Be reassured about your best angle. This spiked-up pixie variation has eye-catching front, back, and side views. Using hair gel or mousse, create a messy, raised-up look.
36. Platinum-colored Hair with a Dark-rooted Undercut
Play with lines and angles to highlight your sharp features in one of the best short-pixie haircuts. With this undercut, you won't have to worry about uneven hair layers because it embraces disproportion. For uneven hair, go platinum-colored with a dark-rooted undercut.
37. Peacock-green Spiky Hair with a Striped Undercut
Your pixie can be both flirty and simple and practical. The brow-grazing peacock-green and blue hair with bangs and a nape undercut add a chic touch to pixie hairstyles. These are the characteristics that distinguish feminine pixie cuts from boyish short haircuts. Make stripes on your undercut as well.
38. Red and Pink-colored Chin-length Hairstyle
With the right styling, pixie haircuts for women are ideal for any formal or informal event that requires charm and allure. This red-pink hairstyle is also ideal for a relaxing day because it can be worn with any style. For a more polished appearance, side parts your chin-length hair and add choppy ends.
Check out this related article: "20 Incredible Ideas to Wear Pink Color"
39. Shaggy, Short and Layered Curls
Add glam to your look with fun, shaggy pixie hairstyles like this! If you want, add some highlights; otherwise, stick with the natural one for more sparkle to match your character. Your layered curls should be free and tousled.
40. Afro-American Pixie-cut Curls
With a deep side part, this Afro-American haircut plays with curled edges and soft, long strands. It successfully combines toughness and femininity. This look also helps you achieve volume.
41. Faded Undercut with a Curly Mohawk Hairstyle
Uneven bangs can add a chic touch to any short pixie cut. At any age, multicolored tips with layers, messy styling, and shaved sides create a perfect lightweight look. Remember to tease your hair a little to achieve the Mohawk look.
42. Blonde-colored Spiky Curls
Do you want to be daring and make a statement? This rockstar hairstyle is only enhanced by bold colour, such as honey-blonde or ginger-blonde! Curl the top of your hair for added bounce and a spiky look. To keep the curly spikes in place, use hair gel.
43. Sleek Combed-back Mohawk Hairstyle
Are you ready for the shortest pixies yet? Then you can wear your bangs long to balance your face shape or to add flair to your style. Slick back your hair to create a sleek Mohawk hairstyle whenever you want!
44. Shaved Sides with a Spiky Mohawk Hairstyle
A simple yet appealing pixie cut for women who prefer a neat appearance and enjoy shaved and spiky mohawks. Perfect for brunettes or dark-colored hair to add body and shine, and easy to style with a brush and hair gel.
45. Finger Waves at the Top with Shaved Pattern to the Sides
Clean and exciting, undercut pixies complement any fashion style. Because it doesn't require much styling, it's ideal for athletes, adventurers, or anyone constantly on the go. Make finger waves at the top and shave patterns across your nape for a cool look.
46. Multi-colored Voluminous Pixie with an Undercut
This haircut is ideal for women with thick and unruly hair and those who can't decide on single hair color. Use volume products to bulk up your body and highlight your stunning spikes. The multicolored ends provide a light touch.
47. Ponytail for Women with Short-hair
Experiment with different hairstyles on the longer pieces of your pixie. This short ponytail is all about the edge and the fun. Women, like men, can pull off a messy ponytail while remaining chic and stylish.
48. Shaggy Pixie-cut for Women Over 50
Turn heads with your stunning golden hair! This color is best suited to people with cool skin tones. It's ideal for women over 50 who enjoy experimenting with new hairstyles. When paired with an edgy short pixie, you're always runway-ready.
49. Rolled-up Platinum-colored Hair with Faded Sides
One of the most fashionable short pixie hairstyles that will never go out of style! It accentuates your nape and is ideal for wearing during the warmer months. Include some highlights to bring out the color of your eyes! Roll up your long bangs to the top to achieve the pompadour look.
50. Retro Side-swept Golden Waves
Pixie short hairstyles complement any aesthetic, even solid hair color! So, if you like to experiment with your hairstyle or if your wardrobe is full of them, this is the hairstyle for you! Make a deep side part and sweep your waves to achieve this vintage hairstyle.
Other Articles