The wet hair look has been a popular hairstyle for many generations. However, this well-known red-carpet look is again in the spotlight thanks to famous people like Jennifer Lopez, Kim Kardashian, and Miley Cyrus. As a result, many people imitate them and attempt the wet hair look.
The wet look is one of the simplest hairstyles requiring little effort. Finding the right products, though, can be challenging to achieve the ideal wet hair look. This article will explain to you how to get this hairstyle. Read on to learn more.
A hairstyle with a wet look can be a great way to glam up your appearance. You can follow a few steps to achieve the ideal wet-look hairstyle, regardless of whether you're going for a chic and sophisticated appearance or a fun and edgy style.
As you learn how to achieve a wet look, you will need some hairstyle ideas, too; here is our recent article on Slick and Sleek: 41 Wet Hairstyles for a Polished Look.
Also, if you are looking for other red-carpet hairstyles, you can check out: Steal the Show with These 49 Awe-Inspiring Red Carpet Hairstyles.
STEP 01: Start with clean, dry hair. 
Ensuring your hair is clean and dry before styling it is crucial. Use a clarifying shampoo to remove any buildup if your hair is oily before styling. Once clean, blow-dry your hair with a round brush to give it shape and volume.
STEP 02: Apply a styling product
You'll need to use a styling product that can give your hair a sleek, shiny finish to achieve the wet look. A gel, mousse, pomade, or wax can be useful for this style. Your hair's length and thickness will determine how much product you need.
Starting at the roots and working your way to the ends, apply a small amount of product to your fingertips and work it into your hair. Avoid using too much product, as this can make your hair appear greasy rather than shiny.
Related article: Moussing Around: Our Favorite 15 Hair Mousses for a Flawless Finish
STEP 03: Brush your hair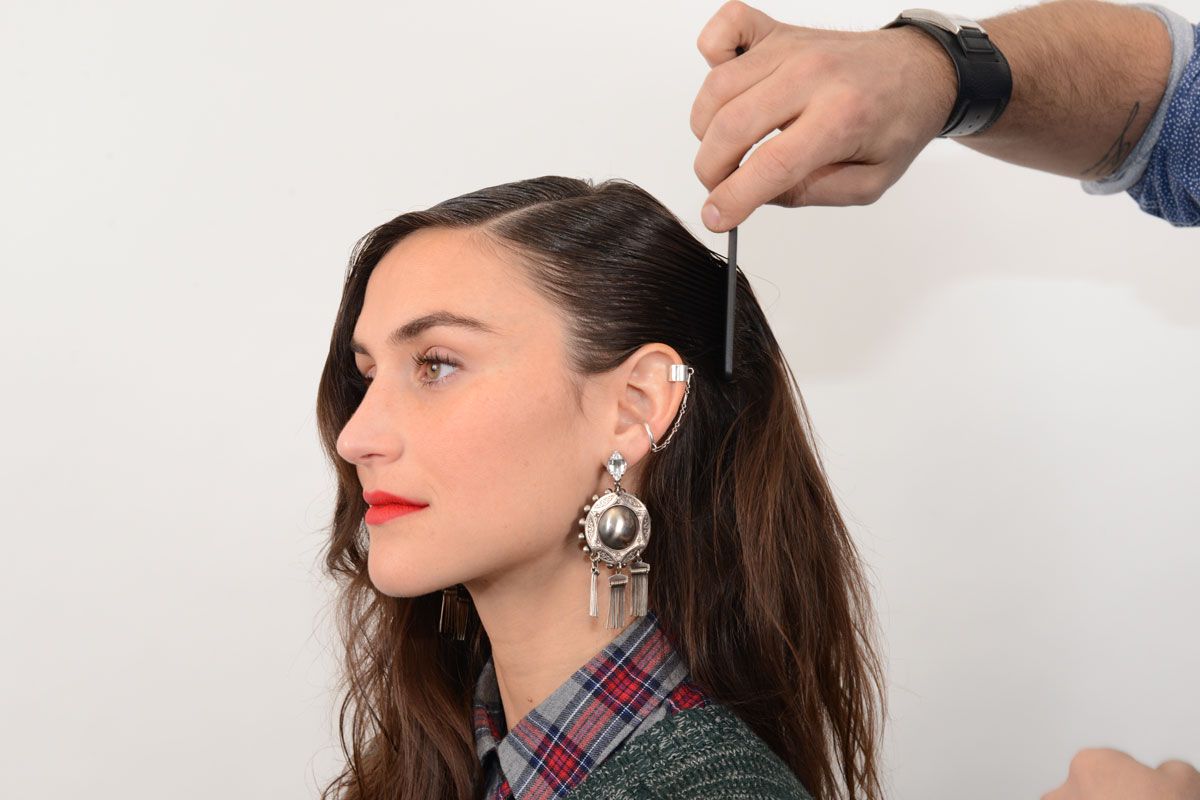 After using your styling product, smooth your hair with a comb to give it a wet look. Comb your hair back toward the crown of your head, beginning at the roots. You should use a second comb if there are stray hairs or want to make a more precise part.
Step 4: Include Sheen
You can use hair oil or serum to boost your hair's shine. These products can give your hair a glossy finish and help to control frizz. Start at the ends of your hair and work up to the roots by applying a small amount of oil or serum to your fingertips.
Step 5:
 Spray hairspray to complete.
Finish with a light mist of hairspray to set your look and keep it in place all day. Pick a flexible, lightweight hairspray to keep your hair looking natural and from becoming overly stiff.
Tips and Tricks
To achieve the wet-look effect on short hair, you should use a product with a stronger hold.

Use a comb to make a deep side part and slick one side of your hair back for a more dramatic wet appearance.

You should straighten curly hair before styling to achieve a wet-look style's sleek, shiny finish.

Start with a small amount of product and add more as necessary if you're worried about your hair looking greasy.
Conclusion: With the right tools and methods, getting a wet-look hairstyle is comparatively simple. Starting with clean, dry hair, you can achieve a sleek, shiny finish that will draw attention wherever you go by combining styling products, combs, and hairspray. Try various tools and methods to find the ideal wet-look style for your hair type and preferences.
Other Articles