How do you tie your hair up in a way that is both flattering and comfortable? Here are 33 adorable buns in various styles you can make in no time.
They are so versatile that you can wear them for a night out, to work, at home studying or reading, shopping, a formal event, a date, an evening with friends, or even to a wedding (even if you are the one getting married yourself). You may be wondering what we're on about. Of course, we're talking about buns, some of the most flattering and unique hair buns that allow us to keep our hair out of our faces and fix it to our heads comfortably and lightly. Who hasn't used one? If your answer is no, the problem is that you believe they are unsuitable for you. But you're mistaken: just as there is a perfect haircut for every face shape, there is a perfect bun for you. You have to look for it.
So, you no longer have an excuse not to dare to tie your hair up in a comfortable bun that gives you a lot of fun this season. Do you require more motivation? We, for one, offer 33 easy and super original bun ideas to choose from: ballerina, high, messy style, low, braided hairstyles, twisted, loose strands, with a scarf included, with texture. Which one is your favorite? Give these simple at-home hairstyles a try! All you need are a few minutes, patience, and accessories (large clips, bobby pins, bobby pins, rubber bands, etc.). That's all you need to know!
1. Low Ballerina Bun
Part the hair behind the ear to separate the sides and gather the back into a low ponytail. Then, wrap each side part of the ponytail around it, tying a knot and knotting it again. Gather the remaining ponytail by twisting it around and concealing the ends with bobby pins. Finally, spray hairspray or shine spray on the head to fix it and make it look shinier.
2. The Waterfall Braided-bun
For a flattering updo, braid your hair into a waterfall hairstyle before putting it in a bun.
3. Tied with a Hair Bow
You can try to make a bow or knot shape with your chignon if you have enough skill.
4. Using a Barrett
Use an eye-catching barrette to add a touch of glam to your bun.
5. Adorned with Flowers
This low-braided bun includes a lovely flower headband, which you can also use for special occasions.
6. With Loose Strands
Pull out a few strands of hair to add naturalness to your bun. If you have bangs, the tousled effect will be amplified.
7. Featuring Mini Braids
This low bun features two mini braids that are almost invisible, but we adore them!
8. Wearing a Headband
A thick headband can also be used to keep your hair in place.
9. Twisted Bun
This chignon is made by twisting a large strand of hair. It's fantastic!
10. Twisted into a French Roll
This bun is made by twisting a thick strand of hair over itself and gathering it with the hair itself.
11. Two-winged Bows
The two high chignons speak of deception. They intend to lure us out of our funk and project us into the future through deception. They incorporate the messy effect's evolution, and the ends are straight out. Make them round, braided, or whatever style you prefer.
12. The Space Buns
These 'space buns' are paired with two loose locks for a youthful look.
13. Messy Braided Bun
We adore this unique updo, which features two small braids in a tousled bun.
14. Finished with a Ribbon
Tie the bun up loosely with a ribbon and a bow.
15. Across the Crown of the Head
A large bun sits on top of the head. Choose a large clip that can support the weight of the hair. It's also the newest hair accessory trend.
16. Messy
We love this high bun idea for a casual, grunge look.
17. Two Boho Buns
The two braided buns are a quick and stylish way to gather our hair. If we want to give them a more boho vibe, I recommend making them low and slightly undone and leaving a few strands in the front. This updo is best suited for short or medium-length hair.
18. Featuring Highlights
Is there a trick to making your bun stand out? The color contrast will look just as good if you have highlights or gradient hair.
19. Two-braided Buns
Let half of your hair fall over your shoulders or make two eye-catching braids, gathering it all into two buns.
20. Using Bobby Pins
Use bobby pins or a hair fork to secure your bun and any strands that don't fit into it.
21. Loose and Unkempt Bun
The parting is in the middle, and the strands are gathered in a relaxed and loose manner.
22. The Ballerina Bow
This is a classic bun: polished, just above the nape of the neck, with all hair pulled back in a circle.
23. A Knotted Bun
Make a ponytail with the sides of your hair and sweep it back. To make this unique bun, divide the ponytail into three sections like a braid and tie a knot.
24. High Bun with Straight Bangs
All your hair should be gathered at the crown of your head, with your bangs straight across your forehead.
25. A Low Bun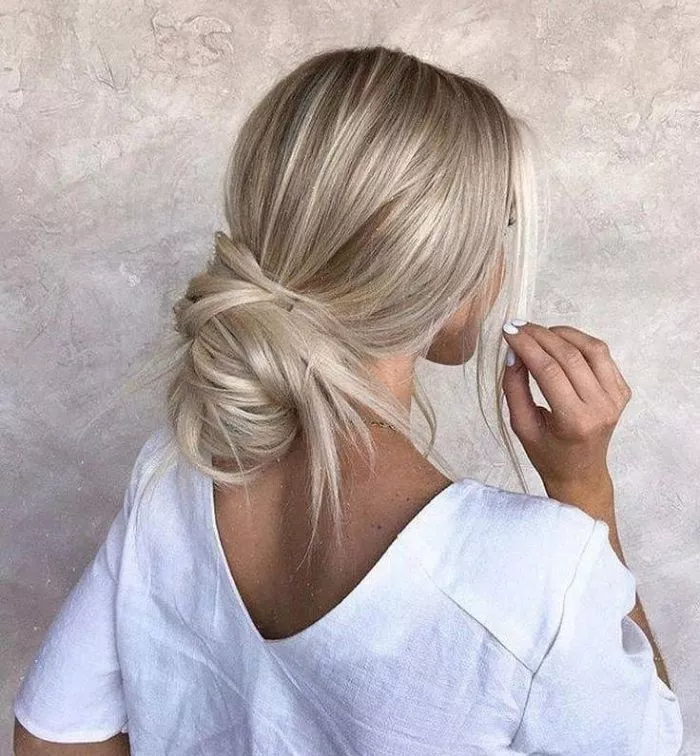 This bun is worn low on the nape of the neck and at the base of the head.
26. Wearing an XL Scrunchie
This product is ideal for adding volume to your hair for special occasions.
27. Retro
For an irresistible vintage and retro look, wear your hair wavy or braided before putting it in a low bun.
28. Semi-collected
Make a middle part in your hair and gather the strands closest to your face in a small bun at the back of your head.
29. With Harrows
If your hair is in a messy bun, this is a great way to tie it up.
30. Wearing a Scarf
You can also add a colorful ribbon or scarf to your bun to make it more interesting.
31. The Oriental Bun
For a polished oriental look, comb your hair and gather it into a puffy bun.
32. High Ballerina Bun
This ballerina bun is worn higher on the crown of the head. Use a pillow to keep it in place.
33. Low Bun with Bangs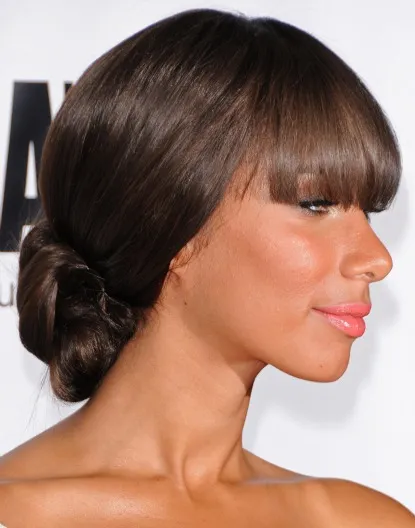 Do you wear bangs? You'll look great with a polished low bun.
Other Articles