Messy hairstyles are a popular and fashionable look that can be achieved with a wide range of hair lengths and textures. They are frequently distinguished by tousled, bedhead-like waves, loose curls, or deliberately unkempt layers. These hairstyles are frequently effortless, exuding a relaxed and carefree vibe.
They can be dressed up or down for any occasion, making them versatile. Messy buns, messy braids, and messy pixie cuts are all popular messy hairstyles.
So, if you're considering cutting your hair short or long! Or do you already have an f fashionable haircut that you adore? Whatever your answer, I'm sure you've considered messy hairstyles at some point. Who, after all, hasn't?
Continue reading to learn more and be inspired by 45 amazing hairstyles you can easily pull off.
1. Balayage Highlighted Shaggy and Messy Hair
You'll look stunning in this tousled, shaggy hairstyle. Apply some leave-in conditioner and use a flat iron to define the shaggy layers to achieve this just-out-of-bed look. If you like highlights, add balayage highlights.
Related Article: 30 Shaggy Hairstyle Ideas for Women
2. Messy Blunt Bob Hairstyle
Suppose you are okay with experimenting with short hair and different color combinations. Try this blunt bob hairstyle with fading blonde-platinum highlights for one of the most eye-catching messy ombre looks ever.
Related Article: 20 Favourable Bob Hairstyles for Round Faces
3. Messy and Mid-parted Half-up, Half Down Hairstyle
The hairstyle adds a youthful element to the personality. The fine bangs and led half-up, half-down hairstyle complete the look. It looks great if you tie a knot, a bun, or a ponytail.
Related Article: 43 Half-up Hairstyles for All Occasions
4. Messy Hair Accessorized with Bobby Pins to the Side
The messy locks, fringe, and subtle waves contribute to the pretty, uncombed look. The style is appropriate for both formal and informal occasions. Add a few bobby pins to either side of your head to achieve a cute and classy look.
5. Voluminous and Messy Curly Bob
A messy side part with curly waves adds a sexy touch to the style. It's unkempt but appealing. There is no need for a styling product for this. Mid-length or short bob hair works best with this, as shown in the above image because it creates a voluminous look.
Related Article: Haircuts for Curly Hair: Trends and Insights
6. Messy Lob with Highlights
The messy waves with a lob-length cut look elegant and sophisticated. The blonde highlights are ideal for the style. Wear it to any formal or casual occasion.
7. Layered and Messy Pixie-cut
The untidy pixie cut is one of the best messy hairstyles for that evening dinner. The hairstyle is enhanced by soft makeup. To achieve a similar hairstyle, get a layered and stacked haircut.
Related Article: Pixie Perfection: 50 Ways to Style Your Short Hair Like a Pro
8. A Low and Messy Updo
This tousled low updo is ideal for an evening gathering. The dens ly messed-up locks add a cute, tender touch to the look. Using hairpins or a barrette, secure the hairstyle.
Related Article: 22 Latest Updo Hairstyles to Wear for Prom
9. A Messy Top-Knot Hairstyle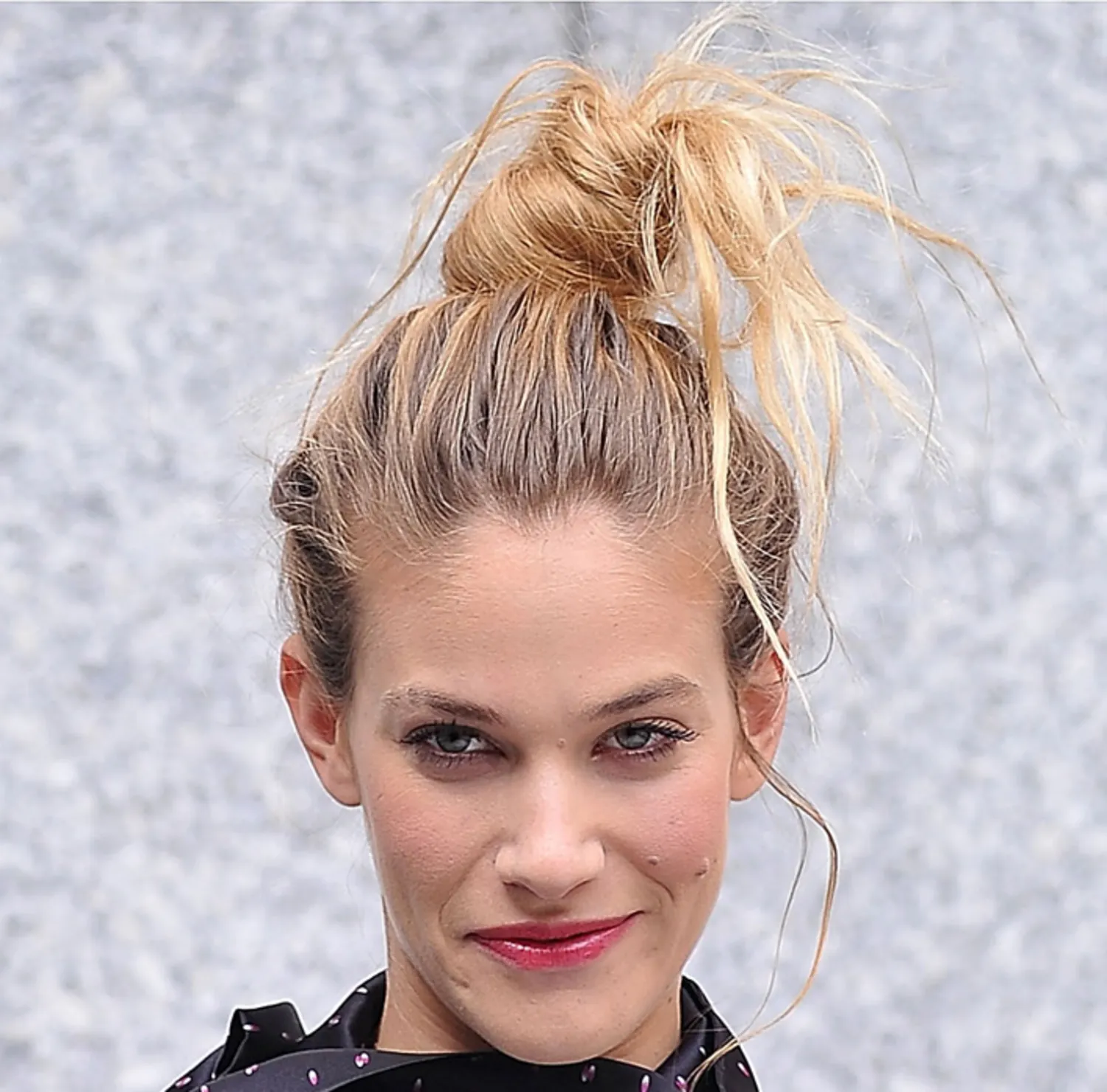 This messy top knot is ideal for casual meetings or parties. They 'do appear unkempt but are still extremely stylish. You can also add accessories to make it perfect. Tie a high knot with a few loose strands.
Related Article: 40 Top-Knot Hairstyles That Will Keep You Looking Fabulous All Day Long
For Tutorial: Get the Ultimate Top-Knot Tutorial: Tips and Tricks for Women
10. Side-Swept Bob with a Mini-Side Braid
This beachy tousled highlighted streaked hairstyle is ideal for women with short hair. However, the style is both elegant and seductive. The style calls for a mini-braid on one of the sides, with the rest of the hair, swept to the opposite side.
Related Article: How to Braid Short Hair: A Complete Guide
11. A Messy, Low and Knotted-Bun with a Scrunchie
The style is very chic and sophisticated. The wispy bangs cover the eye and exude a chic look, while the wavy edges soften and tenderize the style. Secure a low-knotted bun at the back of your hair with a scrunchie.
12. Messy and Low Tucked-in Updo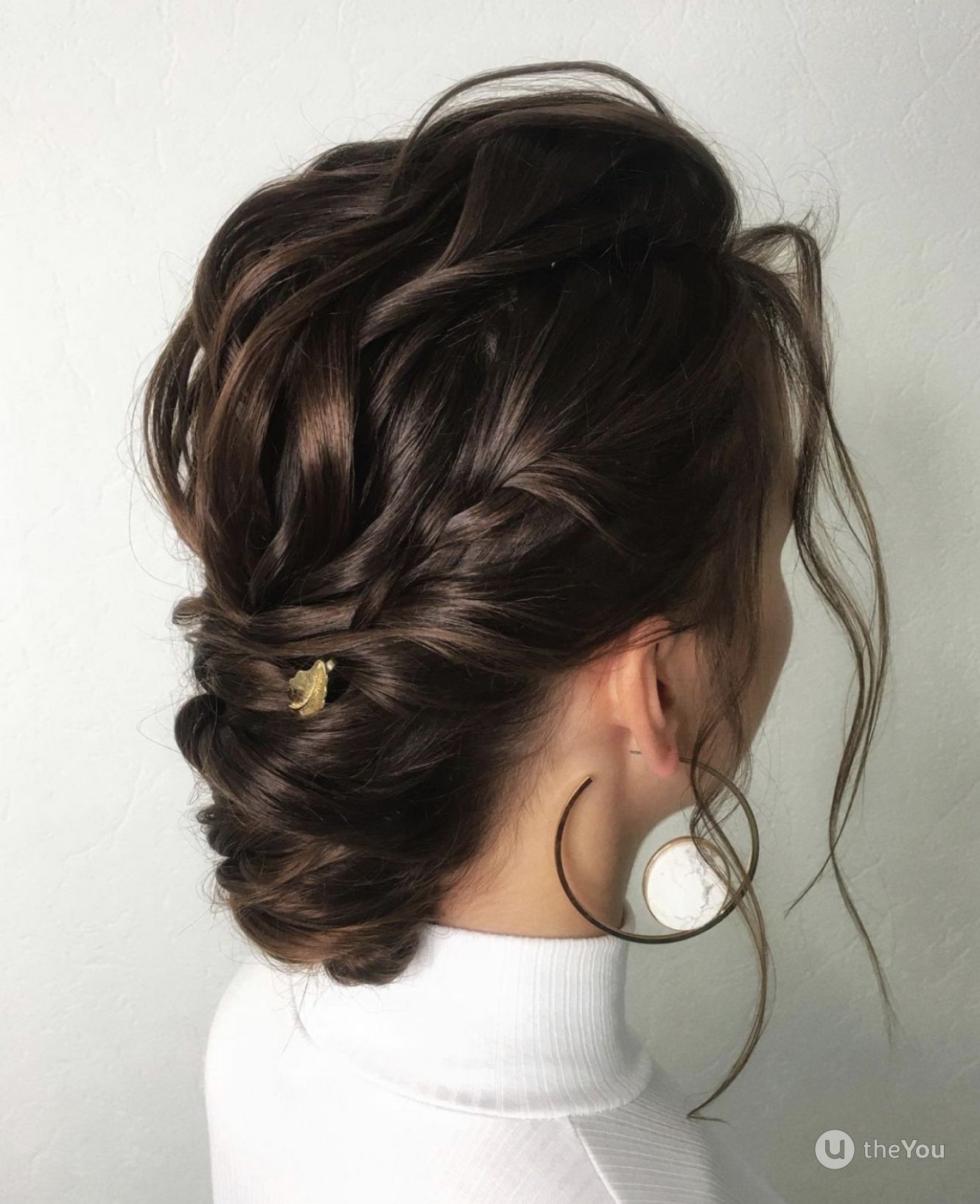 The straight and sleek hair here has a tousled look with messy edges. The style has a very nice sleek yet messy element to it. Collect your hair in the back and continue tucking it in to create an elongated updo.
13. Messy Bouffant Updo
This look appears untailored but is still very edgy. The tousled bouffant is still very appealing and epitomizes elegance. The natural makeup and delicate smile complement the hairstyle. Tie a ponytail or a bun in the back, and tease the front bangs.
14. Platinum-Blonde, Messy Pixie-Cut
This messy pixie has textured spikes. Though the hair is still unkempt, the tight platinum-blonde spikes exude elegance and class. Apply an appropriate amount of hair gel or mousse to achieve the look.
15. Highlighted and Messy Inverted Bob Hairstyle
The messy wavy tousled bob has a shiny textured feel and will look great with fine tousled bangs. If you want to look similar, get an inverted bob haircut with lowlights or babylights.
16. Messy Pink Highlighted Bob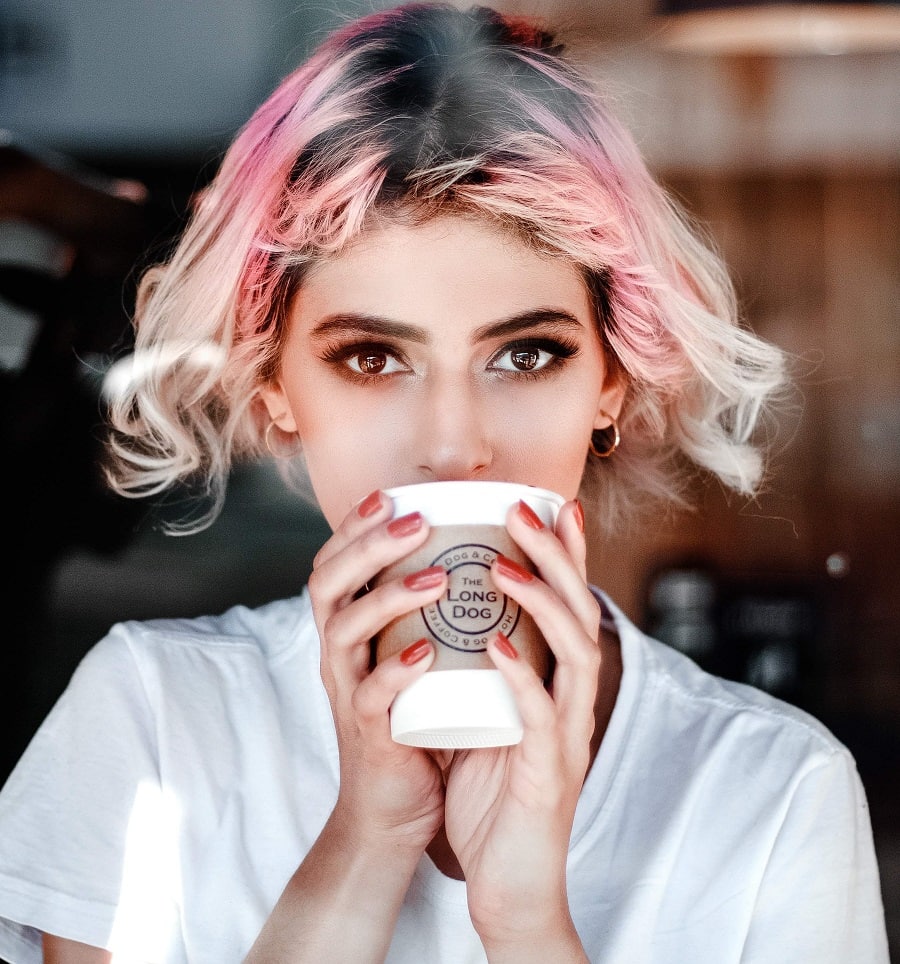 The pastel-colored short waves and mid-parted fringe, combined with the tousled essence, give the style a bouncy feel. The hairstyle has a sexy appeal with a nude-almost natural appearance. Choose two to three pastel shades for your black-rooted hair.
Related Article: 20 Incredible Ideas to Wear Pink Hair Color
17. Mid-Parted and Rolled-up Bangs with Messy Hair
This retro-inspired messy hairstyle is both elegant and appealing. Thanks to the bright smile and edgy makeup, the style is super chic. The style has a soft tousled look to it overall. Twist the bangs up and tease the long locks for a flattering look.
Related Article: Retro Revival: 42 Hairstyle Ideas from the Past to Inspire You
18. Messy French Fishtail Braided Hairstyle
The formality of this messy hairdo is undeniable. Uncombed and cluttered hair still looks smart and trendy. Because of the no-makeup scheme, the style is very elegant. Make a fishtail with your uncombed but smooth hair to the side. You're finished!
Related Article: 38 French Braid Hairstyle Ideas to Try!
19. Messy Half-up Bridal Hairstyle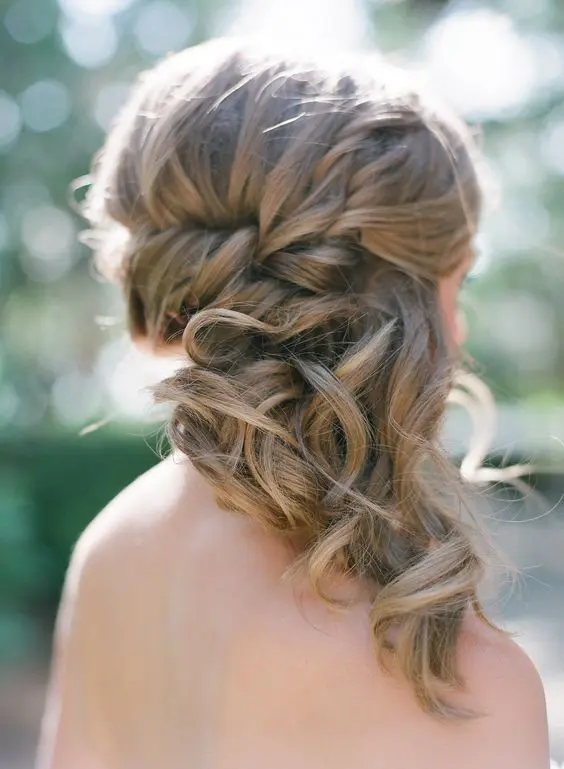 Soft spiral curls with even edges characterize this bridal hairstyle. The carefree style exudes elegance and appeals to the heart. Make a half-up rolled-up hairstyle and sweep it to the side—a beautiful hairstyle for a bride who enjoys messy hair.
Related Articles: 28 Wedding Hairstyles for Medium-length Hair
For Short Hair: Bridal Hairstyles for Short Hair: 23 Options
20. Messy, Low and Twisted Braid
Despite the messy-unkempt appearance, this braid has a very subtle soft touch. Continue twisting your hair and making a braid with the twists. Secure it with a rubber band, which looks appealing with the messy style.
21. Semi-Collected Hairstyle with Twisted Sides
The uneven streaked hair complements the tousled waves beautifully. The long half-up hairstyle conveys a cool, untidy, and stylish look. Twist the bangs on both sides and tie them at the back to make a half-up look.
22. Voluminous Side Braid with a Ponytail
The perfectly highlighted streaks complement the thick braid very well. The backcombed hair exudes a carefree attitude. Braid your hair to the side, then back, and then gather all of your hair into a ponytail.
23. Mini-braided Sides Messy Mohawk Hairstyle
This hairstyle gives a very upscale appearance while wearing a casual, seemingly untailored, but chic style. Make 2-3 side braids near your ears, leaving the rest of your hair down. This hairstyle will give you a mohawk appearance.
24. Boho Style Braids with a Faux Hawk Ponytail
The hair is brushed casually for a relaxed and chic look. You can create a Boho hairstyle with a few mini braids and weaved-in braids. To create a faux-hawk effect, gather your hair into a low ponytail. Wrap the ponytail with a thin braided strand.
25.  Messy, High and Puffy Ponytail Hairstyle
A messy high ponytail is the ideal messy chic hairstyle. The front hair is pulled back, adding a puffy touch to the tousled ponytail. Toss the front bangs and secure the hairstyle with eye-catching accessories to frame the face.
Related Article: Unleash Your Inner Diva: 51 High Ponytail Hairstyles to Rock
26. Messy Low Ponytail Accessorized with Golden Pearls
The messy ponytail exudes sexiness and chicness. The hairstyle is dressed up with an eye-catching pearl accessory. Show off your messy waves and shiny pearls with a ponytail at your nape.
27. Voluminous and Messy Low Ponytail
The hairstyle features a center part. The style exudes a very tender essence, with soft wavy edges on both sides. The look is casual yet elegant. Make a low ponytail and tuck your hair behind your ear. Remember to avoid using a comb. Perfect for short or medium-length hair.
28. High Ponytail for Short Hair with Face-Framing Bangs
Use a tousled or beach wave spray to achieve a messy look on your short hair. Finger-comb the hair and allow it to dry. You have an unkempt chic look. Make face-framing bangs that are mid-parted and tie a high ponytail in the back.
Related Articles: 45 Short-Layered Hairstyles That Will Completely Revamp Your Look
For Brunette Hair: 23 Hairstyles for Women with Brunette Short Hair
29. Messy, Low and Half-Knotted Ponytail
Untie your hair and leave it open. Tie a messy, half-knotted ponytail at the back of your head. The unkempt appearance and tender wavy bangs contouring the face give the facial features a soft touch. You can also tie a half-knotted bun.
Related Article: Check Out These 25 Side Ponytail Hairstyle Ideas
30. Curved Short Ponytail with a Scarf
Uncluttered hair swept to the back gives a messy vibe but is still very stylish. The hairstyle, when combined with red lipstick, makes a strong statement. Tie a bandana or a scarf around your hair in a high ponytail.
Related Article: 40 Trendy Bandana Hairstyles to Inspire You!
31. Messy Top Knot with a Headband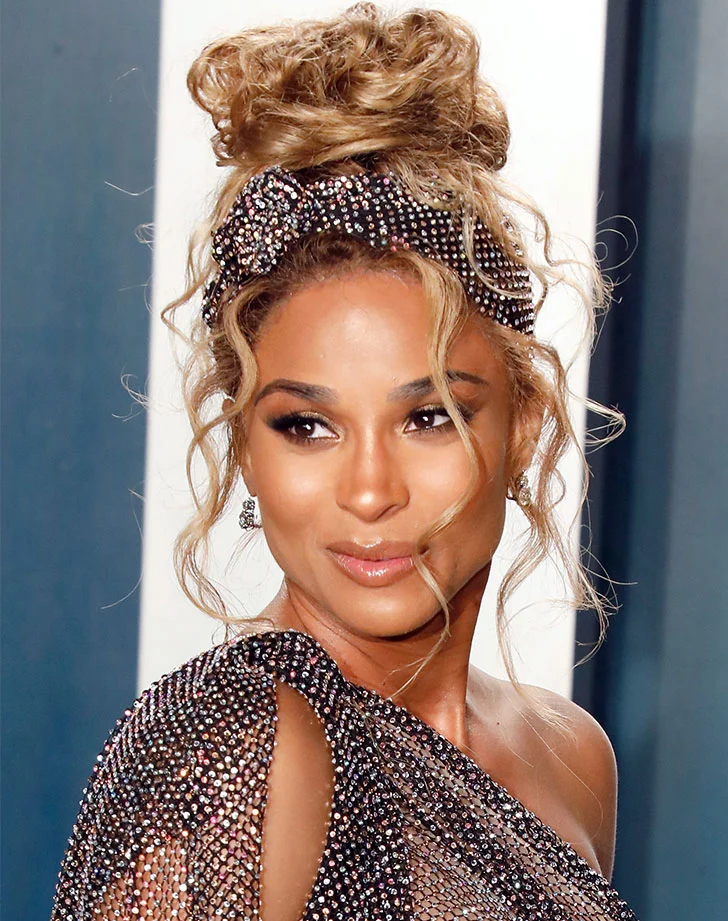 The messy top knot has a casual appearance. Ciara wore her hair in this style with a metallic-looking headband. The soft pink lips and subtle makeup complement the style.
32. Spiky Pixie-Cut Hairstyle
The spike-like waves are simple to obtain after applying a hair gel or mousse; style the wet hair with your fingers. The spikes are blunt and give the pixie a messy appearance. It would look great even if your hair were slightly longer.
33. Side-Swept Bangs with a Side Bun
The unkempt brunette layers play with the wind and perfectly complement the messy style. Brush your fringe and long hair to the side. Create a side bun to achieve a comfortable yet unique look.
34. Loose and Messy Curls Updo Hairstyle
The unkempt curly hair with a pineapple tail effect is seductive. The curly hair is left open, and the curly bangs add an informal touch. Make an updo in the back to keep the curls in place.
35. Short Semi-collected Ponytail Hairstyle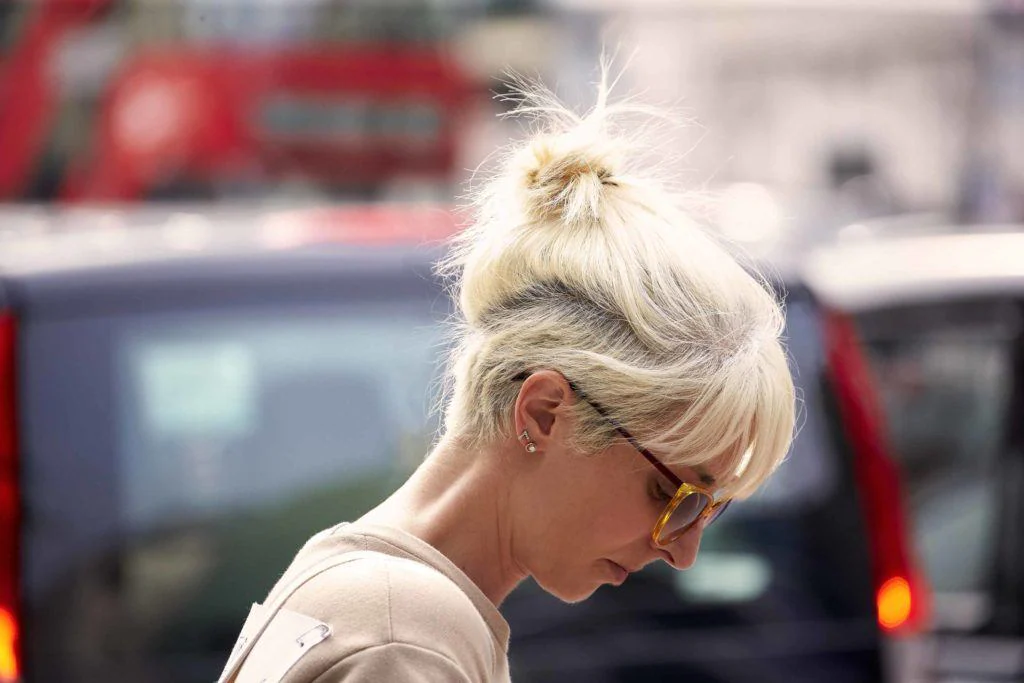 The short bob style's razored bangs on top and wavy tousled hair give it a distinct look. Take note of the faded-peekaboo lines that appear after creating a semi-collected ponytail. The style is messy but appealing.
36. Undercut Hairstyle with Long Side Bangs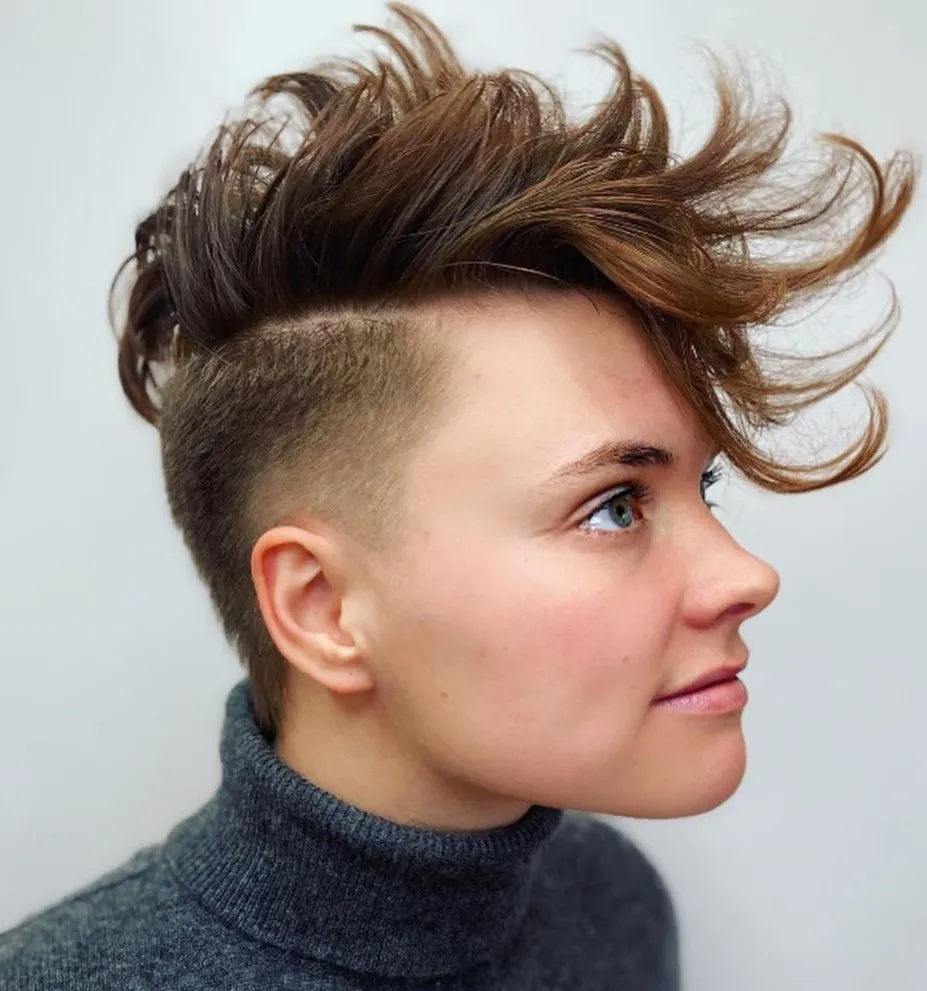 This windy undercut hairstyle has bangs that fly across the face. The lightly tousled layers only serve to highlight the casually happy face. Sweep your hair to the sides to highlight your shaved nape and sides.
Related Article: 26 Mesmerizing Undercut Hairstyles for Women
37. Long Undercut Hairstyle with Shaved Patterns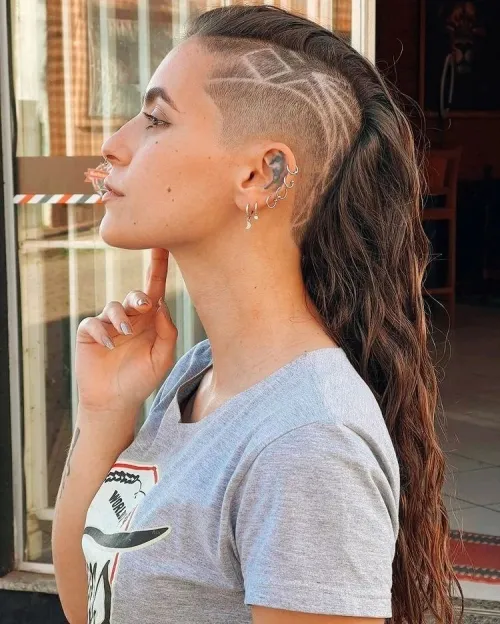 Chic and neat only sometimes go together. A slightly tousled element can add glam to a look. Another undercut hairstyle, but with long locks, swept to the side this time. The shaved patterns are also the main attraction here.
38. Mid-Length Layered and Shaggy Bangs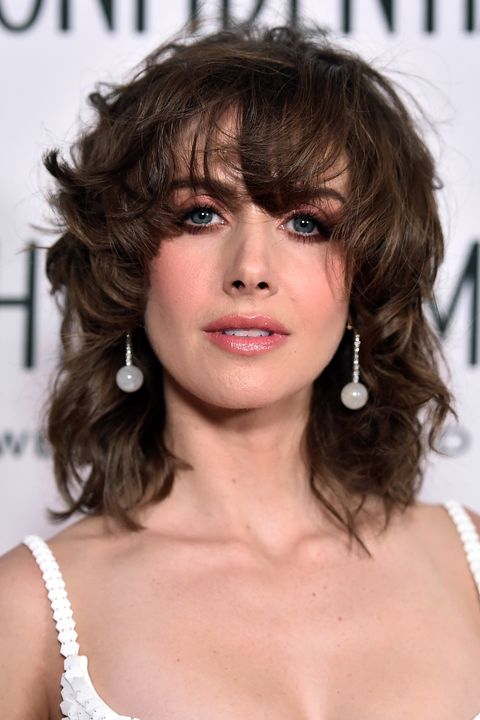 Alison Brie looks extremely sexy and hot in this ultra-messy hairdo. The unkempt look is ideal for choppy and shaggy haircuts with defined layers. This hairstyle works best on medium-length hair.
Related Article: 47 Shaggy Bob Hairstyles to Embrace Your Inner Rockstar
39. Mini-French Bob Messy Hairstyle
For a fresh party look, this mini-French haircut features shaggy and tousled waves with small flyways that are brushed. The delicate rolled-in edges add a new dimension to the tousled waves.
40. Choppy Bangs with Feathered Ends for Mid-length Hair
Lisa Rinna looks stunning in this messy hairstyle. The hairstyle features tousled feathered ends and uneven bangs. The textured waves complement the wispy side-swept fringe. Because of its choppy ends, this layered haircut stands out from the crowd.
41. Razored and Messy Bowl-Cut Hairstyle
This bowl-cut short hairstyle features straight yet messy hair with an unkempt appearance. The tousled flyaways and messy bangs give this brunette style a distinct shape and make it chic.
42. Messy Waterfall Half-Up with Beachy Waves
This unusual waterfall half-up hairstyle has an unkempt appearance but is very stylish. The beachy waves add to the sense of one-of-a-kindness. Continue braiding around your head, leaving your long beachy waves undone.
Related Article: Wavy Hairstyles: Order of the Day
43. Messy and Long Bubble Ponytail
These messy hairstyles will make you look sexy and stylish. The long, tousled hair is gathered into a bubble ponytail that looks elegant in this messy style.
44. Messy Half-up Hairstyle with a Hair Bow Accessory
This hairstyle is simple yet fashionable. Pull a strand from both sides, bring it back, and secure it with a pin. Secure the semi-collected hairstyle with a hair bow accessory or a ribbon. When you're finished, look at your unkempt and wavy hair.
45. Messy, Loose and Curly Braid Swept to the Side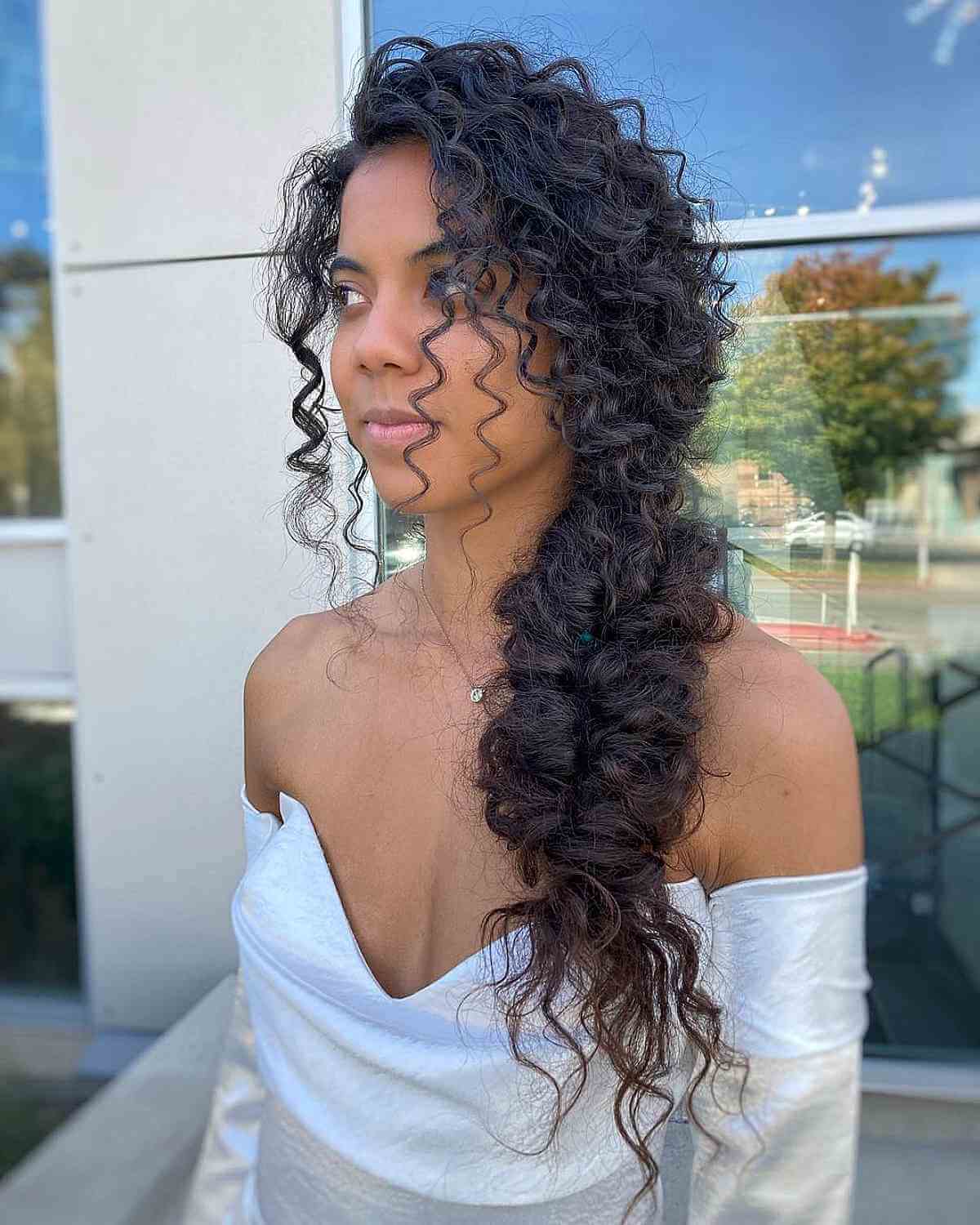 This tousled layered, and curly hairstyle embodies your elegance. The hairstyle is light and airy. Make a loose side braid on either of your shoulders to feel stylish and comfortable all day.
Other Articles