Welcome to our blog, where we celebrate Taylor Swift's enchanting world and her incredible concerts! If you're a die-hard Swiftian looking forward to a Taylor Swift concert, you've come to the right place. We've compiled a list of 30 captivating hairstyles inspired by Taylor Swift to help you channel your inner Swiftie.
Also, If you're looking for some more casual and popular Taylor Swift hairstyles, check out our article: Try These 25 Hairstyles Inspired by Taylor Swift
This blog features many hairstyles that pay homage to Taylor's artistic journey. From the romantic curls of "Love Story" to the sleek ponytail of "Shake It Off," we've covered your hairstyle. We've handpicked hairstyles that will make you feel part of Taylor's magical concert experience, whether you want to rock a timeless classic or experiment with a trend-setting statement.
Join us as we explore the versatility and creativity that Taylor Swift inspires through her hairstyles. Prepare to turn heads and express your affection for Taylor in the most fashionable way possible. If you plan to join her "Eras Tour", you can't miss this one.
1. The "Swiftie Sleek Bob"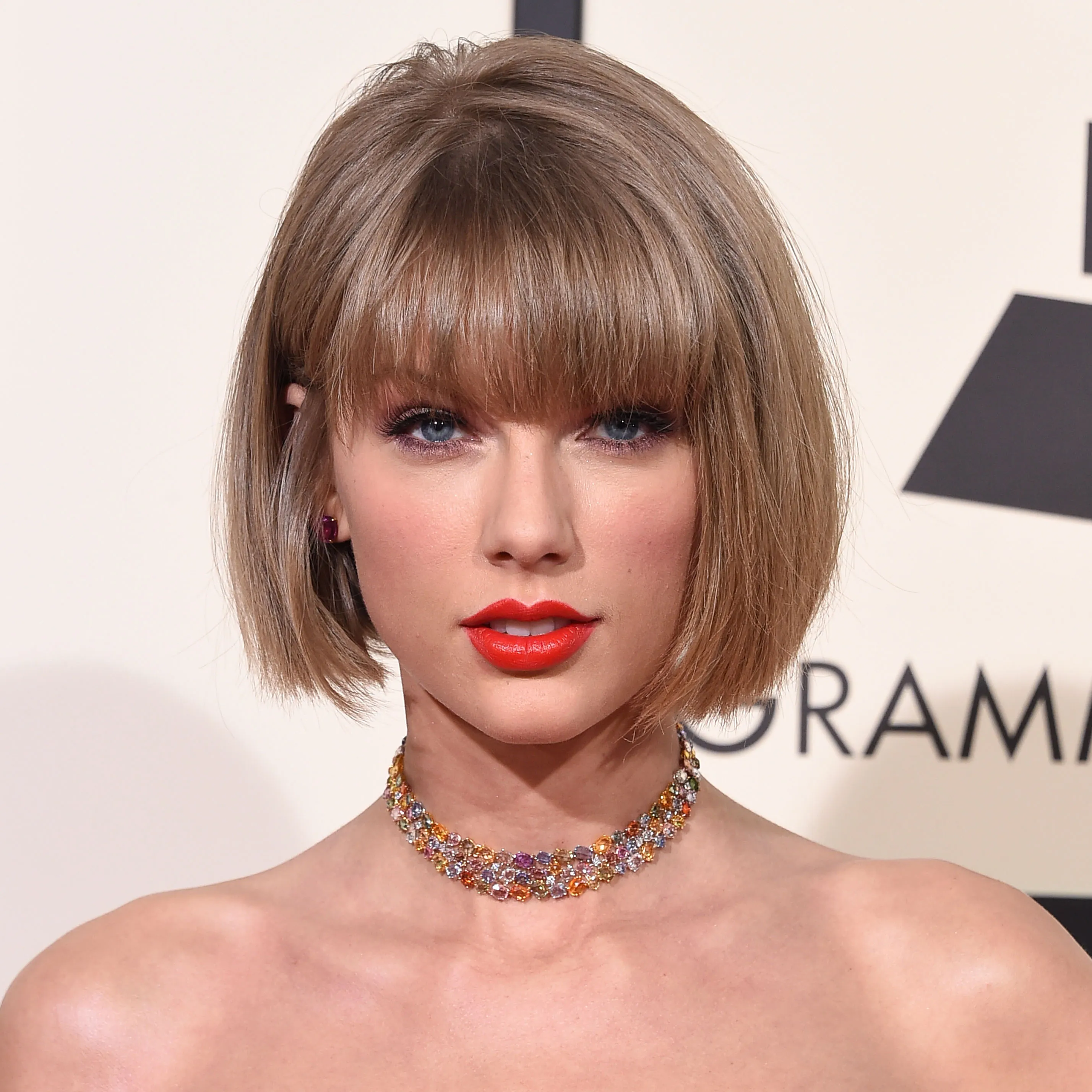 This stylish hairstyle exudes confidence and elegance. Swifties who want a modern and edgy look for her concerts will love this sleek, polished look inspired by Taylor Swift's bob haircut. The sleek bob enhances your features and adds glamour. Heat protectant and a flat iron create sleek, straight hair for this style. Finish with a shine spray to make your Swiftie Sleek Bob stage-ready!
2. The "Red Taylor Waves"
Taylor Swift's "Red" hairstyle is timeless. Taylor's romantic waves inspired this hairstyle. Red Taylor Waves are romantic, soft curls. Create loose waves in your hair with a curling iron or wand. For a carefree look, finger-tousle the curls and spray lightly. This hairstyle goes with any outfit and makes you feel like a Swiftie ready to sing.
3. The "Fearless Fishtail Braid"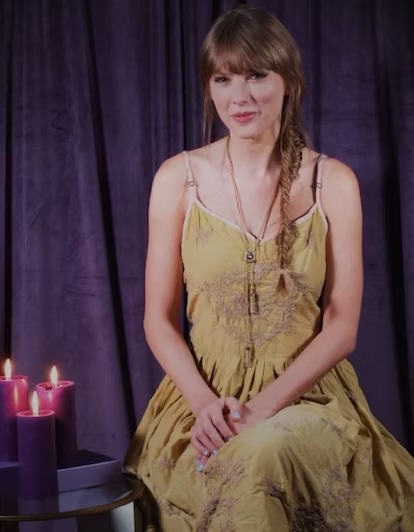 Express your fearlessness. Taylor Swift's hit song inspires this fun concert hairstyle. The fishtail braid's intricate texture adds bohemian charm to any outfit. To achieve this look, divide your hair into two equal sections and begin weaving the fishtail braid by crossing small sections from the outer edges to the opposite side. Finish braiding with an elastic band. To add volume and texture, gently separate the braid. The versatile Fearless Fishtail Braid will keep your hair in place while you dance and sing to Taylor's music.
4. The "1989 Messy Bun"
Rock the concert stage with this retro-cool hairstyle. This carefree messy bun is reminiscent of Taylor Swift's "1989" album. To achieve this look, make a high ponytail and twist it loosely around the base. Allow a few strands to fall loose with bobby pins. This hairstyle keeps hair off your face while looking stylish and casual, making it perfect for dancing and moving.
5. The "Speak Now Side Swept Curls"
Stand out at Taylor Swift's concert with this hairstyle. Taylor's Speak Now era inspires this elegant look. Start with loose, voluminous curls using a curling iron. Next, sweep all your hair to one side and secure it with bobby pins. Taylor's music is perfect for swaying with the curls. Speak Now Side Swept Curls will enchant the audience and make you feel like Taylor.
6. The "Reputation Sleek Ponytail"
Channel Taylor Swift's fierce and confident "Reputation" era. Swifties who want to stand out at her concerts should try this sleek hairstyle. Start by brushing your hair into a high ponytail at the crown. Secure with an elastic band and hide the base with a small section of hair. Flat iron or smoothing serum flyaways for a sleek look. As you jam to Taylor's music, the Reputation Sleek Ponytail commands attention.
7. The "Lover Half-Up Hairstyle"
The "Lover Half-Up" captures Taylor's whimsical "Lover" era. Start with a high ponytail. Twist the ponytail into a loose knot and secure it with bobby pins for a casual top knot. This style is perfect for confident, charming, and playful people.
8. The "Enchanted Loose Waves"
Channel Taylor's ethereal song "Enchanted" with this mesmerizing hairstyle. Create romantic waves with a large barrel curling iron. After the curls cool, brush them with your fingers to create soft, flowing waves. Spray a light-hold hairspray to maintain the enchantment throughout the concert. This hairstyle makes you feel like a princess.
9. The "Wildest Dreams French Twist"
This chic French twist will unleash your wild side. Backcomb the crown to add volume and height. Twist and pin your hair at the nape of your neck. Leave a few face-framing tendrils loose. This timeless, elegant hairstyle captures Taylor's "Wildest Dreams."
10. The "Style Braided Crown"
Inspired by Taylor's song "Style," this braided crown hairstyle is elegant and romantic. Divide your hair in half and braid two Dutch braids from front to back. Cross the braids at the nape of your neck with bobby pins to create a crown. This boho-chic hairstyle is perfect for stylish and sophisticated bohemians.
11. The "All Too Well Messy Updo"
Channel Taylor's "All Too Well" with this chic messy updo. Create texture and volume by loosely curling your hair with a curling wand. Pull your hair into a low ponytail at your nape for a romantic look. Bobby pin the ponytail into a loose bun. To make the bun messy, gently pull it. For an edgy yet elegant concert look, this hairstyle is effortlessly cool.
12. The "Love Story Romantic Curls"
Transport yourself to a fairytale with these iconic curls inspired by Taylor's hit song "Love Story." Start by curling small sections of hair with a curling iron, creating tight curls from mid-length to ends. For soft, bouncy waves, gently brush the curls with a wide-toothed comb or your fingers after they cool. A deep side part and a sparkly hairpin add romance. This classic hairstyle will make you the star of your love story.
13. The "Shake It Off High Ponytail"
Taylor Swift's "Shake It Off High Ponytail" captures her confidence and self-expression. This look requires a sleek, sky-high ponytail. Smooth flyaways and add crown volume for the bounce. This hairstyle lets you dance the night away at Taylor's concert without sacrificing style.
14. The "Blank Space Sleek Chignon"
This chic hairstyle is ideal for Taylor Swift's concert. This hairstyle looks elegant with formal wear. Smooth your hair back and gather it into a low ponytail at the nape of your neck. Next, pin the ponytail into a chic chignon. Tuck loose strands to finish sleekly. This timeless hairstyle will make you look like Taylor Swift in a music video.
15. The "You Belong with Me Side Braid"
Taylor Swift's "You Belong with Me" look is charming and youthful. Try it at her concert. Start by parting and sweeping your hair over one shoulder. Make a messy side braid with all your hair. Tug the braid to loosen it and pull out a few face-framing strands for a bohemian look. This hairstyle captures Taylor's relatable and down-to-earth personality, making you feel like her best friend while singing her classics.
16. The "The Last Time Voluminous Waves"
"The Last Time Voluminous Waves" unleashes your enchantress. Taylor Swift's ethereal and romantic hairstyle is perfect for a night of heartfelt ballads. Curl your hair with a large barrel curling iron to create loose, voluminous waves. After curling, gently tousle them for a natural look. This glamorous hairstyle cascades around your shoulders, adding femininity to your concert outfit.
17. The "Mine Boho Braided Updo"
Taylor's concert look is whimsical and bohemian, reflecting her free-spirited nature. Start by braiding two messy braids with random hair on each side of your head. After braiding both sides, gather them at the back and twist them, securing them with bobby pins to create an updo. Leave some face-framing strands loose for a carefree look. Taylor's early country-pop hairstyle is perfect for dreamers.
18. The "Delicate Twisted Low Ponytail"
The "Delicate Twisted Low Ponytail" is a beautiful hairstyle that captures Taylor Swift's elegance. Part your hair down the middle and smooth it. Next, tie your hair behind your neck. Twist the ponytail by flipping it through a small opening above the hair tie. Pull apart the twisted section to finish. This elegant hairstyle complements Taylor's softer ballads and showcases your refined style at her concert.
19. The "Gorgeous Wavy Lob"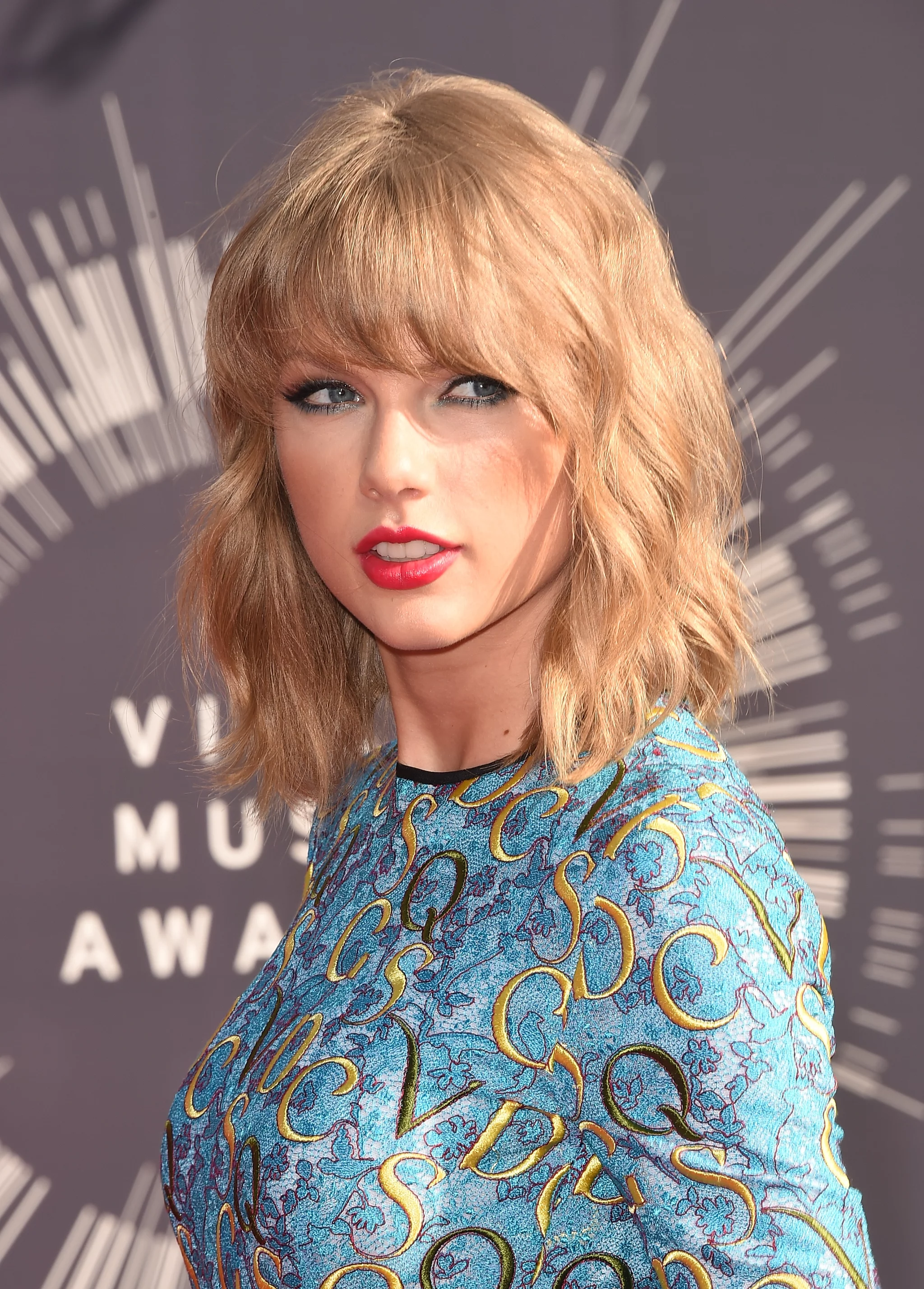 Taylor Swift's "Gorgeous Wavy Lob" hairstyle captures her effortless beauty. This shoulder-length bob with tousled waves exudes carefree glamour. It's perfect for Swifties who want a versatile, low-maintenance hairstyle for Taylor's concerts. This hairstyle looks great while dancing to "Gorgeous" or singing "Blank Space." The wavy lob frames the face and adds elegance and playfulness to your style. Add a romantic headband or hair accessories.
20. The "Cruel Summer Messy Bun"
Taylor Swift's high-energy performances call for a more relaxed and edgier hairstyle. This easy updo embodies Summer and Taylor's hit song. It's about accepting flaws and letting your hair flow. Put your hair in a messy bun and let some strands fall around your face. To look effortlessly cool, add a few wisps or intentionally messy strands. This hairstyle is perfect for dancing without hair in the way.
21. The "Daylight Half-Up Half-Down"
For a dreamy, ethereal look that matches Taylor's song "Daylight," try this hairstyle. This hairstyle blends updo elegance with loose hair grace. Start by creating a centre part, gathering the top section, and securing it with a decorative clip or hair tie. Let your hair fall in romantic waves or curls to frame your face. Swifties who love Taylor's heartfelt ballads will love this hairstyle.
22. The "Dear John Textured Pixie"
Inspired by Taylor's bold and fearless style evolution, this short, daring hairstyle is perfect for concertgoers. This chic, textured pixie cut exudes confidence and individuality. This look is achieved by adding texture and volume with styling products or root teasing. Embrace this hairstyle's edginess as you rock out to Taylor's powerful anthems.
23. The "Our Song Retro Ponytail"
Channel Taylor Swift's country roots with this hairstyle. This classic hairstyle has a sleek high ponytail. Smooth and tie your hair at the crown. Wrap a small section of hair around the hair tie and pin it for retro glamour. Taylor's concert is nostalgic with this hairstyle and vintage outfit.
24. The "Bad Blood Braided Mohawk"
Channel Taylor Swift's fierceness with this hairstyle. This daring style mixes a mohawk with intricate braids. Start by braiding your hair in small sections down the centre, freeing the sides. After braiding, twist or braid the side hair and pin it to the centre. The result is a striking, rebellious hairstyle that will make you feel like Taylor on stage, ready to conquer the world.
25. The "White Horse Crown Braid"
The "White Horse Crown Braid": Channel your inner ethereal princess with Taylor's iconic ballad-inspired hairstyle. This whimsical yet elegant look embodies romance and fantasy. Start with a Dutch braid crown. Leave a few loose strands and pin it. For fairytale-inspired concert hair, try the White Horse Crown Braid. This hairstyle lets you enter Taylor's magical world.
26. The "Getaway Car Sleek Bob"
The "Getaway Car Sleek Bob" is perfect for a modern, chic look. Taylor's song about freedom and escape inspired this confident, sophisticated hairstyle. Straighten your hair first. Make a deep side part and bobby pin one side behind your ear. Let your jawline fall gracefully. This sleek bob gives your concert outfit a modern edge. For a fierce, polished look like Taylor's, it's perfect.
27. The "Mean Classic Updo"
Honor Taylor's fiery anthem. This hairstyle is classic and polished. Make a high ponytail. Bundle the ponytail at the base. Using bobby pins, tuck in any loose ends. Wrap a thin hair strand around the bun base to hide the pins for a glamorous touch. The sophisticated Mean Classic Updo captures Taylor's resilient spirit and is perfect for a concert night full of unforgettable performances. Wear this at for formal or professional events too.
29. The "The Archer Textured Bob"
Channel Taylor Swift's "The Archer" with this hairstyle. Elegant edginess defines this modern look. Choose a slightly asymmetrical bob with shorter back layers and longer face-framing strands. Use a texturizing spray and loosely tousle your hair for a controlled mess. This hairstyle matches Taylor's empowering songs' edgy vibe.
30. The "Taylor Swift Signature Straight"
This straight hairstyle is perfect for minimalists. This style lets you channel Taylor's straight hair with bangs. Flat iron your hair for a smooth, glossy finish. Apply a little anti-frizz serum for sleekness. This sleek hairstyle matches Taylor Swift's refined style and works with any song.
Other Articles