Short-layered hairstyles are trendy in the fashion and beauty industries. They can be daring, sensual, sweet, or sophisticated. This article will show you 45 different short-textured hairstyles that are currently popular.
Check out these hairstyle ideas of some of the best ways to get short layered hair before deciding on this haircut. Take a screenshot of your favorite looks and show it to your stylist.
1. Mid-parted Voluminous Curly Bob with a Layered Cut
These bouncy curls look stunning from every angle. We love how the volume is concentrated in the center of the hair, drawing attention to the face. Show off your lob-cut curly and layered hair by parting your hair from the center.
2. Combed-back, Sleek Layered Hairstyle
This is a look that includes the use of gel in the back to add smoothness. For blunt little bobs like this, texturizing products are everything. Comb your layered hair back for a flattering sleek look.
3. Blunt Bangs with Short-layered Bob
No, you're not the only one who feels like a Disney princess! A chic layered bob with straight-across bangs will always be a cool-girl (or pop star) look in our eyes. Prepare to be noticed by adding blunt bangs to your well-kept layered bob.
4. Side-parted Retro and Layered Waves
As previously stated, layers are critical to an excellent short haircut. The tapered ends, bangs, and extra volume on top create a stunning hair shape. Try this retro look with layered waves and a side part.
5. Choppy-layered Hairstyle for Brown Hair
This look shows how piecey layers can look with a sleek, bouncy 'do. To recreate the look, color your hair brown or reddish and curl it with a medium-barreled curling iron if you like loose waves.
6. Face-framing Wispy Bangs with Razored Wavy Bob
Wispy bangs and face-framing pieces elevate a wavy bob—an instantly chic cut you can replicate if you prefer towel-drying over blow-drying and have a similar relaxed hair texture. The choppy bangs to the sides of your face will give you a stunning appearance.
7. Blonde and Smooth Waves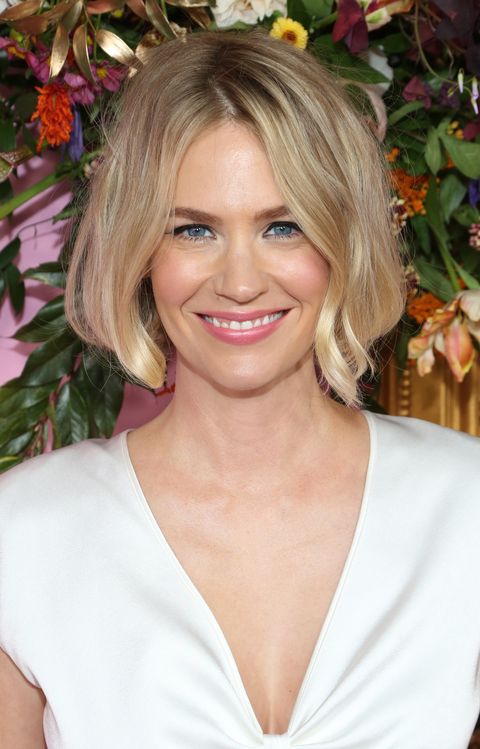 Find some inspiration to cut our hair short and layered. If you have naturally fine hair, a sleek, piecey bob with a few well-placed layers is ideal for adding some oomph. The blonde color on your dark roots will be the center of attention.
8. Shaggy Layered Lob Hairstyle
Model Alanna Arrington already has covetable curls, and she keeps the curl pattern bouncy and gorgeous by cutting layers into her shag with strategically snipped bangs. Another option is a shaggy, layered haircut with a shoulder-length lob, as in the above example.
9. Dual-colored Tight and Layered Curls with a Side-parting
This time, tons of hairstyle ideas make bobs and lobs their signature "cut," brilliantly working with a hair's natural texture and adding dimension and movement with layered tight curls. Mix your curls to the side and add contrasting color over your natural black.
10. Short-layered Finger Waves Hairstyle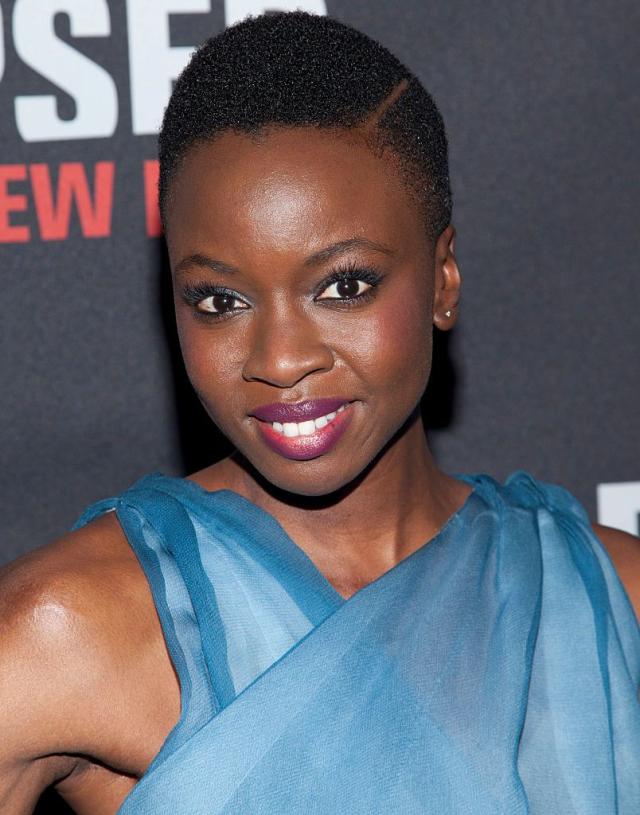 While layers can help add heft and texture to thin hairstyles, they also look great on tightly coiled curls or finger waves. These give the style shape (and tonnes of versatility). Because curly hair can vary throughout the head, consider the consistency of the finger curls with a deep part to determine the best layering.
11. Platinum Layers with Accessorised Hair Pins
Try a short platinum-colored haircut with delicate layers. And when it comes to hairstyles, we have a fantastic option for you. Make three mini-braids on the side of your hair, or twist it and adorn it with barrettes or hairpins. That's it, and you're looking gorgeous.
12. Volume at the Top with Layered Back
Whimsical, the '60s-inspired shag is unquestionably one of the most incredible hairstyles. Is that the only way to get it? There are numerous layers. To pull off a layered shag, you must have enough hair and density on top of your head. The more movement and piecey parts there are, without looking stringy, the lighter it is at the nape, the better for a fluffy hair look.
13. Side-swept Bangs with Layered Pixie
Layers in the front, for a shorter crop, add face-framing volume by sweeping your bangs to the side around your face—and a touch of lightness in the back. It will resemble a stacked pixie cut with layers—a great look for parties and business settings.
14. Messy and Loose Layered Curls
Curly layers are essential for super-full styles. Try a stunning layered crochet wig if your length needs to be longer to pull off this look. If you enjoy experimenting with colors, style your hair into a messy haircut with some funky highlights. Finish by adding accessories to complete your look.
15. Sleek Pixie with Wavy Bangs at the Front
The color variation in this naturally half-curly shag adds to its beauty. There's dimension and movement; we want to curl our hair and cut it off immediately. For an eye-catching hairstyle, create a sleek pixie in the back while curling the bangs in the front. These wavy bangs require some good styling options.
16. Black-rooted Layers with Ashy Tint
Layers are beneficial for a chin-length style. They give a unique, natural-looking vibe to a cut that may be more difficult to style than long hair. Add ashy color to your dark natural hair roots to slay your layered haircut and create a tousled look.
17. Mid-parted Face-framing Brunette Layers
The current trend is brunette and layered hair, and we're obsessed. Part your shirt layers in the middle and style them with brown shades. If not brown, go for your natural look but achieve soft waves to add life to the hair.
18. Wet-looking Layers with a Center-parting
Depending on the texture of your hair, a wispy bob can be the most low-maintenance style. Look at this layered beauty with the hair parted in the middle. Run a dime-sized dollop of mousse through wet hair and style to achieve this damp look.
19. Moon Bangs with a Messy Top-knot
Add some edge to a layered shag with edgy bangs—we love the quirky and chic moon-shaped ones here but keep in mind the upkeep. Some shorter shag cuts can be challenging to care for. Try a half-up ponytail or a high bun with messy layers for a cute look.
20. Soft and Short-layered Chin-length Bob
The brunette hair color is gorgeous, but can we discuss the cut? The short style is downright sultry and sexy, thanks to the dramatic bangs. Request a chin-length bob with smooth, appealing layers whenever you step out.
21. Layered Vintage Waves with a Bandana
Cut ultra-wavy hair into a short, shoulder-length 'do is always a good idea. You can remove any excess weighing down your hair, resulting in a massive volume. For the daytime, add a head scarf to protect the look. This will assist you in achieving a vintage look at the end with curled layers.
22. Balayage Waves With Tapered Ends
Take your balayage or highlights to the next level and highlight your color with a piecey, layered style like this one. (Look at all that space.) Make a side part for a chic look to show off your highlights. The tapered ends will help define your layers.
23. Wolf-cut Layers with Golden-blonde Highlights
Wolf Cut, aside from the gorgeous makeup and adorable bangs, we're obsessed with the barely-there layers on top that add extra volume. Try this haircut with golden-blonde highlights at the ends to achieve smooth, sleek, yet tousled-looking short hair.
24. Messy and Short-Layered Ponytail
An excellent layered cut can completely transform the shape and style of your hair. Note how an adorable messy ponytail with face-framing bangs completes this look. Try the hairstyle with different hair colors, but the layers will always be the focal point.
25. Semi-collected Sleek Hairstyle with a Top Knot
Experiment with hairstyles and length—the semi-collected layers combined with a sleek top knot and brunette spunk stripe on black roots create a lot of texture, volume, and dimension. A good hair gel should also assist you in achieving a similar look.
26. Undercut Pixie with Messy Layers
Let us show you how to do a layered undercut with dramatically side-swept, wispy pieces of varying lengths. Add blonde hair to your messy hair and go for an undercut with long bangs. Sweep your bangs to the side and style your pixie in a two-toned look.
27. Blown-out Golden-colored Layers
If your natural hair is kinky and textured, embrace the look with a short, layered haircut that is easy to style every time. Remember to use hydrating masks to keep your texture in check. Keeping the hair hydrated is essential for this blown-out look. For a low-maintenance hairstyle, try golden hair color.
28. Short-layered Beach Waves
We adore these soft, touchable beachy waves with volume-boosting layers. The key is to choose an asymmetrical or inverted haircut with short layers. If you want to experiment with coloring, go ahead; otherwise, your natural hair is always a good option.
29. Round and Sleek Layered-cut
If you like the blowout look, luxe layers will help you achieve maximum volume and drama. (And how gorgeous is this color? Try different colors, and ask your hair expert to give you a round-edged (hat-like) haircut with layers that will cover your hair from the bangs to the nape of your neck. It's up to you whether you want it messy or sleek.
30. Mid-parted A-line Straight and Short-layered Hairstyle
Are you considering a shoulder-length haircut? Request layered, wispy straight ends—the A-line haircut elevates the look. This hairstyle will appear to be a soft octopus haircut with a center parting. Feel good with those face-framing straight bangs on the sides.
31. White and Sea-green Combo with Short-layers
It's no secret that we're obsessed with bobs and shag haircuts—and when you combine them with dual-colored roots (and add some bangs), it's a match made in heaven. Please, yes. But remember to do your homework if you're getting a big cut like this. Choose a white and sea-green color scheme and a similar layered haircut with straight bangs.
32. Bubblegum Pink-colored Layers with Crossed Bangs
This pastel root coloring is stunning, but we can't ignore the bubblegum pink volume achieved by layering. Cross the sides of your hair as shown above, covering the bangs as well. Allow for chin-length hair with razored ends. (Using a good hairspray, you can keep the extra-full look even after leaving the salon chair.)
33. Side-braid with a Layered Low-ponytail
The thick side braid is the star of this look, and while we fully support experimenting with color when creating such hairstyles, we also appreciate the flawless layers. The face-framing pieces and wispy bangs are perfect. Tie the side braid into a low ponytail to achieve a similar look.
34. Half-collected Short Hair with Waterfall Layers
The best layers blend in and are not immediately noticeable. (This is known as the no-layers layers look.) We love how they're subtly done on this sleek, chin-grazing bob. However, to add some interest to your layers, consider a half-waterfall braid from either side and display your multi-colored or mono-colored layers.
35. Short Layers with a Tiara for the Wedding
Proof that you can't go wrong with tousled, touchable beach waves below your shoulder and chin at any length. If you're attending a wedding or are the bride, here's a cute hairstyle with a tiara to consider. Add a beautiful tiara or barrette to your thick yet short-layered bob to complete your wedding look. To achieve a more defining hairstyle, seek the assistance of a hairstylist.
36. Two-toned Afro-American Curls
You can never go wrong with two-toned hair (ever). But we must admit that a high ponytail with curly hair is quite endearing (with pink-colored ends for a natural barbie touch). Comb your baby hair and style it with a few drops of hair gel. Go for some contrasting colors, such as white and pink.
37. Copper-tinted Asymmetrical Layers
This asymmetrical look is ultra-modern and stylish, so keep your makeup simple to complement the look. Remember that layers are not the goal here. Instead, you want highly tapered ends with a jumble of strands. The copper tint is the icing on the cake for an extraordinary hairstyle.
38. Boyish-looking Short-layered Pixie
A fairy is when a stylist cuts the hair to either the top or nape volume. And, depending on how you approach it, the look is entirely wearable. Because of the layered and spiky texture, the hairstyle is typically considered boyish. By doing so, the hair on top can appear messy and casual in the best, most effortless way.
39. Shaggy-cut Pixie with Messy Layers
A pixie cut with messy layers and bangs that graze the brows is a great way to add dimension to a shorter style. Apply some hairspray to hold the look in place. This hairstyle also appears boyish, but the side hair is denser than the back.
40. Brunette-colored Bob with Layered Lowlights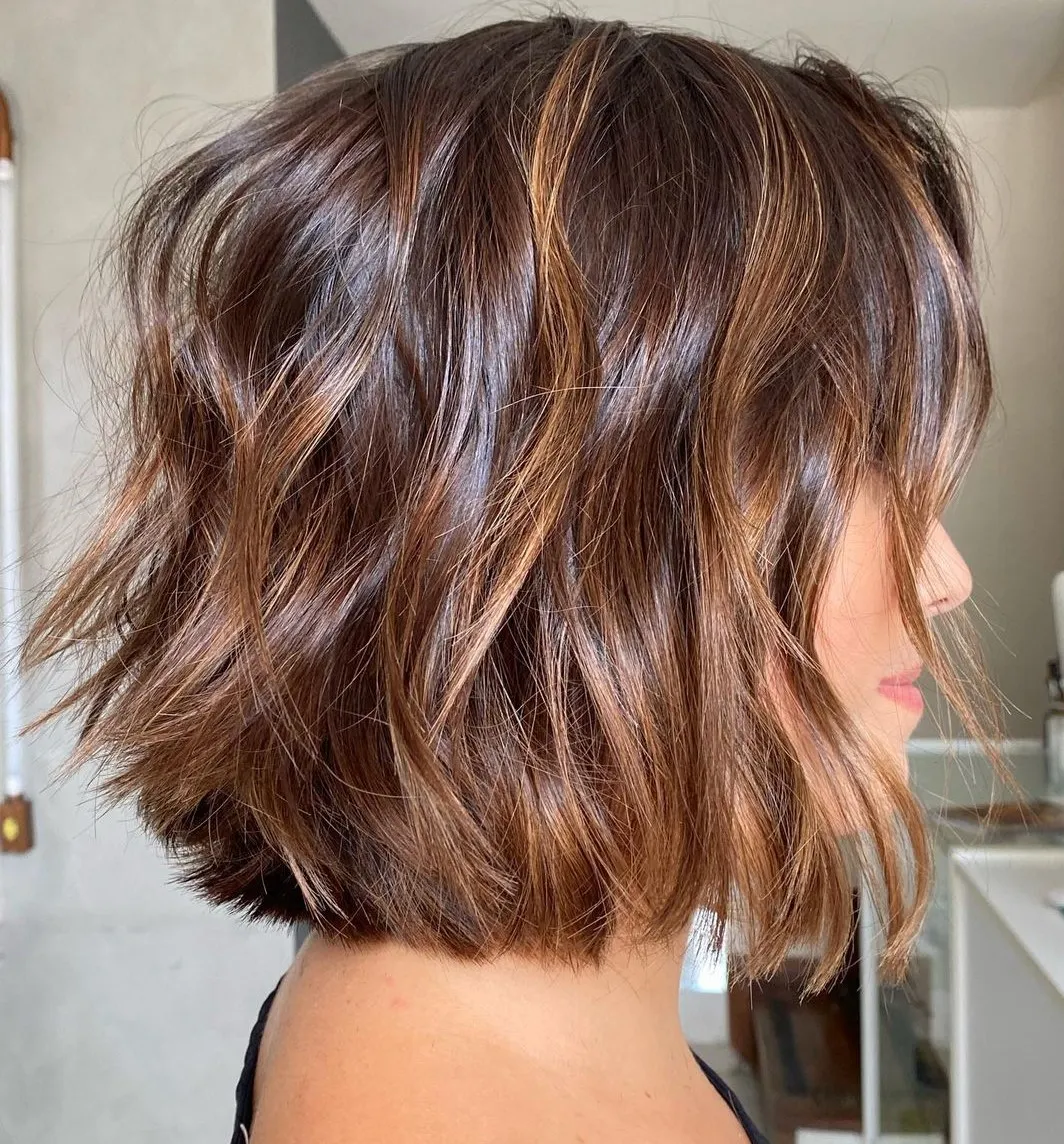 A brunette bob is ideal for naturally thick hair. The layers, in this case, add structure and volume, making it more manageable. And then there are the lowlights. It's the new 2023 trend that keeps our hair looking fresh and bouncy. Consider wearing this hairstyle on your next summer vacation.
41. Pastel-colored Peekaboo Short-layered Bob
Peekaboo hair is trendy for its appearance. Select a combination of popular pastel tints and apply it to your back hair below the natural hair, as shown in the image above. The peekaboo layers will work their magic whenever you wear them in a ponytail or a half-up style. Enough to pique your interest. Try it right now!
42. Side-parted Bouncy and Curly Bob
Another option for curly-haired women or Afro-American women. Consider a layered haircut with a deep side parting for a voluminous and bouncy appearance. If you want to add some Marley twists, use bobby pins or beads. Wear this hairstyle to a photo shoot or on your wedding day.
43. Shoulder-length Thick Feathered Bob
Short, layered haircuts look great on straight hair, too—ask for lots of feathered layers to add texture and volume. (Bonus points: If you're trying to grow out your hair, layers are your friend, so if you're not fully committed to a tapered pixie cut, you can easily transition it into a bob from here.) If your hair is thick, consider a shoulder-length bob.
44. Platinum-blonde, Short-layered, and Razored Pixie
Another layered hairstyle for women with short platinum-blonde hair. This time, try a razor pixie on your layers; the soft and messy layers look like they were made for each other. What exactly are you waiting for? This is a perfect hairstyle for women over 50 or those with grey hair.
45. Nape-length Voluminous and Layered Bob
Take a celebrity cue and add some nape-length layers with wispy bangs to your stacked shag haircut for extra sex-kitten oomph. However, if you enjoy wearing your hair down and tousling and experimenting with different products, this could be your next signature look, as this hairstyle requires guts and thick hair. If the current trend inspires you, experiment with some highlights.