Swiftian, pay attention! These are Taylor's simplest and most beautiful hairstyles for you to try right now.
Taylor Swift has given us a plethora of super glam hairstyles since her debut in the music industry, ranging from buns and updos to textures on her loose hair. What's the best part? Any hairstyle inspired by the singer is simple to recreate and appropriate for the office, a night out with friends, or even a party!
If you're a speed demon at heart like us, here are Miss Americana's best hairstyles to try!
1. Unusual Bangs with a Ponytail
The Midnight's songwriter dazzled on the iHeart Radio Awards 2019 red carpet with this simple but super cute hairstyle. The middle ponytail and bangs or curtain bangs (which are all the rage) were the stars of her mane, which she styled in a messy way to project a super natural look.
2. A Low Ponytail Tied in a Knot
This time, Taylor Swift proved to everyone that a low ponytail could be worn with short hair! She also added a cute touch to her hairstyle with a little knot where the garter goes, which you can easily replicate to add an elegant twist to your beauty look.
3. Vintage Glam
It's one of Taylor Swift's most sophisticated and trendy hairstyles, as seen on her red carpet-appearances. The good news is that it takes very little time. First, flat iron your hair (no higher than 160°C) and then curl your fringe, taking care not to burn yourself. Don't forget to set everything with hairspray when you're finished!
4. Smooth and Straight
We recommend you join this look and wear it like Tay Tay, taking advantage of the fact that the bob will lead the trends of 2023. Apply heat protectant, part your hair in the middle, and flat iron it completely.
Apply a little avocado or almond oil to the ends and give it a high-impact shine.
5. Natural Waves
Taylor Swift's classic au naturel waves are another hairstyle that cannot be overlooked. It will take a little longer to achieve them without heat, but it will be worth it:
After bathing, brush your hair thoroughly, apply styling cream, braid it on the sides, and undo it after about an hour. The final step is to run a wide bristle comb through your hair for an organic finish, and you're done!
6. Elegant Low Updo
This is the most advanced option for any occasion. A low updo, with or without bangs, goes well with any dress or suit. You don't have to be an expert at using bobby pins; you can always start with a low ponytail and work your way up.
7. Hairstyles with a Side Updo and Backcombing
This is one of the most popular hairstyles worn by the actress and singer throughout her career. It gives the face an instant youthful appearance, making it clear and visible to bet on good party makeup. A sleek back-combed bun is an elegant hairstyle.
8. Traditional Ponytail
Although it appears to be a simple option, Taylor Swift's ponytail requires more effort than it appears. Blow-drying your hair for volume, applying a moisturizing product to the ends for a healthy, radiant mane, creating waves in the ponytail, and combing them out for the desired effect are all important. Your beauty look will be complete with some jewel hairpins.
9. Side Parted Straight Hair and Stray Strands
If you don't want to tie your hair back, try a side-parted updo with a few loose strands. This is also one of Taylor Swift's favorite red carpet hairstyles. Also, when needed tie the hair into a bun. Both looks are equally appreciated.
10. French Lace
Taylor Swift gathers her hair and goes for low updos in a romantic style, playing with waves and braids when the occasion and style call for it.
To achieve the "french plait" look (a French braid at the nape of the neck), apply volumizing mousse to damp hair. Blow dry your hair with a brush for a more polished look or without a brush for a more casual look. Afterwards, part your hair in the middle and braid one braid on each side. Bring each braid across the top of the head and secure it with bobby pins to form a crown. With a little hairspray, you're done!
11. Midi Shaggy Bob Hairstyle
Taylor Swift ditched her long hair in favor of a shaggy midi bob a few months ago. With this new look, the singer alters her appearance, achieving a more fun, casual, and voluminous look. Also, the side bangs frame her face and highlight her features.
To get this look, apply curling mousse to damp hair to make the curls last longer and add volume. After that, blow dry your hair and curl it with a curling iron strand by strand. Curling them horizontally gives you a retro look, while curling them vertically gives you more ringlet waves. Then, run a fine-tipped brush through your hair and use your fingers to shape the waves into your preferred position.
12. Bob the Retro
We never imagined the bob could be so versatile until we saw the singer wear it in various styles. Taylor Swift wore a Hollywood-style hairstyle to the 2014 ACM Awards, where she looked stunning in a two-tone blonde and brown ensemble and glamorous waves.
13. The Wet Look
Do you have a date with that special someone? How about a wet-look hairstyle? Very straightforward. Begin with damp hair, never wet; apply a generous amount of hair gel to the top of your hair, and then distribute the product evenly with a fine-toothed comb. Comb your hair behind your ears and decide on a finish for your mane. If you want your hair straight like this singer, you should use a flat iron first.
14. Headband Bun
This can be a great option if you want a hairstyle that will give you a chic look for work. Gather your hair into a low ponytail without overtightening it, then roll it up and secure it with bobby pins as a bun. Allow several strands to fall down your face before finishing with a headband. A simple but effective hairstyle that will complement lady-cut dresses and add a romantic and sweet touch to your outfits.
15. Two Ponytails or Braids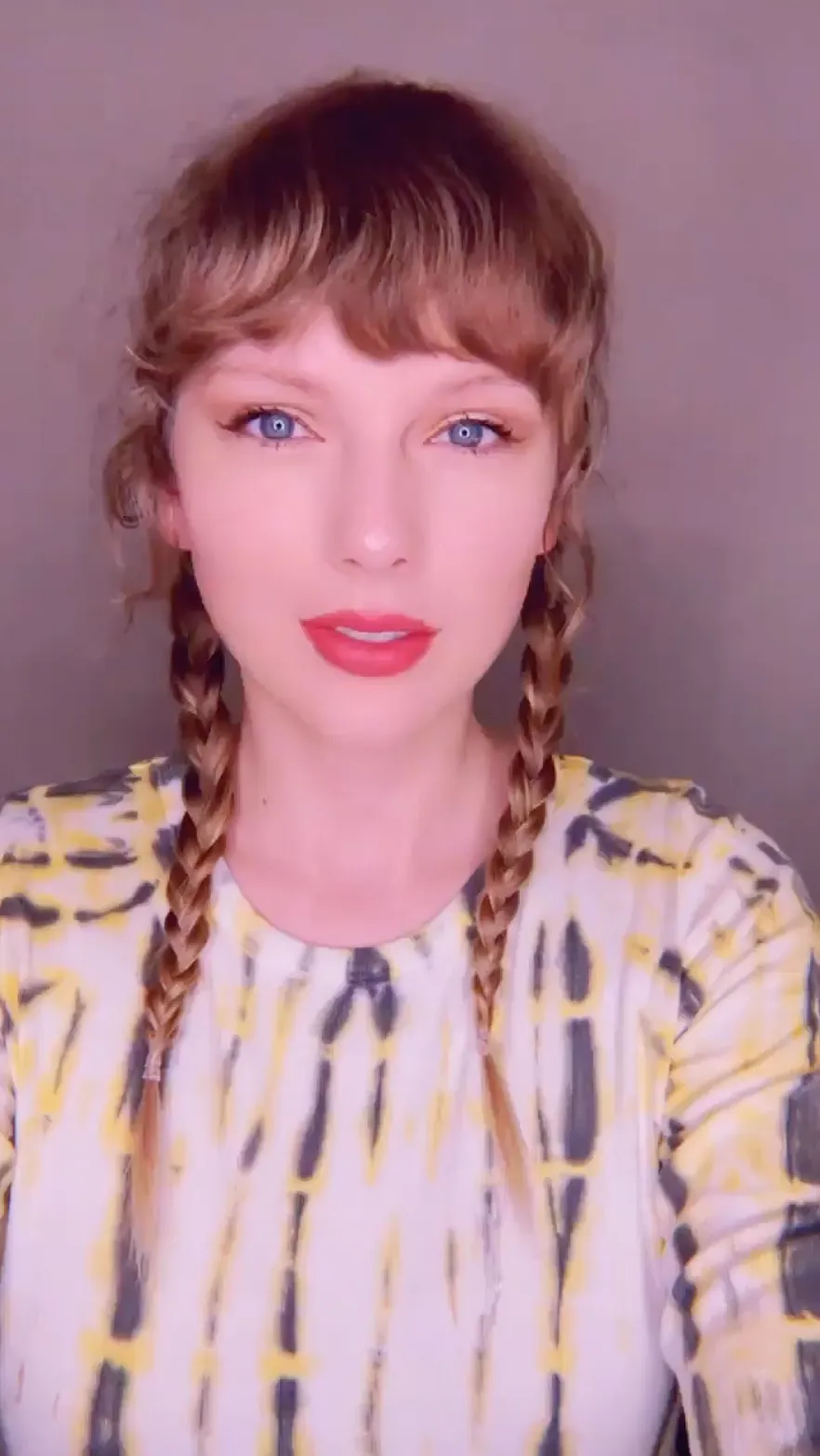 Going to the gym is important for your comfort, but you can still go to the last one. You can use this simple hairstyle from the 1990s, which is also back in style this season. Split your hair in two and gather it into two ponytails or into two braids like Taylor Swift.
16. Using a Scarf
Don't worry if you wake up with unruly hair and have no idea what to do with it; we have a simple and effective solution inspired by the Bad Blood singer. Do you have a scarf with you? They are popular this season when tied around a ponytail or between the ends of a braid, but they can also be worn as a headband. Pull your hair into a low ponytail and let a few strands of the scarf fall across your face.
17. Hairpins Swept to the side
Are you out of ideas? How about this one? To achieve this simple and elegant look, begin by making some waves; you do not need to mark them heavily. Once your hair is ready, make a parting on one side and pin the side part of your hair back with hairpins. Apply some hairspray or hair gel beforehand to keep it in place.
18. The Traditional Tight Curls
One of the most well-known celebrity hairstyles. Taylor Swift was seen with the classic tight curls every time she had to make a public appearance during her early days in the industry. The curly one is lovely and makes her look like a naive and stylish teenager, just like the songs she used to sing.
19. Bob with Blunt-cut Bangs
She later changes her hairstyle to a bob with bangs. Her appearance was sharp and edgy as a result of the look. Furthermore, her blue eyes were the icing on the cake. If you choose this style, pair it with a perfect fringe; the fringe is the first thing that makes the overall haircut look spectacular.
20. Delicately Layered Curls
This haircut flatters your face and features. Taylor Swift's hair remained dark blonde, with blunt bangs and subtle curls. Her honey-blonde hair complements her elegant and classy appearance. Keep in mind that this haircut is better suited to a thin face; a fuller face with this haircut can make it look awkward and uneven.
21. Bangs on the Side
Taylor Swift enjoys experimenting with her bands, and she paired them with side-swept bangs this time. Her hairstyle reminded me of the female lead in The Great Gatsby. If you follow her style, you've probably noticed that she favours vintage hair and makeup. Her eyeliner and short curls make her look like an actress from the 1960s.
22. Messy Bun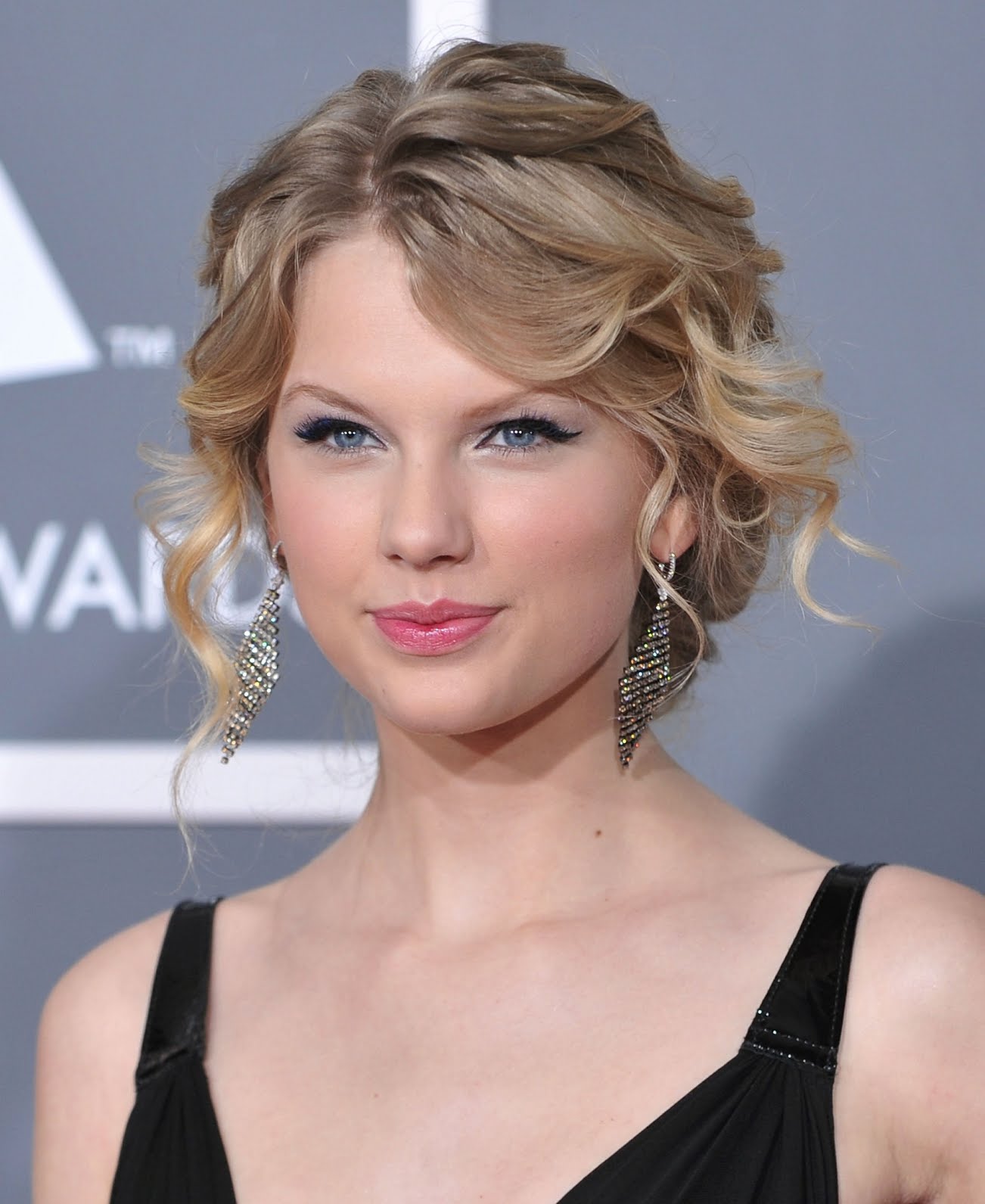 A popular hairstyle, not only by Taylor Swift but nowadays, this cross or messy bun is worn by every woman. Make a bun without combing your hair, and tie it at the back. You're ready.
23. Ponytail on the Side
You might have seen Taylor Swift with her pony swept to one side. This hairstyle can be counted as the easiest and favorite hairstyle of all time. You can wear this hairstyle to both a party and your job. Try out this versatile style.
24. Bangs and a High Bun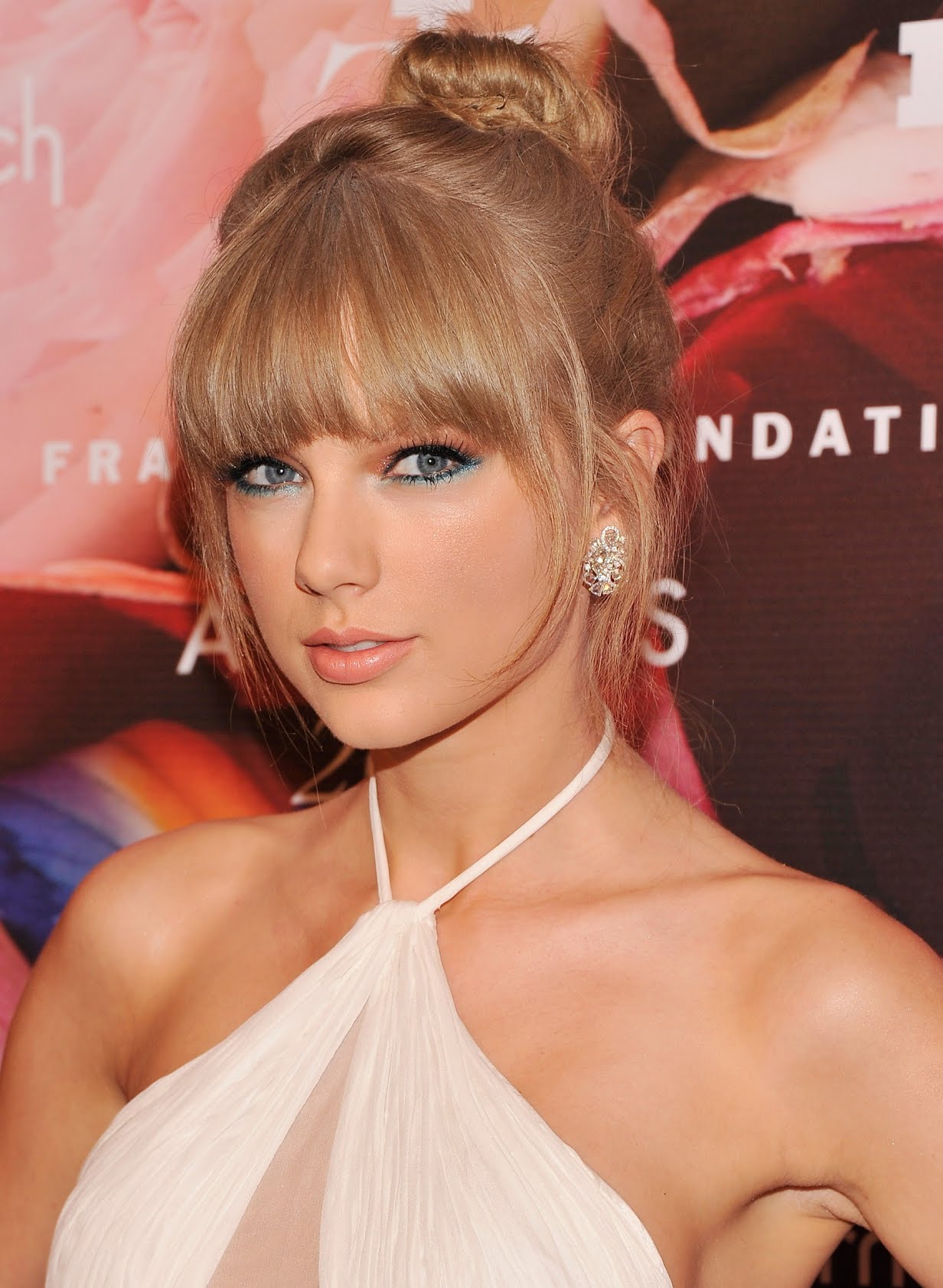 Have you seen her with this hairstyle? Yes, she wore it on award evenings. Make a high bun and let your bangs free in the front, and it's this simple. Shine on your big day.
25. Bangs Braided Bun
And our last but not least hairstyle is a braided bun at the back with bangs open. Like Swift, you can try this on your blonde hair or any colored shade.