"Confidence" appears in almost every job application preparation piece. Furthermore, several women claim that their appearance significantly impacts their self-esteem. Choose the best hairstyles for job interviews to achieve a professional appearance that will impress everyone and help you land the job.
You may have prepared your credentials, portfolio, and best business attire to prepare for an interview. The way you style your hair, on the other hand, can immediately impact how the interviewer perceives you. Maintaining a professional appearance and increasing your confidence before the interview can help you look more professional. As previously stated, "grooming includes the term confidence." Keeping your hair as neat as your clothes will help you present yourself in the best light possible. Let's go over why your interview presentation is important, how to properly style your hair for an interview, and other hairstyling tips.
How to style your hair for a job interview?
"First impressions are the strongest," you've probably heard. Yes, no matter how well-groomed you are, a formal style is essential for making a good first impression. How you present yourself can influence whether the interviewer requests a second interview or offers you a job. If you arrive in a clean style and professional attire, an interviewer will perceive you as serious, focused, and eager to succeed in your job. Your physical appearance can also influence how well you connect with the interviewer. Your physical appearance can also influence how well you connect with the interviewer. When you dress professionally and maintain a proper hairstyle, the interviewer is likelier to address you in a professional and friendly manner.
In contrast, if you arrive at the interview with messy hair and shabby attire, the interviewer may be less eager to communicate with you. This is where these women's interview hairstyles come in handy. Job interview hairstyles should be elegant, sophisticated, and sleek. They complement all of your formal attire and create a professional and pleasant environment around you. Let us learn more about them!
What are the best job interview hairstyles?
The first obstacle you'll face is deciding on your interview attire and hairstyle. It's a lot easier if you're completely relaxed. This article will help you a little bit with your success.
1. Afro-American Hairstyles for Interviews
These short curly hairstyles are ideal for job interviews. This is a fantastic idea and alternative if you have curly hair and are unsure how to manage and style it confidently for future interviews. If you try it, it can look elegant and sophisticated, with a professional appearance.
2. Long bangs hairstyle
This loose hairstyle with bangs is ideal if you have medium or long hair with a straight or wavy texture. The bangs will be modern yet classic, and the overall look will draw attention to your best features. This simple and effective job interview hairstyle is one of the most popular and popular job interview hairstyles. If you have a smaller face shape, you should avoid this look because it can conceal your brow.
3. Layered bob hairstyle
The layered bob is a popular hairstyle for women of all ages. It is intended for women with short to medium-length hair. The layered haircut not only adds definition and movement to your hair without sacrificing volume, but it will also make you appear more confident and stylish during your job interview. Many well-known celebrities, including Jennifer Lopez, Rihanna, Irina Shayk, and Bella Hadid, have worn this versatile hairstyle.
4. Low-bun hairstyles for job interviews
Try a low bun to keep your hair out of your face during a job interview. The best part about this traditional and elegant hairstyle is that it can be done in under 2 minutes.
I'm going to demonstrate one of the most versatile low-bun hairstyles available. This is one of the best hairstyles because you can wear it to work, an interview, or even a formal event, depending on how you dress it up, and it only takes a few minutes to put it together.
5. Natural hairstyles for a professional appearance
To achieve a natural look like the one shown here, your hair can be straightened and styled.
After all, what matters most is that you feel confident and at ease at work. The more authentic you are, the more people will respect you. Keeping it natural is, therefore, the key to landing that dream job.
6. Business meeting hairstyles that are sleek and straight
Straight hair conveys a sense of seriousness and efficiency. They enhance your professional appearance and complement all professional attire. You can trim your split ends to keep your hair healthy and shiny. Keep your hair behind your shoulder, so it doesn't distract you during the interview, and don't mess up your lip gloss. You're good to go as long as they're not frizzy.
7. Sleek high ponytail hairstyle
While there are numerous ponytail styles, not all of them are appropriate. Ponytail hairstyles and looks have been the most popular formal looks for decades. However, only a few come across as elegant and feminine, with a classic style statement. This is another one of our favorite variations. This job interview ponytail hairstyle is fascinating, elegant, and very professional.
8. Best braid hairstyles
Braids are also eye-catching and intriguing enough to wear to a job interview. Here's an example of what I'm referring to. Because it is quite complicated, the fishtail braid is an attractive option. It can bring out the best in your appearance while being incredibly simple. Try it on; it complements a wide range of facial features and can be worn by people of all ages.
9. The best accessories to wear with job interview hairstyles
When creating hairstyles for job interviews, hair jewelry can be extremely useful. Select items that are both simple and elegant. Details are important when making a good first impression, but they should be balanced. Consider what type of hair jewelry is appropriate for your company.
10. Hairstyle with a side bun
Want to show off your creative side to the interviewer before you take the test? If so, a side bun will satisfy. The best thing about this hairstyle is that it can be worn for casual and formal occasions, such as a job interview. It gives you a sophisticated, attractive, and assured appearance.
11. Professional low ponytail
How do you style your long hair for an interview to appear well-dressed? Without a doubt, opt for a low ponytail! It's a foolproof quick hairstyle for any occasion, whether it's a job interview, a business lunch, or a meeting at the office. Keep your hair straight for a more polished and sophisticated appearance.
Ask anyone, and we're confident that no one will deny that the ponytail is a great hairstyle for a job interview, no matter the season. It has a long history and will never go out of style. The best thing about this haircut is that it allows you to achieve a professional appearance with minimal effort. There are several trendy ponytail styling options; choose one that flatters your face shape and hair texture.
12. Updo with curls
You must decide whether to wear it straight or curly if you have naturally wavy hair. Sometimes, a curly updo with perfect spirals can appear too formal or festive. We advise you to embrace your natural texture. Pair the updo with the appropriate outfit, and the position is yours. A feminine curly hairstyle goes well with a simple (but not too short) skirt, a white shirt, and a blazer.
13. Long and wavy hairstyle
Last but not least, my favorite hairstyle for job interviews is long and wavy. A classic office look is usually appropriate for job interviews. Some career experts advise asking for the dress code via email in response to the job interview invitation letter. You can even wear your hair down if the dress code is flexible. However, they must appear to be in good health and well-groomed.
14. Hairstyle for adding volume
This hairstyle is a game changer if you have incredibly fine, straight hair with little volume. The first step in creating a sloppy bun with fine hair is to add some volume. Use dry shampoo to add volume to your roots. This will give you a good foundation to work from and keep your hair from looking thin or cut back when pinned up. Make loose curls in your hair and spray them to last longer, then start building a loose bun and secure it with bobby pins.
15. Traditional French bun
Interesting braids usually draw a lot of attention. This modern take on a classic French braid technique, for example, can serve as the focal point of your ensemble. It will add personality and charm to your style, which is important for meeting new people and advancing your job or profession.
16. For women over the age of 50
Brigitte Bardot and the businesswomen of the 1980s inspired this feminine, serious, and romantic hairstyle. In all its grandeur, the French twist will center your image while also relaxing it. Using invisible bobby pins and a strong finishing spray, secure the updo. However, avoid looking overly "made up," so no pompadours or bouffants in this situation.
17. A messed-up bun with an upside-down braid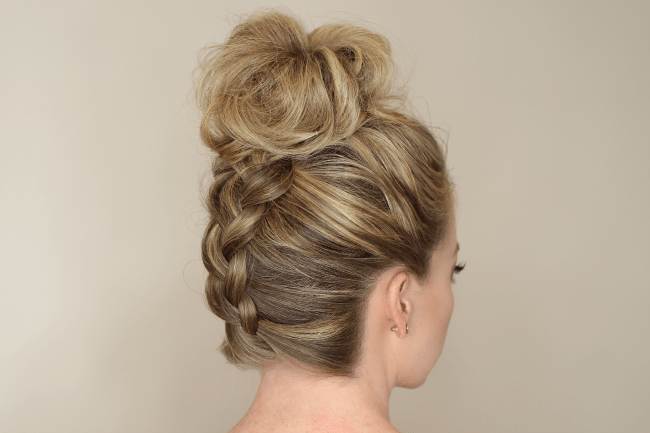 A cute, trendy, attractive hairstyle is required for a job interview, so consider this braided high bun suggestion. Make a reverse braid that runs the length of the back of the head to tie the top knot. Prepare to fight like a lady with bobby pins and a strong hold finishing hairspray.
18. A straightforward, short braided bun
This recipe is used when you need something elaborate but simple and quick. A bun is always preferable to huge curls or beach waves for a job interview hairstyle because it takes less time. So, rather than reinventing the wheel, keep your old bun hairstyle but make it cleaner and more polished. A side braid will complete your look.
19. Micro-braided wavy hair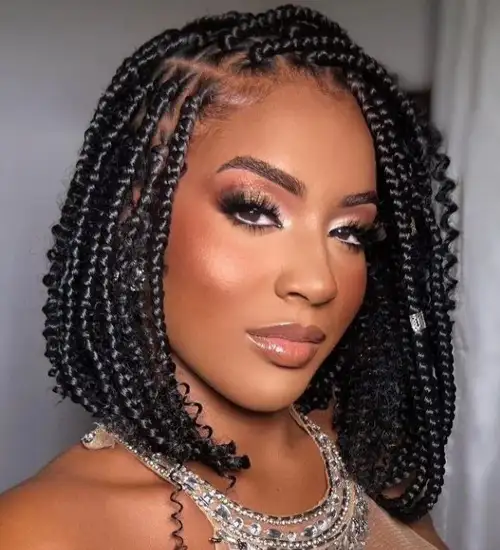 Wear a headband or do some small braids to open up your face if you want to show off your hair length. This hair remedy will improve your chances of being remembered even after thousands of formal interviews. It would help if you also considered removing your piercing before the job interview. Piercings complement casual outfits but not those that call for a hair tie.
20. Braided bangs
This is yet another cute hairstyle for a job interview. It is extremely simple. As straightforward as it appears. All you have to do is take three strands of hair behind the ear and braid it into the shape of a headband, glue it to the back of the ear, and let the bangs fall freely. Everything is in place for a fantastic job interview.
Other Articles