Pink hair comes in as many variations as there are people who wear it. No two hair dyes must be identical, and the key to making this color look great is customizing it to the wearer's preferences and needs. Here are a few ideas to help you decide what style to ask your stylist for.
Pink hair is popular now, but there are as many variations as creative hairdressers and daring clients. The key is in the nuances, which range from the most vibrant and eye-catching tones to the most subtle, which blend in with the natural base colors to the most flattering pastel versions.
WHAT SHOULD YOU KNOW BEFORE GETTING A PINK MANE?
First and foremost, unless your natural hair color is platinum or grey, you will most likely require at least one bleaching treatment (if it is very dark, up to two or even three). In this manner, you will begin with a neutral mane in which the pink pigments will shine brightly. Pink hair can be used in the form of hair color or highlights. Continue reading to determine which shade of pink hair to request from your hairdresser.
GOLDEN PINK
This shade resembles rose gold and looks stunning on dark skin tones. It's a unique, irreverent, and fun color that's simple to achieve with a dye job.
HAIR OF FUCHSIA
Fuchsia hair can be overpowering, but things change dramatically when worn as highlights on a brown base. It's still eye-catching, but it's easier to wear and maintain.
PINK SOFT
Without a doubt, a lovely color. A delicate soft pink that almost turns blonde at the ends. Perfect for any skin tone.
PINK CORAL
This orangey-pink shade has captured our hearts. It's unique, and you're sure to make a statement with it. When making the dye, you'll need to mix several shades of pink and orange until you find the exact shade you want to use on your hair.
PINK PASTEL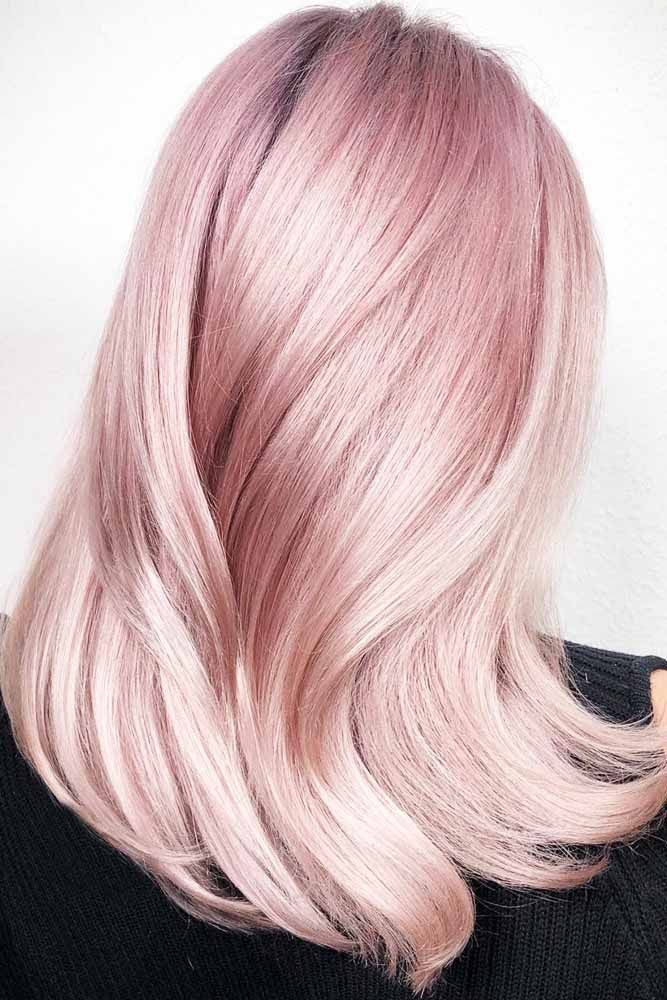 We must confess that we adore short hair in these colors. We've combined a close-cropped cut with a gorgeous pastel pink in this look. It's a fantastic option.
OMBRÉ PINK
Laura Escanes' ombré is one of our favorite pink hair formulas because it is the least invasive. It's a balayage highlight that blends in with your natural hair color.
PINK PETAL
Because it is such a delicate and soft pink, it appears to be a very light blonde depending on how the light hits it—ideal for people with fair skin.
GRADIENT PINK AND VIOLET
The combination of pink and violet is quite common; we see these spectacular transitions between the two colors less often. This is the formula to use if you want to add a personal touch to your hair.
BALAYAGE PINK
In brown and pink tones, a more "pure" balayage option. The pink isn't as noticeable because it blends in with the background, but it still looks great.
PINK POP
This pink color looks like it belongs to a Japanese anime character. It appears very artificial, but that is part of its allure.
PINK REFLECTIONS
We're crazy about this color, which combines a pastel pink with a cool blonde. The result is very delicate, and while it does necessitate the work of expert hands in this type of coloring, it is well worth it.
PINK COTTON CANDY
This cotton candy-inspired pink is one of the most romantic options. There are many different shades of Cotton Candy pink hair color too.
HAIR IN PINK AND CORAL
Another clever use of different shades of pink. This time in a bright coral hue. The blend here is very organic, almost like three-dimensional balayage highlights.
SHORT AND PINK HAIR
Pink is a great color for short hair. Because it must be bleached, it is less damaged and gives you a youthful, carefree appearance.
HIGHLIGHTS IN MULTI-TONE PINK
If you want a unique look, try this solution that combines shades of pink, light blonde, and even purple highlights. It looks fantastic on a bob.
DIRTY PINK
Dirty pink has recently become popular. It has a very appealing opaque effect that adds a lot of character to the look.
PINK BLUSH
This pink shade reminds us of blush palettes with multiple shades mixed in. The root has been respected so that as it grows, there will be no unsightly cuts, and you will be able to space out your visits to the hairdresser.
HIGHLIGHTS IN REDDISH, BLONDE, AND PINK
A shade combination that attempts to replicate three-dimensional highlights in fantasy colors. They are excellent for adding volume and movement to the hair.
PINK CALIFORNIA
Remember the highlights of California? In this version, the blonde has been replaced by pink, resulting in a much more daring but equally trendy look.
BABYLIGHTS AND ROSE GOLD
And we're still talking about highlights because if you thought babylights were extinct, wait until you see how cute they look with pink and lilac tones!