Wet hairstyles have become a new trend, whether you need more time for work, don't have a hair dryer, or don't have time for a proper shampoo. These wet hairstyles are quick and simple to create but look stylish and bold with contemporary nuances. After shampooing and conditioning, you can try these makeovers with damp hair from the shower.
Related articles if you're looking for a how-to tutorial: Wet-Look Hair Made Easy: A Step-by-Step Guide to Stunning Shine
If you are looking for some hair mousse recommendations: Moussing Around: Our Favorite 15 Hair Mousses for a Flawless Finish
Furthermore, these wet hairstyles have other benefits. These have become the new choice in fashion city, whether for beach vacations and holidays or high-end fashion events. We are often astounded when we see celebrities with wet looks. If you're wondering how to try them, we're here to help. Here are our 41 wet-look hairstyle ideas you can try!
1. Slicked and Wet-looking Side-swept Bob
This look is as simple as creating a side part and applying some product to your bob — but it still manages to be bold and sophisticated. While the hair is still damp, mix it to one side, comb it with a gel, and then air dry.
Check out our article on trendy bob hairstyles for round faces, too: 20 Favourable Bob Hairstyles for Round Faces
2. Messy Slicked-back Mid-length Hairstyle
If you like the idea of wet-look hair but want to add dimension with balayage and messy hair, try this balayage and chaotic iteration. Slick back your mid-length hair with your fingers. Instead, use a handful of hair oil to keep the lengths from becoming crunchy.
3. Sleek, Slicked-back Long Hairstyle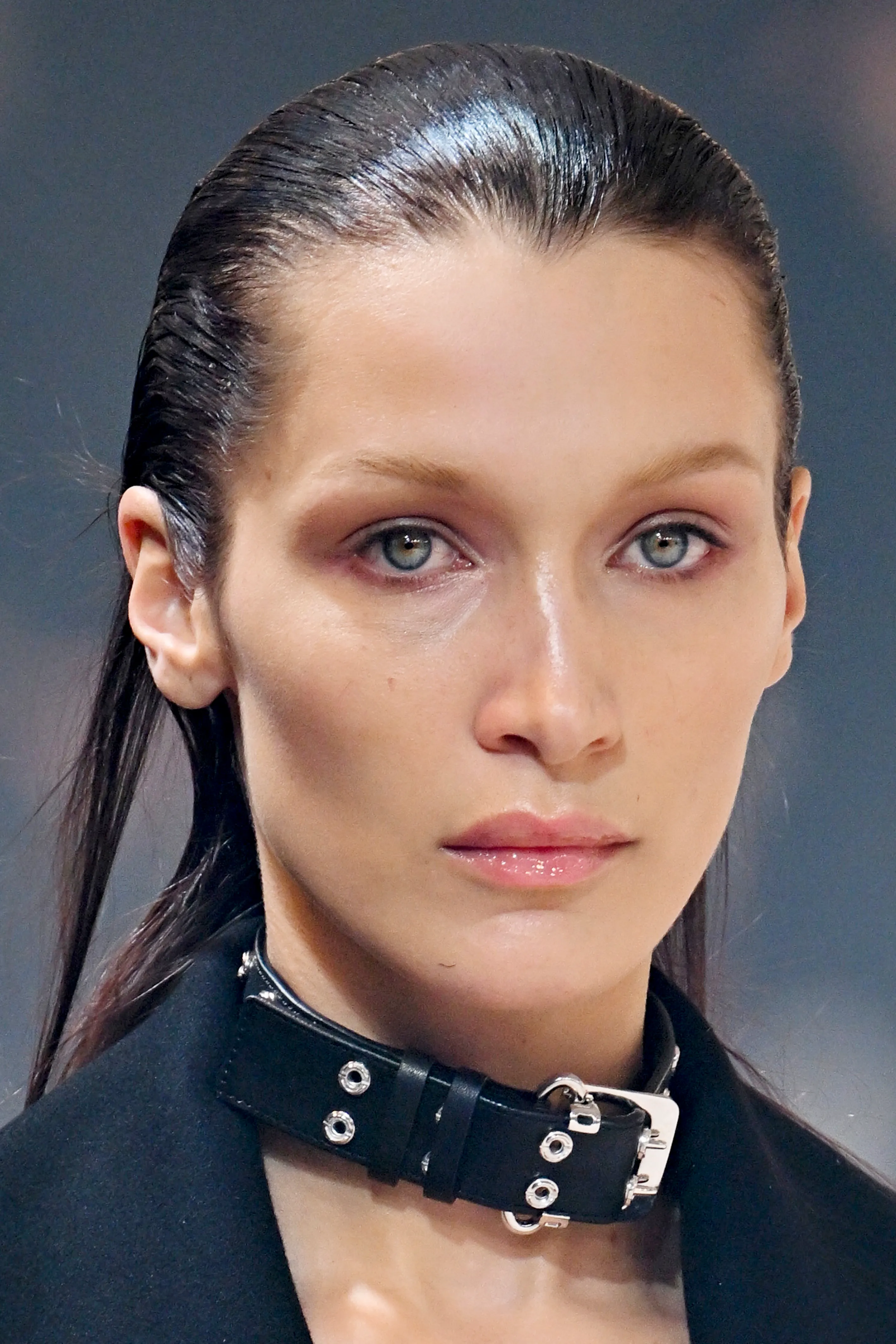 Consider this a chic take on the traditional blowout. Blow out your long hair using a round brush and a high-quality blow dryer. Once your hair is dry, apply a gel or serum to the roots and brush it through with a comb for a back-swept look.
4. Slicked and Wet-looking Curly Bob
Don't feel left out of a cute wet hairstyle if you have curly hair. You, too, can be a part of the trend. The sheen defines your short coils while also taming frizz. The less frizz your hair has, the longer and healthier it appears. Furthermore, the glossy finish and slicked-back style will make you look stylish.
5. Slicked-Back Long Hairs with a Side-parting
Zendaya's Old Hollywood faves' wet-look finish is a modern update on the classic red carpet hairstyle. Apply gel to your long hair and part it from the side to the back.
6. Rolled-up Pixie with a Wet-effect
Slicked-back hair looks stylish, even on short hair. We like how we can keep a small parting to soften the overall effect. Roll your pixie upwards with a shiny comb to give it a boyish look.
7. Chin-length Chopped Bob with a Side-parting
You'll start seeing sharp, chopped, flipped ends everywhere, so you might as well get on board now. With its wet-look roots and ear-tucker, this has all the hallmarks of a '90s throwback, but it feels very modern.
8. Mid-parted Long and Sleek Hair with Side Fringes
This wet-look style added drama to the Vanity Fair Oscar Party in 2022. Use a hair mousse and oil to give the top half of your hair an extra slick finish, and leave the ends soft to contrast the sleekness. Part your hair in the middle and leave the long side fringes loose.
9. Wet-looking Pixie with Combed-up Bangs
This is an outrageously sexy androgynous look that demonstrates that wet hairstyles are equally suitable for short hair. The sleek back, long bangs, and sharp side part create a carefree look that complements feminine details and a pixie cut beautifully.
10. Gelled-up Bangs and Messy and Wavy Bob
On the saturation scale, this hairstyle is more damp than drenched, but it can be a good way to ease into the style. Gel your bangs to the side and use your sleek bob to create messy waves.
11. Wavy and Slicked Bangs with a Mid-part
This style works well with either straight or naturally wavy hair. Part your hair in the middle and add a wave with a wide-barrel curling iron, then distribute hair gel with your fingers and a wide-tooth comb.
12. Long Braided Extensions to the Sides with a Mid-parting
Braided hairstyles were practically designed for wet hair, and this one is particularly simple. When your hair is wet, braid it into a few different extensions. Part them in half and gather them into two ponytails. You have a lovely hairstyle for both day and night.
13. Finger Waves at the Top with Long Curls from the Back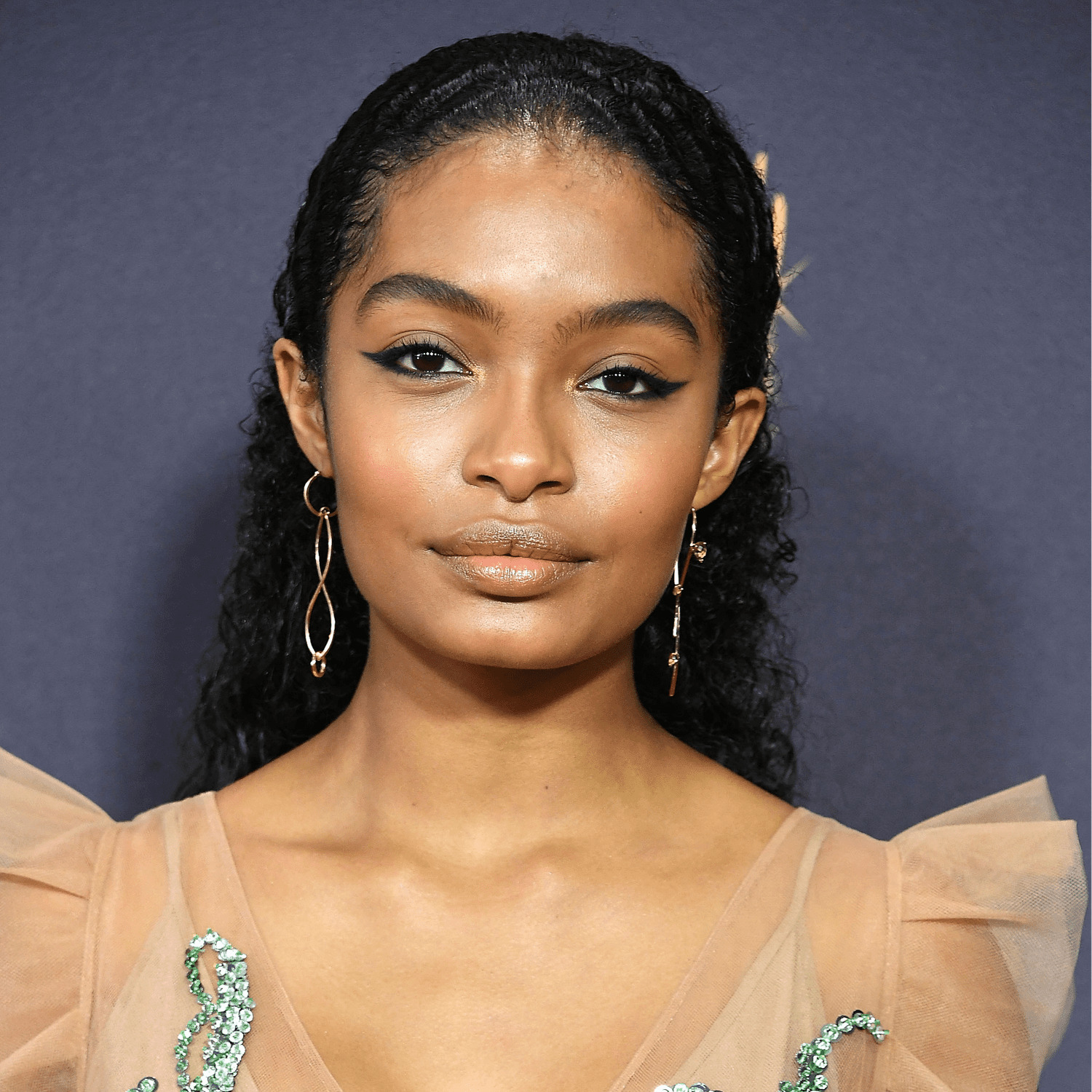 Slicked-and-smoothed hair does not mean sacrificing natural texture. Hair oil will give your hair a glossy, drenched sheen like Yara Shahidi's and nourish it while wearing it. The top curls will resemble finger waves. Handy!
14. Sleek Rolled-up Pixie with Razored Bangs to the Side
The wet look takes a sweet and simple cut and turns it into something bold and stylish. This hairstyle complements short hair. Apply gel to your short hair, smooth it out, and roll your fringes to the side to create a mini bouffant.
15. Pixie with Sleek and Curved Bangs at the Forehead
Here's another cute androgynous look. Yes, in fact. Pixie hairstyles for wet hair shape the cut, add definition, and draw attention to your beautiful features. After applying gel to your hair, twist up the side and front fringes to create a retro look.
16. Sleek and Side-swept Low Bun
Long hair looks great when wet. The wet look creates a gorgeous sleek low-bun sheen if you have black or brunette hair. After you've applied hair gel or mousse, side-sweep your hair. And finish with an elegant low or high bun.
17. Slicked-back Top Half-knot Hairstyle
Who knew post-gym hair could be so stylish? This wet-look hairstyle would look great on all hair textures. Tie a looped ponytail or a half-knot at the top of your head with your slicked-back hair.
18. Mini-braided Extensions Collected into a High Ponytail
Braids are used in various wet and wavy hairstyles because they create a beautiful, curly profusion when your hair dries. This image inspires us to part our hair and braid some Fulani. Gather the braids and tie them into a high ponytail.
19. Slicked-back Two-braided Ponytail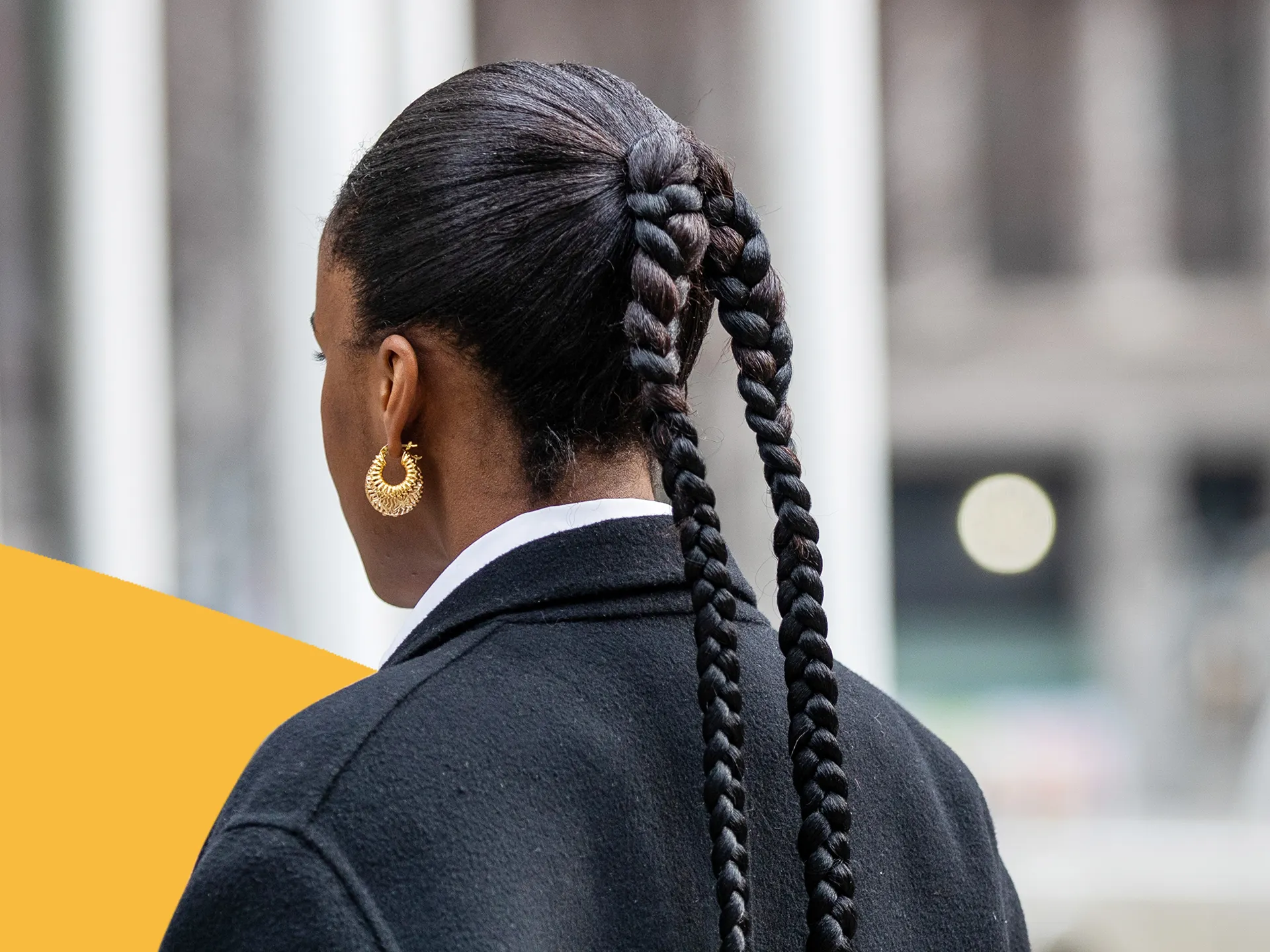 This is simply stunning. Wet look great with simple braids or ponytails, but who always wants a simple hairstyle? Make two individual braids from the two sections above your brow. Wrap one sleek strand around your elastic to create an elegant, sophisticated braided-pony update.
20. Dual-toned High Knotted-braid Ponytail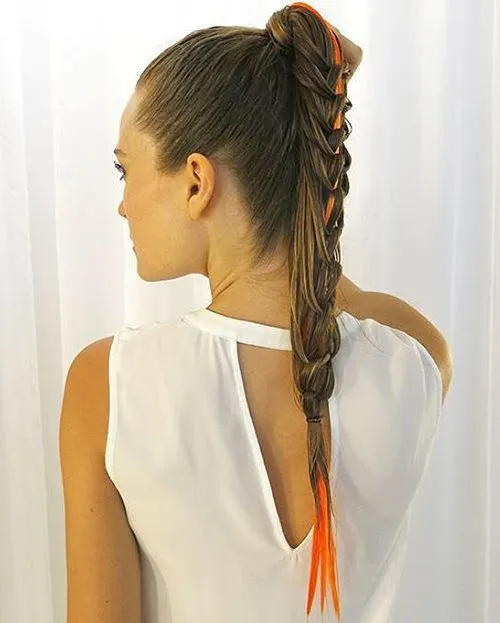 A high braid that begins on the crown always looks great. Keep your hair damp, make an artistic braid with dual-highlighted colors, and continue making sleek knots to give the appearance of a chain. Everyone you meet will be curious about who did your hair and how they can replicate this adorable look.
21. Side-braided and Slicked-back Mohawk Hairstyle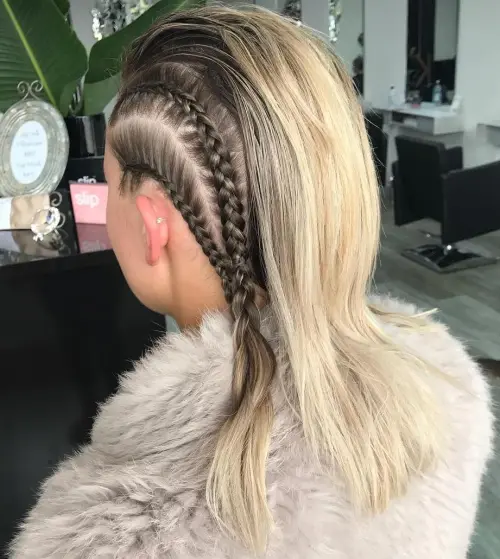 Use wet hairstyles to show off your edgy side. Braiding on the sides of the head (two or more) gives the appearance of a mohawk. Greased back tresses complement the rocker vibes of the hairstyle. The straight strands look great with the braids.
22. Tousled Low Bun with a Wet-effect
Because curly and textured hair is naturally drier than straight hair, the wet look adds definition to waves without making hair look greasy. Apply a strong-hold gel to add hold and gleam to messy hair. Make a bun right now without combing your hair.
23. Slicked-back Top-knot
Look no further than this modern take on the sleek top-knot if you're wondering how to style your hair to create a hairstyle that's equal parts cool and practical. Slick your dampened hair back with plenty of gel before tying it into a loose knot. The style is straightforward, but it adds a lot of visual interest to your long locks.
24. Sleek High Bun with a Side Face-Framing Fringe
Just because your hair is short or mid-length doesn't mean you can't experiment with a wet look. To achieve a stylish look, toss your curtain bangs (either side) and your locks naturally with a bit of mousse, run your fingers through them while damp, and tie a high bun.
25. Wet-effect Faux Hawk with Bobby Pins at the Back
Perhaps you needed more time to dry your hair in the morning. Don't worry; damp hair can work in your favor. Combine your freshly washed hair with gel and bobby pins at the back. Pin up the ends of your hair to create a cool and casual updo with a faux-hawk appearance.
26. Slicked-back Long and Low Ponytail
This ponytail is a fun take on the wet look that is easy to replicate with a strong-hold gel. To achieve a comfortable red-carpet look, comb your hair back and tie it in a low ponytail.
27. Mid-length, Messy, and High Ponytail with a Wet-look
Another wet-look hairstyle that frequently appears on catwalks. It's pure simplicity. You may need assistance keeping your hair slicked back while creating a messy look with your fingers. It is likely to fall forward as it dries without product. To achieve the wet look, tie a high ponytail in the back.
28. Sleek Bob Hairstyle with a Headband Accessory
This style is similar but much more sculpted. This style has structure as well as a lot of interesting details. Slick your bob back or part it in the middle, then add a beautiful headband for a stunning look with all eyes on you.
29. Mid-parted, Wet-looking Hairstyle with Accessorized Pearls
The wet effect adds dimension and texture to your hair. Play those features even more with a pretty voluminous wet hairstyle with pearl pins or accessories. The varying sizes of the pearls at the front keep the 'do from looking too predictable while also making the trendy style formal.
30. Slicked-back Low Ponytail Tied with a Ribbon
The glossy long hair trend works well because waist-length locks tend to get in the way of daily activities. Putting your hair up in a low ponytail with a ribbon can help. The gelled-down hair stays in place and looks sexier than a casual updo.
31. Mid-parted Ponytail with a Barrette for Short Hair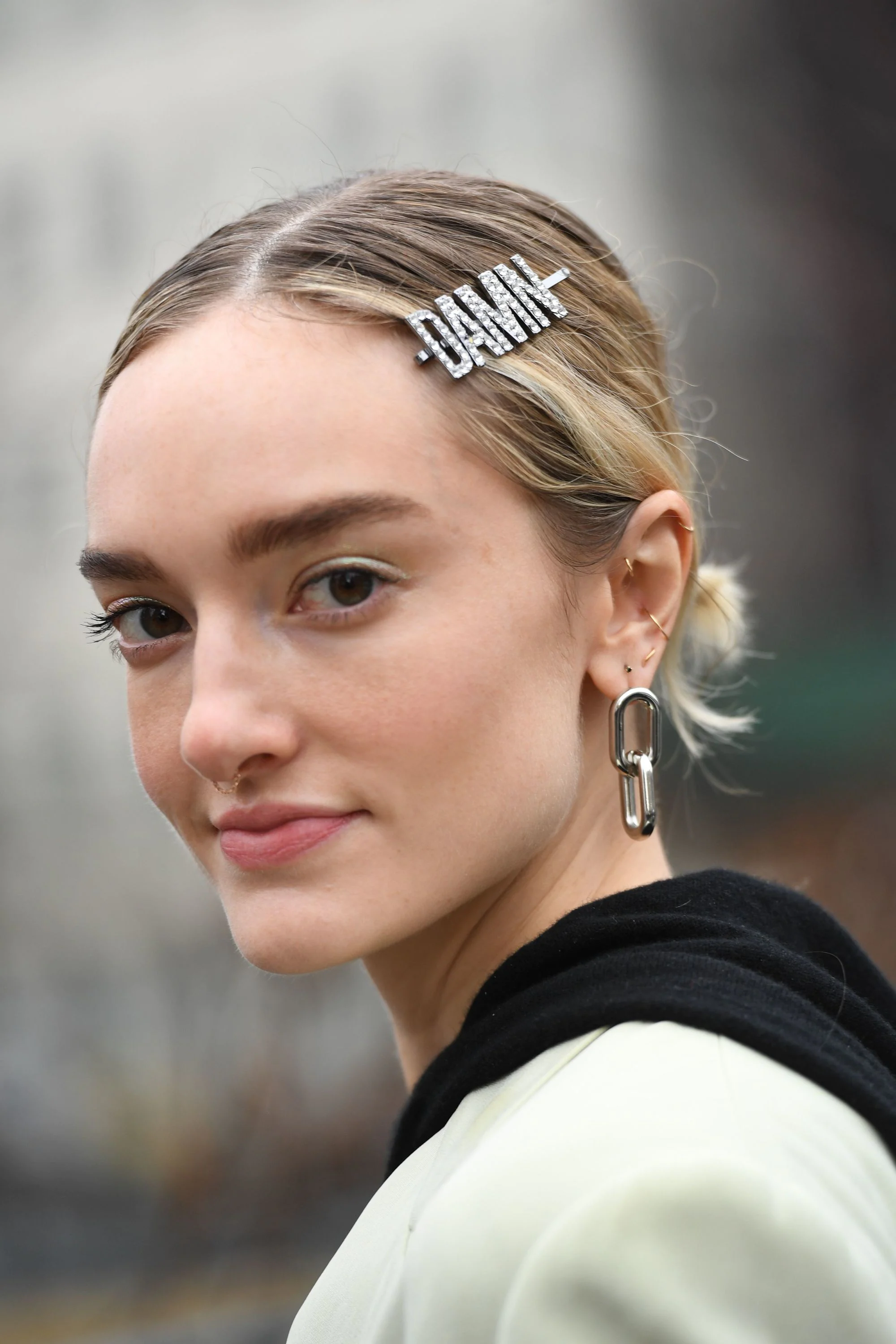 With your wet look, channel the elegant, feminine style of the 1920s. Because it holds complicated hair better, a mid-part looks best with long or medium-length hair. However, short hair looks even better with an XL barrette and a low ponytail. The sheen is a signature feature of this stunning short and retro 'do.
32. Slicked-Up Mohawk Hairstyle with a Side-braid
The long, slicked-back look lends itself to various lovely hairstyles. The wet effect can be casual or formal. The picture above is certainly on the higher side of things. Braid a side cornrow and comb your hair for a one-of-a-kind mohawk hairstyle.
33. Gelled-back, Voluminous, Long, and Messy Curls
The best part about the wet look is that it's simple to achieve at home and requires no heat stools. Backcomb slightly damp hair and apply a gel to the roots, ensuring the hair on top and sides are slicked down. Allow the long ends to dry with their natural wavy texture.
34. Slicked Mohawk Curly Hairstyle with Three-buns
Messy and polished buns with a touch of sheen (even if you have curls). Stacking several messy buns in a mohawk pattern elevates your strands from lazy to lux. Because of the trendy wet effect, the fancy look is event-ready and fashion-forward.
35. Undercut and Sleek Side-parted Pixie
Creating this look is as simple as combing wet ha; the results are stunning. Put on an undercut pixie and some hair gel. Part the hair to the side with your comb and style it freely, leaving a few fringes at the front.
36. Semi-collected Wet Hairstyle with an Undercut
Wet styles are a quick go-to when you want to make a statement but want to save time styling. Run a small amount of gel through your hair. With any remaining product on your palms, lay down your undercut. To achieve a semi-collected look, part your hair to the side and secure it with pins or bows.
37. Semi-collected Two Braids with a Mid-part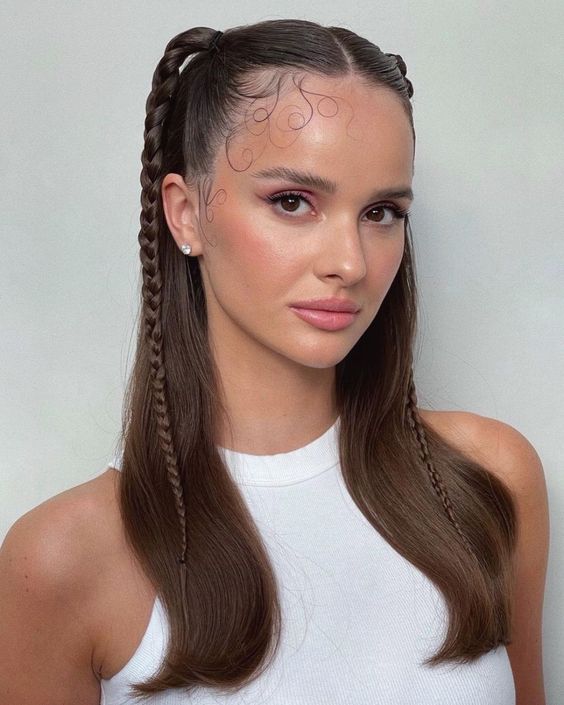 Put down your baby hair for a retro 90s vibe. The sleek appeal of the two semi-collected side braids is enhanced by the slicked-down edges, making it a sporty choice for any time of day. The look is eye-catching while remaining versatile enough to take you from a day of shopping to a night out on the town.
38. A Messy, Wet-looking, and Low-knotted Bun
Sexy, messy, and shiny, this look is about finding a product that makes you shine. Spread the hair mousse evenly with your fingers and create a loose and low-knotted updo without combing it. The look is casual but stylish.
39. Combed-back and Slicked-up Hairstyle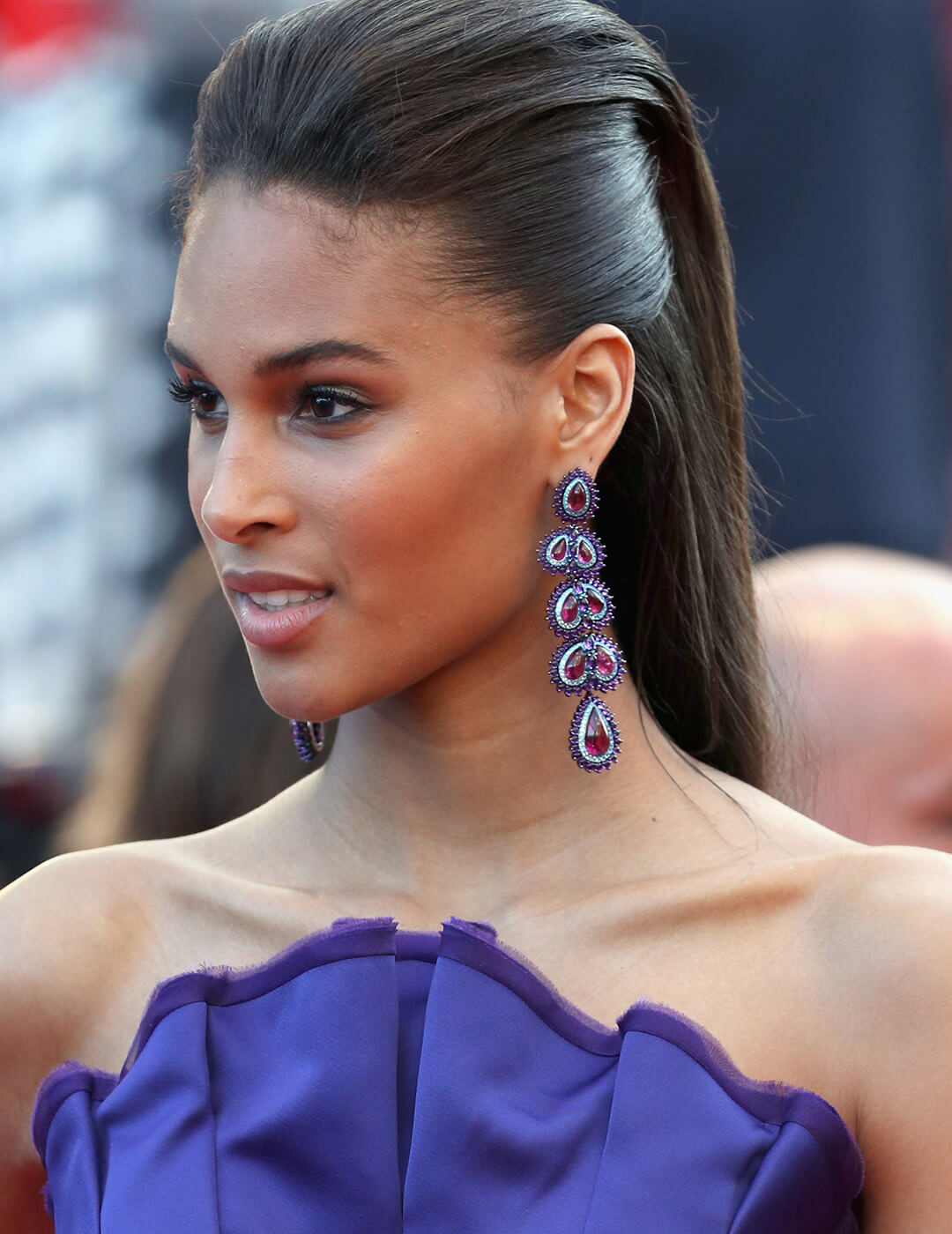 Go wet and straight to carry the party wherever you go. Those luscious locks have a lot of body, but the slicked-back half-up tresses keep the look polished and sophisticated. It's a great option if you want to switch up your hairstyle but aren't feeling particularly daring. To keep the half-up hair in place, use bobby pins.
40. Slicked-back. Semi-collected Hairstyle with an XXL Accessory
A glam version of the look, this style is a little more involved, with the top slicked back and an XXL bow accessory. To achieve this semi-collected hairstyle, comb back your sleek hair with a mid-parting.
41. Sleek Half-up Hairstyle with Side-swept Bangs
Naturally, wet styles are fantastic for all hair types. And we've already demonstrated it to you. After creating a wet-look effect, side-sweep your hair to create a half-up hairstyle for your next party or formal meeting. It's brief but breathtaking.