If you're sick of the same old hairstyles and want to push the boundaries with your medium-length hair, you've come to the right place. We'll delve into a treasure trove of 30 unique and cutting-edge hairstyles that will redefine your look in this style-packed journey.
From trendy twists and daring updos to playful braids and elegant waves, we've curated a collection of innovative hairstyles that will elevate your  hair to a whole new level.  Whether you're preparing for a special occasion or simply seeking everyday inspiration, our blog is here to guide you through the fascinating world of hairstyling possibilities.
1. Layered bob
The layered bob is a trendy and versatile medium-length hairstyle. It has varying-length layers that add texture and movement to the hair. This style can be tailored to various face shapes and worn sleek and straight or with tousled waves for a more relaxed look.
2. Sleek straight hair
Medium-length sleek straight hair is timeless and traditional. It looks polished and classy for both casual and formal events. For a smooth and sleek finish, use a flat iron or a round brush to blow-dry your hair.
3. Half-up, half-down with braid
The half-up, half-down braided hairstyle is a stunning combination of elegance and bohemian flair. It is required to split off the top half of the hair and braid or twist it, leaving the remaining part of the hair loose or wavy. This hairstyle allows for the addition of texture and visual appeal by experimenting with different braiding techniques, such as French braids, Dutch braids, or fishtail braids.
4. Messy bun
The messy bun is easy and quick and is perfect for medium-length hair. It involves bundling hair loosely and framing the face. Using bobby pins or a hair tie, twist and secure the hair. The messy bun is versatile and can be worn casually or formally.
5. Side-swept bangs
Side-swept bangs add glamour and sophistication to medium-length hair. It involves sweeping the bangs to one side, pinning them back or blending them into the hair. Side-swept bangs can frame the face with soft curls or straight hair.
6. Braided crown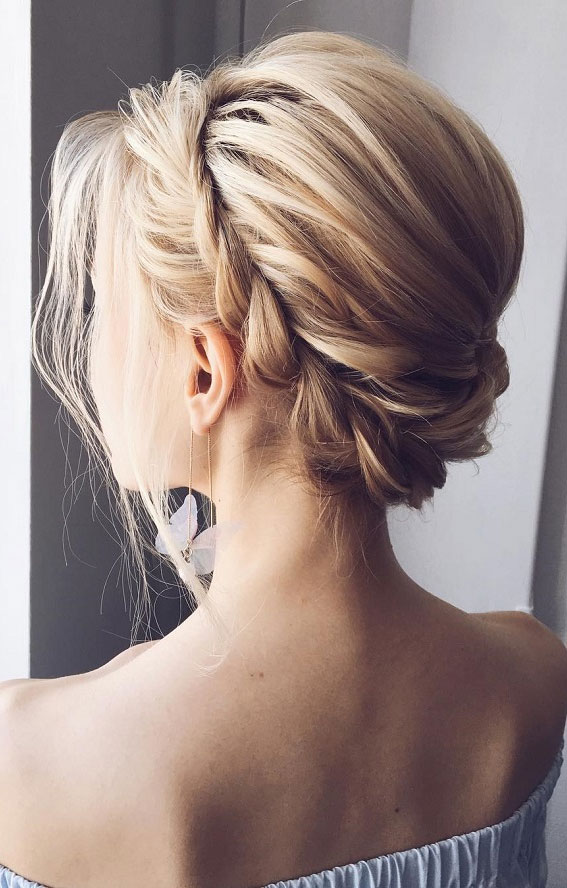 The braided crown is a romantic hairstyle for medium hair. Two braids on each side of the head are wrapped around the crown and pinned. This hairstyle creates the illusion of a braided crown, framing the face and adding elegance and femininity to any outfit.
7. Top knot
The top knot is a chic and functional hairstyle. The hair is gathered at the crown and tied off or bunched up there. This look can be achieved by twisting and wrapping the hair into a bun and securing it with pins or a hair tie; this style is appropriate for everyday and special events.
8. Beach waves
Medium-length hair looks great with beach waves because this style requires little effort. The waves in this hairstyle are meant to evoke the carefree vibe of a day at the beach. Curling or flat ironing the hair, braiding it, or letting it air dry will give you the desired effect.
9. French Twist
French twists are elegant and versatile, attracting attention wherever you go. It involves twisting the hair upward from the nape and securing it into a neat roll or twist at the crown. Hairpins and other accessories add glamour to the French twist. This hairstyle is popular for formal events, weddings, and other occasions requiring a polished look. It suits medium-to-long hair and can be customized.
10. Chignon
Elegant and sophisticated, the chignon is a classic updo. This hairstyle involves twisting or folding hair into a bun at the nape of the neck or back of the head. The chignon can be worn high or low, sleek or messy, and is often accessorized with hairpins or flowers for glamour.
11. Spiral curls
Spiral curls are tight, springy curls that make a lively hairstyle. This hairstyle gives your hair bounce and movement with curling wands or flexi rods. Spiral curls can be worn down for a glamorous look or styled into an updo for a more polished look.
12. Braided headband
A braided headband keeps hair out of your face and adds bohemian flair. It creates a headband by braiding hair near the hairline and crossing it over the head. This hairstyle works with updos and loose hair in casual and formal settings.
13. Retro curls
This hairstyle is reminiscent of Hollywood glamour. This hairstyle creates voluminous and defined curls with pin curls or hot rollers. Retro curls add old-world charm to modern outfits or vintage-inspired looks. They are perfect for any occasion, whether it be an elegant formal event or a fun and festive-themed party.
14. Waterfall braid
This hairstyle creates a waterfall-like pattern by braiding a three-strand braid while dropping and picking up hair from the sides. The braid can run diagonally across the back or horizontally along the crown. The waterfall braid is perfect for weddings and proms, especially with wavy or curly hair. To enhance the ethereal look, add flowers or hair accessories
15. Curly ponytail
The curly ponytail combines the ease of a ponytail with the charm of curly hair. To achieve this look, Apply a curl-enhancing product to damp hair and let it air dry or use a diffuser to enhance natural curls to get this look. After drying, ponytail the hair at the desired height and leave a few tendrils loose for a softer effect. After the ponytail, gently separate and fluff the curls.
16. Sleek High Ponytail
The sleek high ponytail is elegant and chic. It's made by tightly gathering and securing hair at the crown. Use a comb and hair gel or styling cream to smooth out bumps and flyaways. This hairstyle works for casual and formal occasions and can be worn with straight or slightly wavy hair. It instantly gives any outfit a polished look.
17. Messy fishtail bun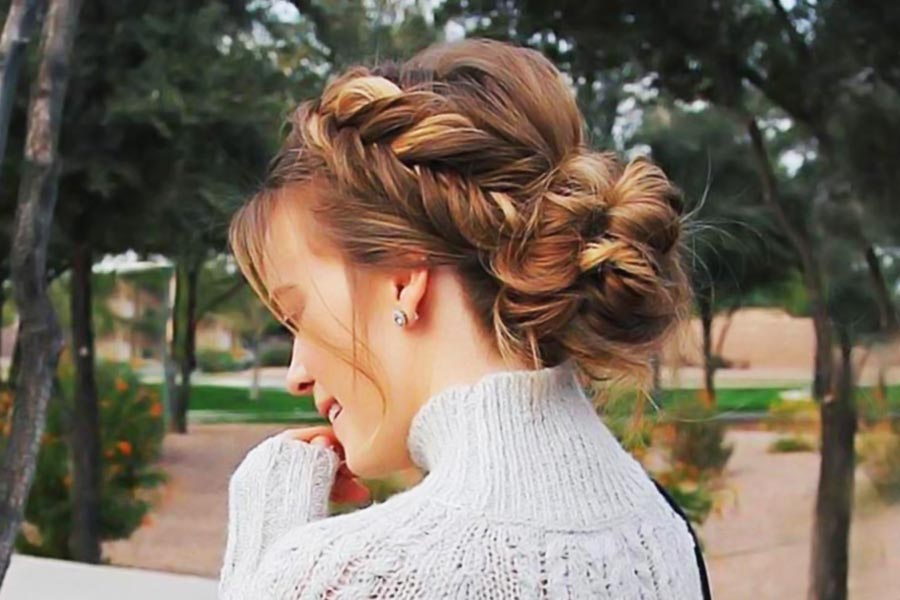 The messy fishtail bun is a casual hairstyle that combines a messy bun with a fishtail braid. Start by braiding a portion of hair to one side or the back into a fishtail. After finishing the braid, tie your hair in a messy bun with bobby pins. Relax the bun and pull out a few strands around your face for a casual style. This haircut is excellent for casual outings or when you want to seem elegant but relaxed.
18. Bubble ponytail
The bubble ponytail gives the basic ponytail a colorful touch. Tie your hair into a high or low ponytail. Create "bubbles" by placing more hair ties equally along the ponytail. Gently lift and puff out each part to create volume and dimension. The ponytail is bouncy and eye-catching, perfect for parties, festivals, and statement-making.
19. The French braid
The French braid into a bun blends the elegance of a French braid with the sophistication of a bun. Create a French braid from the hairline to the nape, then pin the remaining hair into a low or high bun. This elegant hairstyle is excellent for special occasions.
20. Low twisted bun
The low twisted bun is great for formal gatherings and refined looks. Begin by putting your hair in a low ponytail. Next, twist the ponytail into a bun and fasten it with bobby pins. Leave the hair ends tucked into the bun for a neater look, or pull them out for a more romantic look.
21. Voluminous curls
Medium-length hair looks lovely with voluminous curls. This hairstyle creates big, bouncy curls for volume, movement, and texture. Hot rollers or curling iron can give you full curls. After curling the hair, softly tousle and separate it with your fingers for volume. This hairdo is beautiful, adaptable, and excellent for special occasions.
22. Dutch braid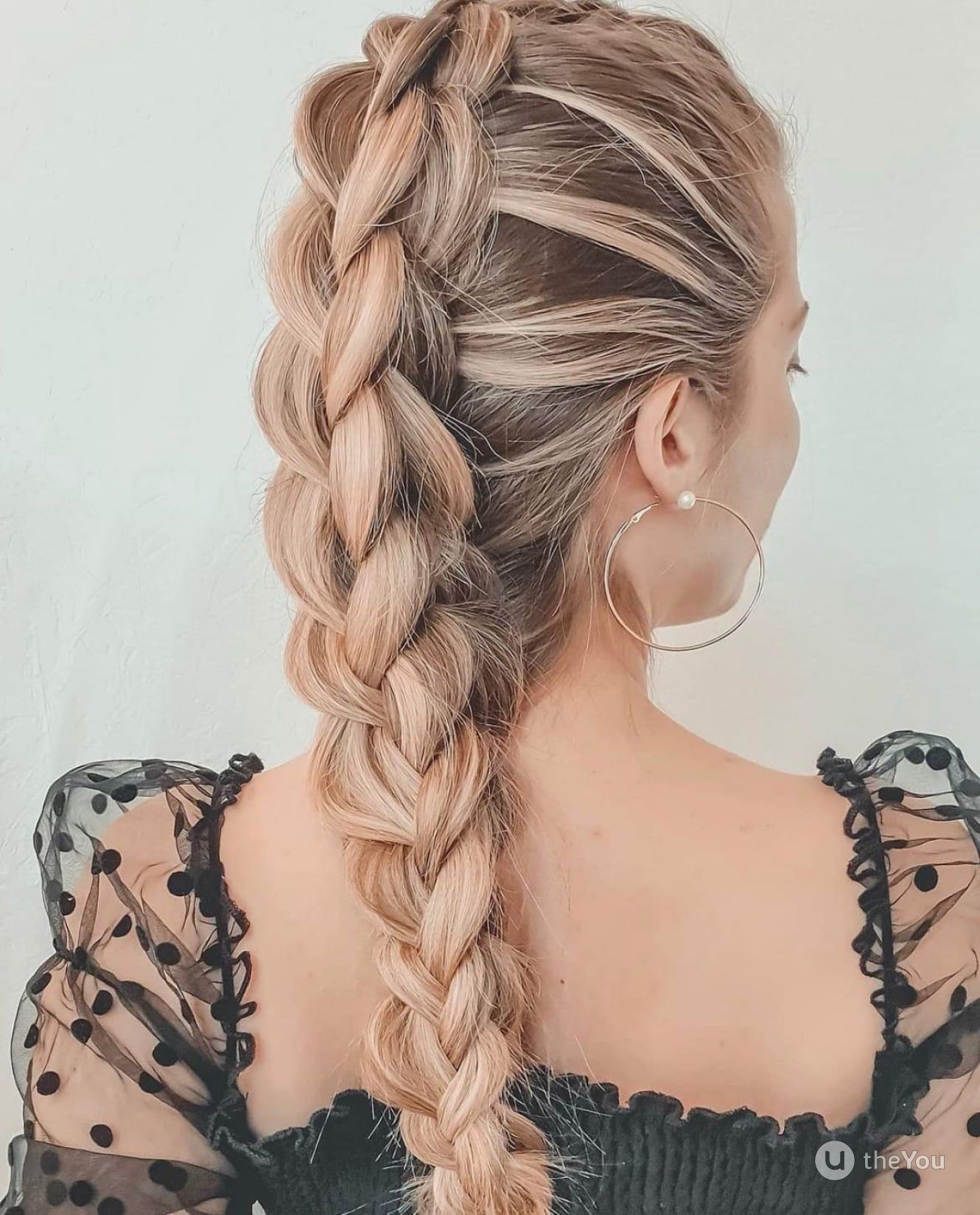 The Dutch braid is a stylish and eye-catching hairstyle that looks fantastic on medium-length hair. It creates a stunning braid that appears elevated from the scalp by weaving three strands of hair under each other. This haircut lends beauty and class to any outfit. It's popular for festivals and bohemian outfits and works for formal and casual situations. The Dutch braid is versatile and can be worn as a full-head braid, half-up style, or in various updos.
23. Mohawk braid
The Mohawk braid is a daring and edgy hairstyle that combines elements of the Mohawk with intricate braiding. The center of the head is braided, with the rest of the hair left loose or styled differently. This striking style is ideal for people who are bold and daring. The Mohawk braid is both a fashion statement and a sign of confidence.
24. Double dutch braid
A chic and sporty hairstyle, double Dutch braids are trendy and versatile. Two Dutch braids are created by crossing the strands under each other instead of over, creating a raised braid on the scalp. This hairstyle is great for casual and activewear.
25. Sleek middle parts
sleek middle parts are elegant and modern. This style requires a straight and precise part down the center of the head to evenly distribute the hair. This hairstyle can be customized to suit your desired look. Opt for straight hair for a chic and polished appearance, or add some waves or curls for a more romantic and feminine vibe.
26. Tucked-in curls
Tucked-in curls add romance and glamour to any hairstyle. This style involves curling the hair and carefully tucking it into the scalp for a polished look. Tucked-in curls suit many face shapes and hair textures and can be worn casually or formally.
27. Tousled Half-Up Style with a Hairband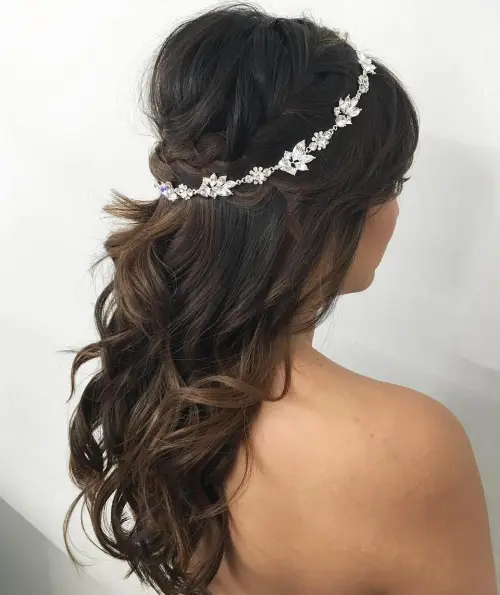 The tousled half-up hairstyle with a hairband is a feminine and carefree hairstyle. This style gathers the top half of the hair and secures it with a hairband, leaving the rest loose. A tousled or beachy texture adds volume and movement to the loose strands. This versatile hairstyle can be done with straight, wavy, or curly hair.
28. The side-parted low bun with loose tendrils
The side-parted low bun with loose tendrils is elegant and romantic. A deep side part accentuates facial features and asymmetry in this style. A sleek, polished look is achieved by gathering the hair into a low bun at the nape. A few loose face-framing tendrils add femininity and soften the look. This hairstyle is ideal for formal events and weddings.
29. Double braided bun
Double-braided buns are a playful twist on the traditional bun. This style divides the hair into two sections and braids each side. The braids are then             double bunned. Double-braided buns are trendy and eye-catching for festivals, parties, and everyday hairstyles.
30. Side ponytail
The side ponytail is a versatile and stylish option for medium-length hair. It's enjoyable and youthful. Gather your hair to one side and tie it with a hair tie, allowing the rest to fall over your shoulder. It can be dressed up or down, sleek and polished or teased and tamed. The side ponytail is a chic and simple style for both everyday and special occasions.
Other Articles