The phoenix is a legendary creature with numerous meanings. If you want to get Phoenix Tattoos, you will undoubtedly want to learn more about its history. We anticipate that tattooing the phoenix bird will symbolize strength and endurance, appropriate for people who have had to be reborn and adapt to hardships in a new way.
History
The phoenix was native to Ethiopia, according to Greek historian Herodotus. It was recognized in that nation because it occasionally constructed its nest on the top of a cypress (symbol of death), where it would sit after collecting (according to Ovid, a Roman poet) incense, cinnamon, and several scented plants. It began to burn while "surrounded by all those precious smells" from which it fed, even though the phoenix is not known to eat or drink anything. After three days of burning, it emerged from the ashes with dazzling and young plumage.
This bird was thought to be responsible for the birth and death of the Sun in Egyptian mythology during the time of the pyramids. The Egyptians believed that the phoenix, known as Bennu, accompanied the Sun every day at its highest and was born and died with him. Similarly, he was attributed with the ability to control the flow of the Nile and the flooding that occurs once a year. As a result, phoenix tattoos might be viewed as a symbol of power. This picture was adopted by Christianity to symbolize Christ's resurrection, and it occurs in several works of art from the Middle Ages. It is a tattoo with religious significance if accompanied by another biblical symbol.
Symbolism
Here are a few of the most important definitions:
Immortality
Rebirth and resurrection of hope
Growth
Get over it.
Dignity Gonna Energy Balance
Loneliness
The Phoenix is a Greek mythological bird that immolated itself on a funeral pyre after each cycle of its life and then emerged from its ashes. Another popular mythology holds that it was an extremely strong bird capable of transporting large animals. For the Greeks, it might also signify nature's death and rebirth. It is likened to the sun, which is born again every day. In the East, it is known as Fenghuang or Ho-Ou, and unlike in Western mythology, it is a bird that rules over all other birds. It represents balance, the merging of the masculine and feminine, and immortality. It is frequently associated with Christ's resurrection in Christian art.
Designs
1. Tribal Phoenix Tattoo
This Tribal Phoenix Tattoo design should be your first pick if you want a traditional Phoenix tattoo with an ethnic vibrance. It signifies the intense wrath of the valiant tribes, as well as the phoenix's undying force and enormous courage. This stunning monochrome tattoo is ideal for ethnic inking.
2. Cute Phoenix Tattoo
This Cute Phoenix Tattoo design is ideal if you want to depart from the traditional representation of the phoenix. This vivid tattoo in red, blue, orange, and yellow is all you need to treat and delight yourself. It is the most beautiful phoenix side tattoo.
3. Dagger Phoenix
This one-of-a-kind phoenix design is textured with rough black crayon ink and fashioned like a dagger. The tail terminates with three leaves facing downwards, lending it an ethnic flavor.
4. Colorful Phoenix Tattoo
This exquisite and vibrant design is one of a kind. The phoenix tattoo has no outline, yet it is a stretched phoenix done in blue, magenta, cyan, and gold.
5. Linework Phoenix Tattoo
This Phoenix, with its brilliant rising wings, represents rebirth and rejuvenation. The tattoo's black lines are consistent, steady, and clean. This tattoo is enhanced with floral, and the tail's flowing lines… Beautiful
6. Flaming Phoenix Tattoo
Oranges, reds, and flames; this is unmistakably the mythical Phoenix emerging from the ashes. The colors are stunning, as are the shading and contrast. The head has just enough yellow to emit light and make this Phoenix stand out. Similarly, the black shading around the tattoo's margins makes it a show-stopper.
7. Fineline Phoenix Tattoo
This is such a lovely tattoo with delicate lines and nice curves. The design wonderfully accentuates the shoulder before flowing smoothly onto the upper arm. The flower, however, is the true focal point, drawing us in.
8. Floral Phoenix Tattoo
The Phoenix is typically connected with compassionate souls, and this is exactly the attitude I'm in. This tattoo has a delicate quality thanks to the floral, thin black lines, and muted tones. It's really lovely how the design flows across the hip and thigh, reflecting the body's curves. Beautiful
9. Chest Phoenix Tattoo
Tattoos in the illustrative style seek to express a sentiment rather than a photo realistic image. The placement of the Phoenix, as well as the incredibly brilliant color palette, indicate strength and immortality. Of course, this is a part of the mythology surrounding the Phoenix. The design here is also not to be disregarded. The Phoenix "stamps" the upper chest boldly, mimicking its every contour. Powerful
10. Mandala Phoenix Tattoo
A Mandala replaces the sun in this tattoo. Beautiful shading showcases its geometric pattern, inspired by the sun's rays. Of course, the notion of rebirth and immortality is brought to life by the Phoenix's wings framing the sun.
11. Phoenix Tattoo Blackwork
The blackwork style is huge and bold, and this tattoo is no exception. This pattern, which follows the contours of the upper arm, is bold and unapologetic. The application of white ink adds texture and depth to the solid planes of opaque black ink.
12. Phoenix Tattoo in Japanese Style
Although it does not stretch to the wrist, this piece appears to be full-sleeved. The aggressiveness of the Japanese style is also noticeable. There is the typical high contrast and powerful line work. Curiously, the Phoenix isn't featured in traditional Japanese tattooing. The hou-ou, rather than the Phoenix, is represented and, unlike the Phoenix, is not connected with immortality.
13. Minimalist Phoenix Tattoo
This Phoenix comes to life with black lines and no shading or detailing. The blend of Minimal and Linework styles displayed here is ideal for the tattoo's location. The simple form is ideal for the ankle, which is petite and delicate in its own right. If you wrap some feathers around your ankle, it gets sexy as well.
14. Phoenix Watercolor Tattoo
The watercolors in this tattoo are applied precisely, emphasizing shading and contrast. Of course, there are a few color splashes outside the lines, which are always enjoyable. Both the Phoenix and the blossoms are highlighted with white ink. You're Ready To Go with a floral ribbon and a sparkling star as final touches.
15. Japanese Phoenix Tattoo
This tattoo could be telling the mythological story of the Phoenix. White is frequently used in Japanese tattoos to symbolize a fresh start, but blue is associated with good fortune. The implication is one of rebirth and immortality when taken together. Of course, even if no meaning is intended, this is a fantastic tattoo with lovely lines, shading, and contrast.
16. Ink splotch Phoenix Tattoo
This Phoenix leaves a mark here, much like a stamp or ink spatter. It's difficult not to foresee this design getting chaotic, but thanks to a competent artist, the contrary is true. Heavy black ink planes are neatly applied beside planned ink splashes. White ink is used sparingly to emphasize the detailing and keep this extremely impressive tattoo in order.
17. Tattoo of an Old-School Japanese Phoenix
This tattoo is unfinished, but the Phoenix jumps out at you. He'll catch your eye because he's perfectly positioned over the pectoralis. The red flowers, as well as the simple color palette and shading, are a welcome homage to the Old School aesthetic. This is Old School, but not Grandpa style with a pin-up girl or flag.
18. Phoenix Tattoo Fineline
This tattoo has a delicate vibe because of the thin flowing lines. Elements linked with the mythological Phoenix come together in this design. The Phoenix appears engulfed by the light with an upward stare, an obvious story of rebirth and renewal.
19. Phoenix Hand Tattoo
It's incredible what a competent tattoo artist can achieve with ink on the skin. This stunning black and gray Phoenix tattoo is a prime example. The blue color, along with the pattern generated, is stunning; it is evocative of a design found on Chinese porcelain. This elaborate design is inked in a little space, adding to the work's impressiveness.
20. Behind the Ear Phoenix Tattoo
A tattoo behind the ear is an excellent way to keep it hidden. Even with the prominent lines, this tribal-style tattoo may be hidden with your hair down. However, when you raise it, it will be a powerful statement of strength.
21. Phoenix Feather Tattoo
Inking a huge bird on your skin can be an unpleasant experience. That is why, if you want something simpler and smaller, phoenix feather tattoos may be a wonderful option. Even with the fiery colors, viewers can tell it's a phoenix tattoo.
22. Phoenix Outline Tattoo
One advantage of outline tattoos is their simplicity. Inking a phoenix in detail can take a long time and inflict a lot of agony. On the contrary, a clean, streamlined symbol like this is ideal for persons sensitive to pain.
23. Phoenix Shoulder Tattoo
In comparison to the phoenix we saw earlier, this one is gentler. The lines are curved, and the phoenix appears serene but determined, implying a balance of power and beauty.
24. Back Phoenix Tattoo
This back tattoo demonstrates that black work may also be stunning. The tattoo, with its intricacy and level of expertise, provides a stunning statement of boldness and force.
25. Phoenix red ink Tattoo
Because of the possibility of allergies, red ink is not commonly used. However, it fits particularly well with the phoenix motif because red is the color of fire. So, if it interests you, do your homework, recognize the risks, and go for it.
26. Blue Phoenix Tattoo
Phoenix tattoos aren't always red and yellow. Why not give your favorite hue a makeover like this one?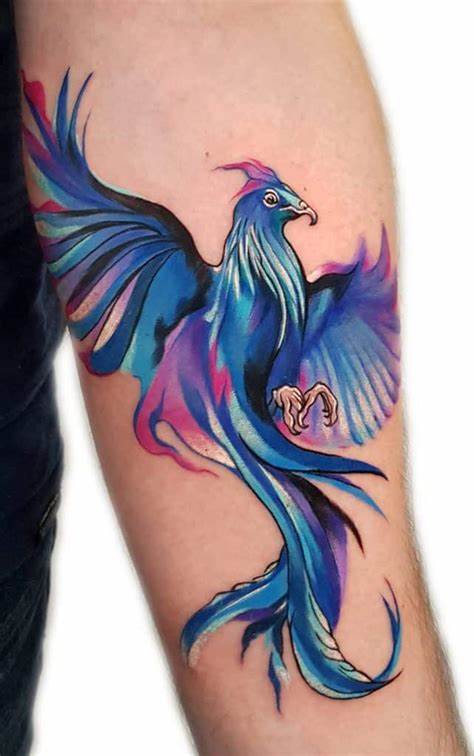 27. Realistic Phoenix Tattoo
Tattooing realistic birds is undoubtedly difficult. However, this tattoo not only completes the objective. All of the flames are depicted to perfection as if they were burning on the skin.
28. Oriental Phoenix Tattoo
Unlike most phoenix tattoos, this oriental variation resembles a cross between an eagle and a brook. It is not as vivid, but it exudes elegance and wisdom.
29. Ankle Phoenix Tattoo
The majority of anklet tattoos are of flowers or leaves. This one, however, is an exception. The tattoo wraps around the ankle gracefully by expanding the phoenix's wings and tails.
30. The soaring Phoenix
The Phoenix has long been associated with rebirth and strength. This collarbone tattoo depicts a phoenix flying away. The flashing feathers are gorgeous and empowering, like burning flames.
Other Articles