It began as a modest demonstration in the 1980s, but it has since grown to become one of the world's most powerful and influential social movements. June is Gay Pride, "Love is Love," Independence, and sexual diversity month. There are as many festivities as there are possibilities for getting a tattoo.
And it is that an increasing number of people are attempting to send a message through the designs they engrave with ink on their skin, whether through calligraphic words, empowering tattoos, symbols loaded with meaning, positive and overcoming 'tattoos'… everything to show a part of his personality to the world and make clear ideas, beliefs, philosophies of life… It is obvious that when you decide to choose a decent LGBTQ Pride Tattoos studio and capture something on your body that will be permanent, you do so with the purpose that each drop of ink contains all about you and has a lot to say.
History
In the early hours of June 28, 1969, in the LGTBIQ pub known as the Stonewall Inn in The Greenwich Village, which is a neighborhood of New York. An event occurred that would forever change history, resulting in the open struggle for sexual freedom and the birth of the International LGTBIQ+ Pride Day. In a world where people of different sexual orientations and gender identities were persecuted due to a hostile government and legal system, the LGTBIQ community protested for the first time against a police raid in a well-known New York pub. People fed up with persecution, injustice, and attacks rose and began a series of rallies that would alter the world, publicly expressing their sexual orientation without fear of arrest.
Significance
Each rainbow stripe represents a different aspect of the LGBTQ community and the queer spectrum. While there are numerous varieties of the Pride flag—for example, a bisexual flag, pansexual flag, asexual flag, intersex flag, transgender flag, and gender-fluid flag, to name a few—the most widely seen Pride flag consists of six colors: red, orange, yellow, green, blue, and purple. The rainbow is a lovely representation of new beginnings and diversity. And these rainbow tattoos will symbolize your Pride and true self. Rainbow tattoos can have a variety of meanings. They might symbolize a new beginning and hope.
Designs
1. Black Rainbow Tattoo
Rainbow tattoos do not have to be in rainbow colors! There are numerous methods to represent a rainbow with black ink. There are so many options, big and small!
2. Pride Flag
A great classic and a tattoo that everyone will notice! Gilbert Baker, a San Francisco artist, created the first pride flag. Over the years, many more pride flags were created. You can pick one of those as well.
3. Rainbow Quote
Get a meaningful statement or quote in rainbow hues tattooed on your body!
4. Rainbow Line Tattoo
A rainbow line may be used in so many different styles! From a basic straight line to a heart, a heartbeat, and finally, dotted lines. Choose your fave!
5, Rainbow Planet
This rainbow planet tattoo is stunning! Symbolizing a world that loves queer people and supports them without questioning.
6. Rainbow Umbrella
If you identify as LGBTQ+, why not get a rainbow umbrella tattoo to represent that?
7. Rainbow Puzzle piece
Sometimes figuring out who you are is the final piece of the puzzle. A puzzle piece is also a symbol for ASD, which is very meaningful if you're on the spectrum.
8. Harry Potter Rainbow Tattoo
We are all MYSTERIOUS beings, so Harry Potter is an amazing option. And LGBT+ people, particularly, have a long relationship with fantasy fiction. And it's not strange: they're amazing escapes, realms where life can be different from ours.
9. Unicorn Tattoo
A unicorn is also mystical, and it has become one of the most important symbols for the LGBTQ+ community. Unicorns and rainbows go together!
10. Pink Triangle Tattoo
A pink triangle has served as a sign for numerous LGBTQ identities, first as a mark of shame and then as a positive emblem of self-identity.
11. Rainbow Semicolon Tattoo
A semicolon tattoo is a tattoo of the punctuation mark (;) that expresses affirmation and unity in the face of su!cide, depression, addiction, and other mental health disorders. All of these are difficulties that many LGBTQ+ people face daily.
12. Pride Fist
The raised fist represents resistance to oppression. The Black Power Fist, or the black fist, signifies Black Pride, defiance, solidarity, and socialism.
13. Pride Ace Tattoo
Because sexuality is sometimes phonetically abbreviated to 'ace,' why not get a real ace tattoo if that's how you identify?!
14. Circle Tattoo
Some transgender people may happily acquire a circular or purple and yellow tattoo. The Interex pride flag was designed by Organisation Interex International (OII) Australia in 2013.
15. Rainbow spaceship
This spaceship leaving a rainbow dust trail is as adorable as promising for the future.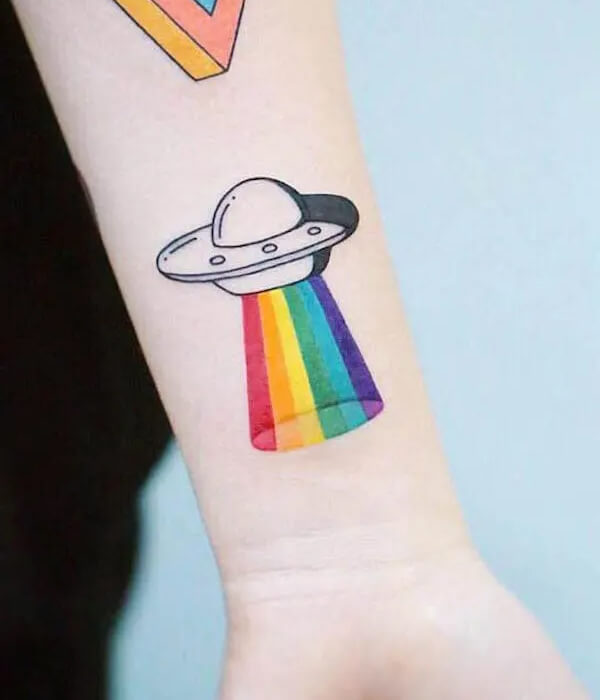 16. Abstract rainbow
This abstract take on the rainbow is elegant for art enthusiasts and would look wonderful on the wrist or ankle.
17. Rainbow wristband
A rainbow wristband is a striking, timeless statement piece that you will never lose during the joyful mayhem of a Pride march.
18. Rainbow lightning
This colorful lightning bolt that pops on the thigh or upper arm is a fascinating spin on the rainbow.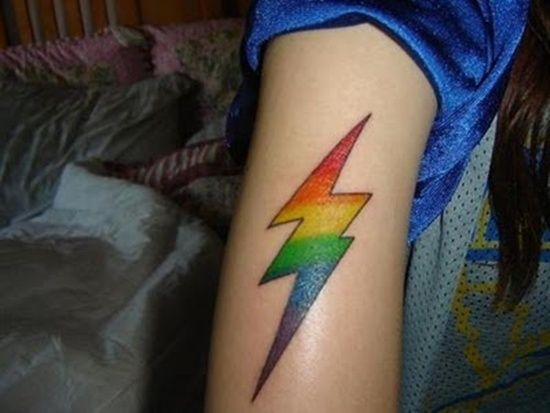 19. Rainbow stem
This rainbow stem is a minimalist twist on the rainbow flower design that looks well with a black-and-white tattoo.
20. Rainbow Heart
Another adorable rainbow heart because we can never have too many. Who says you have to limit yourself to just one?
21.Rainbow Ear-cuff
We wear tattoos as if they were jewelry. Thus this rainbow ear cuff tattoo is a no-brainer for adorning our ears. Cover the entire ear or just the tip—if you're unsure, you can always add extra bands later.
22. Classic Rainbow
A classic rainbow can never go wrong. The best aspect is that it works in any location!
23. Rainbow Brushstroke
A brushstroke is an artist's sign, and there is no greater work of art than your own body. This is a tattoo you'll want to flaunt all day long.
24. Rainbow Dot Tattoo
This brilliantly colored dotted bracelet is both attractive and timeless. It's a design that lends itself well to layering if you decide one isn't enough.
25. Rainbow Wineglass Tattoo
Pride is all about celebration, so once you've scheduled some nights out, commemorate the occasion with this adorable rainbow-colored wine tattoo. The arm is an excellent choice (particularly if you want the cute bartender to notice you). If wine isn't your thing, you may easily substitute a highball glass, a martini glass, or even a glass soda bottle.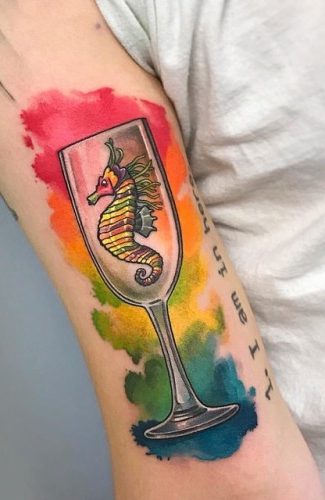 26. Pride TV Tattoo
If your idea of celebrating Pride is to watch some of the best gay representations on television, this might be the tattoo for you. In this unusual take on the rainbow television test patterns, combine pop-culture tattoos with LGBT tattoos.
27. Lovers tarot card Tattoo
If you enjoy the paranormal, this twisted interpretation of The Lovers tarot card is ideal. Stick to black line art or request color from your artist to bring the scenario to life. You may customize the figurines to appear like you and your lover to make this a couple's tattoo.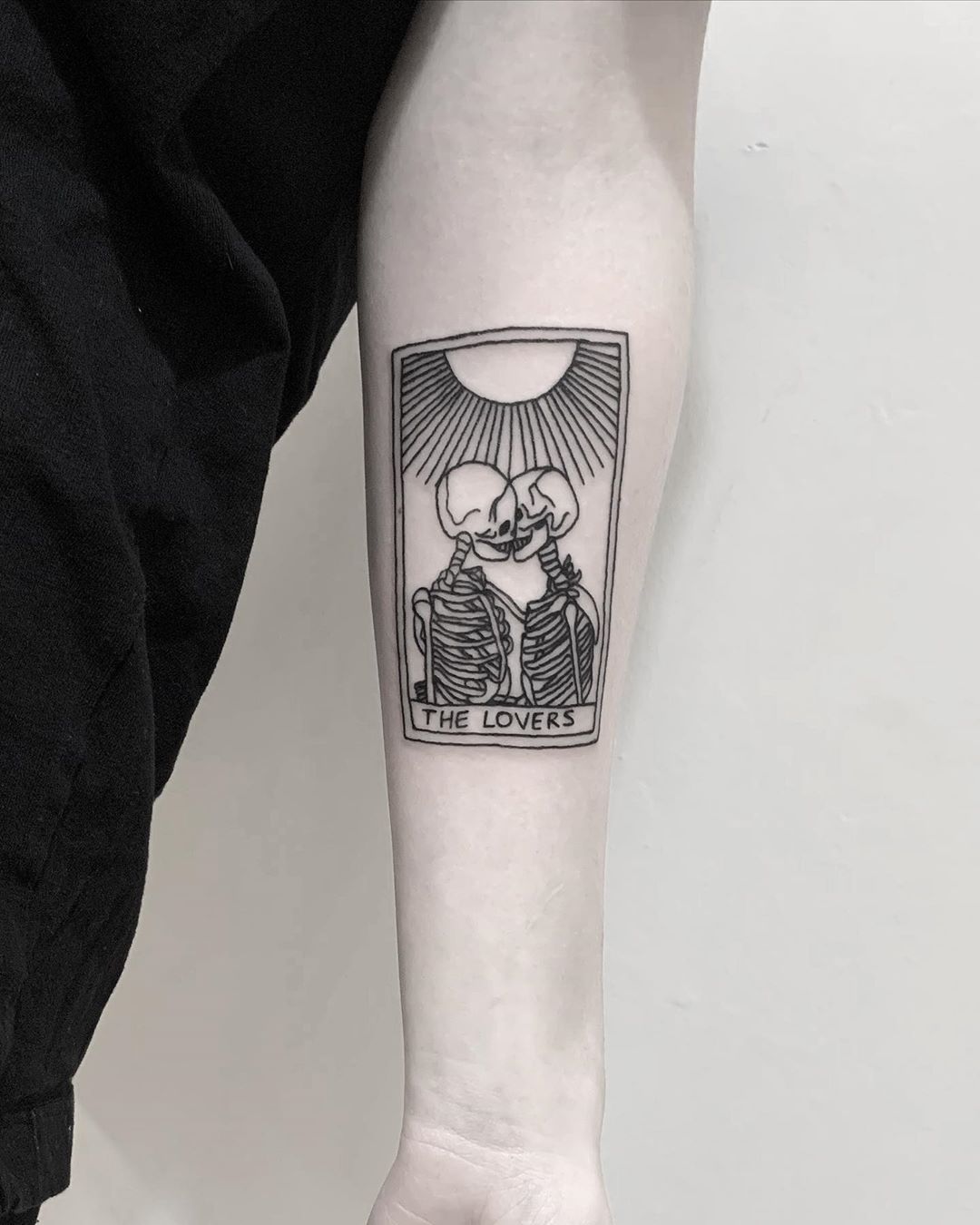 28. Love is Love Tattoo
Get this quote, " Love is Love," tattooed on your skin. This will not only show your opinion about the queer community but also show acceptance.
29. Rainbow Feather Tattoo
This tattoo is amazing if you want to add a hint of Pride to your feather tattoo. The feather represents freedom and strength concealed beneath fragility.
30. Rainbow Wings tattoo
Get this tattoo on your back to give yourself angel wings. Pride colors show that belonging to or supporting LGBTQ gives a sense of freedom.
31. Rainbow Infinity Tattoo
get Infinity tattoo and Show the world that the LGBTQ community is strong and will remain that way until time.
Other Articles