When it comes to hair fashion, there's a special bond between bangs and layers that's hard to ignore. It's like they were destined to be together, effortlessly complementing each other and elevating your style game. With this winning combination, you can unleash a whole new level of fabulousness.
This captivating duo has the power to transform your look, enhance your features, and add a touch of flair to your personal style. Whether you're seeking a chic and polished appearance or a bold and edgy statement, bangs and layers offer endless possibilities. In this blog, "Bangs and Layers: The Dynamic Duo of Hair Fashion!" we'll explore various haircut ideas to help you unlock the full potential of this dynamic duo. Get ready to discover the transformative power of bangs and layers and embrace a new level of hair fashion excellence.
1. Sleek Layers with Swoop Bangs
With their ability to transform any look, this hairstyle is a perfect choice for those who desire a touch of sophistication and a dash of glamour. Whether you have a special event or want to elevate your everyday style, embrace the sleek layers with swoop bangs and let your inner diva shine through.
2. Layered Cut with Soft Curved Bangs
A Layered Cut with Soft Curved Bangs is a chic and versatile hairstyle. The soft, curved bangs gracefully frame the face, adding a touch of elegance. The layered cut creates movement and texture throughout the hair, giving it a dynamic and voluminous appearance. It's a modern and feminine look that suits various face shapes and hair types.
3. Layered Lob with Textured Bangs
This is a versatile and trendy hairstyle. The shoulder-length lob adds sophistication, while layers create movement. Textured bangs bring an edgy touch. This low-maintenance look offers endless styling options, making it perfect for any occasion.
4. Straight Layers with Peek-a-Boo Bangs
The straight layers add dimension and movement, while the peek-a-boo bangs frame the face in a playful and alluring way. This combination strikes the perfect balance between elegance and modernity, making it a must-try for fashion-forward individuals seeking a chic and polished look.
5. Classic Long Layers with Side-Swept Bangs
Elegant and timeless, classic long layers with side-swept bangs embody sophisticated charm. This versatile style frames the face gracefully while adding movement and volume. It's a polished choice that suits various occasions, effortlessly enhancing your look with a touch of understated allure.
6. Soft and Subtle Long Layers with Wispy Bangs
This captivating hairstyle offers a delicate touch and a sense of effortless grace. The layers cascade with subtle elegance, creating movement and texture, while the wispy bangs frame the face with a subtle charm. Embrace the understated beauty of this hairstyle and let your natural radiance shine through.
7. Voluminous Layers with Curtain Bangs
This trendy combination adds so much dimension and style to your look. It's a versatile style that works with various hair types and face shapes. Whether you want to rock a casual boho vibe or go for a more polished look, voluminous layers with curtain bangs are sure to make a statement.
8. Tousled Waves with Wispy Fringe
For those seeking an effortlessly chic and carefree look, tousled waves with a wispy fringe are the perfect choice. Embrace the beauty of beachy waves and soft, feathered bangs to achieve a hairstyle that exudes relaxation and style. Whether you're embracing a casual day or stepping out for a special occasion, ths hairstyle will ensure you radiate a natural and captivating beauty.
9. Long Layers with Feathered Bangs
This hairstyle offers a timeless and effortlessly chic hairstyle that enhances your natural beauty. With their versatility and graceful appeal, this combination is suitable for various face shapes and occasions. Embrace the allure of long layers with feathered bangs and let your inner elegance shine through with every flowing layer and feathered strand.
10. Layered Lob with Long Side Bangs
This dynamic combination enhances your look effortlessly, striking a balance between chic elegance and trendy appeal. This hairstyle is suitable for a variety of face shapes and can be tailored to different personal styles and occasions. Its trendy yet timeless appeal makes a statement.
11. Romantic Curls with Long Side-Swept Bangs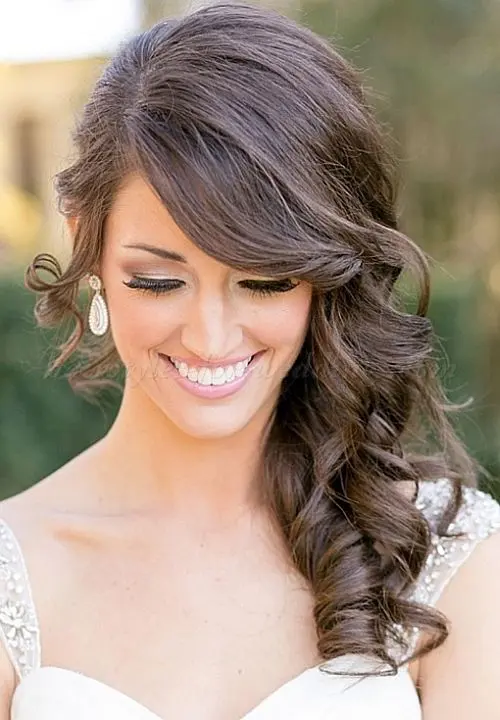 This hairstyle is a perfect choice for those seeking a dreamy and sophisticated style. The long side-swept bangs frame the face delicately, drawing attention to your eyes and cheekbones. This hairstyle enhances your overall aura, exuding charm and confidence.
12. Curly Layers with Wispy Bangs
Curly layers infuse your hair with volume, bounce, and movement, enhancing the overall texture and creating a dynamic look. The curls add a playful and carefree vibe that exudes confidence and personality. Paired with wispy bangs, this hairstyle takes on an additional level of charm. The wispy bangs softly frame your face, accentuating your features and adding a touch of softness to your overall look.
13. Layered Haircut with Choppy Side Bangs
This look features carefully crafted layers that create natural movement and texture. The choppy side bangs add a touch of edginess while framing your face beautifully. It's a versatile hairstyle that can be tailored to suit various hair lengths and textures.
14. Textured Layers with Angular Bangs
This hairstyle combines layered hair with angular-cut bangs to create a modern, edgy look. The layers are typically uneven and choppy, giving the hair a slightly messy and tousled appearance. It is a versatile, trendy option that adds personality and flair to your look.
15. Layered Bob with Fringe Bangs
The layered bob with fringe bangs is a sophisticated, adaptable haircut that never goes out of style. This chic hairstyle combines the timeless appeal of a bob with the trendy addition of fringe bangs. The layers in the bob add texture and movement to the hair, giving it a dynamic and modern look. Meanwhile, the fringe bangs frame the face, drawing attention to your best features.
16. Beachy Waves with Wispy Bangs
This popular hairstyle brings a relaxed, beach-inspired vibe to your look, making it perfect for those who want to capture that sun-kissed, summer-ready appearance all year round. The soft and tousled waves create a sense of movement and texture, adding a touch of whimsy to your overall aesthetic.
17. Choppy Layers with Side Bangs
The appeal of choppy layers lies in their ability to transform a simple haircut into a statement style. The uneven and jagged edges of the layers add an edgy and unconventional vibe to your hair, making it perfect for those who want to stand out from the crowd. Whether you have long cascading locks or a shorter bob, choppy layers can be adapted to suit your desired length and style.
18. Razored Layers with Piecey Bangs
Razored layers with piecey bangs create an effortlessly chic and modern hairstyle. The razored layers add texture and movement to your hair, giving it an edgy and tousled look. The piecey bangs, with their deliberately separated strands, bring a touch of playfulness and frame your face beautifully. This combination results in a trendy and versatile style that can be customized to suit different hair lengths and personal preferences.
19. Messy Layers with Textured Fringe
These intentionally tousled, slightly unkempt layers create a laid-back, "just rolled out of bed" aesthetic that exudes confidence and a carefree spirit. They bring a touch of effortless coolness to your overall appearance, making it suitable for both casual and more formal occasions.
20. Flowy Layers with Side-Parted Bangs
This versatile hairstyle can seamlessly transition from a professional office setting to a night out on the town. It's a go-to choice for those who desire a refined and fashionable appearance while maintaining a sense of ease and grace.
21. The Shaggy Layers with Textured Bangs
The Shaggy Layers with Textured Bangs hairstyle offers a trendy and edgy look. The hair is styled with tousled and layered strands, providing volume and movement. The textured bangs add a modern twist, creating a carefree, fashionable appearance showcasing a confident, effortless style.
22. Layered Haircut with Micro Fringe
The layers in this haircut are the key to creating texture and depth. They add volume and dimension to your hair, allowing it to move naturally and effortlessly. Whether you have long flowing locks or a shorter style, the layers can be customized to suit your desired length and hair type. Complementing the layered haircut is the micro fringe. This ultra-short fringe sits just above the eyebrows and brings a statement-making detail to your face. The micro fringe is a bold and modern choice that instantly transforms your appearance.
23. Loose Waves with Wispy Bangs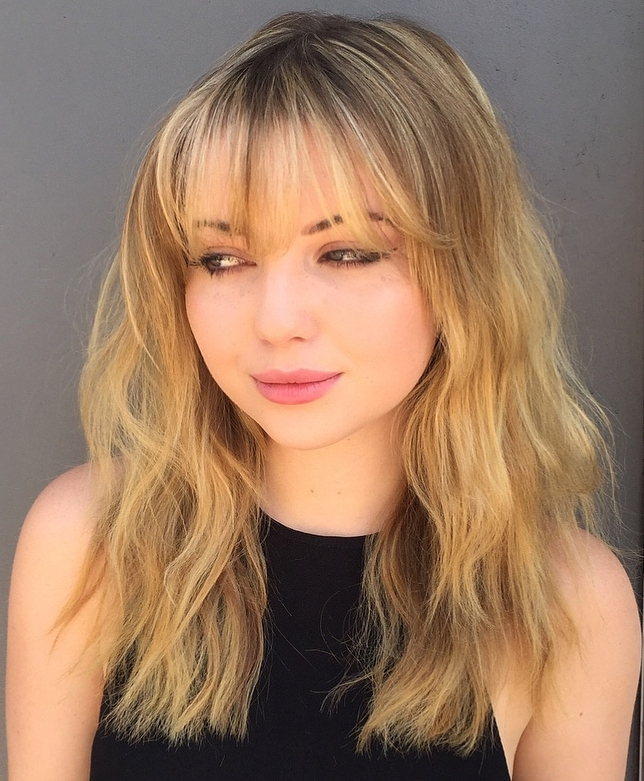 This effortlessly chic hairstyle exudes a carefree and romantic vibe, as the loose waves cascade with natural grace and the wispy bangs frame your face with a delicate touch. Embrace the ethereal beauty of loose waves and wispy bangs for an enchanting and timeless look.
24. Layered Haircut with Brow-Skimming Bangs
This bold pairing effortlessly blends depth and dimension while the brow-skimming bangs add a touch of intrigue. Embrace this fashionable and eye-catching look to showcase your confidence and make a lasting impression wherever you go.
25. Layers with Straight Across Bangs
Elevate your style with a sophisticated and sleek haircut that embodies timeless elegance. This polished and professional look exudes confidence, making a bold statement with its refined and chic appearance.
26. Layered Cut with Asymmetrical Bangs
Level up your hairstyle with a captivating layered cut and bold asymmetrical bangs. This dynamic combination injects a dose of modern flair into your look, empowering you to showcase your individuality with confidence and charm. Get ready to turn heads and make a lasting impression with this fashion-forward, eye-catching style.
27. Wavy Layers with Side-Parted Bangs
This captivating combination showcases a balance of texture, movement, and sophistication, resulting in a polished and refined look. The wavy layers bring a touch of playfulness and dimension to your hair, while the side-parted bangs frame your face with a graceful and elegant appeal. Together, these elements create a stylish and versatile hairstyle that exudes confidence.
28. Long Layers with Thick Blunt Bangs
This bold hairstyle merges the best of both worlds, combining the movement and texture of long layers with the striking and confident statement of thick blunt bangs. It's a contemporary and versatile style that exudes a sense of sophistication and flair, allowing you to unleash your inner fashionista and make a lasting impression.
29. Layered Cut with Baby Bangs
This daring hairstyle combines the textured and dynamic effects of layers with the boldness and uniqueness of baby bangs. It's a modern and edgy style that allows you to make a confident and stylish statement, setting you apart from the crowd with a captivating and head-turning appearance.
30. Voluminous Layers with Bardot Bangs
Voluminous layers with Bardot bangs offer a glamorous and sophisticated hairstyle that never goes out of style. The layers create volume and movement, while the Bardot bangs add a touch of retro elegance.
31. Long Layers with Curly Bangs
Long layers with curly bangs provide a versatile and playful hairstyle that allows you to embrace and enhance your natural curls. The long layers create movement and dimension, while the curly bangs add a unique and eye-catching element.
Other Articles