Are you tired of spending hours on intricate hairstyles that leave you feeling frazzled and late? We've got you covered! Welcome to our blog on "Get Ready in a Flash: 30 Easy Everyday Hairstyles"! In this comprehensive guide, we'll walk you through a collection of 30 simple and time-saving hairstyles that are perfect for your everyday routine. From effortless updos to sleek ponytails and stylish braids, we have handpicked hairstyles that require minimal effort but still deliver maximum style. Whether you're a busy professional, a student on the go, or a parent juggling multiple responsibilities, these quick and easy hairstyles will have you looking fabulous and ready to conquer the day in no time. Let's dive in and discover your go-to hairstyles for hassle-free mornings!
1. Messy Bun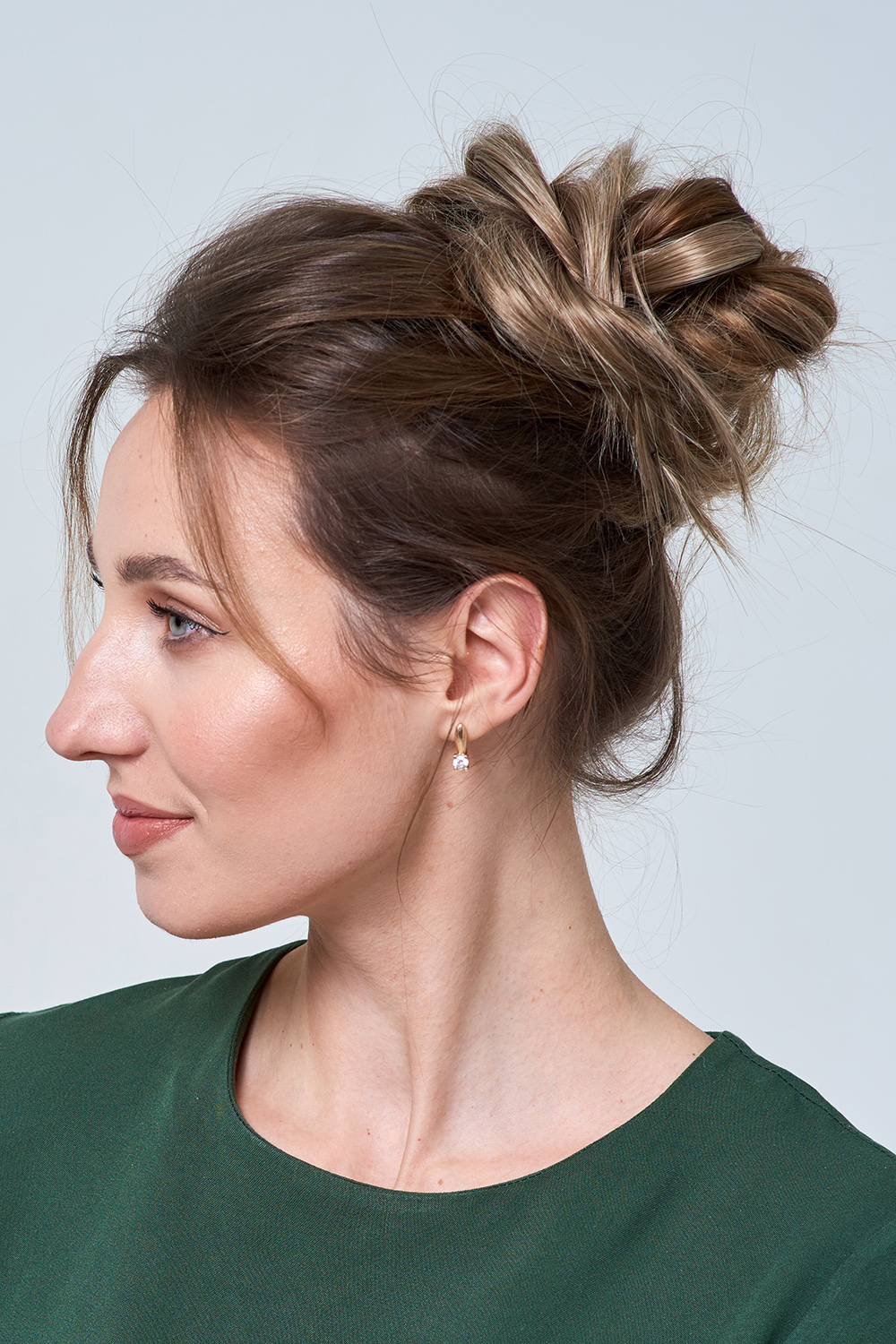 2.Half-Up Top Knot
The half-up top knot is an excellent choice for a trendy and playful look. This hairstyle is a lovely blend of elegance and casual charm. Begin by separating the top half of your hair and twisting it into a high bun. You can make it sleek or go for a more loose, messy look. This hairstyle instantly adds volume to your hair, making it an ideal choice for those with fine or thin hair. It's a versatile hairstyle that works well with any outfit, whether it's jeans and a t-shirt or a flowy summer dress.
3. Side Braid
4.Low Ponytail
5. French Twist
6. Sleek High Ponytail
7.Quick Twist
The quick twist is a versatile hairstyle that adds elegance to any look. Simply gather a small section of hair from one side of your head, twist it, and secure it with a bobby pin. Repeat on the other side for a balanced look. This effortless hairstyle is suitable for both casual and formal settings, giving you a touch of glamour in no time.
8.Tousled Waves
9. Double Dutch Braids
10. Headband Tuck
11. Fishtail Ponytail
12. Scarf Updo
Elevate your style with a scarf updo. Gather your hair into a high ponytail, then wrap a colorful scarf around the base, tying it into a knot or a bow. This versatile hairstyle adds a touch of vintage charm and is perfect for both casual outings and special occasions.
13. Messy Double Bun
For a playful and carefree look, try messy double buns. Split your hair into two parts and twist each part into a bun. Secure them with bobby pins, allowing some strands to fall loose for that effortlessly chic vibe. This hairdo is great for a day with friends or a weekend brunch
14. Space Bun
Make a bold statement with space buns. Part your hair down the middle and create two high ponytails. Twist each of the ponytails into a bun and secure them with hair ties and bobby pins. This trendy hairstyle is perfect for festivals, parties, or whenever you want to show off your playful side.
15. Side Ponytail
With a side ponytail, you can get a sleek and beautiful style. Gather one side of your hair and fasten it with a hair tie. Wrap a short strand of hair around the hair tie to cover it for more sophistication. This hairstyle works well for both formal events and casual outings.
16. Half- Up Half- Down
Combine the best of both worlds with a half-up half-down hairstyle. Take the top section of your hair, gather it, and secure it with a hair tie or decorative clip. Leave the remaining hair down for a soft and romantic look. This versatile hairstyle works well for both casual and formal occasions.
17.Braided Bun
18. Sleek Rope Braid
19. Simple Low Bun
For a classic and polished look, opt for a simple low bun. Twist your hair into a bun by gathering it at the nape of your neck, securing it with bobby pins. This timeless hairstyle is suitable for any occasion and adds an air of sophistication to your overall appearance
20. Rolled Chignon
Create a sophisticated and timeless look with a rolled chignon. Roll your hair up and pin it at the nape with bobby pins. This elegant updo is perfect for formal events or a glamorous night out
21. Half Up Messy Bun
Combine casual and chic with a half-up messy bun. Gather the top section of your hair into a loose bun, leaving the rest of your hair flowing. This effortless hairstyle is great for everyday wear and adds a playful touch to your look.
22. Side Swept Curls
Add a touch of glamour with side swept curls. Create loose curls with a curling iron or hot rollers, then sweep them to one side and secure with bobby pins. This romantic hairstyle is perfect for weddings or any special occasion.
23. Sleek Bob
For those with shorter hair, embrace a sleek bob. Use a straightener to achieve a smooth and polished finish. This chic and low-maintenance hairstyle is perfect for a modern and sophisticated look.
24. Sleek High Bun
25. Half Up Braided Crown
26. Top Knot
27. Messy Bun with a Scarf
Add a scarf to your messy hairstyle for color and style. Make a bun with your hair, then wrap a colorful scarf over it and tie it into a knot or a bow. This vibrant and trendy hairstyle is perfect for summer or adding a playful touch to your everyday look.
28. Voluminous Ponytail
Create a glamorous and voluminous look with a high ponytail. For added volume, tease the crown of your hair, gather it into a high ponytail, and tie it.This statement hairstyle is perfect for a night out or a special event where you want to make a bold impression.
29.  Half-Up Bow Bun
30.  Tucked-In Side Braid
The Tucked-In Side Braid is a chic and elegant hairstyle that adds sophistication to any look. Create a side part, braid a small section of hair towards the back, secure it with a hair tie, and tuck the end under the rest of your hair. This versatile hairstyle is suitable for various occasions, from professional work meetings to stylish evening outings.
Other Articles