They've made their way onto the catwalks and into our dressing rooms. Beyond the oversized barrettes and knotted headbands are today's accessories: bandanas. So we scoured Instagram for the best bandana hairstyles to get some ideas.
Bandanas are making a comeback. The versatile bandana is an icon of the 1970s and 1990s, which adds a distinctive touch to any hairstyle. A bandana will instantly enhance your look, whether you have natural hair, bangs, or braids. It's also the ideal accessory for hiding a bad day. Learn the best ways to wear a scarf.
1. A Ponytail and a Scarf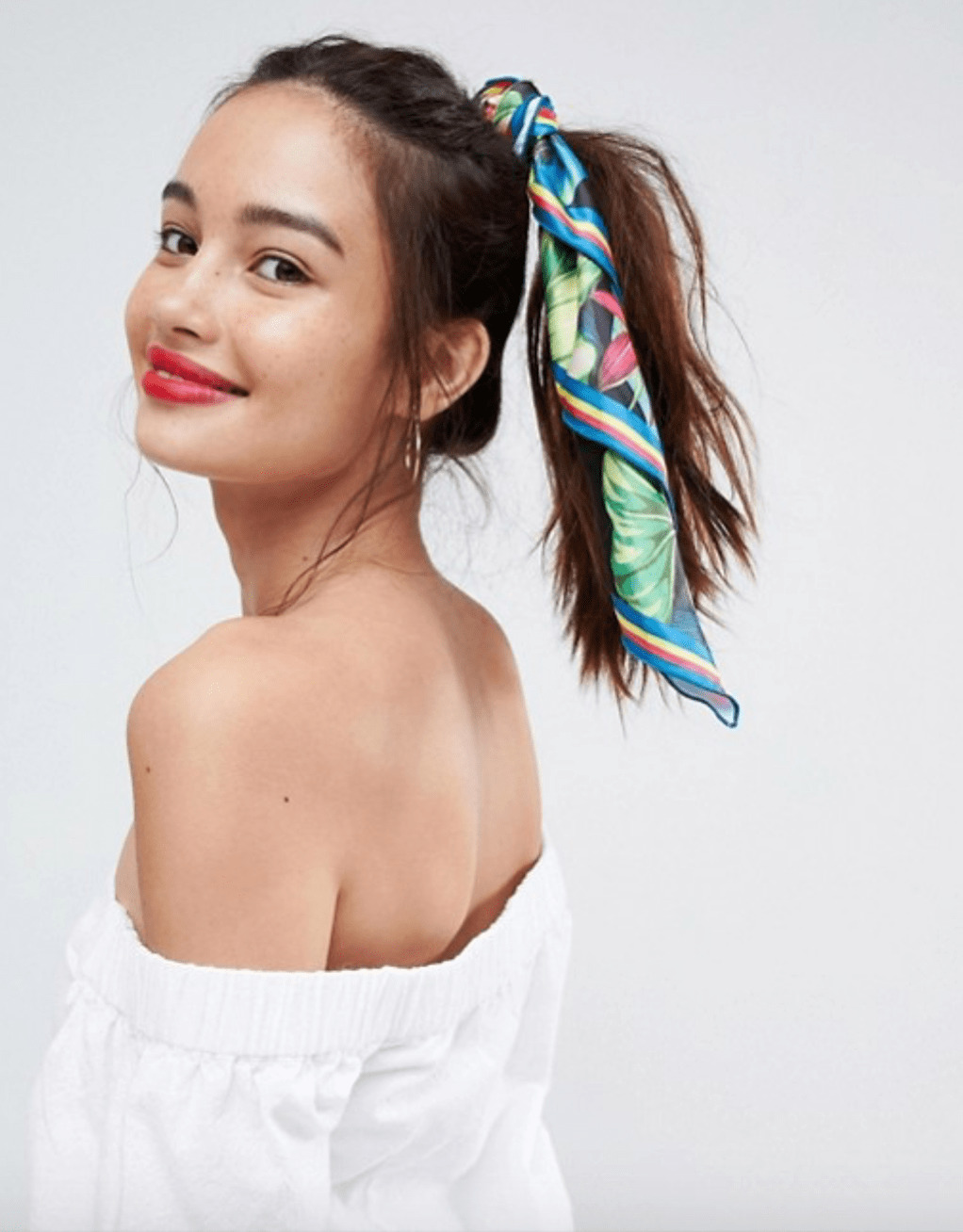 A ponytail with a scarf is the ideal hairstyle if you're planning a romantic daytime date or a summer vacation. To make it work, spray your hair with sea salt spray to add texture. Leave a few strands loose in the front and sides to frame your face, then choose a pretty fabric and loosely knot it around the base of the ponytail. Amalfi is the next stop.
2. Chignon Slicked-back
A carefree scarf wrapped around the bun balances a sleek, slicked-back hairstyle. Wear the scarf in a long open, ends manner to add some eye-catching twist.
3. Scarf with Marley Twists
Fold a bandana into a twisted rope and let it peek out slightly if you have long hair. Onto your Marley twists, keep rolling the scarf to achieve a similar updo look.
4. Ballerina Bun with Loose Locks
Girls with either long or short hair can have equally flattering hairstyles and have a good time. Take a long scarf or bandana tied around a ballerina bun (low or high), or tie it as a headband with a few free locks at the sides.
5. Beach Waves with Twisted Bandana
A twisted bandana is the ideal bohemian accessory for beach waves. A bandana adds personality and a distinct and elegant touch to a simple hairstyle. Furthermore, the bandana's 1970s vibe complements wavy hair's relaxed, retro vibe. Pair a bandana with a summery print, such as floral, watercolour, or paisley, with boho jewellery, such as tassel earrings and stacked necklaces.
6. Finish with Some Barrettes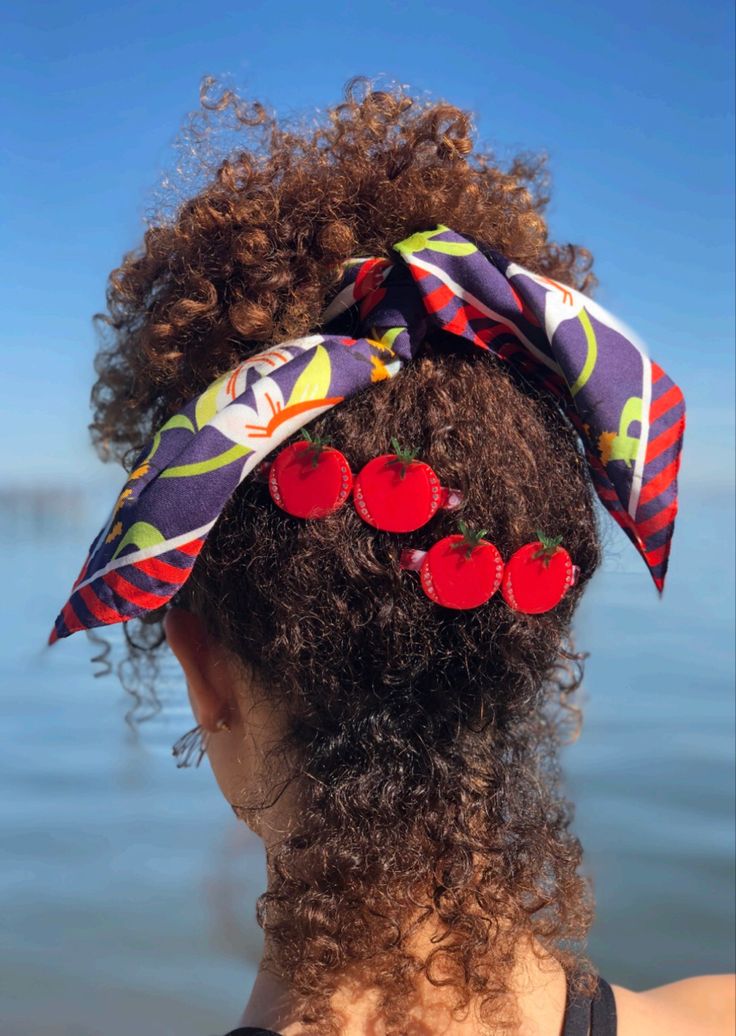 Keep the bandana in place with some chic barrettes hooked on the side. (Who cares if they're more decorative than practical?) We love the four lined up here and the effortless bandana style. If you have curly or frizzy hair, get ready to achieve a carefree hairstyle.
7. A Messy Top Bun and a Bandana
Do you need more time to style your hair? No problem: wrap a bandana around your high-tousled knot. This quick hairstyle is perfect for a weekend lunch, picnic, or day at the beach. The hairstyle looks better the messier it is, so don't worry about being too precise.
8. Bohemian Braids
Braid a few sections back and pin them up with an elastic band or clip for a boho look. Then wrap a bandana around the area and allow the fabric to flow freely.
9. Bandana and Loops Updo
An updo with a bandana and tendrils is a soft and gorgeously romantic hairstyle for your next date night. A silk or satin bandana adds a relaxed, feminine touch to your updo while keeping it from looking too messy. To make the whole look more cohesive, choose a print or colour that complements your outfit, and make sure the tendrils frame your face rather than getting caught under the bandana.
10. Dreadlocks and a Bandana
Were you looking for a new and unusual way to wear your dreadlocks? Consider wearing a bandana. The classic triangular bandana adds a retro, feminine '60s vibe and works well with thick or thin dreads. It also keeps your locks in place. To create a flattering frame for your face, leave some dreadlocks free in the front.
11. Natural Afro Hair with a Bandana Updo
The bandana is the ideal accessory for natural afro-textured hair. There are numerous styling options available depending on the length of your hair and whether you want to protect or show off your curls. The natural puff with a thick bandana wrap is a timeless look that never goes out of style.
12. Off-Duty Style
Make a bandana into a headband on your forehead to keep a loose updo in place and stray hairs at bay. As the name suggests, this is popular for its comfort and casual wear.
13. Bandana and Side Ponytail with Braided Locks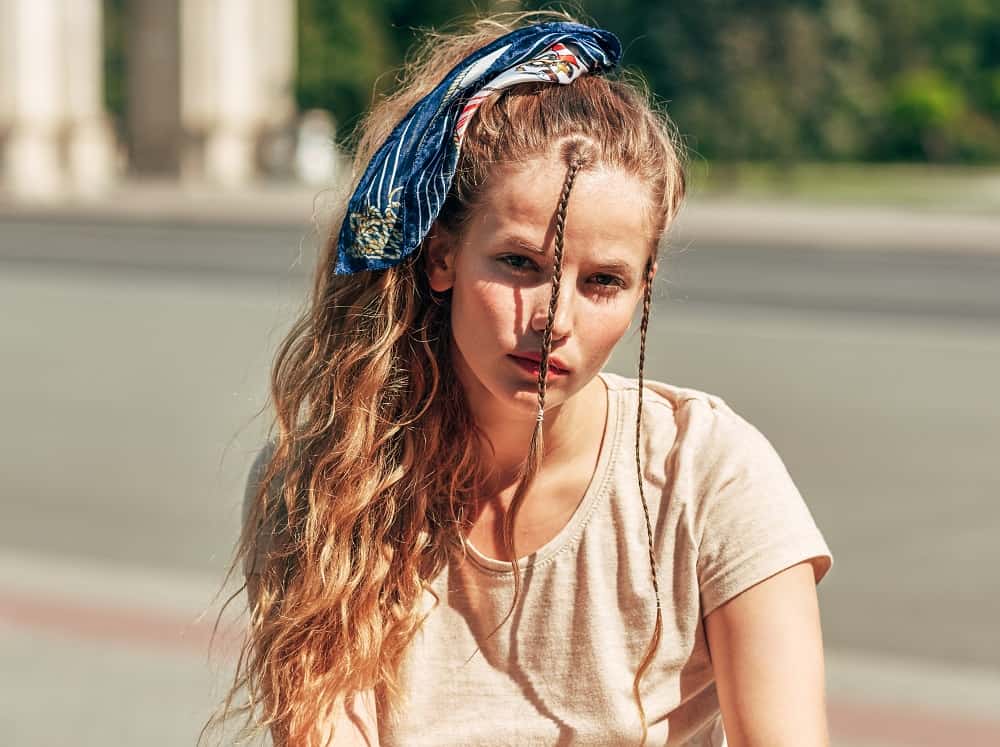 Unstructured, wavy, textured side ponytails with loose braided strands framing the face look best. A scarf adds structure and a splash of colour to this hairstyle. There are numerous options, such as a traditional bandana style, a folded headband, or a top tie around the base of the ponytail.
14. Bandanna and Updo with Wavy Hair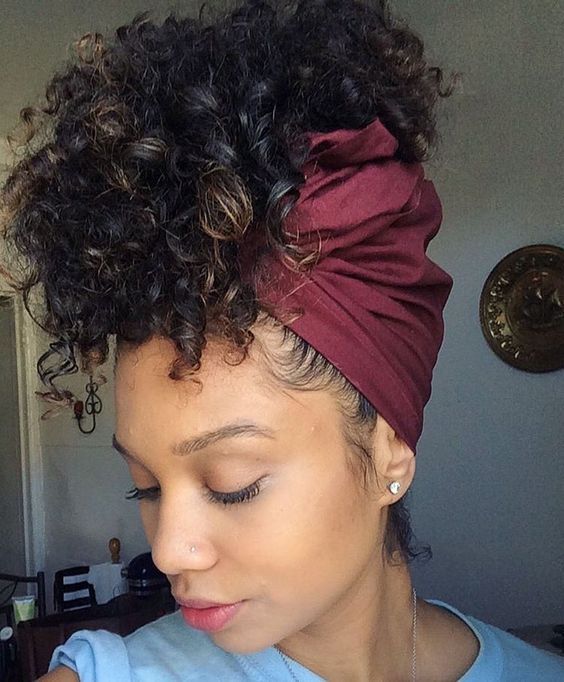 Wavy hair looks great in an updo, but adding a scarf takes it to the next level. The scarf conceals flyaways and frizz while adding structure to a messy bun or other updos. Furthermore, the soft twists of the wavy hair create a natural tendril effect that contrasts beautifully with the structure of the bandana.
15. Twists Swept to the Side
A patterned scarf is ideal for gathering locks, braids, or Senegalese twists while looking chic. Take your heavy and long twists to the side and wear your scarf as a turban covering up your scalp.
16. Babushka Bandana Look
Do you like the Gucci look? Then try the Babushka bandana style, inspired by Russian grandmothers. A silky floral scarf is ideal for creating the kitschy, Soviet-chic Babushka hairstyle. Although modest (it covers most of your hair), the look is still bold and ideal for edgy, out-of-the-ordinary fashion fans.
17. Bandana + Long Hair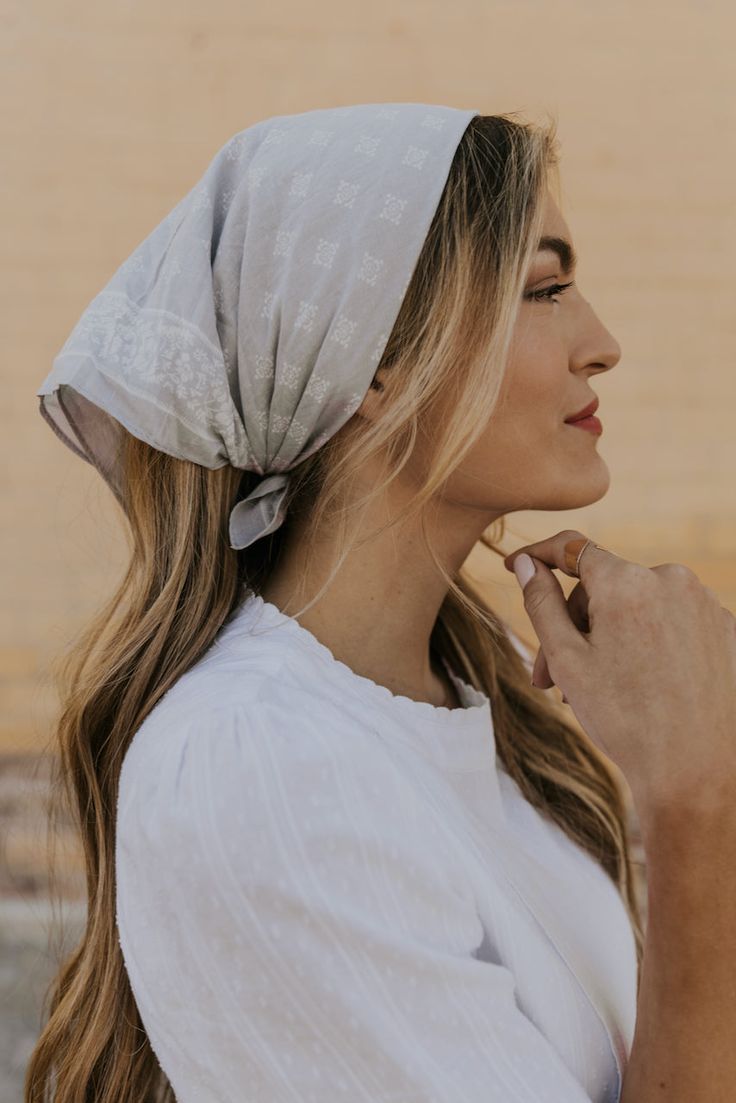 Add a printed bandana to your regular long hairstyle for a unique look. It makes a more significant statement than a simple headband and keeps your hair out of your face. At the same time, it's a great option between washes because it covers greasy roots and reduces styling time with a flat iron or curling iron.
18. Half-Up Style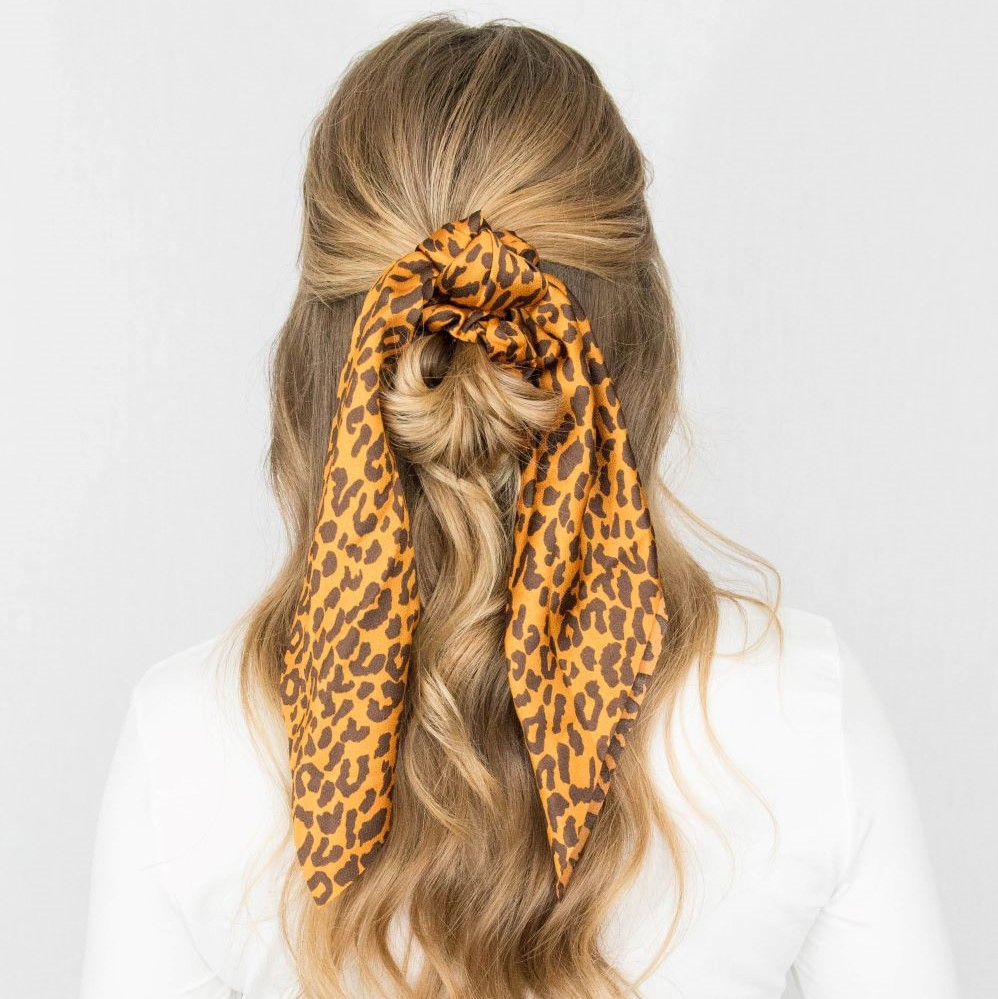 If you need more time to do a complicated hairstyle but still want to look put-together, pull your hair back into a half-up and wrap a scarf around the section—a big statement made with little effort. You can also create a half-ponytail or loop look, as shown in the image.
19. Bandanna + Short Hair
Bandana hairstyles are versatile and flatter all hair lengths, from pixie to waist-length. The half-wrapped-up bandana hairstyle is one of the most stylish short-hair options. This retro look was popular in the 1960s and retained a bohemian and casual vibe. Because it covers most of your hair, it's also ideal when you're in between washes or has little time to style it.
20. Wrapped-up Curls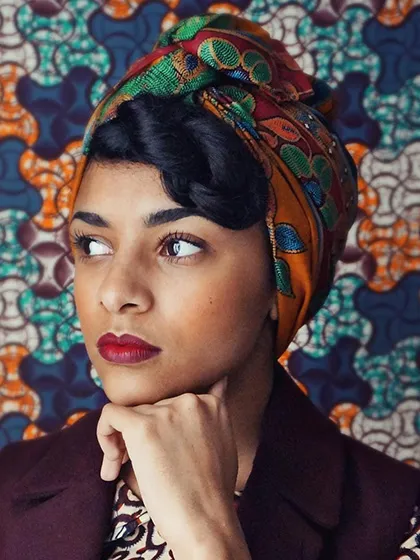 To look cute, wrap your curls in a bandana and wear them with any contrasting shirt. Try using your front curls as the bangs to achieve a model look and get ready for a photoshoot.
21. Ponytail with Bubbles and a Bandana
The bubble ponytail is one of the most straightforward and eye-catching straight hairstyles. Depending on how you style it, it's suitable for school, a daytime date, a picnic, or a glamorous night out. A chic scarf to your bubble ponytail adds a beautiful holiday vibe that goes well with boho accessories like tassel earrings.
22. Bangs and Bun Wrap
What's the point of scrunchies? (Okay, we do, but we'll make an exception in this case.) This bandana-wrapped bun—probably held in place with a scrunchie underneath—is all the rage, especially with a multi-coloured bandana.
23. Tie-back Bandana + Natural Afro Hair
The bandana tied back with loose natural hair is one of the most extraordinary and iconic bandana hairstyles. Combine the feminine appeal of frizzy or curly hair with an elegant but edgy silk or satin bandana. Pair this look with oversized earrings for a 90s beach vibe.
24. Mid-part Updo with Braided Scarf
Fold the bandana into a braided headband and twist it around your head to form an updo at the back. You'll undoubtedly receive numerous compliments. The braided scarf will be the unique feature.
25. Weaved-in Braid Hairstyle
For a good reason, the braid is a timeless hairstyle. It's the ideal foundation for fun hair accessories because it's simple, chic, and endlessly versatile. Instead of a simple braid, try weaving a colourful printed bandana to the braid's base and leaving the ends loose. The bandana thickens your braid and adds personality and style to your hairstyle, allowing you to keep the rest of your outfit simple.
26. Bandana and Medium-length Hair
Medium-length hair, which can range from a lob to collarbone length, is ideal for wearing with a bandana. The classic 90s bandana is one of the most stylish options. Fold it diagonally in half. Fold it diagonally in half to form a triangle, and tie it around your hair. Side sweep your bangs to get a catchy look.
27. Half-up Knotted Hairstyle
When it comes to half-up, we can't complain. A half-knot is the new trend for the summer season and a casual look. Tie your hair into a half-up style top-knot and wrap it with a bandana.
28. Bandana + Top Bun
Swap your scrunchie for a bandana to give your bun a new look. Tie the bandana around the bun's base for a cute, casual look ideal for school, lunch, the beach, or a picnic. Match the colour to your outfit and finish with earrings for a fun yet stylish look. A blue or red scarf complements jeans and white.
29. Bangs and a Bandana Hairstyle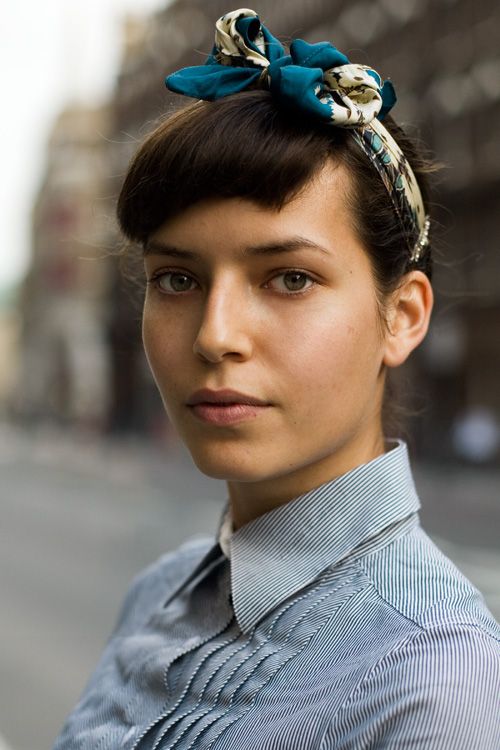 With a pretty bandana headband, you can draw attention to your bangs. This hairstyle emphasises the bangs while visually separating them from the rest of the hair, resulting in a nice headband/bandana effect. This hairstyle is ideal for creating a relaxed yet feminine French girl look when paired with soft makeup and a lovely cardigan or summer dress.
30. Piece-y Bun
Say hello to the ideal hair accessory for a bun or updo—extra points for a stray strand in the front. This is an ideal hairstyle to achieve a party look.
31. A Knotted Bandana Updo
Were you feeling brave? Tie your bandana or weave your bandana in a high knot to stand out for all the right reasons. This hairstyle is ideal for fine or short hair because it covers your head completely. It's also an excellent choice if you need more time or between washes. Gather your hair beneath a lovely silk scarf, and you're done.
32. Finished with a Bow
With a scrunchie, gather a loose hairstyle and wrap a scarf around the crown to form a voluminous bow. You will have a simple, feminine hairstyle in less than two minutes.
33. Wrapped-up Braid Style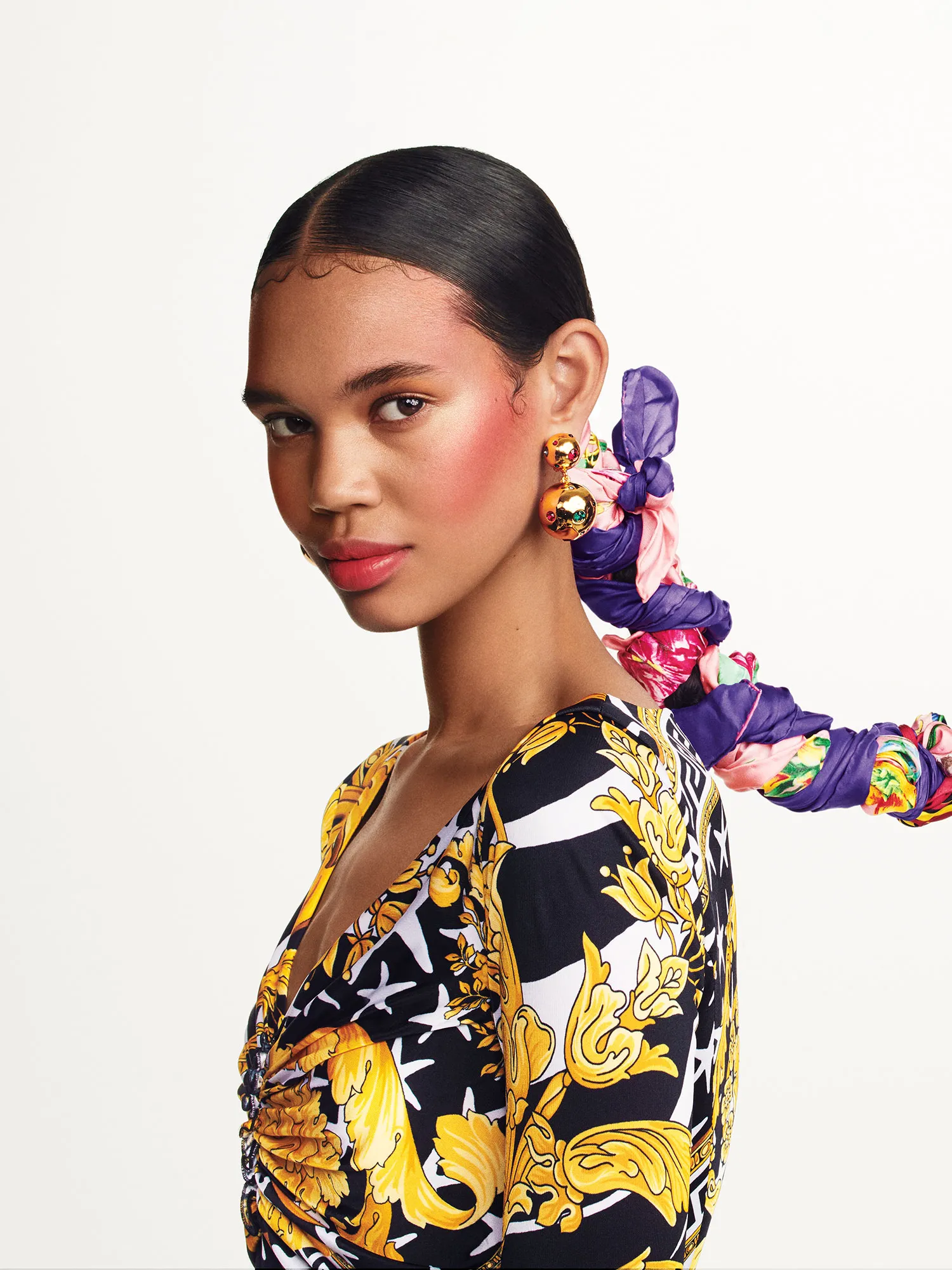 This simple and chic braid hairstyle is a chic and understated hairstyle that fashion editors all over the world adore, and adding a bandana takes it to the next level. Like silk wrapping, the scarf adds a seventies vibe to your outfit and a glamorous touch. Combine it with bold lips for a stunning look worn day and night.
34. Vintage Updo with a Scarf
Keep hair into a pouffe at the head in place using a bandana folded into a headband and tied next to the puffed-up. Now, create an updo for a low-maintenance look. The hot red bandana looks excellent with the red lips.
35. Bandana + Retro Long Locks
Why not draw inspiration from the 1970s, known as the bandana decade? The simple headband with loose ends was one of the most iconic and versatile hairstyles. Wearing a silk scarf or bandana will instantly add a touch of glam to any outfit, including jeans and a t-shirt.
36. Headband Updo with Scarf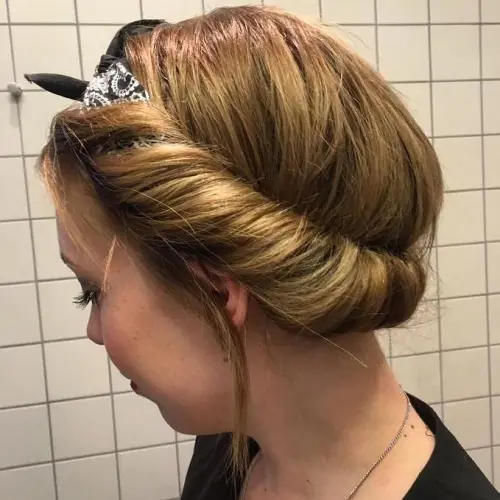 Take your hair below the scarf and roll it up to form a rolled-in crown. Now Tie your bandana at the top, making a headband tucked-in hairstyle. You're good to go, gorgeous.
37. French Braid with a Bandana at the Top
If you like the bandana look, you can wear a trendy hairstyle with a French braid. The bandana contributes to a cute and polished updo that is also functional. It's neat enough to wear to work and keeps hair in place. Looks fantastic on round faces.
38. Scarf Hairstyle for Wedding
Were you looking for a wedding hairstyle using a scarf? Hey, we caught you. Here's our most adorable bandana hairstyle. Take a scarf similar to your wedding dress and tie it at the back as an accessory over your semi-collected hairstyle.
39. Bandana + Low and Loose Bun
Try wearing your bandana with a loose low bun for the ultimate cool girl look. This hairstyle is ideal for medium-length hair because it is quick and straightforward to achieve and enhances even the most basic looks. The bandana with a loose low bun is ideal for a casual date, brunch with friends, or a day at the beach because it has effortless appeal while also giving you major style points.
40. Loose and Long Braid Hairstyle
One of the most elegant and feminine ways to wear a bandana is to knot it at the back of the head. It has the appearance of a vintage. Choose a bandana with a pretty print, such as florals, for a more delicate look. Onto your loose and messy braid (fishtail or French), tie the scarf at the top.
Other Articles