Cornrow braids are ideal for natural hair that has fallen from the sky. This traditional African hairstyle has become a new trend thanks to modern stylists.
They are an essential part of black culture and black hair history worldwide. As the hair is braided under and against the scalp, it can incorporate a variety of patterns and styles. Cornrows are considered a protective style because they require little maintenance and manipulation while protecting textured strands from heat, dryness, and breakage. They also serve as the foundation for other hairstyles. Braids are frequently worn beneath lace wigs (Tyra Banks is known for her love of lace wigs and wearing braids underneath to protect her natural hair).
These stunning cornrow hairstyles honor natural hair, textured strands, and the people who inspired them. To help inspire your next look, we've included scalp braids that incorporate other hair trends (like top knots and ponytails) and some that are accessorized with beads, charms, and other accessories.
1. Finger Waves
Amandla Stenberg's braided updo features classic finger waves. This a unique and fabulous way to wear cornrow braids this season. The weaving pattern (curve or straight) and volume of your braids can also play a role. Gather them into a low-side bun for a red-carpet appearance.
2. Braided Space Buns with Accessory
This look is for more than just the catwalk. You can wear these buns (low or high) daily for a one-of-a-kind and stunning look. Add some rings to the cornrows and enjoy a carefree time while being in the limelight.
3. Traditional Cornrows
Jorja Smith wears classic braids with the usual braiding style and technique. One of the most favorite and selected options among cornrow lovers. Tie the strands at the back to the nape of your neck.
4. Pink Bubblegum Highlights
These bubblegum pink Fulani braids feature baby pink "kanekalon" hair for a vibrant off-the-shoulder look. Wear this for a bob look or an updo, ponytail, bun or semi-collected for a glamorous look.
5. A Crown Made of Cowrie Shells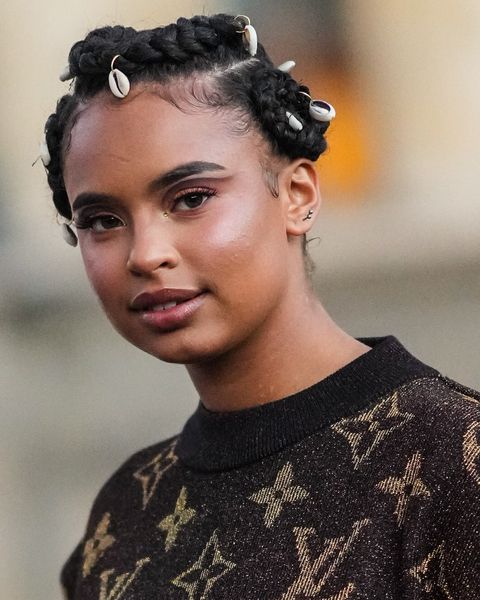 Paola Locatelli, a French influencer, dazzles with her seashell look. According to the National Institute of African American History and Culture, cowrie shells were used as currency in Africa, Europe, and Asia. They were used not only as currency but also as protective amulets across the African continent.
6. Faux Hawk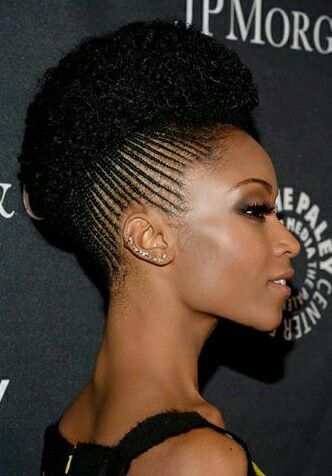 Yaya DaCosta's hair is styled in a fauxhawk, with the sides braided tight and trimmed to give the appearance of a shaved head. The mini cornrows to the puffy mohawk add a sensual touch to the hairstyle.
7. Braided Red and Yellow hair
Zoe Wees creates this daring, one-of-a-kind look with red and yellow "kanekalon" hair, metallic strings, and rhinestones. Have a look at how appealing this hairstyle is for cornrows lovers.
8. Blunt Bob
Danai Gurira wore a gorgeous braided bob to the Oscars 2019 afterparty, which she achieved by braiding the hair with kanekalon hair and then cutting the braided hair into a blunt bob.
9. Zig-zag Cornrows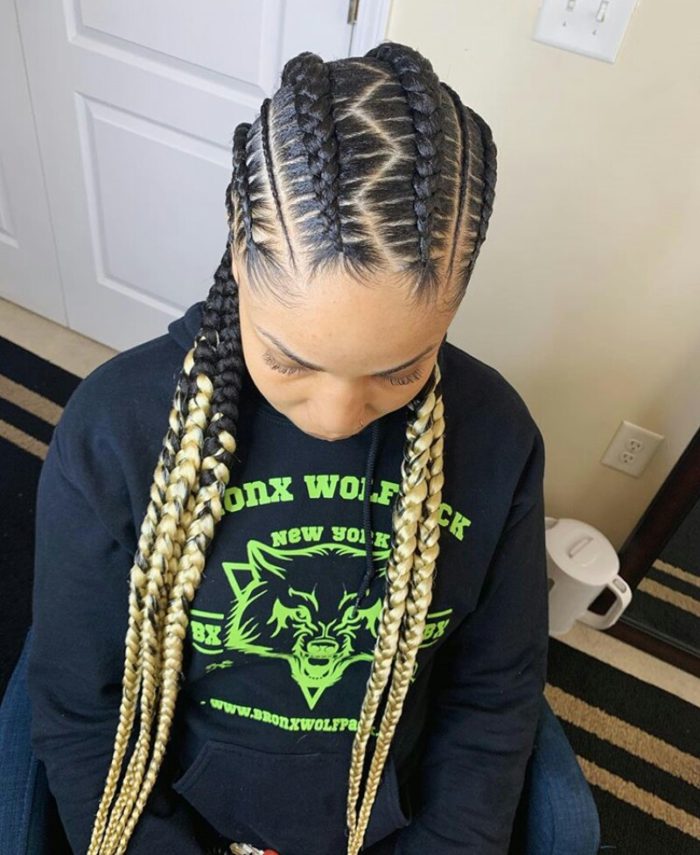 The large spaces are the details that give the zig-zag braids their distinct and sharp appearance. Although this hairstyle keeps the head taut and thus the face open, it does not make a face appear overly large or round.
10. Peek-a-Boo Braids
Taraji P. Henson's fierce half-up, half-down hairstyle features hidden braids on the sides of her head. The peek-a-boo patterns, such as the above, hold a magical and aesthetic touch to your hairstyle.
11. Green Highlighted High Ponytail
This green ponytail is perfect for creating a wow effect. A high ponytail with colorful cornrows will make you look out of the crowd and be easy to create.
12. Low Ponytail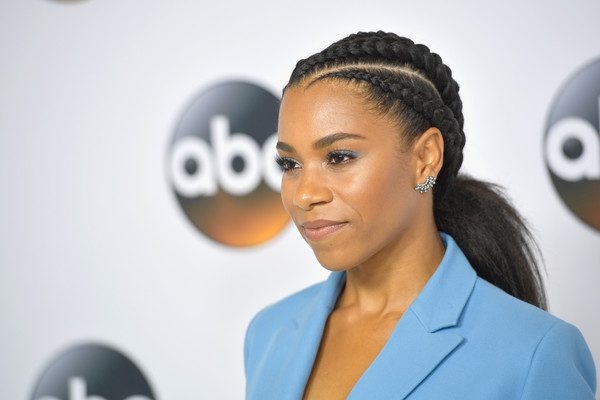 Kelly J. McCreary's hair is styled in a low ponytail with a yaki texture. This is an ideal hairstyle for women who want to wear it for professional meetings—a low-maintenance look for your next photoshoot.
13. Cornrows Shaped into Puffy Balls
Don't try to hide your unique hair texture! Allow your cornrows to show off your lush natural hair: double puffy balls protruding from your tight cornrows are an attractive way to achieve a one-of-a-kind, comfortable, and desirable hairstyle!
14. Half-up, Half-down
Ellie Delphin, a fashion influencer, walks the streets of Paris with a flawless half-up, half-down hairstyle. Well, not just her, but most women wear this hairstyle if they love cornrows.
15. Bubble Ponytail with Cornrows
Braids have many benefits, one of which is that they make your style stand out. For example, you can personalize your sleek bubble ponytail with some small but distinct cornrow braids. It can also be a side part and a fancy hair tie.
16. Blonde Feed-in Braids
Golden Barbie, Jasmine Sanders, wears feed-in braids with blonde kanekalon hair. The feed-in braid technique involves braiding hair strand by strand while cornrowing. Tie it into a semi-collected or ponytail style for a similar look.
17. Ponytail with Cornrows and a Bow
Another accessory is a different mood. This adorable bow transforms long, thick braids into a comfortable ponytail and makes the entire hairstyle look sleek and chic, adding lots of girly vibes.
18. Asymmetrical Ponytail
This asymmetrical pattern is a great protective style in the long run, though smaller braids may cause more tension. The inverted Fulani braid at the sides of the head with loose curl ends catches the attention.
19. Braids of Medium Length
Rihanna's mid-length braids were braided uniquely to match her British Fashion Awards 2019 ensemble. You can also achieve the same look; you need patience and creativity. Try adding patterns at the time of braiding.
20. Blue Micro Feed-in-braids
These vibrant feed braids are ideal for spring or any time you want to incorporate a pop of color. Time to try out this flattering hairstyle if you, too, have thin hair and are bored of wearing it in a bun.
21. The Top Knot
Cicely Tyson made television history in 1963 by being the first woman with braids on screen and the first black woman to have a recurring role as Jane Foster on East Side, West Side. Cicely's iconic topknot is still an inspiration to black women and stylists today.
22. Rainbow Effect
These rainbow braids are ideal for incorporating the seven colors into your braided style. The braids across your head include blue, orange, green and other kanekalon (the braided hair) for a multi-colored look.
23. Design + Dutch Braids
Why not try the Dutch braid technique on your braids? Because your imagination knows no bounds, you can use any braiding idea as a starting point. The striking contrast of natural hair and icy-colored strands at the ends will always be fashionable, especially when accompanied by an intriguing braided design on the sides.
24. Adorned with Beads
Incorporating beads into braids is a continuation of embracing the history of black hair care, which predates the transatlantic slave trade. Beaded braids became popular in the 1960s and 1970s as African Americans used beauty to reconnect with their heritage.
25. Micro-sized Braids
Try achieving a look similar to supermodel Alek Wek, who combines the famous middle parting and micro braids. Create a top bun at the back if you have long, straight hair.
26. A Total of 7 Braids
Ella Balinska attends the British Fashion Awards 2021 wearing a seven-part bun with medium braids. This look is eye-catching and is not as difficult as you think. Give it a try!
27. A Sleek Low Bun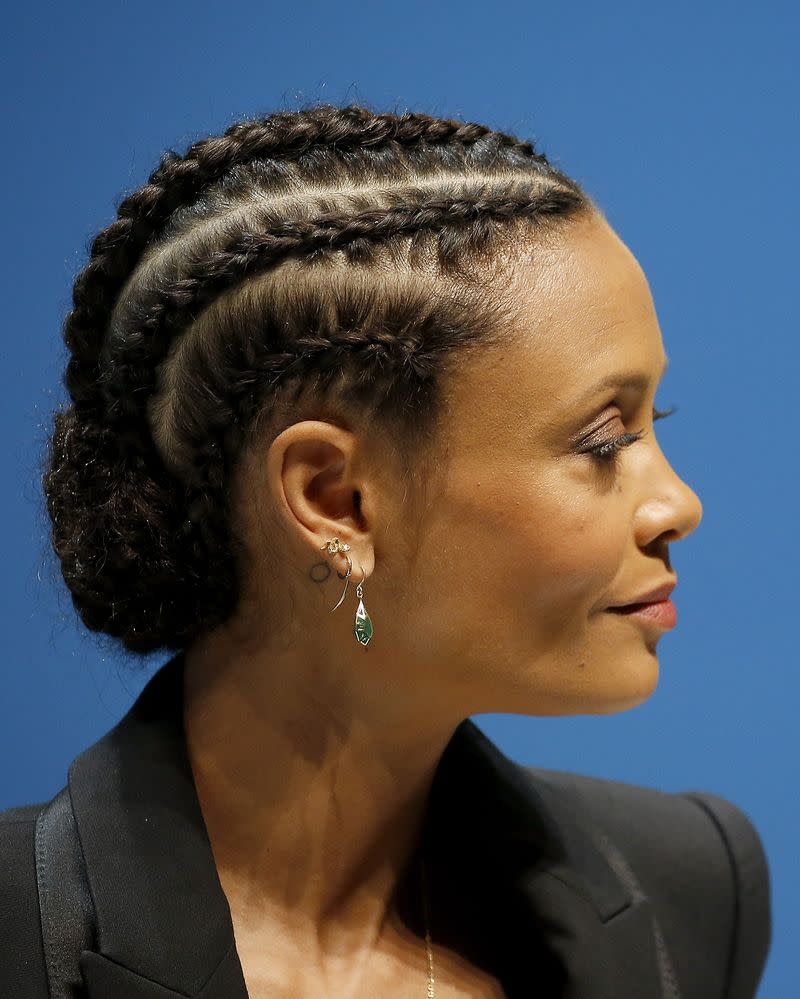 Thandiwe Newton looks stunning in these sleek tiny braids and a low bun. Gather these braids into a low bun at the back using a rubber band or bobby pins, and get ready for your big day.
28. Texan-inspired Braids
Beyoncé, born in Houston, puts her spin on this stunning hairstyle, which she wears at parties, red carpet, etc. Consider a similar look and adorn the braided lengths with contrasting color beads.
29. Platinum Braids
Solange shows off her platinum blonde hair in braids and twists. Add some beads at the ends of the hair tips to achieve an appealing look. Contrasts aren't always about color: the thickness and volume of your braids can also play a role. The contrasts between small and large braids transform your hair into a work of art.
30. Black Braided Mohawk
There are no words to describe how stunning this voluminous hairstyle is. Nothing looks better than these braids transformed into bold mohawk. Some braids cover the top, creating an even more voluminous silhouette, while the smaller braids perfectly play the role of shorter sides.
31. Decorated High Space Buns
This classic look incorporates spacey buns with some decorative pieces with cornrows. Adorn the high ponytails with threads and style the cornrows with mini-braids.
32. Off-the-shoulder
On the red carpet, Serayah wears an off-the-shoulder gown. The ends of these cornrows are loose to the natural look. Wear this hairstyle to any party with your contrasting color dress and wait for the praise-worthing comments.
33. High Ponytail
Here, the hair is pulled back into a high ponytail. The noticeable feature of this hairstyle is the half-cornrow pattern with half-sleek hair. Make 2-3 cornrows at the head to the back and take all the hair into a sleek ponytail. Weave the cornrow lengths across the ponytail to cover the elastic band.
34. Fulani Braids
Ponytails are incorporated into Alicia Keys' classic Fulani braids. Prepare your hair for many Fulani braids and collect them into a ponytail (high or low ). This is one of the popular Fulani braid looks.
35. Half-Up Cornrows Braids
If you have curly hair and are confused about choosing a suitable hairstyle, this one's for you. Weave some cornrows to the top, leaving the hair ends loose for a semi-collected look. Add bobby pins or a brooch if needed to collect the hair at the back.
36. Center Parting
With her symmetrical braids and middle parting, model like Adit Priscilla dazzles at Paris Fashion Week. As shown in the image, try a simple cornrow hairstyle with a center part.
37. Gray Scale Braids
These Fulani braids incorporate black and grey kanekalon (the braided hair) or naturally grey hair for older women to create a stunning look if you want to experiment with color. Tie an updo or bun for a perfectly chic look.
38. Side-swept Long Cornrow Braids
The more styling products you need, the longer your hair will be. Respect your hair and allow it to recover from damage. Side braids can be used to create an intriguing and slightly asymmetrical look. Take all your cornrow lengths to either of the sides and adorn them with beads or golden thread.
39. Chignon to the Side
Issa Rae looks stunning in her golden updo. Issa created a whole bun by braiding the front bangs into mini-cornrows and tying a top knot at the side of her head.
40. Crown Braided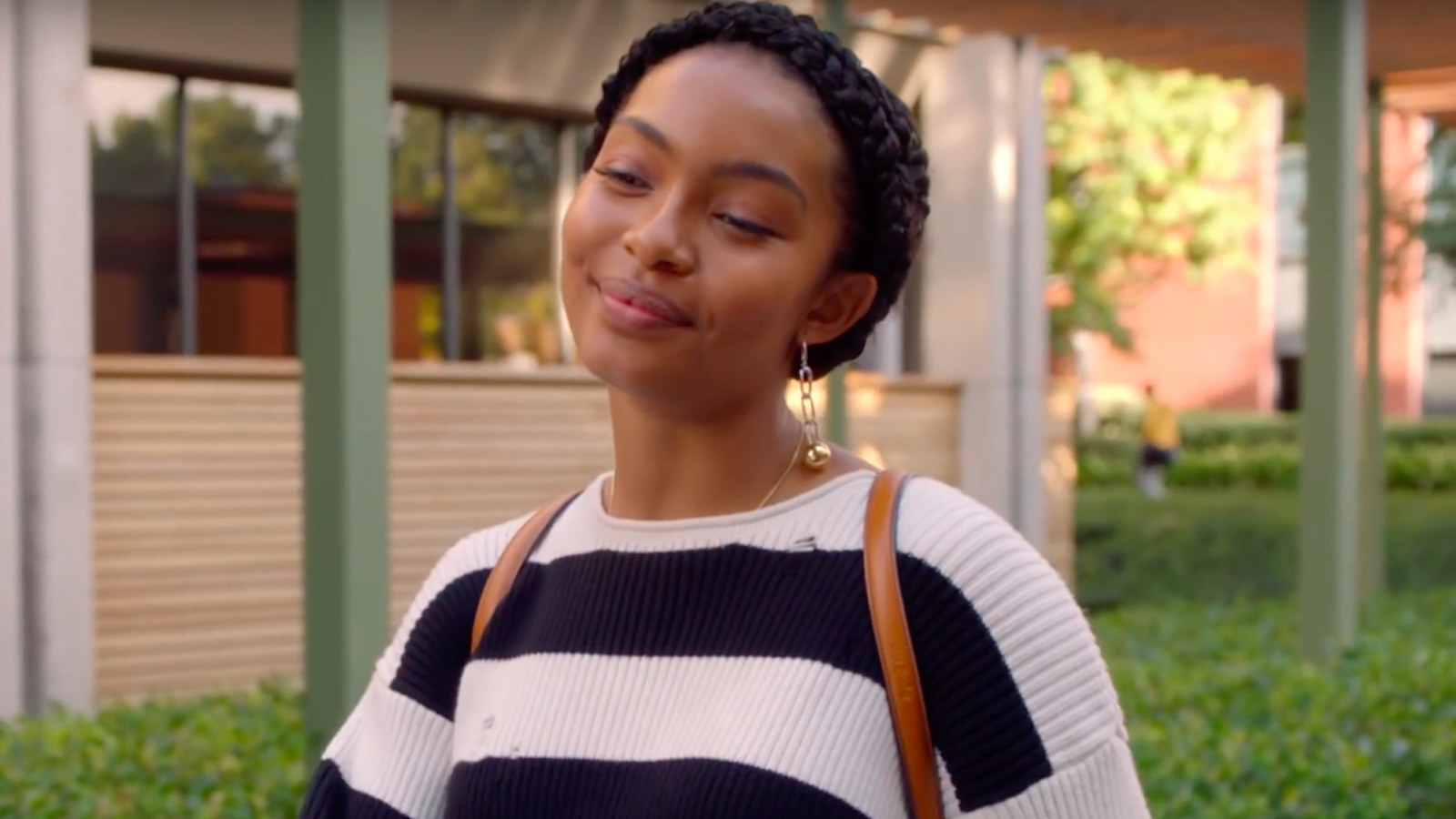 Braids are one of the oldest hairstyles, but that doesn't mean you can't experiment with them. Yara Shahidi's galactic braided crown is stunning. Create cornrows and tie them into a crown for an elegant look.
41. Story-telling Braids
We now know that Alicia Keys is a fan of cornrows and has experimented with different braiding patterns, techniques, and styles, including this story-teller one. Throughout history, there have been anecdotal reports of enslaved people in America using braid patterns to create wayleaves to freedom.
42. Burgundy Braids
Keke Palmer's deep reddish-brown hair in a high ponytail is the perfect fall look (or, really, for any month). This is a voluminous hairstyle option for women with long and thick hair.
43. Two Elegant Cornrows
Apply a lot of firm gel to your hair before braiding it to make it parted as classically or creatively as you like. This idea is unique because it deviates from the traditional braid pattern, adding a dramatic touch with two thick braids from the top. Try weaving the cornrows in an adjacent (horizontal) pattern.
44. Braided Knot in the Style of Cleopatra
This hairstyle is a fantastic idea for any themed party. Before you think it's too complicated, you must braid a dovetail on your head. Add some short extensions to the sides and top, styling the latter, so the edges fall like bangs. Of course, the beads will be the cherry on top.
Other Articles