Messy short bob is one of the funkiest hairstyles that suit one and all. Whether you are a 16 year old lass or a lady entering 60th year of life, the bob is the best way to demonstrate the funky side of personality. Bob style can have as many variations as desired; stylists take into account the face shape so that hair blends well with the personality.
Listed here are a few red carpet-worthy hairstyles that give conventional bob a messy yet interesting twist.
1. Overgrown pixie
Pixie covering the forehead is a nice way to camouflage the larger forehead. This definitely looks messy but very stylish when the mane is cropped short at the back. The ruffled as well as neatly combed look is ideal for overgrown pixie bob. Caressing the forehead unabashedly, this hairstyle is crazy way of donning the bob.
2. Highlighted bob all overhead and curled ends
Use colors of your choice, get the hair curled and cropped till the start of the neck and this style is complete. You can get more ruffled look by keeping hair unwashed or blow dried for long. Some serums can also help in maintaining this hairstyle. This style of bob looks great on oval or squarish faces supported by a long neck. You can team this with turtle neck top to give emphasis on the hairstyle.
3. Bob in reverse stack style, front fringes asymmetric
Starting from the longest fringe at the right and no sequence followed in middle, the asymmetric fringes look uber cool. The hairstyle features reverse stack style bob which gives the crop an appearance as if you have just woken up from the sleep. This style of hair displays the transparency in your style and that you are self-assured of the personality you are. For a funkier look, you can choose a crazy combination of colors like copper and red.
4. Wavy bob till chin, frail ends
Picked right from the Bohemian style, your styling game goes spot on with wavy bob that goes till chin. The ends of the hair are chopped and styled in frail look giving a messy appearance. When the straight hair fail to ignite you any further, choose this style to perk up your look. You will surely love to keep this style for long as it does not require much for maintenance.
5. Round bob curled and highlighted
Keep hair short and fluffy and rolled inside to make the round bob. The whole hair body gets bounce rich with this style. The icing on the cake comes in the form of highlights that bring this hairstyle added fluff. Easy to sport, but a little hard to maintain, you need going to salon often or keep rollers handy to sustain the look while making an appearance at social gathering.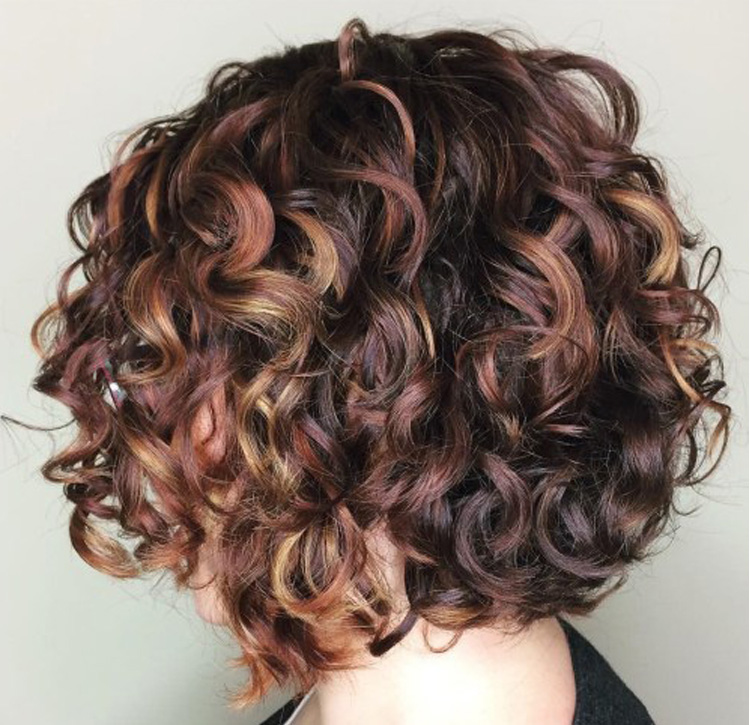 6. Bob side-parted and differently textured layers
Spread serum and other hair body enhancers unevenly and get this creative look that mirrors the uniqueness in your personality. The side parting looks great on round faces and these look less chubby. Also, you are able to pose better with this hairstyle as it gives you a naturally poised and self-assured look.
7. Voluminous neck-long bob with curls
Don't know how to settle down with long, thick hair? Try this neck-long bob sitting like a crown. Inspired from Elizabeth Taylor's style, this haircut is made cuter by throwing in some curls. Serum coated hair brings out the spunk more beautifully, a small cue for maintaining this style! One can also add some colored streak at the front to achieve a celebrity look. Quite suitable for the casual outings and fun get-togethers, this hair cut allows you to use the thick body to create a fuller, livelier hairdo.
8. Wavy hair till jaw, back ends rounded
Now this is what the casual look gets its soul from! This haircut is messy, and full of waves giving more carefree style to the way locks sway as you move. The back of the hair is rounded to enhance the beauty of the neck. Front is made wavy and allowed to cover the sides of the face to give distinctness to the jawline.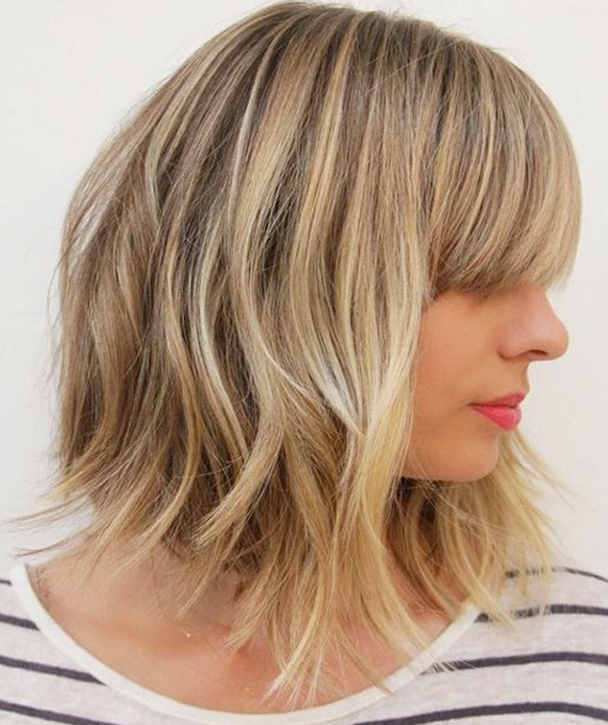 9. Asymmetric wave, longer on one side
The body of hair given an asymmetric wave makes it look bouncier as well as beautifully messy. It is made conspicuously longer on one side to give extra oomph to the cut. You are a lover of outrageous looks and this is clearly depicted in this haircut that shows your maverick side the best way. A regular amongst divas who are bold and beautiful, you can don this hairstyle too to shine through the occasions you deck up for.
10. Inverted bob with asymmetric ends and highlights
Bob definitely looks messily cute when eccentricity enters the cut. This is achieved by the inverted cut and asymmetric ends which can be made more organized in a zig zag manner. A dash of colors highlighting few streaks add extra zing to the hairstyle and makes your look exceptionally fashionable.
So, if you are looking for some change in the hairstyle and want to cut the flocks for fun or due to disease, take help of bob cut modified in various ways as suggested above. You surely will find a different version of yourself in the mirror!
Trendy Messy Short Bob Hairstyles
Other Articles